Deadlines are Fridays before 4 p.m. except in the case of holidays or natural disasters. Can't get it in by then? Email us at times@mound.net and we'll see what we can do.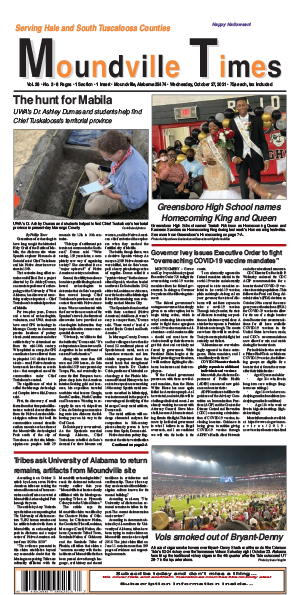 Please do not click off of the page while the paper is loading. The file is too large for customers with dial up internet service.
The hunt for Mabila
UWA's Dr. Ashley Dumas and students help find Chief Tuskaloosa's territorial province

Greensboro High School names Homecoming King and Queen

Governor Ivey issues Executive Order to fight "overreaching COVID-19 vaccine mandates"

Tribes ask University of Alabama to return remains, artifacts from Moundville site

Vols smoked out of Bryant-Denny
2021 Upcoming Holiday deadlines: Deadline is Friday, Nov. 19 for Thanksgiving Edition and Moundville Times will be closed for the Thanksgiving Holidays. Deadline is Friday, Dec. 3 for Santa Letters. Deadline is Monday, Dec. 20 for the Christmas and New Years Editions. MvT Will be closed Dec. 23-Jan. 2 for the Christmas & New Years Holidays.