Deadlines are Fridays before 4 p.m. except in the case of holidays or natural disasters. Can't get it in by then? Email us at times@mound.net and we'll see what we can do.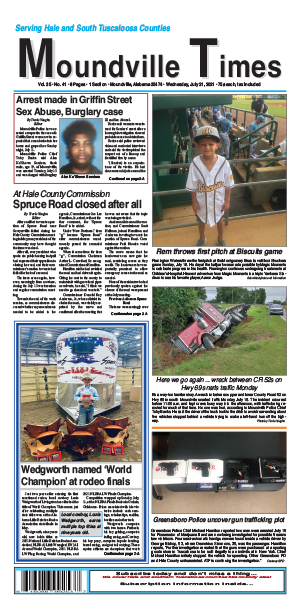 Please do not click off of the page while the paper is loading. The file is too large for customers with dial up internet service.
Arrest made in Griffin Street Sex Abuse, Burglary case

At Hale County Commission
Spruce Road closed after all

Rem throws first pitch at Biscuits game

Here we go again … wreck between CR 52s on Hwy 69 snarls traffic Monday

Wedgworth named 'World Champion' at rodeo finals

Greensboro Police uncover gun trafficking plot
2021 Upcoming Holiday deadlines: We will be closed for Labor Day. Deadline is Friday, Nov. 19 for Thanksgiving Edition and will be closed for the Thanksgiving Holidays. Deadline is Friday, Dec. 3 for Santa Letters. Deadline is Monday, Dec. 20 for the Christmas and New Years Editions. MvT Will be closed Dec. 23-Jan. 2 for the Christmas & New Years Holidays.