Deadlines are Fridays before 4 p.m. except in the case of holidays or natural disasters. Can't get it in by then? Email us at times@mound.net and we'll see what we can do.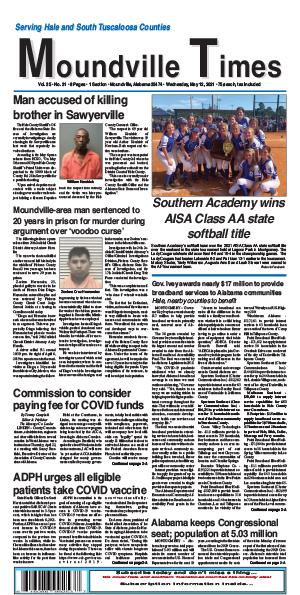 Please do not click off of the page while the paper is loading. The file is too large for customers with dial up internet service.
Man accused of killing brother in Sawyerville

Southern Academy wins AISA Class AA state softball title

Moundville-area man sentenced to 20 years in prison for murder during argument over 'voodoo curse'

Gov. Ivey awards nearly $17 million to provide broadband services to Alabama communities
Hale, nearby counties to benefit

Commission to consider paying fee for COVID funds

ADPH urges all eligible patients take COVID vaccine

Alabama keeps Congressional seat; population at 5.03 million
2021 Upcoming Holiday deadlines: We will be closed for Memorial Day. We will be closed for Labor Day. Deadline is Friday, Nov. 19 for Thanksgiving Edition and will be closed for the Thanksgiving Holidays. Deadline is Friday, Dec. 3 for Santa Letters. Deadline is Monday, Dec. 20 for the Christmas and New Years Editions. MvT Will be closed Dec. 23-Jan. 2 for the Christmas & New Years Holidays.