Deadlines are Fridays before 4 p.m. except in the case of holidays or natural disasters. Can't get it in by then? Email us at times@mound.net and we'll see what we can do.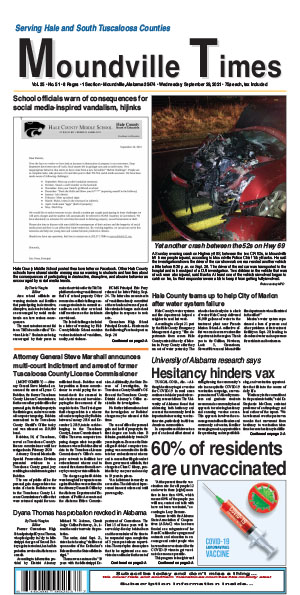 Please do not click off of the page while the paper is loading. The file is too large for customers with dial up internet service.
School officials warn of consequences for social media-inspired vandalism, hijinks

Yet another crash between the 52s on Hwy 69

Hale County teams up to help City of Marion after water system failure

Attorney General Steve Marshall announces multi-count indictment and arrest of former Tuscaloosa County License Commissioner

University of Alabama research says Hesitancy hinders vax

60% of residents are unvaccinated

Dyana Thomas has probation revoked in Alabama
2021 Upcoming Holiday deadlines: Deadline is Friday, Nov. 19 for Thanksgiving Edition and will be closed for the Thanksgiving Holidays. Deadline is Friday, Dec. 3 for Santa Letters. Deadline is Monday, Dec. 20 for the Christmas and New Years Editions. MvT Will be closed Dec. 23-Jan. 2 for the Christmas & New Years Holidays.