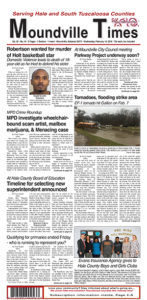 Robertson wanted for murder of Holt basketball star
Domestic Violence leads to death of 18-year-old as he tried to defend his sister
At Moundville City Council meeting
Parkway Project underway soon?
Tornadoes, flooding strike area
EF-1 tornado hit Gallion on Feb. 7
MPD Crime Roundup
MPD investigate wheelchair-bound scam artist, mailbox marijuana, & Menacing case
At Hale County Board of Education
Timeline for selecting new superintendent announced
Qualifying for primaries ended Friday – who is running to represent you?
Local goods and services
Please support the local companies that support the Moundville Times
Visit our sister paper Sumter County Record Journal at www.recordjournal.net.
Deadlines are Fridays before 4 p.m. except for holidays. Please click on our advertising page to see price sheets, pay for a ad or obit photo.