Deadlines are Fridays before 4 p.m. except in the case of holidays or natural disasters. Can't get it in by then? Email us at times@mound.net and we'll see what we can do.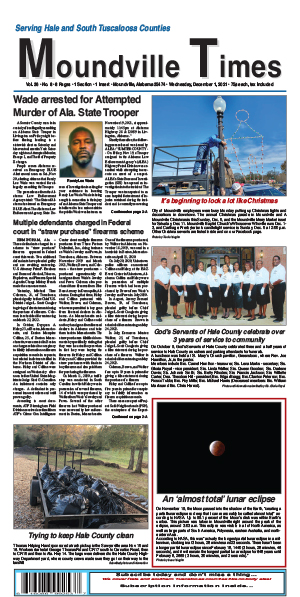 Please do not click off of the page while the paper is loading. The file is too large for customers with dial up internet service.
Wade arrested for Attempted Murder of Ala. State Trooper

It's beginning to look a lot like Christmas

Multiple defendants charged in Federal court in "straw purchase" firearms scheme

God's Servants of Hale County celebrate over 3 years of service to community

An 'almost total' lunar eclipse

Trying to keep Hale County clean
2021 Upcoming Holiday deadlines: Deadline is Friday, Nov. 19 for Thanksgiving Edition and Moundville Times will be closed for the Thanksgiving Holidays. Deadline is Friday, Dec. 3 for Santa Letters. Deadline is Monday, Dec. 20 for the Christmas and New Years Editions. MvT Will be closed Dec. 23-Jan. 2 for the Christmas & New Years Holidays.