Deadlines are Fridays before 4 p.m. except in the case of holidays or natural disasters. Can't get it in by then? Email us at times@mound.net and we'll see what we can do.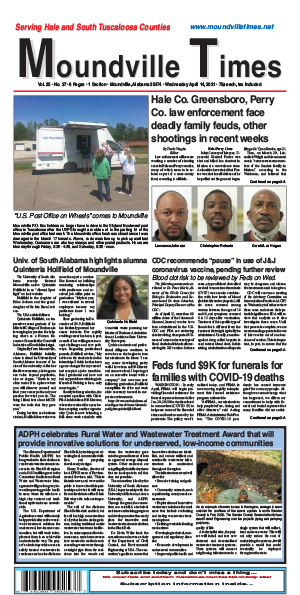 Please do not click off of the page while the paper is loading.
The file is too large for customers with dial up internet service.
Hale Co. Greensboro, Perry Co. law enforcement face deadly family feuds, other shootings in recent weeks

"U.S. Post Office on Wheels" comes to Moundville

CDC recommends "pause" in use of J&J coronavirus vaccine, pending further review
Blood clot risk to be reviewed by Feds on Wed.

Univ. of South Alabama highlights alumna Quinterria Holifield of Moundville

Feds fund $9K for funerals for families with COVID-19 deaths

ADPH celebrates Rural Water and Wastewater Treatment Award that will provide innovative solutions for underserved, low-income communities
2021 Upcoming Holiday deadlines: We will be closed for Memorial Day. We will be closed for Labor Day. Deadline is Friday, Nov. 19 for Thanksgiving Edition and will be closed for the Thanksgiving Holidays. Deadline is Friday, Dec. 3 for Santa Letters. Deadline is Monday, Dec. 20 for the Christmas and New Years Editions. MvT Will be closed Dec. 23-Jan. 2 for the Christmas & New Years Holidays.