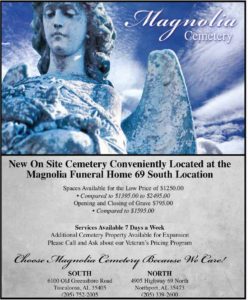 Obits: ARE FREE and MUST come from the Mortuary, probate judge or company taking care of arrangements. No Exceptions! Please email them to times@mound.net. Obituary photos and Cards of Thanks must be paid for in advance.


Betty Bailey
Betty Bailey, 87, of Moundville, died September 12, 2017 at Moundville Health and Rehab. Services were 11:30 a.m. Friday, September 15, 2017 at Memory Chapel Funeral Home with Billy Joy and Steve Wyatt officiating. Burial followed in Memory Hill Gardens with Memory Chapel Funeral Home, a Dignity Memorial Provider, directing. Visitation was one hour prior to services at the funeral home.
She was preceded in death by her husband Ollis Walton Bailey.
Survivors are: daughter, Brenda Bloomer (Dave); son, Wayne Bailey (Tammy); seven grandchildren and four great-grandchildren.
Pallbearers were: Lance Bailey, Sean Holliday, Brennon Bailey, Jeff Kraut, Tim Sitterson, and Stephen Foster.
Mildred Toxey Mills
Mildred Toxey Mills, 99, of Big Sandy, died Saturday, September 16, 2017, at Moundville Health and Rehab Moundville. Services were 10 a.m. Tuesday, September 19, 2017 at Big Sandy Baptist Church with Rev. Terry Lolley and Rev. Ken Dodson officiating. Burial followed in Big Sandy Cemetery with Magnolia Chapel Funeral Home South directing. Visitation was September 18, 2017 from 6 to 8 p.m. at the funeral home.
She was preceded in death by her husband, C. J. "Buck" Mills; parents, Dee and Eller Toxey; three brothers; and two sisters.
Survivors include her daughter, Annette Ladner; son, David Mills (Deborah); grandchildren, Diane Hogeland (Darryl), Donna Burden, Leanne Bryant (Kevin), Nicole DuBose (David) and Amber Mills; and eight great-grandchildren.
Honorary pallbearers were friends of the Big Sandy community, employees of Moundville Health and Rehab and Dr. Larry Skeleton.
In lieu of flowers, the family requests memorials in their mother's name made to Big Sandy Baptist Church or Big Sandy Cemetery.
Stephen Wayne Shirley
Stephen Wayne Shirley, 12, of Marion died September 11, 2017. He was born in Selma on Feb. 22, 2005. Stephen was a country boy at heart. He followed his Paw Paw's every single move and was wrapped around his Maw Maw's finger.
He is prececeded in death by: Frances & Alvin Carter – great grandparents; Houston and Lucille LGrone – great grandparents; Harold Fife,Sr. – grandfather; and LeRoy Ragland. — great grandfather.
He survived by his mother Sommer Dunkin ( Robert ) and P. O. Michael ( Natasha) Brothers: Hunter Dunkin, Mathew Shirley & McKayla Shirley; "Sis Kelsie" actually Stephen's aunt, but their closeness and their bond is more of a sibling relationship. Grandparents: Kenneth and Karen LaGrone; Karen Fife; Robert and Carol Dunkin; Great grandmother: Stella Wyatt and Lilly Ragland. And a host of uncles, aunts, and cousins.
The funeral service was held Friday at 2 p.m. at Kirk Funeral Homes Marion Chapel. Bros Brian LaGrone and Casey Caver officiated and Kirk Funeral Homes Marion Chapel will be directed. Burial followed at Spring Hill Cemetery. In liue of flowers the family request memorials be made in his memory to the Children's Hospital in Birmingham.
The active pallbearers were Kris Stokes, Caleb LaGrone, Christian Harris, Billie Joe Hoggle, Doug Hoggle, and Phillip LaGrone.
"Your wings were ready, but my heart was not."