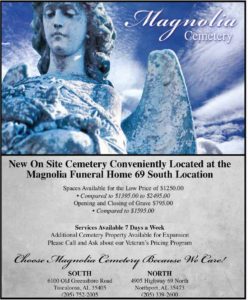 Obits: ARE FREE and MUST come from the Mortuary, probate judge or company taking care of arrangements. No Exceptions! Please email them to times@mound.net. Obituary photos and Cards of Thanks must be paid for in advance.
Billie Jean Barton
Billie Jean Barton, 82, of Duncanville, passed away November 9, 2017 at home. Services were 2 p.m. Saturday, November 11, 2017, at Memory Chapel Funeral Home with Ron McKay officiating. Burial will follow in Memory Hill Gardens with Memory Chapel Funeral Home, a Dignity Memorial Provider, directing. Visitation was 1-2 p.m. at the funeral home.
Survivors include her husband, Warren B. Barton; daughter, Melina Randall; son, Wendell Barton (Cathy); and a host of grandchildren.
U. S. Army Sgt. Christana Hudson Frazier
United States Army Sgt. (Retired) Christana Hudson Frazier of Northport, passed away on Saturday, November 4, 2017 in Tuscaloosa. Public visitation will be Thursday, November 8, 2017 from 6-8 p.m. in the James & Lola Lavender Chapel of Lavender's Funeral Service. Homegoing celebration will be Friday, November 9, 2017, 11 a.m. at Hightown Church of God, 3926 28th Avenue, Northport. The body will lie in state in the church one hour prior to the service. internment will be Monday, November 13, 2017 at Alabama National Cemetery, Montevallo.
In lieu of flowers, donations may be made to Susan G. Komen to support those affected by breast cancer.
Survivors are the Frazier and Hudson families. Lavender's Funeral Service, 11233 Hwy. 17 S., Aliceville, 205-373-2420 in charge of arrangements.
Gertrude Solomon Purter
Gertrude Solomon Purter passed on Monday, November 6, 2017. Her homegoing services were 2:30 p.m., Saturday, November 11, 2017, at Mt. Olive Baptist Church, 8676 County Road 131, Boligee, Ala. 35443.
Gertrude Solomon Purter was the third of five children born to the late Ezekiel and Margaret Solomon of Safford, Ala.
In 1950, she married Johnny J. Purter and moved to Boligee, Ala. There she united with Mount Olive Missionary Baptist Church and served faithfully in various capacities. Johnny and Gertrude were blessed with three daughters, Debra, Jennifer (Charles) and Phyllis (Melvin).
She was preceded in death by one daughter, Debra and her husband, Johnny.
Gertrude attended Alabama State University in Montgomery and earned a Bachelor of Science degree in Education. She earned a Master of Education in Counseling and Guidance from the University of Alabama in Tuscaloosa. She completed other post graduate work at Tuskegee University. She had a love for children and was a guidance counselor in the Greene County School system for 32 years.
Hannah Mae Roland Spencer
Mrs. Hannah Mae Roland Spencer of Tuscaloosa, on Sunday, November 5, 2017 at Hospice of West Alabama in Tuscaloosa. Visitation was Sunday, November 12, 2017 from 2-5 p.m. at Lavender's Funeral Service. Home going celebration was Monday, November 13, 2017, at 11 a.m. at St. Paul Church, 3501 Stillman Blvd., Tuscaloosa. The body lay in state in the church one hour prior to the service. Internment was Monday, November 13, 2017, at Cedar Oak Memorial Cemetery, 1401 Mimosa Park Road in Tuscaloosa. Rev. Jerry A. Seay is the Pastor of Saint Paul Baptist Church. Rev. Willie Coley, Pastor of Mt. Zion Missionary Baptist Church in Foster will provide the Eulogy. Lavenders Funeral Service, Aliceville, www.lavendersfuneralservice.com, in charge of arrangements.