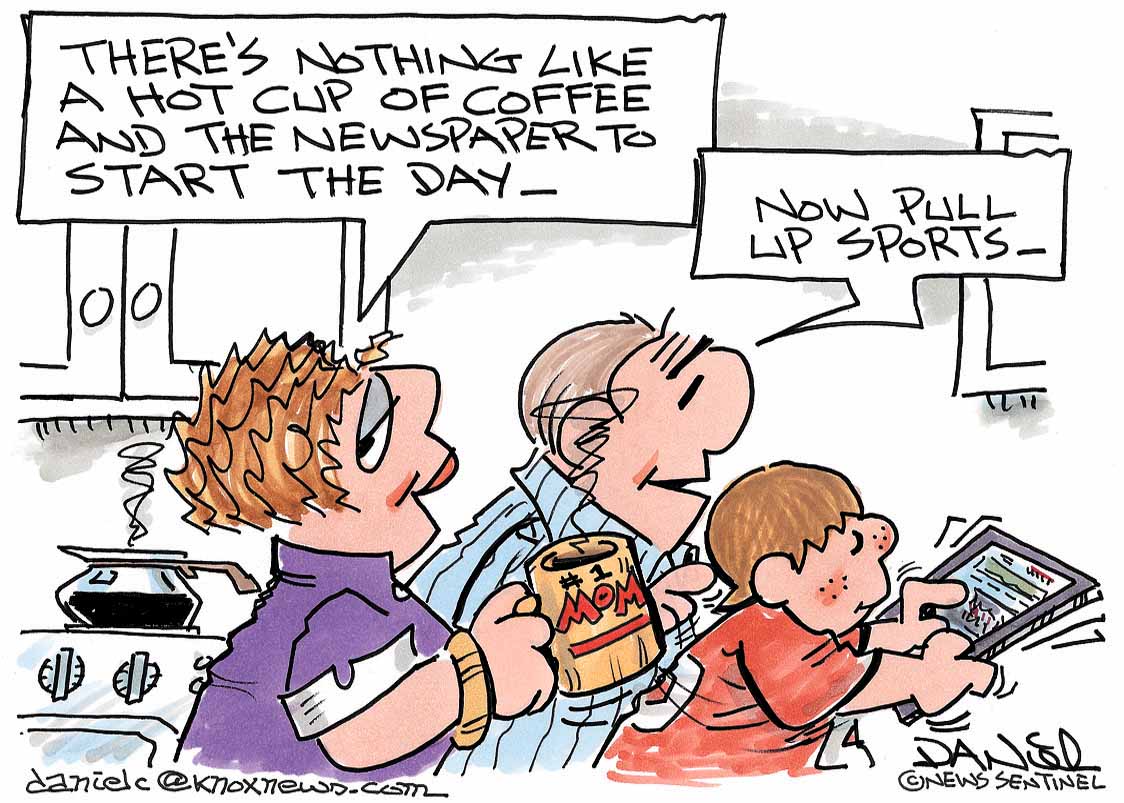 Guidelines for Submitting your Church/Community Announcements These are free as long as there are no personal messages and the event is not being charged for (love offerings do not count, however charging for vendor spaces does). Political events publicity is considered a advertisement even if the event is free. Please keep the announcement to one paragraph with who is presenting the event, what the event is, date, time, where it will be held and contact information. Deadlines are Fridays. Email them to times@mound.net (best way) or drop them off at Moundville Times at 46 2nd Ave. in Moundville in the Mason's Building/Old Post Office with a contact phone number. We can not take anything over the phone due to company policy.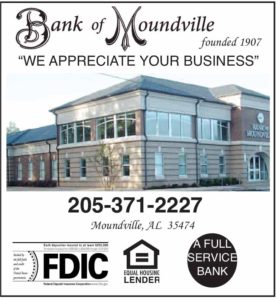 Annual Mission Day Program Pruitt Springs Baptist Church
Join us for the annual Mission Day Program, Sept. 24 at 2 p.m. at Pruitt Springs Baptist Church, Moundville. Rev. Billy Thomton, pastor of First Baptist Church of Akron, will be guest speaker. Sis. Alberta Hambright is president.
Victorious Life Church Homecoming
Victorious Life Church has been a church in Moundville for 19 years. Homecoming is Sept. 24 at 10:30 a.m. Dinner on the grounds following service!
Taylor's Chapel Church of the Nazarene 4th Sunday Night Singing
Taylor's Chapel Church of the Nazarene would loke to invite one and all to the 4th Sunday Night Singing on Sept. 24 at 6 p.m. Guest singers will be Car and Pat Lowery and a covered dish meal will be served.
Duncanville Volunteer Fire Dept. Fall Fish Fry
Join Duncanville Volunteer Fire Dept., 11340 Monticello Dr., Duncanville, for the Fall Fish Fry Sept. 23 at 4 p.m.. We will also have bingo and a cake walk. Please come out and support us.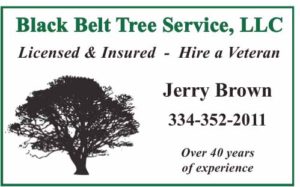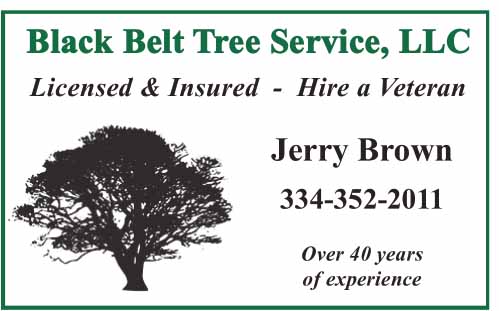 TROT The Trails
Join us for our third annual fundraiser trail ride Saturday, Oct. 7 at 8 a.m. at Tannehill Ironworks Historical State Park! The ride will take place at Tannehill state park on the forever wild trail! Visit www.facebook.com/TherapeuticRidingOfTuscaloosa/ for more information.
Soggy Bottom Lodge Tour
Blackbelt area landowners are invited to a tour of Soggy Bottom Lodge located at 18618 Hwy 43, south of Linden, AL, in Marengo County. The tour is planned for Thurs., Sept. 28 from 8 a.m. until 1 p.m. Registration will begin at 8 a.m. and the tour will start at 9 a.m. Tour topics will include the lodges, deer breeding facilities, duck pond, native grasses, and recreational fish pond management. Lunch will be provided for tour participants. There is no cost to attend this tour, however you are asked to call the Marengo County Extension Office at 334-295-5959 to register. To properly plan for lunch please call and register before the deadline of 4:30 p.m. of Mon., Sept. 25. Registration numbers will be capped at 50 participants.
September is National Senior Center Month
Did you know we have 22 Senior Activity Centers located throughout the West Alabama region? Each center offers a free, nutritious lunch, Monday through Friday, to people 60 and older. The only requirement to attend a local center is age (60+). But the value of these centers aren't just nutritional. They are a place for people to socialize, be active, participate in enriching activities and stay informed through educational programs. In an effort to reach more Older Americans in your community so they can learn about available supports and services the "Information Series" will be held quarterly by the Area Agency on Aging. Kick Off Cook Out Fri., Sept. 22 10 a.m. – 12 p.m., Lion's Park, 701 Hall St., Greensboro, AL 36744. Bring your own folding chair. Open to Hale County residents who are age 60 or older. T Contact Taylor Marine at the Area Agency on Aging of West Alabama for more information or to register by calling 205-333-2990 ext. 211 or email: taylor.marine@westal.org. You can also register on our website at: www.westalabamaaging.org/kickoffcookout.
Moundville Festival Slated For Oct. 4-7
The annual Moundville Native American Festival will be held Oct. 4-7 at Moundville Archaeological Park. Festival hours are 9 a.m. to 3:30 p.m. during the week and 9 a.m. to 5 p.m. on Saturday. For more information, contact Kim Eaton, UA communications, 205-348-8325 or kim.eaton@ua.edu.
National Hunting and Fishing Day
The Alabama Black Belt Adventures Association, the Alabama Department of Conservation and Natural Resources, the Alabama Wildlife Federation, Congressional Sportsmen Foundation and others are coming together to promote National Hunting and Fishing Day, which will be observed this year on Sept. 23. To celebrate National Hunting and Fishing Day, outdoor retailers, shooting ranges, private and public lakes, state parks and other parks across Alabama are offering discounts on various services or waiving admission fees. For a list of national and state participants, please visit: http://alabamablackbeltadventures.org/events-calendar/national-hunting-fishing-day/.
Greensboro Homecoming Oct. 16-20
Monday: powder Puff game; Tues.: Step show/ Talent show; Weds.: Bonfire; Thurs.: Coronation & Parade; Fr.: Pep Rally, tailgate & game.
SA HC Court Announced
Reagan Harless 7th grade maid, Grace Huncan 8th grade maid, Anna Fancher 9th grade maid, Karmen McCrory 10th grade maid, Anna Kate Day 12th grade maid, Emma Bedwell 12th grade maid, Hannah Howell Homecoming Queen, Atkins Webb Homecoming King.
HCHS 2017-18 Softball Teams Announced
Varsity: Savanna Holmes, Olivia McCray, Kayla Wyatt, Coley Jacobs, Madalynn Langham, Kelsie Gilliam, Kori Young, Emily LaFoy, Ryleigh Hallman, Morgan McCarver
Junior Varsity: Anna Kate Jones, Rylee Channell, Ryane Channell, Charlie Mak Lester, Raegan Johnson, Jennah Glass, Shelby Hydrick, Taylor Smith, Stormie Cook Kyla Wilson, Savanna Parr, Allysa McMurry, Amelia Epperson, Kaitlyn Hamnond, Haleigh Church
Fruit Flies May Help Understand How Some Species Eat Poison
Out of hundreds of species of fruit flies, a handful can eat toxic mushrooms, and understanding why and how they pull this off could answer broader questions about evolution and adaptation. For more information, contact Adam Jones, UA communications, 205-348-4328 or adam.jones@ua.edu.
The Fate Of Businesses
Twenty years after the largest number of initial public offerings in one year took place, a new study from UA's business school explores what happened to these IPO companies in order to identify lessons from their successes and failures. Structural cohesion, which promotes internal strength, is the key to keeping a business with an IPO going over the long haul, said Dr. Theresa M. Welbourne, a researcher in UA's Culverhouse College of Commerce and Business Administration. The study examined 802 firms, and only 100 of those were "alive" as of Dec. 31, 2016. For details, contact Richard LeComte, UA communications, rllecomte@ur.ua.edu, 205/348-3782.
International Agreement Signed By German, Alabama Universities
Leaders from several German and Alabama universities recently met in Tuscaloosa to sign an International Memorandum of Understanding giving Alabama engineering students a chance to study in Germany. The memorandum, signed by the schools' provosts, establishes an exchange program among the universities in the electrical and mechanical engineering departments. The Alabama universities participating in the partnership are UA, the University of Alabama in Huntsville, the University of Alabama at Birmingham, Auburn University and the University of South Alabama. For more information, contact Alana Norris, engineering communications, 205-348-6444, anorris@eng.ua.edu.
New Path Into Secondary Mathematics Teacher Education
UA has created a new pathway to get the best and brightest minds into secondary mathematics teacher education. The Alabama State Department of Education recently approved a new UA accelerated master's program that will allow select undergraduate math and math education majors to complete master's degree requirements and achieve teacher certification simultaneously. Program participants would then begin their math education careers at a salary of nearly $6,000 greater than those who begin teaching with a bachelor's degree. For more information, contact David Miller, Strategic Communications, at 205-348-0825 or david.c.miller@ua.edu.
Selma Icon Among Inductees For Alabama Social Work Hall Of Fame
Patricia Swift Blalock, who integrated Selma's public library in the 1960s, will be posthumously inducted into the Alabama Social Work Hall of Fame Friday, Sept. 22. Blalock, along with four others in the 2017 class, will be honored during a ceremony at the NorthRiver Yacht Club in Tuscaloosa. The ceremony begins at 11:30 a.m. Upon retiring from social work in 1946, Blalock joined the Selma/Dallas County Public Library, where she spent 10 years as an assistant before becoming director and later leading the full, peaceful integration of the library in 1963, a year before the Civil Rights Act was signed into law. For more information, contact David Miller, Strategic Communications, at 205-348-0825 or david.c.miller@ua.edu.
Nursing Hall Of Fame To Be Oct. 5
Five nursing professionals will be inducted into the 2017 Alabama Nursing Hall of Fame. The ceremony will take place Thurs., Oct. 5, at the Embassy Suites Hotel Ballroom in Tuscaloosa. Tickets may be purchased for $100 by phoning 205-348-7429. Deadline for tickets is Sept. 28. For more information, contact Kim Eaton, UA communications, 205-348-8325 or kim.eaton@ua.edu.
Hale County Animal Shelter Pet of the Week
Snuggles is a precious girl who would love to come home with you and do just that. She is an adorable 4-5 month old puppy who will be medium to large when grown. She plays well with other dogs. The Hale County Animal Shelter is open on Mondays from 10-12 and Saturdays from 10-2; 334-624-8120. Remember to always spay and neuter your pets! Help us fight animal overpopulation. Submitted by Laurie Nevin
*Stories below are Paid Advertisements*
The Marengo County History & Archives Museum presents a Pictorial History in Postcards
Come see historic snapshots of Alabama's main streets, captured on postcards from the early 1900s to the 1960s. The exhibit features images from the Wade Hall Collection at the Troy University Archives and will coincide with the 2017 theme of the Alabama Bicentennial Commission "Discovering Our Places." The Alabama Humanities Foundation, the state affiliate of the National Endowment for the Humanities, co-sponsors this project.
"The Wade Hall Postcard Collection is one of the Troy University Archives greatest treasures and an extensive sampling of a fascinating form of Americana," said Dr. Christopher Shaffer, dean of library services. "The entire collection consists of 25,000 postcards, and we are remarkably grateful that through the generosity of the Alabama Humanities Foundation we will be able to share a portion of this collection via these traveling exhibits throughout the state on the eve of Alabama's 200th birthday."
MCHAM will have copies of the corresponding book, "Greeting from Alabama: A Pictorial History in Postcards" available for sale at this event. This exhibition runs through October 12, 2017 and is open and free to the public.
Exhibition can be viewed Tuesday, Thursday, Saturday, 10:00 am – 2:00 pm
For more information please contact Mary Jones-Fitts @ 334-289-0599 or 334-341-3439
Senior Activity Centers – More than Food and Games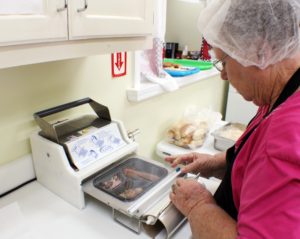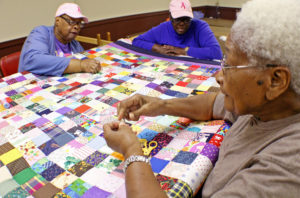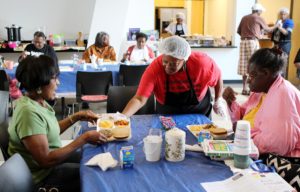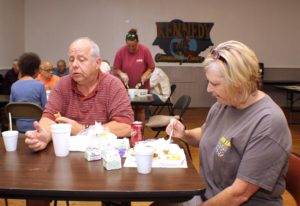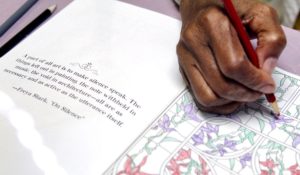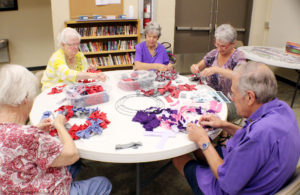 Some attend for the friends. Some attend to get out of their house. Still others attend to save themselves from having to cook. With an ongoing list of reasons, senior activity centers across the West Alabama region are the place for adults aged 60 and better to experience the spice of life.
West Alabama Regional Commission's Area Agency on Aging administers 22 Senior Activity Centers throughout our seven-county region. Each center offers weekday lunches as well as a Homebound Meals Program for patrons who are unable to attend a center due to health reasons. Many locations offer transportation to and from the center and additionally to doctor's appointments, and grocery and drug stores. But wait, there's even more!
Senior Activity Centers are open to adults aged 60 and older. Participation isn't based on income or retirement. Many in the "Baby Boomer" population are continuing to work past age 60, some even past 70. And though the Senior Activity Centers have a large number of attendees that are retired, they also see participants who are still employed. Theresa Hudgins works as a secretary at South Lamar School. She attends the Kennedy Senior Activity Center in the summer with her husband, Leroy, who is retired. "It's really good for him. It gives him something to do with me working all the time. He hangs out with friends and plays games." Theresa said. "Compared with their peers, senior center participants have higher levels of health, social interaction and life satisfaction…" according to the National Council on Aging who has named September "Senior Center Month". In addition to a nutritious meal and friendly game of Bingo, participants at the center can partake in a variety of other interests including, but never limited to, educational programs, volunteer opportunities, field trips, crafting and more.
"The senior activity center is very dear to my heart." Helen West, 82, said. West has attended the Woodstock senior activity center since before it began. She and her husband, Alvin, heard about it when it was being formed and signed up a widowed friend they had been caring for. Alvin and Helen continued participating and attending the center. He passed away in June 2017. Helen said her husband's aim was to see that the center stayed open because so many people don't have anything to do. Helen continues to attend the Woodstock center each day. "It gets me up and makes me comb my hair and put on clean clothes. Every day I get up and come to the senior center – it's my own grief therapy."
Each senior activity center has a center director to help keep the center running with activities, meals, and other features vital to their success. Cynthia Winegard has been center director at the Brent Senior Activity Center for over five years. "Everyone at the center is more like family to me than a client."
Cynthia said. She added she feels fortunate to get to go to a job every day that she loves. "Being a director at the Brent Senior Center is being able to give the love and respect to people that have made a difference in my life and the lives of so many others." Cynthia grew up in Bibb County so many of the patrons who visit the center are familiar friendly faces. "Some taught me in school, some lead the community in politics, some were business owners, some were farmers or factory workers, some were stay at home mothers, but all deserve to be treated with dignity, honor and love by myself and others that serve them."
Whether it's a meal, friendship or a chance to volunteer and stay involved in their community, seniors, baby-boomers, wise elders, whatever you want to call them, have found the secret to living and enjoying their later years wrapped up in their local senior activity centers. Larry and Marita Schafer, 76 and 73, have traveled across 48 states but now call Bibb County their home, at least for most of the year. The "winter Texans" said they looked at a map online after Larry retired and found their home base about seven years ago. Four to five months of the year they live in Texas traveling by motor home. The Brent senior activity center was their way to make new friends. "We didn't know anyone so we figured it'd be a good way to meet people." Marita explained. "If we hadn't met such wonderful friends here, we wouldn't have stayed." By Michelle Carter Public Information & Human Resources Manager West Alabama Regional Commission's Area Agency on Aging
Historic marker honors Civil Rights hero
A giant in civil rights history was recognized today with the unveiling of the Autherine Lucy Foster Historic Marker at The University of Alabama.
An afternoon ceremony was held on the lawn of Graves Hall.
Speakers were UA President Stuart R. Bell, Dr. Peter Hlebowitsh, dean of the College of Education; Marian Accinno Loftin, a UA distinguished alumna; and Dr. E. Culpepper "Cully" Clark, former UA dean and communication professor emeritus and author of "The Schoolhouse Door: Segregation's Last Stand at The University of Alabama."
In stressing Foster's importance to UA's history, Bell said, "Mrs. Foster's initiative and courage opened the doors and created the opportunity for all races to attend the University. This historic marker will serve as a testament to her enduring impact on our campus and beyond." Hlebowitsh said the idea for the marker came from faculty who petitioned the University to place a historic marker near the site where Foster first attempted to enroll but was driven away by a mob in 1956. "We are gratified that the University is recognizing Mrs. Foster in this manner," Hlebowitsh said. "This honor is in keeping with the magnitude of her contributions to the history of our University."
On being notified of the honor, Foster said, "I never imagined my decision to enroll would affect so many in so many ways. Today, I have several children who have attended the University and am, myself, a proud graduate and member of the alumni association. I am very humbled that the University has chosen to recognize me in this way." The Autherine Lucy Foster story is one of persistence, patience and desire for self-improvement. In 1952, after graduating with an English degree from Miles College, she applied to UA but was rejected because of her race. After a three-year legal battle, she was admitted by court order.
On Wednesday, Feb. 1, 1956, she registered as a student in UA's College of Education. That Friday, Feb. 3, she attended her first class as a graduate student in library science, becoming the first black person in Alabama admitted to a white public school or university. But on Monday, Feb. 6, as some 3,000 protested, the board of trustees expelled her, citing her and other students' safety.
Loftin was in a children's literature class with Foster on that fateful day. She had these memories of the turbulence as well as of Foster's contributions to UA history."
On Friday, February 3, Autherine's first day in class, she crossed the Quad alone without notable incident. But on Monday a crowd gathered, and the disturbance accelerated. Chants became angry shouts. Our class was dismissed, and Autherine was ushered out of the building to safety."
Loftin continued: "I had the honor of nominating her to the College of Education's Educator Hall of Fame — our College's highest honor — and to be seated at her table in 2016 when she was inducted. It was a delight to see her interact with the guests, who admired her so greatly. Seated in her wheelchair, she was gracious, with a good-natured sense of humor."
In 1988, the University officially annulled her expulsion. The next year she re-enrolled at UA with her daughter, Grazia. Foster earned a master's in elementary education in 1991 and participated in the graduation ceremony in May 1992 with her daughter, a corporate finance major. In 1998, UA named an endowed fellowship in Foster's honor and unveiled a portrait of her in the Student Union Building. She was recognized again in 2010 when the University dedicated the Autherine Lucy Clock Tower recognizing her as one of three UA desegregation pioneers, along with Vivian Malone and James Hood.
Working Past Retirement
Did you know that just because you reach the "older age" group of our population you don't automatically find a money tree? You don't automatically start receiving a check to cover the bills you've always had, and maybe new bills from health issues either of your own or loved ones. And if you're an employer, you don't automatically get a bright-eyed, highly qualified newbie to replace the seasoned veterans of your workplace. Many older adults want to keep working, are more than qualified to work, and are eagerly searching for employment but struggle to find it for a variety of reasons. Locally, in the West Alabama region, many seniors find themselves landlocked in rural areas with limited employment options. So, what's a solution as one of our nation's largest generations, the Baby Boomers, reaches retirement age but doesn't hit the lucky lotto jackpot?
The answer lies within a program that's existed since 1965 – the year after the youngest Baby Boomers were born. The Senior Community Service Employment Program (SCSEP) offers assistance to people age 55 and older who also meet federal income guidelines and are currently unemployed but able to work. Locally, the Area Agency on Aging of West Alabama administers SCSEP in its seven-county region. Participants receive paid, part-time job training at one of over 35 local non-profit and government agencies. Through SCSEP, many participants secure employment either at their host agency or elsewhere in their community. Additionally, SCSEP facilitates training opportunities for participants, outside of their host agencies, to keep their skills up to date with the rapidly changing pace of today's workplace. Some of the areas of continuing education include computer, budgeting and professional development classes.
Dorcas Gaines has been a participant in SCSEP since May. She is currently working as a receptionist and assistant at Community Service Programs of West Alabama in Centreville. "I've learned more communication skills and I'm not afraid to get on the computer, not afraid of messing up." Gaines said. She added that she's learned how to Google things and has met a variety of people at her SCSEP placement. "SCSEP is teaching me more confidence and teaching me to do what I didn't think I could do."
According to the National Council on Aging (NCOA), SCSEP is not only a benefit to older Americans in search of a job, but it also keeps our nation's workplaces running and advances the communities in which SCSEP participants serve. Jackie Moore is a finance officer at Fayette County Department of Human Resources, a SCSEP host agency. "It helps take the load off others here so they can do their duties" Moore said of SCSEP.
In Tuscaloosa County, Caring Days Adult Day Care has been a SCSEP host agency for nearly two decades. Executive Director Vicki Kerr has worked with dozens of SCSEP participants at Caring Days and said they definitely bring a benefit to the clients. Several participants who have worked at Caring Days in SCSEP went on to be hired as employees. Diane Hannah started at Caring Days through SCSEP in 2007. In 2010, she was hired full-time as a Client Care Specialist.
"She is a person with a really big heart. She loves the clients, and another thing that is very important is that she's very dependable." Kerr said of Hannah. Hannah previously worked in factories but had to stop after battling cancer. Even though she could no longer perform some physically demanding labor, she still needed to pay her bills and wanted to continue working. She was given the option of working at a school or Caring Days and felt Caring Days would be a good fit. A decade later, Hannah knows that was the right choice. "You get very attached to the clients. They are your family." Hannah said. "You feel gifted to know that you can do something to help them."
The program is clearly a value to the community, both to the seniors who want to work and the host agencies who need the help. But this past year has been a rocky road for SCSEP. With a new President in office comes questions of funding. There is a potential for budget cuts and/or elimination of SCSEP entirely.
At time of publication, Congress has proposed that SCSEP be transferred to the Administration for Community Living (ACL) from the Department of Labor (DOL) which will bring a $100 million cut. This would have a direct impact on local resources for SCSEP. Advocates continue to ask members of the public who have benefited, or know someone who has, to speak up and share their success stories of the importance of SCSEP. For many local participants, SCSEP has been a huge aid in finding them work as an older adult in their tiny, rural communities. For others, it gives them an outlet to find socialization and friends.
"If they take this program away it will be impossible for people, especially my age, to find work" Joneta Ricks, an Office Assistant and Receptionist at Fayette County DHR explained. The program not only helps her financially but she also enjoys being around people. "… this is the best job I've ever had. The money is good, but the atmosphere is great." Ellen Brown, a receptionist at Community Service Programs of West Alabama in Fayette said the program has benefitted her educationally and financially and would be a significant loss. "It benefits me a whole lot. I've learned how to deal with people. It helped me learn computer skills."
Growing older doesn't have to mean stopping your work. The NCOA states that 88% of participants reported the same or even better physical health while they were employed and 72% reported a better outlook on life while working. Whether it's financial reasons or a desire to continue doing what you enjoy and keep active, SCSEP is a well-rounded resource that aides and benefits all involved. To find out more about the local SCSEP through the West Alabama Regional Commission's Area Agency on Aging please visit www.westalabamaaging.org/scsep or call 205-333-2990.
By Michelle Carter, Public Information & Human Resources Manager West Alabama Regional Commission Area Agency on Aging
National Employ Older Workers Week (NEOWW)
The United States is undergoing a demographic shift that is changing older Americans' relation to the workplace. The average and median age of the U.S. population is rising, and the composition of the workforce with it. By 2020, it is estimated that workers 55 and over will make up 25% of the U.S. civilian labor force, up from 13% in 2000. In addition, individual workers are tending to remain in the workforce longer and retire later. The number of workers over the traditional retirement age of 65 is seeing a marked increase, and it is projected that they will make up more than 7% of the American labor force by 2020. Employers rate older workers high on characteristics such as judgment, commitment to quality, attendance, and punctuality.
National Employ Older Workers Week (NEOWW), held annually the last full week of September, recognizes the vital role of older workers in the workforce. National Employ Older Workers Week aims to increase awareness of this labor segment and develop innovative strategies to tap it. It also showcases the Senior Community Service Employment Program (SCSEP), which provides on-the-job skills training to individuals 55 or older with limited financial resources. Since its inception, SCSEP has helped over one million older Americans enter the workforce.
Please contact Kellie Blount, our SCSEP Project Coordinator, at 205-333-2990 or kellie.blount@westal.org. Kellie can give you more information and comments about SCSEP. She is also the contact if you'd like to interview any SCSEP participants or host agencies in the West Alabama Area. Please help us promote NEOWW as well as get the word out to seniors and local agencies who could benefit from SCSEP!
Moundville Times Submission Guidelines
Moundville Times publishes awards, weddings, engagements, anniversaries, 100th birthdays, family reunions with five generations, obituaries and birth announcements for people living in or past members of Hale County and Moundville for Free. Moundville Times is not responsible for photos left at the Moundville Times office. Please, e-mail us photos and stories to times@mound.net or bring them to the office at 46 2nd Ave. in Moundville.
Engagements/Weddings: should be submitted four to six weeks in advance of the date. Photos may NOT be printed out on regular copy paper, but only on photo paper or e-mailed. When e-mailing a photo please send the original high resolution .jpg file and do not attempt to edit the photo in any way. We can not accept photos pulled/ downloaded/ copied from the internet, such as from Facebook. To add any form of "Friends and family are invited by means of the press" will cost as a advertisement, otherwise the first announcement is free of charge.
Anniversaries: 50th, 60th, 70th, 80th year anniversary's with a photo and write up are free. There is a charge for personal messages included with these. Other anniversary years are not free and will be charged as a advertisement. Church/Community Announcements: are free as long as there are no personal messages and the event is not being charged for (love offerings do not count). Please keep the announcement to one paragraph with who is presenting the event, what the event is, date, time, where it will be held and contact information.
90th and 100th + Birthdays: Unless the birthday is announced in a social column, we charge for it to be in the paper as a advertisement. The exception: If the celebrant is either 90 or 100 years old or older than 100. You may send a photo to times@mound.net with a short write up or drop one off at the office in Moundville. When e-mailing a photo, please send the original high resolution .jpg file and do not attempt to edit the photo in any way. We can not accept photos pulled/downloaded/copied from the internet, such as from facebook. No personal messages may be included in the write up. Thank you's, from the family, with Love, religious mentions and quotations, ect.
Births: You may send a photo to times@mound.net with a short write up or drop one off at the office in Moundville. Please include the height (length), weight, time of birth and family members including mom, dad, grand parents and great grandparents if you prefer. Many of our forms on our website at the top of the page. They are in .pdf format. When e-mailing a photo please send the original high resolution .jpg file and do not attempt to edit the photo in any way. We can not accept photos pulled/downloaded/copied from the internet, such as from facebook. No personal messages may be included in the write up.
Five Generation Family Reunions: Submit one photo of the entire family along with a list of the family members in the photo from left to right, front row to back row of each family member. Please remember if you include a write up DO NOT place any personal messages or mentions of businesses in your story. Obits: ARE FREE and MUST come from the Mortuary, probate judge or company taking care of arrangements. No Exceptions! Please email them to times@mound.net. Obituary photos and Cards of Thanks must be paid for in advance.