2023 Upcoming Holiday deadlines: Moundville Times will be closed for Memorial Day, Mon., May 29. Moundville Times will be closed for Independence Day Mon. July 3, & Tues., July 4. Be sure to get all your storys and announcements in on time Friday, June 30th before 4 p.m. Moundville Times will be closed for Labor Day on Mon., Sept. 4. Moundville Times will be closed for Veterans Day on Fri., Nov. 10. Thanksgiving Deadline is Fri., Nov. 17 for the 29th Edition. Santa Letters Deadline is Fri., Dec. 1. Christmas and New Year's Deadline is Fri., Dec. 15 and Moundville Times will be closed Dec. 23 – Jan. 2, 2024.
Hale County Animal Shelter Pet of the week
Beautiful Skye will be available for adoption next Saturday. Sweet, good with other dogs too! The staff here loves her. Please get your pets spayed or neutered. Laurie Nevin, Hale County Animal Shelter, 334-624-8120
Church & Community Events
A CDC Food Safety Alert Regarding a Multistate Outbreak of Salmonella Infections from Papa Murphy's Take 'N' Bake Pizza
CDC, along with state and federal partners, is investigating reports of 18 Salmonella infections in 6 states. Two people have been hospitalized and no deaths have been reported. Interviews with sick people show that raw cookie dough sold at Papa Murphy's Take 'N' Bake Pizza stores may be contaminated with Salmonella and may be making people sick. People reported eating the cookie dough raw. Papa Murphy's has temporarily stopped selling their raw chocolate chip cookie dough and raw S'mores bars dough. Investigators are working to identify the contaminated ingredient in the raw cookie dough. The true number of sick people is likely higher than the number reported, and the outbreaks may not be limited to the states with known illnesses. This is because some people recover without medical care and are not tested for Salmonella.
What You Should Do: Check your refrigerator and freezer for Papa Murphy's chocolate chip cookie dough or S'mores bars dough. Throw the dough away, even if you didn't get sick after eating some of it. Wash items and surfaces that may have touched the dough using hot soapy water or a dishwasher. Always follow cookie dough baking instructions in the recipe or on the package label. Papa Murphy's chocolate chip cookie dough and S'mores bars dough are not meant to be eaten raw. Some other companies make edible cookie dough that does not have to be baked. These products are made with heat-treated flour and pasteurized eggs or no eggs. Read the label carefully to make sure the dough is meant to be eaten without baking or cooking.About Salmonella: Most people infected with Salmonella develop diarrhea, fever, and stomach cramps 6 hours to 6 days after being exposed to the bacteria. The illness usually lasts 4 to 7 days, and most people recover without treatment. In some people, the illness may be so severe that the patient is hospitalized. Salmonella infection may spread from the intestines to the bloodstream and then to other parts of the body. Children younger than 5, adults 65 and older, and people with weakened immune systems are more likely to have severe illness.

Governor Kay Ivey Invites Alabama Students to Join Her for Governor Ivey's Summer Reading Challenge
Alabama Educators and Students: Each of you worked hard this school year, and I couldn't be prouder of your efforts in the classroom. Summer is a time to break from school but not from learning! To continue the growth and progress you made, we must keep our minds sharp by reading all summer long. As the school year wraps up, and we look ahead to our summer plans, I encourage each of you to set aside dedicated time for reading. This summer, I am inviting all Alabama students to join me in reading. Together, we will participate in my Summer Reading Challenge. Whether reading an assigned summer reading book or a novel just for fun, I want to hear about the literary adventure you embarked on during the break. To participate, Alabama students entering grades K through 8th for the 2023-2024 school year may write a letter to me, sharing what their preferred summer reading book was and why it was their favorite. Teachers and parents, you can even get in on the action by showing me what our young learners are reading by tweeting me at@GovernorKayivey and using the hashtag #GovernorlveysReadingChallenge and #AlabamaReads. The reading challenge begins now and ends on July 31, so be sure to mail me your letters by then. All letters to Governor Ivey should be addressed and mailed to: Governor Kay Ivey, Attn: Governor Ivey's Summer Reading Challenge, 00 Dexter Ave., Montgomery, AL 36130. Students, be sure to include your name, grade you are entering and the school you attend. I look forward to hearing from each and every one of you about your summer reading adventure. Have a wonderful summer of learning, Kay Ivey, Governor.

Dance Intensive June 5-8
The Theatre Department of the Halle County College & Career Academy will be hosting its first annual Dance Intensive June 5-8 at the theatre. Students between the ages of 14-18 are eligible to sign up and there is no registration fee. Students will be exposed to the various genres of dance namely: ballet, modern, jazz and hip hop. The Intensive will be led by Ms. Miranda Zapata, Dance Coordinator at Shelton State Community College. Students will be in class from 8am-4pm daily and on Friday, June 9th there will be a student showcase for parents and community stakeholders from 8 a.m .- noon in the theatre. Students may register by contacting Mrs. Clemmie L. Hilton via email at chilton@halek12.org or call 334-624-3691 and ask for Mrs. Hilton. If you have any further questions, please contact Mrs Hilton asap. Come on and let me see you shake a tailfeather!
Red Cross
Donors of all blood types – particularly type O blood donors, the most needed blood group by hospitals – and platelet donors are needed daily to meet demand. Protect the blood supply from dropping – book a time to give blood or platelets by visiting RedCrossBlood.org, downloading the Red Cross Blood Donor App, or calling 1-800-RED CROSS. Tuscaloosa: 5/24: noon – 4:30 p.m., Crunch Fitness, 3325 McFarland Blvd. E.; 5/25: 2 -6 p.m., Church of Jesus Christ of Latter Day Saints, 2015 Academy Dr.; 6/1: 3 p.m. -7 p.m., Calvary Baptist Church- Allan R Watson Annex, 1208 Paul W. Bryant Dr.; 6/2: 1-5 p.m., Alpha Tau Chapter of Omega Psi Phi Fraternity, Inc – McDonald Hughes Center, 3101 Martin Luther King Jr. Blvd.

TRHT Selma Announces Dates for Levitt AMP Concert Series
Starting with a classic car show featuring Ms. Necie and Sounds on Sat., May 27, TRHT Selma in partnership with the City of Selma as well as the Selma and Dallas County Chamber of Commerce and Tourism Information will work to host ten weeks of free concerts at the Riverfront Amphitheater and Park thanks to funding from the Levitt Foundation. The Levitt AMP Selma Concert Series events are free to the public and scheduled for May 27-July 29, with shows being held at Selma's Riverfront Amphitheater and Park each Saturday throughout the summer. To receive updates on the full line up of artists and partnership opportunities, log onto www.TRHTSelma.org. The Truth, Racial Healing, and Transformation Selma (TRHT Selma) initiative is a partnership between the Black Belt Community Foundation and the Selma Center for Nonviolence.
School Events
4-H BIGGEST Catch
Alabama 4-H invites everyone ages 9 to 18 to test their fishing skills through 4-H BIGGEST Catch, a virtual fishing contest! To participate, all you have to do is go fishing in Alabama freshwater anytime between May 26 and June 5. Once you make your big catch, measure the fish, take a photo with it, and submit an online contest entry form. Participants must submit their official contest entries between May 26 at 8 a.m. CST and June 5 at 8 p.m. CST using the online submission form at https://aub.ie/4HBiggestCatch.All entries must include a photograph of the youth's biggest catch (Figure1). The photograph must include the youth and their fish, the contest code AL4H2023, and the total length (inches) of the fish. This can be written on a piece of paper and held up in the photograph or written on the participant's hand.Total length of a fish is measured from the tip of the snout to the end of the caudal (tail) fin using a measuring tape or a measuring board (Figure 2 and Figure 3).Only complete entries will be considered.Only one entry per youth, per category is allowed.Youth ages 9 to 13 will compete in the Junior division, and youth ages 14 to 18 will compete in the Senior division.Contest categories are bass, sunfish (bream), catfish, and crappie. Each participant's catch must be submitted to the correct category.First-, second-, and third-place recognitions will be awarded for each category in both age divisions.Youth must catch and land their own fish without the help of others.Fish must be caught in Alabama waters.Participants must follow all state requirements for fishing license and permits and creel and size limits. Visit www.OutdoorAlabama.com for more information
Dolly Parton's Imagination Library
Success By 6 of United Way of West Alabama is proud to provide Dolly Parton's Imagination Library books FREE to children ages birth to 5 years old in Greene, Hale, Marengo, Pickens, Sumter, and Tuscaloosa counties. Once a month, your child will receive a new book by mail. You only need to do two things: register your child and pledge to read the books to him/her. Please, climb on board Dolly Parton's Imagination Library! Since UWWA launched the Dolly Parton Imagination Library: 13,467 children have participated in the program in Greene, Hale, Marengo, Pickens, Sumter, and Tuscaloosa Counties. 10,427 children have "graduated" from the program. 443,856 books have been delivered to children in West Alabama. Sign up at https://imaginationlibrary.com/check-availability/
Greensboro Elementary School Supply Lists
Southern Academy School Calendar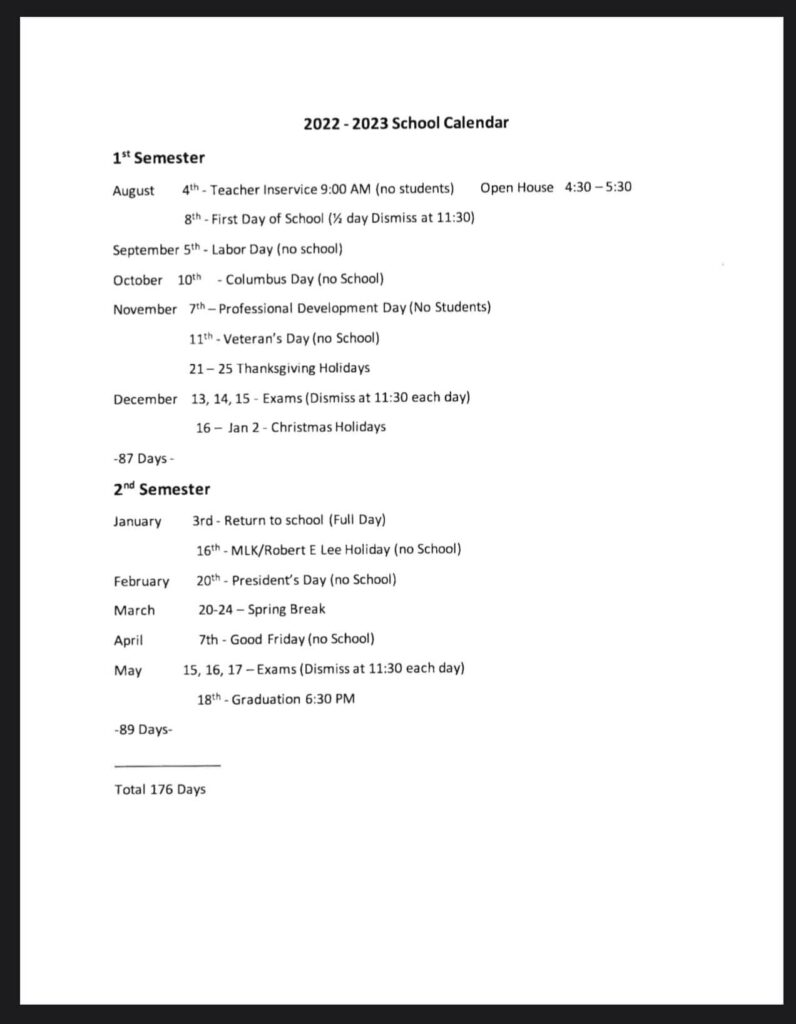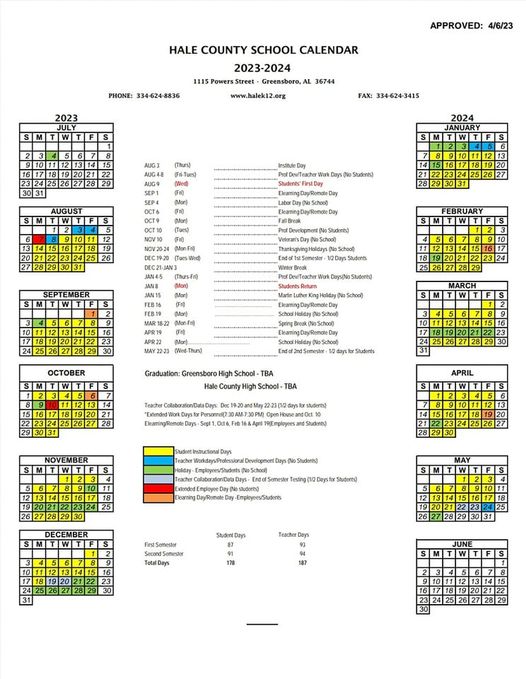 UA STUDENTS RECEIVE U.S. FULBRIGHT PROGRAM AWARDS FOR 2023-2024 — The Fulbright Program has selected 13 University of Alabama students for various awards for the 2023-2024 academic year including three Alabamians. Fulbright is the most prestigious United States international exchange program, offering opportunities for students, scholars and professionals. The Fulbright Award of the U.S. Department of State offers one-year grants for independent study and research, and for English teaching assistantships overseas. The highly competitive program selects approximately 1,500 award recipients from more than 11,000 applicants each year. UA was recognized as a Top Producing Institution for Fulbright U.S. Student Awards for the sixth time in eight years in February. For more information, contact Bryant Welbourne, UA Strategic Communications, at bryant.welbourne@ua.edu.
COLLEGE OF ENGINEERING TO HOST NATIONAL 2023 ROBOTIC MINING CHALLENGE — The UA College of Engineering will host 24 university teams from across the nation for the Robotic Mining Challenge May 22-26. Sponsored by Caterpillar Inc., the event is designed to create solutions to problems faced on moon exploration missions. Each team has spent the past year designing and building a robot that uses resources available on the lunar surface. During the competition, robots must autonomously navigate a lunar-simulated arena and excavate lunar soil, or regolith. This will mark the second time that the college's award-winning Alabama Astrobotics team has hosted a robotic mining competition. For more information, contact Anna Claire Toxey, UA College of Engineering, at actoxey@ua.edu.
UA-LED ELECTRIC VEHICLE PROJECT WINS INITIAL NATIONAL AWARD — A proposal led by The University of Alabama to strengthen the Deep South's role in production and support of electric vehicles was selected by the National Science Foundation to be developed further. The $1 million planning grant from the NSF Regional Innovation Engines program positions UA and its partners, the University of Georgia and Mississippi State University, to compete alongside 40 other teams for up to $160 million over 10 years in the first-ever NSF Engines Development Awards, which aim to help partners collaborate to create economic, societal and technological opportunities for their regions. The NSF Engines program is a transformational investment for the nation, ensuring the U.S. remains in the vanguard of competitiveness for decades to come. For more information, contact Adam Jones, UA Strategic Communications, at adam.jones@ua.edu.
EMERITUS PROFESSOR ELECTED TO NATIONAL ACADEMY OF SCIENCES — Dr. William Dressler, professor emeritus at UA, was recently elected to the National Academy of Sciences, one of the most prestigious honors in science. Dressler retired in 2020 as a professor of anthropology after 42 years at the University where he had also been a tenured professor in the College of Community Health Sciences and the School of Social Work. He is one of 120 new members and 23 international members elected in recognition of their distinguished and continuing achievements in original research. Dressler is now part of 2,565 members and 526 international members of the NAS, which was established under a congressional charter signed by President Abraham Lincoln in 1863. For more information, contact Adam Jones, UA Strategic Communications, at adam.jones@ua.edu.
CURRENT COMMENT
DOLLY PARTON TAKES ON HOT TOPICS — Dolly Parton's new song "World on Fire" breaks from her usual musical style and addresses several current hot topics. "Over many decades, Dolly Parton has consistently cultivated a humorous image that always included public advocacy of select issues important to her, including literacy and public health concerns," said Dr. Lance Kinney, presenter of "Dolly Parton: Crisis Communication CEO" and associate professor of advertising and public relations in UA's College of Communication and Information Sciences. "She transcends politics with her non-partisan work in these and other areas. Her criticism of politics, generally, rather than specific political figures, allows her to be involved without alienating her politically diverse fanbase." To schedule an interview, contact Kinney at kinney@apr.ua.edu.
INCREASING ACCESS TO MENTAL HEALTH CARE — Licensed independent clinical social workers in Alabama will soon have the authority to make clinical mental health diagnoses for patients, just as they can in every other state in the country. "This will significantly expand the availability of and access to mental health care services in Alabama," said Dr. Bob McKinney, associate professor of social work with The University of Alabama College of Community Health Sciences and director of the Office of Case Management and Social Services at University Medical Center, which the college operates. McKinney said increasing the scope of practice for the state's more than 2,500 LICWs will allow them to help address Alabama's shortage of mental health providers. McKinney also serves on the Alabama State Board of Social Work Examiners, which was tasked with providing definitions and guidelines for increasing the scope of practice for LICSWs. To schedule an interview, contact McKinney at rmckinney@ua.edu.
EVENTS
AFTER PROMONTORY: 150 YEARS OF TRANSCONTINENTAL RAILROADING — The Mildred Westervelt Warner Transportation Museum's new exhibit, "After Promontory: 150 Years of Transcontinental Railroading," opens May 23 and runs through Sept. 9. The exhibit is on loan from and in collaboration with the Center for Railroad Photography and Art. "After Promontory" takes a wide view, considering the events at Promontory to be the start of a larger phenomenon, of an entire era of transcontinental railroad construction that stretched for nearly 50 years. At its core is the assertion that, collectively, the transcontinental railroads profoundly reshaped the human geography of the West, giving birth to the region we recognize today.