Leaderboard

2022 Upcoming Holiday deadlines: Santa Letters deadline is Friday, Dec. 2. Christmas & New Years deadlines are Friday, Dec. 16. We will be closed Dec. 22–Jan. 1 for Christmas and New Year's holidays.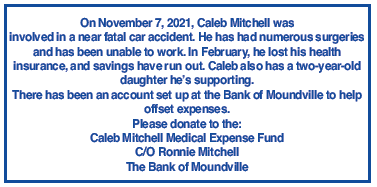 Church & Community Events
Red Cross
Make an appointment to give blood or platelets as soon as possible by using the Red Cross Blood Donor App, visiting RedCrossBlood.org or calling 1-800-RED CROSS (1-800-733-2767). Tuscaloosa: 11/25: 11 a.m. – 4 p.m., University Mall, 1701 East McFarland Blvd.; 11/25: noon – 4 p.m., Church of Jesus Christ of Latter Day Saints Tuscaloosa, 2015 Academy Dr.
School Events
SSCC Holiday Happenings
Both campuses will also be closed Nov. 23 through Nov. 25 for Thanksgiving. The College's regular hours of operation will resume on Nov. 28. On Nov. 29, the SSCC Music Department will host the College's Annual Tree Lighting and Sing-Along at 1 p.m. in the Martin Campus Atrium. Sacred and secular holiday pieces will be performed, and the audience will participate in a sing-along. The Music Department will present its annual Christmas Concert on Dec. 1 at 7:30 p.m. in the Martin Campus Atrium. Featuring the Shelton Singers and the Shelton State Jazz Ensemble, both events are free and open to the public. The Tree Lighting event will also highlight the College's Here Comes Santa Claus annual giving campaign. Now in its twelfth year, Here Comes Santa Claus is sponsored by the Shelton State Ambassadors and allows students, faculty, staff, and community members to assist those in need. Donations will be accepted through Dec. 9. To learn how to help, contact Forrest Smith at fsmith@sheltonstate.edu. Theatre Tuscaloosa's The Great Christmas Cookie Bake-Off will run Dec. 9-18. Times and prices vary. Visit Theatre Tuscaloosa for additional information. Tuscaloosa CommUNITY Fest will be held at the McDonald Hughes Community Center on Dec. 10 from 9 a.m.-5 p.m. The event will feature local vendors, games and activities for children, live DJs, food trucks, and a 3-on-3 basketball tournament with a $2,000 prize. While the event is free, attendees are encouraged to bring a new, unwrapped toy for local Tuscaloosa families. The College will be closed for the holidays beginning Dec. 23-Jan. 3. Regular hours of operation will resume on Jan. 4 with spring classes beginning on Jan. 10, 2023. For more information, contact SSCC Media and Communication at mediacom@sheltonstate.edu.

Bring Out the Cap and Gown, UA Graduation is Dec. 10
The University of Alabama will hold fall commencement ceremonies Saturday, Dec. 10, at Coleman Coliseum on the UA campus. More information, including live and recorded webcast details, an interactive campus map, parking information, graduate profile stories and fast facts about the 2022 fall class can be found on UA's commencement website. Commencement information can be heard on UA's radio station, 92.5 FM
Dolly Parton's Imagination Library
Success By 6 of United Way of West Alabama is proud to provide Dolly Parton's Imagination Library books FREE to children ages birth to 5 years old in Greene, Hale, Marengo, Pickens, Sumter, and Tuscaloosa counties. Once a month, your child will receive a new book by mail. You only need to do two things: register your child and pledge to read the books to him/her. Please, climb on board Dolly Parton's Imagination Library! Since UWWA launched the Dolly Parton Imagination Library: 13,467 children have participated in the program in Greene, Hale, Marengo, Pickens, Sumter, and Tuscaloosa Counties. 10,427 children have "graduated" from the program. 443,856 books have been delivered to children in West Alabama. Sign up at https://imaginationlibrary.com/check-availability/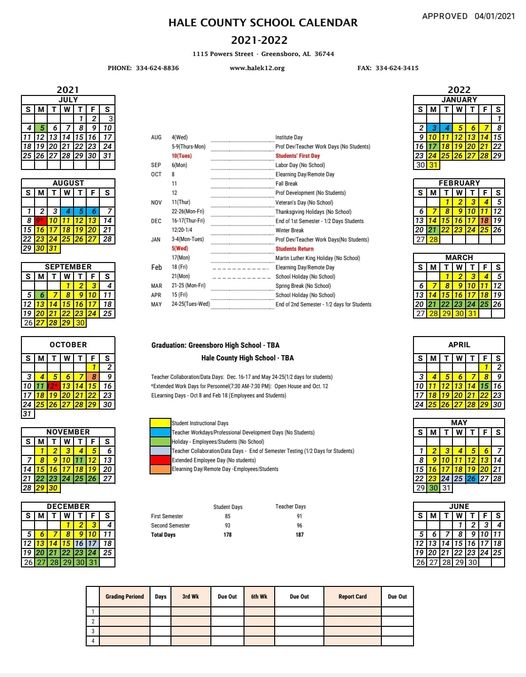 Southern Academy School Calendar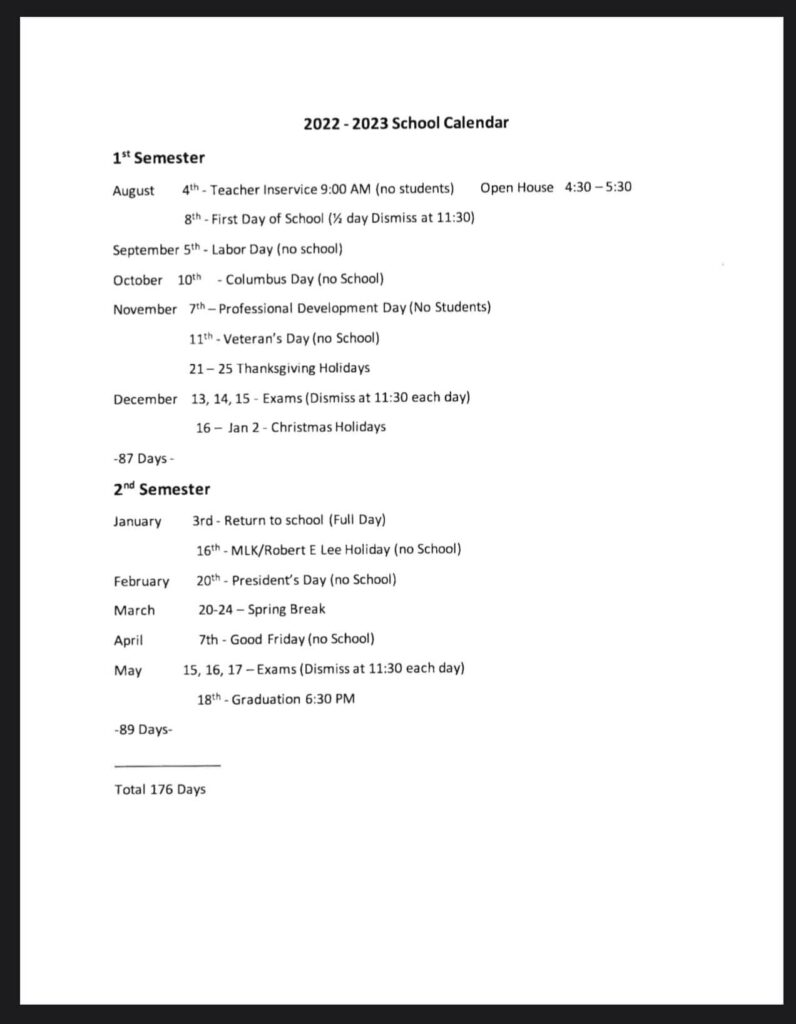 UA-LED STUDY RESULTS IN FIRST DIETARY GUIDELINE OF PLANT COMPOUND — An apple a day can keep the doctor away according to an international study spearheaded by a UA faculty member. Dr. Kristi Crowe-White, associate professor and chair of the department of human nutrition and hospitality management at UA and registered dietician, led an international workgroup to develop the dietary guideline for a bioactive food compound known as flavan-3-ols. The dietary recommendation is the first for a compound not related to correcting deficiencies but to the promotion of health and wellness. Flavan-3-ols can be found in apples, tea, peas, berries, and chocolate or cocoa products. For more information, contact Tabby Brown, UA College of Human Environmental Sciences, at tbrown@ches.ua.edu.
UA ALUMNUS EARNS JOHN S. MCCAIN STRATEGIC DEFENSE FELLOWSHIP — Micah Presley, a recent UA graduate, has received a John S. McCain Strategic Defense Fellowship through the U.S. Department of Defense. Presley, a native of Florence, is the first UA student or graduate to receive this fellowship. The John S. McCain Strategic Defense Fellows Program is a one-year civilian fellowship program designed to provide leadership development for the commencement of a career track toward senior leadership in the Department of Defense. For more information, contact Bryant Welbourne, UA Strategic Communications, at bryant.welbourne@ua.edu.
SUPPORT FOR SPONSORED PROJECTS AT UA DOUBLES IN FOUR YEARS — Outside support of research, other sponsored activity and instructional efforts that spark innovation and discovery at The University of Alabama more than doubled over the past four years thanks to another record-breaking year. For the ninth straight fiscal year, sponsored awards in 2022 were at an all-time high, increasing 23.6% to $211.4 million from 840 sponsored awards to UA. Sponsored awards include all competitive external funding for research, instruction, other sponsored activity, fellowships and construction. For more information, contact Adam Jones, UA Strategic Communications, at adam.jones@ua.edu.
UA TO LEAD REGIONAL DATA CENTER COMBATTING OPIOID CRISIS — With expertise and experience in multidisciplinary data analytics, UA was tapped to spearhead a regional center to help communities across the Southeast combat the opioid crisis. The Southeast Regional Drug Data Research Center is supported with $3.5 million in funding from the United States Department of Justice's Bureau of Justice Assistance. The center builds upon efforts at the Institute of Data and Analytics, or IDA, within the UA Culverhouse College of Business in developing Alabama's opioid central data repository, expanding to seven other states across the Southeast. For more information, contact Adam Jones, UA Strategic Communications, at adam.jones@ua.edu.
RIVER PITCH COMPETITION RETURNS FOR 2022 — As part of Global Entrepreneurship Week, the Alabama Entrepreneurship Institute, a part of the UA Culverhouse College of Business, is hosting the sixth annual River Pitch Competition Tuesday, Nov. 15, from 5 p.m. to 9 p.m. at the Tuscaloosa River Market. There is no entry fee for the competition, which is open to UA students, employees and members of the West Alabama community. To learn more about the River Pitch Competition, visit the Alabama Entrepreneurship Institute website. For more information, contact Dr. Theresa Welbourne, executive director of AEI, at twelbourne@culverhouse.ua.edu.
UMC RELOCATES NORTHPORT CLINIC — University Medical Center is relocating its Northport clinic to a new, larger building and will expand the health care services offered. The new location opens Nov. 14 at 6205 Jemison Lane. The new UMC-Northport is significantly larger than its current location which opened in 2015. UMC-Northport will continue to provide family medicine, obstetrics and pediatric care and will add neurology care at the new location. For more information, contact Leslie Zganjar, UA College of Community Health Sciences, at lzganjar@ua.edu.

CURRENT COMMENT
TIPS FOR COOKING THE PERFECT THANKSGIVING TURKEY — Preparation is key in cooking the perfect turkey for Thanksgiving. According to Denise DeSalvo, senior instructor in the department of human nutrition and hospitality management, assemble aluminum foil, a food thermometer calibrated according to manufacturer instructions, and a roasting pan at least two inches deep. "A deeper pan will allow you to add water or broth and also collect cooking juices that can be used to make gravy. No need to purchase a special pan; in fact, you can find disposable aluminum pans that will accommodate a turkey during the holiday season," said DeSalvo. To schedule an interview, contact DeSalvo at dmdesalvo@ches.ua.edu.
STYLISH TRENDS FOR YOUR HOLIDAY SHOPPING LIST — "As temperatures cool off, you can find plenty of new fall fashion trends," said Babs Davis, an instructor in UA's department of clothing, textiles and interior design. "Many people returning to the office after working remotely want to dress up with a little more flair and we're seeing bright colored and patterned suits, eschewing the traditional colors of black or navy. While we see leather in some form every fall, this year we're seeing it in abundance in the form of long leather coats and leather blazers paired with leather pants for a head-to-toe leather look. In footwear, we're still seeing plenty of the platform shoes we saw in spring, just more closed up, and several clogs. Cowboy and western style boots are also huge." To schedule an interview, contact Davis at bdavis@ches.ua.edu.
EVENTS
BEAT AUBURN BEAT HUNGER RESULTS TO BE ANNOUNCED — Donations for the 29th annual Beat Auburn Beat Hunger campaign will be collected through Thursday, Nov. 17, with the results of the competition between UA and Auburn University being announced Friday, Nov. 18, at 10 a.m. at the West Alabama Food Bank. For more information, contact Shane Dorrill, UA Strategic Communications, at shane.dorrill@ua.edu.
FASHION FOR LIFE — UA apparel design seniors will present their final collections at Fashion for Life Nov. 20 at the Bama Theatre in downtown Tuscaloosa. Fashion for Life is the culmination of a capstone course that students start preparing for before their senior year. Tickets are $5 and can be purchased online and at the door. All proceeds from the event's ticket sales will be donated to the United Way of West Alabama. Money raised from sales will be matched by Estee Lauder Companies. Doors will open at 4:30 p.m. and the show will start at 5 p.m. For more information, contact Tabby Brown, UA College of Human Environmental Sciences, at tbrown@ches.ua.edu.
MUSEUM MONDAY — UA Museums is kicking off Thanksgiving week with Museum Monday Nov. 21 from 3 p.m. to 4:30 p.m. at the Alabama Museum of Natural History. Children in kindergarten through second grade and their caregivers are invited to spend time together and experience the museum in a whole new way. The cost of the program is $5 per child and includes up to two caregivers. Registration is required. For more information, contact Rebecca Johnson, UA Museums, at rljohnson8@ua.edu.