Leaderboard
Hale County Animal Shelter Adoptable Pet of the Week
Please come give me belly rubs! Just ask for Sue Ellen. I love people and rubs, crate trained, but I love the outdoors. Come by the shelter and meet me! Help your pet live a longer, healthier life by spaying or neutering.

Submitted by Laurie Nevin, Hale County Animal Shelter, 334-352-2000. Shelter hours Mon. 10-12 & Sat. 10-2.
Church & Community Events
The Hale County Soil and Water Conservation District Board will hold a regular meeting on March 21, 2019 at 8:00 a.m. at the District office located at 200 First Street, Greensboro, Alabama.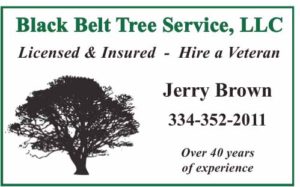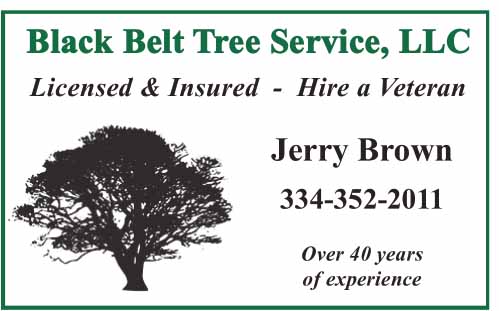 Community Baptist Church Moundville Praise in Song
Sat., March 2 at 6 p.m. Special Singers, "Revalators." Bring a covered dish and join us for food and fellowship afterwards. Everyone welcomed. Come expecting a blessing!
Severe Weather Preparedness Workshop
Tuscaloosa County EMA and the University of Alabama are hosting a Severe Weather Preparedness Workshop at the Alabama Fire College on March 28. This workshop is free and open to the public – please invite friends, family, and members of your communities to join us for this event. Beginning at 6 p.m., this workshop will focus on risk communication and severe weather preparedness to provide tips and suggestions on receiving weather warnings and having good emergency plans to prepare for severe weather. There will be several guest presenters and an expert panel to answer any questions you may have. Panel members include Tuscaloosa County EMA, Alabama EMA, University of Alabama Departments of Communication Studies and Geography, and Southern Alabama's Red Zone Weather. Please consider joining us for this event and inviting anyone who may be interested in learning more about severe weather preparedness. There is a Facebook event for this workshop if you would like to RSVP and share with your friends: https://www.facebook.com/events/258372685104579/
Raised Bed Gardening
The Hale County Extension Office will be hosting a Raised Bed Gardening workshop April 10 from 3-5 pm at the Hale County Extension Office, 701 Hall Street, Greensboro. Topics covered will include why grow in a raised bed, how to build a raised bed, what soil to fill it with, and what and when to plant in the raised bed. There will be a small registration fee for workshop materials and refreshments. To preregister or for more information please contact the Hale County Extension office at 334-624-8710.
Duncanville Volunteer Fire Dept Fish Fry
Duncanville Volunteer Fire Dept. on March 30, at 4 p.m. Duncanville Volunteer Fire Dept., 11340 Monticello Dr, Duncanville, Alabama 35456.
Community Foundation Grant Applications Now Available
The Community Foundation of West Alabama announces its Spring Grant Cycle. Grant applications for the community grants are available for 501(c)(3) nonprofit organizations only. Applications must be postmarked no later than April 1. Those interested are encouraged to download the grant applications from our website at www.thecfwa.org or you may call the CFWA office at 205-366-0698.
Farm Business Training Workshop
Tuskegee University Cooperative Extension will be hosting free workshops designed to teach farmers how to understand and implement farm business planning principles, risk management and decision making. The workshops will be held April 6 and May 4 from 9 a.m. – 4: p.m. at the Federation of Southern Cooperative Rural Training & Research Center, Epes. Pre-registration is required and space is limited to 50 participants that must attend all three workshops. To register contact Gertrude Wall at 334-875-9343 or Hale County Extension Office at 334-624-8710.
Get to Know Your Area Agency on Aging
In an effort to educate more older adults in west Alabama communities about available supports and services, the "Get to Know Your Area Agency on Aging" Information Series will be held in March by the Area Agency on Aging at West Alabama Regional Commission March 29, 1-2:30 p.m. at Greensboro City Hall. Open to Hale County residents who are 55 or older, caregivers and professionals. Often times the general public is uncertain about where to seek out information, guidance and support for their aging loved ones. Older adults, themselves, are often unaware of assistance and programs that are available by the Older American's Act and other community resources. To offer insight and answers to questions about available assistance, the Area Agency on Aging will be coming to the community to talk about their availability. Come connect with the Area Agency on Aging and get your questions answered! Contact Tranjula Hamilton at the Area Agency on Aging of West Alabama for more information by calling 205-333-2990 ext. 223 or email: tranjula.hamilton@westal.org.
Celebrate Alabama's Bicentennial in the Canebrake!
Tour 25+ rarely-open sites over two weekends, March 23&24, 29&31. Don't miss the extrasin each county, Greene, Hale, Perry, Marengo, Sumter, parties, food, music, an evening tour,and wrap it all up with good ol' Sumter County barbecue in Gainesville! https://www.canebrakehomecoming.com/
American Red Cross
The American Red Cross has a severe shortage of type O blood and urges type O donors – as well as eligible blood and platelet donors of all blood types – to give now to ensure lifesaving patient care isn't impacted this winter. Individuals of all blood types – especially type O – are asked to make an appointment to donate blood or platelets by downloading the free American Red Cross Blood Donor App, visiting RedCrossBlood.org or calling 1-800-RED CROSS (1-800-733-2767). Tuscaloosa: 3/28: 11:30 a.m. – 5:30 p.m., Phi Gamma Delta University of Alabama, 976 University Blvd. Moundville: 3/28: 9 a.m. – 2 p.m., Hale County High School, 50 Wildcat Way Hwy. 69 S.
School Events
Join Innovative Cybersecurity Competition
Governor Kay Ivey encourages young women in Alabama high schools to take advantage of an opportunity to explore their aptitude for cybersecurity and computer science by trying to solve the challenges of the 2019 Girls Go CyberStart program. Participating students, and their teachers, do not need knowledge or experience in information technology or cybersecurity to participate. All that is required is a computer and an Internet connection. The program is free for schools and students. Participants use the CyberStart Game, an online series of challenges that allow students to act as cyber protection agents to solve cybersecurity-related puzzles and explore exciting, relevant topics such as cryptography and digital forensics. Alabama high schools where at least five girls in the Girls Go CyberStart Program master six or more of the challenges, will win access to the full CyberStart Game for their entire school, extending the competition to both male and female students for the remainder of the school year. Students will also have the opportunity to win cash prizes for themselves and their schools. In Alabama, at least 10 high school girls will each get $500 scholarships to help them pay for college. Both male and female college students also have the opportunity to play CyberStart this year. The college program, called Cyber FastTrack, is a pipeline to $2.5 million in scholarships for advanced cybersecurity education as well as internships and jobs in the field. Complete details may be found at Girls Go CyberStart and at Cyber FastTrack. High school girls may pre-register for Girls Go CyberStart until March 20, when the games begin. Students can still register and play until April 12. College students may register and play Cyber FastTrack between April 5 and May 10.
Second Annual West Alabama High School Jazz Festival
Shelton State Community College will host the Second Annual West Alabama High School Jazz Festival on March 23 from 9 a.m. until 6:30 p.m. in the Bean-Brown Theatre on the College's Martin Campus. All performances are free and open to the public, including the final performance at 5 p.m. by the Shelton State Jazz Ensemble featuring McLean. For more information about the Second Annual West Alabama High School Jazz Festival, contact Lillian Roberts at 205.391.2399 or lroberts@sheltonstate.edu.
NIH TO FUND STUDY OF STUDENT AGGRESSION, TEACHER BIASES – The National Institutes of Health has awarded UA a $2.4 million grant to create interventions to lower aggression in middle-school students and lessen disproportionalities in school discipline. The study will combine elements of Positive Behavior Interventions and Supports with Coping Power, a school-based curriculum for children with aggression problems. The goal is to lower both interracial and intraracial violence in middle schoolers and to get teachers to discipline without influence of their implicit biases. For more information, contact David Miller, 205-348-0825 or david.c.miller@ua.edu.
GRADUATE SCHOOL WAIVES APPLLICATION FEES THIS WEEK – Applying to become a graduate student at UA is free this week. The UA Graduate School is waiving application fees for master's and doctoral programs from March 18 through March 22, saving $65 for U.S. applicants and $80 for international applicants. During Free Grad App Week, applicants can complete a short form to receive a code that will waive the application fee. The inaugural Free Grad App Week is meant to increase awareness of opportunities for graduate studies at the University. For more information, contact Adam Jones, UA communications, 205-348-4328, adam.jones@ua.edu.
DOCUMENTARY SHOWCASES ROLES OF BROADCASTERS DURING 2018 HURRICANES – A new documentary highlighting the role of broadcasters during disasters was recently released by a UA journalism professor. The videos by Dr. Chandra Clark, UA assistant professor of journalism and creative media, are part of the "First Informers" series and focus on broadcast coverage of hurricanes Florence and Michael, which struck North Carolina and Florida, respectively, during 2018. Developed in collaboration with the University of Oklahoma, the series has, over the last eight years, documented the important roles broadcasters fill during emergencies. For more information, contact Cole Lanier, communication specialist in the College of Communication and Information Sciences, at 205-348-4471 or mclanier@ua.edu. Reach Clark directly at Chandra.clark@ua.edu.