Leaderboard
2022 Upcoming Holiday deadlines: We will be closed for Veteran's Day, Nov. 11. Early deadline is Thursday, Nov. 10 by 4 p.m. We will be closed for Thanksgiving Nov. 23-28. Everything must be in by Fri., Nov. 18th. We have to go to press early for the Thanksgiving holiday. Santa Letters deadline is Friday, Dec. 2. Christmas & New Years deadlines are Friday, Dec. 16. We will be closed Dec. 22–Jan. 1 for Christmas and New Year's holidays.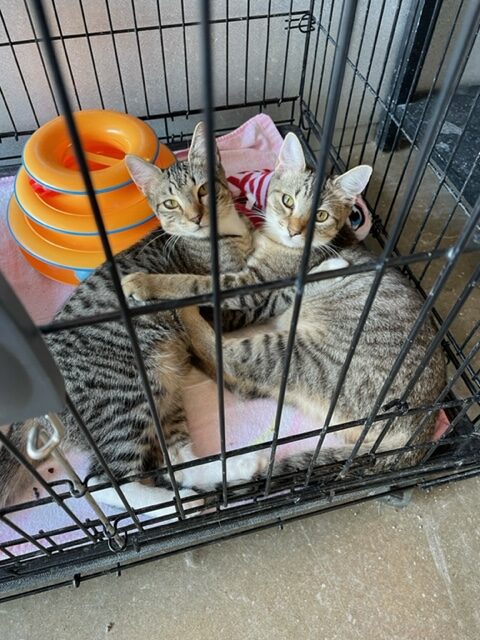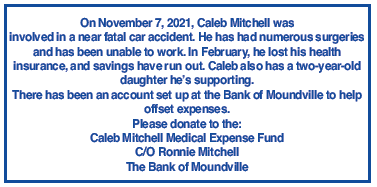 Church & Community Events

90th Anniversary Rhodes Chapel Baptist Church
Rhodes Chapel Baptist Church, 1580 Rhodes St., Greensboro, invites you and your family to join us for our 90th anniversary is Oct. 9, 2022, with worship service at 10 a.m. and lunch to follow. Come together with thankful hearts for all God has done.

Black Belt Community Foundation Kicks Off Football Season with Annual Throw & Go Contest!
The Black Belt Community Foundation (BBCF) annual "Throw & Go Contest" is kicking off again this year to support BBCF's Community Grants Program. This year's prize is a pair of tickets to the 2022 IRON BOWL (Alabama vs. Auburn Football Game) to be played at Bryant-Denny Stadium in Tuscaloosa, AL on Nov. 26. The tickets were given by a donor to BBCF for the specific purposes of this effort. 2022 has been BBCF's most successful year of community granting yet with over 69 worthy community organizations receiving community grants totaling over $208,000. How to participate? Potential donors will be asked to give a minimum $5.00 donation for a ticket which creates an entry for them into a skills contest drawing. All the tickets will be placed in a container, and a BBCF Board member will select one ticket from the container on Nov. 15. The name that is pulled out will be the individual selected to participate in the BBCF "Throw & Go Skills Contest." This drawing will be captured by video and shared to the media and public via social media for transparency. The BBCF Community Engagement Officer or BBCF President will contact the contestant immediately following the drawing. The Community Engagement Officer will schedule the "Throw & Go Skills Contest" prior to the date of the Alabama and Auburn Football Game. Donors can enter the contest online at bit.ly/bbcfthrowandgo2022 or by visiting the BBCF's website donations page at: https://donatenow.networkforgood.org/blackbeltcommunityfoundation. The BBCF Community Associates (CA) across 12 counties of the Black Belt will also offer direct paper ticketing through the CA network. For the "Throw & Go Skills Contest," the contestant will have three attempts to complete a 12-yard pass to a BBCF Staff Member. The 12 yards are symbolic of the 12 counties that are in the BBCF service area. The skills contest will be captured by video for transparency and documentation of the integrity of the contest. For any questions related to Throw & Go, please contact Christopher Spencer at the BBCF office: 334.874.1126 (ext. 111) or by e-mail to cspencer@blackbeltfound.org. Find out more about BBCF and "Throw & Go" at: www.blackbeltfound.org Join our Social Media Community and follow "Throw & Go" live updates at: facebook.com/BBCF2004

Physically Disabled Hunt Dates Announced for Field Trial Area
The M. Barnett Lawley Forever Wild Field Trial Area (FWFTA) in Hale County, Alabama, will host a series of deer hunts for hunters with physical disabilities from late Nov. 2022 through Jan. 2023. To register for the hunts, call (334) 289-8030 starting Oct. 3. Hunt availability is limited and will be assigned on a first come, first served basis. Hunters are limited to registering for only one hunt for the season and may bring an assistant to help with the hunt. Hunters will need a hunting license and Conservation ID number prior to registering. FWFTA physically disabled hunt dates: Nov. 23, 30; Dec. 14, 17, 21, 28; Jan. 4, 7, 11, 18, 21, 25. Hunters with physical disabilities are required to fill out a Disabled Hunter Permit Application prior to the hunt dates. The permit can be downloaded from the Physically Disabled Hunting Areas section of www.outdooralabama.com/hunting/where-hunt-alabama. All deer harvested during the FWFTA physically disabled hunts must be reported via Alabama's Game Check system. Hunters will have 48 hours to Game Check their harvest through the Outdoor AL mobile app or online at outdooralabama.com. For more information about the hunt details or registration process, call Brae Buckner with the ADCNR State Lands Division at (334) 868-1684, or email brae.buckner@dcnr.alabama.gov.

Annual West Alabama Juried Art Show Deadline Oct. 27
The Arts Council of Tuscaloosa will be sponsoring its annual West Alabama Juried Show Dec. 2-16, 2022 and Jan. 6-20, 2023 in The Arts Council Gallery at the Dinah Washington Cultural Arts Center. An opening reception will be held on Dec. 2, from 5-7 p.m. during First Friday. The public is invited to attend. Awards will consist of the $1,000 Chamber of Commerce of West Alabama Purchase Award; the $500 Gail Skidmore Memorial Award of Excellence sponsored by The Arts Council; and one cash award of $100 sponsored by The Arts Council. The winners will be announced at the opening reception during First Friday on Dec. 2. Following the conclusion of the exhibit, the Purchase Award will be displayed at the Chamber of Commerce of West Alabama's location at 2222 9th Street. In partnership with The Chamber, selections of prior and upcoming Purchase Awards will be displayed throughout the building. Visual artists residing in Bibb, Dallas, Fayette, Greene, Hale, Jefferson, Lamar, Marion, Pickens, Perry, Shelby, Sumter, Tuscaloosa and Walker counties will be eligible. A $35 entry fee entitles participants to submit up to three works for judging. All original two- and three-dimensional works will be accepted in all media. Entries must not have been shown in any previous West Alabama Juried Show. All dates, entry requirements, payment procedures and applications are available on The Arts Council's website at https://tuscarts.org/gallery-exhibits-competitions/competition-west-al-juried/. The completed application and up to three digital images should be emailed to competitions@tuscarts.org from Mon., Oct. 17 through Thurs., Oct. 27. All two-dimensional pieces accepted for the show must be ready for hanging and matted, framed and under glass if appropriate. No work should be submitted that has been executed in a class or workshop. Maximum size is 5 1/2 feet x 5 1/2 feet, and maximum weight is 50 pounds for all entries. For questions about the West Alabama Juried Show including the entry procedure, call 205-758-5195, ext. 6 or email pr@tuscarts.org. The Dinah Washington Cultural Arts Center is located at 620 Greensboro Avenue in downtown Tuscaloosa. For more information about The Arts Council or Bama Theatre, patrons should follow and like "The Arts Council – Bama Theatre – Cultural Arts Center" on Facebook and Twitter and also Instagram @tuscaloosaartscouncil. Call 205-758-5195 or visit tuscarts.org for further information.

Tech or Treat
The City of Tuscaloosa will host the sixth annual 'Tech or Treat' night on Tuesday, Oct. 25 from 6 p.m. to 8 p.m. at the Gateway Innovation and Discovery Center, located at 2614 University Blvd. East. Booth spaces are still open for organizations interested in participating. To register for a booth space, please visit tuscaloosa.com/techortreat. Tech or Treat is a free community event for children and families. Similar to "trunk-or-treat," families go from table to table collecting candy. At each table, children are introduced to science, technology, engineering and math (STEM) opportunities by interacting with City departments and community organizations. The event is free and open to all ages. Children must be accompanied by an adult. Learn more about the Gateway at tuscaloosagateway.com.

Community Foundation Grant Applications Now Available
The Community Foundation of West Alabama announces its Fall Grant Cycle. Grant applications for the community grants are available for 501(c)(3) nonprofit organizations only. Community grant applications are due no later than Oct. 1. The educational grant applications are also available to teachers in the West Alabama area. The deadline for educational grants will be Nov. 1. Those interested are encouraged to download the grant applications from our website at www.thecfwa.org or you may call the CFWA office at 366-0698.

City of Moundville Trick or Treat
Mark your calendars and plan to join us Sun., Oct. 30 in downtown Moundville at 6 p.m. for Trunk or Treat. Market Street homes decorated, MBC festival and more. Then load the hay rides and get into the local neighborhoods for more Trick or Treat fun on Mon., Oct 31!

Red Cross
Make an appointment to give blood or platelets as soon as possible by using the Red Cross Blood Donor App, visiting RedCrossBlood.org or calling 1-800-RED CROSS (1-800-733-2767). Tuscaloosa: 10/5: 11 a.m. – 4 p.m., UA MBA Association, 500 Colonial Dr.; 10/7: 10:30 a.m. – 3:30 p.m., University of Alabama – School of Law, 101 Paul W Bryant Dr. E.; 10/10: 11:30 a.m. – 5:30 p.m., University Mall, 1701 McFarland Blvd E.; 10/11/2022: 3 p.m. – 7 p.m., Calvary Baptist Church- Allan R Watson Annex, 1208 Paul W. Bryant Dr.; 10/13: 11 a.m. – 4 p.m., First United Methodist Church-Tuscaloosa, 800 Greensboro Ave.; 10/14: 10 a.m. – 3 p.m., Insuresoft, 1701 McFarland Blvd. N.

Alabama's Hunting 101 Workshop, the First Step on Your Outdoors Journey
Learning to hunt may seem out of reach for those who didn't grow up with hunting as part of their family experience. Fortunately, Alabama's Adult Mentored Hunt (AMH) Program teaches all the skills needed to put wild game on the dinner table and help start new traditions. Getting started in the AMH program is as simple as signing up for a Hunting 101 workshop. Designed by the Wildlife and Freshwater Fisheries (WFF) Division of the Alabama Department of Conservation and Natural Resources (ADCNR) for anyone with little to no hunting experience, the daylong workshops take place at various Wildlife Management Areas (WMA) throughout the state and provide participants with an opportunity to learn hunting basics, firearm safety and handling, where to hunt and the equipment needed. Immediately following the workshops, participants are encouraged to use their new skills by small game hunting on the WMA with assistance from experienced mentors. Registration for Hunting 101 is currently open. The first workshop of the 2022-2023 season will take place at the Swan Creek Wildlife Management Area (WMA) near Decatur, on September 24. There is a registration fee for each workshop. To learn more about the AMH program or register for a workshop, visit www.outdooralabama.com/hunting/adult-mentored-hunting-program. To attend a workshop, participants must be at least 19 years of age and possess a valid driver's license. Attending Hunting 101 is required to become eligible to participate in a three-day AMH hunt for deer or turkey. Workshop attendees will be notified by email if they have been randomly selected for an AMH hunt. Additional Hunting 101 workshop dates for the 2022-2023 season include Oct. 1 at the William R. Ireland-Cahaba River WMA near Birmingham and October 8 at the Upper Delta WMA near Mobile. A Turkey Hunting 101 workshop is also scheduled for February 25, 2023, at the William R. Ireland-Cahaba River WMA near Birmingham. ADCNR promotes wise stewardship, management and enjoyment of Alabama's natural resources through four divisions: Marine Resources, State Lands, State Parks, and Wildlife and Freshwater Fisheries. To learn more about ADCNR, visit www.outdooralabama.com.
School Events
Beat Auburn Beat Hunger Annual Food Drive Kicks Off
TUSCALOOSA, Ala. — In Alabama, more than 700,00 people struggle with food insecurity according to Feeding America. This startling statistic has inspired University of Alabama students to take action. A team of UA students is working together to raise awareness of food insecurity while collecting donations for the West Alabama Food Bank Sept. 30 through Nov. 17 for the annual Beat Auburn Beat Hunger campaign. For the first time since 2019, the kickoff event will take place on the steps of the state capitol in Montgomery Friday, Sept. 30, at 11 a.m., the same day participants can begin making donations of canned and nonperishable foods in red barrels spread across the UA campus and Tuscaloosa area. Monetary donations can also be made to the food bank via its website. Founded in 1994, this will be the 29th year that University of Alabama students wage the friendly competition against students at Auburn University to raise money and donations leading up to the Iron Bowl. The winner of the competition will be announced Nov. 18.
Shelton State Community College's 2022-23 Terrific Tuesday Concert Series
Shelton State Community College's 2022-23 Terrific Tuesday Concert Series will be held in the Alabama Power Recital Hall on the Martin Campus. Admission is free. Upcoming performances and artists include the following: October 4 – Dr. Eun-Hee Park, piano; October 11 – Dr. Edisher Savitski, piano; October 18 – Student Musicale; October 25 – Shelton State Bach to Rock Ensemble; November 1 – Shelton State Jazz Combo; November 15 – SSCC Student Voice Recital, Sophia Allen, soprano; November 22 – Dr. Fingting Tang, piano; November 29 – Annual Holiday Tree Lighting and Sing Along (Martin Campus Atrium). Shelton State's Terrific Tuesday Concert Series is designed to showcase a variety of repertory styles. Weekly performances are offered by guest artists as well as Shelton State faculty and students. For more information, contact Lillian Roberts at 205.391.2399 or lroberts@sheltonstate.edu.
Dolly Parton's Imagination Library
Success By 6 of United Way of West Alabama is proud to provide Dolly Parton's Imagination Library books FREE to children ages birth to 5 years old in Greene, Hale, Marengo, Pickens, Sumter, and Tuscaloosa counties. Once a month, your child will receive a new book by mail. You only need to do two things: register your child and pledge to read the books to him/her. Please, climb on board Dolly Parton's Imagination Library! Since UWWA launched the Dolly Parton Imagination Library: 13,467 children have participated in the program in Greene, Hale, Marengo, Pickens, Sumter, and Tuscaloosa Counties. 10,427 children have "graduated" from the program. 443,856 books have been delivered to children in West Alabama. Sign up at https://imaginationlibrary.com/check-availability/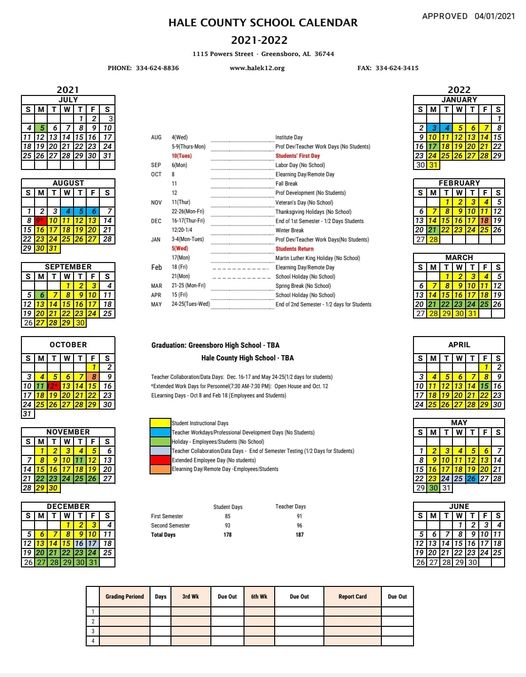 Southern Academy School Calendar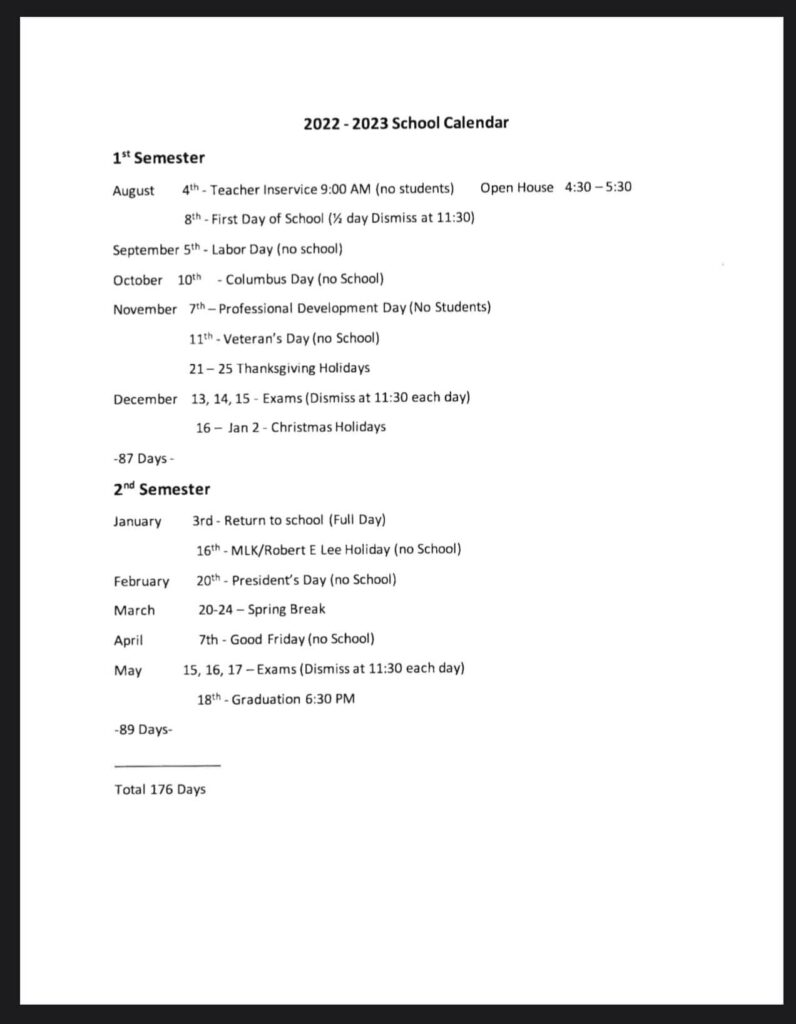 11 ALABAMIANS CHOSEN FOR NATIONALLY RECOGNIZED RURAL MEDICAL PROGRAM — The University of Alabama's Rural Health Scholars Program recently accepted 11 students from around the state studying to become physicians with plans to practice in rural Alabama communities. The Rural Medical Scholars Program, part of the UA College of Community Health Sciences, is a five-year medical education program that leads to obtaining a medical degree. The program is exclusively for rural Alabama students who want to become physicians and practice in rural communities. It has been cited nationally as a model initiative. For more information, contact Bryant Welbourne, UA Strategic Communications, at bryant.welbourne@ua.edu.
UA HONORED BY GOVERNOR IVEY FOR DISABILITY EMPLOYMENT INITIATIVE — UA was named the Alabama Governor's Committee on Employment of People with Disabilities Large Business Employer of the Year. Over the past two and a half years, through a partnership with the Alabama Department of Rehabilitation Services, the University Enable Program served to drive disability inclusion within the workforce community and state. The purpose of the program and partnership is to provide a work-based learning experience for individuals with disabilities within various university departments. For more information, contact Bryant Welbourne, UA Strategic Communications, at bryant.welbourne@ua.edu.
NATIONAL ALUMNI ASSOCIATION TO HONOR YOUNG ALUMNI WITH NEW AWARD — The University of Alabama National Alumni Association is accepting nominations for the inaugural 18 Under 31 Young Alumni Awards. The awards honor outstanding young graduates who have made significant contributions to their industry, field or community. A complete list of criteria for the award can be found on the 18 Under 31 website. Nominations may be submitted through Oct. 14. Recipients will be announced later this year and will be recognized at the 18 Under 31 Young Alumni Awards ceremony on Jan. 20, 2023. For more information, contact Julia Service, National Alumni Association, at jmservice@ua.edu.
RECORDS BROKEN: UA SEES HIGHEST ENROLLMENT, NATIONAL MERIT SCHOLARS — Enrollment at The University of Alabama reached a record this fall. It includes some of the most academically talented students and a record number of National Merit Scholars. The 38,645 students enrolled tops the previous record of 38,563 set in 2017. This fall there are also 1,088 students recognized as National Merit Scholars, the most ever to attend the Capstone and 16% more than a year ago. For more information, contact Deidre Stalnaker, UA Strategic Communications, deidre.stalnaker@ua.edu.
UA, AUBURN FANS CLASH IN CITIZEN SCIENCE COMPETITION — A new competition aims to excite everyone's inner scientist by bringing the gridiron competition of the Iron Bowl into the realm of citizen science. The Alabama Cooperative Extension System has organized the Marble Bowl for fans of The University of Alabama and Auburn University to compete in collecting much-needed data for Alabama's ecosystems. The competition is ongoing throughout the fall and will end Nov. 27. For more information, contact Rebecca Johnson, UA Museums, at rljohnson8@ua.edu.
CURRENT COMMENT
BUSINESS SUITS, LEATHER HEADLINE FALL FASHION TRENDS — "While temperatures haven't cooled much here in Alabama, you can still find plenty of new fall fashion trends," said Babs Davis, an instructor in UA's department of clothing, textiles and interior design. "Many people returning to the office after working remotely want to dress up with a little more flair and we're seeing bright colored and patterned suits, eschewing the traditional colors of black or navy. While we see leather in some form every fall, this year we're seeing it in abundance in the form of long leather coats and leather blazers paired with leather pants for a head-to-toe leather look. In footwear, we're still seeing plenty of the platform shoes we saw in spring, just more closed up, and several clogs. Cowboy and western style boots are also huge." To schedule an interview, contact Davis at bdavis@ches.ua.edu.
AFTER THE PANDEMIC, WEDDINGS ARE BACK — Weddings are back and bigger than ever according to Kim Boyle, assistant professor in the department of human nutrition and hospitality management at The University of Alabama. "During COVID, the ceremonies that did take place were small but intimate putting safety at the forefront," Boyle said. "While safety is still a concern for event planners, the main focus is to plan a wedding to remember." Boyle said the trends for 2022 include non-traditional weddings, larger guest lists, destination weddings, big wedding weekends and formal attire. "COVID allowed the wedding industry to stop, reflect and make positive changes to the event world. At the end of the day, people just want to celebrate love with friends and family. That part, however, will never change." To schedule an interview, contact Boyle at kboyle@ches.ua.edu.
UA EXPERT STILL POSITIVE ABOUT HOUSING MARKET IN ALABAMA — Even with rising interest rates, an increase in the supply of homes on the market and slower home sales, Alabama's housing market should continue to see prices increase, albeit at a slower growth rate, said Stuart Norton, associate director of Alabama Center for Real Estate at UA. Norton expects home sales to slows 10-15% from last year by the end of 2022, but he still sees a positive outlook for the state's housing market in 2023. "Sustained economic growth in a majority of the state's metro areas has resulted in a relatively strong job market," Norton said. "The state continues to see in-migration, especially in Huntsville and Baldwin County, as people relocate from more expensive regions of the country for job opportunities, lower taxes and Alabama's unique amenities." To schedule an interview, contact Stuart Norton at tsnorton@culverhouse.ua.edu.
EVENTS
UA 2022-2023 SEASON OPENS WITH 'GLORIA' — The University of Alabama Department of Theatre and Dance kicks off its season with "Gloria" — a dark comedy that follows several young editors whose lives are changed after co-worker Gloria goes on a shooting rampage within their office. "Gloria" runs Sept. 26 through Oct. 1 at 7:30 p.m., and Oct. 2 at 2 p.m. in the Allen Bales Theatre. Tickets are $15 for adults, faculty, staff and senior citizens, and $10 for UA students. Purchase tickets at ua.universitytickets.com. For more information, contact Emilia Stuart, marketing manager for UA Theatre and Dance, at epstuart@crimson.ua.edu.
CROSSINGPOINTS ANNUAL GOLF TOURNAMENT — CrossingPoints will host its annual Betty Shirley Golf Tournament Oct. 6 at Ol' Colony Golf Course. It is the program's biggest fundraiser of the year and benefits CP's employment initiatives. Lunch and registration begin at 11 a.m. with a shotgun start at 12:30 p.m. The format is a four-person scramble. Team prizes will be awarded in addition to the closest to the hole and closest to the pin. Hole sponsorships are available. Contact Jeremy Reid at jeremy.reid@ua.edu for more information