Leaderboard
2023 Upcoming Holiday deadlines: Moundville Times will be closed for Good Friday on April 7. Deadline for April 12's edition is Thurs., April 6 by 4 p.m. Moundville Times will be closed for Memorial Day, Mon., May 29. Moundville Times will be closed for Independence Day Tues., July 4. Moundville Times will be closed for Labor Day on Mon., Sept. 4. Moundville Times will be closed for Veterans Day on Fri., Nov. 10. Thanksgiving Deadline is Fri., Nov. 17 for the 29th Edition. Santa Letters Deadline is Fri., Dec. 1. Christmas and New Year's Deadline is Fri., Dec. 15 and Moundville Times will be closed Dec. 23 – Jan. 2, 2024.
Church & Community Events

2023 Memorial of Jesus' Death
Millions around the Earth will be showing their appreciation for what Christ has done for us. All are welcome to join this free event at the local Kingdom Hall of Jehovah's Witnesses. What will happen at the Memorial? The meeting starts and ends with the singing of a song, as well as a prayer offered by a minister of Jehovah's Witnesses. The main feature of the Memorial is a talk about the importance of Jesus' death and how we can benefit from what God and Christ have done for us. Time: 7 p.m. on April 4, 2023. Address: 2683 Co Rd 7, Greensboro, AL 36744.
TRHT Selma Announces Dates for Levitt AMP Concert Series
Starting with a classic car show featuring Ms. Necie and Sounds on Sat., May 27, TRHT Selma in partnership with the City of Selma as well as the Selma and Dallas County Chamber of Commerce and Tourism Information will work to host ten weeks of free concerts at the Riverfront Amphitheater and Park thanks to funding from the Levitt Foundation. The Levitt AMP Selma Concert Series events are free to the public and scheduled for May 27-July 29, with shows being held at Selma's Riverfront Amphitheater and Park each Saturday throughout the summer. To receive updates on the full line up of artists and partnership opportunities, log onto www.TRHTSelma.org. The Truth, Racial Healing, and Transformation Selma (TRHT Selma) initiative is a partnership between the Black Belt Community Foundation and the Selma Center for Nonviolence.

Nominations for 2023 Senior Citizens Hall of Fame
The Alabama Department of Senior Services is seeking nominations for outstanding individuals to be considered for induction into the 2023 Alabama Senior Citizens Hall of Fame. Married couples who have celebrated their 65th wedding anniversary or more, and individuals who are 100 years old or older are also honored by the Alabama Senior Citizens Hall of Fame each year. Individuals and organizations interested in nominating someone can visit AlabamaAgeline.gov to complete a nomination form. The deadline for nominations is May 1.
Alabama WIC Program expands access to breastfeeding support services
Unlimited, 24/7 access to infant feeding support is now available to participants served by the Alabama Women, Infants, and Children (WIC) Program. This is done exclusively for WIC participants through a partnership with Pacify Health through one streamlined app and at no cost to the mother.
The Alabama WIC Program will offer participants instantaneous video access to a nationwide network of International Board Certified Lactation Consultants (IBCLC's), plus direct access to local WIC clinics across the state. Providing this type of support has been proven to help more parents start and continue breastfeeding for longer, which improves health outcomes for mothers and babies. Access to IBCLC's may also help reduce Sudden Infant Death Syndrome, one of the three leading causes of Alabama's persistently high infant mortality rate.
Alabama WIC Program staff are enthusiastic about being able to connect participants to Pacify support services. Natalie Clements, a Registered Dietitian Nutritionist (RDN) and IBCLC, is the District Nutrition Director for the Alabama WIC Program in Jefferson County. She said, "Pacify services will be such a great resource for our WIC participants. I know that moms will be so thankful to have this level of support at their fingertips when breastfeeding complications arise!"
Lindsay Adler, RDN, IBCLC, is a nutritionist with the Alabama WIC Program. Recalling her own breastfeeding experience, she said, "As a mom of two, I know most breastfeeding problems arise outside of normal business hours, especially in the middle of the night! I am so happy to have a 24/7 support system in place for our WIC participants that does not require them to arrange transportation or take time off work."
In addition to the app, Alabama WIC Program breastfeeding peer counselors have personal experience with breastfeeding. They receive training to provide encouragement and one-to-one support to WIC moms for common breastfeeding challenges.
Peer counselors Jasmine Giles, Mary Freeman and Kristina Hammonds expressed excitement about the partnership with Pacify. "This resource is an amazing asset for WIC counselors and participants alike," Ms. Giles said. "I cannot wait to see the positive impact of having 24/7 support available for our breastfeeding mothers."
"We will be able to help mothers get breastfeeding support more quickly, at any time of the day, and at no cost to them," Ms. Freeman said. "I think Pacify will really help them to overcome common breastfeeding challenges and breastfeed longer."
Ms. Hammonds described Pacify as a tool that is always available, which will help participants develop "confidence in their ability to provide the best nutrition to their infants and meet their breastfeeding goals."
The Centers for Disease Control and Prevention reports that, among infants born in 2019, slightly more than 71 percent of infants in Alabama were ever breastfed, compared with greater than 83 percent across the United States. Less than 40 percent of Alabama infants were exclusively breastfed at 3 months, and less than 38 percent were still breastfeeding at 6 months.
Many protective health benefits are conferred by breastfeeding. For infants, these include fewer middle ear infections, fewer cases of necrotizing enterocolitis (a potentially fatal gastrointestinal disorder in premature infants), and fewer infant deaths. Breastfeeding can also reduce women's risk for breast and ovarian cancer, type 2 diabetes, and high blood pressure.
Alabama WIC participants who would like to access virtual infant feeding support through Pacify can contact their local Alabama WIC clinic or call the Alabama WIC Program state office in Montgomery toll free at 888-WIC-HOPE (888-942-4673). All Alabama WIC participants are eligible.

Red Cross
Donors of all blood types – particularly type O blood donors, the most needed blood group by hospitals – and platelet donors are needed daily to meet demand. Protect the blood supply from dropping – book a time to give blood or platelets by visiting RedCrossBlood.org, downloading the Red Cross Blood Donor App, or calling 1-800-RED CROSS. Tuscaloosa: 3/24: 10 a.m. – 4 p.m., UA Nursing School, 650 University Blvd. E.; 3/28: 11 a.m. – 5 p.m., UA Kappa Alpha Order, 416 Blvd.; 3/31: 10 a.m. – 3:30 p.m., Phi Gamma Delta UA, 976 University Blvd.; 3/31: 1 p.m. – 5 p.m., Evolve Tuscaloosa, 680 6th Ave. N. E.
Moundville: 3/30: 9 a.m. – 1:30 p.m., Hale County High School, 50 Wildcat Way, Hwy. 69 S.

Rooster Day Demopolis
Rooster Day is a jam-packed, family-friendly, fun day on Public Square, one of Alabama's oldest city parks, in downtown Demopolis. Join the Marengo County Historical Society in commemorating a unique event in Alabama's history at Rooster Day, April 1, 2023! Start the morning with the Cock's Crow 5K or 1K Fun Run. The first 50 registered runners receive a souvenir t-shirt. After the race, shop the Rooster Fair in Public Square, 9am-4pm, featuring artists, crafters, and makers from around the southeast. What sets Rooster Day apart is that all items are handmade. You'll find truly one-of-a-kind pieces from photography, folk art, pottery, woodworking, leather goods, paintings, bird houses, music boxes, crocheted purses, jewelry, to baked goods and so much more! Between stops you'll need to refuel at our food court that showcases area favorites including Colonel Rusty's Rooster Legs, (also known as turkey on any other day of the year). Relax on the square as you enjoy live entertainment, and let the kids be kids at the Coop Games – inflatables, petting zoo, balloon art, face painting, crafts, and games! You don't want to miss this fun-filled day in Demopolis. In 1919, Demopolis hosted the great Rooster Auction to raise funds to build a bridge over the Tombigbee River connecting Marengo and Sumter counties, the last link in the Dixie Overland Highway. Thus was erected the infamous Rooster Bridge through funds raised by auctioning roosters! The Marengo County Historical Society created Rooster Day as a fund raiser that celebrates our unique heritage, talented artists and makers, great local food, and community spirit! Funds raised are used for the continued historic preservation efforts of MCHS. For more information please visit RoosterDayDemopolis.com, RoosterDayDemopolis on Facebook, or call 334.289.9644.
School Events
SSCC to welcome legendary "Blues Brothers" musician to 4th annual West Alabama High School Jazz Festival Tuscaloosa, Alabama – Shelton State Community College will host the Fourth Annual West Alabama High School Jazz Festival on Saturday, March 25, 2023. Per tradition, the festival will be a full day event starting at 9:00 a.m. in the Bean Brown Theatre on the College's Martin Campus. Free and open to the public, the day's festivities will conclude with a finale concert featuring the Shelton State Jazz Ensemble and platinum recording artist Lou Marini, Jr. Tickets for the finale concert can be purchased on the Theatre Tuscaloosa site. The concert begins at 7 p.m.
Popular since the early 1970s, Lou Marini, Jr. continues to be one of the most sought-after sidemen and session musicians on the New York scene. Due in part to his incredible skill and talent of the highest caliber, Marini masters many styles and instruments. He is accomplished on soprano, alto, tenor, and baritone saxes, piccolo, flute, alto flute, bass flute and clarinet.
Dubbed "Blue Lou" by Dan Akroyd, it is Marini's seven-year association as an original SNL band member that led to his role as "Blue Lou" in John Belushi and Akroyd's cult classic movie, "The Blues Brothers." To this day, the remarkable popularity of the Blues Brothers Band is kept alive. Lou and the other band members tour worldwide, giving live concerts to packed houses and hundreds of thousands screaming fans. No stranger to film, Lou Marini enjoys a formidable roster of success in this arena, too. His character as a band member and the saxophone soloist, who performs with his sax on the counter of a diner as Aretha Franklin sings "Think" in "The Blues Brothers" movie remains throughout the sequel "Blue Brothers 2000." Marini is also well-recognized for his saxophone solos at the open and close of SNL episodes and as the golden pharaoh who plays a solo instrumental hit for comedian Steve Martin's "King Tut" sketch on a 1978 episode.
Blue Lou is best known as a member of several distinguished bands – Woody Herman Orchestra, Doc Severinson, Blood, Sweat and Tears, The Band, Levon Helm & the RCO All-Stars, Dr. John, Frank Zappa, Saturday Night Live (SNL) Band, The Blues Brothers, Maureen McGovern, Lew Soloff Quintet, BlueBeck with Joe Beck, Eric Clapton, Red House, and the Magic City Jazz Orchestra. He has toured four times each with James Taylor's Band of Legends and the John Tropea Band.
A high profile cultural icon, Marini has recorded on numerous albums with artists such as Aretha Franklin, Tony Bennett, The Rolling Stones, Stevie Wonder, Diana Ross, Aerosmith, Maureen McGovern, Billy Joel, B.B. King, Luther Vandross, Lou Reed, Brecker Brothers, Dr. John, Donald Fagan, Eddie Palmieri, Jimmy Buffet, Frank Zappa, John Tropea, and Steely Dan. Contrasting, yet notable icons he has also performed with include Eric Clapton Smokey Robinson, Jose Carreras, Lou Rawls, The Supremes, Dr. John, Four Tops, Sting, and Tina Turner.
"We couldn't be more thrilled to host Lou Marini, Jr. at the fourth annual festival," states Lillian Roberts, Shelton State's Fine Arts Division Chair and Faculty Member. "In addition to providing a high level, jazz-focused learning experience for local students, this year's event promises to be a treat for artists and audience members alike. We encourage our community members to join us for this!"
Participating high school bands will perform selections for audience members and participate in master class sessions with Marini. Band performances are free to attend.
For more information about the Fourth Annual West Alabama High School Jazz Festival, contact Lillian Wesley at 205.391.2399 or lwesley@sheltonstate.edu.

SSCC to Host Southeast District Drone Soccer Tournament
Shelton State Community College's Office of K-12 Instructional Outreach is partnering with The University of Alabama and Auburn University to host the first Southeast District Drone Soccer Tournament. An affiliate of the U.S. Drone Soccer Association, the tournament will be held at the College's Martin Campus in the Umphrey Center on Saturday, March 18, 2023, beginning at 9 a.m. The event is free and open to the public. Drone soccer is a thrilling indoor team sport played with radio-controlled quadcopters in protective exoskeletons designed for collisions. Five player teams face off in a netted arena where they ram and block the opposing team to prevent them from scoring. But before pilots can compete they must first learn to build, program, fly, and repair high-performance drones, learning engineering skills towards exciting careers in aviation. Students from Alabama, Georgia, Florida, Mississippi, Tennessee, and South Carolina will compete at the Southeast District Drone Soccer Tournament for continued competition in the upcoming National and International Competitions. To learn more about this and other innovative opportunities for K-12 students, visit sheltonstate.edu/thedome.
Dolly Parton's Imagination Library
Success By 6 of United Way of West Alabama is proud to provide Dolly Parton's Imagination Library books FREE to children ages birth to 5 years old in Greene, Hale, Marengo, Pickens, Sumter, and Tuscaloosa counties. Once a month, your child will receive a new book by mail. You only need to do two things: register your child and pledge to read the books to him/her. Please, climb on board Dolly Parton's Imagination Library! Since UWWA launched the Dolly Parton Imagination Library: 13,467 children have participated in the program in Greene, Hale, Marengo, Pickens, Sumter, and Tuscaloosa Counties. 10,427 children have "graduated" from the program. 443,856 books have been delivered to children in West Alabama. Sign up at https://imaginationlibrary.com/check-availability/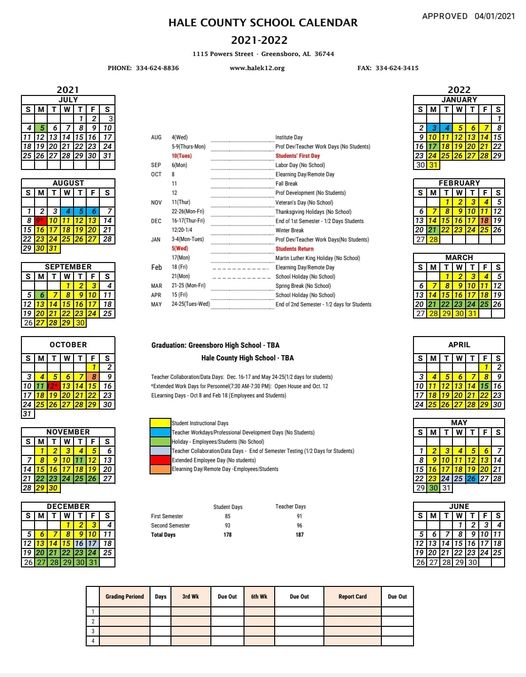 Southern Academy School Calendar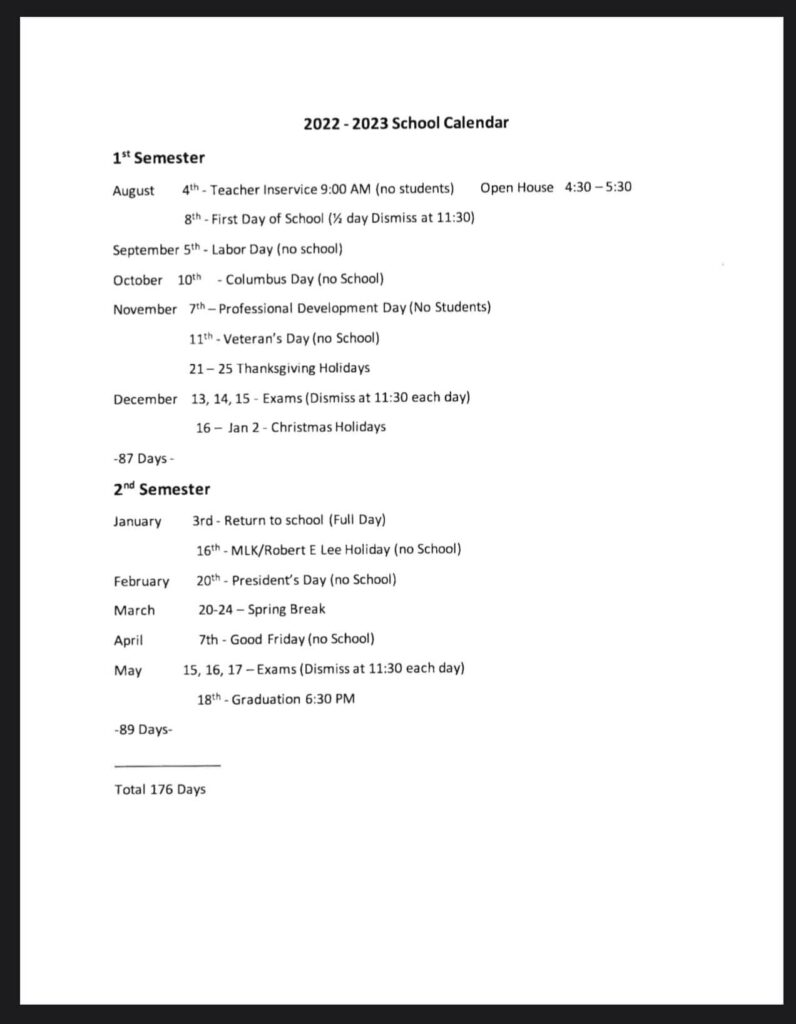 March 20, 2023
BEST BETS
UA HONORS COLLEGE LAUNCHES JAMES C. KENNEMER CENTER FOR INNOVATION AND SOCIAL IMPACT — A newly created center within The University of Alabama Honors College will promote active learning experiences and research opportunities for UA students thanks to a generous gift from UA alumnus James "Jim" Kennemer. The James C. Kennemer Center for Innovation and Social Impact was created following a $2 million gift from Kennemer and offers UA a unique, highly visible platform that builds a capacity for critical thinking, encourages ethical and innovative approaches to social impact, and prepares students to be active and engaged citizens and to succeed in any career path. The center provides support for the Bama Innovation Gateway program including the BIG Ideas contest, and funding for undergraduate research, speakers, forums and outreach programs, and other initiatives. For more information, contact Shane Dorrill, UA Strategic Communications, at shane.dorrill@ua.edu.
UA CAMPUS HOME TO ALABAMA CHAMPION TREE — A Southern Magnolia tree located on the Bryce Preserve at The University of Alabama was recognized as the current largest of that species in the state. The Alabama Forestry Commission measured the tree as part of Alabama's Champion Tree Program, which aims to discover, recognize and preserve the largest trees of each species in the state. The team used an industrial tape measure for circumference and crown spread and a clinometer to measure height. UA was also recognized during the event as a "Tree Campus USA" for the eighth consecutive year. The designation, given by the Arbor Day Foundation, recognizes colleges and universities that promote healthy trees and conservation efforts. For more information, contact Jennifer Brady, UA Strategic Communications, at jennifer.brady@ua.edu.
UA LEADING EFFORT FOR STRONGER, GREENER CONCRETE — Engineering researchers at The University of Alabama have received $2.75 million in federal support to scale up and improve a patent-pending innovation that uses carbon dioxide to strengthen concrete while making its production greener. The federal grants from the National Science Foundation and United States Department of Energy are part of nationwide investments to reduce greenhouse gas emissions and advance sustainable production of critical materials. For more information, contact Adam Jones, UA Strategic Communications, at adam.jones@ua.edu.
CURRENT COMMENT
PAPER MAPS STILL POPULAR IN DIGITAL AGE — "Even as digital tools become central to our daily lives, there will always be a place for their physical counterparts," said Eric Courchesne, geospatial services manager with the geography department. "Like the smell of a good paperback, or the feeling of holding a music record and placing the needle into the groove, there is a tangible connection to printed maps that is unique and satisfying. It's not surprising that physical maps have gained in popularity over the past few years; during the pandemic, more Americans spent time rediscovering the romance of the road trip. While navigation apps are amazing tools to get you from point A to point B, a good, reliable physical map can do more to help you explore a new place and discover what makes it special, particularly those treasures that can only be found off the beaten path." To schedule an interview, contact Courchesne at ercourchesne@ua.edu.
CRISIS, LOSS AND RESILIENCE IN UKRAINIAN ENTREPRENEURS — UA's Dr. Peter Harms, along with colleague Nataliia Yakushko, are working on a project to understand how small business owners and entrepreneurs react to disasters and how they adapt to ongoing crises over time through the war in Ukraine. "The war in Ukraine represents a special circumstance for the study of entrepreneurs in crisis situations not only because of the scale of the unfolding humanitarian crisis, but also because this disaster is both man-made and is ongoing with no end in sight," said Harms. "What we have discovered in our ongoing data collection at this point is that both psychological and social factors seem critical in terms of coping with the war and the destruction that it has brought. We have observed how Ukrainians have used humor, often dark humor, as a coping mechanism and how business owners have switched from competitive orientations to cooperative/collectivistic orientations, similar to the U.S. after 9/11. Likewise, many business owners report that they see it as important to try to keep their businesses open and functioning both to serve the nation, but also to take care of their workers." To schedule an interview, contact Harms at pdharms@cba.ua.edu.
EVENTS
AL'S PALS TO VISIT CAMPUS — Elementary students involved in the Al's Pals mentoring program will visit the UA campus March 27-30 from 3:30 p.m. to 4:45 p.m. each day. The students, guided by their UA student mentors, will tour the Alabama Museum of Natural History, Capstone College of Nursing, College of Engineering labs and Stran-Hardin Arena. Al's Pals is a mentorship program where UA students are paired with elementary students in the Tuscaloosa city and county school systems to help them complete homework, reinforce reading and math skills, and participate in enrichment and recreational activities. For more information, contact Allison Espey, coordinator of Al's Pals, at allison.espey@ua.edu.
SAKURA FESTIVAL — The 37th annual Sakura Festival will be at the Tuscaloosa River Market March 25 from 9 a.m. to noon. The theme of this year's Sakura Festival is "Mirai wo hiraku/未来をひらく" or "Renew." The spring celebration of Sakura, or cherry blossoms, reminds us of the value of each moment, while the return of spring awakens us to fresh possibilities in life. The Sakura Festival provides an opportunity to experience Japanese culture through educational demonstrations, performances and fun activities for all ages.
PANHELLENIC ASSOCIATION TO HOLD EASTER EGG HUNT — The Alabama Panhellenic Association will hold an Easter egg hunt for the community Sunday, April 2, beginning at 2 p.m. at the President's Mansion. More than 10,000 candy-filled eggs will be distributed. The event is free and open to children under the age of 12 who are accompanied by an adult. For more information, email uapanhellenicpr@gmail.com.