We want your critter, hunting, and fishing photos! We're looking to post them on our new Outdoors, Hunting and Fishing page on www.moundvilletimes.net. Found a enormous turtle? A funky bug? Want to show off that fish, deer, turkey, rabbit or squirrel? We want to show them off for you!
Email us your photo and a short who, what, when and where to times@mound.net. We know Outdoors men and women don't like to give away their secret hunting and fishing spots, so you can tell us generic places like town/area or just Hale or Tuscaloosa County if you would like.
PLEASE DO NOT SEND THEM TO FACEBOOK. We delete those emails/messages automatically, because of the high volume of spam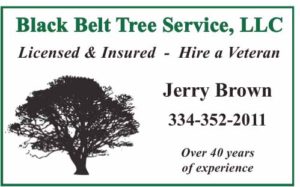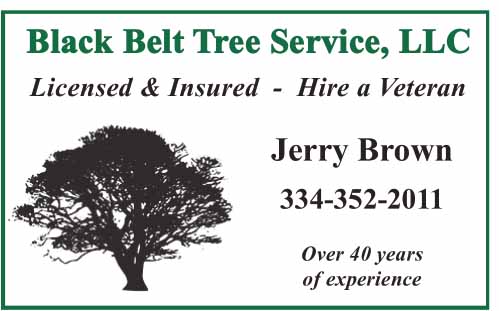 Surprise! Lily
Lycoris radiata, or more commonly known in Alabama as the Red Surprise Lilly, Red Spider Lily or British Soldier, actually comes from Japan and came over as a garden flower in 1854. The flowers bloom after the first heavy rain in late September through mid October. In Japan the Red Spider Lily signals the arrival of fall. Many Buddhist will use it to celebrate the arrival of fall with a ceremony at the tomb of one of their ancestors. They plant them on graves because it shows a tribute to the dead. People believe that since the Red Spider Lily is mostly associated with death that one should never give a bouquet of these flowers. By Kasey DeCastra, Moundville Times & Sumter County Record Journal Community News Editor
National Hunting and Fishing Day to be celebrated nationwide on September 23
Alabama businesses, parks, lakes and others offering discounts in recognition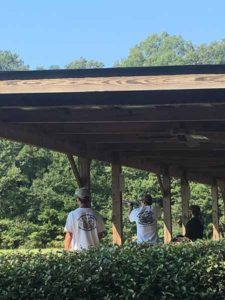 The Alabama Black Belt Adventures Association, the Alabama Department of Conservation and Natural Resources, the Alabama Wildlife Federation, Congressional Sportsmen's Foundation and others came together to promote National Hunting and Fishing Day, which will be observed this year on Saturday, September 23. They also announced that a number of Alabama businesses, lakes and parks (both public and private), shooting ranges and others are offering discounts or waiving fees this Saturday.
"In 1971 Congress established National Hunting and Fishing to be on the fourth Saturday of September", says Pam Swanner, project manager of Alabama Black Belt Adventures. "All across Alabama outdoor retailers, public lakes, shooting ranges and our state parks from the mountains to the Gulf Coast are offering discounts on products and waiving fees for various services."
National Hunting and Fishing Day has been dubbed one of the most effective grassroots campaigns ever undertaken to promote hunters, anglers and the conservation benefits they provide for all Americans who appreciate wildlife and wild places. This Saturday, organizations across the country are joining forces to encourage anyone and everyone to immerse themselves in outdoor recreation.
"We are committed to educating the next generation on the values of work ethic and conservation to lead the way in protecting our heritage for the benefits of our wildlife, lands and natural resources," says William Crawford, Outdoor Scholars Program Director at the University of Montevallo.
One of the main purposes of National Hunting and Fishing Day is to expose those who have never had the opportunity to participate in hunting or fishing activities before.
"We at the Congressional Sports Foundation are proud to support and sponsor National Hunting and Fishing Day again this year and understand the important role that hunting and angling play socially, culturally, historically and economically across the nation," says Bee Frederick, Southeastern States Director for the Congressional Sportsmen's Foundation. "We must redouble our efforts to make sure we are working together to tell our story, reduce barriers, and introduce new participants to the great outdoors."
Hunting and Fishing make up a $2.6 billion industry and Alabama ranks 7th in the nation on money spent for hunting and other recreational activities. Unfortunately, only 4% of Alabama residents have a hunting license.
"Hunting and fishing is a way of life for us here in Alabama." says Chris Blankenship, Commissioner for the Department of Conservation and Natural Resources. "There are so many people that do enjoy the outdoors, but there are plenty of opportunities for others to enjoy which is why we have days like National Hunting and Fishing Day."
Each year sportsmen and women are funding more projects that create more public access areas to be open. Through license sales and excise taxes on equipment, hunters and anglers pay for most fish and wildlife conservation programs. On average, hunters spend $1,638 every year on the sport. Portions of these funds are allocated to support conservation.
"Hunters and fisherman are the ones paying for all of this," says Chuck Sykes, Director of Wildlife at the Department of Conservation and Natural Resources. "We get no money from the state general fund. All the services that we provide come from hunters and fishermen buying licenses and the money that is spent on hunting related activities. Hunters and fishers are paving the way for everyone to enjoy these opportunities."
National Hunting and Fishing Day will be recognized across the country as a national holiday this Saturday. For a list of national and state participants, please visit: http://alabamablackbeltadventures.org/events-calendar/national-hunting-fishing-day/.
"We encourage you to get outside this Saturday," says Swanner. "It's good for your health, it's relaxing and most importantly it's a lot of fun."
Youth Hunt Dates Announced for Field Trial Area
The Alabama Department of Conservation and Natural Resources (ADCNR) announces the youth deer and duck hunt schedules at the M. Barnett Lawley Forever Wild Field Trial Area (FWFTA) in Hale County. The hunts will take place in late November 2017 through January 2018. Registration will be open September 15 through October 31, 2017. Hunters will be selected via a computerized, random drawing after registration closes.
Registration is only available to parents or adults who are at least 21 years old and have a Conservation ID (CID) number. A hunting license is not required at the time of registration. However, if selected during the random draw, you must have a valid hunting license to accept the hunt permit. If selected for a hunt, you will receive an email requesting you validate/accept the permit. Once the permit is accepted, you will receive an email with the hunt details.
To register for a hunt, visit https://publichunts.dcnr.alabama.gov/Public/AvailableHunts/12.
Youth deer hunt dates:
November 22 and 25
December 20
January 13,17, 20 and 31
Youth duck hunt dates:
November 25
December 20
January 13, 17 and 20
If you have questions about the hunt details or registration process, call Doug Deaton with the ADCNR State Lands Division at 334-242-3484, or email doug.Deaton@dcnr.alabama.gov.
To participate in the youth hunts, youth hunters must be age 15 or younger and accompanied by an adult at least 21 years old (or a parent). Adults must have a valid state hunting license and applicable duck stamp, if duck hunting. Hunters must obtain their license and duck stamp (if duck hunting) before the hunt since they will not be available on-site.
Mandatory reporting of all deer (and turkey) harvests through Alabama's Game Check system is in effect for the 2017-18 youth hunting dates at FWFTA. Hunters will have 48 hours to report their harvest through the Outdoor Alabama mobile app or online at www.outdooralabama.com.
To learn more about Alabama's Game Check system, visit www.outdooralabama.com/gamecheck.
The M. Barnett Lawley Forever Wild Field Trial Area consists of 4,300 acres in Hale County and is managed as a nature preserve and recreation area. In addition to developing a sporting dog Field Trial/Hunt Test grounds and a youth hunting program, the ADCNR State Lands Division is currently restoring the tract's native prairie grasslands and managing its numerous ponds for future public fishing.
ADCNR does not discriminate on the basis of race, color, religion, age, gender, pregnancy, national origin, genetic information, veteran status, or disability in its hiring or employment practices nor in admission to, access to, or operations of its programs, services, or activities.
The Alabama Department of Conservation and Natural Resources promotes wise stewardship, management and enjoyment of Alabama's natural resources through four divisions: Marine Resources, State Lands, State Parks, and Wildlife and Freshwater Fisheries. To learn more about ADCNR, visit www.outdooralabama.com.
Soggy Bottom Lodge Tour
Blackbelt area landowners are invited to a tour of Soggy Bottom Lodge located at 18618 Hwy 43, south of Linden, AL, in Marengo County. The tour is planned for Thursday, September 28th from 8:00 a.m. until 1:00 p.m.
Registration will begin at 8:00 a.m. and the tour will start at 9:00 a.m. Tour topics will include the lodges, deer breeding facilities, duck pond, native grasses, and recreational fish pond management. Lunch will be provided for tour participants.
There is no cost to attend this tour, however you are asked to call the Marengo County Extension Office at 334-295-5959 to register. To properly plan for lunch please call and register before the deadline of 4:30 p.m. of Monday September 25th.
Registration numbers will be capped at 50 participants so mark your calendar now for Thursday, September 28th and plan to attend this informative landowner tour.

Baiting Deer Remains Illegal in Alabama
By David Rainer, Alabama Department of Conservation and Natural Resources
Contrary to what your buddies at the hunting camp have said or what you've read on social media, it is still illegal to bait deer in Alabama.
Similar to previous years, the so-called "corn" bill that was introduced in the Alabama Legislature this year did not become law. Yes, the bill passed the House of Representatives, but that's as far as it went.
"A lot of folks still think it's going to be legal to hunt over corn this year," said Chuck Sykes, Director of the Alabama Wildlife and Freshwater Fisheries (WFF) Division. "There was a buzz around Facebook and on social media that the House passed the baiting bill.
"But it takes confirmation by the Alabama Senate and then the signature of the governor to become law. So it missed two of the three, and it takes all three. There are a lot of folks who are going to be disappointed on opening day."
However, that doesn't mean Alabama landowners and hunters can't proceed with their supplemental feeding plans for wildlife.
"Feeding is fine as long as you stay within the area definition," Sykes said.
The area definition was refined several years ago to give hunters and landowners a better understanding of what is deemed supplemental feeding and what constitutes baiting.
The regulation states: "As it applies to the hunting of deer and feral swine, there shall be a rebuttable presumption that any bait or feed . . . located beyond 100 yards from the hunter and not within the line of sight of the hunter is not a lure, attraction or enticement to, on or over the area which the hunter is attempting to kill or take the deer or feral swine. This regulation does not apply to public land. Out of line of sight means obscured from view by natural vegetation or naturally occurring terrain features."
"Out of sight doesn't mean putting up a piece a piece of tin in the edge of the food plot where you can't see the feeder," Sykes said. "Nor does it mean throwing corn in tall grass. That's not the essence of the regulation. It has to be natural vegetation or natural terrain."
Unfortunately, the regulation clarification has not affected the number of tickets that are written annually for baiting.
"Some people are still putting out corn 50 yards from their stand in the wide open," Sykes said. "They're just basically ignoring the regulation."
Another "huge" misconception that Sykes has encountered during interaction with the public at deer shows and other public events is WFF's ability to change the baiting regulations. He said baiting made up 99 percent of the questions WFF fielded at the public events.
"People are coming up to me and asking when we are going to change the baiting laws," he said. "Well, we can't. That's a legislative matter. The members of the Legislature are the ones who have the power to change the law. We can't do anything about it.
"The Alabama law says you cannot hunt deer in the area of bait. The only thing we could do at the Alabama Department of Conservation and Natural Resources was define what that area was. That area is within 100 yards and/or line of sight. If you're outside of 100 yards, and the feed is out of sight because of natural vegetation or terrain, you're okay. That's as far as the Department could take it with a regulation."
As he did last year, Sykes is touring the state to give hunters and landowners updates on the mandatory Game Check system that is used to report the harvest of white-tailed deer and turkeys.
Another misconception is this year's seminars are repeats of last year's. Sykes, who has held six seminars so far this year, said a great deal of new information is included in this year's seminars.
"Participation in the seminars is about half what it was last year," he said. "People think it's the same seminar they heard last year, and it's not. We're going over the Game Check results from last year, and some of the tweaks we're making to the system and additional programs we're offering this year, so it's not the same seminar."
Those at this year's seminars who used Game Check last year reported it was an easy process and didn't have any complaints, Sykes said.
According to the analysis of data, Sykes said about 35 percent of deer hunters reported their harvest through Game Check, while about 40 percent of turkey hunters used Game Check. According to Game Check data, 45,561 bucks and 36,867 does were taken, while 9,174 turkeys were harvested. With other information factored in, the total estimate of deer harvested was 130,000 bucks and 105,000 does. Turkey harvest was estimated at 23,000.
"Deer numbers were down a little, but we're attributing that to the drought," Sykes said. "It's not that it negatively impacted the deer herd, but it negatively impacted people's deer hunting."
One of the tweaks WFF made for this year's Game Check adds another definition in the possibilities for deer harvest. Previously, the options were antlered or unantlered.
"We have had quite a few questions on what to do with button bucks," Sykes said. "Now, we've added another option. Under antlerless deer, you get another option as to whether it was male or female. That will give hunters the answer of how to report button bucks, and it's also going to give us some good information.
"If we find out that 60 percent of the antlerless harvest turns out to be button bucks, that's something the public needs to know. That's something we need to know. We may need to adjust some things, because we don't need to be hitting that age class of bucks that hard."
Another Game Check tweak will add more options to the type of land hunted, whether private or public. If public land is clicked, a drop-down box will give options on which public land was hunted, based on the county.
"This helps us drill down to see where people are utilizing public land," Sykes said.
Additional information will be needed to report turkey harvests as well. Now Game Check will ask for beard length and spur length.
"This will help us determine the age class of turkeys being harvested," Sykes said.
Deer season dates are basically unchanged from last year with the exception of calendar dates. Bag limits remain the same at three bucks per season. One of those three bucks must have at least four points (1 inch or longer) on one side. Barbour County has a special antler restriction in force in that each buck of the three-buck limit must have at least three points on one side.
A special WMA (Wildlife Management Area) Bonus Buck Program will be in effect this season on specific public land – Lauderdale WMA, William R. Ireland-Cahaba WMA, Lowndes WMA, Barbour WMA, Geneva State Forest WMA and Perdido River WMA.
On those specific WMAs, hunters will have the opportunity to harvest an additional buck on the specific Bonus Buck day. This additional buck will not count against the three-buck limit. To qualify, hunters must obtain a daily permit from the check station at the participating WMA on the Bonus Buck day. Following the harvest, the hunter must bring the animal to the check station for WMA personnel to collect data from the buck and validate the animal. Only WMA personnel can validate the bonus bucks.
The other big addition for the upcoming seasons is the advent of Special Opportunity Areas (SOAs) that offer a different experience for public-land hunters. The new SOAs available are the 6,500-acre Cedar Creek SOA in Dallas County, the 4,500-acre Uchee Creek SOA in Russell County and the 400-acre Crow Creek SOA in Jackson County. The Fred T. Stimpson SOA, a 5,400-acre tract in Clarke County that had been open for youth hunts and limited adult archery deer hunts has transitioned to this hunting mode to assist in reducing deer densities on the area.
Visit https://publichunts.dcnr.alabama.gov/Public/AvailableHunts to register for the limited draw hunts. The computer-controlled, random drawing will occur on October 3.
"The SOA hunts are going to be a big deal," Sykes said. "Everybody I've talked to thinks it's outstanding. Of course, we're not going to make everybody happy, but this is a unique opportunity for folks."
Take precautions to prevent the spread of mosquitoes after storms, flooding
A potential problem exists with mosquitoes during the recovery phase after Tropical Storm Irma and the threat of flooding in the state. The Alabama Department of Public Health continues to advise caution to those who are entering flooded areas. Mosquitoes are one of the problems to be remembered, as they can carry serious diseases such as West Nile virus.
Residents of flooded areas should be particularly careful to reduce their exposure to mosquito bites. Many kinds of mosquitoes are most active during the late evening, night and early morning. If possible, outside activities should be limited during these times. However, keep in mind that the mosquitoes that carry Zika are active during the day, so even thoughthere has been no known spread of Zika by mosquitoes in Alabama, prevention techniques to reduce exposure to mosquitoes should be followed anytime when going outdoors.
According to the Centers for Disease Control and Prevention, the best way to prevent mosquito-borne diseases is to avoid mosquito bites by following these recommendations.
• Use EPA-registered insect repellents containing DEET, picaridin, oil of lemon eucalyptus, or IR3535 when going outdoors. Follow label instructions carefully when using any insect repellent. Repellents should not be used on infants less than 2 months old.
• Wear loose fitting, long sleeves and long pants.
• Install or repair screens on windows and doors. Use air conditioning, if available.
• Empty standing water from items outside homes such as flowerpots, buckets, old tires, children's pools.
• Clean clogged gutters and clear drainage ditches and pipes of debris.
Mosquito bites can be treated with topical agents such as calamine lotions. Cortisone creams and oral antihistamines are available as over-the-counter medications that can reduce itching. Bites to children should be watched for secondary infections that need to be treated by a physician.
The primary signs of mosquito-borne disease in people are a high fever and headaches severe enough to require medical attention. Other less common signs in addition to fever and headaches include confusion, neck pain and stiffness, and seizures.
Hurricane Irma drains parts of Mobile Bay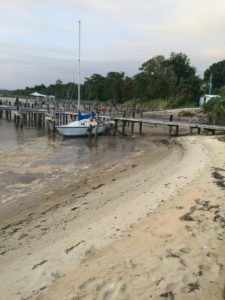 A photo similar to this one posted on Facebook by ABC 33/40 Meteorologist James Spann showing Mobile Bay appearing dry in places went viral over the weekend. This led some to believe that Hurricane Irma was somehow sucking water out of the bay and others to accuse Spann sharing a faked photo. This "real" photo was taken by a friend of the SCRJ, William "Billy" Harrall, at Lake Forest Marina in Daphne and shared for readers to see. Spann went on to say that "this happens on shallow parts of bays and is not that unusual." And, that's certainly true for Mobile Bay, which has expansive shallows in its northern reaches, near the Bayway and Causeway. A sustained north wind – be it from a hurricane or the regular winter pattern – will expose extensive flats in those areas, especially at low tide. Photo by William "Billy" Harrall
Black Warrior Among 19 Alabama Electric Cooperatives Sending Crews to Help Restore Power in Florida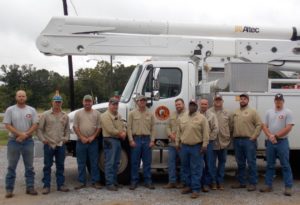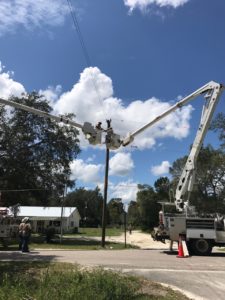 DEMOPOLIS, Ala., Sept. 13, 2017 – Black Warrior Electric Membership Corporation
is among 19 Alabama rural electric cooperatives sending crews to Florida this week
to help fellow electric cooperatives in that state restore power in the wake of
Hurricane Irma. In all, a total of 210 linemen from Alabama cooperatives were
dispatched to assist in Florida, where the hurricane left more than 75 percent of the
state without electricity.
Confronting the aftermath of high winds and heavy rain, mutual aid linemen from
more than 25 states are working at co-ops in Florida, Georgia and South Carolina,
according to the Alabama Rural Electric Association. In some spots, full restoration
could take weeks, officials warned.
"Alabama's cooperatives are always willing to help our fellow cooperatives when
there is a need," said Fred Braswell, president and CEO of the AREA, which
represents Alabama's 22 electric cooperatives.
Black Warrior EMC General Manager Daryl Jones said crews from Black Warrior left
Tuesday headed for Florida.
"As usual, we had every field employee volunteer to assist our fellow cooperatives,"
Jones said. "Additional BWEMC crews will be swapped out later if needed. This
allows us to maintain reliability for our own members while helping others in need."
The mutual aid among cooperatives is a nationwide network that provides
assistance when disaster strikes.
Terry Barr, president of the Black Warrior Electric Board of Trustees, said
cooperation among electric utilities in responding to widespread power outages is
critical and benefits members of Black Warrior.
"Our crews are always prepared for when bad weather hits, but hurricanes and
tropical storms are a special challenge," Barr said. "Getting the lights back on quickly
often requires additional manpower beyond what the local cooperative can provide
on its own. So we are happy to assist other cooperatives when they need help,
knowing they will be ready to help us when we need it."
Alabama's rural electric cooperatives deliver power to more than 1 million people, or a
quarter of the state's population, and they maintain more than 71,000 miles of power
lines. Black Warrior Electric Membership Corporation serves about 26,000 customers in 12
counties in west central Alabama. For information, go to www.blackwarrioremc.com. or more information please visit the ADPH Web site at www.alabamapublichealth.gov.
Sumter gets 8 foot Tuscaloosa alligator
Sumter gator season contemplated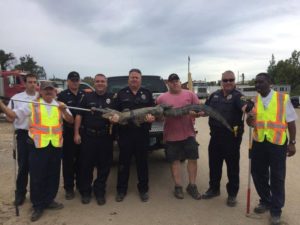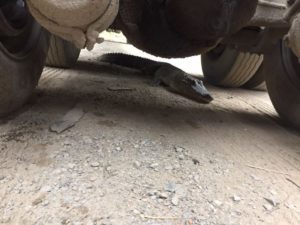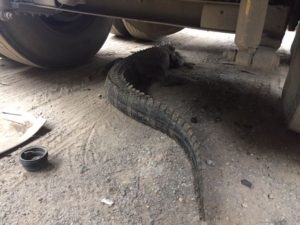 By Tommy McGraw
Publisher
City of Tuscaloosa Employees captured an almost eight foot long alligator Monday morning around 7:40 a. m.
Tuscaloosa Police Officers responded to Liberty Recycling on an alligator siting. Upon arrival, officers were informed that a driver of Liberty Recycling Plant found an alligator measuring close to 8 ft. under his 18 wheeler.
Employees from Tuscaloosa Police Department's Traffic Division, Lake Patrol and Tuscaloosa Department of Transportation's Animal Control were able to capture the alligator and secure it until it was turned over to Alabama Game and Fish to be transported to Gainesville, in Sumter County and released back into its natural habitat.
Sumter County Game Warden, Jeff Shaw told the Record Journal in an earlier conversation that most alligators captured in West Alabama were taken to the Tombigbee River near Gainesville and released.
Shaw said he had recently captured a seven foot long alligator in Cuba from a land owner's pond and taken the gator to another landowner who had requested it to help keep down the wild pig population in his swap land.
Shaw said he was released several alligators he has captured into the Tombigbee River, unless he had received a requests for one of the reptiles for a land owner's property. Shaw said land owners also request the alligators to help keep down beaver populations in ponds and areas unwanted by the landowner.
Shaw said, in a recent night rescue for a stranded boater near Gaines, Shaw said he saw numerous "red eyes" along the banks of the Tombigbee near the Gainesville Lock and Dam.
The Alabama State Conservationist said there is interest in allowing alligator hunters to hunt the beast during a controlled season on the Tombigbee River, in and around Sumter.
Currently alligators are being taken during short periods or seasons along the Alabama River and around Mobile bay.
Those who like to hunt the gators are required to register for a permit tag form a lottery system controlled by the Alabama Department of Conservation.
The tags are drawn in July for an August hunt time. A limited number of hunters receive the tags.
The hunter is required to take a safety course involving catching the alligators.
The state and world record alligator was caught near Camden on the Alabama River in 2014 by Mandy Stokes and her crew from Thomaston. She and her crew pulled in the 1,011.5 pound, 15 feet, nine inches long beast of an alligator on August 29, 2014.
Stokes' gator is also, by default, the the new number one in Alabama, though the state doesn't have an official record-alligator program. The Stokes gator beat the 14-foot, 2-inch, 838-pound animal killed by Keith Fancher and his crew in 2011.
The Stokes gator was 13 inches longer than the current Safari Club International world record 14-foot, 8-inch gator killed by Thomas Bass of Trinity, Texas. Even though Bass killed his alligator in 2007, it has only held SCI's top spot since June.
 Alabama Power sends team, equipment to aid in Hurricane Harvey power restoration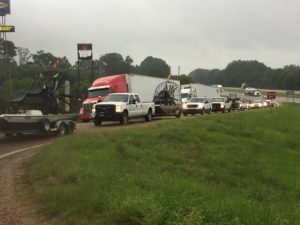 A team of specially trained Alabama Power personnel left at dawn today for Texas with a convoy of boats and special equipment to help Houston-based CenterPoint Energy restore power in the devastated city.
The team of 20 employees are taking with them two airboats, two Marsh Master track vehicles and jon boats. The employees will coordinate with local CenterPoint Energy crews in the Houston area who are working to repair damage to the grid caused by Hurricane Harvey.
The equipment comes from Alabama Power's Transmission and Environmental Affairs organizations, which also are supplying the trained personnel. The team and equipment, which are from the Birmingham and Mobile areas, are expected to arrive in the Houston area on Friday.
"We are glad that we can help assist CenterPoint Energy and the people of Houston who are suffering from this disaster," said Pam Boyd, Power Delivery Services general manager.
"Our thoughts and prayers are with the people of Houston and everyone along the Gulf Coast where Harvey has had such a terrible impact," said Markell Heilbron, Environmental Affairs general manager.
Harvey dumped record-setting amounts of water on the east Texas Gulf Coast, topping 50 inches in some places. The storm is now producing heavy rains in Louisiana, Mississippi and south Alabama, but in the Houston area, major rivers are still rising and more precipitation is expected this weekend.
This morning, CenterPoint Energy reported it has restored power to more than 713,000 customers since Harvey first began to affect its service territory on Friday. While the vast majority of the company's customers who can take service have had power restored, flooding and wet conditions have hampered recovery in some areas. The Alabama Power team and equipment will help CenterPoint crews speed repairs in still-flooded, wet or marshy areas.
The Southern Company Charitable Foundation has pledged $100,000 to the American Red Cross to aid in Harvey relief efforts. Southern Company also has established a donation matching program for employees and retirees. Alabama Power is a subsidiary of Atlanta-based Southern Company. Learn more about Alabama Power at www.alabamapower.com.
SOA Registration Now Open, Permits Randomly Selected on October 3
Youth Dove Hunt Registration Also Open
Registration is currently open for hunts on Alabama's newly created Special Opportunity Areas (SOA). These smaller, specialty hunting areas are located throughout the state and offer a variety of exclusive public land hunting options including small game, archery, gun deer, youth hunting, waterfowl, turkey hunting and more.
Registration for the SOA hunts closes at 8 a.m. on October 3, 2017. Permit selections will be made by a computer-controlled, random process after registration closes. If successful in drawing a permit, hunters will be notified by email and have 72 hours to accept the permit. Similar to the state's alligator hunts, applicants will accumulate preference points each year they apply but are not selected for a permit.
Alabama's SOA program is provided free of cost. However, hunters must have the proper hunting license and WMA license. To register, visit https://publichunts.dcnr.alabama.gov/Public/AvailableHunts.
"There are several SOA hunt dates available and plenty of time to register," said Chris Smith, WFF Wildlife Section Assistant Chief. "We encourage hunters to visit our website to learn more about this unique hunting opportunity."
SOAs available for the upcoming hunting seasons are the 6,500-acre Cedar Creek SOA in Dallas County, the 4,500-acre Uchee Creek SOA in Russell County and the 400-acre Crow Creek SOA in Jackson County. The Fred T. Stimpson SOA, a 5,400-acre tract in Clarke County that had been open for youth hunts and limited adult archery deer hunts, has transitioned to an SOA to help reduce deer densities on the area.
A new concept in public hunting land for Alabama, SOAs offer a limited number of hunting slots for a successful permit holder and guest(s) to hunt a dedicated 300- to 400-acre unit for a two- to four-day hunt. Smaller than Wildlife Management Areas in acreage, SOAs are more suitable to this limited quota hunting format because of the reduced hunting pressure, which increases the quality of the hunt.
For more information about Alabama's SOAs including hunt dates and how to register, visit www.outdooralabama.com/special-opportunity-areas.
In addition to SOA registration, Alabama's Youth Dove Hunt registration is currently open. Although the hunts are free, registration is required. For the complete hunt schedule or to register, visit www.outdooralabama.com/youth-dove-hunts.
The Alabama Department of Conservation and Natural Resources promotes wise stewardship, management and enjoyment of Alabama's natural resources through four divisions: Marine Resources, State Lands, State Parks, and Wildlife and Freshwater Fisheries. To learn more about ADCNR, visit www.outdooralabama.com.
World's Oldest Cultivated Plant in the Front Yard?
Grass is one of the oldest cultivated plants in the world. You of course know lawn grass, but corn, wheat, barley, oats, sugar cane and rice are all grasses that humans intentionally bred to eat and feed to livestock. Grasses are used to make paper, used for fuel, as roofing, to weave baskets, build houses, furniture, fences and musical instruments. Some grasses can grow very tall. Bamboo is one of these. It's the world's most wide spread plant type.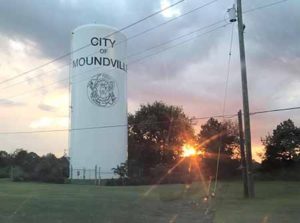 Moundville Watertower Sunset
We don't need to tell you we've had a lot of rain this summer. Rita Lewis, your favorite Voice of the Ville Columnist, knows all about the vibrant colors of sunsets that follow the afternoon showers. She took this lovely shot of the water tower Aug. 12.
B.A.S.S., Alabama Power To Award Scholarships To Technical College Students
B.A.S.S. and Alabama Power are partnering to award two $5,000 scholarships this year for students currently attending, or planning to attend, a technical school in the state of Alabama. The applicant must be a member of a B.A.S.S. High School Club or the B.A.S.S. Nation, a worldwide network of affiliated B.A.S.S. clubs whose members are active in conservation initiatives and youth programs.
The award can be used to cover tuition, textbooks or living expenses. Applications can be found on Bassmaster.com/nation-application. An official academic transcript, a letter of introduction and two letters of recommendation are required to apply. The deadline to apply is Friday, Sept. 15.
Recipients will be notified by Sept. 29 and will be featured on Bassmaster.com. For more information, contact B.A.S.S. College and High School Manager Hank Weldon at hweldon@bassmaster.com.
License Purchase Method Modified for Some Military Personnel and Those with AL Non-Driver ID Cards
Non-resident military personnel stationed in Alabama and those with Alabama non-driver identification cards will see changes this year in the process of purchasing Alabama recreational hunting and fishing licenses. The changes became effective August 21, 2017.
Non-resident military personnel stationed in Alabama must apply for a hunting and/or fishing license at their local probate office, license commissioner, Marine Resources Division office, or Wildlife and Freshwater Fisheries Division headquarters in Montgomery, Ala. A valid U.S. driver's license, military ID card, and a copy of military orders assigning them to Alabama for 30 or more days will be required when applying. This also applies to spouses and dependents.
Those with Alabama non-driver identification cards must also apply for a hunting and/or fishing license at their local probate office, Marine Resources Division office, or Wildlife and Freshwater Fisheries Division headquarters in Montgomery, Ala. Two additional proofs of residency are required when applying.
These changes were made to ensure the correct license types are being sold to applicants. It is a violation of Alabama law to willfully or knowingly make a false statement when purchasing an Alabama resident hunting or fishing license.
Hunters and anglers make conservation efforts in Alabama possible through the purchase of hunting and fishing licenses. Fish stocking, wildlife management, public hunting land, and marine fisheries management are just a few of the programs funded in part though license sales.
More information about the types of licenses available, hunting rules and regulations, and how to purchase a license can be found at www.outdooralabama.com/alabama-license-information.
The Alabama Department of Conservation and Natural Resources promotes wise stewardship, management and enjoyment of Alabama's natural resources through four divisions: Marine Resources, State Lands, State Parks, and Wildlife and Freshwater Fisheries. To learn more about ADCNR, visit www.outdooralabama.com.
Red bellied woodpecker needed a little help…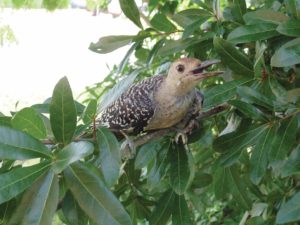 Occasionally at the Times office, our feathered friends get confused and fly into the large glass windows of the upstairs portion of the building. That's what happened to this red bellied woodpecker Tuesday, July 25. The bird was in shock and on the ground right outside our side door but seemed to feel much better after a few drops of water and some time in the shade tree out back.          Photo by Travis Vaughn
Alabama Power, partners continue longleaf pine forest restoration 
Alabama Power, in partnership with its parent company, Southern Company, and the National Fish and Wildlife Foundation (NFWF), today announced $5.5 million in grants to support 24 community-led projects that will help to restore and enhance the longleaf pine ecosystem. The grants provide funding to five projects in Alabama Power's service territory.
"This ongoing initiative is helping bring back the historic and important longleaf forest, in Alabama and across the Southeast," said Susan Comensky, Alabama Power's vice president of Environmental Affairs. "Through this partnership, we've been able to leverage resources and accomplish far more than we could ever do alone."
The 2017 grants include funding for the following projects that touch Alabama:
The Alabama Wildlife Federation will provide technical assistance, outreach and information to private landowners, contractors and others to establish or enhance grassland habitat throughout the state. The project will boost awareness about the ecological value of native grasslands, foster collaboration among project partners and restore 3,000 acres of grassland habitat for northern bobwhite quail and other birds.
The Forest Landowners Association will establish or enhance 2,000 acres of longleaf pine habitat in Alabama, Florida and Georgia and host "Forest Forums" and "Timber Talks" to bring together landowners, the U.S. Fish and Wildlife Service (USFWS) and other key stakeholders. The project will engage large working forest landowners and forest consultants in key longleaf pine priority areas to increase communication and identify specific actions for addressing barriers to longleaf restoration.
The Gulf Coastal Plain Ecosystem Partnership will establish 333 acres of longleaf pine and improve an additional 55,350 acres of existing longleaf habitat in South Alabama and Northwest Florida through prescribed fire, private landowner outreach and technical assistance. The project will also relocate 140 gopher tortoises, a candidate species for listing under the Endangered Species Act, to high-quality, managed lands and provide technical assistance and educational opportunities for private landowners, including a longleaf academy.
The Longleaf Alliance Inc. and partners will relocate 60 endangered red-cockaded woodpeckers to properties designated as recovery sites by USFWS. The project will manage and improve 6,000 acres of longleaf pine forest in Alabama, Florida, Georgia and Mississippi, providing high-quality habitat for woodpecker nesting and foraging.
Talladega-Mountain Longleaf Conservation Partnership will establish 447 acres of longleaf pine and improve 17,700 acres of existing longleaf habitat in Alabama and Georgia using prescribed fire on public and private lands, with support from a seasonal fire crew. The project includes developing a conservation plan to prioritize and guide future restoration, and conducting outreach to engage private landowners in restoring longleaf pine habitat.
The grants are part of NFWF's Longleaf Stewardship Fund, a public/private partnership that includes Southern Company, the U.S. Department of Agriculture's U.S. Forest Service and Natural Resources Conservation Service, the U.S. Department of Defense, USFWS, International Paper's Forestland Stewards Initiative and Altria.
The Longleaf Stewardship Fund builds on the success of the Longleaf Legacy program, a partnership between Southern Company and NFWF. For eight years, Longleaf Legacy invested more than $8.7 million in projects to restore more than 87,000 acres of longleaf pine forest and the native species that rely on the habitat. Another 20,000 acres were restored through the company's closely aligned Power of Flight program with NFWF.
Alabama Power, a subsidiary of Southern Company (NYSE:SO), provides affordable, reliable electricity to more than 1.4 million customers across the state. Learn more at www.alabamapower.com.
Hale County Extension Coordinator
How to get rid of fire ants
Submitted by Tyrone D. Smith, Hale County Extension Coordinator (See more of Tyrone's articles on our Outdoors page at www.moundvilletime.net.)
Alabama Cooperative Extension System (ACES) specialists recommend a two-step method to deter fire ants from invading your property. The first step is to look for a product that is called broadcast bait.
A bait product consists of a chemical dissolved into a food source. These baits are spread evenly over the entire infested area.
Ants will pick up the bait and take it back to the nest, where they eventually find their way to the queen. The colony will be destroyed once the queen is killed.
The second preventive step is to use individual mound treatments throughout the summer. These products come in the form of dusts, drenches, baits, or granules, and should always be applied according to label directions.
Mounds should be treated mid-day in cold months and early in the morning during summer months.
Over applying mound treatment products, however, can result in the colony relocating to another area on the property.
If using a drench product, it is recommended to mix up two gallons of chemical to apply to the mound. The selection of products you can safely use in vegetable gardens is very limited.
Fire ants can be a nuisance for the whole family, but with a little work they are easily kept away. For additional information contact your Hale County Extension Office.
Go to www.outdooralabama.com/sites/default/files/DeerFoodPlots.pdf for more information on food plots in the free publication authored by Cook and WFF Supervising Biologist Bill Gray.
Stay prepared during peak of hurricane season
Most named storms hit during August, September, October
Hurricane season officially began June 1 and ends Nov. 30. But the peak months for most named storms are August, September and October.
Gulf of Mexico water temperatures are at record highs this summer, which could help provide fuel for more severe storms over the next three months.
The National Oceanic and Atmospheric Administration predicted a 70 percent chance of 11 to 17 named storms this hurricane season, five to nine hurricanes and two to four major hurricanes. That's above average.
A tropical storm has wind speeds of 39 mph or higher. The storm becomes a hurricane when winds reach 74 mph. A major hurricane, Category 3 or greater, packs winds of 111 mph or higher.
With the arrival of peak hurricane season, it is high time to be prepared and have a plan to stay safe.
Preparing for a hurricane:
• Learn the community hurricane evacuation routes.
• Determine where your family will meet.
• Make sure you have a way to contact your family.
• When a storm is predicted, keep cell phones and electronic devices charged.
• Stay informed with a battery-operated weather radio.
• Stock an emergency kit with flashlights, batteries, first-aid supplies, cash and copies of your critical information.
• Keep a three-day supply of water – a gallon per person per day – and three days' supply of nonperishable food on hand.
• If you are in coastal areas, cover windows and reinforce garage doors. Storm shutters are ideal but you can also board up windows with plywood.
• Trim shrubs and trees close to your home to minimalize damage to your home.
• Turn down the thermostat in your home. It can help keep your home cool for up to 48 hours.
• Bring in outdoor items, such as furniture, decorations, garbage cans, etc.
During a hurricane:
• Seek shelter in a sturdy building, away from windows and doors.
• Monitor your weather radio for updates and reports.
After a hurricane:
• Stay off flooded roads.
• If there is a power outage or a downed line, call Alabama Power's automated reporting system at 1-800-888-APCO (2726). Stay away from downed lines and keep pets away.
• Stay clear of damaged and fallen trees where a downed line may be hidden.
• Check for property damage. Take photos for insurance purposes.
• Check perishable foods and tap water for contamination.
Find more information about storm safety at www.alabamapower.com or visit the National Weather Service Hurricane Preparedness Week 2017 website at https://www.weather.gov/wrn/hurricane-preparedness.
Alabama Power, a subsidiary of Atlanta-based Southern Company (NYSE:SO), provides affordable, reliable electricity to more than 1.4 million customers across the state. Learn more at www.alabamapower.com.
ADPH tracks mosquito activity through trapping at locations throughout the state
Mosquitoes transmit diseases from one human or animal to another, and prevention is key in protecting yourself from diseases they carry– chikungunya, dengue fever, West Nile virus, Zika and others. Through a federal grant from the Centers for Disease Control and Prevention (CDC), the Alabama Department of Public Health (ADPH) has received funding to monitor for mosquitoes and mosquito-borne diseases throughout the state. Traps are placed in urban and rural areas to collect and identify mosquitoes active in the area. Staff place traps in both public and private areas, including locations where positive Zika cases or other mosquito-borne diseases have been recorded.
The traps are set primarily on public sites. However, if a business or homeowner site is used, permission will be requested prior to setting the traps. Traps are used for mosquito monitoring, not mosquito control. Equipment with the ADPH logo includes stickers identifying that the trap is used for mosquito surveillance. Photographs of the traps used are available at alabamapublichealth.gov/mosquito.
Two types of adult mosquito traps are placed in various locations overnight. Both operate on portable batteries and use carbon dioxide or special chemical lure in a tube to enhance collections. The CDC trap is made of a plastic cylinder with a fan and a light that hangs under a plastic pan from a tree limb or other structure. The sentinel trap is a collapsible vinyl barrel with a plastic lid and fan which sits on the ground. For mosquito egg surveillance, six-inch black plastic cups with a drain hole in the side and lined with a special paper are set for about a week.
Since the surveillance began in May, the state public health entomologist has identified several species of mosquitoes including Aedes albopictus, a vector of Zika, and Culex quequefasciatus, a vector of West Nile virus. The information is sent to the CDC in order to update national maps.
Since May, traps have been placed in a variety of locations–parks, businesses including those with tires, abandoned houses and residences. Traps have been set in municipalities and rural areas in Baldwin, Houston, Jefferson, Lee, Madison, Macon, Mobile, Montgomery, Morgan and Tuscaloosa counties.
A final summary with maps of species by county will be produced after mosquito season and posted to alabamapublichealth.gov. Mosquito information, including guidance on protection from mosquito bites, is available at alabamapublichealth.gov/mosquito. For questions about mosquito-borne diseases or surveillance, contact the Infectious Diseases and Outbreaks Division at 800-338-8374. For questions about mosquito control, contact the Bureau of Environmental Services or your county health department's environmental division.
Boys and Girls Clubs go fishing at Forever Wild
The Moundville and Greensboro Boys and Girls Clubs went fishing at Forever Wild on July 12. Judge Tim Evans said, "Big thanks to Bill Mason, Sheriff Kenneth W. Ellis, Brandon Croom, Chief Banks, Chief Hamilton, James Evans, and Judge Crawford for coming out to help. The staff/volunteers with the Moundville and Greensboro Boys & Girls Club are very much appreciated for getting these kids to the lake with us." Above, Evans is shown with Kylon Bates. Moundville Police Chief Toby Banks joined Moundville Boys and Girls Club member Kylon Bates for a little fishing at Forever Wild on July 12. Photos courtesy Moundville B&G Club.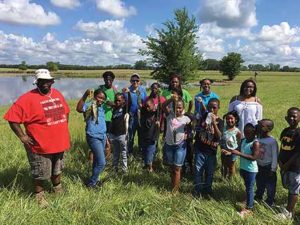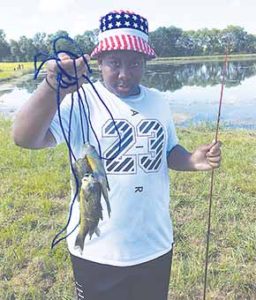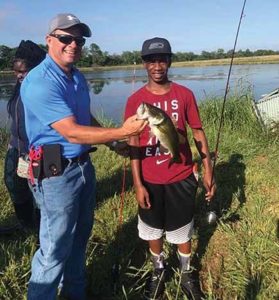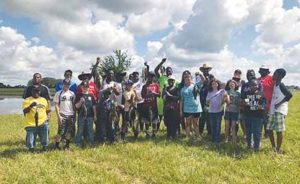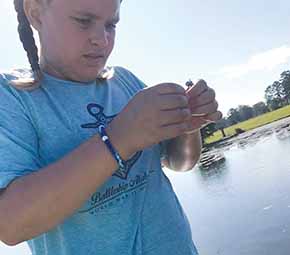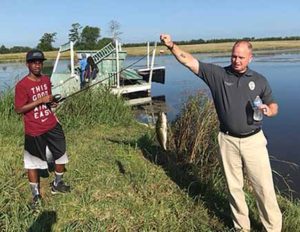 MES wins archery grants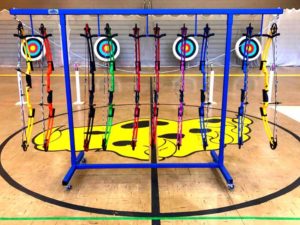 By Dr. Yolonda Fields-Trainer, DNP
The Alabama Association / Tombigbee Chapter of the Resource Conservation and Development Organization (RC & D) and the Alabama Division of the National Archery in the Schools Program (NASP) have awarded Moundville Elementary School over $3,600.00 in grants to fund MES' archery program. Earlier this year, the RC & D councils generously awarded MES $2,000.00 and recently, the NASP granted MES an additionally $1,600.00. MES was able to equip their physical education department with twelve Genesis Compound Bows, six dozen Easton aluminum arrows, six large mobile targets with stands, and much more.
One of MES' physical education teacher, Courtney Jackson, a certified instructor through the NASP has been teaching archery for eleven years in the Hale County School System. This year, he started a project at MES titled, "Improving Students' Learning through Archery". The objective of this project is to increase students' achievements in the classroom through archery because he believe introducing archery to students will improve positive behavior, focus, character building, and many other learning skills. The equipment that is designated for this project is suited for students of all ages and will be used during the physical education classes. "Away from school, many students lack opportunities and a safe environment to shot a bow, therefore, this project will allow students to participate in the sport of archery in a safe environment", said Courtney Jackson.
According to Jackson, while teaching target shooting skills through archery, he believes students will also improve concentration and perseverance. "Archery is fun, but it also allows students of any age or skill level to compete against others or challenge themselves individually," said Jackson.
Hog control is one of the top issues for West Alabama and Hale County; ADCNR's Matt Brock explains what to do
By Kasey DeCastra, MVT & SCRJ Community News Editor
Matt Brock Alabama Department of Conservation and Natural Resources gave a presentation on wild Hog Control at the annual Area III Association of Conservation Districts meeting in Jasper at Beville State Community College July 19.
They are not native to North America. Brought by the Spanish explorers as a mobile form of food back in the 1600's, the fast repopulating, omnivors have wrecked havic ever since. They displace major game such as deer and turkey. And are known to destroy the habitat of our native amphibians and reptiles by rooting, wallowing and tree rubbing around swamps and water ways. They damage livestock, farming land, forests.
Hogs can live up to 21 years, mature in 6-8 months, reproduce twice a year with 4-10 piglets. They are former domestic pigs and Eurasian wild boar that are a range of colors.
They can spread disease to both animals and people. If you have shot one hunting, protect yourself when butchering the meat with rubber gloves, gogles and try not to breath the gases of the animal. Be sure to cook the meat fully as well.
The two most effective ways of dealing with the animals are hunting and trapping. You will need a permit to hunt wild hogs and should contact local Conservation Enforcement Officer or local Wildlife and Freshwater Fisheries District office for more information regarding this permit according to http://www.outdooralabama.com/feral-hogs.
To download a free .pdf on how to take care of hogs visit https://store.aces.edu/ItemDetail.aspx?ReturnTo=0&ProductID=14291
Printed copies may also be ordered through Mississippi State University Extension Service and Alabama Cooperative Extension System.
• Mississippi State University Extension Service: Contact your county Extension office.
• Alabama Cooperative Extension System: Call (334) 844-1592 or e-mail publications@aces.edu
Moundville Boy Scout Troop 26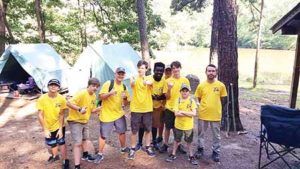 The Moundville Boy Scout Troop 26 attended camp last week at Camp Horne. Submitted by Rita Lewis, Voice of the Ville Columnist
Not Fake Fish News
Moundville Times Publisher, Tommy McGraw went on secret assignment to the Black Warrior River near Akron recently to investigate whether the recent high water levels from the many rain storms effected the bass biting. The publisher/fisherman found some fresh water off the main channel and landed about 15 to 20 bass in the middle of a hot summer day, some in the two to three pound category like the one pictured. McGraw affirmed that this was "Real News" and not the "Fake Fish News" some fisherman occasionally spin. Photo by Tommy McGraw
AL Gopher Tortoise Conservation Project
If you see a gopher tortoise, we'd like you to report it online through iNatural. Sign up online or download the app today.https://www.inaturalist.org/projects/al-gopher-tortoise-conservation-project
Havana Sunset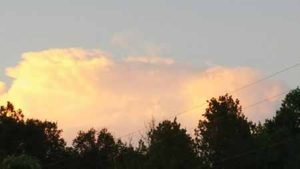 Sunset in Havana in Hale County from Tues. June 13, 2017 by Marty Wheat
Auburn study: Fruits and vegetables have healthy impact on Alabama's economy
By Paul Hollis
While fruits and vegetables are undeniably good for the body, they're also a major boost for Alabama's economy, Auburn University and Alabama Agricultural Experiment Station economists found in a recently completed analysis of the industry.
"Specialty crops is definitely a potential growth area for Alabama," said Deacue Fields, chair of the College of Agriculture's Department of Agricultural Economics and Rural Sociology and study leader.
"We grow a lot of corn, cotton, soybeans and peanuts, but in terms of profitability per acre, specialty crops rank highest," Fields said.
The study was funded by the Specialty Crop Block Grant Program of the Alabama Department of Agriculture and Industries. Fields' co-investigator was postdoctoral fellow Zhimei Guo.
Six years ago, Fields and Guo completed an analysis of the impact agriculture and forestry in general have on Alabama's statewide economy, but that focused on agriculture in general.
"The earlier study masked the specialty crop component, so we wanted to drill down and take a closer look at this important sector of the agricultural economy," Fields said.
The latest analysis showed that the fruit, vegetable and tree nut industry has a significant impact on Alabama's economy, with a total output of $161.5 million, value-added production of $103.6 million, creation of 1,121 jobs and indirect business taxes of $2 million.
The total economic impact captures the industry's ripple effect, too, revealing the following:
The fruit, vegetable and tree nut industry generates additional 0.5 dollar in the state economy per dollar of output.
On average, fruit and tree nut production generates over 17 jobs per $1 million in direct sales.
On average, vegetable and melon production generates eight jobs per $1 million in direct sales.
Processed fruits and vegetables generate two additional jobs for each job within its own industry.
Production and processing of fruits, vegetables and tree nuts are important to both state and national agricultural and manufacturing industries, says Fields, who has studied the produce industry throughout his career.
Alabama ranks seventh in the U.S. in sweet potato sales, eighth in pecan sales and 12th in watermelon sales. While a portion of these fruits, vegetables and tree nuts enter fresh markets, other sales go to processors for freezing, canning, drying and pickling. Each sector, Fields says, creates economic activity and jobs within its own industry.
Small farms equal big returns
"This is by no means a small impact on the economy, but it is coming from a lot of our smaller farms in Alabama," he said. "We have about 43,000 farms in the state, and 80 to 90 percent of those are categorized as small."
Many fruit and vegetable producers have truck-crop operations and are extremely savvy with their marketing plans and are entrepreneurs by necessity, Fields says.
"Although small in scale, these producers have tractors and other equipment, and some of them have more capital per acre than larger row-crop farms," he said. "A lot of capital is invested in these small farms, but there's a higher return in terms of the market value of what they sell. They have a lot of infrastructure, such as cooling facilities and sheds.
"All farmers are entrepreneurs to an extent, but these producers have to know how to market," he said. "The overall specialty crop industry is where you find the majority of agricultural entrepreneurs, because they have to know what the consumer wants, how the customer thinks, and they have to be able to provide a product that's desired."
Agritourism is another important aspect of specialty crop production.
"Specialty crop producers have you-pick operations and other things, like pumpkin patches and corn mazes, going on around the farm," Fields said. "Fruit and vegetable growers are the largest participant in the agritourism sector, and many of these are located near large population centers like Birmingham and Huntsville."
Value-added products also play a role in specialty crop production, such as growers selling jellies or jams made from their own strawberry harvest.
In addition, sweet potato growers in Alabama are providing products for school lunch programs and foods for daycare and summer nutrition programs, Fields says.
Opportunities for expansion
Hopefully, the analysis can help encourage investments in the state's specialty crop infrastructure, which lags behind neighboring states.
"This could be an entirely different industry with some infrastructure investments for processing," Fields says. "A lot of fruits and vegetables are sold directly to consumers, and a lot of products are wasted because they are highly perishable."
The state's fruit and vegetable industry is unique in that it is present throughout the state, with some production in almost every county, he said. It's also very diverse, including multiple crops, from cucumbers to peaches.
While there has been a recent uptick in the demand for organic specialty crops, consumers will pay even more for local products, Fields says.
"There are opportunities for serving these local markets—selling to individuals, restaurants and others," he said. "When the water crisis hit in California, a lot of people were looking at Alabama because of our favorable climate. We have the capacity to grow our fruit and vegetable production, and that isn't the case with some of our row crops."
For the nine-month analysis, Fields and Guo used IMPLAN economic impact assessment software and associated databases for Alabama to estimate the industry's impact.
"We also were interested in multipliers—how those employed within the industry spend their money, and what producers buy to actually support the industry," Fields said. "We worked with some of the state's specialty crops organizations to validate what was being reported. Many times, the impact of small farms is missed in standard reporting."
Moundville Times Musical Visitor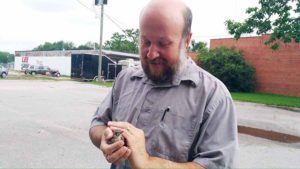 We had a musical visitor hop on into the Moundville Times office this morning (6-5-17). Our lead editor, Travis Vaughn, gently helped him back outside to his home in our Tulip tree outside the office. Our best guess is he wanted to read some news on the fly. We looked him up and he is a Sedge Wren. Learn more at http://www.outdooralabama.com/sedge-wren
Photo and story by Kasey DeCastra, Moundville Times & Sumter County Record Journal Community Editor
We want YOUR local outdoor photos and stories Hale and South Tuscaloosa residents! Email them to times@mound.net and not only will you get in the paper for free, but we'll also spotlight them on the outdoors page at http://moundvilletimes.net/Outdoors3.html
Eastern Box Turtle Travels Through Taylorville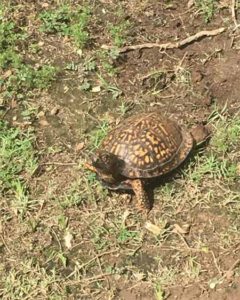 Ben Noppenberger found a friend wandering through his yard Saturday between storms. The eastern box turtle (Terrapene carolina carolina) is a subspecies within a group of hinge-shelled turtles, normally called box turtles. It's native to the eastern part of the United States, found as far north as Maine and West as Texas. The box turtle is largely terrestrial (they like to walk from one pond or stream to another), but are slow crawlers, extremely long lived, slow to mature, and have relatively few offspring per year. Males have red irises and females have brown.
Photo by Ben Noppenberger, story by Kasey DeCastra, Moundville Times/ Sumter County Record Journal Community Editor
Rose… Jelly?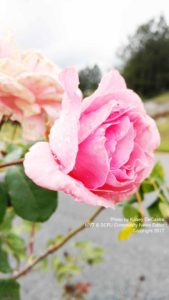 Roses have more uses than just a ornamental flower in the garden. Rose hips can be made into jam, jelly, marmalade, and soup or are brewed for tea, or filtered for syrup. Rose hips are also used to produce rose hip seed oil, which is used in skin products and some makeup products and of course perfume. They hahttp://pfaf.org/user/ Plant.aspx?LatinName=Rosa+c hinensisve been used in medicine for stomach issues. (See ) By Kasey DeCastra, MVT & SCRJ Community News Editor
Color of a Rose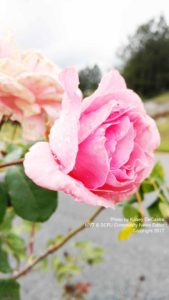 Roses are native to North America, Europe, Asia and North Africa. There are over a hundred species and thousands of cultivars (assemblage of plants selected for desirable characteristics that are maintained during propagation. Roses have acquired cultural significance in many societies. You may have heard a red rose is for true love, a yellow for friendship, or a pink for sweetness. Check out http:// www.passiongrowers.com/web/ ot/colors.asp to learn more about rose color meanings. (By Kasey DeCastra, MVT & SCRJ Community News Editor)
Magnolia's Are Very Useful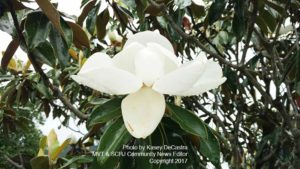 Magnolia bark has been used to treat menstrual cramps, abdominal pain, abdominal bloating and gas, nausea, and indigestion. It is also an ingredient in formulas used for treating coughs and asthma. Learn more about Magnolia uses at http://www.herbwisdom.com/ herb-magnolia.html. (By Kasey DeCastra, MVT & SCRJ Community News Editor)
Magnolia, our sweet smelling southern staple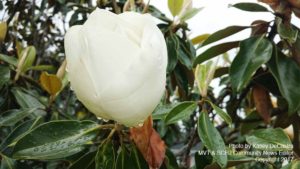 Magnolia's were one of the very first trees to evolve a flower. The petals still resemble the tree's leaves. It's theprized this was to encourage bees to pollintate the trees. According to "Convergent evolution and adaptive radiation of beetle-pollinated angiosperms" by Bernhardt, P. "Fossilised specimens of M. acuminata have been found dating to 20 million years ago, and of plants identifiably belonging to the Magnoliaceae date to 95 million years ago." It's the state flower of Mississippi and Lousiana. Alabama's state flowers are the camelia and oak-leaf hydrangea (state wild flower). They come in both evergreen version and deciduous with a wide range of colors: white, pink, red, purple, or yellow. (By Kasey DeCastra, MVT & SCRJ Community News Editor)
When and where you least expect it… a copperhead in Moundville!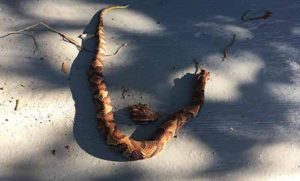 Our own Tiffany Vaughn escaped a snake bite Sunday afternoon in her front yard on Market Street in Moundville and dispatched the juvenile copperhead. She wrote, "It attacked me when I almost stepped on him. Thank God it was a small one and not full grown. Thank God I had long pants on because he struck my pant leg. Y'all be careful in your yards. We get complacent and forget that they are here with us."
Photo by Tiffany Vaughn
Cobbler Incoming!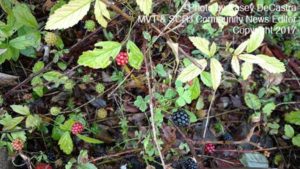 Wild black berries are in season now. Blackberries are one of the two state fruits for Alabama. The other is the peach. (By Kasey DeCastra, MVT & SCRJ Community News Editor)
Carp to the rescue! Say what?!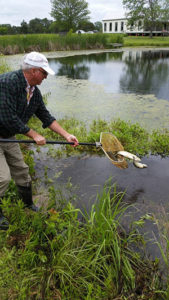 These grass crap are going to help rehabilitate the UWA duck pond. A small number of these fish have been stocked on campus to eat away at the invasive and overwhelming filamentous algae, Alligator weed and pond weed instead of using chemicals harmful to the creatures who make it their home. Learn more about the Black Belt Museum at https://www.facebook.com/blackbeltmuseum/?hc_ref=NEWSFEED
String Beaning Us Along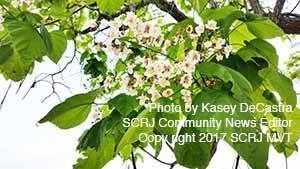 Wondering what kind of tree this is? It's a Catalpa. A deciduous tree that produces long string pods in late summer (also a sap that will eat the paint off your car if you park it under it.) It's nick names are "String Bean Tree," the "Indian Been Tree," and "Cigar Tree." This one lives beside at our sister paper the Moundville Times in Moundville in Hale County and is in full bloom. (By Kasey DeCastra, MVT & SCRJ Community News Editor)
Aquarium Animals and Plants Should Never Be Released into the Wild
Teachers and pet owners should be aware that aquarium animals and plants should never be released into the wild. Releasing aquatic animals and plants is illegal, as they pose a threat to native species and ecosystems. While the environmental damage caused by invasive species throughout the United States is devastating, Alabama is especially vulnerable due to its abundant biodiversity and aquatic habitat.
When a non-native animal or plant is introduced into an ecosystem, the results are often unpredictable. The national Aquatic Nuisance Species Task Force Strategic Plan (2013-2017) indicates that "approximately 49 percent of imperiled species are endangered primarily because of predation or competition with exotic species."
For example, the Island Applesnail was likely released into waters near Mobile Bay by an aquarium or ornamental pond owner. Biologists are concerned these snails will reduce the number of native aquatic plants necessary as food and habitat for birds and other aquatic organisms.
The Oriental Weatherfish or Pond Loach is an exotic aquarium fish that has been found in Logan Martin Reservoir and tributaries of the Coosa River. This species has been found in the same waters as the native Coldwater Darter, although the threats to this protected species are currently unknown.
Once an invasive organism has become established, it is nearly impossible to eradicate. The control of invasive species is costly, so preventive measures such as properly disposing of unwanted aquarium animals and plants is a priority in preserving native ecosystems.
A pet store may be willing to take unwanted aquarium animals or plants. If a pet store will not take the aquarium animal, it will need to be euthanized. To properly dispose of aquarium animals and plants, they should be frozen, sealed in a plastic bag, and placed in the trash.
To learn more about invasive aquatic species in Alabama, visit www.outdooralabama.com/aquatic-nuisance-species.
ADCNR promotes wise stewardship, management and enjoyment of Alabama's natural resources through four divisions: Marine Resources, State Parks, State Lands, and Wildlife and Freshwater Fisheries. To learn more about ADCNR, visit www.outdooralabama.com.
Big Boss Gobbler taken in "Hale"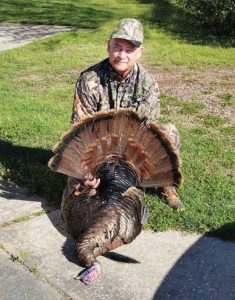 The Moundville Times Publisher Tommy McGraw had to go through "Hale" to get this boss gobbler Saturday, April 8 deep in the Hale County woods. The 22 pound bird sported an 11.5 inch paint brush of a beard and had one inch long spurs. The bird and a companion marched within gun range at 6:50 a.m. The two birds came in after McGraw stirred the two gobblers with his irresistible cackling and yelps. The 35 yard shot was made with a "Quick Draw McGraw" move as the birds circled behind the hunter as they came in to greet their invisible mate. Photo by Jane McGraw
FISH TALES: Spotlight on Mary Quitman Holmes, Alabama's Farmer of the Year

Farmers of the Year are chosen annually from a large field of many deserving catfish growers in the U. S. Farm-Raised Catfish industry. Although it is a difficult task to select just one farmer from each of the top three catfish-producing states, those who are selected embody the spirit of the American farmer. All have made significant contributions to the U.S. Farm-Raised Catfish industry.
Every year, The Catfish Institute utilizes these individuals in various advertising campaigns. Each farmer is an important part of promoting U.S. Farm-Raised Catfish and raising public awareness of the quality and benefits of eating U.S. Farm-Raised Catfish. Roger Barlow, President of The Catfish Institute said, "We want to provide a connection between the farm-raised catfish that people know and love, and the hundreds of family farms that dot the southern United States where these fish are grown. The Catfish Farmers of the Year are the face of the American Farmer producing an American Product for the American Consumer."
Alabama's 2017 Catfish Farmer of the Year Award belongs to… our industry's first FEMALE farmer of the Year… Mary Quitman Holmes. And we here at Harvest Select could not be more proud.
Mary Quitman, like many previous generations of her family, was born and raised in Hale County, Alabama. Read the whole story a www.harvestselect.com/fish-tales-spotlight-mary-quitman-holmes-alabamas-farmer-year.
Hale County Extension Coordinator
Where are Hale County blackberries?
Submitted by Tyrone D. Smith, Hale County Extension Coordinator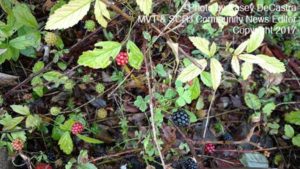 Did you know that the blackberries you see growing on the side of the highway are actually Alabama's official state fruit? That's right, the blackberry is Alabama's state fruit. Nearly all blackberry cultivars are self-fruitful, and therefore self-pollination or pollination by the same cultivar will result in fruit development.
Honeybees usually transfer pollen from one flower to another. Bees are strongly attracted to bramble blossoms by the copious amounts of nectar. However, wild bees are not a reliable source of pollination, especially during bad weather. Commercial growers should consider placing one or two hives per acre grouped into units of five or ten per location.
As the fruit ripens, it grows in size and weight. Color changes from green to red to black. Blackberries take 35 to 45 days to mature once they are pollinated. Flavor and sugars increase as the fruit grows, and the fruit will soften and loosen from the receptacle when ripe.
Blackberries are nutritious. One serving of blackberries (one cup) provides 50 percent of the vitamin C and 22 percent of the fiber required daily. Blackberries are also a good source of potassium, calcium, and iron. In addition, the compound ellagic acid (anti-cancer properties especially against prostate cancer) identified as an anticarcinogen, is found in blackberries.
Hale County Extension Coordinator Poke Salad in Hale County pastures
Submitted by Tyrone D. Smith, Hale County Extension Coordinator
Common poke salad, a native of North America, is a perennial weed often found in pastures as well as fence-rows, rights-of-way, reduced-tillage row crop fields, and wooded areas. Other names include: poke berry, pigeon berry, inkberry coakun, pocan bush, scoke, and American nightshade. Although pokeweed can cause severe poisoning in humans, Native Americans once used this plant as a heart stimulant and as a narcotic. The plant also contains a protein that has been shown to have a positive impact on HIV, a precursor to the AIDS virus. Additionally, many people cut young shoots and leaves and eat the plant as one would eat asparagus, thus the name poke salad. For human consumption, the plant must be boiled at least two times in water and the water must be removed before eating. Some say that an additional boiling will essentially remove all toxins in the plant material. Control of common poke salad is typically not easy because of the large fleshy crown and associated taproot. Except in some row-crop situations, pokeweed rarely infests large areas and is usually found in isolated instances. Removal of individual plants is accomplished by wholly removing the crown and a major portion of the associated taproot. Alternatively, spot applications of glyphosate (3% volume/ volume) or products containing 2,4-D or dicamba can severely injure or kill the plant. For additional information please contact your Hale County Extension Office.