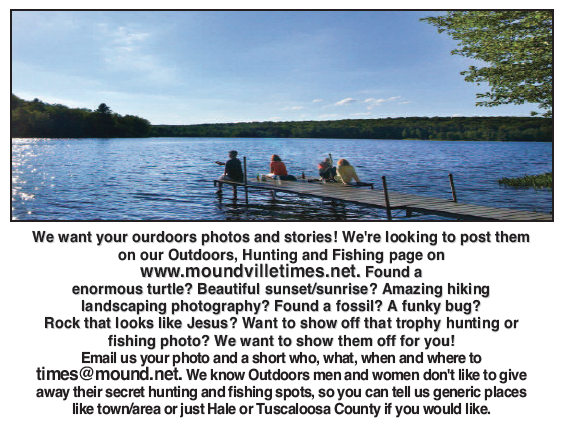 Forever Wild Field Trial Area Accepting Fishing Reservations
The M. Barnett Lawley Forever Wild Field Trial Area in Hale County will be open for fishing to families and small groups on several Saturdays in upcoming months. Two catfish and three bass and bream ponds are located on the property. Reservations are required and can be made by calling 334-624-9952, from May 15 through June 8, 2018.
"We feel like having a family or group of friends make reservations is a good way to ensure that everyone has a safe, fun outing," said Bill Mason, property manager. "We would particularly like to see youth have the opportunity to fish in these ponds."
When reservations are made, each group will be assigned a pond along with details such as creel limits and what kind of tackle to bring. Ponds will be assigned on a first-come, first-served basis. There is no cost to anglers, but anyone between the ages of 16 and 64 is required to have a fishing license. Fishing licenses can be purchased online at www.outdooralabama.com/license-information.
Fishing will be from 8 a.m. to 2 p.m. on the following dates: • June 9
• June 23
• July 7
• July 21
The M. Barnett Lawley Forever Wild Field Trail Area consists of 3,340 acres of pasture and a mixture of pine-hardwood forest. Historically, the property was a working cattle ranch and catfish farm. Today it is a nature preserve and recreation area with scheduled field trials and opportunities for hunting and fishing. For more information, visit www.alabamaforeverwild.com/m-barnett-lawley-forever-wild-field-trial-area.
If Americans with Disabilities Act accommodations are needed, please contact Doug Deaton at 334-242-3484 or doug.deaton@dcnr.alabama.gov. Requests should be made as soon as possible, but at least 72 hours prior to the scheduled event.
The Alabama Department of Conservation and Natural Resources promotes wise stewardship, management and enjoyment of Alabama's natural resources through four divisions: Marine Resources, State Lands, State Parks, and Wildlife and Freshwater Fisheries. To learn more
Conservation Advisory Board Meets in Tuscaloosa May 19
The Alabama Conservation Advisory Board (CAB) will hold its second scheduled meeting of 2018 on Saturday, May 19, in Tuscaloosa, Ala. The meeting will take place at the Alabama Fire College Auditorium, 2501 Phoenix Dr., Tuscaloosa, Ala., 35405.
Registration for those wishing to address the board will be from 8-8:30 a.m. The meeting will begin promptly at 9 a.m. Attendees with printed information they wish to share with CAB members are encouraged to bring at least 16 copies of the material for distribution.
The CAB assists in formulating policies for the Alabama Department of Conservation and Natural Resources (ADCNR), examines all rules and regulations, and makes recommendations for their change or amendment. This includes hunting seasons and bag limits.
The board is comprised of 10 members appointed by the Governor for alternating terms of six years. Joseph Dobbs, Jr., of Birmingham currently serves as chairman. Additional CAB members include Greg Barksdale of Hanceville; Jessica Butler of Scottsboro; Patrick Cagle of Montgomery; Grady Hartzog of Eufaula; Brock Jones of Boligee; Raymond Jones, Jr., of Huntsville; Jeff Martin of Pell City; Ben C. Stimpson, Jr., of Mobile; and Gary Wolfe of Fairhope.
The three ex-officio CAB members include Gov. Kay Ivey, Agriculture Commissioner John McMillan, and Alabama Cooperative Extension System Director Dr. Gary Lemme. ADCNR Commissioner Chris Blankenship serves as ex-officio secretary.
If Americans with Disabilities Act accommodations are needed, please contact Betsy Jones at 334-242-3486 or dcnr.commissioner@dcnr.alabama.gov. Requests should be made as soon as possible, but at least five days prior to the scheduled meeting.
The Alabama Department of Conservation and Natural Resources promotes wise stewardship, management and enjoyment of Alabama's natural resources through four divisions: Marine Resources, State Lands, State Parks, and Wildlife and Freshwater Fisheries. To learn more about ADCNR, visit www.outdooralabama.com.
Disease-Carrying Ticks Widespread Across Alabama
By David Rainer, Alabama Department of Conservation and Natural Resources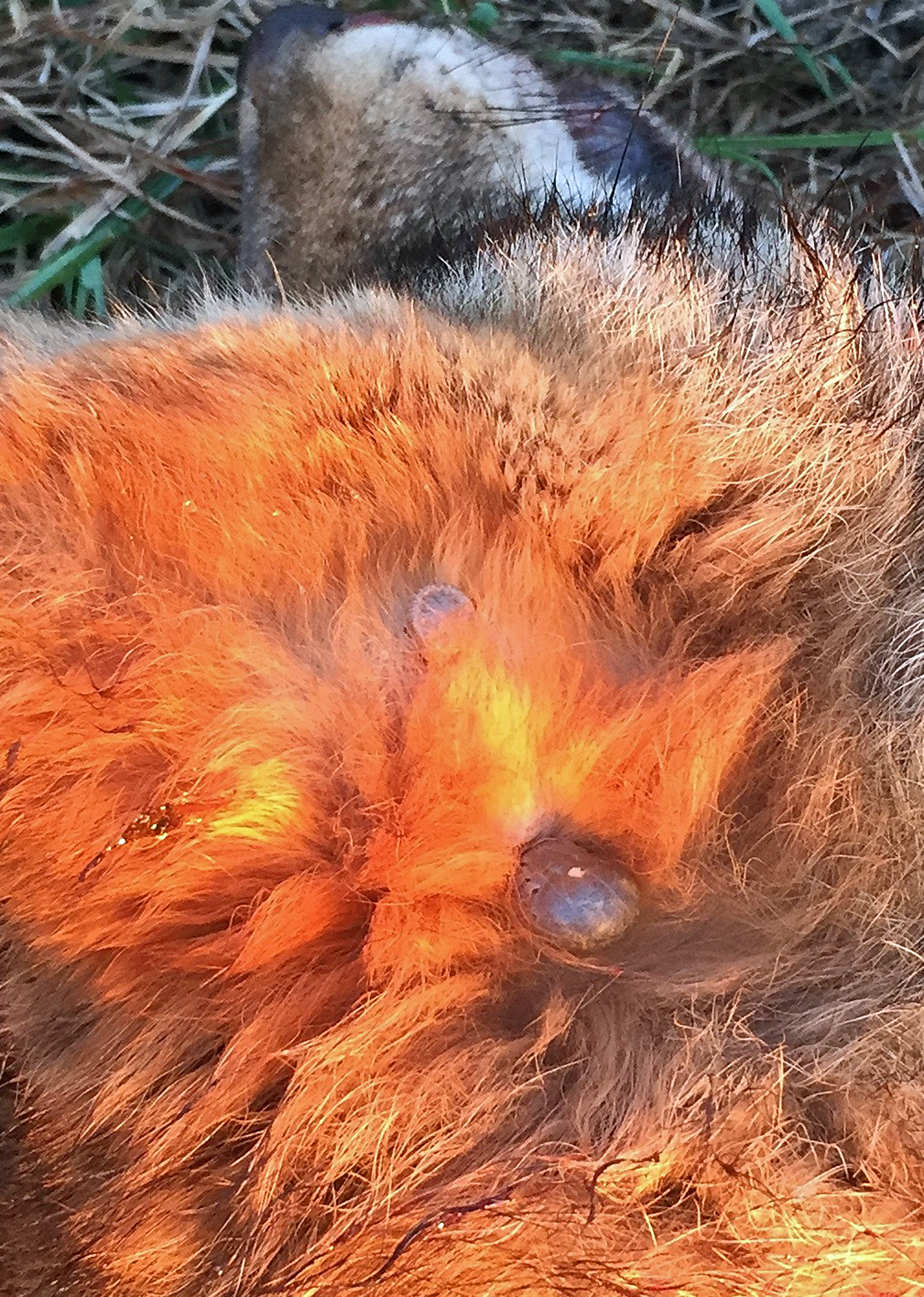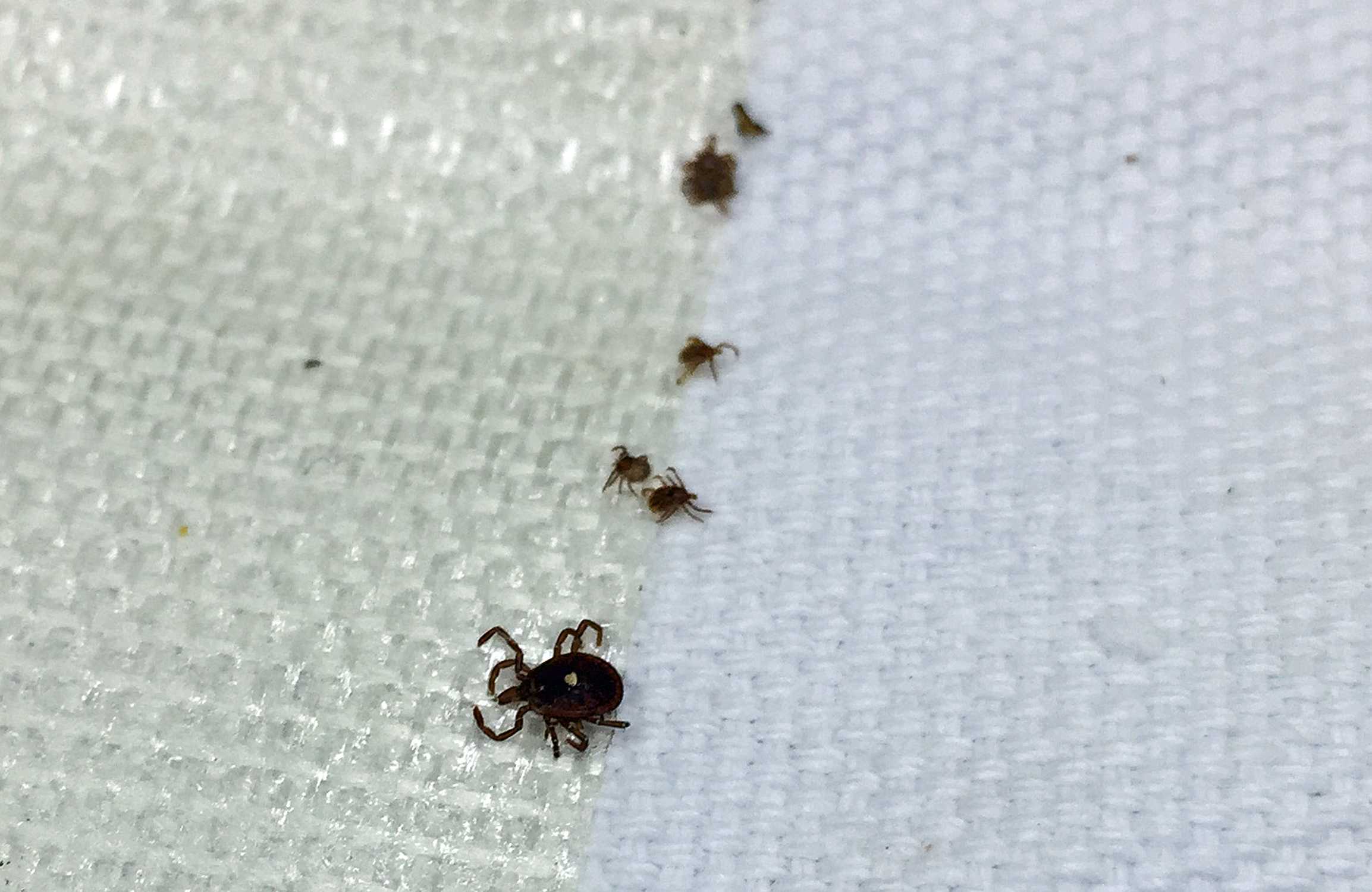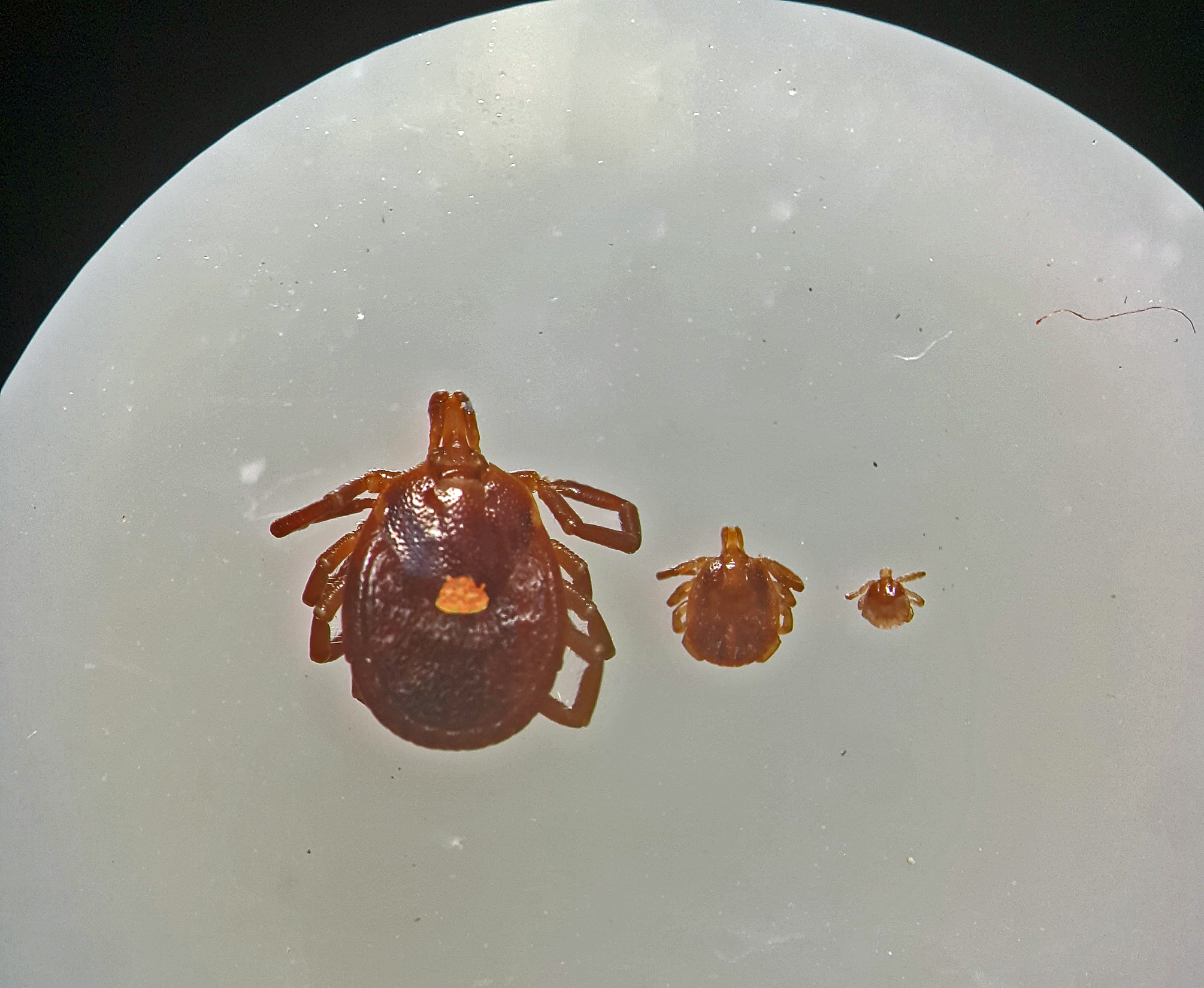 PHOTOS: (Micaela Finney, Emily Merritt, Sam Morris) The different age class sizes of the Lone Star tick is shown in the top photo, while the collection of ticks by the use of sticky tape shows the abundance of ticks in certain areas in Alabama. Engorged Lone Star ticks are often found on canines, including this coyote.
As a turkey hunter, I am keenly aware of the threat posed by sneaking through the Alabama woods. And I'm not talking about the danger of encountering a member of the serpent family.
I'm talking about something much, much smaller but possibly just as harmful.
It's the family of ticks that turkey hunters dread each spring, and the prevalence of disease-carrying ticks is becoming more evident each year.
Emily Merritt, a research associate at Auburn University's School of Forestry and Wildlife Sciences, has been working on a project, with funding assistance provided from the Wildlife and Sport Fish Restoration Program (Pittman-Robertson) through the Alabama Division of Wildlife and Freshwater Fisheries (WFF), since 2015 to determine the species of ticks in Alabama and their ranges.
Merritt said a study on ticks and tick-related illnesses hadn't been done since the early 1990s, and it was very limited in scope.
The study that started in 2015 was to update and expand that research to include field collection sites for ticks.
"We collected ticks once a month for a year," Merritt said. "We were all over the state. We also worked with WFF wildlife biologists to collect ticks off of deer for all three years and with the USDA (Department of Agriculture) to get ticks off of raccoons for two years."
The most commonly collected ticks included the Lone Star tick, the Gulf Coast tick, the black-legged tick (aka deer tick) and the American dog tick.
The Lone Star tick is the most common tick in Alabama and can transmit a host of diseases, including the alpha-gal red meat allergy, Southern rash disease (a Lyme-like illness), tick paralysis and spotted fever diseases that are closely related to Rocky Mountain spotted fever. A white dot in the middle of the tick's back is the reason for the Lone Star name.
"We found that the Lone Star tick and the Gulf Coast tick are the most aggressive," Merritt said. "They hunt down their prey. Some ticks sit and wait, but the Lone Star and Gulf Coast ticks will actively seek out hosts. Turkey hunters complain that when they're hunting they can actually see ticks crawling to them. Usually, that's the Lone Star tick. I've also heard it called the turkey tick."
Merritt said the Lone Star tick is found primarily in hardwood stands, while the Gulf Coast tick, which is a little larger and transmits similar diseases, is found primarily in more open areas with shrubs.
"The Gulf Coast tick likes areas like new clear-cuts, and they are found in controlled burn areas," she said. "These are harsh, hot environments where you don't often find ticks, but the Gulf Coast tick loves it."
The tick that has gained the most notoriety because of its association with Lyme disease is the black-legged tick.
"It is the main culprit for spreading Lyme disease, but it also can spread other illnesses, like anaplasmosis, ehrlichiosis and tularemia," Merritt said. "We find black-legged ticks equally in pine and hardwood stands."
Merritt said the American dog tick also can transmit all the diseases associated with the other tick species.
"As the name implies, they bite dogs a lot," she said. "We find them in people's backyards, especially if they've got a nice, green lawn and a nearby wooded area. Obviously, people's dogs are at risk. If their kids play in the backyard or if you're gardening or landscaping in the yard, people can come in contact with the American dog tick."
At one time, the Centers for Disease Control (CDC) insisted that Lyme disease was limited to the Northeast U.S., with a concentration of the disease around Lyme, Conn. In recent years, the presence of Lyme-like disease (Lyme borreliosis) has been acknowledged in Alabama.
"Lyme disease refers to one specific bacteria," Merritt said. "Lyme borreliosis indicates there is a host of similarly related bacteria that cause illness in Alabama.
"Another thing we hear from doctors is there is no Rocky Mountain spotted fever here. That's not true at all. The Alabama Department of Public Health (ADPH) has been tracking this. The problem with the CDC and other health agencies is they don't consider it much of an issue down here. But it definitely is an issue."
In fact, a graphic from ADPH shows that spotted fever-type illnesses have skyrocketed in recent years compared to the other tick-related illnesses.
"People are getting sick from ticks down here," Merritt said. "So it's counterproductive for those agencies to say it's rare. If you are an outdoors person your chances of coming in contact with these ticks is pretty decent. There is definitely a risk.
"One of the reasons I'm trying to get the word out, and when we publish our research (later this year), is we really need doctors to recognize that these tick-borne illnesses are here in Alabama."
One aspect of Merritt's research includes a survey conducted through the Alabama Department of Conservation and Natural Resources. The survey was sent to hunters and anglers to ask about their experiences, knowledge of and costs associated with ticks and tick-borne illnesses.
For those who spend time outdoors, Merritt said the project research found that the most effective deterrent for tick attachment is a spray that contains permethrin.
"You don't apply it to your skin," Merritt said. "You spray it on your clothes, boots, hats, socks, backpacks, basically any fabric. When I go camping, I spray my tents and tarps with it. Depending on what brand you get, it will last anywhere from two weeks or two washings to six weeks and six washings.
"More so than bug spray, we found that the products with permethrin significantly reduced the amount of ticks we encountered. It also works well on other biting insects like chiggers and mosquitoes."
Although the likelihood of contact with ticks is higher during the warmer months, Merritt said the insects are active year-round in Alabama.
"Be on the lookout, not only on pets, but your children, your loved ones and yourself," she said. "If you go outside, there is the potential to come in contact with ticks. When you come back inside, check your clothes and gear immediately to see if there are any crawling ticks on you, your pets or children. Then take it a step further and check your body thoroughly for ticks. If you need to use a mirror or a partner, do that. Ticks can hide in all sorts of areas that are hard to see.
"And the longer a tick is attached, the better the chances are to get a tick-borne illness if that tick is harboring that illness."
If you do find a tick attached to your body, Merritt said don't haphazardly try to remove the insect.
"Don't try to pick it off with your fingers or burn it off with a match or anything like that," she said. "Get tweezers and get as close to the skin as you possibly can. Firmly grasp the tick where it attached to your body and start pulling with steady, even pressure until it eventually releases. It might be uncomfortable and a little painful, but you want to get that tick off as soon as you can."
Merritt said tick-borne illnesses may cause symptoms as early as a couple of days, but symptoms could also occur as late as a couple of months after the exposure.
"If you start to experience flu-like symptoms, like aches and pain, or you see an expanding red rash, sometimes spotted and sometimes circular, you need to see a doctor," she said. "It's normal for a bite to be red, but if you see an expanding rash or it seems to be spreading to other parts of your body, that's a clear indication that you do have a tick-borne illness."
Merritt said if the tick is found it can be saved for testing by taping it to an index card, placing it in a freezer bag and storing it in the freezer.
"But don't wait for test results," she said. "If you think you have a tick-borne illness, your doctor should go ahead and start treatment. For most tick-borne illnesses, that involves treatment with antibiotics. For tick paralysis, it's removal of the tick. For the alpha-gal allergy there is no treatment. You just have to avoid eating red meat, and that's terrible."
For more information, go to www.aces.edu/pubs/docs/A/ANR-2315/ANR-2315.pdf or www.alabamalymedisease.org, the Alabama Lyme Disease Association's website.
Mentored Turkey Hunt Yields Unforgettable Results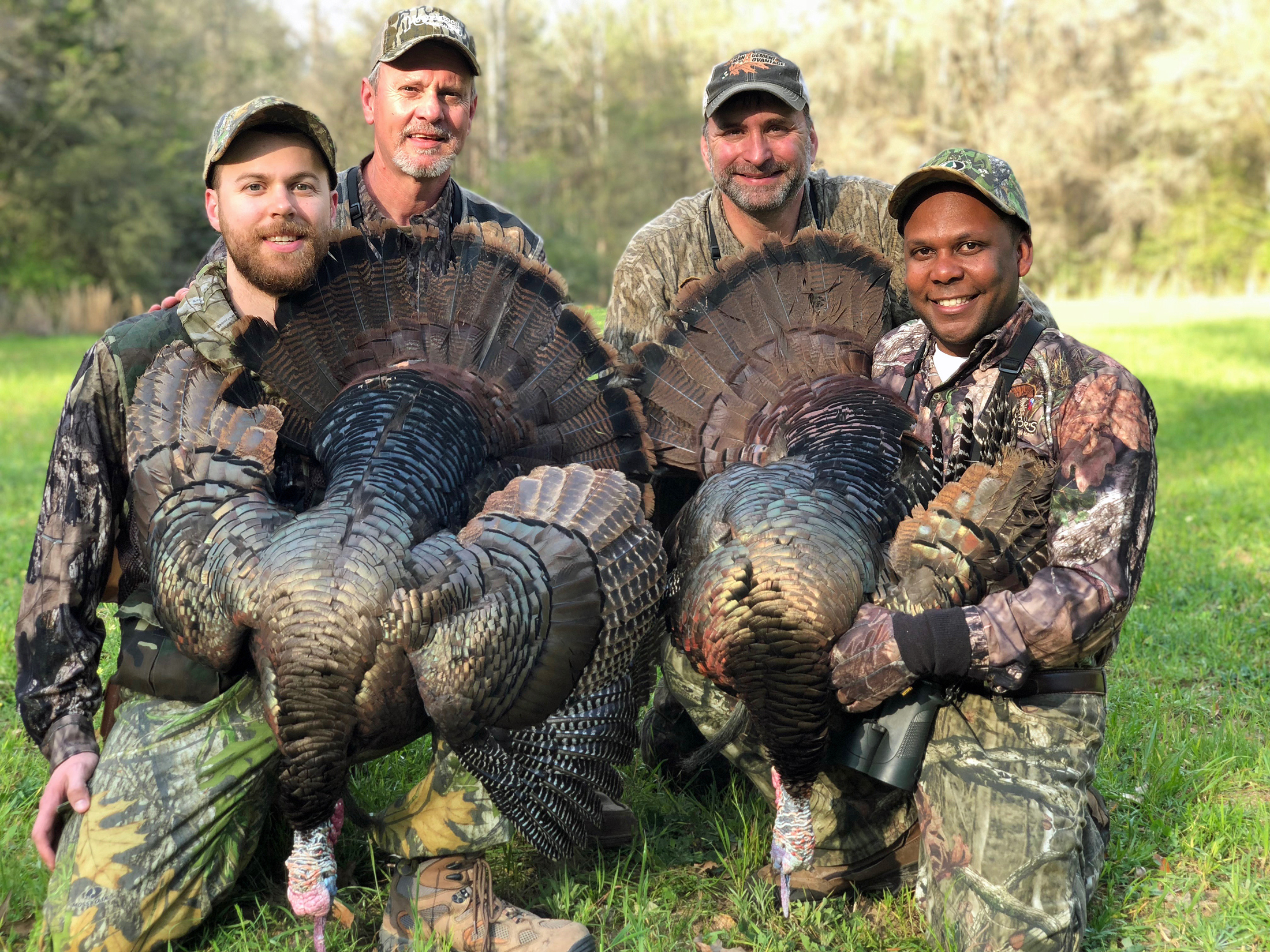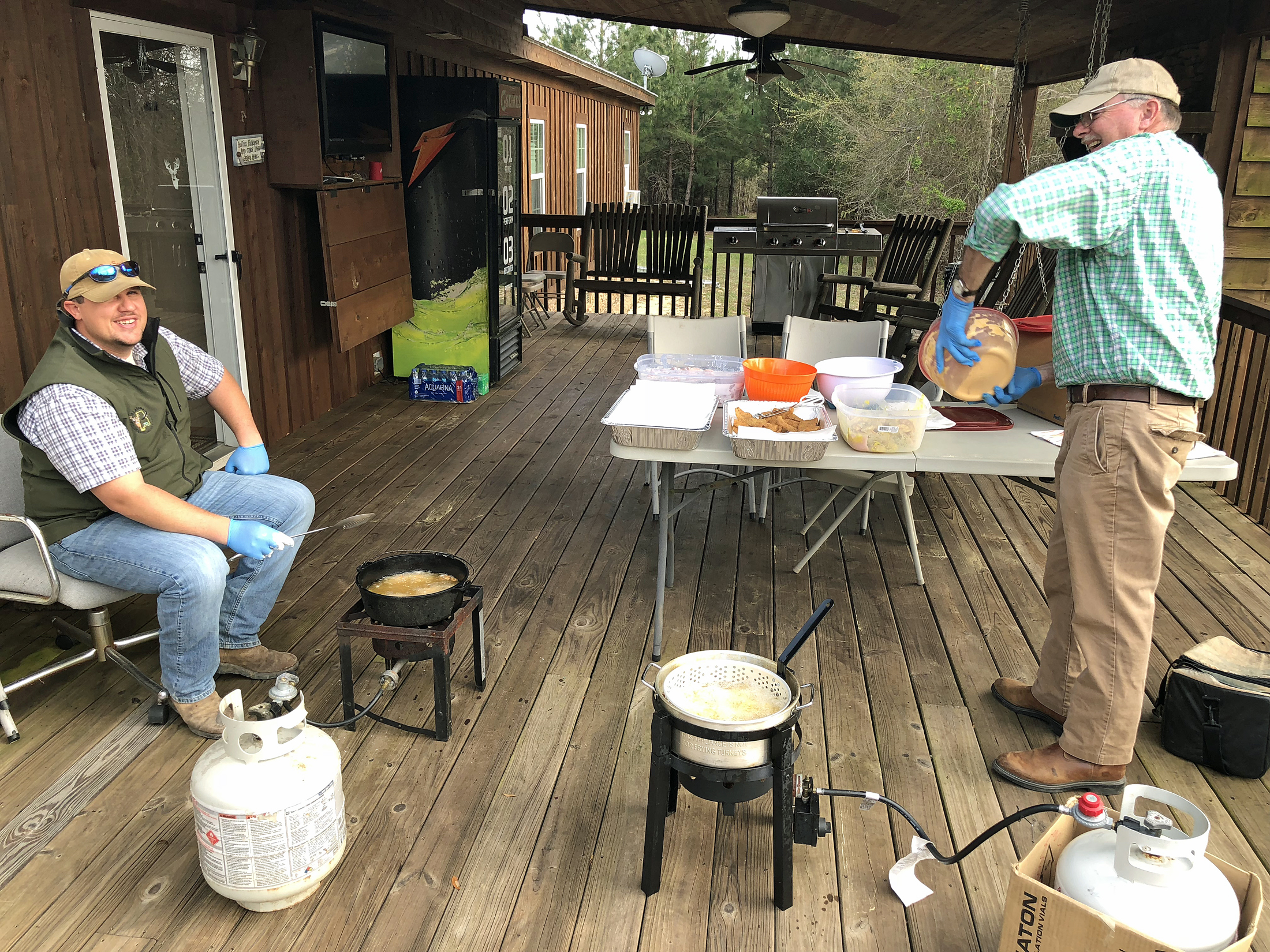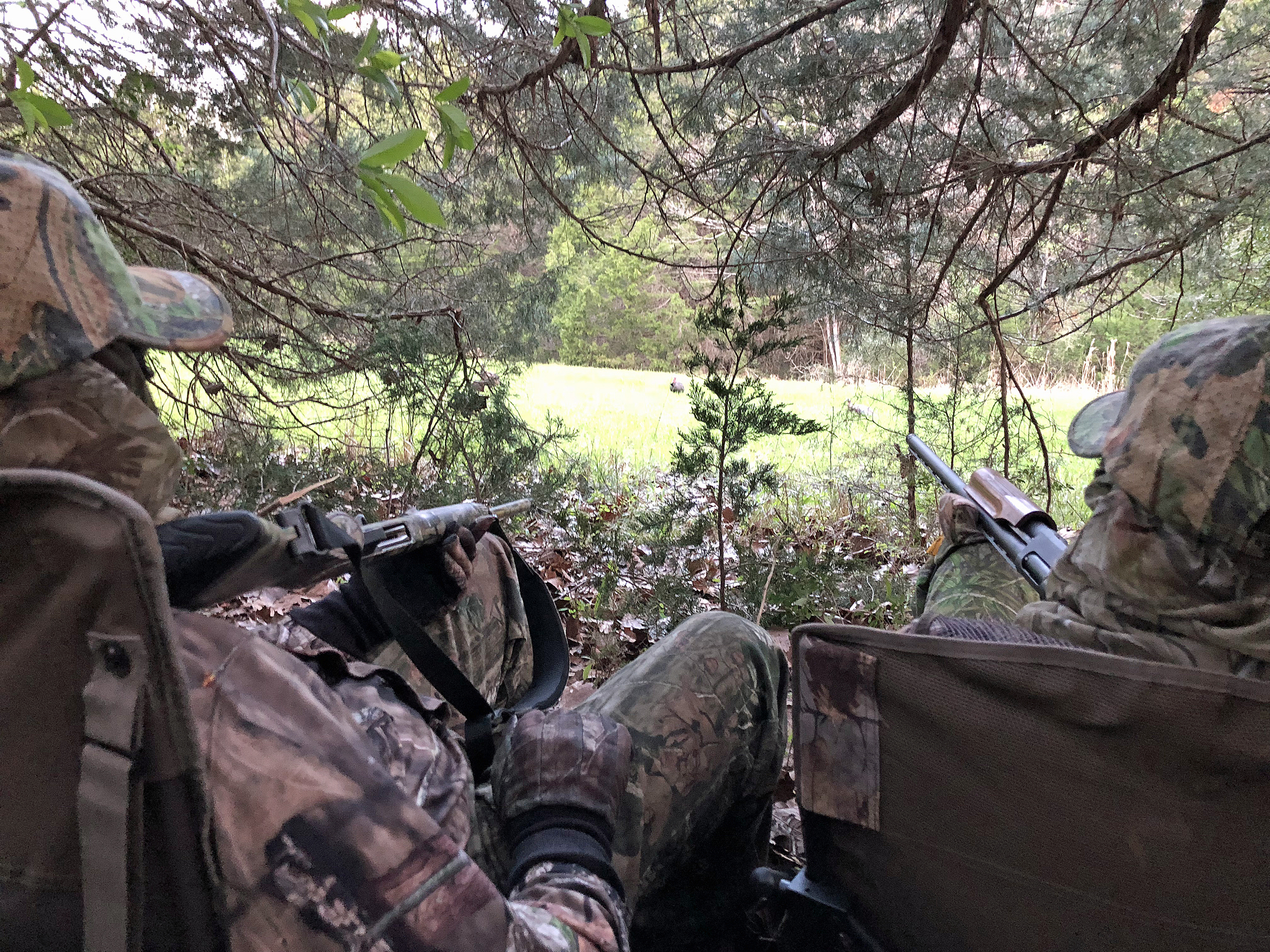 (Howard O'Neal, Chuck Sykes) An unforgettable mentored turkey hunt resulted in the harvest of two mature gobblers during a recent outing on the Pine Barren SOA. The lucky hunters were Adam Arnold, left, and Charles Barrow, who were guided by Al Mattox, back left, and Chuck Sykes. The two shooters were set up on the edge of a food plot for the eventful hunt and got enjoy the results of the hunt later when Justin Gilchrist, left, and Jeff Makemson fried the cubed turkey breasts for supper.
By David Rainer, Alabama Department of Conservation and Natural Resources
The fate of a turkey hunt's outcome is indeed fickle. High-fives can be the celebratory conclusion just as easily as the dejected hunter's incessant second-guessing of the tactics that caused the gobbler to walk away instead of strutting into range.
Chuck Sykes, Alabama Wildlife and Freshwater Fisheries (WFF) Director, has been in both situations. Sometimes that fate varies daily. Sometimes it's different segments of the season, and sometimes, it's different years.
With a little less than a month left in the season for most parts of the state, Sykes said hunters have had mixed results.
"Some hunters are doing well; some are not," Sykes said. "It depends on where you are in the state. Personally, I think the turkeys are a little behind for this time of the season as compared to previous seasons. Gobbling has been very poor for me. I've hunted quite a few days, and I've seen five turkeys die, so don't be crying for me.
"It's substandard for me compared to what it was last year, which gives me great hope that the end of the season is going to be really good. I just think that cold snap slowed things down a little bit. I know we had some cold weather last year, but there's something just a little bit different this year."
Sykes said last year's opening few days started with lows in the 30s, but the turkeys were still "gobbling their brains out."
"We even had a couple of mornings in the upper 20s, but we were killing turkeys," he said. "They were working right. This year, turkeys are gobbling two or three times, hitting the ground, and it's over with."
Sykes said it appears the 2017 and 2018 seasons will be flipped in terms of turkey activity and hunting success.
"The first few weeks of the season last year couldn't have been any better for me," he said. "The last two or three weeks of the season couldn't have been any worse.
"I'm anticipating, based on past experience, that during the last few weeks of the season, the gobbling should be better and turkeys should be working better. I think we're going to have a good closing few weeks of the season."
Although the overall season has been a disappointment for Sykes, one magical afternoon will be forever etched in his memory, and he wasn't the one who pulled the trigger.
That hunt occurred on one of the WFF's Special Opportunity Areas (SOAs) during an Adult Mentored Hunting Program outing.
Sykes recruited his old hunting buddy Al Mattox to help guide during the hunt on the new Pine Barren SOA area. Charles Barrow of Ozark and Adam Arnold of Pelham were the lucky hunters who were randomly drawn for the hunt.
"Charles actually participated in one of the mentored deer hunts," Sykes said. "He was lucky enough to get selected for the turkey hunt."
Arnold, on the other hand, has been an avid shooter for years, including long-distance shooting and sporting clays, but had really never hunted.
"Adam is one of those guys who has been participating in the Pittman-Robertson Act program by buying guns and ammunition, but he hasn't been buying a hunting license for us to be able to capture that money and bring it back to Alabama," Sykes said of the excise tax levied on firearms, ammunition and hunting equipment. "So, this was a unique experience.
"His family didn't hunt. I think he may have been dove hunting once or twice throughout his life, and that was it. His family and group of friends weren't exposed to hunting, but he was introduced to shooting later in life."
Sykes said Arnold is a very accomplished shot who has his own shotgun and extensive knowledge of firearms overall.
"The gun part of it was easy," Sykes said. "The hunting portion, we had to do a lot of teaching. The way we handled it, my best hunting buddy, Al Mattox, was with me. Al got back from Afghanistan three weeks before the hunt and wanted to help. He had been serving a tour in Afghanistan for about nine or 10 months. Al and I have hunted together a long time."
Sykes and Mattox came up with a plan to hunt as a four-man team with a primary shooter and a backup shooter.
"That way, during the heat of the action, whoever was with the secondary shooter could give them a play-by-play of what was going on, taking the pressure off of them," Sykes said. "They weren't worried about shooting. They were worried about learning. I could walk them through everything. I could explain what Al was doing with the primary shooter. Al could explain what I was doing with the backup shooter."
What Sykes and Mattox didn't anticipate was that by the end of the hunt there was a spent shell lying on the ground next to each hunter.
"It worked out really well," Sykes said. "It just so happened, when everything came together, there were two mature birds and both were able to harvest their first birds.
"It was a once in a lifetime experience for those guys as well and Al and I as the mentors. It was a very emotional afternoon."
Sykes said the unsuccessful morning hunt got the hunters prepared for the eventful afternoon session.
"It all worked out for the best," he said. "During the morning hunt there was no gobbling, nothing. So, we got to teach them how to be still. We got to teach them how to pick a location when turkeys aren't gobbling; how to look for tracks; how to look for sign. We taught them a bunch of the basics that morning.
"Right after lunch we went out, and on our first setup, I called in an extremely vocal hen. They were introduced to a live turkey at close range. They could use what we taught them that morning on camouflage and how to be still, when to move and when not to move."
Mattox had done some scouting a few days before the hunt and found some gobblers in one area. Still, the hunters were on unfamiliar ground because WFF had just recently closed the purchase on the Pine Barren tract. Sykes and Mattox used aerial maps on their smartphones to survey for likely turkey hangouts.
"We actually found a hidden food plot and set up off the edge of it," Sykes said. "Adam was the primary shooter. I was with Charles off to the side. We placed two hen decoys out in the field. I yelped on a box, and a turkey gobbled about 400 yards from us, kind of behind us. About 15 second later, I looked and saw two other gobblers in the hardwoods coming to us.
"Adam did really well. Al was talking him through everything. Charles and I were sitting back as spectators at that point. Adam and Al let the turkeys strut all the way by them, about 75 yards across the field at a distance of about 15 yards from the hunter."
Al waited to give Adam the sign to shoot so that the turkeys would be in position for Charles to get a shot if the second turkey happened to hang around for a few seconds.
"When the turkeys got into a position where I knew Adam was ready, I called to them," Sykes said. "The dominant bird gobbled. I was letting Adam and Al know it was time."
Arnold fired and dropped his bird. Sykes then coached Barrow through the backup-shooter process.
"When turkeys are at 15 yards and there is a big boom, they don't know where it came from," Sykes said. "The turkey was walking in circles. I was cutting to him. The turkey didn't know what to do. By the time the gobbler got his bearings, Charles was ready and made a good shot.
"It was an incredible hunt."
Sykes fully expects similar scenarios to unfold on the Pine Barren SOA in Dallas County.
"It's the most exciting piece of property I've been on that is public hunting," Sykes said. "It's part of the old Hit and Miss Lodge where Mossy Oak did a lot of their filming. The amount of game there is incredible."
For those who haven't had much luck this turkey season, Sykes said it's time to regroup but never surrender.
"You've just got to keep going," he said. "As my grandmother always told me, a bad beginning means it's going to be a good ending, and I'm counting on it."
NASP Alabama State Championship in Montgomery on April 6
The largest youth archery competition in Alabama, the National Archery in the Schools Program (NASP) Alabama State Championship, will be held Friday, April 6, 2018, at the Multiplex at Cramton Bowl located at 220 Hall St., Montgomery, Ala., 36104. Archers will begin shooting at 9 a.m. The awards ceremony is scheduled for 5 p.m. The media and public are invited.
This year's event will feature more than 1,200 young archers in Grades 4-12 from schools across the state who earned a berth at the state championship after competing in one of nine regional qualifying tournaments. These students will compete for the title of state champion and the opportunity to advance to the NASP Eastern National Championship on May 10-12, 2018, in Louisville, Ky.
The NASP is a joint venture between the Alabama Department of Conservation and Natural Resources (ADCNR) Wildlife and Freshwater Fisheries Division (WFF) and the Alabama Department of Education. NASP instills discipline and concentration. Participants also learn a life skill as part of a school's physical education course or after-school program. Scoring is based on Olympic-style, target archery in three divisions – elementary, middle and high school. Competition is on team and individual levels.
The state championship would not be possible without the generous sponsorships of the Alabama Chapter of the National Wild Turkey Federation, Morrell Manufacturing, the Alabama Conservation Enforcement Officers Association, Alabama Wildlife Federation, and the Rocky Mountain Elk Foundation.
For more information about the NASP in Alabama, contact WFF Hunter Education Coordinator Marisa Futral at 334-242-3620 or Marisa.Futral@dcnr.alabama.gov. Learn more about the state championship at www.outdooralabama.com/nasp-state-championship.
The Alabama Department of Conservation and Natural Resources promotes wise stewardship, management and enjoyment of Alabama's natural resources through four divisions: Marine Resources, State Lands, State Parks, and Wildlife and Freshwater Fisheries. To learn more about ADCNR, visit www.outdooralabama.com.
Alabama Leads Way with Artificial Reef Program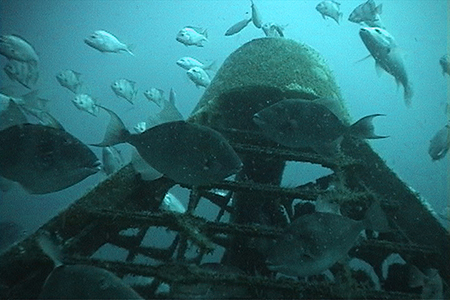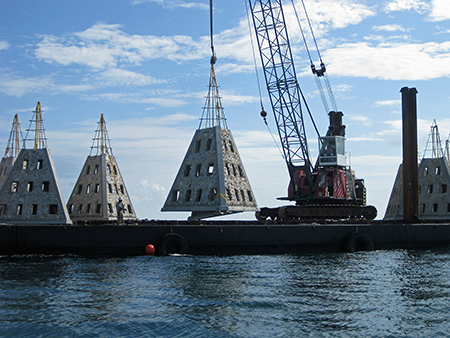 (Craig Newton, David Rainer) Artificial reefs, like this pyramid, attract a variety of reef fish other than red snapper, including gray triggerfish and spadefish. Marine Resources has been using the large pyramids to build a variety of reefs, which produce nice catches of red snapper.
By David Rainer, Alabama Department of Conservation and Natural Resources
Those who wonder why anglers off Alabama catch more than 30 percent of the red snapper in the Gulf of Mexico despite having only 53 miles of coastline should have attended the Red Snapper Conference in Mobile last week.
The key to Alabama's phenomenal red snapper fishing is the more than 1,000 square miles just off the coast that are designated artificial reef zones.
During the day-long conference, numerous scientists and fisheries biologists discussed reef fish management, habitat requirements, red snapper and triggerfish recruitment and growth. All those components are tied to Alabama's reef zones.
Craig Newton, Alabama Marine Resources Division's Artificial Reefs Program Coordinator, provided those in attendance a comprehensive look at the state's artificial reefs program, from its unofficial start to today's highly regulated deployment protocols.
Alabama Department of Conservation and Natural Resources Commissioner Chris Blankenship, formerly the Marine Resources Director, said Alabama has the largest artificial reef system in the country and has created noticeable improvements in the fishery.
"I went to work on a charter boat when I was 14 years old," Blankenship said. "If we caught a red snapper that weighed 5 pounds, that was a big red snapper. If you caught one that weighed 10 pounds, you took a picture with it. If you caught one that weighed 20 pounds, your picture ended up in the paper and in the red snapper fishing hall of fame. That was a big fish."
A massive reef-building program occurred after that, and anglers continue to enjoy the results of the widespread habitat enhancements.
"We build reefs with money from CIAP (Coastal Impact Assistance Program), Sport Fish Restoration and other sources," Blankenship said. "Over the last few years, we've gotten money from the National Fish and Wildlife Foundation from the Deepwater Horizon criminal fines, and we've built several hundred reefs with that money. We've created seven new reef zones within our 9-mile state waters boundary. We've built more than 30 inshore reefs. So, reef-building has been, and continues to be, extremely important to our state. Because of that, we have such a great red snapper fishery."
Blankenship pointed out the extensive research being done in the Alabama reef zones by the University of South Alabama (USA), Dauphin Island Sea Lab and Auburn University.
"Dr. (Bob) Shipp is here today," Blankenship said of the professor emeritus at USA's Marine Sciences Department. "He was doing red snapper science before reef-fish research was in vogue. We're blessed to have such great academics in the state to do this work.
"We've spent a lot of money and emphasis on red snapper research. We want not only to show we have the largest artificial reef system in the country. We also want to show how those reefs produce such a great fishery here in our state. Like I said, I remember what it was like to go out and catch small fish, a few fish. Now you can't wet a hook without catching red snapper, big red snapper. The average weight of snapper in the charter fleet now is about 10 pounds. Having a robust reef fishery is extremely important to the economy of the state."
Newton said the artificial reef story off Alabama started in 1953 when 200 car bodies were cabled together and deployed in two segments by the Orange Beach and Dauphin Island fishing communities. In 1961, the U.S. Army Corps of Engineers designated the "Snapper Banks" as the first artificial reef zones off Alabama.
The first deployment by the Conservation Department occurred when five 415-foot Liberty ships, known as the Ghost Fleet in the Mobile-Tensaw Delta, were hauled offshore and sunk in 1974.
The Marine Resources Division (MRD) strategy then changed to creating artificial reef zones instead of individual reef sites. The Corps permitted the first reef zone of 364 square miles in 1978. This is the first area where individuals could deploy MRD-approved reef material.
"What's unique about this is these privately deployed reefs remain unpublished," Newton said.
The Hugh Swingle reef zone of 86 square miles followed before another expansion occurred in 1989 with another 245-square-mile reef zone. In a program called Reef-Ex, 100 M60 decommissioned battle tanks were thoroughly cleaned and deployed in the Gulf for reefs in 1993. The Corps granted another expansion in 1997 with a permit for 336 square miles for reef zones. MRD teamed with the Orange Beach Fishing Association on the Red Snapper World Championship from 2004 through 2007 to deploy about 1,000 artificial reefs.
Since then, the focus has moved to nearshore with a 1.6-square-mile zone permitted just inside the 3-mile state boundary.
The latest artificial reef zones were permitted last year. A total of 30 square miles inside the 9-mile boundary for reef fish management was approved after an arduous permitting process.
Newton said acquiring a permit for reef zones from the U.S. Army Corps of Engineers has grown increasingly more complex through the years.
"Historically, it was relatively easy to get a permit," he said. "You outlined the size and goals of the reefs. Several months later you got a permit. Quite a few things have changed since then."
Now a reef zone permit application must go to the Corps of Engineers and ADEM (Alabama Department of Environmental Management) for consideration. The application must include detailed construction techniques and methods as well as defined boundaries. A 30-day public comment period required by the Corps is followed by an additional 15-day comment period for ADEM.
Because these are federally authorized permits, they also fall under the National Historical Preservation Act, which is the costliest factor in the permitting process.
"We're required to have a marine archeologist in all aspects of performing a Phase 1 archeological survey," Newton said. "We have to use multiple remote sensing techniques. We have to use side-scan sonar, a magnetometer and a sub-bottom profiler to identify not only archeological resources exposed on the sea bed, but those below the sea bed as well.
"We also have to prove the project doesn't harm threatened or endangered species or compromise the critical habitat. The entire permitting process now takes from 20 to 42 months."
The material allowed for reef deployment has changed significantly over the years as well. White appliances, like washing machines and refrigerators, are no longer used because they do not provide long-term stable structures. Vehicles and anything fiberglass are also banned. Now, material made of concrete, steel and natural rock are allowed. Chicken transport devices are used as well as concrete pyramids and other structures constructed specifically to provide the best habitat for reef fish.
The Rigs to Reefs program takes advantage of the federal "Idle Iron" regulations, which require oil and gas structures to be removed within five years of the last date of production. The reef program takes obsolete petroleum platforms and uses the structures for reefs.
"We have a diverse assemblage of reef types in our reef zones," Newton said. "We have 1,282 reefs deployed by the state that are published in our reef program. What makes our reef zones unique is we have the permitted authorization to authorize the public to build their own reefs and the locations remain unpublished.
"We estimate there are more than 10,000 reefs off the shore of Alabama. About 12 percent of those structures are public reefs."
Newton said about 42 percent of the reef structures are in the zones that have depths from 60 to 120 feet. About 28 percent of the reefs are in depths of 120 to 180 feet. Only 4 percent are deeper than 180 feet.
"What's really important, you look at relative contribution of these artificial structures in deeper water," he said. "We have very little natural bottom, natural rock, offshore of Alabama. The natural reefs we do have occur in these deeper waters. This aligns with our goals of avoiding natural reefs when we are deploying artificial reefs."
Newton said a downward trend in reef deployment by the public coincides with the reduction in the public's access to the fishery with the shorter and shorter seasons.
"From the mid 90s to the mid 2000s, we permitted about 1,000 reefs per year," he said. "Now we're permitting a fraction of that."
When Marine Resources developed a model to look at the future of the reef system off Alabama, it provided a stark reality.
"What we see is the existing reefs are not going to last forever," Newton said. "The usable life is about 10 years for regular structures, about 30 for the concrete pyramids. The model shows a steady decline of available habitat into the future. That is why it is imperative that we continue to build reefs on an ongoing basis."
However, significant progress has been made recently in ending the extremely short federal red snapper seasons. If NOAA Fisheries approves an Exempted Fishing Permit (EFP) for the 2018 season, Alabama will receive just under one million pounds of red snapper allocation for a potential 47-day snapper season, which could be the catalyst to reverse the downward trend in private reef deployment. Marine Resources will host meetings in late April and early May to answer questions from the public if the EFP is approved.
Coosa River drawdowns set for fall
Alabama Power schedules dates for drawdowns on four lakes on the Coosa River to begin in September
Alabama Power has set tentative dates this fall for water-level drawdowns on Lay, Mitchell, Jordan/Bouldin and Neely Henry lakes, located on the Coosa River. Drawdowns give residents and contractors better lakebed access for permitted construction projects on the four lakes. The last drawdowns took place in 2013. Here is this year's tentative drawdown schedule:
Lake Normal elevation Drawdown elevation Lowering dates Start refill Back to normal
Jordan/Bouldin 252 248/249 Sept. 18-20 Oct. 2 Oct. 4
Mitchell 312 308/309 Oct. 2-4 Oct. 16 Oct. 18
Lay 396 393/394 Oct. 16-18 Oct. 30 Nov. 1
Neely Henry 507.5 503/504 Oct. 30- Nov. 1 Nov. 12 Nov. 15
Because weather conditions can affect the drawdown schedule, residents and contractors are encouraged to visit Alabama Power's automated Reservoir Information System at 1-800-LAKES11 (1-800-525-3711) or https://apcshorelines.com/ for updates. Residents and contractors considering any construction projects within Alabama Power's reservoir boundaries should consult with the company about obtaining the proper permits before beginning any work. Permitting guidelines and contact information for permits can be found on the Shoreline Management page at www.alabamapower.com. Individuals with boats and other water-related equipment and facilities should always be alert to changing conditions on Alabama Power reservoirs and be prepared to take the necessary steps to protect their property. Alabama Power has 14 hydroelectric facilities on the Coosa, Tallapoosa and Black Warrior rivers, producing low-cost, clean energy for customers. To learn more, please visit www.alabamapower.com.
Chicks and ducklings may pose risks of illness
This month marks the beginning of spring and Easter is just around the corner. Families across the state are preparing to celebrate the anticipated holiday with fun festivities, egg hunts and more – including gifting adorable chicks and ducklings to small children. While such events create opportunities for fellowship and enjoyment, they also increase the risk of gastrointestinal illnesses, such as salmonellosis and campylobacteriosis.
Salmonellosis, caused by the bacteria Salmonella, and campylobacteriosis, caused by the bacteria Campylobacter, are often associated with live poultry contact in backyard flocks. Infection may also occur after contact with uncooked poultry products. It is common for chicks and ducklings to carry these bacteria in their droppings and on their bodies, even when they appear to be healthy. Salmonellaand Campylobacter cause gastrointestinal illness, though those at risk of severe illness include children under the age of 5 years, older adults and individuals with weakened immune systems. Symptoms include diarrhea, fever and abdominal cramps and usually last 4-7 days.
In 2017, 10 multistate outbreaks of human Salmonella infections were linked to live poultry in backyard flocks and represented the largest number of illnesses linked to contact with backyard poultry ever recorded. A total of 1,120 cases from 48 states were reported. Of those, 27 percent were children under the age of 5 years, 29 percent were hospitalized, and 1 died.
"These numbers underscore the risks that may not be readily recognized by parents when their child comes into contact with baby chicks and ducklings. The best way to prevent illness is to avoid contact when possible, and wash hands frequently and properly when contact is made," says Sherri Davidson, Alabama Department of Public Health (ADPH) interim state epidemiologist.
Dr. Tony Frazier, State Veterinarian with the Alabama Department of Agriculture and Industries, adds, "Families may certainly enjoy owning live poultry, baby chicks and ducklings; however, several precautions should be taken. This includes following the guidelines provided by the ADPH when handling live poultry and only purchasing poultry from the U.S. Department of Agriculture National Poultry Improvement Plan (USDA-NPIP) participants. Also, mail order hatcheries, local feed stores and those that sell baby chicks, ducklings and other poultry, should provide health-related information to owners. Local feed stores should provide hand sanitizer near poultry displays and place poultry out of reach of children."
ADPH encourages people to take the following steps to protect against gastrointestinal illnesses resulting from live poultry contact:
· Wash your hands thoroughly with soap and water after touching live poultry or products, or cleaning equipment used for live poultry care.
· Do not snuggle or kiss baby chicks, ducklings or other live poultry.
· Do not let live poultry live inside the residence or stay where foods are prepared, served or stored.
· Do not let children under the age of 5 years handle or touch chicks, ducklings or other live poultry without adult supervision.
· Leave shoes and clothes outside after dealing with backyard flocks, especially if in contact with droppings.
· Purchase poultry from hatcheries that participate in the USDA-NPIP, a program committed to reduce Salmonella infection in baby poultry while in hatcheries.
Resources
For more information on keeping backyard poultry, visit: https://www.cdc.gov/Features/SalmonellaPoultry/index.html
For more information on flock safety, visit: https://www.cdc.gov/healthypets/resources/salmonella-baby-poultry.pdf
For more information on the USDA-NPIP program, visit: https://www.aphis.usda.gov/aphis/ourfocus/animalhealth/nvap/NVAP-Reference-Guide/Poultry/National-Poultry-Improvement-Plan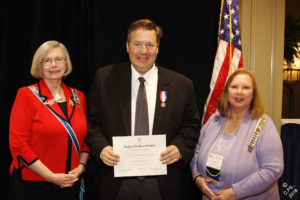 UWA's Keener wins DAR conservation award on Bigbee Valley Chapter's nomination
Dr. Brian Keener, a biology professor and curator of the UWA Herbarium, was recognized at the Daughters of the American Revolution State Convention in Auburn for his work in conservation and environmental awareness. Pictured left to right are DAR State Regent Nancy Folk, Keener, and DAR Alabama Conservation Committee Chair Pam Spivey. Keener was nominated for the award by the Bigbee Valley Chapter of DAR.
The University of West Alabama's (UWA) Dr. Brian Keener was presented a conservation award at the Daughters of the American Revolution (DAR) Alabama state convention held at Auburn University on March 9.
Keener is the assistant dean of the School of Graduate Studies, professor of biology and the curator of the UWA Herbarium. He is known and respected statewide as an accomplished botanist and for his discovery of two rare species of mint in the Talladega Forrest in Talladega.
The award is presented by the DAR Conservation Committee, which is dedicated to the preservation of the natural resources of the nation, its soils, minerals, forests, waters and wildlife, and it recognizes outstanding achievement for environmental awareness.
The award recipient is chosen from nominations by local DAR chapters throughout the state. Keener was nominated by the Bigbee Valley chapter.
"Our chapter selected Dr. Keener to be our only nomination to the committee," said Lucy Gallman, who has been a member of the Bigbee Valley Chapter since 2010. "We nominated because we're proud of all of his research, but specifically his work with the Plant Atlas."
The Plant Atlas is a website that documents thousands of different plant species from across America. Keener, who serves as president of the Southern Appalachian Botanical Society, directs the Alabama portion of the Atlas.
The Alabama Plant Atlas has the largest catalog of plant species on the website with 196,035 specimens on file accompanied by 4,618 images. By uploading the specimens and images that have been discovered in Alabama by the UWA Herbarium and the Alabama Herbarium Consortium, Keener and colleagues make accessible to people worldwide a wealth of information and research. It's an accomplishment that Gallman wanted to see honored.
"I just felt that he needed to be recognized for all his hard work," Gallman said. "His efforts in documenting Tutwiler's Spleenwort for the Plant Atlas is particularly special to us as it honors Julia Tutwiler."
The species, asplenium tutwilerae, is a native herbaceous evergreen fern that is known from a single site in west-central Alabama, and Tutwiler is the discoverer of the only known population of the species, dated 1873. The species is rated S1 in Alabama and G1 globally, the categories that mark such rarity. This is the type of information documented in the Plant Atlas.
The award nomination required examples of Keener's research with conservation and recommendation letters from his peers and superiors. Gallman reached out to several faculty and staff including UWA's Provost, Dr. Tim Edwards, and College of Natural Science and Mathematics Dean Dr. John McCall.
In their recommendation letters, Edwards and McCall praised Keener for his work in and out of the classroom saying, "Dr. Keener takes his scholarship and his passion for plant conservation out into the community… he is a hands-on instructor who urges his students to explore the natural world on their own."
DAR is a membership service organization for women who are directly descended from a person involved in the United States' efforts towards independence. A non-profit, they work to promote education, patriotism and historic preservation. The group was established in 1926 and provides scholarship opportunities for rising college students as well as grants for local historic projects.
Keener joined the faculty at UWA in 2003. He earned his master's and doctorate in biological sciences from the University of Alabama. A Gallant, Ala., native, Keener teaches courses in botany, aquatic plants, plant systematics and invasive species of Alabama.
To learn more about the Alabama Plant Atlas and other research, contact Dr. Brian Keener at bkeener@uwa.edu or (205) 652-3796.
Boaters urged to receive education before boating season
The temperature may be cool outside, but the Eighth Coast Guard District is joining boating safety advocates across the country to urge recreational boaters to enroll in a boating education course. The Spring Aboard – Take A Boating Education Course campaign encourages boaters to receive education prior to the kick-off of the boating season. Many education providers offer discounts or other incentives for students during the week of March 18-24, 2018, to enroll in a boating education course.
"We know that an educated boater is safer on the water," said Tom Guess, the president of the National Association of State Boating Law Administrators and the lead organization for the Spring Aboard campaign. "If a boater has taken a boating safety education course, the likelihood of their time spent on the water being a safe and enjoyable experience is much greater for them as well as their passengers. There's no reason to head out on the water without knowing what you're doing, and spring is the perfect time to take a course before the summer boating season begins."
"U.S. Coast Guard statistics indicate that of the accidents where the level of operator education was known, 77% of boating deaths occurred on boats where the boat operator had never received boating education instruction," said Ed Huntsman, the Eight Coast Guard District boating safety program manager.
With today's wide variety of courses available, there's a course for every boater's schedule. Boaters have multiple options including classroom courses offered by the Coast Guard Auxiliary, United States Power Squadrons and online offerings available anytime.
Education course providers and offerings will vary between states, so check with your local course provider or state boating agency to find what courses are accepted in your area. Many states require completion of a course verified by NASBLA as meeting the national boating education standard for powerboat rental or operation. To ensure a course qualifies, look for the 'NASBLA-Approved' logo.
The annual Spring Aboard campaign is led by the NASBLA and produced under a grant administered by the U.S. Coast Guard. It is supported by state, federal and nonprofit partners. It is open to participation by all states, territories, boating education organizations, instructors and course providers.
For more information, visit www.springaboard.org.
Big Gobbler Contest Aims to Find Black Belt's Best Turkey Callers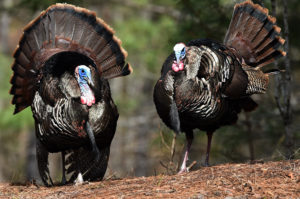 MONTGOMERY, Ala. – The Alabama Black Belt Adventures Association is calling all turkey hunters to give its annual Big Gobbler Photo Contest a spin this year with a twist. Instead of photos of turkeys taken in the Black Belt, this year the ALBBAA wants videos of hunters practicing the art of calling those big toms into range.
The winner can produce a video of actually coaxing a big turkey into camera frame or show us your technique after you've bagged your gobbler or during your scouting session. Just upload a short – 30 seconds to 1 minute – video of your best yelp or cluck or fly-up cackle or gobble or any combination. Shoot your video in the woods of the Alabama Black Belt and upload it via Dropbox at http://bit.ly/2IrxQth by May 7, one week after the April 30 end of turkey season.
"This year, instead of our usual photo contest on Facebook, we want to see and hear hunters showing off their turkey-calling skills," said ALBBAA Director Pam Swanner. "Attracting a big gobbler isn't easy, so we wanted to give hunters a chance to display their expertise. The Black Belt provides some great turkey hunting and we have great turkey hunters who live in the region or visit for a once-in-a-lifetime experience during the season.
"We are thrilled to offer two opportunities to win our Big Gobbler Contest this year, too. We will have our 'People's Choice' winner based on the number of Facebook 'likes' for the videos and a 'Pro's Pick,' judged by the 'Turkey Man' Eddie Salter of Evergreen and two other media professionals. Eddie is a well-known expert thanks to his seven Southeastern Open Turkey Calling Championships, six Alabama State Championships and two World Open Championships. He has almost four decades of turkey-hunting experience and is being gracious enough to provide one of our prizes, too."
This year's People's Choice winner will receive a $200 cash prize donated by Southeast Land Group and the Pro's Pick will get Turkey Man Game Calls – both a slate call and a mouth call.
All entries MUST be uploaded to http://bit.ly/2IrxQth, not to the Black Belt Facebook page. To vote for your favorite, please follow us at Facebook.com/AlabamaBlackBeltAdventures and click "like" on the video.
The Black Belt includes the following counties: Barbour, Bullock, Butler, Choctaw, Clarke, Conecuh, Crenshaw, Dallas, Greene, Hale, Lee, Lowndes, Macon, Marengo, Monroe, Montgomery, Perry, Pickens, Pike, Russell, Sumter, Tuscaloosa and Wilcox.
The Alabama Black Belt Adventures Association is committed to promoting and enhancing outdoor recreation and tourism opportunities in the Black Belt in a manner that provides economic and ecological benefits to the region and its citizens. For information, go to www.alabamablackbeltadventures.org.
Auburn University researchers identify natural enemy of crop-killing kudzu bug
Auburn University entomologists have discovered and identified a tiny wasp that could provide a huge benefit to soybean producers and other farmers.
Though only about the size of a pinhead, the newly detected parasitoid wasp, Ooencyrtus nezarae, can do plenty of damage to the kudzu bug, a quarter-inch-long invasive pest of soybeans and other legume crops in the Southeast. Researchers in the lab of entomologist Henry Fadamiro, associate dean for research for the College of Agriculture and associate director of the Alabama Agricultural Experiment Station, were the first to detect the wasp's presence in North America.
The research team published its findings in a recent article in the Journal of Insect Science. Blessing Ademokoya, an Auburn graduate researcher at the time of the study and now a doctoral student at the University of Nebraska-Lincoln, is lead author of the article. Fadamiro and Rammohan Balusu, research fellow in the Department of Entomology and Plant Pathology, are co-authors, as are Auburn research entomologist Charles Ray and Jason Mottern, entomologist at the USDA Smithsonian Institution in Washington, D.C. Ray and Mottern assisted in final identification of the wasp.
O. nezarae is the second kudzu bug-attacking wasp to be identified in the U.S. The first, Paratelenomus saccharalis, was discovered in Georgia in 2013.
"It is exciting to know that many natural enemies are in the field helping to keep kudzu bug populations under control," Ademokoya said. "And, with this latest addition, we have a potential explanation for the decline observed in kudzu bug densities across several locations in the southeastern U.S."
The kudzu bug, native to Asia, was first reported in the U.S. in 2009 in Georgia. Although it feeds on kudzu—an economically important invasive weed native to Asia and familiar to Southerners—it also devours soybeans and other legume crops, causing significant yield loss in highly infested fields.
A strong flyer and good hitchhiker, the pest rapidly expanded its numbers across many southern states, including Alabama, South Carolina, North Carolina, Florida, Tennessee, Mississippi, Virginia, Kentucky, Louisiana, Arizona, Maryland and Delaware. The population peaked in 2013.
The kudzu bug has emerged as the top yield-limiting pest of soybeans, which rank as the second most planted field crop in the United States with an estimated annual market value of approximately $39 billion.
In 2017, Alabama farmers harvested approximately 345,000 acres of soybeans with a production value of more than $150 million.
Potential long-term solution
O. nezarae, which was found during field surveys in Alabama, is reported to parasitize eggs from a variety of plant bug families in China.
"Until now, the distribution of O. nezarae has been limited to China, Japan, Thailand, South Korea and Brazil," Fadamiro said. "This is the first report of the parasitoid in North America. The high rate of parasitism—82.8 to 100 percent—recorded in our study indicates that the parasitoid may serve as a potential long-term solution for managing the kudzu bug."
Despite O. nezarae's high parasitism rate of kudzu bug, it has a short period of activity, and Fadamiro said continued research will be necessary to identify tactics for the use of the insect to biologically control the pest on farms.
"We need to conduct monitoring to know the distribution of the parasitoid in the United States and to determine its seasonal phenology in the field—when it is not active and when it is most active," he said. "We also are interested in studying the nutritional ecology of this insect and strategies for its conservation in the field. We don't want to spray toxic chemicals when it is most active."
There are numerous ways to use natural enemies in production agriculture, Fadamiro said, including introducing them into areas where they are not already present and preserving them where they are naturally occurring. Farmers also can plant host flowering plants around a field so the nectar will attract and keep the beneficial insect in an area.
"If we conduct a survey and find the insects are only in central Alabama, then we can capture and relocate them to other areas of the state where the kudzu bug is a threat," he said. "We want to make sure this finding is useful to the farmers who need it most."
But there's a risk in assuming that the known natural enemies of the kudzu bug will eliminate the threat, Fadamiro said.
"While the incidence of the kudzu bug has declined in recent years, there could be many factors involved, including weather conditions and other natural enemies, so we need to continue this work," he said.
The research leading to the discovery of the parasitoid was supported by an Agriculture and Food Research Initiative Competitive Grant from the USDA National Institute of Food and Agriculture and by the Alabama Agricultural Experiment Station. It's an example of Auburn's commitment to development science-based advancements that meet pressing regional, national and global needs. Written by Paul Hollis.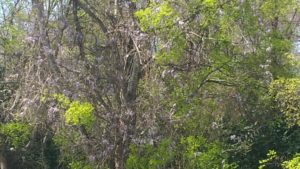 Wisteria is a invasive species
Chinese wisteria, (Wisteria sinensis), is beautiful to look at and just like kudzu, takes over very quickly. It's a invasive species that kills native plants by girding and displacing them. It was brought over as a decorative garden flower in 1816 from China. Learn more about Wisteria at http://news.aces.edu/blog/2017/04/28/wisteria-invasive-vines/ By Kasey DeCastra, SCRJ & MT Community Editor
USDA Specialty Crop Block Grant Program Applications Being Accepted
The Alabama Department of Agriculture and Industries (ADAI) is accepting grant applications for projects that enhance the competitiveness of U.S. specialty crops in foreign and domestic markets. The application deadline for these specialty crop block grants through the United States Department of Agriculture (USDA) is April 20, 2018, 5 p.m. CST.
Specialty crops are defined by the USDA as fruits and vegetables, dried fruit, tree nuts, horticulture (including maple syrup and honey) and nursery crops (including floriculture).
Commodity groups, agricultural organizations, colleges and universities, municipalities, state agencies and agricultural nonprofits are all eligible for this grant program, provided their proposals meet all the program specifications. The ADAI and a review committee of industry representatives will make application evaluation reviews and award recommendations to USDA. The USDA has final approval for projects submitted.
The specialty crops block grant is a competitive grant process. The maximum award to any applicant is $25,000; the minimum, $5,000.
A conference call will be held on March 20, regarding the writing, processing and submittal of the specialty crop grant. Please contact Johnny Blackmon at 334-240-7257 or by email at johnny.blackmon@agi.alabama.gov, to RSVP and obtain the conference connection code. All prospective applicants are strongly encouraged to participate in the conference call.
Projects cannot begin until official agreements are signed, which is expected October 2018.
For more detailed information, please visit http://www.agi.alabama.gov/scbgp or contact Johnny Blackmon at 334/240-7257.
Lawn Burweed Stickers Inflict Pain on Bare Feet
Submitted by Tyrone D. Smith, Hale County Extension Coordinator
A fun spring day playing or walking barefoot in the yard can quickly turn sour. If you haven't heard of Lawn Burweed; then just keep walking in the grass without shoes! This weed is bad news for children and pets. It is a low-growing annual weed that pops up in the winter and by late spring it develops small fruit with very sharp spines. Unfortunately, most people do not notice the problem until spring. But waiting until spring is too late. If you wait to control lawn burweed in April and May, the spines have already formed by this time and it will remain after the weed withers and dies. This is when people happen to step on the stickers. Because lawn burweed is a winter annual, it will begin to die in late spring as air temperatures reach 90 °F. Once the weed has reached a more mature state, multiple herbicide applications may be necessary; which increases the potential for turfgrass injury. Mowing the area at a very low height and bagging the seeds might offer some relief. The best strategy to control lawn burweed is to apply a pre-emergence herbicide, such as atrazine or isoxaben in late September to early October before the winter weeds germinate. This method will kill it upon sprouting and basically keep in from showing up in the yard. Dead or alive, lawn burweed poses a painful problem. The only solution to early identification and control. Remember lawn burweed is an annual and will come back from seeds that develop each spring. For more information contact your Hale County Extension Office.
Early Bloom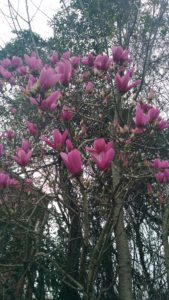 With our early heat wave, many of our spring trees bloomed early (and brought their pollen with them.) The Magnolia Tulip Tree, or the Saucer Magnolia Tree is a non-native, commonly planted, garden tree and one of the first to bloom in spring. ​Saucer Magnolia is a multi-stemmed, broadly spreading tree, 25 feet tall with a 20 to 30-foot spread and bright gray bark. Our tree has deep purple petals, however, the flowers range in color from white-pink to deep pink-purple petals. Source https://www.rhs.org.uk/plants/details?plantid=3428 By Kasey DeCastra, MVT & SCRJ Community News Editor
Conservation Department Marks 110 Years
For 110 years, the Alabama Department of Conservation and Natural Resources has been protecting the state's natural resources. Today, Gov. Kay Ivey and department officials celebrated that service and dedicated a memorial to 12 Conservation Enforcement Officers who lost their lives in the line of duty.
"On behalf of our entire state, I thank the Alabama Department of Conservation and Natural Resources for caring for our natural resources and wildlife for the past 110 years," Governor Ivey said.
In 1907, Rep. John H. Wallace, a conservation pioneer, introduced a proposal to create Alabama's Department of Game and Fish, now known as the Department of Conservation and Natural Resources. The Alabama Legislature passed this bill, which included provisions for a State Game Commissioner and many of the most fundamental hunting laws.
Great strides have been made since the early days of horseback-mounted Game Wardens to the present-day Conservation Enforcement Officers. Although today's officers use modern vehicles and equipment, they are still the front line against poachers and others who don't choose to lawfully follow Alabama's hunting and fishing laws and regulations.
"I am thankful for my career with the Alabama Department of Conservation and Natural Resources," said Conservation Commissioner Chris Blankenship. "I know from personal experience how many dedicated employees work for this department. Some of them work non-traditional hours and are frequently in dangerous situations. I want to thank all of them for their service to the State of Alabama."
Since the Department's creation in 1907, 12 officers have made the ultimate sacrifice in the protection of Alabama's natural resources.
Officers who lost their lives in the line of duty, date of death and county of residence are as follows:
George S. Wilson, October 1, 1922, Montgomery County
Bart Cauley, March 19, 1932, Baldwin County
Vernon W. Wilson, June 25, 1951, Randolph County
Loyd C. Hays, May 1, 1964, Morgan County
John Roy Beam, December 6, 1976, DeKalb County
Frank Stewart Jr., December 24, 1978, Escambia County
Cecil Craig Chatman, November 28, 1982, Lowndes County
Grady R. Jackson, February 12, 1984, Pike County
James C. Vines, January 26, 1985, Greene County
Jimmy D. Hutto, March 25, 2002, Fayette County
James Lance Horner Jr., June 22, 2003, Clarke County
Nathan B. Mims, November 11, 2008, Chilton County
The officers were recognized today through the dedication of a memorial wall in their honor at the Department of Conservation and Natural Resources headquarters office in Montgomery.
"Today, I had the privilege of honoring 12 officers who died in the line of duty, making the ultimate sacrifice to protect Alabama's natural resources. Our state remains indebted to those who preserve our beautiful, sweet home," Ivey said.
ou
The Alabama Department of Conservation and Natural Resources promotes wise stewardship, management and enjoyment of Alabama's natural resources through four divisions: Marine Resources, State Lands, State Parks, and Wildlife and Freshwater Fisheries. To learn more about ADCNR, visit www.outdooralabama.com.
Auburn University's Dixon Center chosen for national Wildland Firefighter Apprenticeship Program, first academy in the eastern U.S.
For the first time in its history, the national Wildland Firefighter Apprenticeship Program is providing training in the eastern U.S. at the Auburn University Solon Dixon Forestry Education Center in Andalusia, Alabama. The training course, also known as WFAP, dates back to 1989 and is traditionally held in Sacramento, California.
The WFAP has trained more than 2,000 apprentices in wildland firefighting and prepared them for a future as fire managers. Wildland firefighters are dispatched to fight wildfires in national forests throughout the nation including Alabama's four national forests—Bankhead, Conecuh, Talladega and Tuskegee.
In early February, 48 wildland firefighter apprentices gathered for the first WFAP academy at Auburn's Dixon Center. They attended classes about fire behavior, fire suppression tactics, weather, safety, leadership, risk management and incident command all taught by seasoned fire experts.
Firefighter apprentices also gained hands-on field experience with situational awareness and tactical decision making, while practicing safety and teamwork skills.
The next academy will be held in March.
"The Wildland Firefighter Apprenticeship Program develops our future fire and aviation managers in an innovative and unique educational experience, combining classroom and field based hands-on education at the Dixon Center," said Heath Cota, director of WFAP.
Participating agencies include the U.S. Forest Service, U.S. Fish and Wildlife Service, the National Park Service, Bureau of Land Management and Bureau of Indian Affairs.
The Dixon Center's 5,300-plus acres features fresh water springs, longleaf pine forests, cypress swamps, frontage along the Conecuh River and the national forest. According to Dixon Center Director Joel Martin, this mix of diverse ecosystems makes the location an excellent outdoor learning environment for forestry and natural resources management.
"At the Dixon Center, students have the unique opportunity to take what they have learned from their classroom instruction and, in the same day, put that 'theory into practice' within our longleaf pine forests," said Martin.
The center was created in 1978 with an initial monetary donation and 80-acre gift of land to Auburn University by the late forestry pioneer, Solon Dixon, and his recently passed widow, Martha Dixon. This land would later combine with another larger deed of property—at the time the largest of its kind in Auburn's history—to create the Solon Dixon Forestry Education Center, a forestry and wildlife conservation education facility operated by the Auburn School of Forestry and Wildlife Sciences.
Located only hours from numerous major cities, the center includes the 6,500-square-foot Solon and Martha Dixon Foundation Learning Center with a state-of-the-art auditorium, classroom and conference room; two large bunkhouses; five semiprivate dormitory buildings; a rec center; administrative building; classroom and computer lab building; maintenance shop; and cafeteria.
"The center is really ideal for this type of long-term immersive training," said Janaki Alavalapati, dean of Auburn's School of Forestry and Wildlife Sciences. "Once a group arrives, all of their needs can be met without leaving the property. This is both convenient and helps students to focus for longer periods, while reducing travel expenses—all things that ultimately lower training costs.
"The Dixons' vision for this land was to support excellence in forestry education. We know the Dixons would be very proud the WFAP recognizes the quality of instruction and experiential learning that can be gained here."
Auburn University is committed to educational and outreach partnerships that deliver practical, life-changing solutions to pressing regional, national and global needs.
More information about the Solon Dixon Forestry Education Center can be found online at http://sdfec.auburn.edu/. More information about the WFAP and the training courses can be found online at https://www.nafri.gov/wfap/. Written by Jamie Anderson
Greensboro Garden Club donates tree to GES
The Greensboro Garden Club donated an Autumn Flame Maple tree to GES for Arbor Day. Vice President Melvin Cothran, Martha and Gordon Cates, and Lamar Merrill helped some of our honor students plant the tree on the playground Feb. 1.
Goodman bags a winner in Greene County
Hunter Goodman, 17, shows off this 17-point buck he bagged in January in Greene County, Ala. This photo won the Alabama Black Belt Adventures Association Big Buck Photo Contest and earned Hunter a prize package worth more than $3,000. Hunter is a junior at Victory Christian Academy in Columbus, Miss., and the son of Dean and Shilo Goodman. Submitted by Mike Perrin
Owens Elected To State Catfish Committee
Hale County's Mike Owens was elected to the Alabama Farmers Federation State Catfish Committee at the 2018 Commodity Organizational Meeting in Montgomery Feb. 8. From left are Federation Catfish Division Director Mitt Walker and Owens.
Miller Elected To State Catfish Committee
Hale County's Danny Miller was elected to the Alabama Farmers Federation State Catfish Committee at the 2018 Commodity Organizational Meeting in Montgomery Feb. 8. From left are Federation Catfish Division Director Mitt Walker and Miller.
Kyser Elected To State Catfish Committee
Hale County's Ashley Kyser was elected to the Alabama Farmers Federation State Catfish Committee at the 2018 Commodity Organizational Meeting in Montgomery Feb. 8. From left are Federation Catfish Division Director Mitt Walker and Kyser.
Effective immediately: Alabama hunters MAY NOT IMPORT deer carcasses from MISSISSIPPI. Alabama regulation PROHIBITS the importation of body parts of any deer species from any CWD-positive state. Chronic Wasting Disease has now been CONFIRMED in Mississippi. Click here for more on the MS case:
Chronic Wasting Disease Confirmed in a Mississippi White-tailed Deer

A white-tailed deer collected on January 25, 2018, in Issaquena County has tested positive for Chronic Wasting Disease (CWD). The deer was a 4.5-year-old male that died of natural causes and was reported to the Mississippi Department of Wildlife, Fisheries, and Parks.
This is the first time an animal in Mississippi has tested positive for the disease, which is fatal to white-tailed deer. MDWFP will immediately implement the CWD Response Plan under the auspices of the Commission on Wildlife, Fisheries, and Parks.
Pursuant to the Order of the Executive Director on behalf of the Commission, effectively immediately, supplemental feeding is banned in the following counties: Claiborne, Hinds, Issaquena, Sharkey, Warren, and Yazoo.
CWD was first documented among captive mule deer in Colorado in 1967, and has been confirmed in 24 states, three Canadian provinces, and two foreign countries. It has been found in the free-ranging herds in 22 states and among captive cervids in 16 states.
According to the Chronic Wasting Disease Alliance, CWD affects only cervids (hoofed animals in the cervidae family such as deer, elk, and moose). CWD affects the body's nervous system. Once in the host's body, prions transform normal cellular protein into an abnormal shape that accumulates until the cell ceases to function. Infected animals begin to lose weight, lose their appetite, and develop an insatiable thirst. They tend to stay away from herds, walk in patterns, carry their head low, salivate, and grind their teeth.
For more information regarding CWD in Mississippi, visit our website at www.mdwfp.com or call us at (601) 432-2199. Follow us on Facebook at www.facebook.com/mdwfp or on Twitter at www.twitter.com/MDWFPonline
Help Prevent CWD in Alabama: Hunters should know the law, follow guidelines
Many of Alabama's deer hunters have already spent time this season hunting the rut in several Midwestern states. The Alabama Department of Conservation and Natural Resources reminds those hunters that Alabama law prohibits the importation of deer carcasses and certain deer parts from other states and Canadian provinces where Chronic Wasting Disease (CWD) has been confirmed.
CWD is a fatal disease affecting the central nervous system of cervids (deer and other deer-like animals). The disease attacks the brain of an infected animal causing it to become emaciated, display abnormal behavior, lose bodily functions, and eventually die. The introduction of this disease into the state could have significant impacts on Alabama's deer herd.
Alabama hunting regulations ban the import of live deer, whole carcasses, and certain body parts of any member of the family Cervidae from CWD-positive states. This includes, but is not limited to, white-tailed deer, mule deer, elk, moose, and caribou. Parts that may be legally imported include completely deboned meat; cleaned skull plates with attached antlers, if no visible brain or spinal cord tissue is present; upper canine teeth, if no root structure or other soft tissue is present; and finished taxidermy products or tanned hides.
CWD has been found in captive and/or wild deer in 24 states, two Canadian provinces, Norway, and South Korea. It is not known to be transmissible to humans or domestic livestock. To date, there have been no positive tests for CWD in Alabama.
Alabama and 36 other states ban the importation of cervid body parts from CWD affected areas. Violation of Alabama's animal parts ban is a class C misdemeanor.
Before transporting harvested deer from CWD-positive areas, hunters should keep these facts in mind:
• The following states and Canadian provinces are currently CWD-positive: Alberta, Arkansas, Colorado, Illinois, Iowa, Kansas, Maryland, Michigan, Minnesota, Missouri, Montana, Nebraska, New Mexico, New York, North Dakota, Ohio, Oklahoma, Pennsylvania, Saskatchewan, South Dakota, Texas, Utah, Virginia, West Virginia, Wisconsin, and Wyoming. Importation of certain deer body parts from these states and provinces into Alabama is illegal.
• Before returning to Alabama with a deer harvested in a CWD-affected area, hunters should completely debone the animal, remove and dispose of any brain or spinal tissue from skull plates, raw capes and hides. Root structures and other soft tissue should be removed from all teeth. Finished taxidermy products and tanned hides are not affected by the ban.
• Some states prohibit the importation of these same deer parts from any state or province, whether they are CWD positive or not.
• Alabama hunters going out of state should check the regulations of their destination states regarding handling and tagging of carcasses before preparing their deer for transport back to Alabama.
ADCNR needs everyone's support to maintain Alabama's CWD-free status. To report the importation of live or harvested deer, call Operation GameWatch at 1-800-272-4263. If possible, provide a name and description of any suspects including vehicle description, license plate, and the time and location of the observation. Resident deer exhibiting signs of CWD can also be reported via GameWatch.
To learn more about CWD, visit www.outdooralabama.com/chronic-wasting-disease-what-you-should-know.
The Alabama Department of Conservation and Natural Resources promotes wise stewardship, management and enjoyment of Alabama's natural resources through four divisions: Marine Resources, State Lands, State Parks, and Wildlife and Freshwater Fisheries. To learn more about ADCNR, visit www.outdooralabama.com.
Sportsmen's Caucus Celebrates 10th Year in Alabama
By David Rainer, Alabama Department of Conservation and Natural Resources
With barbecue and wild-game delicacies on the menu, the Alabama Legislative Sportsmen's Caucus treated Alabama legislators and guests to lunch to celebrate the 10th year of the Caucus in Alabama.
Alabama is one of 48 states that are members of the national organization, the Congressional Sportsmen's Foundation.
Senate President Pro Tem Del Marsh and Representative Randy Davis, Alabama's Caucus leaders, explained to attendees how important hunting and fishing are to Alabama for a variety of reasons.
"It's hard to believe we did this back in 2008," Sen. Marsh said of the formation of the Alabama Caucus. "I really didn't know if this would get any legs under it or not. But it seems every year we're getting more and more participation, not only from legislators, but those who love wildlife and hunting. I don't think people realize the economic impact hunting and fishing have on Alabama. It is huge.
"As we move forward, there is some hunting-related legislation we're dealing with now that we're going to give a lot of consideration. But, we're going to continue to do things in the Legislature that promote hunting and fishing in this state. In Alabama, we're blessed – with incredible waterways; the Forever Wild program is creating places for people to hunt; and just the hunting industry in general is important to Alabama."
Rep. Davis pointed to the economic impact sportsmen and women have on Alabama.
"Hunting and fishing is a $3.5 billion industry in the state, and it is growing each day because these groups are working together, creating such things as the Alabama Bass Trail and recruiting Polaris, which is now made here in Alabama," Davis said. "The Caucus is about protecting and advancing traditional hunting rights in Alabama, recognizing our natural resources, working on conservation to enhance hunting, fishing and wildlife habitat that is a part of the state and reasonable public access to hunting lands. We have a no-net-loss statute that keeps land available for folks to go and hunt. We also are protecting the investment of sportsmen and women in the wildlife industry. We network with 48 other states. It's very important what we're doing here."
Chris Blankenship, Commissioner of the Alabama Department of Conservation and Natural Resources (DCNR), said that the economic impact of hunting and fishing is no doubt important, but those activities have intrinsic values that are hard to measure.
"Hunting and fishing are very important to Alabama, both economically and culturally," Blankenship said. "We talk a lot about the economic value, but it's really just a way of life here in Alabama. It means so much to our quality of life. We can't work all the time. We're a state that works. People enjoy that, but they also enjoy their recreational opportunities. Hunting and fishing mean a lot toward true happiness."
Blankenship said there are about 215,000 licensed hunters in Alabama with almost a $2 billion economic impact.
"Deer hunting alone has about a billion-dollar economic impact," he said.
Blankenship said about 500,000 fishing licenses are sold in the state annually with a $1.5 billion economic impact.
"Like Representative Davis said, hunting and fishing puts about $3.5 million into our economy annually," he said. "And our State Parks and Forever Wild land provide additional outdoor opportunities. Then you have the TVA (Tennessee Valley Authority) and the Alabama Power lakes that seem to draw people in droves in the summertime."
Blankenship noted that Alabama's abundant natural resources and skilled labor force translate into an expanding outdoors industry in the state.
"There are great companies in Alabama that employ thousands of people in our state that are part of the hunting and fishing industry," he said. "I always leave somebody out, but we have Polaris, Remington, Pradco, Bass Pro and Cabela's. Our newest company, Kimber Arms, is opening a new facility in Troy. But dwarfed by those are the thousands of jobs in small businesses that make fishing lures, hunting clothes and other hunting and fishing equipment and gear.
"I think the Congressional Sportsmen's Foundation and the Sportsmen's Caucus is very important. If you have people who hunt and fish in your district, I think it would be good to be a member of the Sportsmen's Caucus."
Bee Frederick, the Southeastern States Director for the Congressional Sportsmen's Foundation, organized the luncheon along with Patrick Cagle, a member of the Alabama Conservation Advisory Board.
"The main thing we want to do is recognize there is an active Sportsmen's Caucus here in Montgomery so we can provide that nexus for sportsmen and women to have a voice in the halls of government and the DCNR," Frederick said. "We want to make sure our legislators are informed on the latest issues that are important to sportsmen and women across the state.
"Ideally, we are able to inform the lawmakers, but also the other sportsmen's groups in the state, about issues that are going on and the importance of hunting and angling in Alabama. Over 2,000 legislators across the country are associated with the National Assembly of Sportsmen's Caucuses. We have a nationwide network of pro-sportsmen elected officials, and we want to provide a venue for information sharing across the states."
Cagle, who is in his third year on the Alabama Conservation Advisory Board, pointed out that DCNR gets no money from the Alabama General Fund and that hunters and anglers provide the support for the Department.
"It is important that Alabama legislators understand how the Conservation Department works, how hunters and fishermen pay for the activities that ensure we have abundant wildlife and fisheries," Cagle said. "I think the luncheon was a great success. We were able to sign up several legislators at the luncheon, and it was a chance for the Department of Conservation to present its message in front of legislators."
Nationally, the Congressional Sportsmen's Foundation is promoting legislation that will affect Alabama.
The Modernizing the Pittman-Robertson Fund for Tomorrow's Needs Act of 2016 amends the Pittman-Robertson Wildlife Restoration Act. Pittman-Robertson levies an excise tax on firearms, ammunition and archery equipment and distributes that money to states based on license sales.
The modernization bill would extend financial and technical assistance to the states for the promotion of hunting and recreational shooting. A portion of the bill would allocate funds that may be used for any activity or project to recruit or retain hunters and recreational shooters.
The Foundation is also promoting the Modernizing Recreational Fisheries Management Act, or Modern Fish Act, which would recognize the contribution of the nation's more than 11 million saltwater anglers.
The saltwater recreational fishing industry contributes more than $70 billion to the economy each year and supports 455,000 American jobs.
The Foundation and Congressional sponsors said current legislation under the Magnuson-Stevens Act does not properly recognize the importance of recreational fishing, and that has led to restrictions on the angling community in terms of short seasons and reduced bag limits.
Commissioner Blankenship testified before a Congressional House Committee in Washington, D.C., on the bills in September.
This new bill would allow alternative management for recreational fishing, which would include a new look at fisheries allocations, rebuilding fishery stocks and improving recreational data collection.
In fishing-related news, the Gulf of Mexico Fishery Management Council voted to issue Alabama and the four other Gulf states exempted fishing permits for the recreational red snapper seasons in 2018 and 2019. This action must go through a public comment period and then to NOAA Fisheries for final approval.
Auburn University's Kreher Preserve and Nature Center added to Alabama Birding Trails
The Alabama Birding Trails has announced that Auburn University's Louise Kreher Forest Ecology Preserve, informally known as the Kreher Preserve and Nature Center, will be designated as an Alabama Birding Trail location as part of the regional Piedmont Valley Birding Trail.
The 120-acre preserve, located just north of Auburn, features five miles of well-marked trails which traverse seven natural bird habitats including pine, oak/hickory, bottomland hardwood and mixed pine/hardwood. As part of the Saugahatchee Creek Watershed, visitors will also find a stream, small waterfall, pond and wetland areas.
Approximately 80 different bird species can be found on the property throughout the year, including the belted kingfisher, Mississippi kite and indigo bunting. The preserve habitat hosts migratory birds in the spring such as warblers, vireos, tanagers and orioles. Fall and wintering birds such as nuthatches, kinglets and woodpeckers are frequently observed.
Visitors to the Kreher Preserve are also able to observe various species of raptors including hawks, owls and vultures. Nesting bald eagles are present on nearby properties and are frequently observed flying into and over the preserve.
"The Kreher Preserve and Nature Center is enjoyed by the university community as well thousands of locals and visitors every year," said Janaki Alavalapati, dean of the Auburn University School of Forestry and Wildlife Sciences. "We hope that by adding it to the Alabama Birding Trail even more families will be exposed to the opportunity to enjoy this unique discovery center with its miles of beautiful trails, natural habitats and educational programs."
Preliminary findings from the U.S. Fish and Wildlife Service's 2016 National Survey of Fishing, Hunting and Wildlife-Associated Recreation estimates that in 2016, more than 101 million Americans—nearly 40 percent of the U.S. population—participates in some form of fishing, hunting or other wildlife-associated recreation such as birdwatching or outdoor photography.
"The economic impact of outdoor and wildlife-related recreation is a boom for the U.S. economy representing nearly 1 percent of the gross domestic product," said John Wild, president of the Auburn Opelika Tourism Bureau.
"With the addition of the Kreher Preserve and the Lee County Fishing Lake to the growing list of birding sites in Lee County, including the Wood Duck Preserve and Chewacla State Park, we anticipate the new designations will draw more people to the Auburn/Opelika area who will also visit our hotels, enjoy meals in restaurants and make retail purchases while they are here."
The Kreher Preserve and Nature Center is located at 2222 North College Street in Auburn. It is open to the public every day from sunrise to sunset and features amenities such as a picnic area, restrooms, drinking fountains, boardwalks and two improved parking areas.
The preserve was established in 1993 with a gift of land from Louise Kreher Turner and Frank Allen Turner to Auburn University and is operated by the School of Forestry and Wildlife Sciences as a not-for-profit outreach program.
The Alabama Birding Trails is a partnership of the Alabama Department of Conservation and Natural Resources, the University of Alabama Center for Economic Development and the Birmingham Audubon Society. It highlights many of the birds found in Alabama and encourages economic development through a tourism-based model.
More information about the Kreher Preserve and Nature Center can be found online at http://wp.auburn.edu/preserve/. More information about Alabama Birding Trails can be found online at https://alabamabirdingtrails.com/. Written by Jamie Andersonau bird
Photogenic hawk on Hwy. 60
This hawk enjoyed a winter's day in the sunshine and posed for a series of photos, including this one, on Friday, January 19 on Ala. Hwy 60 near Stewart. Photo by Tiffany Vaughn
Life Hunt Participants Complete Buck-Sweep
By David Rainer, Alabama Department of Conservation and Natural Resources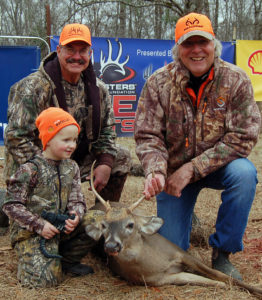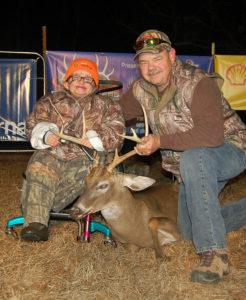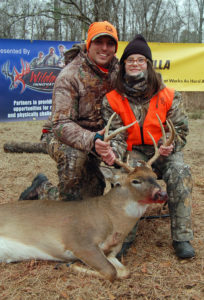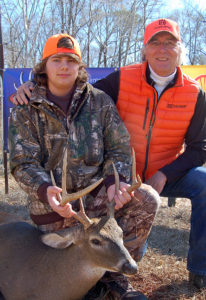 Ryan Noffsinger) All four hunters from Alabama who participated in the 2018 Buckmasters Life Hunt went home with bucks. From top, Abigail McHenry and her dad, Jason, bagged a big buck on the last day of the hunt. Rhae Busby and David Sullivan of the American Deer Foundation are all smiles after Busby took the first buck of the event. Buckmasters founder Jackie Bushman joins Daniel Allen and his grandfather, David Strickland, to celebrate Daniel's success. Bushman and Taylor Watts show off his Life Hunt trophy.
Every hunter at the 2018 Buckmasters Life Hunt at Sedgefields Plantation went home with great memories. And with a snowstorm approaching, each hunter bagged a buck before the three-day event was complete.
Going into the final afternoon hunt, David Powell of South Carolina had taken a doe earlier in the hunt but was the only participant without a buck. Powell completed the buck-sweep by dropping a 10-pointer as sleet started to pelt the ground blind.
Another hunter didn't take her buck until the final day of the event, but Abigail McHenry of Deatsville, Ala., scored on the morning hunt. Abigail was sponsored on the hunt by the Alabama Conservation Enforcement Officers Association.
Abigail, 14, is the daughter of Jason McHenry, a conservation enforcement officer with the Alabama Wildlife and Freshwater Fisheries Division. Abigail was born prematurely and suffers from cerebral palsy.
When we talked about her hunt, the first thing she said was, "I was excited." And she affirmed that her heart was really pumping.
Abigail had been practicing with her dad, and it definitely paid off. When I asked her what happened after she shot, her answer was, "He hit the ground."
Jason said the two had been practicing with some adaptive equipment, a Caldwell Deadshot Fieldpod Max with an iPhone adapter. When they arrived at the blind, it became apparent they would have to adjust.
"We had been working a Deadshot, and typically we were using that with a Snakelook hookup for the iPhone to look through the scope," McHenry said. "As far as the setup with the blind, the Deadshot wouldn't fit in the blind, so I shouldered the gun for her, and she pulled the trigger.
"When she shot it, the buck mule-kicked and took one step forward. It was standing, so we put another round in it and dropped it. When we watched the video, after that first shot, you could tell he was about to fall when we took the second shot."
The McHenrys indicated they couldn't be happier with the outcome.
"I'm excited for Abigail," Jason said. "It gave us a great time together. Our guide, Jeff Woods, was awesome. He really took time with Abigail and just made her laugh and enjoy the hunt.
"The experience, as a whole, has been great. Abigail has been smiling all morning since she got the deer. It gives her some bragging rights to go back home and tell her brothers and sisters (five), because she's the only one that has been a part of killing a buck."
Rhae Busby of Demopolis, Ala., who suffers from brittle bone disease, had to sit out the final day of hunting after fracturing her collarbone the night before. However, she already had her buck down when that happened. In fact, Rhae was the first hunter to put a buck on the ground, an eight-pointer.
Rhae's mother, Dana Busby, shared on Facebook about the event.
"Every hunter this year was able to take a buck," Dana posted. "Rhae killed the first buck of the hunt, so she was given a really nice Buck knife. David Robertson, pitcher with the Yankees, came out (as he does every year) and spent some time with the kids and families and gave all the hunters a jersey and hat, which he signed. You couldn't meet a nicer guy. Rhae received several other gifts from several organizations. Buckmasters put on an amazing three-day hunt that we were blessed and grateful to be a part of. Just want to say a big thank you to David Sullivan for getting us involved and to everyone else it took to pull this event off. I tried to thank everyone I could before we left. Y'all made one little girl extremely happy."
Daniel Allen, a 6-year-old from Coke, Ala., who has survived leukemia, took his first buck with the help of the guides and his grandfather, David Strickland, who relived the successful hunt.
"A nice buck crossed out of range so I roused Daniel up from his stool where he was napping," Strickland posted. "Then we spotted two does headed towards the field in front of our ground blind at about 100 yards. The camera guy and guide looked at each other and told him to shoot the lead doe. I whispered, 'Right behind the shoulder,' and he shot. It dropped low and ran about 70 yards and hit the ground (perfect lung shot). I then noticed a buck easing across a dirt road headed the same way. We quickly extracted the spent shell and he pushed another round into the single shot. The guide stopped the trotting buck with a grunt and he stared in our direction. He aimed, shot and missed. I quickly opened the breach and slipped in another round. I whispered, 'Slowly squeeze the trigger.' He shot again and the buck buckled without a twitch."
Taylor Watts of McCalla, Ala., a 16-year-old childhood cancer survivor, also bagged an eight-point during the event.
David Sullivan, who heads the Buckmasters American Deer Foundation, said hunters came from as far away as the Upper Peninsula of Michigan to hunt at Sedgefields, one of the top places to hunt in the Alabama Black Belt, which is renowned for its deer and turkey hunting.
The Life Hunt has been taking place at the Hinton family property since 2000, and Sullivan lauded the time and effort that goes into the hunt each January, both from the Hinton family and the many volunteers and guides.
"I think the Life Hunt has gotten better every year," Sullivan said. "We've been able to refine the way we do things, and we have a lot more help than we used to. We have a lot more resources donated, which allows us to help more people. We have more sponsorships, which allows us to buy more adaptive equipment the hunters need."
As was mentioned by Rhae Busby's mom, David Robertson, a relief pitcher with the New York Yankees who hails from Tuscaloosa, again joined the Life Hunt to provide encouragement as well as mementoes.
"This is something I look forward to all season long," Robertson said. "I can't wait to hang out with these guys and see all the new hunters coming in. I love seeing smiles on faces when they're putting their hands on horns and taking pictures. I just hang out, drift around and talk to people. I try to make them feel happy and comfortable.
"It's different for me to hang out in this type of environment. It's fun to me to go around and find out how everyone's hunt went. Most people here get their first deer. I remember how excited I was when I got my first deer. That was 24 years ago at Mike Spruill's place near Tuscaloosa. It was a big, ol' three-point. I had my dad with me. I will never forget it."
Your Donations Help Support Alabama's Wildlife
State income tax check-off makes it easy
You might not associate wildlife with doing your state income taxes, but there is a connection. The Alabama Nongame Wildlife Fund check-off box on the state income tax form provides citizens a way to donate all or a portion of their state tax refunds for the benefit of nongame wildlife.
Alabama is home to more than 1,000 species of animals that are categorized as nongame – species that are not hunted, fished or trapped. The Nongame Wildlife Program, administered by the Alabama Department of Conservation and Natural Resources (ADCNR), is responsible for many programs including conducting wintering surveys of bald eagles, shorebird surveys on the coast, and research on threatened and endangered species such as wood storks and red-cockaded woodpeckers.
The Nongame Wildlife Program does not receive any state tax dollars. It is partially funded by the citizens of Alabama through tax-deductible donations. In 1982, the Alabama Legislature enacted a law providing for the Alabama Nongame Wildlife Fund check-off box on the state income tax form. These donations are matched with federal funds, so even the smallest donation is valuable. The federal funds come from the Pittman-Robertson Act, a federal excise tax on sporting firearms, ammunition and archery equipment. Those funds are set aside for wildlife restoration and management.
Past donations to the Nongame Wildlife Program helped bring back bald eagles, ospreys and bluebirds to Alabama, but many other nongame wildlife species still need help. If you enjoy watching wildlife, here is your chance to lend it a helping hand. Make a donation to the Alabama Nongame Wildlife Fund on your state income tax form.
For those not receiving a state income tax refund, tax-deductible donations can be made to Alabama's Nongame Wildlife Program, Alabama Division of Wildlife and Freshwater Fisheries, 64 North Union St., Montgomery, AL 36130. For more information, call 334-242-3469.
For more information about Alabama's Nongame Wildlife Program, visit www.outdooralabama.com/non-game-wildlife.
The Alabama Department of Conservation and Natural Resources promotes wise stewardship, management and enjoyment of Alabama's natural resources through four divisions: Marine Resources, State Lands, State Parks, and Wildlife and Freshwater Fisheries. To learn more about nongame wildlife and ADCNR, visit www.outdooralabama.com.
Black Bear Sightings Likely to Increase in Alabama
By Davide Rainer, Alabama Department of Conservation and Natural Resources
Interaction between humans and black bears saw an uptick last year, and that will likely be the trend for the near future, at least in one corner of the state, according to Dr. Todd Steury of Auburn University.
Funded by the Alabama Department of Conservation and Natural Resource's Wildlife and Freshwater Fisheries (WFF) Division's State Wildlife Grants Program, Professor Steury, along with graduate students John Draper and Chris Seals, recently completed a multiple-year study of the black bear population in Alabama.
The basic conclusions were that Alabama has two populations of black bears, one in northeast Alabama and one in southwest Alabama, and each population has a different legacy as well as likely future.
The population in northeast Alabama, with roots from the mountains of northeast Georgia, has the potential for significant expansion. Hence, the likelihood that black bear sightings will become more common in the future.
The population in southwest Alabama, which appears to be an encapsulated population, is relatively stagnant, but significantly more difficult to monitor.
"We think that most of Alabama, at one time, had black bears," Steury said. "We believe two of the sub-species kind of met in Alabama, the American sub-species from the North and the Florida sub-species from the South. Of course, black bears were pretty much hunted to extinction in the state with one very small population remaining near Mobile."
Steury said the Auburn study was prompted by the fact the black bears in the Mobile-Tensaw Delta hadn't been studied since 1992 and by an increase in the number of bear sightings in the Little River area in northeast Alabama.
"In that study in the Delta in 1992, it was a very small population," he said. "There was some concern about inbreeding because of how small it was. Part of our goal was to reexamine this population to see how they are doing. The other reason for the study was the increased sightings around Fort Payne, and we wanted to know if there is a viable population up there or just an occasional bear traveling through the area."
Bear sightings in Heflin and Oxford made headlines last year and prompted residents in those areas to voice concerns about the animals being close to public recreation areas.
Steury said his team, which included Thomas Harms, WFF's Large Carnivore Coordinator, used a variety of methods to gather bear data. The population density numbers were derived from a DNA study.
"We used two methods to gather the DNA information," Steury said. "One was eco-dogs. These dogs are trained to find bear scat. We took them into areas where we knew there were populations of bears – Mobile, Saraland and the Celeste Road areas. The eco-dogs are expensive to run, but they can get us a lot of data. I think it was about 1,000 samples in two months of work.
"But the dogs are not cost-effective if you're looking in areas where you're not sure about the presence of bears. For that, we used hair snares. It's basically a barbed-wire fence surrounding bait. The bear crosses the barbed wire to get to the bait and the barbs pull a little hair out. Then we get DNA from the hairs."
Steury said the team erected hair snares in virtually every township in Mobile County, about half of Washington County and most of Baldwin County in the southern end of the state. In the north, hair snares were placed in almost all townships between Interstates 59 and 20. The National Park Service helped the team erect snares all over Little River National Preserve.
"We were sampling very widely," Steury said. "We chose townships because that's about the size of a male home range. Overall, we had about 300 hair snares in southwest Alabama and another 100-150 in northeast Alabama."
After all the data was collected, the analysis started. The results gave researchers population numbers, genetic diversity, points of origin and connections to other bear populations.
Steury said the DNA data indicated that the population in northeast Alabama more than doubled, going from about 12 bears to 30.
"We know those bears came from north Georgia," he said. "We originally thought they might be from central Georgia around Macon, but the DNA showed they came right down the mountain from Georgia."
The results from southwest Alabama were not as conclusive because of the requirements to meet the DNA profiling.
"We only got a good estimate from 2015," Steury said. "We estimated there were 85 bears, but the estimate said there could be as many as 165. So it's still a fairly small population. Obviously, that is not a great estimate, but we'd be very surprised if there are 200 bears down there. They seem to be very localized between Wagarville and Chatom and the Celeste Road area northwest of Saraland.
"The interesting thing is Chris Seals, the graduate student working that area, said there are what he calls bear superhighways, these riparian areas, rivers and corridors where these bears move. So we can get a lot of DNA in those areas. So we're very confident about the bears in those areas. But in those areas in between, it's much harder for us to figure out how many bears are there."
The story in northeast Alabama is that bears are finding suitable habitat to establish home ranges and expand the population.
"The bears are breeding," Steury said of northeast Alabama. "We have seen numerous examples of sows with two or three cubs on our game cameras. We feel like the population there is going to grow, and there are still bears coming in from Georgia.
"We're going to have more bears up there. There is lot of great habitat in Jackson County and Talladega National Forest. It's just a matter of time for the population to expand."
The prognosis for the southwest Alabama bear population is not so optimistic.
"The habitat in southwest Alabama is disappearing," Steury said. "And, the population is not growing like it should. That is the next question we have to answer. We have some hypotheses. Those bears seem to be having good litters, but Chris is not seeing those cubs make it to adulthood. One of the aspects we're exploring is den sites. When you think of bear dens in cold weather, what do you think about – caves or holes in the ground. In north Alabama, you've got bunches of caves or holes in the ground.
"In southwest Alabama, bears don't have that. We will occasionally see denning in tree roots. What we see a lot of are nests. What we don't know is how much protection from the elements and predators those really provide. Is the reason cubs are not making it to adulthood that they don't have good dens?"
Another concern of the researchers is the lack of new genes in the southwest population.
"The genetic diversity in the southwest is really bad," Steury said. "It's worse than any bear population in the Southeast United States. Normally, to differentiate between brothers and sisters, you need eight chunks of DNA. We couldn't tell the difference between brothers and sisters with our eight chunks of DNA. It took 14 to 15 chunks of DNA to tell the difference between brothers and sisters in that population. So they've got really low genetic diversity. We don't really know how low that genetic diversity has to get to affect the population. We've captured a lot of bears, and we haven't seen any deformities or other effects."
The other conclusion derived from the DNA studies is the connection of the specific populations with other populations in the Southeast.
"The northeast population is still pretty well connected with the north Georgia population," Steury said. "The southern population does not appear to be connected with bears from Florida or western Mississippi. The DNA suggests there is basically no movement of bears into the southwest population. Bears come from Florida. We know because we track them. But they seem to get to the rivers in the Mobile-Tensaw Delta and turn around and go back.
"We do catch and collar bears. The largest bear we have caught weighed 308 pounds. Chris said he has seen one that he estimates at 400 pounds. But most of our bears average 150 pounds."
When it comes to bear-human interactions, Steury said a mailer was sent out to judge the public perception of bears.
"What we found out is that people like bears," he said. "They want to have bears in Alabama. Generally, they were not supportive of lethal management controls except in extreme situations, where there was clear danger to people."
Steury said it is rare when large predators do anything other than flee when they come in contact with humans.
"They can't risk being injured," he said. "If they're injured, they can't hunt. They can't feed themselves and they're going to die. They have no idea how hard or easy we would be to kill. They have no idea how dangerous we are, which is what basically keeps us safe."
Steury said the sightings that happened in Oxford and Heflin last year were young male bears that had been kicked out of the mom's territory. Those 2-year-old males were roaming to find new home territories.
"They can cover thousands of miles," he said. "That's why we see bears where they're not supposed to be. They are juvenile males that are exploring for a place to settle down. The thing is they never stay around. When I got the call from Heflin about what they should do, I told them to just leave it alone. In a day or two, it'll be gone.
"If they get into somebody's food or people start feeding them, that's when they become problems."
PHOTO: (Courtesy of Auburn University) Black bears in Alabama are being studied by using DNA collection devices, like barbed wire around a bait, as well as collaring adult bears. One question researchers hope to answer is whether bear nests in southwest Alabama provide enough protection for cubs.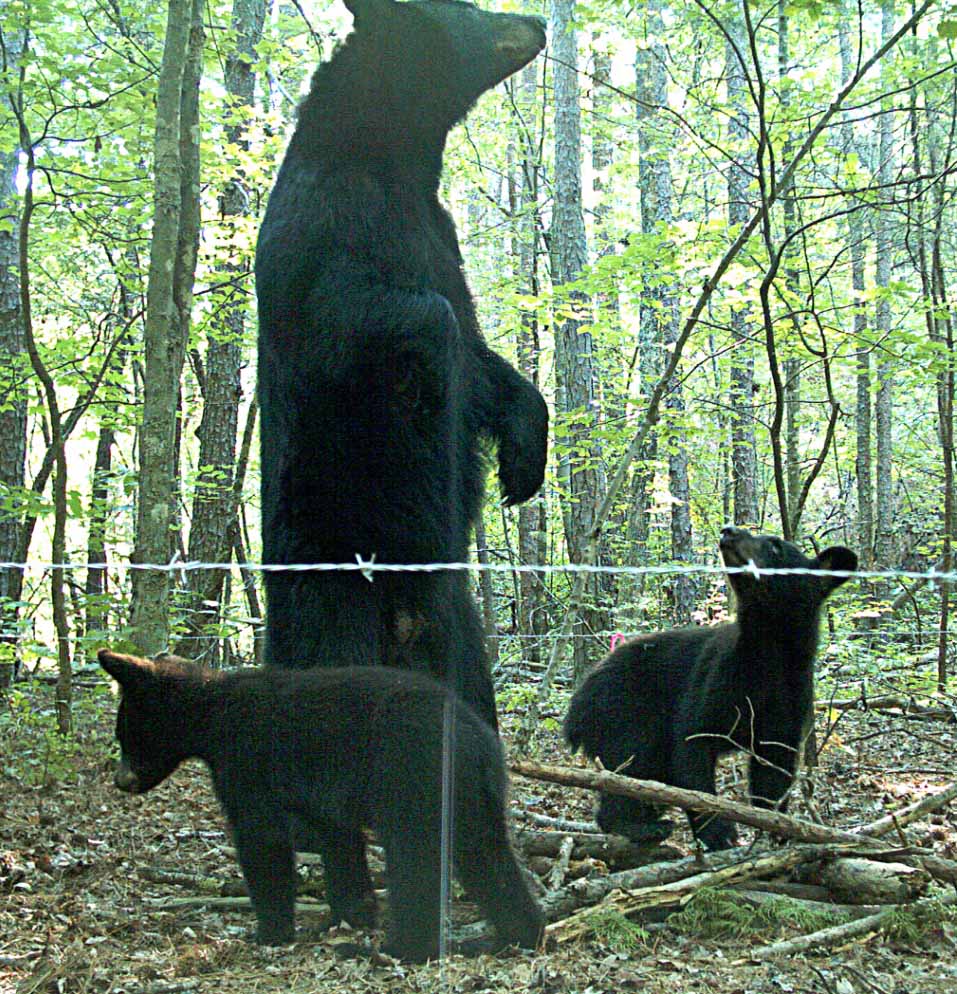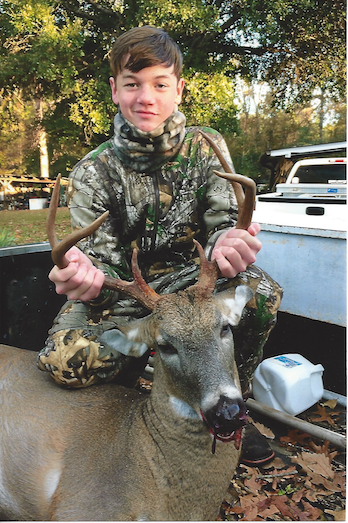 Lincoln Matherson, 12, killed this six-point 175-pound deer while hunting in Moundville during the break for Thanksgiving. He is the son of Debra Matherson and the late Sam Matherson. His grandparents are Jerry and Carolyn Matherson and Blaine and Becky Langham of Moundville. Submitted photo and information
The last sunset of autumn
A vibrant sunset was seen from Greene County on Wed., Dec. 20. The days will begin to get longer now. Dec. 21 was the Winter Solstice. Photo by Travis Vaughn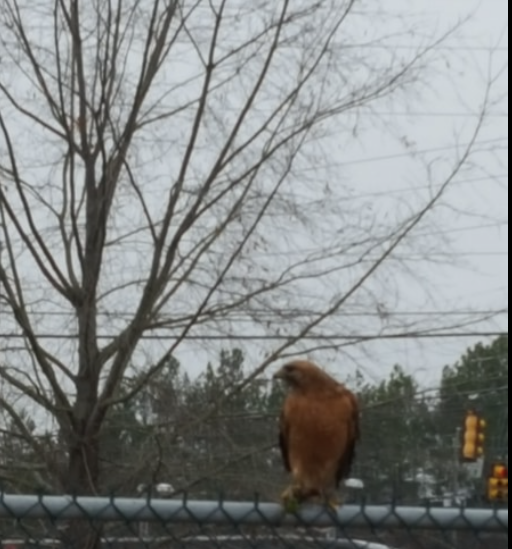 Buteo Jamaicensis, or more commonly known as a Red Hawk is commonly seen in winter, spring and fall, but not so much in summer. This lovely specimen's photo was taken by Kimberly Lester in Pelham.
Alabama "mudpuppy" to receive federal protection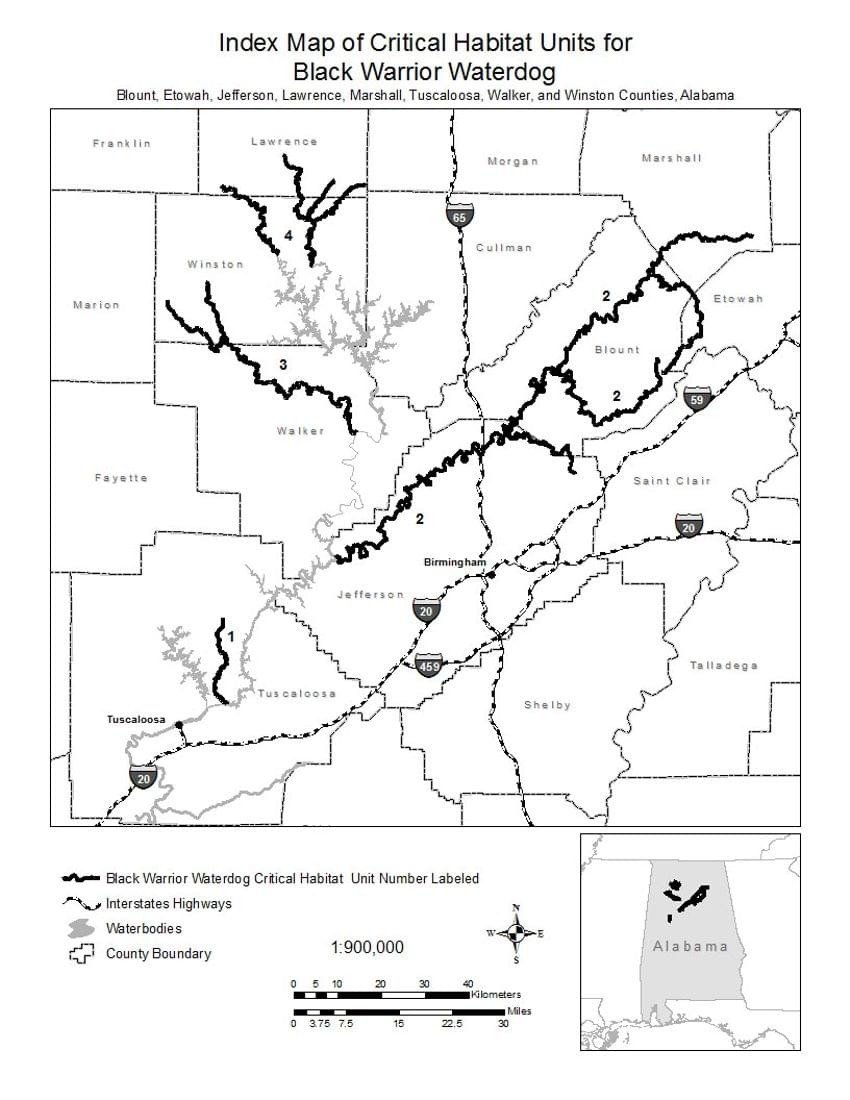 The Black Warrior waterdog, a large aquatic salamander found only in the Black Warrior River Basin in Alabama, is now a federally protected species.
The U.S. Fish and Wildlife Service (Service) listed the salamander as an endangered species under the Endangered Species Act (ESA), meaning it is in danger of extinction throughout all or a significant portion of its range. A rigorous review of the best available science has found low and declining population numbers due to loss and fragmentation of its habitat and poor water quality in the Black Warrior River Basin. The highly permeable skin and external gills of the waterdog make it particularly sensitive to declines in water quality and oxygen concentration.
The Service is also finalizing critical habitat for the Black Warrior waterdog. We are designating 420 river miles of critical habitat in four units, including 127 miles of habitat already designated for other federally protected fish, mussels and salamanders. The designation includes only areas currently occupied by the species and will protect more than 50 percent of the waterdog's historical habitat. The designation is comprised of five tributaries within the Black Warrior River Basin; Sipsey Fork (Lawrence and Winston Counties); Locust Fork (Blount, Etowah, Jefferson, and Marshall Counties); Blackwater Creek (Walker and Winston Counties); and Yellow Creek (Tuscaloosa County).
The critical habitat designation should have minimal or no impact on the forestry and coal mining community. Since there are already critical habitat designations for other species in this area, very little additional regulatory action will be necessary for the waterdog. The designation will also have no impact on private landowners taking actions on their land that do not require federal funding or permits.
Establishing critical habitat will raise awareness of the needs of the waterdog and other imperiled species and focus the efforts of our conservation partners. It also alerts federal agencies that they are required to make special conservation efforts when they work, fund or permit activities in those areas.
The Black Warrior waterdog, known by its nickname, the Alabama mudpuppy, is a large, night-loving salamander that maintains its larval characteristics, including retention of external gills, throughout its life. It is found in streams within the main channel of the Black Warrior River and parts of the North River, Locust Fork, Mulberry Fork and Sipsey Fork. Sources of pollution in the Black Warrior River Basin include runoff from industrial plants, landfills, sewage treatment plants, construction, and the historical impacts of surface mining.
The Black Warrior waterdog is recognized as a Priority 2/High Conservation Concern by Alabama, meaning the state has been actively engaged with local and federal partners in understanding and addressing the impacts to the waterdog and other imperiled wildlife that share its habitat. There are 26 federally protected animals found in the Black Warrior River Basin, 15 of which are aquatic, including the flattened musk turtle.
Consideration of the status of the waterdog was required under a court-approved litigation settlement agreement with two environmental groups.
The complete listing and critical habitat rule, which becomes effective 30 days after publication in the Federal Register, can be obtained by visiting the Federal eRulemaking Portal: regulations.gov at Docket Number FWS–R4–ES–2016–0031. A copy can also be obtained by contacting U.S. Fish and Wildlife Service, 1208-B Main Street, Daphne, Alabama, 36526.
Contacts
Denise Rowell, Public Affairs Specialist in Alabama
denise_rowell@fws.gov, (251) 441-6630

Mushroom Mystery
Got a idea of what this mushroom is? We were unsure if it was a puffball or the beginning of a umbrella mushroom. Email us at times@mound.net if you know. Photo by Peter DeCastra in Vance, Ala.
A Snowball's Chance in Hale…was pretty good on Dec. 7th!

The earliest snow in decades covered much of Alabama on Friday, December 8, with snow amounts ranging from a dusting to the north of Moundville to a couple of inches in the Moundville area and amounts approaching 3 to 6 inches for much of Hale County and other portions of the Black Belt.
Meteorologists predicted a dusting for Alabama for much of the week, but the weather system intensified and brought snow for southern Texas, Louisiana, Mississippi, Alabama, Florida, and Georgia before moving up the eastern coast of the United States.
The heavy, wet nature of the snow brought down some trees and power lines, leaving many across the region without power for as much as a couple of days as crews worked round-the-clock to restore service to residents.
No major travel problems were reported in the immediate Moundville area, according to Moundville Police Chief Toby Banks, although the Alabama Emergency Management Agency released a Civil Emergency Message on Friday afternoon on behalf of "the County Emergency Management Agencies for Sumter, Greene, Marengo, Hale, Perry, Dallas, Autauga, Chilton, Bibb, Jefferson, Shelby, Coosa, Elmore, Tallapoosa, Clay, Talladega, Randolph, Cleburne, and Cherokee Counties and Law Enforcement Officials" for those counties, requesting that residents use extreme caution on area roadways." The concern was that falling temperatures would cause roadways to freeze, "leading to hazardous travel conditions."
An early December 1997 snowfall in the Tuscaloosa region was the most recent snowfall coming so early in the season.
Thanks to everyone who contributed photos of our historic early season snowfall!
Above: Photos by Lindsey Mullins, Mike Goodall Photography, R. Davis, Adrianne Brunner, West Alabama Dog Boarding, Travis Vaughn, Tiffany Vaughn, Isaac Vaughn, Kasey DeCastra, the Srygley family and the Pearson family
Registration for the next Alabama Becoming an Outdoors-Woman (BOW) workshop opens on January 3 for first-time attendees and January 8 for both first-timers and those who have previously attended. The Alabama Department of Conservation and Natural Resources (ADCNR) sponsored event takes place at the 4-H Center near Columbiana, Ala., on March 2-4, 2018.
"ADECA's OWR staff has devoted numerous hours to compile what is Alabama's most complete surface-water report ever produced and one that will help guide our state into the future," ADECA Director Kenneth Boswell said. "I am honored and appreciative that Governor Ivey recognized the talents, expertise and capabilities of OWR staff and charged us with completing this all-important task."
The report was made possible by an appropriation from the Alabama Legislature. The University of Alabama, Auburn University, Troy University and the Geological Survey of Alabama also supplied information for the report. OWR plans to update the report every five years.
Based on the results of the surface water and groundwater assessment reports and information previously compiled by the Alabama Water Agencies Working Group, OWR plans to propose the development of a comprehensive water management plan that includes an overview of the state's water resources, summaries of current and future water usage, existing water management policies and recommendations for additional policy needs.  The development of the state water management plan, if funded by the

Cayden Cox takes first deer
Erin Hughen writes, "This is Cayden Cox with his first deer ever on 11/24! He is 12 years old. He was with his dad, Jason Hughen, and he was one proud dad!"
Tree Pumpkin?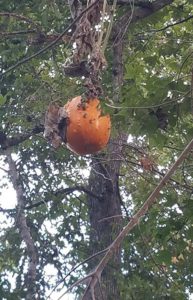 This "Tree Pumpkin" is growing in a tree in Lucy Gallman's yard in Livingston. The real pumpkin is about 20 feet up from the ground. The seedlings that grew the "Tree" pumpkin came from a friendly, family contest event the Gallmans have every year. Mrs. Gallman explained, "Every Thanksgiving my great nieces and nephews and grandchildren bring their Halloween pumpkins for our annual 'punkin chunkin.' They compete to see who can roll their pumpkin down the hill and smash it into the most pieces. This pumpkin is the result of the competition and the vine grew up the tree. I just noticed it today. I thought your readers might enjoy this photo."
Sharks in Lake LU?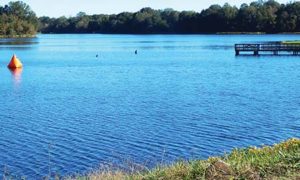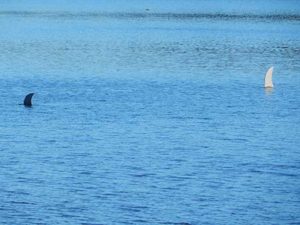 Sharks in Lake LU? That was the question the SCRJ photographer asked himself in disbelief as he traveled across the Lake LU dam Monday morning, Oct. 23 at about 9 a.m. on Country Club Rd. Upon a closer look, and after photographing and videoing the two "shark like fins" protruding above the water line, the fins seemed to be stationary for the ten to 15 minutes the reporter gazed upon the sight. The two "fins" were near the pier on the south side of the lake near the dam. A call to the University of West Alabama Campus Police revealed the fins were placed in the lake as a prank by some unknown individuals. See more photos on Page 2-A and video on www.recordjournal.net and on Facebook. Photo by Tommy McGraw

Giant Destroying Angel
Gloria Harrell of Daphne, sent in this photo of a "Destroying Angel" (Amanita virosa, A. verna, A. bisporigera) in her back yard "as big as a washtub and came up to my knees," she stated. It was a foot and a half tall and eighteen inches wide. According to USDA's Field Guide to Common Macrofungi in Eastern Forests and Their Ecosystem Functions by Michael E. Ostry, Neil A. Anderson and Joseph G. O'Brien. "Identification: Cap white, smooth; white gills free from stalk; bulbous base; white veil. Season of fruiting: Summer-Fall, Ecosystem function: Mycorrhizal with hardwoods and conifers Edibility: Highly poisonous and often fatal, Fungal note: These three mushrooms can only be distinguished from each other by their spore characteristics; collectively. They cause 95 percent of fatal mushroom poisonings. DO NOT eat any mushroom unless you are absolutely certain of its identity. Photo by Gloria Harrell, story by Kasey DeCastra, SCRJ & MVT Community News Editor


Hunting Works For Alabama's Economy
By David Rainer, Alabama Department of Conservation and Natural Resources
There's an old saying that to find a person's passion, follow the money. That apparently is true for Alabama's hunters, who fuel the economies in many parts of the state that need it the most.
To ensure the citizens of the state understand how important hunting is to the state's well-being, both economically and culturally, Hunting Works for Alabama was formed last year to enlist the aid of the  business community to spread this important message.
"Hunting Works for Alabama is basically a grass-roots group of people who want to make sure we inform the public about the enormous impact hunters have on our economy," said Tim Wood, one of the four co-chairs of Hunting Works for Alabama. "You're talking about a $1.8 billion industry in the state. You're talking about $375 million that people spend on just hunting-related equipment. Travel expenses, hunters are spending about $405 million a year. That's travel, fuel, food and lodging.
"In the rural part of the state, that is extremely important. The tax dollars and economic benefits in these rural areas, it would be devastating if they didn't have it. You could look at Demopolis, Selma, Camden and Faunsdale and look at the effects on these areas. It would be absolutely devastating."
Wood, the general manager of Central Alabama Farmers Co-Ops in Selma, said the co-ops he manages cover the Alabama Black Belt, which is known for its rich soil, great hunting and fragile economy. Wood said the importance of hunting is reflected in their business model.
"Our business has changed," said Wood at the second annual Hunting Works for Alabama meeting at the Civilian Marksmanship Program Talladega range last week. "We used to make money three months out of the year, March, April and May, from selling fertilizer, chemicals and seeds. Now we make our money in September, October and November. The paradigm has absolutely swapped. We're also a sporting goods company that sells firearms. You don't see that at farm stores. We sell hunting apparel. Our focus is on the hunting industry."
According to the latest figures, about 44,000 non-residents hunt in Alabama annually. Because the costs of non-resident licenses are significantly higher than resident licenses, those non-resident sales provide a significant funding source for the Alabama Wildlife and Freshwater Fisheries Division. The economic impact from non-resident hunters also ripples throughout the state.
"What I think is so important is the out-of-state dollars coming into the state," Wood said. "You're talking about some of the poorest areas in Alabama in the Black Belt. People travel from all over the United States to go deer hunting in Alabama. These people are paying lodging taxes, buying food and gas, and buying hunting licenses, which supports the Alabama Wildlife and Freshwater Fisheries Division. These tax dollars are not just being used by people in the hunting industry. It affects everybody in Alabama. Even the birders benefit from hunting in Alabama because the habitat enhancement made for hunting benefits all wildlife."
Wood also outlines the importance of more hunting opportunities for the general public.
"Hunting leases have become so expensive," he said. "People are having to pay $15 to $20 an acre for a place to hunt. The everyday hunter back in the old days didn't pay anything. If you wanted to go hunting, you could go up the road and some farmer or landowner would let you hunt. Those days aren't here anymore.
"That is why it is absolutely critical that programs like Forever Wild and the Wildlife Management Areas from Wildlife and Freshwater Fisheries provide the everyday citizen places to hunt and give them a reason to buy hunting licenses. It is crucial that this Division is properly funded."
Chuck Sykes, Director of the Alabama Wildlife and Freshwater Fisheries Division, said that proper funding Wood mentioned can only be realized when people buy hunting licenses.
"We rank seventh in the nation on hunting-related expenditures," Sykes said. "If you're not familiar with the Pittman-Robertson Act, it levies a tax on firearms, ammunition and other hunting equipment. That money goes to Washington, and it's divvied back out to the state wildlife agencies, based on states' hunting license sales, so they have a constant source of funding. For every dollar of hunting licenses sold, Pittman-Robertson matches that with 3 federal dollars, which is a great return on our investment.
"When I first started in 2012, our apportionment was $8 million. Last year, it was $18 million. How did that happen? During the previous administration in Washington, people were buying firearms and stocking up on ammunition because they were scared of potential gun legislation. The problem was those same people weren't buying hunting licenses. We can't get to that money unless people buy hunting licenses. So the money that hunters pay into that fund, if we can't sell enough hunting licenses, that money will go to another state. For us to be able to provide goods and services for the people of the state and to help support the economics, we have to have hunting license sales that will allow us to put conservation officers and biologists in the field."
Sykes offered a statistic that stuns just about everybody who hears it. Sykes asks for an estimate on the percentage of Alabama's almost 5 million citizens who buy hunting licenses. The estimate normally ranges from 15 to 50 percent.
"We receive not one penny from the State General Fund. Not one tax dollar goes to provide goods and services," Sykes said. "It's all hunting and fishing licenses. Most people have no idea that only 3.8 percent of Alabama citizens buy hunting licenses. We've got to get that number up if we're going to be competitive. We have to have licenses sold and the dollars from those sales to get to the federal money from Pittman-Robertson."
Wood said anybody or any business that wants to become a member of Hunting Works for Alabama can sign up and it won't cost a dime. Go to www.huntingworksforal.com for information or to join the organization.
"When you become a member, you're able to come to our meetings and meet with other people in the industry," he said. "You learn the facts and figures about the economic importance of hunting in the state. We are fortunate to be in Alabama, where we are a hunting and gun-friendly state. It's a luxury, and we want to keep it that way.
"We're trying to build a network of support. Eventually, we're going to have to talk to our legislators, because there will be issues that come up that will end up in the Legislature. We need to have voices in the different districts who will contact these legislators to express how important hunting is to the state."
After one year, Hunting Works for Alabama has 107 members with a goal of reaching at least 150 by the end of the year. Pam Swanner of Alabama Black Belt Adventures, David Dexter of Mobile and Grant Lynch, chairman of the Talladega Superspeedway, serve as the other co-chairs for the organization.
"We're looking for slow growth," Wood said. "When you have an all-volunteer staff, we have paying jobs we have to tend to. But for many of us, this does affect our paying jobs. And it also affects our way of life, which I think is more important."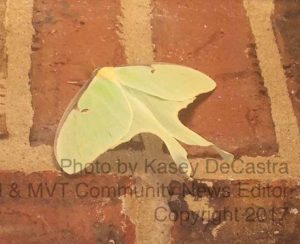 Lovely Lunar Visitor
Actias luna, the Luna Moth, can be found as far north as Canada and south as Florida. This lovely specimen was found above our door for a week. By Kasey DeCastra, SCRJ & MVT Community News Editor
Roadside Hogs in Marengo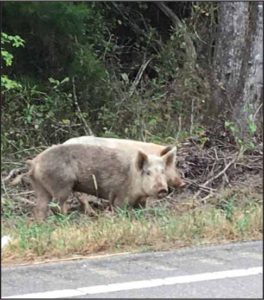 A couple of hogs were spotted standing beside Highway 43, south of Linden, a couple of weeks ago. As many landowners know too well, wild hogs can devastate crops, pastures, and forests. Photo by Tiffany Vaughn, Moundville Times Reporter
Guard Spider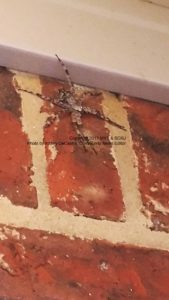 Dolomedes Tenebrosus, the dark fishing spider are another large, sprawling arachnids are most often found on vertical surfaces: tree trunks, fence posts, bridge pilings, or the exterior walls of buildings, usually at night although this friend hung out over our doorway which we were thankful for the keeping our pest population at bay. They are ambush predators who wait for large insects to come within striking distance. They do not spin webs.
Lady of the Garden
Argiope Aurantia, more commonly known as the black and yellow garden spider, is usually seen around the end of summer and start of fall. The mature females are enormous and up to 19 to 28 mm in body length. The males are much smaller at a third of the female's size. You'll see them pretty much anywhere: gardens, orchards, forest edges, old fields, under lights and farms. They spin a classic round orb web with a zigzag band of silk called a "stabilimentum." By Kasey DeCastra, Moundville Times & Sumter County Record Journal Community News Editor
Surprise! Lily
Lycoris radiata, or more commonly known in Alabama as the Red Surprise Lilly, Red Spider Lily or British Soldier, actually comes from Japan and came over as a garden flower in 1854. The flowers bloom after the first heavy rain in late September through mid October. In Japan the Red Spider Lily signals the arrival of fall. Many Buddhist will use it to celebrate the arrival of fall with a ceremony at the tomb of one of their ancestors. They plant them on graves because it shows a tribute to the dead. People believe that since the Red Spider Lily is mostly associated with death that one should never give a bouquet of these flowers. By Kasey DeCastra, Moundville Times & Sumter County Record Journal Community News Editor
World's Oldest Cultivated Plant in the Front Yard?
Grass is one of the oldest cultivated plants in the world. You of course know lawn grass, but corn, wheat, barley, oats, sugar cane and rice are all grasses that humans intentionally bred to eat and feed to livestock. Grasses are used to make paper, used for fuel, as roofing, to weave baskets, build houses, furniture, fences and musical instruments. Some grasses can grow very tall. Bamboo is one of these. It's the world's most wide spread plant type.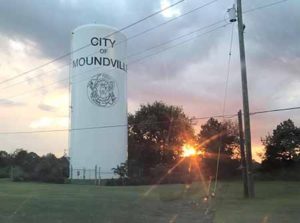 Moundville Watertower Sunset
We don't need to tell you we've had a lot of rain this summer. Rita Lewis, your favorite Voice of the Ville Columnist, knows all about the vibrant colors of sunsets that follow the afternoon showers. She took this lovely shot of the water tower Aug. 12.
Red bellied woodpecker needed a little help…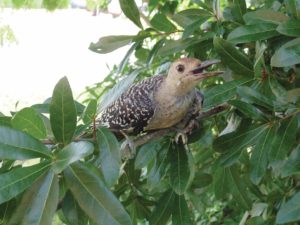 Occasionally at the Times office, our feathered friends get confused and fly into the large glass windows of the upstairs portion of the building. That's what happened to this red bellied woodpecker Tuesday, July 25. The bird was in shock and on the ground right outside our side door but seemed to feel much better after a few drops of water and some time in the shade tree out back.          Photo by Travis Vaughn
Hale County Extension Coordinator
How to get rid of fire ants
Submitted by Tyrone D. Smith, Hale County Extension Coordinator (See more of Tyrone's articles on our Outdoors page at www.moundvilletime.net.)
Alabama Cooperative Extension System (ACES) specialists recommend a two-step method to deter fire ants from invading your property. The first step is to look for a product that is called broadcast bait.
A bait product consists of a chemical dissolved into a food source. These baits are spread evenly over the entire infested area.
Ants will pick up the bait and take it back to the nest, where they eventually find their way to the queen. The colony will be destroyed once the queen is killed.
The second preventive step is to use individual mound treatments throughout the summer. These products come in the form of dusts, drenches, baits, or granules, and should always be applied according to label directions.
Mounds should be treated mid-day in cold months and early in the morning during summer months.
Over applying mound treatment products, however, can result in the colony relocating to another area on the property.
If using a drench product, it is recommended to mix up two gallons of chemical to apply to the mound. The selection of products you can safely use in vegetable gardens is very limited.
Fire ants can be a nuisance for the whole family, but with a little work they are easily kept away. For additional information contact your Hale County Extension Office.
Go to www.outdooralabama.com/sites/default/files/DeerFoodPlots.pdf for more information on food plots in the free publication authored by Cook and WFF Supervising Biologist Bill Gray.
Boys and Girls Clubs go fishing at Forever Wild
The Moundville and Greensboro Boys and Girls Clubs went fishing at Forever Wild on July 12. Judge Tim Evans said, "Big thanks to Bill Mason, Sheriff Kenneth W. Ellis, Brandon Croom, Chief Banks, Chief Hamilton, James Evans, and Judge Crawford for coming out to help. The staff/volunteers with the Moundville and Greensboro Boys & Girls Club are very much appreciated for getting these kids to the lake with us." Above, Evans is shown with Kylon Bates. Moundville Police Chief Toby Banks joined Moundville Boys and Girls Club member Kylon Bates for a little fishing at Forever Wild on July 12. Photos courtesy Moundville B&G Club.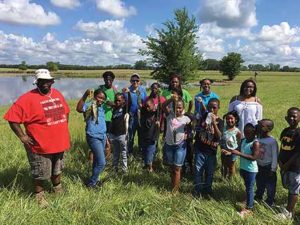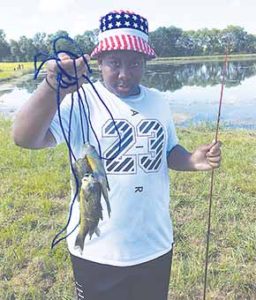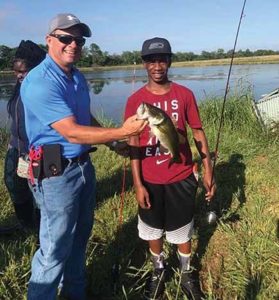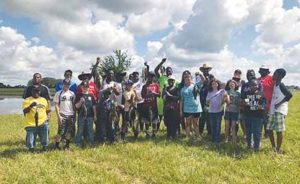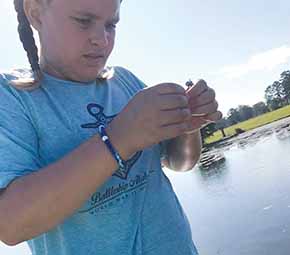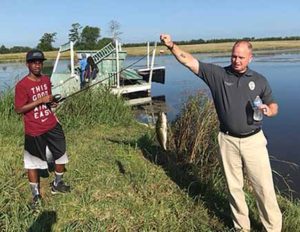 Hog control is one of the top issues for West Alabama and Hale County; ADCNR's Matt Brock explains what to do
By Kasey DeCastra, MVT & SCRJ Community News Editor
Matt Brock Alabama Department of Conservation and Natural Resources gave a presentation on wild Hog Control at the annual Area III Association of Conservation Districts meeting in Jasper at Beville State Community College July 19.
They are not native to North America. Brought by the Spanish explorers as a mobile form of food back in the 1600's, the fast repopulating, omnivors have wrecked havic ever since. They displace major game such as deer and turkey. And are known to destroy the habitat of our native amphibians and reptiles by rooting, wallowing and tree rubbing around swamps and water ways. They damage livestock, farming land, forests.
Hogs can live up to 21 years, mature in 6-8 months, reproduce twice a year with 4-10 piglets. They are former domestic pigs and Eurasian wild boar that are a range of colors.
They can spread disease to both animals and people. If you have shot one hunting, protect yourself when butchering the meat with rubber gloves, gogles and try not to breath the gases of the animal. Be sure to cook the meat fully as well.
The two most effective ways of dealing with the animals are hunting and trapping. You will need a permit to hunt wild hogs and should contact local Conservation Enforcement Officer or local Wildlife and Freshwater Fisheries District office for more information regarding this permit according to http://www.outdooralabama.com/feral-hogs.
To download a free .pdf on how to take care of hogs visit https://store.aces.edu/ItemDetail.aspx?ReturnTo=0&ProductID=14291
Printed copies may also be ordered through Mississippi State University Extension Service and Alabama Cooperative Extension System.
• Mississippi State University Extension Service: Contact your county Extension office.
• Alabama Cooperative Extension System: Call (334) 844-1592 or e-mail publications@aces.edu
Not Fake Fish News
Moundville Times Publisher, Tommy McGraw went on secret assignment to the Black Warrior River near Akron recently to investigate whether the recent high water levels from the many rain storms effected the bass biting. The publisher/fisherman found some fresh water off the main channel and landed about 15 to 20 bass in the middle of a hot summer day, some in the two to three pound category like the one pictured. McGraw affirmed that this was "Real News" and not the "Fake Fish News" some fisherman occasionally spin. Photo by Tommy McGraw
Havana Sunset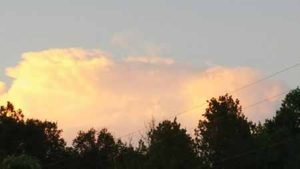 Sunset in Havana in Hale County from Tues. June 13, 2017 by Marty Wheat
Moundville Times Musical Visitor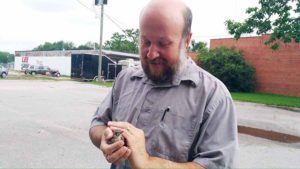 We had a musical visitor hop on into the Moundville Times office this morning (6-5-17). Our lead editor, Travis Vaughn, gently helped him back outside to his home in our Tulip tree outside the office. Our best guess is he wanted to read some news on the fly. We looked him up and he is a Sedge Wren. Learn more at http://www.outdooralabama.com/sedge-wren
Photo and story by Kasey DeCastra, Moundville Times & Sumter County Record Journal Community Editor
We want YOUR local outdoor photos and stories Hale and South Tuscaloosa residents! Email them to times@mound.net and not only will you get in the paper for free, but we'll also spotlight them on the outdoors page at http://moundvilletimes.net/Outdoors3.html
Eastern Box Turtle Travels Through Taylorville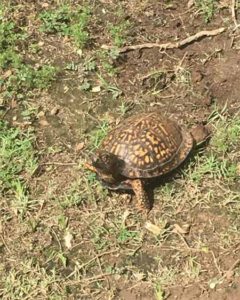 Ben Noppenberger found a friend wandering through his yard Saturday between storms. The eastern box turtle (Terrapene carolina carolina) is a subspecies within a group of hinge-shelled turtles, normally called box turtles. It's native to the eastern part of the United States, found as far north as Maine and West as Texas. The box turtle is largely terrestrial (they like to walk from one pond or stream to another), but are slow crawlers, extremely long lived, slow to mature, and have relatively few offspring per year. Males have red irises and females have brown.
Photo by Ben Noppenberger, story by Kasey DeCastra, Moundville Times/ Sumter County Record Journal Community Editor
Rose… Jelly?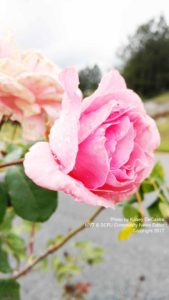 Roses have more uses than just a ornamental flower in the garden. Rose hips can be made into jam, jelly, marmalade, and soup or are brewed for tea, or filtered for syrup. Rose hips are also used to produce rose hip seed oil, which is used in skin products and some makeup products and of course perfume. They hahttp://pfaf.org/user/ Plant.aspx?LatinName=Rosa+c hinensisve been used in medicine for stomach issues. (See ) By Kasey DeCastra, MVT & SCRJ Community News Editor
Color of a Rose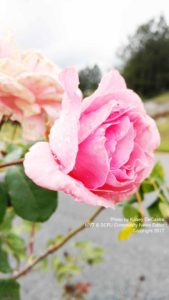 Roses are native to North America, Europe, Asia and North Africa. There are over a hundred species and thousands of cultivars (assemblage of plants selected for desirable characteristics that are maintained during propagation. Roses have acquired cultural significance in many societies. You may have heard a red rose is for true love, a yellow for friendship, or a pink for sweetness. Check out https://www.abetterflorist.com/blog/colours-rainbow-colour-bouquet-say/ to learn more about rose color meanings. (By Kasey DeCastra, MVT & SCRJ Community News Editor)
Magnolia's Are Very Useful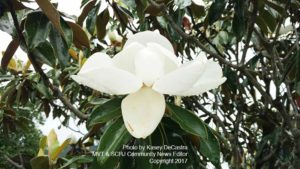 Magnolia bark has been used to treat menstrual cramps, abdominal pain, abdominal bloating and gas, nausea, and indigestion. It is also an ingredient in formulas used for treating coughs and asthma. Learn more about Magnolia uses at http://www.herbwisdom.com/ herb-magnolia.html. (By Kasey DeCastra, MVT & SCRJ Community News Editor)
Magnolia, our sweet smelling southern staple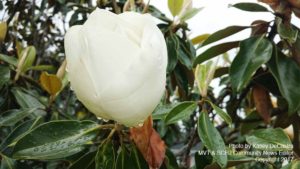 Magnolia's were one of the very first trees to evolve a flower. The petals still resemble the tree's leaves. It's theprized this was to encourage bees to pollintate the trees. According to "Convergent evolution and adaptive radiation of beetle-pollinated angiosperms" by Bernhardt, P. "Fossilised specimens of M. acuminata have been found dating to 20 million years ago, and of plants identifiably belonging to the Magnoliaceae date to 95 million years ago." It's the state flower of Mississippi and Lousiana. Alabama's state flowers are the camelia and oak-leaf hydrangea (state wild flower). They come in both evergreen version and deciduous with a wide range of colors: white, pink, red, purple, or yellow. (By Kasey DeCastra, MVT & SCRJ Community News Editor)
When and where you least expect it… a copperhead in Moundville!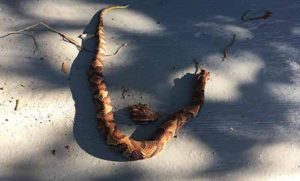 Our own Tiffany Vaughn escaped a snake bite Sunday afternoon in her front yard on Market Street in Moundville and dispatched the juvenile copperhead. She wrote, "It attacked me when I almost stepped on him. Thank God it was a small one and not full grown. Thank God I had long pants on because he struck my pant leg. Y'all be careful in your yards. We get complacent and forget that they are here with us."
Photo by Tiffany Vaughn
Cobbler Incoming!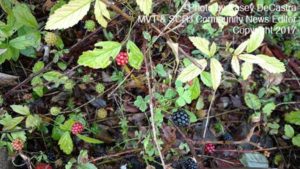 Wild black berries are in season now. Blackberries are one of the two state fruits for Alabama. The other is the peach. (By Kasey DeCastra, MVT & SCRJ Community News Editor)
Carp to the rescue! Say what?!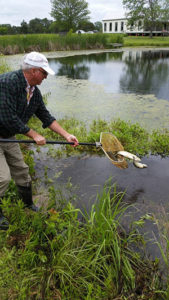 These grass crap are going to help rehabilitate the UWA duck pond. A small number of these fish have been stocked on campus to eat away at the invasive and overwhelming filamentous algae, Alligator weed and pond weed instead of using chemicals harmful to the creatures who make it their home. Learn more about the Black Belt Museum at https://www.facebook.com/blackbeltmuseum/?hc_ref=NEWSFEED
String Beaning Us Along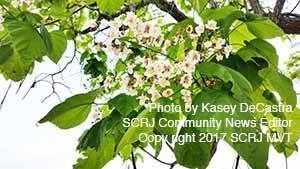 Wondering what kind of tree this is? It's a Catalpa. A deciduous tree that produces long string pods in late summer (also a sap that will eat the paint off your car if you park it under it.) It's nick names are "String Bean Tree," the "Indian Been Tree," and "Cigar Tree." This one lives beside at our sister paper the Moundville Times in Moundville in Hale County and is in full bloom. (By Kasey DeCastra, MVT & SCRJ Community News Editor)
Aquarium Animals and Plants Should Never Be Released into the Wild
Teachers and pet owners should be aware that aquarium animals and plants should never be released into the wild. Releasing aquatic animals and plants is illegal, as they pose a threat to native species and ecosystems. While the environmental damage caused by invasive species throughout the United States is devastating, Alabama is especially vulnerable due to its abundant biodiversity and aquatic habitat.
When a non-native animal or plant is introduced into an ecosystem, the results are often unpredictable. The national Aquatic Nuisance Species Task Force Strategic Plan (2013-2017) indicates that "approximately 49 percent of imperiled species are endangered primarily because of predation or competition with exotic species."
For example, the Island Applesnail was likely released into waters near Mobile Bay by an aquarium or ornamental pond owner. Biologists are concerned these snails will reduce the number of native aquatic plants necessary as food and habitat for birds and other aquatic organisms.
The Oriental Weatherfish or Pond Loach is an exotic aquarium fish that has been found in Logan Martin Reservoir and tributaries of the Coosa River. This species has been found in the same waters as the native Coldwater Darter, although the threats to this protected species are currently unknown.
Once an invasive organism has become established, it is nearly impossible to eradicate. The control of invasive species is costly, so preventive measures such as properly disposing of unwanted aquarium animals and plants is a priority in preserving native ecosystems.
A pet store may be willing to take unwanted aquarium animals or plants. If a pet store will not take the aquarium animal, it will need to be euthanized. To properly dispose of aquarium animals and plants, they should be frozen, sealed in a plastic bag, and placed in the trash.
To learn more about invasive aquatic species in Alabama, visit www.outdooralabama.com/aquatic-nuisance-species.
ADCNR promotes wise stewardship, management and enjoyment of Alabama's natural resources through four divisions: Marine Resources, State Parks, State Lands, and Wildlife and Freshwater Fisheries. To learn more about ADCNR, visit www.outdooralabama.com.
Big Boss Gobbler taken in "Hale"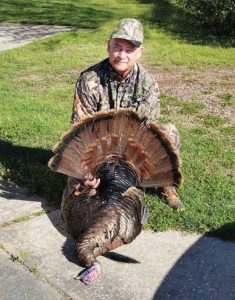 The Moundville Times Publisher Tommy McGraw had to go through "Hale" to get this boss gobbler Saturday, April 8 deep in the Hale County woods. The 22 pound bird sported an 11.5 inch paint brush of a beard and had one inch long spurs. The bird and a companion marched within gun range at 6:50 a.m. The two birds came in after McGraw stirred the two gobblers with his irresistible cackling and yelps. The 35 yard shot was made with a "Quick Draw McGraw" move as the birds circled behind the hunter as they came in to greet their invisible mate. Photo by Jane McGraw
Hale County Extension Coordinator
Where are Hale County blackberries?
Submitted by Tyrone D. Smith, Hale County Extension Coordinator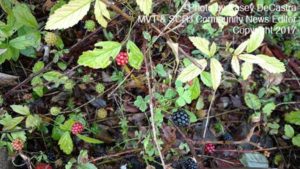 Did you know that the blackberries you see growing on the side of the highway are actually Alabama's official state fruit? That's right, the blackberry is Alabama's state fruit. Nearly all blackberry cultivars are self-fruitful, and therefore self-pollination or pollination by the same cultivar will result in fruit development.
Honeybees usually transfer pollen from one flower to another. Bees are strongly attracted to bramble blossoms by the copious amounts of nectar. However, wild bees are not a reliable source of pollination, especially during bad weather. Commercial growers should consider placing one or two hives per acre grouped into units of five or ten per location.
As the fruit ripens, it grows in size and weight. Color changes from green to red to black. Blackberries take 35 to 45 days to mature once they are pollinated. Flavor and sugars increase as the fruit grows, and the fruit will soften and loosen from the receptacle when ripe.
Blackberries are nutritious. One serving of blackberries (one cup) provides 50 percent of the vitamin C and 22 percent of the fiber required daily. Blackberries are also a good source of potassium, calcium, and iron. In addition, the compound ellagic acid (anti-cancer properties especially against prostate cancer) identified as an anticarcinogen, is found in blackberries.
Hale County Extension Coordinator Poke Salad in Hale County pastures
Submitted by Tyrone D. Smith, Hale County Extension Coordinator
Common poke salad, a native of North America, is a perennial weed often found in pastures as well as fence-rows, rights-of-way, reduced-tillage row crop fields, and wooded areas. Other names include: poke berry, pigeon berry, inkberry coakun, pocan bush, scoke, and American nightshade. Although pokeweed can cause severe poisoning in humans, Native Americans once used this plant as a heart stimulant and as a narcotic. The plant also contains a protein that has been shown to have a positive impact on HIV, a precursor to the AIDS virus. Additionally, many people cut young shoots and leaves and eat the plant as one would eat asparagus, thus the name poke salad. For human consumption, the plant must be boiled at least two times in water and the water must be removed before eating. Some say that an additional boiling will essentially remove all toxins in the plant material. Control of common poke salad is typically not easy because of the large fleshy crown and associated taproot. Except in some row-crop situations, pokeweed rarely infests large areas and is usually found in isolated instances. Removal of individual plants is accomplished by wholly removing the crown and a major portion of the associated taproot. Alternatively, spot applications of glyphosate (3% volume/ volume) or products containing 2,4-D or dicamba can severely injure or kill the plant. For additional information please contact your Hale County Extension Office.