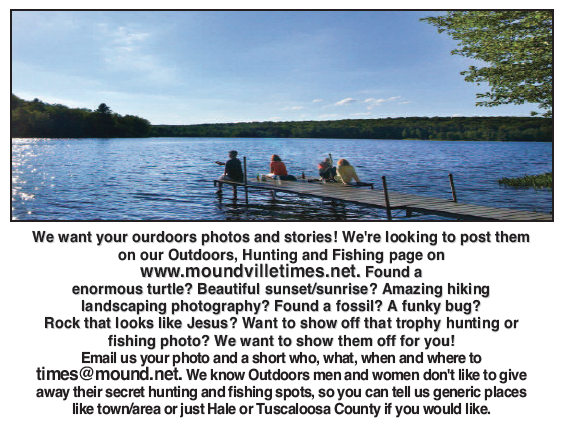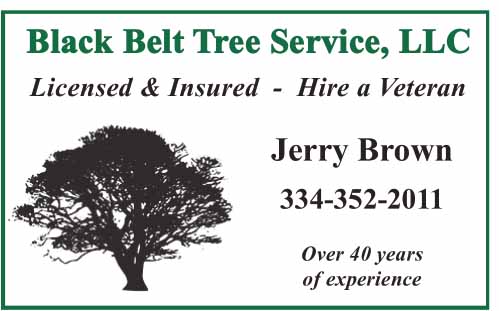 Boaters urged to receive education before boating season
The temperature may be cool outside, but the Eighth Coast Guard District is joining boating safety advocates across the country to urge recreational boaters to enroll in a boating education course. The Spring Aboard – Take A Boating Education Course campaign encourages boaters to receive education prior to the kick-off of the boating season. Many education providers offer discounts or other incentives for students during the week of March 18-24, 2018, to enroll in a boating education course.
"We know that an educated boater is safer on the water," said Tom Guess, the president of the National Association of State Boating Law Administrators and the lead organization for the Spring Aboard campaign. "If a boater has taken a boating safety education course, the likelihood of their time spent on the water being a safe and enjoyable experience is much greater for them as well as their passengers. There's no reason to head out on the water without knowing what you're doing, and spring is the perfect time to take a course before the summer boating season begins."
"U.S. Coast Guard statistics indicate that of the accidents where the level of operator education was known, 77% of boating deaths occurred on boats where the boat operator had never received boating education instruction," said Ed Huntsman, the Eight Coast Guard District boating safety program manager.
With today's wide variety of courses available, there's a course for every boater's schedule. Boaters have multiple options including classroom courses offered by the Coast Guard Auxiliary, United States Power Squadrons and online offerings available anytime.
Education course providers and offerings will vary between states, so check with your local course provider or state boating agency to find what courses are accepted in your area. Many states require completion of a course verified by NASBLA as meeting the national boating education standard for powerboat rental or operation. To ensure a course qualifies, look for the 'NASBLA-Approved' logo.
The annual Spring Aboard campaign is led by the NASBLA and produced under a grant administered by the U.S. Coast Guard. It is supported by state, federal and nonprofit partners. It is open to participation by all states, territories, boating education organizations, instructors and course providers.
For more information, visit www.springaboard.org.
Big Gobbler Contest Aims to Find Black Belt's Best Turkey Callers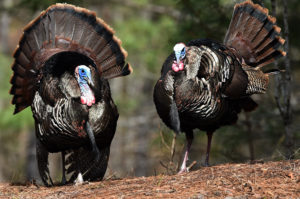 MONTGOMERY, Ala. – The Alabama Black Belt Adventures Association is calling all turkey hunters to give its annual Big Gobbler Photo Contest a spin this year with a twist. Instead of photos of turkeys taken in the Black Belt, this year the ALBBAA wants videos of hunters practicing the art of calling those big toms into range.
The winner can produce a video of actually coaxing a big turkey into camera frame or show us your technique after you've bagged your gobbler or during your scouting session. Just upload a short – 30 seconds to 1 minute – video of your best yelp or cluck or fly-up cackle or gobble or any combination. Shoot your video in the woods of the Alabama Black Belt and upload it via Dropbox at http://bit.ly/2IrxQth by May 7, one week after the April 30 end of turkey season.
"This year, instead of our usual photo contest on Facebook, we want to see and hear hunters showing off their turkey-calling skills," said ALBBAA Director Pam Swanner. "Attracting a big gobbler isn't easy, so we wanted to give hunters a chance to display their expertise. The Black Belt provides some great turkey hunting and we have great turkey hunters who live in the region or visit for a once-in-a-lifetime experience during the season.
"We are thrilled to offer two opportunities to win our Big Gobbler Contest this year, too. We will have our 'People's Choice' winner based on the number of Facebook 'likes' for the videos and a 'Pro's Pick,' judged by the 'Turkey Man' Eddie Salter of Evergreen and two other media professionals. Eddie is a well-known expert thanks to his seven Southeastern Open Turkey Calling Championships, six Alabama State Championships and two World Open Championships. He has almost four decades of turkey-hunting experience and is being gracious enough to provide one of our prizes, too."
This year's People's Choice winner will receive a $200 cash prize donated by Southeast Land Group and the Pro's Pick will get Turkey Man Game Calls – both a slate call and a mouth call.
All entries MUST be uploaded to http://bit.ly/2IrxQth, not to the Black Belt Facebook page. To vote for your favorite, please follow us at Facebook.com/AlabamaBlackBeltAdventures and click "like" on the video.
The Black Belt includes the following counties: Barbour, Bullock, Butler, Choctaw, Clarke, Conecuh, Crenshaw, Dallas, Greene, Hale, Lee, Lowndes, Macon, Marengo, Monroe, Montgomery, Perry, Pickens, Pike, Russell, Sumter, Tuscaloosa and Wilcox.
The Alabama Black Belt Adventures Association is committed to promoting and enhancing outdoor recreation and tourism opportunities in the Black Belt in a manner that provides economic and ecological benefits to the region and its citizens. For information, go to www.alabamablackbeltadventures.org.
Auburn University researchers identify natural enemy of crop-killing kudzu bug
Auburn University entomologists have discovered and identified a tiny wasp that could provide a huge benefit to soybean producers and other farmers.
Though only about the size of a pinhead, the newly detected parasitoid wasp, Ooencyrtus nezarae, can do plenty of damage to the kudzu bug, a quarter-inch-long invasive pest of soybeans and other legume crops in the Southeast. Researchers in the lab of entomologist Henry Fadamiro, associate dean for research for the College of Agriculture and associate director of the Alabama Agricultural Experiment Station, were the first to detect the wasp's presence in North America.
The research team published its findings in a recent article in the Journal of Insect Science. Blessing Ademokoya, an Auburn graduate researcher at the time of the study and now a doctoral student at the University of Nebraska-Lincoln, is lead author of the article. Fadamiro and Rammohan Balusu, research fellow in the Department of Entomology and Plant Pathology, are co-authors, as are Auburn research entomologist Charles Ray and Jason Mottern, entomologist at the USDA Smithsonian Institution in Washington, D.C. Ray and Mottern assisted in final identification of the wasp.
O. nezarae is the second kudzu bug-attacking wasp to be identified in the U.S. The first, Paratelenomus saccharalis, was discovered in Georgia in 2013.
"It is exciting to know that many natural enemies are in the field helping to keep kudzu bug populations under control," Ademokoya said. "And, with this latest addition, we have a potential explanation for the decline observed in kudzu bug densities across several locations in the southeastern U.S."
The kudzu bug, native to Asia, was first reported in the U.S. in 2009 in Georgia. Although it feeds on kudzu—an economically important invasive weed native to Asia and familiar to Southerners—it also devours soybeans and other legume crops, causing significant yield loss in highly infested fields.
A strong flyer and good hitchhiker, the pest rapidly expanded its numbers across many southern states, including Alabama, South Carolina, North Carolina, Florida, Tennessee, Mississippi, Virginia, Kentucky, Louisiana, Arizona, Maryland and Delaware. The population peaked in 2013.
The kudzu bug has emerged as the top yield-limiting pest of soybeans, which rank as the second most planted field crop in the United States with an estimated annual market value of approximately $39 billion.
In 2017, Alabama farmers harvested approximately 345,000 acres of soybeans with a production value of more than $150 million.
Potential long-term solution
O. nezarae, which was found during field surveys in Alabama, is reported to parasitize eggs from a variety of plant bug families in China.
"Until now, the distribution of O. nezarae has been limited to China, Japan, Thailand, South Korea and Brazil," Fadamiro said. "This is the first report of the parasitoid in North America. The high rate of parasitism—82.8 to 100 percent—recorded in our study indicates that the parasitoid may serve as a potential long-term solution for managing the kudzu bug."
Despite O. nezarae's high parasitism rate of kudzu bug, it has a short period of activity, and Fadamiro said continued research will be necessary to identify tactics for the use of the insect to biologically control the pest on farms.
"We need to conduct monitoring to know the distribution of the parasitoid in the United States and to determine its seasonal phenology in the field—when it is not active and when it is most active," he said. "We also are interested in studying the nutritional ecology of this insect and strategies for its conservation in the field. We don't want to spray toxic chemicals when it is most active."
There are numerous ways to use natural enemies in production agriculture, Fadamiro said, including introducing them into areas where they are not already present and preserving them where they are naturally occurring. Farmers also can plant host flowering plants around a field so the nectar will attract and keep the beneficial insect in an area.
"If we conduct a survey and find the insects are only in central Alabama, then we can capture and relocate them to other areas of the state where the kudzu bug is a threat," he said. "We want to make sure this finding is useful to the farmers who need it most."
But there's a risk in assuming that the known natural enemies of the kudzu bug will eliminate the threat, Fadamiro said.
"While the incidence of the kudzu bug has declined in recent years, there could be many factors involved, including weather conditions and other natural enemies, so we need to continue this work," he said.
The research leading to the discovery of the parasitoid was supported by an Agriculture and Food Research Initiative Competitive Grant from the USDA National Institute of Food and Agriculture and by the Alabama Agricultural Experiment Station. It's an example of Auburn's commitment to development science-based advancements that meet pressing regional, national and global needs. Written by Paul Hollis.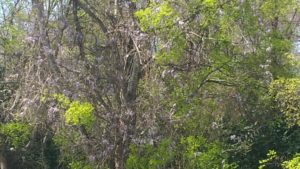 Wisteria is a invasive species
Chinese wisteria, (Wisteria sinensis), is beautiful to look at and just like kudzu, takes over very quickly. It's a invasive species that kills native plants by girding and displacing them. It was brought over as a decorative garden flower in 1816 from China. Learn more about Wisteria at http://news.aces.edu/blog/2017/04/28/wisteria-invasive-vines/ By Kasey DeCastra, SCRJ & MT Community Editor
USDA Specialty Crop Block Grant Program Applications Being Accepted
The Alabama Department of Agriculture and Industries (ADAI) is accepting grant applications for projects that enhance the competitiveness of U.S. specialty crops in foreign and domestic markets. The application deadline for these specialty crop block grants through the United States Department of Agriculture (USDA) is April 20, 2018, 5 p.m. CST.
Specialty crops are defined by the USDA as fruits and vegetables, dried fruit, tree nuts, horticulture (including maple syrup and honey) and nursery crops (including floriculture).
Commodity groups, agricultural organizations, colleges and universities, municipalities, state agencies and agricultural nonprofits are all eligible for this grant program, provided their proposals meet all the program specifications. The ADAI and a review committee of industry representatives will make application evaluation reviews and award recommendations to USDA. The USDA has final approval for projects submitted.
The specialty crops block grant is a competitive grant process. The maximum award to any applicant is $25,000; the minimum, $5,000.
A conference call will be held on March 20, regarding the writing, processing and submittal of the specialty crop grant. Please contact Johnny Blackmon at 334-240-7257 or by email at johnny.blackmon@agi.alabama.gov, to RSVP and obtain the conference connection code. All prospective applicants are strongly encouraged to participate in the conference call.
Projects cannot begin until official agreements are signed, which is expected October 2018.
For more detailed information, please visit http://www.agi.alabama.gov/scbgp or contact Johnny Blackmon at 334/240-7257.
Lawn Burweed Stickers Inflict Pain on Bare Feet
Submitted by Tyrone D. Smith, Hale County Extension Coordinator
A fun spring day playing or walking barefoot in the yard can quickly turn sour. If you haven't heard of Lawn Burweed; then just keep walking in the grass without shoes! This weed is bad news for children and pets. It is a low-growing annual weed that pops up in the winter and by late spring it develops small fruit with very sharp spines. Unfortunately, most people do not notice the problem until spring. But waiting until spring is too late. If you wait to control lawn burweed in April and May, the spines have already formed by this time and it will remain after the weed withers and dies. This is when people happen to step on the stickers. Because lawn burweed is a winter annual, it will begin to die in late spring as air temperatures reach 90 °F. Once the weed has reached a more mature state, multiple herbicide applications may be necessary; which increases the potential for turfgrass injury. Mowing the area at a very low height and bagging the seeds might offer some relief. The best strategy to control lawn burweed is to apply a pre-emergence herbicide, such as atrazine or isoxaben in late September to early October before the winter weeds germinate. This method will kill it upon sprouting and basically keep in from showing up in the yard. Dead or alive, lawn burweed poses a painful problem. The only solution to early identification and control. Remember lawn burweed is an annual and will come back from seeds that develop each spring. For more information contact your Hale County Extension Office.
Early Bloom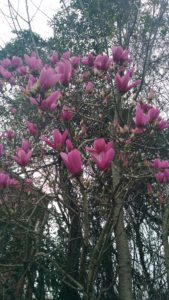 With our early heat wave, many of our spring trees bloomed early (and brought their pollen with them.) The Magnolia Tulip Tree, or the Saucer Magnolia Tree is a non-native, commonly planted, garden tree and one of the first to bloom in spring. ​Saucer Magnolia is a multi-stemmed, broadly spreading tree, 25 feet tall with a 20 to 30-foot spread and bright gray bark. Our tree has deep purple petals, however, the flowers range in color from white-pink to deep pink-purple petals. Source https://www.rhs.org.uk/plants/details?plantid=3428 By Kasey DeCastra, MVT & SCRJ Community News Editor
Conservation Department Marks 110 Years
For 110 years, the Alabama Department of Conservation and Natural Resources has been protecting the state's natural resources. Today, Gov. Kay Ivey and department officials celebrated that service and dedicated a memorial to 12 Conservation Enforcement Officers who lost their lives in the line of duty.
"On behalf of our entire state, I thank the Alabama Department of Conservation and Natural Resources for caring for our natural resources and wildlife for the past 110 years," Governor Ivey said.
In 1907, Rep. John H. Wallace, a conservation pioneer, introduced a proposal to create Alabama's Department of Game and Fish, now known as the Department of Conservation and Natural Resources. The Alabama Legislature passed this bill, which included provisions for a State Game Commissioner and many of the most fundamental hunting laws.
Great strides have been made since the early days of horseback-mounted Game Wardens to the present-day Conservation Enforcement Officers. Although today's officers use modern vehicles and equipment, they are still the front line against poachers and others who don't choose to lawfully follow Alabama's hunting and fishing laws and regulations.
"I am thankful for my career with the Alabama Department of Conservation and Natural Resources," said Conservation Commissioner Chris Blankenship. "I know from personal experience how many dedicated employees work for this department. Some of them work non-traditional hours and are frequently in dangerous situations. I want to thank all of them for their service to the State of Alabama."
Since the Department's creation in 1907, 12 officers have made the ultimate sacrifice in the protection of Alabama's natural resources.
Officers who lost their lives in the line of duty, date of death and county of residence are as follows:
George S. Wilson, October 1, 1922, Montgomery County
Bart Cauley, March 19, 1932, Baldwin County
Vernon W. Wilson, June 25, 1951, Randolph County
Loyd C. Hays, May 1, 1964, Morgan County
John Roy Beam, December 6, 1976, DeKalb County
Frank Stewart Jr., December 24, 1978, Escambia County
Cecil Craig Chatman, November 28, 1982, Lowndes County
Grady R. Jackson, February 12, 1984, Pike County
James C. Vines, January 26, 1985, Greene County
Jimmy D. Hutto, March 25, 2002, Fayette County
James Lance Horner Jr., June 22, 2003, Clarke County
Nathan B. Mims, November 11, 2008, Chilton County
The officers were recognized today through the dedication of a memorial wall in their honor at the Department of Conservation and Natural Resources headquarters office in Montgomery.
"Today, I had the privilege of honoring 12 officers who died in the line of duty, making the ultimate sacrifice to protect Alabama's natural resources. Our state remains indebted to those who preserve our beautiful, sweet home," Ivey said.
ou
The Alabama Department of Conservation and Natural Resources promotes wise stewardship, management and enjoyment of Alabama's natural resources through four divisions: Marine Resources, State Lands, State Parks, and Wildlife and Freshwater Fisheries. To learn more about ADCNR, visit www.outdooralabama.com.
Auburn University's Dixon Center chosen for national Wildland Firefighter Apprenticeship Program, first academy in the eastern U.S.
For the first time in its history, the national Wildland Firefighter Apprenticeship Program is providing training in the eastern U.S. at the Auburn University Solon Dixon Forestry Education Center in Andalusia, Alabama. The training course, also known as WFAP, dates back to 1989 and is traditionally held in Sacramento, California.
The WFAP has trained more than 2,000 apprentices in wildland firefighting and prepared them for a future as fire managers. Wildland firefighters are dispatched to fight wildfires in national forests throughout the nation including Alabama's four national forests—Bankhead, Conecuh, Talladega and Tuskegee.
In early February, 48 wildland firefighter apprentices gathered for the first WFAP academy at Auburn's Dixon Center. They attended classes about fire behavior, fire suppression tactics, weather, safety, leadership, risk management and incident command all taught by seasoned fire experts.
Firefighter apprentices also gained hands-on field experience with situational awareness and tactical decision making, while practicing safety and teamwork skills.
The next academy will be held in March.
"The Wildland Firefighter Apprenticeship Program develops our future fire and aviation managers in an innovative and unique educational experience, combining classroom and field based hands-on education at the Dixon Center," said Heath Cota, director of WFAP.
Participating agencies include the U.S. Forest Service, U.S. Fish and Wildlife Service, the National Park Service, Bureau of Land Management and Bureau of Indian Affairs.
The Dixon Center's 5,300-plus acres features fresh water springs, longleaf pine forests, cypress swamps, frontage along the Conecuh River and the national forest. According to Dixon Center Director Joel Martin, this mix of diverse ecosystems makes the location an excellent outdoor learning environment for forestry and natural resources management.
"At the Dixon Center, students have the unique opportunity to take what they have learned from their classroom instruction and, in the same day, put that 'theory into practice' within our longleaf pine forests," said Martin.
The center was created in 1978 with an initial monetary donation and 80-acre gift of land to Auburn University by the late forestry pioneer, Solon Dixon, and his recently passed widow, Martha Dixon. This land would later combine with another larger deed of property—at the time the largest of its kind in Auburn's history—to create the Solon Dixon Forestry Education Center, a forestry and wildlife conservation education facility operated by the Auburn School of Forestry and Wildlife Sciences.
Located only hours from numerous major cities, the center includes the 6,500-square-foot Solon and Martha Dixon Foundation Learning Center with a state-of-the-art auditorium, classroom and conference room; two large bunkhouses; five semiprivate dormitory buildings; a rec center; administrative building; classroom and computer lab building; maintenance shop; and cafeteria.
"The center is really ideal for this type of long-term immersive training," said Janaki Alavalapati, dean of Auburn's School of Forestry and Wildlife Sciences. "Once a group arrives, all of their needs can be met without leaving the property. This is both convenient and helps students to focus for longer periods, while reducing travel expenses—all things that ultimately lower training costs.
"The Dixons' vision for this land was to support excellence in forestry education. We know the Dixons would be very proud the WFAP recognizes the quality of instruction and experiential learning that can be gained here."
Auburn University is committed to educational and outreach partnerships that deliver practical, life-changing solutions to pressing regional, national and global needs.
More information about the Solon Dixon Forestry Education Center can be found online at http://sdfec.auburn.edu/. More information about the WFAP and the training courses can be found online at https://www.nafri.gov/wfap/. Written by Jamie Anderson
Celebrate Arbor Week – Plant a Tree!
The Alabama Forestry Commission (AFC) encourages all Alabamians to join in this year's observance of Arbor Week, which runs from Monday, February 19 to Sunday, February 25. Proclamations, tree plantings, and seedling distributions will mark the week for most all the 82 communities recognized as a Tree City USA by the Arbor Day Foundation across the State of Alabama. These plantings will add to the estimated 240,000,000 urban trees that daily clean our air, purify our water, and protect our soils.
"Trees provide a multitude of environmental, economic, and social benefits to Alabama citizens and their neighborhoods," said Alabama's State Forester Rick Oates. "We invite families across the state to take part in this celebration and share the joy of planting trees in their communities."
National Arbor Day, observed in all 50 states and throughout the world on the last Friday in April, April 27 this year, finds its roots in Nebraska. The idea was conceived and the name 'Arbor Day' proposed by J. Sterling Morton in 1872, who later became the U.S. Secretary of Agriculture. The idea caught on, and over one million trees were planted that first year. Other states followed suit and, in 1887, Alabama Governor Thomas Seay signed the state's first Arbor Day Proclamation. The tradition of a governor's proclamation continued in Alabama until 1975 when the Birmingham Beautification Board, the State Garden Club, the AFC, and the State Board of Education collaborated with the State Legislature to pass a legislative act designating the last full week in February as 'Arbor Week,' a time more conducive for planting trees in the deep South.
Everyone in Alabama is encouraged to plant a tree during Arbor Week. Information on selecting the right tree for the right place may be found on the AFC website at www.forestry.alabama.gov or on the ArborDay.org website. The mission of the Alabama Forestry Commission is to protect and sustain Alabama's forest resources using professionally applied stewardship principals and education, ensuring that the state's forests contribute to abundant timber and wildlife, clean air and water, and a healthy economy.
Greensboro Garden Club donates tree to GES
The Greensboro Garden Club donated an Autumn Flame Maple tree to GES for Arbor Day. Vice President Melvin Cothran, Martha and Gordon Cates, and Lamar Merrill helped some of our honor students plant the tree on the playground Feb. 1.
Goodman bags a winner in Greene County
Hunter Goodman, 17, shows off this 17-point buck he bagged in January in Greene County, Ala. This photo won the Alabama Black Belt Adventures Association Big Buck Photo Contest and earned Hunter a prize package worth more than $3,000. Hunter is a junior at Victory Christian Academy in Columbus, Miss., and the son of Dean and Shilo Goodman. Submitted by Mike Perrin
Conservation Advisory Board Meets in Montgomery March 3
The Alabama Conservation Advisory Board (CAB) will hold its first scheduled meeting of 2018 on Saturday, March 3, in Montgomery, Ala. The meeting will take place at the Alabama State Capitol Auditorium, 600 Dexter Ave., Montgomery, Ala., 36104. Visitors should use the entrance behind the Capitol on North Union Street.
Registration for those wishing to address the board will be from 8-8:30 a.m. The meeting will begin promptly at 9 a.m. Attendees with printed information they wish to share with CAB members are encouraged to bring 16 copies of the material for distribution.
The CAB assists in formulating policies for the Alabama Department of Conservation and Natural Resources (ADCNR), examines all rules and regulations, and makes recommendations for their change or amendment. This includes hunting seasons and bag limits.
The board is comprised of 10 members appointed by the Governor for alternating terms of six years. Joseph Dobbs, Jr., of Birmingham currently serves as chairman. Additional CAB members include Greg Barksdale of Hanceville; Jessica Butler of Scottsboro; Patrick Cagle of Montgomery; Grady Hartzog of Eufaula; Brock Jones of Boligee; Raymond Jones, Jr., of Huntsville; Jeff Martin of Pell City; Ben C. Stimpson, Jr., of Mobile; and Gary Wolfe of Fairhope.
The three ex-officio CAB members include Gov. Kay Ivey, Agriculture Commissioner John McMillan, and Alabama Cooperative Extension System Director Dr. Gary Lemme. ADCNR Commissioner Chris Blankenship serves as ex-officio secretary.
If Americans with Disabilities Act accommodations are needed, please contact Betsy Jones at 334-242-3486 or dcnr.commissioner@dcnr.alabama.gov. Requests should be made as soon as possible, but at least seven days prior to the scheduled meeting.
The Alabama Department of Conservation and Natural Resources promotes wise stewardship, management and enjoyment of Alabama's natural resources through four divisions: Marine Resources, State Lands, State Parks, and Wildlife and Freshwater Fisheries. To learn more about ADCNR, visit www.outdooralabama.com.
Owens Elected To State Catfish Committee
Hale County's Mike Owens was elected to the Alabama Farmers Federation State Catfish Committee at the 2018 Commodity Organizational Meeting in Montgomery Feb. 8. From left are Federation Catfish Division Director Mitt Walker and Owens.
Miller Elected To State Catfish Committee
Hale County's Danny Miller was elected to the Alabama Farmers Federation State Catfish Committee at the 2018 Commodity Organizational Meeting in Montgomery Feb. 8. From left are Federation Catfish Division Director Mitt Walker and Miller.
Kyser Elected To State Catfish Committee
Hale County's Ashley Kyser was elected to the Alabama Farmers Federation State Catfish Committee at the 2018 Commodity Organizational Meeting in Montgomery Feb. 8. From left are Federation Catfish Division Director Mitt Walker and Kyser.
Effective immediately: Alabama hunters MAY NOT IMPORT deer carcasses from MISSISSIPPI. Alabama regulation PROHIBITS the importation of body parts of any deer species from any CWD-positive state. Chronic Wasting Disease has now been CONFIRMED in Mississippi. Click here for more on the MS case:
Chronic Wasting Disease Confirmed in a Mississippi White-tailed Deer

A white-tailed deer collected on January 25, 2018, in Issaquena County has tested positive for Chronic Wasting Disease (CWD). The deer was a 4.5-year-old male that died of natural causes and was reported to the Mississippi Department of Wildlife, Fisheries, and Parks.
This is the first time an animal in Mississippi has tested positive for the disease, which is fatal to white-tailed deer. MDWFP will immediately implement the CWD Response Plan under the auspices of the Commission on Wildlife, Fisheries, and Parks.
Pursuant to the Order of the Executive Director on behalf of the Commission, effectively immediately, supplemental feeding is banned in the following counties: Claiborne, Hinds, Issaquena, Sharkey, Warren, and Yazoo.
CWD was first documented among captive mule deer in Colorado in 1967, and has been confirmed in 24 states, three Canadian provinces, and two foreign countries. It has been found in the free-ranging herds in 22 states and among captive cervids in 16 states.
According to the Chronic Wasting Disease Alliance, CWD affects only cervids (hoofed animals in the cervidae family such as deer, elk, and moose). CWD affects the body's nervous system. Once in the host's body, prions transform normal cellular protein into an abnormal shape that accumulates until the cell ceases to function. Infected animals begin to lose weight, lose their appetite, and develop an insatiable thirst. They tend to stay away from herds, walk in patterns, carry their head low, salivate, and grind their teeth.
For more information regarding CWD in Mississippi, visit our website at www.mdwfp.com or call us at (601) 432-2199. Follow us on Facebook at www.facebook.com/mdwfp or on Twitter at www.twitter.com/MDWFPonline
Help Prevent CWD in Alabama: Hunters should know the law, follow guidelines
Many of Alabama's deer hunters have already spent time this season hunting the rut in several Midwestern states. The Alabama Department of Conservation and Natural Resources reminds those hunters that Alabama law prohibits the importation of deer carcasses and certain deer parts from other states and Canadian provinces where Chronic Wasting Disease (CWD) has been confirmed.
CWD is a fatal disease affecting the central nervous system of cervids (deer and other deer-like animals). The disease attacks the brain of an infected animal causing it to become emaciated, display abnormal behavior, lose bodily functions, and eventually die. The introduction of this disease into the state could have significant impacts on Alabama's deer herd.
Alabama hunting regulations ban the import of live deer, whole carcasses, and certain body parts of any member of the family Cervidae from CWD-positive states. This includes, but is not limited to, white-tailed deer, mule deer, elk, moose, and caribou. Parts that may be legally imported include completely deboned meat; cleaned skull plates with attached antlers, if no visible brain or spinal cord tissue is present; upper canine teeth, if no root structure or other soft tissue is present; and finished taxidermy products or tanned hides.
CWD has been found in captive and/or wild deer in 24 states, two Canadian provinces, Norway, and South Korea. It is not known to be transmissible to humans or domestic livestock. To date, there have been no positive tests for CWD in Alabama.
Alabama and 36 other states ban the importation of cervid body parts from CWD affected areas. Violation of Alabama's animal parts ban is a class C misdemeanor.
Before transporting harvested deer from CWD-positive areas, hunters should keep these facts in mind:
• The following states and Canadian provinces are currently CWD-positive: Alberta, Arkansas, Colorado, Illinois, Iowa, Kansas, Maryland, Michigan, Minnesota, Missouri, Montana, Nebraska, New Mexico, New York, North Dakota, Ohio, Oklahoma, Pennsylvania, Saskatchewan, South Dakota, Texas, Utah, Virginia, West Virginia, Wisconsin, and Wyoming. Importation of certain deer body parts from these states and provinces into Alabama is illegal.
• Before returning to Alabama with a deer harvested in a CWD-affected area, hunters should completely debone the animal, remove and dispose of any brain or spinal tissue from skull plates, raw capes and hides. Root structures and other soft tissue should be removed from all teeth. Finished taxidermy products and tanned hides are not affected by the ban.
• Some states prohibit the importation of these same deer parts from any state or province, whether they are CWD positive or not.
• Alabama hunters going out of state should check the regulations of their destination states regarding handling and tagging of carcasses before preparing their deer for transport back to Alabama.
ADCNR needs everyone's support to maintain Alabama's CWD-free status. To report the importation of live or harvested deer, call Operation GameWatch at 1-800-272-4263. If possible, provide a name and description of any suspects including vehicle description, license plate, and the time and location of the observation. Resident deer exhibiting signs of CWD can also be reported via GameWatch.
To learn more about CWD, visit www.outdooralabama.com/chronic-wasting-disease-what-you-should-know.
The Alabama Department of Conservation and Natural Resources promotes wise stewardship, management and enjoyment of Alabama's natural resources through four divisions: Marine Resources, State Lands, State Parks, and Wildlife and Freshwater Fisheries. To learn more about ADCNR, visit www.outdooralabama.com.
Sportsmen's Caucus Celebrates 10th Year in Alabama
By David Rainer, Alabama Department of Conservation and Natural Resources
With barbecue and wild-game delicacies on the menu, the Alabama Legislative Sportsmen's Caucus treated Alabama legislators and guests to lunch to celebrate the 10th year of the Caucus in Alabama.
Alabama is one of 48 states that are members of the national organization, the Congressional Sportsmen's Foundation.
Senate President Pro Tem Del Marsh and Representative Randy Davis, Alabama's Caucus leaders, explained to attendees how important hunting and fishing are to Alabama for a variety of reasons.
"It's hard to believe we did this back in 2008," Sen. Marsh said of the formation of the Alabama Caucus. "I really didn't know if this would get any legs under it or not. But it seems every year we're getting more and more participation, not only from legislators, but those who love wildlife and hunting. I don't think people realize the economic impact hunting and fishing have on Alabama. It is huge.
"As we move forward, there is some hunting-related legislation we're dealing with now that we're going to give a lot of consideration. But, we're going to continue to do things in the Legislature that promote hunting and fishing in this state. In Alabama, we're blessed – with incredible waterways; the Forever Wild program is creating places for people to hunt; and just the hunting industry in general is important to Alabama."
Rep. Davis pointed to the economic impact sportsmen and women have on Alabama.
"Hunting and fishing is a $3.5 billion industry in the state, and it is growing each day because these groups are working together, creating such things as the Alabama Bass Trail and recruiting Polaris, which is now made here in Alabama," Davis said. "The Caucus is about protecting and advancing traditional hunting rights in Alabama, recognizing our natural resources, working on conservation to enhance hunting, fishing and wildlife habitat that is a part of the state and reasonable public access to hunting lands. We have a no-net-loss statute that keeps land available for folks to go and hunt. We also are protecting the investment of sportsmen and women in the wildlife industry. We network with 48 other states. It's very important what we're doing here."
Chris Blankenship, Commissioner of the Alabama Department of Conservation and Natural Resources (DCNR), said that the economic impact of hunting and fishing is no doubt important, but those activities have intrinsic values that are hard to measure.
"Hunting and fishing are very important to Alabama, both economically and culturally," Blankenship said. "We talk a lot about the economic value, but it's really just a way of life here in Alabama. It means so much to our quality of life. We can't work all the time. We're a state that works. People enjoy that, but they also enjoy their recreational opportunities. Hunting and fishing mean a lot toward true happiness."
Blankenship said there are about 215,000 licensed hunters in Alabama with almost a $2 billion economic impact.
"Deer hunting alone has about a billion-dollar economic impact," he said.
Blankenship said about 500,000 fishing licenses are sold in the state annually with a $1.5 billion economic impact.
"Like Representative Davis said, hunting and fishing puts about $3.5 million into our economy annually," he said. "And our State Parks and Forever Wild land provide additional outdoor opportunities. Then you have the TVA (Tennessee Valley Authority) and the Alabama Power lakes that seem to draw people in droves in the summertime."
Blankenship noted that Alabama's abundant natural resources and skilled labor force translate into an expanding outdoors industry in the state.
"There are great companies in Alabama that employ thousands of people in our state that are part of the hunting and fishing industry," he said. "I always leave somebody out, but we have Polaris, Remington, Pradco, Bass Pro and Cabela's. Our newest company, Kimber Arms, is opening a new facility in Troy. But dwarfed by those are the thousands of jobs in small businesses that make fishing lures, hunting clothes and other hunting and fishing equipment and gear.
"I think the Congressional Sportsmen's Foundation and the Sportsmen's Caucus is very important. If you have people who hunt and fish in your district, I think it would be good to be a member of the Sportsmen's Caucus."
Bee Frederick, the Southeastern States Director for the Congressional Sportsmen's Foundation, organized the luncheon along with Patrick Cagle, a member of the Alabama Conservation Advisory Board.
"The main thing we want to do is recognize there is an active Sportsmen's Caucus here in Montgomery so we can provide that nexus for sportsmen and women to have a voice in the halls of government and the DCNR," Frederick said. "We want to make sure our legislators are informed on the latest issues that are important to sportsmen and women across the state.
"Ideally, we are able to inform the lawmakers, but also the other sportsmen's groups in the state, about issues that are going on and the importance of hunting and angling in Alabama. Over 2,000 legislators across the country are associated with the National Assembly of Sportsmen's Caucuses. We have a nationwide network of pro-sportsmen elected officials, and we want to provide a venue for information sharing across the states."
Cagle, who is in his third year on the Alabama Conservation Advisory Board, pointed out that DCNR gets no money from the Alabama General Fund and that hunters and anglers provide the support for the Department.
"It is important that Alabama legislators understand how the Conservation Department works, how hunters and fishermen pay for the activities that ensure we have abundant wildlife and fisheries," Cagle said. "I think the luncheon was a great success. We were able to sign up several legislators at the luncheon, and it was a chance for the Department of Conservation to present its message in front of legislators."
Nationally, the Congressional Sportsmen's Foundation is promoting legislation that will affect Alabama.
The Modernizing the Pittman-Robertson Fund for Tomorrow's Needs Act of 2016 amends the Pittman-Robertson Wildlife Restoration Act. Pittman-Robertson levies an excise tax on firearms, ammunition and archery equipment and distributes that money to states based on license sales.
The modernization bill would extend financial and technical assistance to the states for the promotion of hunting and recreational shooting. A portion of the bill would allocate funds that may be used for any activity or project to recruit or retain hunters and recreational shooters.
The Foundation is also promoting the Modernizing Recreational Fisheries Management Act, or Modern Fish Act, which would recognize the contribution of the nation's more than 11 million saltwater anglers.
The saltwater recreational fishing industry contributes more than $70 billion to the economy each year and supports 455,000 American jobs.
The Foundation and Congressional sponsors said current legislation under the Magnuson-Stevens Act does not properly recognize the importance of recreational fishing, and that has led to restrictions on the angling community in terms of short seasons and reduced bag limits.
Commissioner Blankenship testified before a Congressional House Committee in Washington, D.C., on the bills in September.
This new bill would allow alternative management for recreational fishing, which would include a new look at fisheries allocations, rebuilding fishery stocks and improving recreational data collection.
In fishing-related news, the Gulf of Mexico Fishery Management Council voted to issue Alabama and the four other Gulf states exempted fishing permits for the recreational red snapper seasons in 2018 and 2019. This action must go through a public comment period and then to NOAA Fisheries for final approval.
Auburn University's Kreher Preserve and Nature Center added to Alabama Birding Trails
The Alabama Birding Trails has announced that Auburn University's Louise Kreher Forest Ecology Preserve, informally known as the Kreher Preserve and Nature Center, will be designated as an Alabama Birding Trail location as part of the regional Piedmont Valley Birding Trail.
The 120-acre preserve, located just north of Auburn, features five miles of well-marked trails which traverse seven natural bird habitats including pine, oak/hickory, bottomland hardwood and mixed pine/hardwood. As part of the Saugahatchee Creek Watershed, visitors will also find a stream, small waterfall, pond and wetland areas.
Approximately 80 different bird species can be found on the property throughout the year, including the belted kingfisher, Mississippi kite and indigo bunting. The preserve habitat hosts migratory birds in the spring such as warblers, vireos, tanagers and orioles. Fall and wintering birds such as nuthatches, kinglets and woodpeckers are frequently observed.
Visitors to the Kreher Preserve are also able to observe various species of raptors including hawks, owls and vultures. Nesting bald eagles are present on nearby properties and are frequently observed flying into and over the preserve.
"The Kreher Preserve and Nature Center is enjoyed by the university community as well thousands of locals and visitors every year," said Janaki Alavalapati, dean of the Auburn University School of Forestry and Wildlife Sciences. "We hope that by adding it to the Alabama Birding Trail even more families will be exposed to the opportunity to enjoy this unique discovery center with its miles of beautiful trails, natural habitats and educational programs."
Preliminary findings from the U.S. Fish and Wildlife Service's 2016 National Survey of Fishing, Hunting and Wildlife-Associated Recreation estimates that in 2016, more than 101 million Americans—nearly 40 percent of the U.S. population—participates in some form of fishing, hunting or other wildlife-associated recreation such as birdwatching or outdoor photography.
"The economic impact of outdoor and wildlife-related recreation is a boom for the U.S. economy representing nearly 1 percent of the gross domestic product," said John Wild, president of the Auburn Opelika Tourism Bureau.
"With the addition of the Kreher Preserve and the Lee County Fishing Lake to the growing list of birding sites in Lee County, including the Wood Duck Preserve and Chewacla State Park, we anticipate the new designations will draw more people to the Auburn/Opelika area who will also visit our hotels, enjoy meals in restaurants and make retail purchases while they are here."
The Kreher Preserve and Nature Center is located at 2222 North College Street in Auburn. It is open to the public every day from sunrise to sunset and features amenities such as a picnic area, restrooms, drinking fountains, boardwalks and two improved parking areas.
The preserve was established in 1993 with a gift of land from Louise Kreher Turner and Frank Allen Turner to Auburn University and is operated by the School of Forestry and Wildlife Sciences as a not-for-profit outreach program.
The Alabama Birding Trails is a partnership of the Alabama Department of Conservation and Natural Resources, the University of Alabama Center for Economic Development and the Birmingham Audubon Society. It highlights many of the birds found in Alabama and encourages economic development through a tourism-based model.
More information about the Kreher Preserve and Nature Center can be found online at http://wp.auburn.edu/preserve/. More information about Alabama Birding Trails can be found online at https://alabamabirdingtrails.com/. Written by Jamie Andersonau bird
Grazing Pilot Announced for Alabama's Black Belt Counties
USDA-Natural Resources Conservation Service (NRCS) State Conservationist for Alabama Ben Malone announced that a grazing pilot targeting small, socially disadvantaged producers in the Black Belt region will continue. The grazing pilot, which is funded under the Environmental Quality Incentives Program (EQIP) will target socially disadvantaged producers in the following counties: Lowndes, Dallas, Wilcox, Marengo, Hale and Perry. This grazing project is a joint effort between NRCS and The United Christian Community Association (TUCCA), a local community based organization that has identified specific conservation needs for livestock producers in the area. TUCCA has received a 2501 grant to provide hands on technical assistance to eligible farmers. Through this project, NRCS and the association will work with livestock producers on implementing conservation practices that will improve forage quality and quantity and reduce soil erosion through rotational grazing planning. Eligible livestock producers are encouraged to visit their local USDA Service Center to sign up between February 1, 2018 and March 1, 2018.
AFC Names New Assistant State Forester
State Forester Rick Oates is pleased to announce that the Commissioners have approved the appointment of Bruce Springer as Assistant State Forester. Additionally, Brigetta Giles has been selected as Southeast Regional Forester to fill the vacancy left by Springer's promotion. Both officially assumed their new responsibilities February 1.
Springer has over 26 years of service with the Alabama Forestry Commission in various forestry and leadership positions. He began his career with the AFC as a staff forester in 1991. For the next ten years, he served as County Manager in Chilton County. He then transferred to state headquarters in Montgomery as Forest Management Division Director, a role in which he served for four years, overseeing all forest management assistance programs to forest landowners statewide. Assuming the duties of Regional Forester in 2005, he has held that position up to the present, supervising up to 60 regional- and county-level staff in 18 counties with an annual budget up to $5 million. A registered forester in the state of Alabama, Springer holds a bachelor's degree in forest management from Oklahoma State University and a master's degree in forest management and business from Purdue University. Originally from Columbus, Ohio, he moved to Alabama in 1983 to work for Sizemore & Sizemore, an international forestry consulting firm. Mapping over a million acres of forestland while employed there, he says he gained invaluable experience in timber inventory and appraisals, as well as an understanding of forest industry and forest markets throughout the Southeast. Springer and his wife, Virginia, live in Thorsby. They have two adult children, and three grandchildren.
Also a registered forester in the state of Alabama, Brigetta Giles has 24 years of service with the Alabama Forestry Commission. She has held a variety of positions, garnering forestry and leadership experience both in the field and at the state forestry headquarters. While earning a Bachelor of Science in Forest Resources from Auburn University, she completed a co-op with the US Forest Service. Upon graduation in 1993, she began her career as a staff forester with the AFC in 1994. Following a five-year stint conducting timber surveys as an FIA Forester, she ultimately served as FIA Coordinator for the agency. She then assumed the duties of Stewardship Coordinator for the next three years. Having a desire to get back in the field with more landowner contact, she became Autauga County Forester in 2006. She then transferred to the Dallas/Perry/Bibb Forester spot for a few years, eventually coming back as Autauga County Forester in 2014. For the last two years she has held the responsibility of Work Unit Manager for Autauga, Chilton, Montgomery, and Lowndes counties. Giles and her husband, Jeff, live in Plantersville. They have two daughters.
The mission of the Alabama Forestry Commission is to protect and sustain Alabama's forest resources using professionally applied stewardship principals and education, ensuring that the state's forests contribute to abundant timber and wildlife, clean air and water, and a healthy economy. To learn more about the AFC, visit www.forestry.alabama.gov.
Photogenic hawk on Hwy. 60
This hawk enjoyed a winter's day in the sunshine and posed for a series of photos, including this one, on Friday, January 19 on Ala. Hwy 60 near Stewart. Photo by Tiffany Vaughn
Life Hunt Participants Complete Buck-Sweep
By David Rainer, Alabama Department of Conservation and Natural Resources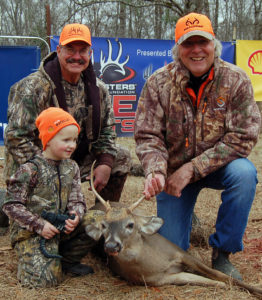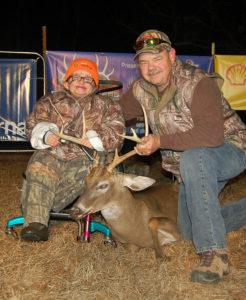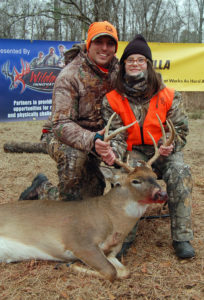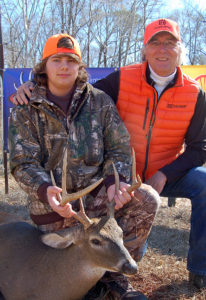 Ryan Noffsinger) All four hunters from Alabama who participated in the 2018 Buckmasters Life Hunt went home with bucks. From top, Abigail McHenry and her dad, Jason, bagged a big buck on the last day of the hunt. Rhae Busby and David Sullivan of the American Deer Foundation are all smiles after Busby took the first buck of the event. Buckmasters founder Jackie Bushman joins Daniel Allen and his grandfather, David Strickland, to celebrate Daniel's success. Bushman and Taylor Watts show off his Life Hunt trophy.
Every hunter at the 2018 Buckmasters Life Hunt at Sedgefields Plantation went home with great memories. And with a snowstorm approaching, each hunter bagged a buck before the three-day event was complete.
Going into the final afternoon hunt, David Powell of South Carolina had taken a doe earlier in the hunt but was the only participant without a buck. Powell completed the buck-sweep by dropping a 10-pointer as sleet started to pelt the ground blind.
Another hunter didn't take her buck until the final day of the event, but Abigail McHenry of Deatsville, Ala., scored on the morning hunt. Abigail was sponsored on the hunt by the Alabama Conservation Enforcement Officers Association.
Abigail, 14, is the daughter of Jason McHenry, a conservation enforcement officer with the Alabama Wildlife and Freshwater Fisheries Division. Abigail was born prematurely and suffers from cerebral palsy.
When we talked about her hunt, the first thing she said was, "I was excited." And she affirmed that her heart was really pumping.
Abigail had been practicing with her dad, and it definitely paid off. When I asked her what happened after she shot, her answer was, "He hit the ground."
Jason said the two had been practicing with some adaptive equipment, a Caldwell Deadshot Fieldpod Max with an iPhone adapter. When they arrived at the blind, it became apparent they would have to adjust.
"We had been working a Deadshot, and typically we were using that with a Snakelook hookup for the iPhone to look through the scope," McHenry said. "As far as the setup with the blind, the Deadshot wouldn't fit in the blind, so I shouldered the gun for her, and she pulled the trigger.
"When she shot it, the buck mule-kicked and took one step forward. It was standing, so we put another round in it and dropped it. When we watched the video, after that first shot, you could tell he was about to fall when we took the second shot."
The McHenrys indicated they couldn't be happier with the outcome.
"I'm excited for Abigail," Jason said. "It gave us a great time together. Our guide, Jeff Woods, was awesome. He really took time with Abigail and just made her laugh and enjoy the hunt.
"The experience, as a whole, has been great. Abigail has been smiling all morning since she got the deer. It gives her some bragging rights to go back home and tell her brothers and sisters (five), because she's the only one that has been a part of killing a buck."
Rhae Busby of Demopolis, Ala., who suffers from brittle bone disease, had to sit out the final day of hunting after fracturing her collarbone the night before. However, she already had her buck down when that happened. In fact, Rhae was the first hunter to put a buck on the ground, an eight-pointer.
Rhae's mother, Dana Busby, shared on Facebook about the event.
"Every hunter this year was able to take a buck," Dana posted. "Rhae killed the first buck of the hunt, so she was given a really nice Buck knife. David Robertson, pitcher with the Yankees, came out (as he does every year) and spent some time with the kids and families and gave all the hunters a jersey and hat, which he signed. You couldn't meet a nicer guy. Rhae received several other gifts from several organizations. Buckmasters put on an amazing three-day hunt that we were blessed and grateful to be a part of. Just want to say a big thank you to David Sullivan for getting us involved and to everyone else it took to pull this event off. I tried to thank everyone I could before we left. Y'all made one little girl extremely happy."
Daniel Allen, a 6-year-old from Coke, Ala., who has survived leukemia, took his first buck with the help of the guides and his grandfather, David Strickland, who relived the successful hunt.
"A nice buck crossed out of range so I roused Daniel up from his stool where he was napping," Strickland posted. "Then we spotted two does headed towards the field in front of our ground blind at about 100 yards. The camera guy and guide looked at each other and told him to shoot the lead doe. I whispered, 'Right behind the shoulder,' and he shot. It dropped low and ran about 70 yards and hit the ground (perfect lung shot). I then noticed a buck easing across a dirt road headed the same way. We quickly extracted the spent shell and he pushed another round into the single shot. The guide stopped the trotting buck with a grunt and he stared in our direction. He aimed, shot and missed. I quickly opened the breach and slipped in another round. I whispered, 'Slowly squeeze the trigger.' He shot again and the buck buckled without a twitch."
Taylor Watts of McCalla, Ala., a 16-year-old childhood cancer survivor, also bagged an eight-point during the event.
David Sullivan, who heads the Buckmasters American Deer Foundation, said hunters came from as far away as the Upper Peninsula of Michigan to hunt at Sedgefields, one of the top places to hunt in the Alabama Black Belt, which is renowned for its deer and turkey hunting.
The Life Hunt has been taking place at the Hinton family property since 2000, and Sullivan lauded the time and effort that goes into the hunt each January, both from the Hinton family and the many volunteers and guides.
"I think the Life Hunt has gotten better every year," Sullivan said. "We've been able to refine the way we do things, and we have a lot more help than we used to. We have a lot more resources donated, which allows us to help more people. We have more sponsorships, which allows us to buy more adaptive equipment the hunters need."
As was mentioned by Rhae Busby's mom, David Robertson, a relief pitcher with the New York Yankees who hails from Tuscaloosa, again joined the Life Hunt to provide encouragement as well as mementoes.
"This is something I look forward to all season long," Robertson said. "I can't wait to hang out with these guys and see all the new hunters coming in. I love seeing smiles on faces when they're putting their hands on horns and taking pictures. I just hang out, drift around and talk to people. I try to make them feel happy and comfortable.
"It's different for me to hang out in this type of environment. It's fun to me to go around and find out how everyone's hunt went. Most people here get their first deer. I remember how excited I was when I got my first deer. That was 24 years ago at Mike Spruill's place near Tuscaloosa. It was a big, ol' three-point. I had my dad with me. I will never forget it."
Your Donations Help Support Alabama's Wildlife
State income tax check-off makes it easy
You might not associate wildlife with doing your state income taxes, but there is a connection. The Alabama Nongame Wildlife Fund check-off box on the state income tax form provides citizens a way to donate all or a portion of their state tax refunds for the benefit of nongame wildlife.
Alabama is home to more than 1,000 species of animals that are categorized as nongame – species that are not hunted, fished or trapped. The Nongame Wildlife Program, administered by the Alabama Department of Conservation and Natural Resources (ADCNR), is responsible for many programs including conducting wintering surveys of bald eagles, shorebird surveys on the coast, and research on threatened and endangered species such as wood storks and red-cockaded woodpeckers.
The Nongame Wildlife Program does not receive any state tax dollars. It is partially funded by the citizens of Alabama through tax-deductible donations. In 1982, the Alabama Legislature enacted a law providing for the Alabama Nongame Wildlife Fund check-off box on the state income tax form. These donations are matched with federal funds, so even the smallest donation is valuable. The federal funds come from the Pittman-Robertson Act, a federal excise tax on sporting firearms, ammunition and archery equipment. Those funds are set aside for wildlife restoration and management.
Past donations to the Nongame Wildlife Program helped bring back bald eagles, ospreys and bluebirds to Alabama, but many other nongame wildlife species still need help. If you enjoy watching wildlife, here is your chance to lend it a helping hand. Make a donation to the Alabama Nongame Wildlife Fund on your state income tax form.
For those not receiving a state income tax refund, tax-deductible donations can be made to Alabama's Nongame Wildlife Program, Alabama Division of Wildlife and Freshwater Fisheries, 64 North Union St., Montgomery, AL 36130. For more information, call 334-242-3469.
For more information about Alabama's Nongame Wildlife Program, visit www.outdooralabama.com/non-game-wildlife.
The Alabama Department of Conservation and Natural Resources promotes wise stewardship, management and enjoyment of Alabama's natural resources through four divisions: Marine Resources, State Lands, State Parks, and Wildlife and Freshwater Fisheries. To learn more about nongame wildlife and ADCNR, visit www.outdooralabama.com.
Makeup Educational Session On Avoiding Residues In Catfish
The Alabama Cooperative Extension Service will offer a makeup educational session on avoiding residues in catfish for those who missed the Catfish Update Meeting. The session is meant to help the industry avoid future domestic catfish recalls due to residues. Anyone involved in the catfish industry is urged to attend. The session will focus on the veterinary drugs and chemicals used in catfish production and the potential impact these have on residues. Those attending will receive a certificate of completion with a registered number.  The session will be held at the Alabama Fish Farming Center in Greensboro, on Friday, February 2, 2018, from 8:30-10 a.m. Please call the Alabama Fish Farming Center at (334) 624-4016 to reserve your spot at this educational session.
Special Youth Waterfowl Hunting Day on February 3
The Alabama Division of Wildlife and Freshwater Fisheries (WFF) has designated February 3, 2018, as one of the 2017-18 hunting season's Special Youth Waterfowl Hunting Days. On that day, youth under age 16 may hunt when accompanied by a licensed adult hunter. Regular waterfowl season shooting hours, bag limits, legal arms and ammunitions apply to the special days.
To participate in the hunt, individuals must be accompanied by an adult supervisor. The adult supervisor, who may not hunt, must remain within arm's length of the youth at all times. The adult supervisor may accompany up to two youth participants during the hunt.
Youth is defined as an individual age 15 years and younger. Adult is defined as an individual age 21 years and older, or as the parent of the youth. The adult must have a state hunting license, state and federal waterfowl stamp, and a free harvest information program registration.
Only one firearm will be allowed per youth, and only the youth hunters will be permitted to utilize the firearm for hunting. The adult is expected to review the rules of firearm safety and hunter ethics with each youth and ensure they are followed.
For more information on the Special Youth Waterfowl Hunting Days, contact WFF Waterfowl Coordinator Seth Maddox at Seth.Maddox@dcnr.alabama.gov or 256-437-2788, or visit www.outdooralabama.com/waterfowl.
The Alabama Department of Conservation and Natural Resources promotes wise stewardship, management and enjoyment of Alabama's natural resources through four divisions: Marine Resources, State Lands, State Parks, and Wildlife and Freshwater Fisheries. To learn more about ADCNR, visit www.outdooralabama.com.
UA's Moundville Archeological Park's Knap-In
Our annual Knap-In will be held Friday and Saturday, March 9-10 at 9 a.m. – 4 p.m. each day. Flint-Knappers will be on hand to show and explain their craft. Vendors of Native American craft items will be selling their handiwork, and an Ancient Tools and Weapons range will be set-up. Educational activities and make and take crafts will be offered, and on Saturday, pottery firing demonstrations will be held. Also enjoy Indian Tacos and other traditional fare prepared by Juanita Gardenski. Be sure to bring out the whole family for a fun-filled weekend at the Park! Come join us! All events are free with regular admission. For more information, call us at (205) 371-8732.

Sporting Chef Shares Tips for Tasty Venison
Photo and story by David Rainer, Alabama Department of Conservation and Natural Resources: Scott Leysath, The Sporting Chef, slices seared venison hind quarter to prepare a dish for those in attendance at the SEOPA conference last fall. A quick sear is all venison needs and don't overcook it.
With Alabama in the peak of deer season, freezers are getting full, which means it's time to prepare some tasty venison.
As a buddy and I were discussing on a trip home from a hunting excursion, venison got a bad rap back in the day because of several reasons. Most deer hunting in the mid-20th century was done in front of a pack of hounds on a hot deer trail. Plus, it was verboten to shoot a doe back then. Hence, bucks replete with rutting hormones or lactic acid from being chased by the hounds, or both, made some of the meat less than palatable.
There was also the practice of hauling a nice deer around in the back of the truck to show all your buddies that contributed to the venison stigma.
That last practice is what really irks Scott Leysath, aka The Sporting Chef, when he hears people complain about the taste of venison. Leysath, who has roots in Grand Bay, Ala., and once produced the "Hunt, Fish and Cook" show out of Huntsville, said the care of the deer carcass right after it is harvested is a crucial step to tasty venison.
"I've spent a lot of time in Alabama," Leysath said. "Despite this recent cold spell, it can be a little warm during deer season. When I see people driving around with deer in the back of their trucks before it has been field-dressed, it makes me cringe. As with any animal, you need to get deer cleaned and cooled as fast as possible. If you ride around with the deer in the back of the truck, it's not going to encourage it to taste good when it's cooked."
The best-case scenario, according to Leysath, is to have access to a walk-in cooler where the skinned deer carcasses can be hung for at least a week. He hangs larger animals for up to two weeks. The failure to properly age the venison can lead to a chewy meal.
"I actually had a buddy of mine from Centre, Ala., call me and say he had done everything I told him to do to prepare the venison," Leysath said. "He said, 'I did not overcook the backstrap. It was 130 degrees in the center. I made that balsamic dressing to go with it. But it was really, really, really tough.'
"I asked him when he shot the deer. 'Yesterday.' He hadn't given that meat a chance. It has to go through rigor for 24 hours, and then you have to let it hang or age. If that backstrap had been aged for a week, it would have been a whole different animal."
Leysath said that venison that is frozen soon after harvest can still benefit from the aging process. If you don't have access to a walk-in cooler but have room in a refrigerator, you can put the meat on a rack above a pan and let it age. Another option is to use a large ice chest, but don't put the venison in the ice. Arrange some method to keep the venison elevated above the ice and ensure the temperature inside the ice chest doesn't get above 40 degrees.
"You're going to lose some crusty bits that aren't going to look all that pleasant after a week or two, but the rest of it is going to be a lot more tender," he said. "After a couple of weeks, the meat will lose about 20 to 25 percent of its weight, but what is left is good stuff. The dry-aging and hanging makes all the difference in the world."
Leysath also has a pet peeve about trying to mask the flavor of wild game. He has a friend in Alabama who claims snow goose is by far the best-eating goose. His friend cuts the goose breasts into little strips and marinates them in teriyaki for 48 hours. Then cream cheese and jalapeno are added before being wrapped in bacon.
"That's the universal recipe with wild game," he said. "You marinate in who knows what, add jalapeno, some kind of cheese and bacon. Then it doesn't taste like deer, duck or snow goose. What's the point of that?"
Leysath said during his travels he has noticed that cooks in some parts of the country are predisposed to overcooking and are convinced wild game must be done all the way through.
"The biggest challenge I have with a lot of folks is to get them to quit cooking their deer quite so long," he said.
Leysath gave a venison cooking demonstration at the Southeastern Outdoor Press Association conference last fall, and the venison didn't stay long in the frying pan before he was slicing it into bite-size pieces.
"I just sort of looked at it, didn't I," he said with a laugh. "Had I kept cooking it, it would have been less tender. And that was a muscle from the hind quarter. That wasn't a backstrap. The key is, before serving, cut it across the grain. If you see long lines running through it, you're cutting it the wrong way.
"And if the internal temperature is beyond 140 degrees, it starts to get tougher. Some folks can't get past eating medium-rare venison. If I'm doing a seminar, I'll cover it up with a dark sauce, and they talk about how tender it is."
Obviously, Leysath does not apply the medium-rare rule to all venison.
"Sometimes, you want to go low and slow," he said. "If you've got a venison shoulder, leave the bone in. Give it a good rub with olive oil and whatever seasoning you prefer. I'm going to brown it and then braise it in a roasting pan with a can of beer, celery, onion and carrots at a low temp. I'm going to let that moist heat do the work for me. After a few hours, the meat is falling off the bone. I wish deer had more than four legs, because those shanks are some of the best eating when you cook them low and slow."
When Leysath wants to change skeptics' minds about the taste of venison, he uses this trusty recipe.
Backstrap and Berries
½ venison backstrap
3 tbsp olive or vegetable oil
¼ cup red wine
¼ cup balsamic vinegar
2 garlic cloves
2 tbsp berry preserves
3 tbsp chilled butter
Salt and pepper to taste
½ cup whole berries
Trim all silverskin off the backstrap and either cut into thick medallions or in chunks that will fit in the frying pan. Sear all sides of the venison in the hot oil and set aside. Add red wine, balsamic vinegar, garlic and berry preserves to pan and reduce by one-third. Add chilled butter. Slice venison across the grain. Pour balsamic-berry sauce over venison and top with your choice of whole berries.
Leysath also suggested a very simple dish of four to five ingredients with an Asian flare.
Sesame Backstrap
½ venison backstrap
¼ cup yellow mustard
½ cup sesame seeds
3 tbsp vegetable oil
¼ cup soy sauce
¼ cup rice vinegar
¼ cup chopped green onions
Optional: couple of shots of sriracha hot sauce
Take backstrap and cut into thick medallions or manageable chunks. Coat in mustard and then roll in sesame seeds (look in Asian section of the grocery store instead of spice aisle). Sear all sides of the venison in hot oil and set aside. Add soy sauce, vinegar and chopped green onions to pan. Reduce by one-third and then pour over sliced venison.
"The key is to not overcook it," Leysath said. "If all of your venison goes into a slow cooker with a can of cream of mushroom soup, you're really missing out on a whole lot of venison flavor."
Of course, many hunters will grind most of their deer, save the backstraps and tenderloins. Leysath has a proven shepherd's pie recipe that gives cooks an option other than burgers or venison chili.
Venison Shepherd's Pie
The Filling
2 tbsp vegetable or olive oil
1 cup celery, diced
1 cup onion, diced
1 cup carrot, diced
2 garlic cloves, minced
3 cups ground venison
2 tbsp flour
1 tsp kosher or other coarse salt (or 2/3 tsp table salt)
Pinch or two black pepper
1 tbsp tomato paste
1 cup chicken, beef or game broth
Dash Worcestershire sauce
The Topping
3 large russet potatoes, peeled and quartered
2 teaspoons salt
2 tablespoons butter
¼ cup half and half
Preheat oven to 400 degrees. To prepare filling, heat oil in a large skillet over medium heat. Add celery, onion, carrot and garlic. Sauté for 5 minutes. Add ground venison and cook, stirring often, until evenly browned. Sprinkle flour over and stir to mix evenly. Cook for 2 minutes. Add remaining filling ingredients, stirring to blend and cook for 2 minutes more.
Prepare topping. Place peeled and quartered potatoes in a pot. Cover with at least one inch of water. Add salt and bring to a boil. Cook, uncovered, until tender, about 20 minutes. Drain well, return to pot and whisk in butter and half and half until smooth.
Transfer filling to a lightly greased baking dish. Spread potatoes over the top and place in preheated oven until lightly browned on top and the filling is bubbly hot.
Conservation Advisory Board Meets in Montgomery March 3
The Alabama Conservation Advisory Board (CAB) will hold its first scheduled meeting of 2018 on Saturday, March 3, in Montgomery, Ala. The meeting will take place at the Alabama State Capitol Auditorium, 600 Dexter Ave., Montgomery, Ala., 36104. Visitors should use the entrance behind the Capitol on North Union Street.
Registration for those wishing to address the board will be from 8-8:30 a.m. The meeting will begin promptly at 9 a.m. Attendees with printed information they wish to share with CAB members are encouraged to bring 16 copies of the material for distribution.
The CAB assists in formulating policies for the Alabama Department of Conservation and Natural Resources (ADCNR), examines all rules and regulations, and makes recommendations for their change or amendment. This includes hunting seasons and bag limits.
The board is comprised of 10 members appointed by the Governor for alternating terms of six years. Joseph Dobbs, Jr., of Birmingham currently serves as chairman. Additional CAB members include Greg Barksdale of Hanceville; Jessica Butler of Scottsboro; Patrick Cagle of Montgomery; Grady Hartzog of Eufaula; Brock Jones of Boligee; Raymond Jones, Jr., of Huntsville; Jeff Martin of Pell City; Ben C. Stimpson, Jr., of Mobile; and Gary Wolfe of Fairhope.
The three ex-officio CAB members include Gov. Kay Ivey, Agriculture Commissioner John McMillan, and Alabama Cooperative Extension System Director Dr. Gary Lemme. ADCNR Commissioner Chris Blankenship serves as ex-officio secretary.
If Americans with Disabilities Act accommodations are needed, please contact Betsy Jones at 334-242-3486 or dcnr.commissioner@dcnr.alabama.gov. Requests should be made as soon as possible, but at least seven days prior to the scheduled meeting.
The Alabama Department of Conservation and Natural Resources promotes wise stewardship, management and enjoyment of Alabama's natural resources through four divisions: Marine Resources, State Lands, State Parks, and Wildlife and Freshwater Fisheries. To learn more about ADCNR, visit www.outdooralabama.com.
Alabama Beekeeping Symposium Set for Early February
Alabama Cooperative Extension System will host the 23rd Annual Beekeeping Symposium in early February. Set for Sat., Feb. 3, 2018, the workshop will be held at the Clanton Conference and Performing Arts Center. Pre-registration continues until Jan. 19. Pre-registration includes lunch provided by the Alabama Beekeepers Association. Register online at http://www.aces.edu/go/888.
TREASURE Forest Grant
Forest Stewardship was celebrated during the Alabama TREASURE Forest Association annual meeting in Florence Oct. 26-28. The educational sessions and tours at this year's meeting were outstanding. Members were excited to learn from industry and agency professionals on a wide variety of topics. This year's conference was marked by a special appearance from Governor Kay Ivey. Governor Ivey was recognized for her management efforts on her property by receiving her TREASURE Forest certification. Hale County Natural Resource Council helped supplement the cost of the meeting, so landowners were able to attend and learn how to better manage their forests, with a grant of $2500 from the Tombigbee R C & D Council.
Black Bear Sightings Likely to Increase in Alabama
By Davide Rainer, Alabama Department of Conservation and Natural Resources
Interaction between humans and black bears saw an uptick last year, and that will likely be the trend for the near future, at least in one corner of the state, according to Dr. Todd Steury of Auburn University.
Funded by the Alabama Department of Conservation and Natural Resource's Wildlife and Freshwater Fisheries (WFF) Division's State Wildlife Grants Program, Professor Steury, along with graduate students John Draper and Chris Seals, recently completed a multiple-year study of the black bear population in Alabama.
The basic conclusions were that Alabama has two populations of black bears, one in northeast Alabama and one in southwest Alabama, and each population has a different legacy as well as likely future.
The population in northeast Alabama, with roots from the mountains of northeast Georgia, has the potential for significant expansion. Hence, the likelihood that black bear sightings will become more common in the future.
The population in southwest Alabama, which appears to be an encapsulated population, is relatively stagnant, but significantly more difficult to monitor.
"We think that most of Alabama, at one time, had black bears," Steury said. "We believe two of the sub-species kind of met in Alabama, the American sub-species from the North and the Florida sub-species from the South. Of course, black bears were pretty much hunted to extinction in the state with one very small population remaining near Mobile."
Steury said the Auburn study was prompted by the fact the black bears in the Mobile-Tensaw Delta hadn't been studied since 1992 and by an increase in the number of bear sightings in the Little River area in northeast Alabama.
"In that study in the Delta in 1992, it was a very small population," he said. "There was some concern about inbreeding because of how small it was. Part of our goal was to reexamine this population to see how they are doing. The other reason for the study was the increased sightings around Fort Payne, and we wanted to know if there is a viable population up there or just an occasional bear traveling through the area."
Bear sightings in Heflin and Oxford made headlines last year and prompted residents in those areas to voice concerns about the animals being close to public recreation areas.
Steury said his team, which included Thomas Harms, WFF's Large Carnivore Coordinator, used a variety of methods to gather bear data. The population density numbers were derived from a DNA study.
"We used two methods to gather the DNA information," Steury said. "One was eco-dogs. These dogs are trained to find bear scat. We took them into areas where we knew there were populations of bears – Mobile, Saraland and the Celeste Road areas. The eco-dogs are expensive to run, but they can get us a lot of data. I think it was about 1,000 samples in two months of work.
"But the dogs are not cost-effective if you're looking in areas where you're not sure about the presence of bears. For that, we used hair snares. It's basically a barbed-wire fence surrounding bait. The bear crosses the barbed wire to get to the bait and the barbs pull a little hair out. Then we get DNA from the hairs."
Steury said the team erected hair snares in virtually every township in Mobile County, about half of Washington County and most of Baldwin County in the southern end of the state. In the north, hair snares were placed in almost all townships between Interstates 59 and 20. The National Park Service helped the team erect snares all over Little River National Preserve.
"We were sampling very widely," Steury said. "We chose townships because that's about the size of a male home range. Overall, we had about 300 hair snares in southwest Alabama and another 100-150 in northeast Alabama."
After all the data was collected, the analysis started. The results gave researchers population numbers, genetic diversity, points of origin and connections to other bear populations.
Steury said the DNA data indicated that the population in northeast Alabama more than doubled, going from about 12 bears to 30.
"We know those bears came from north Georgia," he said. "We originally thought they might be from central Georgia around Macon, but the DNA showed they came right down the mountain from Georgia."
The results from southwest Alabama were not as conclusive because of the requirements to meet the DNA profiling.
"We only got a good estimate from 2015," Steury said. "We estimated there were 85 bears, but the estimate said there could be as many as 165. So it's still a fairly small population. Obviously, that is not a great estimate, but we'd be very surprised if there are 200 bears down there. They seem to be very localized between Wagarville and Chatom and the Celeste Road area northwest of Saraland.
"The interesting thing is Chris Seals, the graduate student working that area, said there are what he calls bear superhighways, these riparian areas, rivers and corridors where these bears move. So we can get a lot of DNA in those areas. So we're very confident about the bears in those areas. But in those areas in between, it's much harder for us to figure out how many bears are there."
The story in northeast Alabama is that bears are finding suitable habitat to establish home ranges and expand the population.
"The bears are breeding," Steury said of northeast Alabama. "We have seen numerous examples of sows with two or three cubs on our game cameras. We feel like the population there is going to grow, and there are still bears coming in from Georgia.
"We're going to have more bears up there. There is lot of great habitat in Jackson County and Talladega National Forest. It's just a matter of time for the population to expand."
The prognosis for the southwest Alabama bear population is not so optimistic.
"The habitat in southwest Alabama is disappearing," Steury said. "And, the population is not growing like it should. That is the next question we have to answer. We have some hypotheses. Those bears seem to be having good litters, but Chris is not seeing those cubs make it to adulthood. One of the aspects we're exploring is den sites. When you think of bear dens in cold weather, what do you think about – caves or holes in the ground. In north Alabama, you've got bunches of caves or holes in the ground.
"In southwest Alabama, bears don't have that. We will occasionally see denning in tree roots. What we see a lot of are nests. What we don't know is how much protection from the elements and predators those really provide. Is the reason cubs are not making it to adulthood that they don't have good dens?"
Another concern of the researchers is the lack of new genes in the southwest population.
"The genetic diversity in the southwest is really bad," Steury said. "It's worse than any bear population in the Southeast United States. Normally, to differentiate between brothers and sisters, you need eight chunks of DNA. We couldn't tell the difference between brothers and sisters with our eight chunks of DNA. It took 14 to 15 chunks of DNA to tell the difference between brothers and sisters in that population. So they've got really low genetic diversity. We don't really know how low that genetic diversity has to get to affect the population. We've captured a lot of bears, and we haven't seen any deformities or other effects."
The other conclusion derived from the DNA studies is the connection of the specific populations with other populations in the Southeast.
"The northeast population is still pretty well connected with the north Georgia population," Steury said. "The southern population does not appear to be connected with bears from Florida or western Mississippi. The DNA suggests there is basically no movement of bears into the southwest population. Bears come from Florida. We know because we track them. But they seem to get to the rivers in the Mobile-Tensaw Delta and turn around and go back.
"We do catch and collar bears. The largest bear we have caught weighed 308 pounds. Chris said he has seen one that he estimates at 400 pounds. But most of our bears average 150 pounds."
When it comes to bear-human interactions, Steury said a mailer was sent out to judge the public perception of bears.
"What we found out is that people like bears," he said. "They want to have bears in Alabama. Generally, they were not supportive of lethal management controls except in extreme situations, where there was clear danger to people."
Steury said it is rare when large predators do anything other than flee when they come in contact with humans.
"They can't risk being injured," he said. "If they're injured, they can't hunt. They can't feed themselves and they're going to die. They have no idea how hard or easy we would be to kill. They have no idea how dangerous we are, which is what basically keeps us safe."
Steury said the sightings that happened in Oxford and Heflin last year were young male bears that had been kicked out of the mom's territory. Those 2-year-old males were roaming to find new home territories.
"They can cover thousands of miles," he said. "That's why we see bears where they're not supposed to be. They are juvenile males that are exploring for a place to settle down. The thing is they never stay around. When I got the call from Heflin about what they should do, I told them to just leave it alone. In a day or two, it'll be gone.
"If they get into somebody's food or people start feeding them, that's when they become problems."
PHOTO: (Courtesy of Auburn University) Black bears in Alabama are being studied by using DNA collection devices, like barbed wire around a bait, as well as collaring adult bears. One question researchers hope to answer is whether bear nests in southwest Alabama provide enough protection for cubs.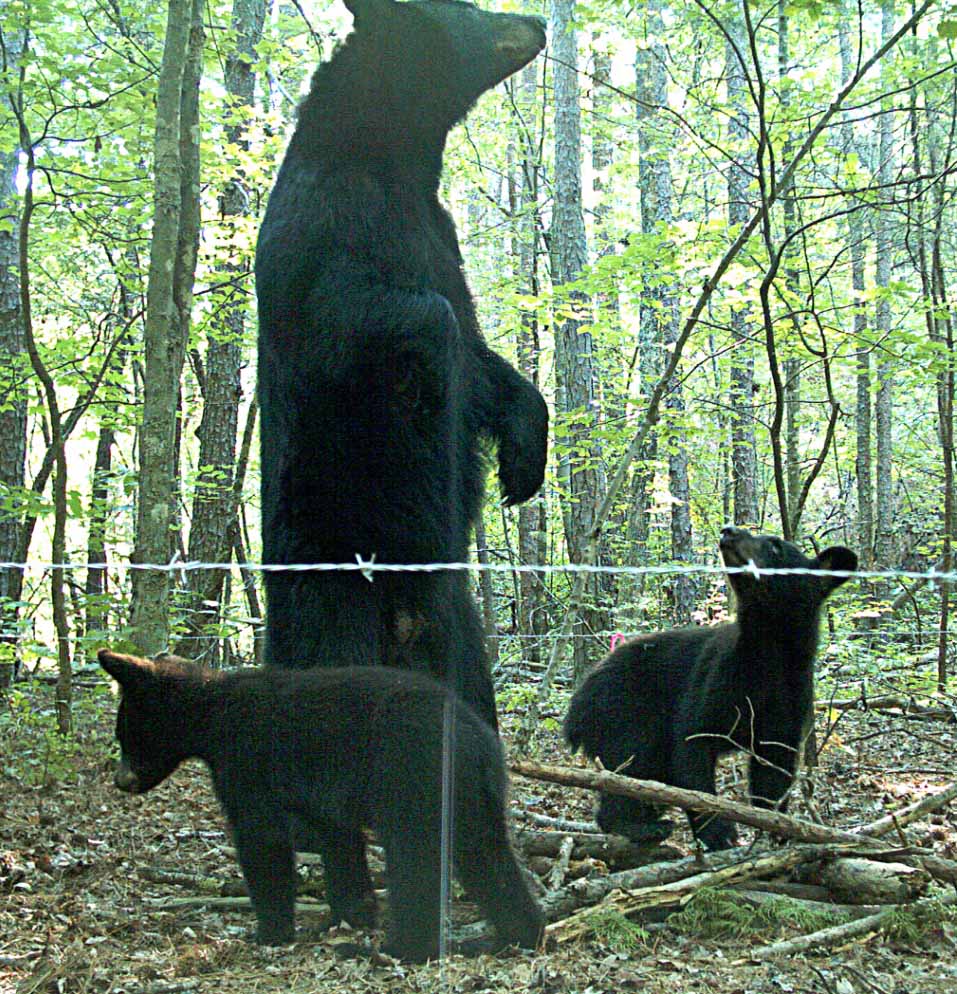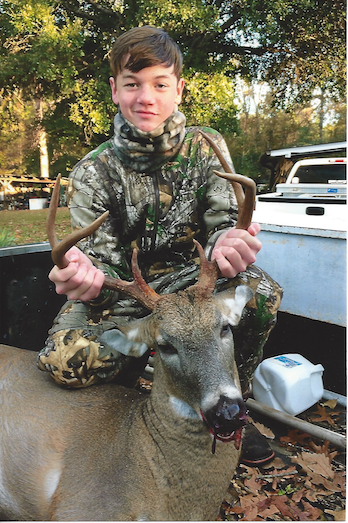 Lincoln Matherson, 12, killed this six-point 175-pound deer while hunting in Moundville during the break for Thanksgiving. He is the son of Debra Matherson and the late Sam Matherson. His grandparents are Jerry and Carolyn Matherson and Blaine and Becky Langham of Moundville. Submitted photo and information
The last sunset of autumn
A vibrant sunset was seen from Greene County on Wed., Dec. 20. The days will begin to get longer now. Dec. 21 was the Winter Solstice. Photo by Travis Vaughn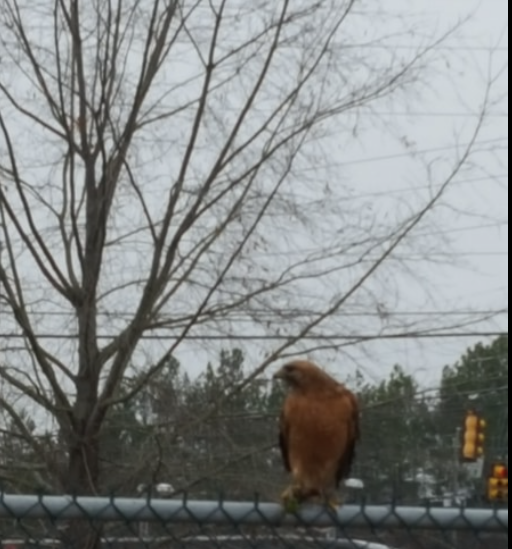 Buteo Jamaicensis, or more commonly known as a Red Hawk is commonly seen in winter, spring and fall, but not so much in summer. This lovely specimen's photo was taken by Kimberly Lester in Pelham.
Alabama "mudpuppy" to receive federal protection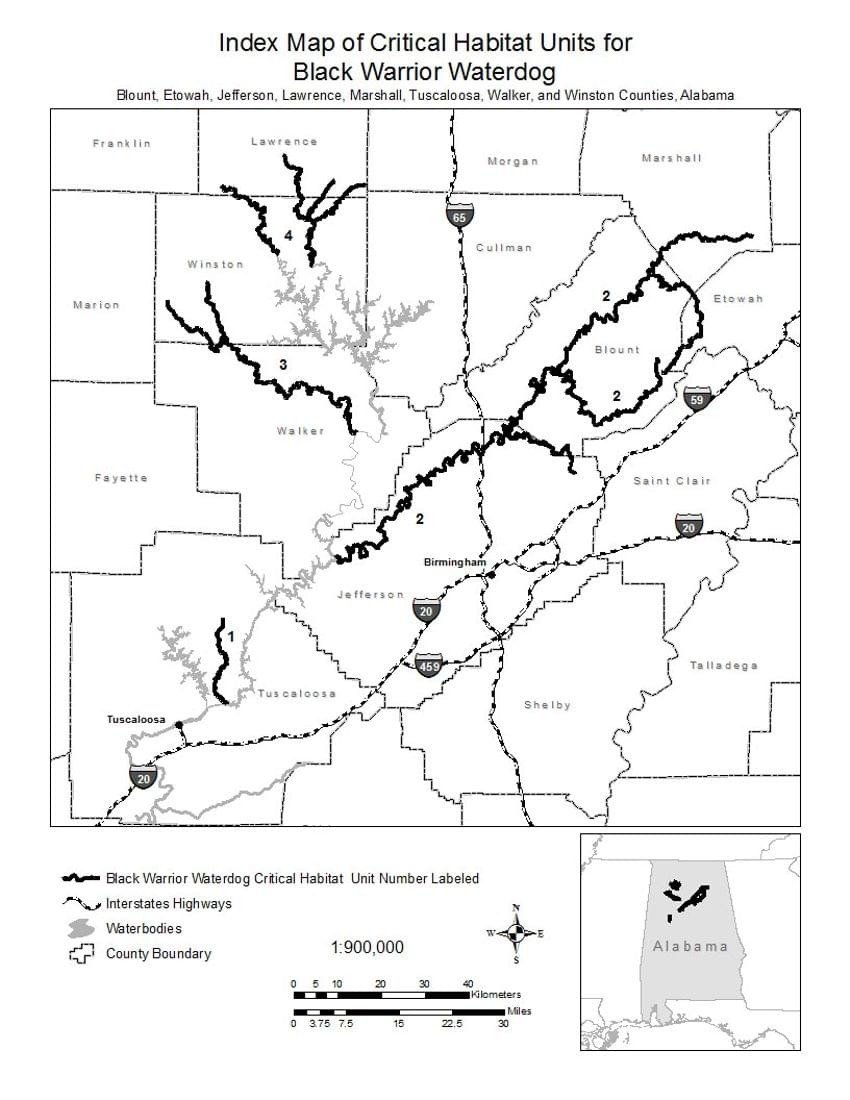 The Black Warrior waterdog, a large aquatic salamander found only in the Black Warrior River Basin in Alabama, is now a federally protected species.
The U.S. Fish and Wildlife Service (Service) listed the salamander as an endangered species under the Endangered Species Act (ESA), meaning it is in danger of extinction throughout all or a significant portion of its range. A rigorous review of the best available science has found low and declining population numbers due to loss and fragmentation of its habitat and poor water quality in the Black Warrior River Basin. The highly permeable skin and external gills of the waterdog make it particularly sensitive to declines in water quality and oxygen concentration.
The Service is also finalizing critical habitat for the Black Warrior waterdog. We are designating 420 river miles of critical habitat in four units, including 127 miles of habitat already designated for other federally protected fish, mussels and salamanders. The designation includes only areas currently occupied by the species and will protect more than 50 percent of the waterdog's historical habitat. The designation is comprised of five tributaries within the Black Warrior River Basin; Sipsey Fork (Lawrence and Winston Counties); Locust Fork (Blount, Etowah, Jefferson, and Marshall Counties); Blackwater Creek (Walker and Winston Counties); and Yellow Creek (Tuscaloosa County).
The critical habitat designation should have minimal or no impact on the forestry and coal mining community. Since there are already critical habitat designations for other species in this area, very little additional regulatory action will be necessary for the waterdog. The designation will also have no impact on private landowners taking actions on their land that do not require federal funding or permits.
Establishing critical habitat will raise awareness of the needs of the waterdog and other imperiled species and focus the efforts of our conservation partners. It also alerts federal agencies that they are required to make special conservation efforts when they work, fund or permit activities in those areas.
The Black Warrior waterdog, known by its nickname, the Alabama mudpuppy, is a large, night-loving salamander that maintains its larval characteristics, including retention of external gills, throughout its life. It is found in streams within the main channel of the Black Warrior River and parts of the North River, Locust Fork, Mulberry Fork and Sipsey Fork. Sources of pollution in the Black Warrior River Basin include runoff from industrial plants, landfills, sewage treatment plants, construction, and the historical impacts of surface mining.
The Black Warrior waterdog is recognized as a Priority 2/High Conservation Concern by Alabama, meaning the state has been actively engaged with local and federal partners in understanding and addressing the impacts to the waterdog and other imperiled wildlife that share its habitat. There are 26 federally protected animals found in the Black Warrior River Basin, 15 of which are aquatic, including the flattened musk turtle.
Consideration of the status of the waterdog was required under a court-approved litigation settlement agreement with two environmental groups.
The complete listing and critical habitat rule, which becomes effective 30 days after publication in the Federal Register, can be obtained by visiting the Federal eRulemaking Portal: regulations.gov at Docket Number FWS–R4–ES–2016–0031. A copy can also be obtained by contacting U.S. Fish and Wildlife Service, 1208-B Main Street, Daphne, Alabama, 36526.
Contacts
Denise Rowell, Public Affairs Specialist in Alabama
denise_rowell@fws.gov, (251) 441-6630

Mushroom Mystery
Got a idea of what this mushroom is? We were unsure if it was a puffball or the beginning of a umbrella mushroom. Email us at times@mound.net if you know. Photo by Peter DeCastra in Vance, Ala.
A Snowball's Chance in Hale…was pretty good on Dec. 7th!

The earliest snow in decades covered much of Alabama on Friday, December 8, with snow amounts ranging from a dusting to the north of Moundville to a couple of inches in the Moundville area and amounts approaching 3 to 6 inches for much of Hale County and other portions of the Black Belt.
Meteorologists predicted a dusting for Alabama for much of the week, but the weather system intensified and brought snow for southern Texas, Louisiana, Mississippi, Alabama, Florida, and Georgia before moving up the eastern coast of the United States.
The heavy, wet nature of the snow brought down some trees and power lines, leaving many across the region without power for as much as a couple of days as crews worked round-the-clock to restore service to residents.
No major travel problems were reported in the immediate Moundville area, according to Moundville Police Chief Toby Banks, although the Alabama Emergency Management Agency released a Civil Emergency Message on Friday afternoon on behalf of "the County Emergency Management Agencies for Sumter, Greene, Marengo, Hale, Perry, Dallas, Autauga, Chilton, Bibb, Jefferson, Shelby, Coosa, Elmore, Tallapoosa, Clay, Talladega, Randolph, Cleburne, and Cherokee Counties and Law Enforcement Officials" for those counties, requesting that residents use extreme caution on area roadways." The concern was that falling temperatures would cause roadways to freeze, "leading to hazardous travel conditions."
An early December 1997 snowfall in the Tuscaloosa region was the most recent snowfall coming so early in the season.
Thanks to everyone who contributed photos of our historic early season snowfall!
Above: Photos by Lindsey Mullins, Mike Goodall Photography, R. Davis, Adrianne Brunner, West Alabama Dog Boarding, Travis Vaughn, Tiffany Vaughn, Isaac Vaughn, Kasey DeCastra, the Srygley family and the Pearson family
Registration for the next Alabama Becoming an Outdoors-Woman (BOW) workshop opens on January 3 for first-time attendees and January 8 for both first-timers and those who have previously attended. The Alabama Department of Conservation and Natural Resources (ADCNR) sponsored event takes place at the 4-H Center near Columbiana, Ala., on March 2-4, 2018.
Registration for Spring BOW Workshop Opens January 3
BOW is a three-day workshop designed for women ages 18 years or older who would like to learn new outdoor skills. The workshop offers hands-on instruction in a fun, outdoor learning environment. Participants choose from courses such as rifle, pistol, archery, fishing, camping, hiking, canoeing, mountain biking, and many more. Two new courses will be offered this spring – wildlife identification and predator and prey.
BOW coordinator Hope Grier said the classes offer basic outdoor skills training. "There are many ladies who have not been exposed to these outdoor activities and are apprehensive about trying them," she said. "BOW is ideal for those women because everything is taught at a beginner level."
The registration fee of $275 covers meals, dormitory-style lodging, program materials and instruction. Those interested in attending are encouraged to register as soon as possible because enrollment is limited and classes fill up fast.
For more information on the BOW workshop including the class schedule, visit www.outdooralabama.com/becoming-outdoors-woman-bow or call Hope Grier at 334-242-3620.
To view photos of past BOW workshops, visit Outdoor Alabama's Flickr at www.flickr.com/photos/outdooralabama/albums/72157629421999224.
The Alabama Department of Conservation and Natural Resources promotes wise stewardship, management and enjoyment of Alabama's natural resources through four divisions: Marine Resources, State Lands, State Parks, and Wildlife and Fresh
State releases comprehensive assessment on Alabama's surface waters
MONTGOMERY—  Barring any major catastrophic event, Alabama appears poised to sustain its water needs for the next 20 years, according to an assessment report released today by the Alabama Department of Economic and Community Affairs' Office of Water Resources.
The 2017 Alabama Surface Water Assessment Report indicates that even with population growth in the state's larger metropolitan areas and projected increases in industrial and agricultural use of water resources, Alabama should have a plentiful supply of surface water – rivers, streams, lakes and reservoirs – to meet those requirements through the year 2040. The surface water report is available online at www.water.alabama.gov.
Completed by ADECA's OWR staff, the report is part of an ongoing study to determine the state's water needs and water availability. This report – along with a groundwater assessment report currently being completed by the Geological Survey of Alabama – provides a significant baseline of data and information for a potential revised statewide water management plan.
"Aside from being the sustainer of life on this planet, water has and always will play a critical role in the well-being of Alabama, and we must do all that is possible to ensure its bountifulness in our state," Gov. Kay Ivey said. "This assessment is an important step in making sure that we have a plentiful supply of water for the myriad of ways it supports our state and our quality of life."
Using the year 2010 as a benchmark, the report examines both surface and groundwater use and surface water availability from that year to help project future water needs and availability. The report examines streamflows at more than 200 locations throughout the state and summarizes water availability and water demands in every major sub-basin in the state.
"ADECA's OWR staff has devoted numerous hours to compile what is Alabama's most complete surface-water report ever produced and one that will help guide our state into the future," ADECA Director Kenneth Boswell said. "I am honored and appreciative that Governor Ivey recognized the talents, expertise and capabilities of OWR staff and charged us with completing this all-important task."
The report was made possible by an appropriation from the Alabama Legislature. The University of Alabama, Auburn University, Troy University and the Geological Survey of Alabama also supplied information for the report. OWR plans to update the report every five years.
Based on the results of the surface water and groundwater assessment reports and information previously compiled by the Alabama Water Agencies Working Group, OWR plans to propose the development of a comprehensive water management plan that includes an overview of the state's water resources, summaries of current and future water usage, existing water management policies and recommendations for additional policy needs.  The development of the state water management plan, if funded by the Legislature, would be completed within a three-year time frame.
Established by the Alabama Water Resources Act in 1993, OWR is charged with planning, coordinating, developing and managing Alabama's water resources, both ground and surface water, in a manner that is in the best interest of the state. The act also established the Alabama Water Resources Commission which advises OWR, makes policy recommendations to the Governor and Legislature, and adopts rules and regulations for programs implemented by OWR.
2018 Alabama Waterfowl Stamp Art Contest Opens Dec. 11
Judging takes place Feb.17 at "Fins, Feathers and Flowers" event
Alabama artists are invited to enter the 2018 Alabama Waterfowl Stamp art contest, which opens December 11, 2017. The winning artwork will be featured as the design of the 2019-20 Alabama Waterfowl Stamp. The Alabama stamp is required for all licensed hunters when hunting migratory waterfowl in the state. Revenue from the sale of the stamp is used to purchase, establish or improve migratory waterfowl habitat.
The competition is open to resident Alabama artists only. Only original horizontal artworks depicting a species of North American migratory duck or goose will be eligible. The American Wigeon, Canada Goose, and American Green-winged Teal — depicted in the winning artwork of the three previous years' contests — are not eligible as the subject for the 2019-20 waterfowl stamp. Entries must be postmarked no later than February 9, 2018.
The 2018 contest will take place in conjunction with the annual "Fins, Feathers and Flowers" event at Lakepoint Resort State Park in Eufaula, Ala., which runs February 16-18. Similar to Eagle Awareness weekends at Lake Guntersville, Fins, Feathers and Flowers offers a variety of activities for wildlife watchers. The weekend is a cooperative effort of the Alabama State Parks Division and the U.S. Fish & Wildlife Service.
All eligible entries will be on display at Lakepoint State Park beginning Friday, February 16. Three judges from the fields of art, ornithology and wildlife conservation will select the winning waterfowl art the following day at 1 p.m. The media and public are invited to attend.
The judging criteria will emphasize uncluttered design suitable for printing as a stamp, anatomical accuracy of the illustrated species, and artistic rendering. Close attention must be given to tone and detail, since those aspects are prerequisites for printing artwork as a stamp. Wing and feather construction must be particularly well defined. Entries may be drawn or painted in any medium. Entries cannot exceed 9 by 12 inches (15 by 18 inches matted).
Contest entry forms are available online at www.outdooralabama.com/waterfowl-stamp-art-contest-rules. Artists may also receive an entry form by contacting Seth Maddox with the Alabama Division of Wildlife and Freshwater Fisheries at seth.maddox@dcnr.alabama.gov, or by calling 256-437-2788.
The Alabama Department of Conservation and Natural Resources promotes wise stewardship, management and enjoyment of Alabama's natural resources through four divisions: Marine Resources, State Lands, State Parks, and Wildlife and Freshwater Fisheries. To learn more about ADCNR, visit www.outdooralabama.com.
Mentored Hunt Reporting
Dear Editor,
I'm writing to you to ask for help in counting hunters recruited this year, whether youth or adult. During this hunting season, if you took someone who is new to hunting and you are a current member of the NWTF, we can count them towards our goal of recruiting 1.5 million hunters for our Save the Habitat. Save the Hunt. initiative
This goes for all hunting seasons from here on out. It doesn't matter if it is turkeys, deer, squirrels or pheasant. Any time a new hunter is taken afield we need to account for that experience.
Please spread this email and this idea to your chapter members and friends that are members of the NWTF!
There are TWO options for recording these hunters.
1 – Click the link below.
https://docs.google.com/forms/d/1YDdlghpRlxGCgfAmkQoRwVrdt0DsMmQN7vHMvMcjFl8/viewform
2 – You can email your name, chapter (if known), date of hunt, type of hunter (new hunter vs. lapsed hunter) and number of hunters to the email address below:
NWTFSaveTheHunt@gmail.com
I hope that you will take the minute it takes to do this so we can work towards reaching our goals and preserving our hunting heritage for the generations to come.
Please feel free to call or email me if you have any questions, and thank you for your time!
Matt DiBona
NWTF District Biologist – New England
mdibona@nwtf.net
302-943-3239
Watching our waters: Alabama Water Watch celebrates 25 years of citizen action
Alabama's miles of rivers and streams would circle the earth five times, and for the past 25 years, a devoted group of citizen volunteers has worked to protect these bountiful water resources.
The group is Alabama Water Watch, and as it celebrates a quarter-century of service, its challenge has never been greater: monitoring more than 132,000 miles of rivers and streams as well as more than 300 species of freshwater fish, along with more abundant crayfish, snails, turtles and mussels than any other state.
The mission of Alabama Water Watch, which was established in 1992 supported in part by federal grant dollars awarded through the Alabama Department of Environmental Management, is to improve both water quality and water policy through citizen monitoring and action.
Over the years, the innovative program, based at Auburn University, has become a national model for citizen involvement in watershed stewardship, largely because of its three interrelated components—citizen monitoring groups, a participating university and a nonprofit association.
"Many people didn't think we would last a year because they thought Alabamians were not interested in their water or their environment," said Bill Deutsch, Alabama Water Watch co-founder and research fellow emeritus in Auburn University's School of Fisheries, Aquaculture and Aquatic Sciences.
Silencing the skeptics
Deutsch directed Alabama Water Watch for its first 22 years and remains heavily involved in the association. He enjoys reminding those who were skeptical in the beginning about the longevity and effectiveness of Alabama Water Watch.
"Interest in the program exploded, and over the past 25 years, we've worked with more than 300 community groups throughout Alabama," he said. "Water Watch has trained 7,400 citizen monitors who have monitored 2,300 sites on streams, rivers, lakes, bays and bayous throughout the state and submitted more than 86,000 water quality records to the Water Watch online database."
Alabama Water Watch uses EPA-approved monitoring plans with a community-based approach to train citizens to monitor conditions and trends of their local waterbodies, Deutsch said. With a "data-to-action" focus, the group helps volunteers collect, analyze and understand their data to make positive impacts.
"It's all voluntary, covering 800 bodies of water," Deutsch said. "This 'citizen science' only grows in value over time because the baseline of information gets larger."
Water Watch encourages citizens to ask if their waterbody is getting better or worse, and why, he said.
"This is a very simple but deep question," he said. "What are the conditions of my water? Can it support healthy life? Is it safe for swimming? Can I drink it or fish in it?"
The data that has been and continues to be collected is used by various organizations, consulting firms and universities throughout the state and nation, Deutsch said.
Protecting the endangered
The program also has helped in the conservation of some of the rarest creatures on the planet, he said. The only known existence of the endangered watercress darter, for example, is in five springs near Birmingham, and those bodies of water are currently being monitored.
As Alabama Water Watch celebrates its 25th year, it is setting its sights on connecting with a new, younger audience through environmental education, Deutsch said.
"When I began Alabama Water Watch, we thought the primary volunteers would be the 20-somethings, but in fact, it was the opposite," he said. "It was largely driven by retirement-age people living on our big reservoirs. The age of volunteers kept climbing, and it got to the point to where we were 'graying' and people were having to quit."
Too many children today are staying indoors and playing on their computer screens, Deutsch said.
"The connection to the natural world is getting dangerously weak, and children are afraid of being outdoors," he said.
This educational effort is needed now more than ever, especially considering budget cuts at both the state and federal levels, said Eric Reutebuch, who has served as Alabama Water Watch director since Deutsch's retirement in 2014.
Building Awareness
"We're reaching out to our youth, but we're also trying to spread the message to everyone," Reutebuch said. "Alabama has some of the most endangered species on the planet, and a lot of people don't know that. We're reaching out to the general public and trying to make them aware of this truly exceptional resource that we need to care for."
In an effort to reach new audiences, Alabama Water Watch is partnering with the Alabama Cooperative Extension System through the 4-H Alabama Water Watch program.
"In a best-case scenario, many of the young people who are exposed at an early age will get out into the streams and creeks, actually seeing the critters there," Reutebuch said. "Hopefully, they will become aware of the aquatic environment and will become monitors into their adulthoods."
Just last year, 1,800 youth were educated and trained through the 4-H program, and nearly 90 adults were trained in Living Streams workshops. The 4-H program includes students in grades four through 12.
"We've always offered opportunities for educators to get involved, but we wanted to do even more," said Mona Dominguez, coordinator of Water Watch's 4-H program. "It made sense to partner with Alabama 4-H."
Alabama Water Watch's water testing is backed by EPA-approved protocols, Dominguez said.
"The 4-H curriculum is very flexible, so educators or teachers can tweak it however they need to make it work," she said. "Participants must be at least 16 years old to do independent monitoring. But if they have a teacher or volunteer who has gone through training, they can still collect data, and it'll be used."
Thorough training
4-H Alabama Water Watch offers many training programs throughout the year. With a workshop registration of $25 and completion of the program, volunteers will receive a certification as an Alabama Water Watch water monitor, a copy of Exploring Our Living Streams curriculum, access to the online Citizen Science Data Stimulation Tool, food and lodging during the workshop and more.
Operating under the umbrella of the Auburn University Water Resources Center, Alabama Water Watch receives support from multiple sources, including Alabama Extension, the Alabama Agricultural Experiment Station, grants from various governmental and private agencies, and contributions from individuals and groups throughout the state.
More information is available at www.AlabamaWaterWatch.org. To become a certified Water Watch monitor, visit www.aces.edu/go/716.
This article first appeared in the Auburn University College of Agriculture's alumni magazine, The Season, http://agriculture.auburn.edu/theseason/.  Written by Ravali Bheemanathini.
Treestand Accidents Mar Early Deer Season
By David Rainer, Alabama Department of Conservation and Natural Resources
Despite a concerted effort by the Alabama Wildlife and Freshwater Fisheries (WFF) Division's Hunter Safety Program, Alabama deer hunters are still falling out of treestands in disturbing numbers.
Plus, there has been one firearms fatality where the cardinal rule of unloading your firearm before exiting your deer stand was not followed.
Seven Alabama hunters had suffered treestand accidents as of December 1. Fortunately, there have been no fatalities in the falls, but several serious injuries were reported.
Out of the seven reported treestand accidents, only one was wearing a safety harness.
"The safety harness prevented serious injury," said Marisa Futral, WFF's Hunter Education Coordinator. "He was coming down the tree and his treestand went out from under him. He hit his face on the tree pretty hard and broke his nose. The harness kept him from getting hurt any worse."
WFF Conservation Enforcement Officer Vance Wood shared an account that occurred at the Perdido Wildlife Management Area in Baldwin County.
Daniel Jares and Wood, who once served in a Coast Guard unit together, shared on Facebook about the incident, where the victim came perilously close to losing his life
Jares said he got a phone call at about 2 p.m. from a good friend. The phone service was sketchy at best but he determined his friend had fallen from a treestand, couldn't move his body from the chest down and could barely breathe.
"There was little to no service, but I caught a few words as to where he was. I made out, 'Close to river on an oak flat; you're going to need a four-wheel drive,'" Jares said. "I searched the woods for hours and hours in my truck just to find his truck so I could find a starting point."
Jares had earlier notified the WFF enforcement crew in Baldwin County and Baldwin County Search and Rescue. After two hours of searching, Jares found his friend's truck parked under a big tree that caused it to be hidden from the search helicopter.
With more than 20 people searching, several searchers tore through thick underbrush along the river as the sun started to fade. After a parallel grid search, Jares came up on a little ridge. Jares was yelling his friend's name and finally picked up a weak response. He ran to find his friend under the tree. The friend suffered a broken back. He subsequently had two surgeries and is facing a long road to recovery.
"It's a miracle we found him before dark," Jares said. "So, please wear your safety systems. You don't want to have a broken neck or back or even run the risk of losing your life. The officer said if I hadn't answered that call, he probably wouldn't have made it.
"I wanted to thank the hunting community for all of the love and support and sharing this to bring awareness. I'm blown away. The post received over 1 million views in less than 36 hours and close to 3 million now. I know without a doubt in my mind this post saved lives. I had messages from all over the country of young and old saying thanks for the eye opener; we are praying. If I could help save one life, it's worth it. Trust me, you don't want to stumble up on your buddy miles deep in the woods in this condition."
Futral said this many treestand accidents this early in the season is a concern.
"This is a lot of accidents for it only being through November," she said. "Last year, we had 13 treestand accidents (two fatalities), and I think it was 12 the year before. With seven this early in the season, I hope hunters will hear about these incidents and take treestand safety more seriously. It takes only one misstep to cause serious injury or even death if you're not wearing your safety harness and using the safety equipment.
"And we are stressing that hunters should make sure they are connected to the tree in some way when they are climbing and descending the tree. We have had several accidents where hunters have been wearing their safety harness but they fell going up or coming down the tree. There are products available now that keep hunters attached to the tree at all times. We want it to hit home that people need to be connected when their feet leave the ground until their feet hit the ground at the end of the hunt."
Two Alabama-based companies make products that keep hunters attached while they are using ladder stands or hang-on treestands. Hunter Safety System makes the Lifeline, while Summit Treestands makes a 30-foot safety line.
Futral said she didn't have the final report on the firearms fatality at this time.
"From what I've gathered from news reports, the mentor was handing the rifle down to the 15-year-old when it discharged, striking the youth in the chest," she said. "That breaks the rules of unloading your firearm before you climb into or out of your stand, and never point your firearm at anything you don't want to shoot."
Two other firearms-related incidents occurred on a dove field where two hunters were peppered by shot from other hunters. No serious injuries were reported.
Futral reminds hunters of the 10 commandments of firearms safety:
Treat every firearm as if it is loaded.
Control the muzzle of your firearm. Keep the barrel pointed in a safe direction; never point a firearm at anything that you do not wish to shoot, and insist that your shooting and hunting companions do the same.
Be sure of your target and beyond. Positively identify your target before you fire, and make sure there are no people, livestock, roads or buildings beyond the target.
Never shoot at water or a hard, flat surface. A ricocheting bullet cannot be controlled.
Don't use a scope for target identification; use binoculars.
Never climb a tree, cross a fence or jump a ditch with a loaded firearm.
Store guns and ammunition separately. Store firearms under lock and key, and use a gun case to transport firearms.
Make sure your barrel and action are clear of all obstructions.
Unload firearms when not in use. Never take someone else's word that a firearm is unloaded. Check yourself.
Avoid drugs and alcohol when hunting or shooting. Even some over-the-counter medicines can cause impairment.
NWTF Donates More Than $157,000 for Wildlife Management
The Alabama Chapter of the National Wild Turkey Federation (NWTF) recently allocated $157,555 in Hunting Heritage Super Funds and Tag Funds for wild turkey projects in Alabama. Of that total, $81,193 was donated to the Alabama Division of Wildlife and Freshwater Fisheries (WFF) to fund projects including wildlife habitat management and the publication of the annual wild turkey report, Full Fans & Sharp Spurs.
Approximately $76,000 was approved for other projects statewide including funding to improve wild turkey habitat on public lands as well as to help launch outdoor education programs in schools. This funding supports the enhancement of turkey habitat, increases access opportunities, funds educational programs and is an excellent fit for the NWTF "Save the Habitat, Save the Hunt" initiative.
Most of the WFF dollars will be used on Wildlife Management Areas throughout the state to support habitat management and other wild turkey programs.
"About $63,000 of this generous donation offers us access to federal matching dollars, which makes the donation go even further," said Chuck Sykes, WFF Director. "Since federal matching dollars play such a major role in how our division is funded, contributions like this are extremely important."
WFF is primarily funded by money generated through the sale of hunting and fishing licenses. That money is then matched nearly three to one by the U.S. Fish and Wildlife Service. WFF does not receive an appropriation from the state's General Fund.
"I thank NWTF and the Alabama Chapter Board of Directors for helping to support our efforts in Alabama," Sykes said.
Some of the grant money will also be used to purchase much-needed wildlife habitat management equipment. In addition to the monetary donation, the Alabama NWTF chapter provides financial support for prescribed burning projects that help restore longleaf pine habitat, the Archery in the Schools State Championship (an annual event for school students across the state), and the Becoming an Outdoors-Woman program, which introduces women to a wide variety of outdoor activities.
The Alabama Department of Conservation and Natural Resources promotes wise stewardship, management and enjoyment of Alabama's natural resources through four divisions: Marine Resources, State Lands, State Parks, and Wildlife and Freshwater Fisheries. To learn more about ADCNR, visit www.outdooralabama.com.

Cayden Cox takes first deer
Erin Hughen writes, "This is Cayden Cox with his first deer ever on 11/24! He is 12 years old. He was with his dad, Jason Hughen, and he was one proud dad!"
Tree Pumpkin?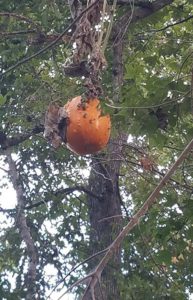 This "Tree Pumpkin" is growing in a tree in Lucy Gallman's yard in Livingston. The real pumpkin is about 20 feet up from the ground. The seedlings that grew the "Tree" pumpkin came from a friendly, family contest event the Gallmans have every year. Mrs. Gallman explained, "Every Thanksgiving my great nieces and nephews and grandchildren bring their Halloween pumpkins for our annual 'punkin chunkin.' They compete to see who can roll their pumpkin down the hill and smash it into the most pieces. This pumpkin is the result of the competition and the vine grew up the tree. I just noticed it today. I thought your readers might enjoy this photo."
Sharks in Lake LU?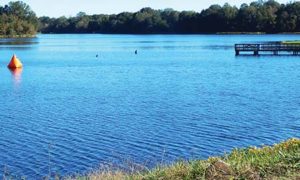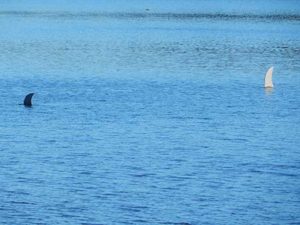 Sharks in Lake LU? That was the question the SCRJ photographer asked himself in disbelief as he traveled across the Lake LU dam Monday morning, Oct. 23 at about 9 a.m. on Country Club Rd. Upon a closer look, and after photographing and videoing the two "shark like fins" protruding above the water line, the fins seemed to be stationary for the ten to 15 minutes the reporter gazed upon the sight. The two "fins" were near the pier on the south side of the lake near the dam. A call to the University of West Alabama Campus Police revealed the fins were placed in the lake as a prank by some unknown individuals. See more photos on Page 2-A and video on www.recordjournal.net and on Facebook. Photo by Tommy McGraw

Giant Destroying Angel
Gloria Harrell of Daphne, sent in this photo of a "Destroying Angel" (Amanita virosa, A. verna, A. bisporigera) in her back yard "as big as a washtub and came up to my knees," she stated. It was a foot and a half tall and eighteen inches wide. According to USDA's Field Guide to Common Macrofungi in Eastern Forests and Their Ecosystem Functions by Michael E. Ostry, Neil A. Anderson and Joseph G. O'Brien. "Identification: Cap white, smooth; white gills free from stalk; bulbous base; white veil. Season of fruiting: Summer-Fall, Ecosystem function: Mycorrhizal with hardwoods and conifers Edibility: Highly poisonous and often fatal, Fungal note: These three mushrooms can only be distinguished from each other by their spore characteristics; collectively. They cause 95 percent of fatal mushroom poisonings. DO NOT eat any mushroom unless you are absolutely certain of its identity. Photo by Gloria Harrell, story by Kasey DeCastra, SCRJ & MVT Community News Editor


Hunting Works For Alabama's Economy
By David Rainer, Alabama Department of Conservation and Natural Resources
There's an old saying that to find a person's passion, follow the money. That apparently is true for Alabama's hunters, who fuel the economies in many parts of the state that need it the most.
To ensure the citizens of the state understand how important hunting is to the state's well-being, both economically and culturally, Hunting Works for Alabama was formed last year to enlist the aid of the  business community to spread this important message.
"Hunting Works for Alabama is basically a grass-roots group of people who want to make sure we inform the public about the enormous impact hunters have on our economy," said Tim Wood, one of the four co-chairs of Hunting Works for Alabama. "You're talking about a $1.8 billion industry in the state. You're talking about $375 million that people spend on just hunting-related equipment. Travel expenses, hunters are spending about $405 million a year. That's travel, fuel, food and lodging.
"In the rural part of the state, that is extremely important. The tax dollars and economic benefits in these rural areas, it would be devastating if they didn't have it. You could look at Demopolis, Selma, Camden and Faunsdale and look at the effects on these areas. It would be absolutely devastating."
Wood, the general manager of Central Alabama Farmers Co-Ops in Selma, said the co-ops he manages cover the Alabama Black Belt, which is known for its rich soil, great hunting and fragile economy. Wood said the importance of hunting is reflected in their business model.
"Our business has changed," said Wood at the second annual Hunting Works for Alabama meeting at the Civilian Marksmanship Program Talladega range last week. "We used to make money three months out of the year, March, April and May, from selling fertilizer, chemicals and seeds. Now we make our money in September, October and November. The paradigm has absolutely swapped. We're also a sporting goods company that sells firearms. You don't see that at farm stores. We sell hunting apparel. Our focus is on the hunting industry."
According to the latest figures, about 44,000 non-residents hunt in Alabama annually. Because the costs of non-resident licenses are significantly higher than resident licenses, those non-resident sales provide a significant funding source for the Alabama Wildlife and Freshwater Fisheries Division. The economic impact from non-resident hunters also ripples throughout the state.
"What I think is so important is the out-of-state dollars coming into the state," Wood said. "You're talking about some of the poorest areas in Alabama in the Black Belt. People travel from all over the United States to go deer hunting in Alabama. These people are paying lodging taxes, buying food and gas, and buying hunting licenses, which supports the Alabama Wildlife and Freshwater Fisheries Division. These tax dollars are not just being used by people in the hunting industry. It affects everybody in Alabama. Even the birders benefit from hunting in Alabama because the habitat enhancement made for hunting benefits all wildlife."
Wood also outlines the importance of more hunting opportunities for the general public.
"Hunting leases have become so expensive," he said. "People are having to pay $15 to $20 an acre for a place to hunt. The everyday hunter back in the old days didn't pay anything. If you wanted to go hunting, you could go up the road and some farmer or landowner would let you hunt. Those days aren't here anymore.
"That is why it is absolutely critical that programs like Forever Wild and the Wildlife Management Areas from Wildlife and Freshwater Fisheries provide the everyday citizen places to hunt and give them a reason to buy hunting licenses. It is crucial that this Division is properly funded."
Chuck Sykes, Director of the Alabama Wildlife and Freshwater Fisheries Division, said that proper funding Wood mentioned can only be realized when people buy hunting licenses.
"We rank seventh in the nation on hunting-related expenditures," Sykes said. "If you're not familiar with the Pittman-Robertson Act, it levies a tax on firearms, ammunition and other hunting equipment. That money goes to Washington, and it's divvied back out to the state wildlife agencies, based on states' hunting license sales, so they have a constant source of funding. For every dollar of hunting licenses sold, Pittman-Robertson matches that with 3 federal dollars, which is a great return on our investment.
"When I first started in 2012, our apportionment was $8 million. Last year, it was $18 million. How did that happen? During the previous administration in Washington, people were buying firearms and stocking up on ammunition because they were scared of potential gun legislation. The problem was those same people weren't buying hunting licenses. We can't get to that money unless people buy hunting licenses. So the money that hunters pay into that fund, if we can't sell enough hunting licenses, that money will go to another state. For us to be able to provide goods and services for the people of the state and to help support the economics, we have to have hunting license sales that will allow us to put conservation officers and biologists in the field."
Sykes offered a statistic that stuns just about everybody who hears it. Sykes asks for an estimate on the percentage of Alabama's almost 5 million citizens who buy hunting licenses. The estimate normally ranges from 15 to 50 percent.
"We receive not one penny from the State General Fund. Not one tax dollar goes to provide goods and services," Sykes said. "It's all hunting and fishing licenses. Most people have no idea that only 3.8 percent of Alabama citizens buy hunting licenses. We've got to get that number up if we're going to be competitive. We have to have licenses sold and the dollars from those sales to get to the federal money from Pittman-Robertson."
Wood said anybody or any business that wants to become a member of Hunting Works for Alabama can sign up and it won't cost a dime. Go to www.huntingworksforal.com for information or to join the organization.
"When you become a member, you're able to come to our meetings and meet with other people in the industry," he said. "You learn the facts and figures about the economic importance of hunting in the state. We are fortunate to be in Alabama, where we are a hunting and gun-friendly state. It's a luxury, and we want to keep it that way.
"We're trying to build a network of support. Eventually, we're going to have to talk to our legislators, because there will be issues that come up that will end up in the Legislature. We need to have voices in the different districts who will contact these legislators to express how important hunting is to the state."
After one year, Hunting Works for Alabama has 107 members with a goal of reaching at least 150 by the end of the year. Pam Swanner of Alabama Black Belt Adventures, David Dexter of Mobile and Grant Lynch, chairman of the Talladega Superspeedway, serve as the other co-chairs for the organization.
"We're looking for slow growth," Wood said. "When you have an all-volunteer staff, we have paying jobs we have to tend to. But for many of us, this does affect our paying jobs. And it also affects our way of life, which I think is more important."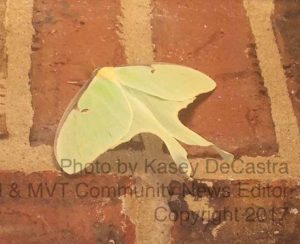 Lovely Lunar Visitor
Actias luna, the Luna Moth, can be found as far north as Canada and south as Florida. This lovely specimen was found above our door for a week. By Kasey DeCastra, SCRJ & MVT Community News Editor
Roadside Hogs in Marengo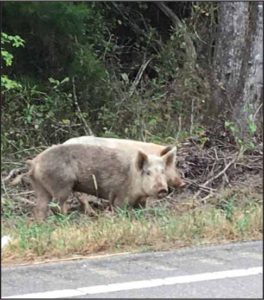 A couple of hogs were spotted standing beside Highway 43, south of Linden, a couple of weeks ago. As many landowners know too well, wild hogs can devastate crops, pastures, and forests. Photo by Tiffany Vaughn, Moundville Times Reporter
Guard Spider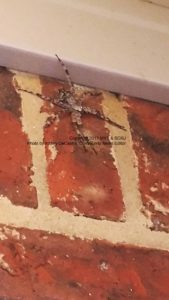 Dolomedes Tenebrosus, the dark fishing spider are another large, sprawling arachnids are most often found on vertical surfaces: tree trunks, fence posts, bridge pilings, or the exterior walls of buildings, usually at night although this friend hung out over our doorway which we were thankful for the keeping our pest population at bay. They are ambush predators who wait for large insects to come within striking distance. They do not spin webs.
Lady of the Garden
Argiope Aurantia, more commonly known as the black and yellow garden spider, is usually seen around the end of summer and start of fall. The mature females are enormous and up to 19 to 28 mm in body length. The males are much smaller at a third of the female's size. You'll see them pretty much anywhere: gardens, orchards, forest edges, old fields, under lights and farms. They spin a classic round orb web with a zigzag band of silk called a "stabilimentum." By Kasey DeCastra, Moundville Times & Sumter County Record Journal Community News Editor
Surprise! Lily
Lycoris radiata, or more commonly known in Alabama as the Red Surprise Lilly, Red Spider Lily or British Soldier, actually comes from Japan and came over as a garden flower in 1854. The flowers bloom after the first heavy rain in late September through mid October. In Japan the Red Spider Lily signals the arrival of fall. Many Buddhist will use it to celebrate the arrival of fall with a ceremony at the tomb of one of their ancestors. They plant them on graves because it shows a tribute to the dead. People believe that since the Red Spider Lily is mostly associated with death that one should never give a bouquet of these flowers. By Kasey DeCastra, Moundville Times & Sumter County Record Journal Community News Editor
World's Oldest Cultivated Plant in the Front Yard?
Grass is one of the oldest cultivated plants in the world. You of course know lawn grass, but corn, wheat, barley, oats, sugar cane and rice are all grasses that humans intentionally bred to eat and feed to livestock. Grasses are used to make paper, used for fuel, as roofing, to weave baskets, build houses, furniture, fences and musical instruments. Some grasses can grow very tall. Bamboo is one of these. It's the world's most wide spread plant type.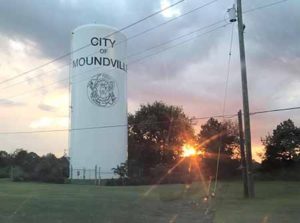 Moundville Watertower Sunset
We don't need to tell you we've had a lot of rain this summer. Rita Lewis, your favorite Voice of the Ville Columnist, knows all about the vibrant colors of sunsets that follow the afternoon showers. She took this lovely shot of the water tower Aug. 12.
Red bellied woodpecker needed a little help…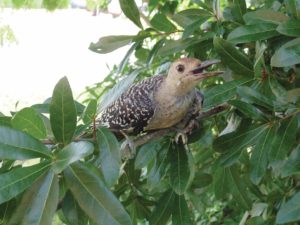 Occasionally at the Times office, our feathered friends get confused and fly into the large glass windows of the upstairs portion of the building. That's what happened to this red bellied woodpecker Tuesday, July 25. The bird was in shock and on the ground right outside our side door but seemed to feel much better after a few drops of water and some time in the shade tree out back.          Photo by Travis Vaughn
Hale County Extension Coordinator
How to get rid of fire ants
Submitted by Tyrone D. Smith, Hale County Extension Coordinator (See more of Tyrone's articles on our Outdoors page at www.moundvilletime.net.)
Alabama Cooperative Extension System (ACES) specialists recommend a two-step method to deter fire ants from invading your property. The first step is to look for a product that is called broadcast bait.
A bait product consists of a chemical dissolved into a food source. These baits are spread evenly over the entire infested area.
Ants will pick up the bait and take it back to the nest, where they eventually find their way to the queen. The colony will be destroyed once the queen is killed.
The second preventive step is to use individual mound treatments throughout the summer. These products come in the form of dusts, drenches, baits, or granules, and should always be applied according to label directions.
Mounds should be treated mid-day in cold months and early in the morning during summer months.
Over applying mound treatment products, however, can result in the colony relocating to another area on the property.
If using a drench product, it is recommended to mix up two gallons of chemical to apply to the mound. The selection of products you can safely use in vegetable gardens is very limited.
Fire ants can be a nuisance for the whole family, but with a little work they are easily kept away. For additional information contact your Hale County Extension Office.
Go to www.outdooralabama.com/sites/default/files/DeerFoodPlots.pdf for more information on food plots in the free publication authored by Cook and WFF Supervising Biologist Bill Gray.
Boys and Girls Clubs go fishing at Forever Wild
The Moundville and Greensboro Boys and Girls Clubs went fishing at Forever Wild on July 12. Judge Tim Evans said, "Big thanks to Bill Mason, Sheriff Kenneth W. Ellis, Brandon Croom, Chief Banks, Chief Hamilton, James Evans, and Judge Crawford for coming out to help. The staff/volunteers with the Moundville and Greensboro Boys & Girls Club are very much appreciated for getting these kids to the lake with us." Above, Evans is shown with Kylon Bates. Moundville Police Chief Toby Banks joined Moundville Boys and Girls Club member Kylon Bates for a little fishing at Forever Wild on July 12. Photos courtesy Moundville B&G Club.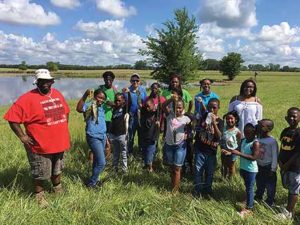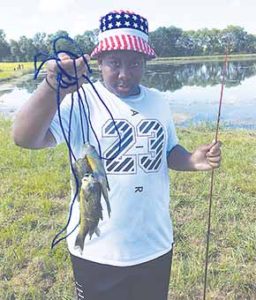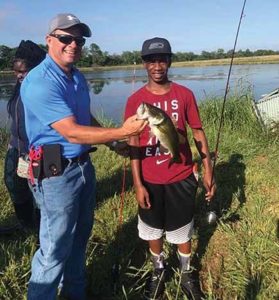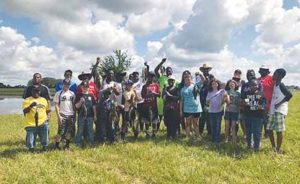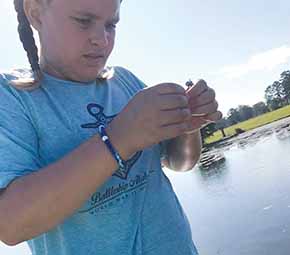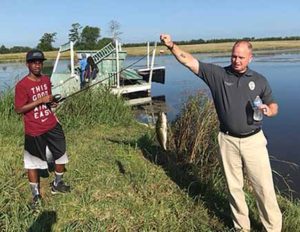 Hog control is one of the top issues for West Alabama and Hale County; ADCNR's Matt Brock explains what to do
By Kasey DeCastra, MVT & SCRJ Community News Editor
Matt Brock Alabama Department of Conservation and Natural Resources gave a presentation on wild Hog Control at the annual Area III Association of Conservation Districts meeting in Jasper at Beville State Community College July 19.
They are not native to North America. Brought by the Spanish explorers as a mobile form of food back in the 1600's, the fast repopulating, omnivors have wrecked havic ever since. They displace major game such as deer and turkey. And are known to destroy the habitat of our native amphibians and reptiles by rooting, wallowing and tree rubbing around swamps and water ways. They damage livestock, farming land, forests.
Hogs can live up to 21 years, mature in 6-8 months, reproduce twice a year with 4-10 piglets. They are former domestic pigs and Eurasian wild boar that are a range of colors.
They can spread disease to both animals and people. If you have shot one hunting, protect yourself when butchering the meat with rubber gloves, gogles and try not to breath the gases of the animal. Be sure to cook the meat fully as well.
The two most effective ways of dealing with the animals are hunting and trapping. You will need a permit to hunt wild hogs and should contact local Conservation Enforcement Officer or local Wildlife and Freshwater Fisheries District office for more information regarding this permit according to http://www.outdooralabama.com/feral-hogs.
To download a free .pdf on how to take care of hogs visit https://store.aces.edu/ItemDetail.aspx?ReturnTo=0&ProductID=14291
Printed copies may also be ordered through Mississippi State University Extension Service and Alabama Cooperative Extension System.
• Mississippi State University Extension Service: Contact your county Extension office.
• Alabama Cooperative Extension System: Call (334) 844-1592 or e-mail publications@aces.edu
Not Fake Fish News
Moundville Times Publisher, Tommy McGraw went on secret assignment to the Black Warrior River near Akron recently to investigate whether the recent high water levels from the many rain storms effected the bass biting. The publisher/fisherman found some fresh water off the main channel and landed about 15 to 20 bass in the middle of a hot summer day, some in the two to three pound category like the one pictured. McGraw affirmed that this was "Real News" and not the "Fake Fish News" some fisherman occasionally spin. Photo by Tommy McGraw
Havana Sunset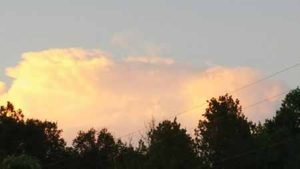 Sunset in Havana in Hale County from Tues. June 13, 2017 by Marty Wheat
Moundville Times Musical Visitor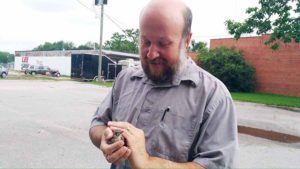 We had a musical visitor hop on into the Moundville Times office this morning (6-5-17). Our lead editor, Travis Vaughn, gently helped him back outside to his home in our Tulip tree outside the office. Our best guess is he wanted to read some news on the fly. We looked him up and he is a Sedge Wren. Learn more at http://www.outdooralabama.com/sedge-wren
Photo and story by Kasey DeCastra, Moundville Times & Sumter County Record Journal Community Editor
We want YOUR local outdoor photos and stories Hale and South Tuscaloosa residents! Email them to times@mound.net and not only will you get in the paper for free, but we'll also spotlight them on the outdoors page at http://moundvilletimes.net/Outdoors3.html
Eastern Box Turtle Travels Through Taylorville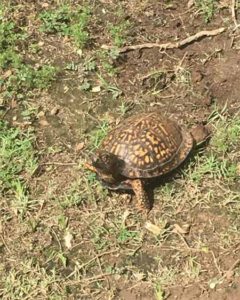 Ben Noppenberger found a friend wandering through his yard Saturday between storms. The eastern box turtle (Terrapene carolina carolina) is a subspecies within a group of hinge-shelled turtles, normally called box turtles. It's native to the eastern part of the United States, found as far north as Maine and West as Texas. The box turtle is largely terrestrial (they like to walk from one pond or stream to another), but are slow crawlers, extremely long lived, slow to mature, and have relatively few offspring per year. Males have red irises and females have brown.
Photo by Ben Noppenberger, story by Kasey DeCastra, Moundville Times/ Sumter County Record Journal Community Editor
Rose… Jelly?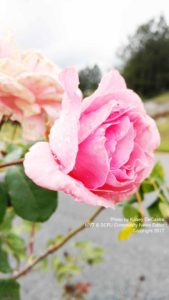 Roses have more uses than just a ornamental flower in the garden. Rose hips can be made into jam, jelly, marmalade, and soup or are brewed for tea, or filtered for syrup. Rose hips are also used to produce rose hip seed oil, which is used in skin products and some makeup products and of course perfume. They hahttp://pfaf.org/user/ Plant.aspx?LatinName=Rosa+c hinensisve been used in medicine for stomach issues. (See ) By Kasey DeCastra, MVT & SCRJ Community News Editor
Color of a Rose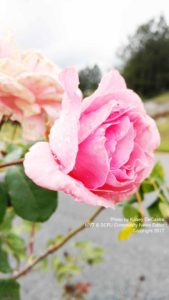 Roses are native to North America, Europe, Asia and North Africa. There are over a hundred species and thousands of cultivars (assemblage of plants selected for desirable characteristics that are maintained during propagation. Roses have acquired cultural significance in many societies. You may have heard a red rose is for true love, a yellow for friendship, or a pink for sweetness. Check out https://www.abetterflorist.com/blog/colours-rainbow-colour-bouquet-say/ to learn more about rose color meanings. (By Kasey DeCastra, MVT & SCRJ Community News Editor)
Magnolia's Are Very Useful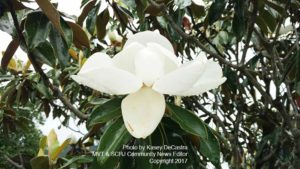 Magnolia bark has been used to treat menstrual cramps, abdominal pain, abdominal bloating and gas, nausea, and indigestion. It is also an ingredient in formulas used for treating coughs and asthma. Learn more about Magnolia uses at http://www.herbwisdom.com/ herb-magnolia.html. (By Kasey DeCastra, MVT & SCRJ Community News Editor)
Magnolia, our sweet smelling southern staple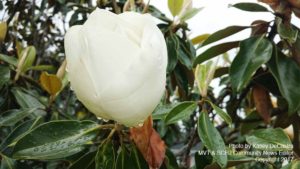 Magnolia's were one of the very first trees to evolve a flower. The petals still resemble the tree's leaves. It's theprized this was to encourage bees to pollintate the trees. According to "Convergent evolution and adaptive radiation of beetle-pollinated angiosperms" by Bernhardt, P. "Fossilised specimens of M. acuminata have been found dating to 20 million years ago, and of plants identifiably belonging to the Magnoliaceae date to 95 million years ago." It's the state flower of Mississippi and Lousiana. Alabama's state flowers are the camelia and oak-leaf hydrangea (state wild flower). They come in both evergreen version and deciduous with a wide range of colors: white, pink, red, purple, or yellow. (By Kasey DeCastra, MVT & SCRJ Community News Editor)
When and where you least expect it… a copperhead in Moundville!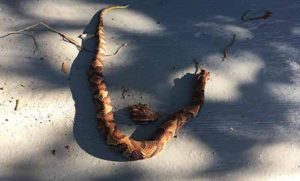 Our own Tiffany Vaughn escaped a snake bite Sunday afternoon in her front yard on Market Street in Moundville and dispatched the juvenile copperhead. She wrote, "It attacked me when I almost stepped on him. Thank God it was a small one and not full grown. Thank God I had long pants on because he struck my pant leg. Y'all be careful in your yards. We get complacent and forget that they are here with us."
Photo by Tiffany Vaughn
Cobbler Incoming!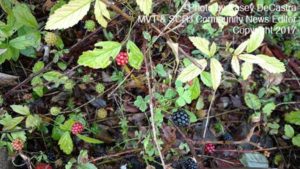 Wild black berries are in season now. Blackberries are one of the two state fruits for Alabama. The other is the peach. (By Kasey DeCastra, MVT & SCRJ Community News Editor)
Carp to the rescue! Say what?!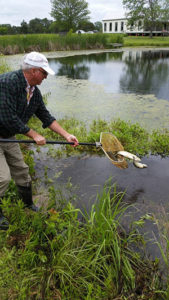 These grass crap are going to help rehabilitate the UWA duck pond. A small number of these fish have been stocked on campus to eat away at the invasive and overwhelming filamentous algae, Alligator weed and pond weed instead of using chemicals harmful to the creatures who make it their home. Learn more about the Black Belt Museum at https://www.facebook.com/blackbeltmuseum/?hc_ref=NEWSFEED
String Beaning Us Along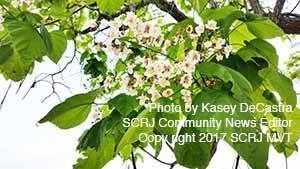 Wondering what kind of tree this is? It's a Catalpa. A deciduous tree that produces long string pods in late summer (also a sap that will eat the paint off your car if you park it under it.) It's nick names are "String Bean Tree," the "Indian Been Tree," and "Cigar Tree." This one lives beside at our sister paper the Moundville Times in Moundville in Hale County and is in full bloom. (By Kasey DeCastra, MVT & SCRJ Community News Editor)
Aquarium Animals and Plants Should Never Be Released into the Wild
Teachers and pet owners should be aware that aquarium animals and plants should never be released into the wild. Releasing aquatic animals and plants is illegal, as they pose a threat to native species and ecosystems. While the environmental damage caused by invasive species throughout the United States is devastating, Alabama is especially vulnerable due to its abundant biodiversity and aquatic habitat.
When a non-native animal or plant is introduced into an ecosystem, the results are often unpredictable. The national Aquatic Nuisance Species Task Force Strategic Plan (2013-2017) indicates that "approximately 49 percent of imperiled species are endangered primarily because of predation or competition with exotic species."
For example, the Island Applesnail was likely released into waters near Mobile Bay by an aquarium or ornamental pond owner. Biologists are concerned these snails will reduce the number of native aquatic plants necessary as food and habitat for birds and other aquatic organisms.
The Oriental Weatherfish or Pond Loach is an exotic aquarium fish that has been found in Logan Martin Reservoir and tributaries of the Coosa River. This species has been found in the same waters as the native Coldwater Darter, although the threats to this protected species are currently unknown.
Once an invasive organism has become established, it is nearly impossible to eradicate. The control of invasive species is costly, so preventive measures such as properly disposing of unwanted aquarium animals and plants is a priority in preserving native ecosystems.
A pet store may be willing to take unwanted aquarium animals or plants. If a pet store will not take the aquarium animal, it will need to be euthanized. To properly dispose of aquarium animals and plants, they should be frozen, sealed in a plastic bag, and placed in the trash.
To learn more about invasive aquatic species in Alabama, visit www.outdooralabama.com/aquatic-nuisance-species.
ADCNR promotes wise stewardship, management and enjoyment of Alabama's natural resources through four divisions: Marine Resources, State Parks, State Lands, and Wildlife and Freshwater Fisheries. To learn more about ADCNR, visit www.outdooralabama.com.
Big Boss Gobbler taken in "Hale"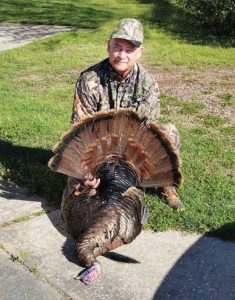 The Moundville Times Publisher Tommy McGraw had to go through "Hale" to get this boss gobbler Saturday, April 8 deep in the Hale County woods. The 22 pound bird sported an 11.5 inch paint brush of a beard and had one inch long spurs. The bird and a companion marched within gun range at 6:50 a.m. The two birds came in after McGraw stirred the two gobblers with his irresistible cackling and yelps. The 35 yard shot was made with a "Quick Draw McGraw" move as the birds circled behind the hunter as they came in to greet their invisible mate. Photo by Jane McGraw
Hale County Extension Coordinator
Where are Hale County blackberries?
Submitted by Tyrone D. Smith, Hale County Extension Coordinator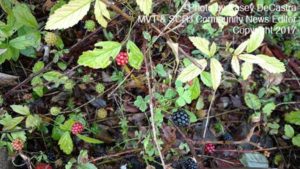 Did you know that the blackberries you see growing on the side of the highway are actually Alabama's official state fruit? That's right, the blackberry is Alabama's state fruit. Nearly all blackberry cultivars are self-fruitful, and therefore self-pollination or pollination by the same cultivar will result in fruit development.
Honeybees usually transfer pollen from one flower to another. Bees are strongly attracted to bramble blossoms by the copious amounts of nectar. However, wild bees are not a reliable source of pollination, especially during bad weather. Commercial growers should consider placing one or two hives per acre grouped into units of five or ten per location.
As the fruit ripens, it grows in size and weight. Color changes from green to red to black. Blackberries take 35 to 45 days to mature once they are pollinated. Flavor and sugars increase as the fruit grows, and the fruit will soften and loosen from the receptacle when ripe.
Blackberries are nutritious. One serving of blackberries (one cup) provides 50 percent of the vitamin C and 22 percent of the fiber required daily. Blackberries are also a good source of potassium, calcium, and iron. In addition, the compound ellagic acid (anti-cancer properties especially against prostate cancer) identified as an anticarcinogen, is found in blackberries.
Hale County Extension Coordinator Poke Salad in Hale County pastures
Submitted by Tyrone D. Smith, Hale County Extension Coordinator
Common poke salad, a native of North America, is a perennial weed often found in pastures as well as fence-rows, rights-of-way, reduced-tillage row crop fields, and wooded areas. Other names include: poke berry, pigeon berry, inkberry coakun, pocan bush, scoke, and American nightshade. Although pokeweed can cause severe poisoning in humans, Native Americans once used this plant as a heart stimulant and as a narcotic. The plant also contains a protein that has been shown to have a positive impact on HIV, a precursor to the AIDS virus. Additionally, many people cut young shoots and leaves and eat the plant as one would eat asparagus, thus the name poke salad. For human consumption, the plant must be boiled at least two times in water and the water must be removed before eating. Some say that an additional boiling will essentially remove all toxins in the plant material. Control of common poke salad is typically not easy because of the large fleshy crown and associated taproot. Except in some row-crop situations, pokeweed rarely infests large areas and is usually found in isolated instances. Removal of individual plants is accomplished by wholly removing the crown and a major portion of the associated taproot. Alternatively, spot applications of glyphosate (3% volume/ volume) or products containing 2,4-D or dicamba can severely injure or kill the plant. For additional information please contact your Hale County Extension Office.