Forever Wild Board Meets in Decatur on August 9
The Board of Trustees of the Alabama Forever Wild Land Trust will hold its third quarterly meeting on August 9, 2018, at the Wheeler National Wildlife Refuge Visitor Center, 3121 Visitors Center Rd., Decatur, Ala., 35603. The meeting will begin at 10 a.m.
At this meeting, updates on Forever Wild program activities and tract assessments will be presented. This meeting will also provide an opportunity for any individual who would like to make comments concerning the program to address the board.
The public is invited to attend this meeting and is encouraged to submit nominations of tracts of land for possible Forever Wild program purchase. Written nominations may be submitted by email to Forever.Wild@dcnr.alabama.gov or by letter to the State Lands Division, Room 464, 64 N. Union St., Montgomery, Ala., 36130. Nominations can also be made online at www.alabamaforeverwild.com/contact/nominate_land_tracts.
Quarterly meetings of the Forever Wild Board are held to maximize public input into the program. Only through active public participation can the best places in Alabama be identified and conserved in order to remain forever wild.
If Americans with Disabilities Act accommodations are needed, please contact Jo Lewis at 334-242-3051 or Jo.Lewis@dcnr.alabama.gov. Requests should be made as soon as possible, but at least 72 hours prior to the scheduled meeting.
The Alabama Department of Conservation and Natural Resources promotes wise stewardship, management and enjoyment of Alabama's natural resources through four divisions: Marine Resources, State Lands, State Parks, and Wildlife and Freshwater Fisheries. To learn more about ADCNR, visit www.outdooralabama.com.
Bo's big bass weighs in at over 9 lb.
Bo Lester, left, caught this bass on June 18. It weighed in at 9 lbs., 2 oz. and was 24.5 inches long. Bo's brother Bubba, right, is shown holding the big fish. Submitted photo
Auburn agricultural researchers using grants to help farmers control costs, improve efficiency
Cost and efficiency are high on the list of concerns for Alabama farmers and equally high on the list of priorities for Auburn University researchers.
The Alabama Agricultural Experiment Station's Production Agriculture Research, or PAR, grants program, now in its second year, is committed to finding timely solutions to problems that prevent the state's farmers from being profitable.
Administered through the AAES with USDA National Institute of Food and Agriculture Hatch funding and matching state appropriations, the PAR program is funding nine research projects this year, with a total commitment of $446,138.
"These projects address needs identified by farmers, commodity groups and other agricultural stakeholders in Alabama, and cost and efficiency are at the top of everyone's list," said Henry Fadamiro, associate dean for research for the College of Agriculture and associate director of the AAES.
Among those stakeholders is the Alabama Farmers Federation, the state's largest farm organization.
"I am excited that Auburn University is continuing this effort to address real-world production challenges and opportunities for Alabama farmers and timber owners," said Brian Hardin, director of governmental and agricultural programs for the federation and a member of the PAR proposal review panel.
The projects selected for funding show the diversity of the state's agriculture and the issues that need to be addressed across all areas, Hardin said.
"Alabama farmers are fortunate to have the expertise of these researchers at Auburn University and the Alabama Agricultural Experiment Station," he said. "Even more though, we are fortunate that the administration and faculty are paying attention to how they can help people be profitable on their farms and land. That is the ultimate mission of the land-grant university."
The grants program is a first of its kind for the AAES, in that it focuses specifically on production agriculture, Fadamiro said. Last year, the program supported 15 projects, with a total commitment of $622,000.
Many of the two-year, $50,000 PAR grants support combined research and extension projects that address current farming problems in a timely manner through applied research.
"This is an opportunity for College of Agriculture and AAES faculty to work on solving or providing immediate solutions to production challenges," Fadamiro said.
New kiwifruit industry
For central Alabama's fledgling new kiwifruit industry, a serious concern is winter freeze damage in young orchards.
"Winter freeze injury is not a significant problem on mature vines, but vines have proven to be susceptible in the establishment phase," said Jay Spiers, Department of Horticulture associate professor and lead kiwifruit researcher. "This issue has deterred us from establishing cultivar trials and small commercial plantings throughout the region."
Currently, producers use overhead sprinklers and/or microsprinklers for freeze protection, and, while that works for spring frosts, it is not a good control option during hard winter freezes. In his PAR project, Spiers will test the efficacy of several different trunk protection strategies for winter freeze protection.
He will present his results at grower and scientific meetings, where it will be applicable for kiwifruit and citrus producers and other stakeholders faced with management decisions on winter freeze protection.
Animal waste and nutrient management
In another new PAR initiative, the Alabama Animal Waste and Nutrient Management team at Auburn, the Alabama Natural Resources Conservation Service and the Soil and Water Conservation Committee will work together to find ways to improve on-farm phosphorus management and minimize phosphorus runoff.
While applying manure to agricultural lands can improve soil health and promote nutrient cycling, phosphorus mismanagement can lead to eutrophication of waterbodies and jeopardize their designated use.
"We will evaluate phosphorus retention and release rates of Alabama soils under different management practices and determine the ability of soil to act as source or sink of phosphorus to the environment," said project leader Rishi Prasad, extension animal-systems environmental specialist, and Department of Crop, Soil and Environmental Sciences assistant professor.
The project also aims to develop a soil test-based decision support tool for assessing the risk of environmental phosphorus loss from agricultural lands.
Fungus-infected fescue grass
Another PAR grant project looks to stem economic losses from reduced animal gain and reproductive performance in endophyte-infected tall fescue forage systems. The fungus costs the U.S. beef industry more than $1 billion per year.
Study leader Kim Mullenix, Department of Animal Sciences extension assistant professor, said endophyte-infected tall fescue is the predominant perennial forage ecotype in north Alabama and the Black Belt region, where more than 60 percent of Alabama beef operations are located.
"As tall fescue matures during the early summer months, the endophyte produces high levels of ergovaline, a plant chemical compound that has negative impacts on animal performance," she said. "Alternative forage systems are needed to improve animal production potential and extend the grazing season in regions otherwise dominated by cool-season species."
In her two-year grazing project at the Black Belt Research and Extension Center in Marion Junction, Mullenix will determine the forage production, nutritive value and animal performance characteristics of alternative warm-season grasses in replacement-heifer production systems.
Big-fish problem
Meanwhile, School of Fisheries, Aquaculture and Aquatic Sciences professor Terry Hanson will be leading a project to solve the Alabama catfish industry's big-fish problem.
"For some time now, there has been a surplus of big catfish, or fish greater than 4 pounds in pond inventories for which catfish processors have been unable to identify a viable market," Hanson said.
Subsequently, processors are paying half price for fish between 4 to 6 pounds and nothing for fish larger than 6 pounds, resulting in lost revenue for commercial catfish farms.
"Our research seeks to determine the cost of different management strategies toward long-term management of the big-fish problem in the Alabama aquaculture industry," he said. "Catfish aging techniques will be employed to determine the age of different size classes of fish in commercial ponds to provide much needed information on harvest efficiency."
Data from the study will provide management solutions towards solving the big-fish problem, he said.
More projects
The titles of and lead investigators on the five remaining projects that received 2018 PAR grants follow.
Derive "double cash" from trash: Co-production of single-cell protein as aquafeed along with the lactic acid production from paper mill sludge: Yi Wang, assistant professor, Department of Biosystems Engineering, $50,000.
Assessment of profitability of irrigation in crop production and acreage expansion in Alabama: Denis Nadolnyak, associate professor, Department of Agricultural Economics and Rural Sociology, $50,000.
Evaluation of summer annual forage mixtures for grazing and baleage production in Alabama: Leanne Dillard, assistant professor, Department of Animal Sciences and Department of Crop, Soil, and Environmental Sciences, $49,983.
Agrometeorological monitoring and forecasting for sustainable water and agronomic management: Di Tian, Department of Crop, Soil, and Environmental Sciences, $49,975.
Value-added building blocks from locally abandoned biomass for advanced food packaging materials: Maria Soledad-Peresin, School of Forestry and Wildlife Sciences, $49,762.
The 2018 PAR grant call for proposals included several improvements that were based on feedback from stakeholders.
"In their grant proposals for this year, we specifically asked faculty members to consider project outcomes and impacts," Fadamiro said. "We also asked for stakeholder involvement in developing the projects. We didn't want faculty thinking about projects in a vacuum, so we asked them to work with stakeholders from the conception of the project, and we requested letters of support from stakeholders."
In addition, projects that will be based at one of the 15 AAES outlying research units required letters of support from the unit director.
These changes, Fadamiro said, raised the quality of all proposals received.
"Almost all the proposals submitted this year could have been funded had the dollars been available, because they all were specific and relevant to the goals of the program." Written by Paul Hollis.
Wilson Still Reigns Atop BAIT Report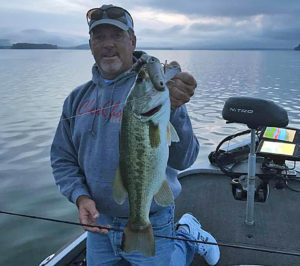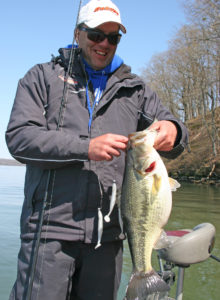 By David rainer, Alabama Department of Conservation and Natural Resources
Brent Crow unhooks a healthy largemouth bass caught in Wilson Lake, which was again the leading lake in the BAIT report. Guide Mike Carter shows off a typical Guntersville lunker. A seine survey indicated a successful spawn last year at Guntersville.
For the fourth year in a row, Wilson Lake reigns atop the rankings in the Alabama Wildlife and Freshwater Fisheries (WFF) Division's annual Bass Anglers Information Team (BAIT) Report.
In data compiled for the 2017 fishing year, Wilson totaled 77 quality indicator points to maintain the top ranking over second-place Lake Jordan, which compiled 72 points. Jordan made a big move up from 12th place in the 2016 report. Lake Mitchell and Millers Ferry tied for third with 65 points. Millers Ferry also jumped 10 spots in 2017. Wheeler Lake rounded out the top five with 64 points.
WFF assigns quality indicator points according to average bass weight, percent success, bass per angler per day, pounds per angler per day, and hours required to catch a five-pound bass. The angler day is considered 10 hours.
"Last year was another good year of bass fishing in Alabama," said WFF's Kyle Bolton, who oversees the BAIT report, which marks its 32nd year with the 2017 report.
The BAIT report's objective is to gather information on bass populations from bass club members as well as WFF Fisheries biologists, who use a variety of methods of data collection, including electrofishing.
Bolton said bass anglers have reported more than 15,000 tournament results during the report's history. Anglers have spent 3.4 million hours collecting data for the report. BAIT's history includes reports on 928,000 bass that weighed 1.7 million pounds.
In terms of big bass, the top lakes in Alabama were Pickwick, Wilson, Eufaula, Guntersville and Wheeler.
Guntersville had been on everybody's big bass list earlier in the decade, but the number of large bass caught slipped for a few years. The lake seems to be on the rebound toward outstanding bass fishing.
"Guntersville bounced back last year, compared to the year before," Bolton said. "We had really good year-classes of bass in 2007 and 2008. That produced a lot of giant fish (10 pounds plus) and those fish finally died off. In 2017, the numbers are a lot closer to the 30-year average.
"It's cyclical, just like any other reservoir, but Guntersville is coming back up."
Bolton said in 2017, Guntersville had about 70-percent success, which is on par with the 30-year average. The average weight was 2.74 pounds, dead on the 30-year average.
In 2016, the BAIT report added another data point with winning weight for the one-day tournaments. Guntersville's average winning weight for 2016 was 17.86 and 17.78 for 2017.
However, Guntersville also produced the largest winning weight in the state last year when Casey Martin, fishing in the BFL Bama Division tournament in March of 2017, weighed in a five-fish stringer at 40.69 pounds.
Pickwick's indicators were well above the long-term average. The most telling statistic that put it near the top in big bass lakes was that it only took 80 hours to catch a bass five pounds or larger. Pickwick also set a lake record for the average weight per bass at 2.81 pounds.
Eufaula had two tournaments in 2017 where 15 bass larger than five pounds were weighed.
In 2017, several other lake records were set. Lake Jordan set three records with an average weight of 2.51 pounds, bass per angler per day at 4.42 and pounds per angler per day at 11.10. Lake Mitchell set two records with 4.46 bass per angler per day and 8.69 pounds per angler per day. The Mobile-Tensaw Delta also set two marks with 4.69 bass per angler per day and 8.23 pounds per angler per day.
Bolton said some of the reservoirs in Alabama are not represented because WFF doesn't receive enough tournament reports to validate the data.
"On some of the reservoirs, especially in west Alabama, we just don't have enough reports," Bolton said. "We're not getting the reports we need from Tombigbee River and Alabama River lakes like Coffeeville and Claiborne. We're not getting anything from the Bear Creek reservoirs. I think there are plenty of tournaments there. For whatever reason, we're not getting a lot of reports from those reservoirs.
"The reports help us make fisheries management decisions as far as restocking or setting length and creel limits. We use these reports in tandem with our electrofishing data."
The standard electrofishing data WFF biologists gather include growth, mortality, recruitment and abundance. They scoop up the stunned fish, weigh and measure them. Some are returned to the water as soon as possible. Others are retained to pull the otoliths (ear bones with growth rings) to check the age of the fish.
Bolton hopes the number of reports will increase significantly now that a new tool is available for tournament anglers. WFF added an online feature at http://tournaments.dcnr.alabama.gov/ that will allow tournament officials to quickly report the results.
"The past few years, we've only had two options to turn in tournament results," Bolton said. "Those were submitting an Excel form via email or a paper copy via regular mail.
"With this new program, we're hoping the anglers will just hop online and submit the catch data. It won't take them five minutes, if that. The reports can be submitted from their computer or smartphone."
Bolton said several options are available on the above website. Tournament anglers should click on the BAIT tab and enter their Conservation ID number and birth date to verify the angler's identity. After the angler's Conservation ID and birth date are entered the first time, they will be saved and should not have to be entered on subsequent reports.
After filling out the form and entering the tournament results, the angler will hit submit to transmit the report to WFF.
"When I get the data from the report, I put it in my program to develop the annual report," Bolton said. "It's live now, and we've had several people already use it. They said it was easy."
That same website provides a link to the bass tournaments scheduled on a variety of Alabama lakes and reservoirs.
"Anglers and organizers are allowed to post their tournaments on the website," Bolton said. "This is to help reduce conflicts. It's in no way a reservation system. It's just a way to let people know about upcoming events. That is very easy to use too. They enter the data, hit submit and it will be posted on the website."
Bolton said the BAIT report gives anglers an avenue to contribute information that WFF managers need to ensure Alabama continues to have great fishing.
"This is a good opportunity for anglers to get involved in actual data submission so we can take care of the fisheries," he said. "The more data the better. Through the annual report, the anglers can compare their results to other clubs. They can look at the report and see where the big fish are being caught or the largest numbers of fish are being caught."
An unsolved mystery resurfaces nearly 40 years later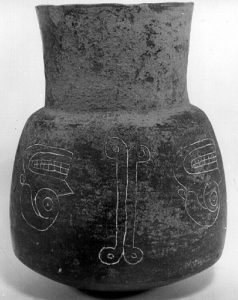 Some 264 artifacts were stolen from Moundville Archaeological Park in 1980, and a $15,000 reward is now available for information leading to their return.
Artifacts that were stolen nearly 40 years ago from The University of Alabama's Moundville Archaeological Park may soon be recovered with the help of a cash reward and the advent of technology.
The burglary, which occurred in 1980, is one of the largest recorded antiquities thefts in the Eastern United States. Some 264 prehistoric Native American pottery vessels and other artifacts were stolen. The missing artifacts were appraised at $1 million at the time, which would be approximately $3 million today.
Although the FBI investigated the burglary nearly 40 years ago, the artifacts were never found, and the case went cold.
But a recent collaboration between the Associates for the Return of Moundville Artifacts and The University of Alabama Police Department has renewed hope that the artifacts will be found. The private group is offering a $15,000 reward for information leading to the return of the artifacts.
"The reward, together with advancements in technology that allow for the rapid dissemination of information by news outlets and social media, offer new hope in an effort to recover the artifacts," said Dr. Jim Knight, UA professor emeritus of anthropology.
"The magnitude of the theft has left an alarming gap in Alabama's Native American heritage," Knight said. "These pots were one-fifth of the entire Moundville vessel collection curated by the Alabama Museum of Natural History.
"With the availability of the internet, it is now possible to distribute these photographs much more widely than was previously feasible. Also, Native American pottery vessels are now routinely sold in internet auctions. These can be monitored by a public aware of this 40-year-old crime and the great need to reunite these rare artifacts with the citizens of Alabama and the South."
A tip line for leaving confidential messages has been set up at the Alabama Museum of Natural History. You can leave a tip by phoning 205-348-2800.
For more information, including photographs of the artifacts, visit museums.ua.edu/oas/stolenartifacts.
Russian hacking could impact US agriculture, food systems and municipal water supplies, says Auburn University professor
Russian hacking into the nation's infrastructure could harm much more than computers and routers—it could have a potential impact on U.S. agriculture, food systems and municipal water supplies, says an Auburn University professor.
"The Russian government and military are quietly probing our nation's computer systems that control our critical infrastructures," said Bob Norton, chair of the Auburn University Food System Institute's Food and Water Defense Working Group. He is a long-time consultant to the U.S. military and federal and state law enforcement agencies and editor of Bob Norton's Food Defense Blog.
He says hackers are possibly using the hard-to-detect, cyber-probing activities as the door to larger corporate and government computer systems to steal proprietary information, gain access to financial data, steal credentials or identities and gain access to email systems. The systems can show no apparent damage even though hackers have accessed them.
"Their goals are to learn how our systems work, find out which larger networks are connected to them and to locate their weaknesses and defenses," he said.
In the most sophisticated operations, however, Norton says the probing could remain hidden and be activated later if hostilities with the U.S. were to ever break out.
"These clandestine probing efforts could be weaponized to shut down computer systems and even destroy the power grid, the food supply chain, water plants and wastewater plants," Norton said. "Equipment associated with farm operations, processing plants, irrigation and other operations could become targets."
The Department of Homeland Security, Federal Bureau of Investigation and the United Kingdom's National Cyber Security Centre in April released a joint technical alert about malicious cyber activity carried out by the Russian Government, including threats to residential routers. An additional technical alert was issued about home and office routers in late May.
The Food and Agriculture Sector is one of the 16 critical infrastructures identified by the Department of Homeland Security. "The most likely scenario would be for malware to destroy industrial control systems, which would cause food production to come to a screeching halt for a period of time," Norton said.
The hackers are criminals sanctioned by the Russian government or are members of the Russian government and military, he says.
"The criminals' first purpose is theft of credentials, identity and proprietary information, but they are also carefully watched by their government," he said. "If the criminals find information of interest to the government, they make deals for the government to acquire it. The government largely controls the amount of activities by the criminals, allowing them to do more mischief during turbulent times and making them cut back if necessary."
The U.S. agriculture industry and municipal water systems, he says, should prepare for an increased number of sophisticated cyber-attacks and probing efforts emanating from "persistent threat" nation states—China, Iran, Russia and North Korea—and criminal organizations.
"Our food and agricultural industries, as well as municipal water systems, should not rely solely on their own IT [information technology] staff, but should work closely with cybersecurity industry leaders to ensure their systems have not already been penetrated and to protect against future attacks," Norton said.
He adds consumers can help prevent cyber-attacks against their home computers and smartphones by a variety of good security practices such as:
Choosing strong passwords and changing them regularly;
Rebooting home routers by turning them off for 30 seconds and then turning them back on;
Installing and keeping up-to-date antivirus software;
Avoiding consumer transactions or registrations on public Wi-Fi;
Practicing safe browsing;
Keeping all software up-to-date;
Installing a firewall;
Not installing freeware;
Encrypting data files;
Maintaining email security. Written by Charles Martin.
Catch a Fish in the Black Belt, Alabama Black Belt Adventures Will Release a Prize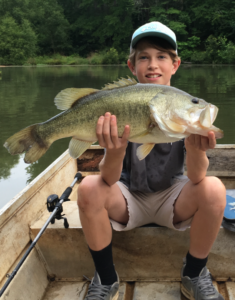 Photo: Will McGraw of Camden won the 2017 Alabama Black Belt Adventures Best Black Belt Fish Photo Contest. Email entries of fish caught in the Black Belt this year for 2018's contest to photocontest@albbaa.org.
The Alabama Black Belt is a great place to spend time wetting a hook and hauling in a nice prize. Whether it's a big bass or catfish or a feisty little bream, the Alabama Black Belt Adventures Association wants to showcase the outdoor fishing fun with its annual Best Black Belt Fish Photo Contest, starting today.
ALBBAA will reward the top vote-getter in the Facebook contest with $100 worth of fishing gear. To be eligible, the fish must be caught in the Black Belt during 2018. The photo must be emailed to photocontest@albaa.org and the entrant must like the Facebook.com/ AlabamaBlackBeltAdventures page. Photos uploaded to Facebook are not eligible and Best Black Belt Fish Photo Contest winners from 2017 and 2016 are ineligible this year. Please include the name of the angler, the county where the fish was caught and a contact phone number with the email.
"The Black Belt has so many great fishing spots, both public and private, and we love seeing the smiling faces of the folks who enter our contest," said ALBBAA Director Pam Swanner. "This contest is not about the biggest fish, it's about recognizing the great times that can be enjoyed in our outdoors. Fishing together as a family creates fond memories that will last a lifetime and we want to share them on our Facebook page."
Photos will be shared on Facebook.com/AlabamaBlackBeltAdventures and the winner will be selected based on the number of "likes" each photo gets.
"We encourage people from outside the Black Belt region to come visit for an adventure in discovering your favorite 'honey hole,'" Swanner said. "Our website – AlabamaBlackBeltAdventures.org – offers information for both public fishing spots as well as outfitters and lodges in the area that can provide a great fishing experience."
The contest will run through August 31 with the winner to be announced the first week of September 2018.
ALBBAA promotes and encourages ethical hunting and fishing practices. These contests were created to further educate the public on the abundance of natural resources found in Alabama's Black Belt region.
The Black Belt includes the following counties: Barbour, Bullock, Butler, Choctaw, Clarke, Conecuh, Crenshaw, Dallas, Greene, Hale, Lee, Lowndes, Macon, Marengo, Monroe, Montgomery, Perry, Pickens, Pike, Russell, Sumter, Tuscaloosa and Wilcox.
The Alabama Black Belt Adventures Association is committed to promoting and enhancing outdoor recreation and tourism opportunities in the Black Belt in a manner that provides economic and ecological benefits to the region and its citizens. For information, go to www.alabamablackbeltadventures.org.
Alligator Registration Underway; Young Has Dilemma
PHOTOS: Rodney Young shows off his 13-foot alligator taken last year in the Mobile-Tensaw Delta. Young to help from, left to right, Gary Goins, Brad Goins, Tommy Antoine and Ashley Wilson to subdue the 667-pound gator.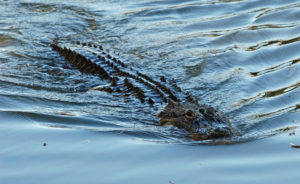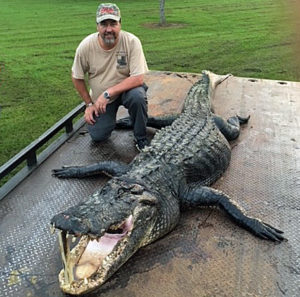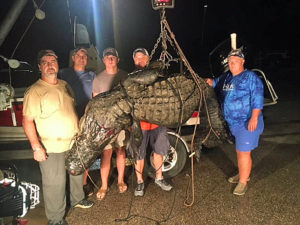 By David Rainer, Alabama Department of Conservation and Natural Resources
With the application process for the 2018 Alabama alligator seasons underway, Rodney Young is now faced with a dilemma.
No, it's not that he isn't going to apply again. He's already done that. His problem is how to get the monster gator he and his team bagged last year into his house.
Young tagged a 13-foot gator that registered 667 pounds on the scale last year in the Southwest Zone, the largest gator of the year.
Young decided to have a full-body mount made and plans to put it in his home in Stapleton when the taxidermist is finished later this year.
"I'm going to put him in my man cave over the garage," he said. "I'm hoping it'll go up the staircase. If not, I'm going to have to get a crane or lift of some kind and put him through the window. I haven't figured that out yet."
Young and his team faced a similar situation last August during their gator hunt in the Mobile-Tensaw Delta. Young admits they were lucky to find a big gator because they hadn't done any scouting.
"We were just rolling the dice, running up and down the rivers," Young said. "We saw a bunch of 10-footers. This was my first hunt. I was out with some buddies of mine who had been on several hunts through the years. We'd see one and my buddy Gary Goins would say, 'Nah, ain't big enough.'"
About 2 a.m., the team was running up the Tensaw River when one of the crew shined a light on the bank and spotted a big gator in a man cave of his own.
"All we could see was the tip of his nose and his eyes," Young said. "But we knew right then it was a good one. We were probably 100 yards away, but we knew we were onto something.
"He was in what looked like a little cove. The way the willows were, it created a little pocket and trees had grown over the top. We were having to cast sideways. We'd hit limbs and trees, and the gator would go down. That happened four times. We'd fool with him, and he'd go down. We'd back out in the river and watch for him. About 30 minutes later, he'd pop back up."
Then the big gator made a fatal mistake. He abandoned his cove.
"We were setting up to watch him again when one of the guys yelled, 'He's running,'" Young said. "He was tired of us fooling with him, and he came out into the river. We spun around and got two lines in him. That was an hour-and-a-half into the process. Of course, then the fight was on. He'd go down. We tried to keep two lines on him with treble hooks. He'd spin and pop one off. Then we'd get another one in him."
After the team finally got the gator under the boat, Young donned a pair of gloves and grabbed the large line with a snatch hook. Young hooked the gator but it didn't come up right away.
"When he finally got to the surface, his head came completely out of the water," he said. "That's the first time we got a good look at him, and we realized we had a monster."
The team finally wore the big gator down and secured him to the side of the boat at 5 a.m. Young dispatched the gator with one shot.
"At that point, we were as worn out as he was," Young said.
Then Young's team was faced with another dilemma. They were in Goins' Blazer Bay boat because of motor problems on their boat that was designated for gator hunting, and Goins didn't want the gator messing up his almost-new boat.
"He told us, 'We can take the Blazer Bay, but we're not putting that gator in the boat,'" Young said. "We said, okay we'll tie him off. Bear in mind, we shot that gator at 5 o'clock. We realized we would never make it back to the weigh station before it closed if we had to go back to the launch and then drive to the Causeway.
"Gary was sitting there with his head in his hands. Finally, he said, 'The heck with it. Put him in the boat.' We didn't bat an eye. We weren't going to give him a chance to change his mind, so we started pulling the gator in the boat. It took all five of us to get him in the boat. Then four of us had to go to the bow of the boat to get the boat up on plane. But we got to the weigh station in time."
Although Young has applied for a tag this year, he said he knows the point system implemented in 2014 will put him at the bottom of the list for 2018.
"I'm not holding out a lot of hope," he said. "I figure it'll take another two or three years to get another tag. It took me seven years to get the first one."
Chris Nix, Alabama Wildlife and Freshwater Fisheries' Alligator Program Coordinator, said a preference points system was implemented for the 2014 season, and it is working as expected. For each year an applicant fails to draw a tag, the points are cubed with a point added for the current year.
"If you have applied since 2014 and haven't been drawn, you will have 65 points now," Nix said. "It's not guaranteed, but those people are highly likely to get drawn now. The longer the point system is in place, the quicker the turnover for people who haven't gotten a tag."
To ensure that new applicants have a shot at a tag, Nix said that 85 percent of the tags are filled with applicants with preference points and the remaining 15 percent are allocated to those with no points. Once a person is drawn, the preference points are zeroed out. Preference points are also lost if the person fails to apply for a tag.
Nix said the 2018 alligator season parameters are the same as last year with 260 total tags statewide – 150 in the Southwest Zone, 50 in the West Central Zone, 40 in the Southeast Zone and 20 in the Lake Eufaula Zone. Hunting is from sunset to sunrise.
Season dates for the Southwest Zone and the West Central Zone are sunset on August 9 until sunrise on August 12 and sunset on August 16 until sunrise on August 19. The Southwest Zone includes private and public waters in Baldwin and Mobile counties and private and public waters in Washington, Clarke and Monroe counties that lie east of U.S. Highway 43 and south of U.S. Highway 84. The West Central Zone includes private and public waters in Monroe (north of U.S. Highway 84), Wilcox and Dallas counties.
The Southeast Zone season opens at sunset on August 11 and runs until sunrise on September 3. The Southeast Zone includes private and public waters in Barbour, Coffee, Covington, Dale, Geneva, Henry, Houston and Russell counties (excluding public Alabama state waters in Walter F. George Reservoir/Lake Eufaula and its navigable tributaries).
The Lake Eufaula Zone includes public state waters only in the Walter F. George Reservoir/Lake Eufaula and its navigable tributaries south of Alabama Highway 208 at Omaha Bridge (excludes Eufaula National Wildlife Refuge). The Eufaula season dates are from sunset on August 17 through sunrise on October 1.
An 8-foot restriction on harvest is in effect for the Lake Eufaula Zone. The other zones have no size restrictions.
Registration continues until 8 a.m. on July 11. After a computer-controlled drawing, entrants can find out if they drew a tag after noon on July 11 by logging on at the same page where they registered at www.outdooralabama.com/alligators/alligator-hunt-registration. Those who are drawn will have seven days to confirm the tags and are required to attend a zone-specific training class with a couple of exceptions.
"If you've taken the class as a tag holder or alternate in the Southwest Zone or West Central Zone, you're exempt from having to take it again," Nix said. "If your tag is in the Southeast Zone or Lake Eufaula Zone, the class is mandatory every year. We do that because of the contiguous zones with Georgia and the Eufaula National Wildlife Refuge, which is off-limits."
Nix said between 60 and 70 percent of the tags are filled annually, but it's not because of a lack of alligators, especially in the Southwest Zone.
"We could have a 100-percent success rate in the Southwest Zone every year," he said. "People pass up gators they wish they had tagged. It's just like deer hunting. Most people don't shoot the first buck that walks into the field. People usually don't take the first alligator they see.
"But to each his own. We had a couple that brought in two 4-footers last year, and they were as happy as could be."
Bat Blitz Highlights Role in Alabama's Ecosystem
By David Rainer, Alabama Department of Conservation and Natural Resources
(David Rainer) Two common bat species in Alabama are the evening bat, left, and big brown bat. Vicky Smith of A-Z Animals shows off the big brown she uses during her bat presentations. Flanked by Nick Sharp and Smith, Abigail Odom of Eufaula is awarded the first-place ribbon in the youth art contest for her watercolor of a fruit bat.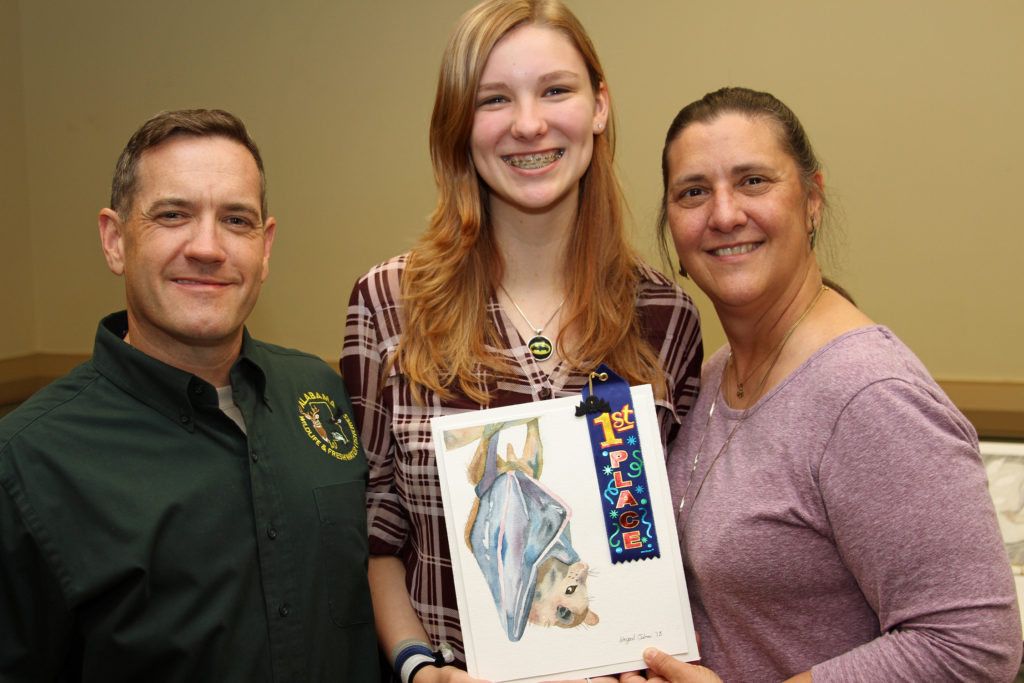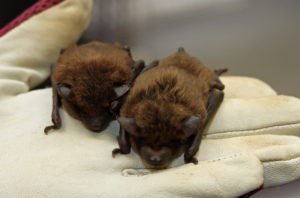 Despite the stigma caused by countless Dracula movies, a dedicated group of naturalists continues to demonstrate its love for the animal with a face only a mother could love. Those enthusiasts express their devotion to the bat, nature's only flying mammal, all the way down to the bat jewelry.
Bat lovers met recently at Lakepoint State Park near Eufaula for the annual Bat Blitz, a celebration of the small animal that can sometimes be spotted zooming around street lights at dusk, dining on a smorgasbord of insects.
Nick Sharp of the Alabama Wildlife and Freshwater Fisheries (WFF) Division said this year's Blitz was a joint exercise for bat biologists and enthusiasts from Alabama and Georgia. The Blitz is a collaborative effort of all the Alabama Bat Working Group (ABWG) members. Jeff Baker from Alabama Power and Shannon Holbrook from U.S. Fish and Wildlife Service served as co-chairs of the Bat Blitz committee.
Alabama State Lands Division's Jo Lewis said the recent gathering was the 17th annual meeting of the ABWG, an informal affiliation of bat biologists and enthusiasts from many state, federal and private agencies across the state. The group holds the Bat Blitz in different areas of the state each year to sample the bat populations in those areas with mist nets deployed at night.
"We're looking for distribution information about what bats are in what areas of the state," Lewis said. "We have 15 species of bats that are native to Alabama. Some only occur in the more southern portions of the state, and others only occur in the more northern portions of the state because of the different habitats in Alabama and our complex ecosystems.
"In the north part of the state, bats appear to be more numerous because of the karst geology with all the caves. In the south part of the state, we have a lot of bats, but they don't congregate as much in caves. They're referred to as forest bats. They roost in trees. They're actually all around us, but we're kind of oblivious to them. A little bat hanging in a tree snuggled up against a nook or branch, you're never going to notice."
The southeastern myotis is one bat species found in the south part of the state but not as often in the north. The Bat Blitz researchers found 16 southeastern myotis bats in a culvert on the first night of the event.
Another bat more common in the southern part of the state is the Mexican freetail. Sharp said the fast-flying bat is now most often found in attics because most of the large, hollow trees it historically used have been cut down.
A bat that is found in the northern part of the state but not the southern part is the northern longear, a protected species. Gray bats, also protected, are found in north Alabama. The most common species throughout the state is the big brown bat.
Currently, the biggest concern for the bat enthusiasts is the condition known as white nose syndrome, a fungal infection that has killed more than six million bats in North America.
"Nobody knows right now how white nose syndrome affects the tree bats," Lewis said. "We're hoping it doesn't affect them because they don't roost together as much and are less likely to spread the infection.
"We do have confirmed cases of white nose in most of the northern counties, as far south as Bibb County near Birmingham."
Lewis said it is very difficult to determine how much the syndrome has affected the populations in north Alabama because of the labor-extensive requirements to do those studies.
"From personal observation in a cave that I've been monitoring for the past 10 years, it followed the classic series of events associated with the disease, and it truly decimated the population," she said. "A tenth of the number of bats that used to be there are there now. I used to count hundreds of tri-colored bats in there. Now, we're counting 30. It has definitely affected that bat population."
Sharp said data from nine caves in north Alabama monitored from 2010 to 2017 indicate a reduction of tri-colored bats by 70 to 95 percent. He said counts at two Indiana bat hibernacula over that time period are down 95 percent.
Bats are predators and eat huge numbers of insects, which can be disease vectors. They eat mosquitoes, which can carry several diseases, including Zika. Some of the insects the bats are eating are pest species that damage crops in the state.
"Their simple presence can deter pest species from infesting crops," Lewis said. "If you have bats working a field, you're less likely to have insects that are going to eat the corn."
Sharp said bats provide at least $3.7 billion in pest control service to agriculture annually in the U.S., according to a 2011 scientific study.
Lewis said human-bat interaction most often occurs at dusk and dawn, especially around street lights, but bats are active all night.
"Bats will sometimes take a nap in the middle of the night," she said. "But they're not roosting. They're just getting a little rest before they go back out and eat more insects. The street lights attract insects, so it's kind of like McDonald's for the bats."
Another area of concern for bat researchers and the public in general is the fact that bats can be rabies vectors. Lewis said this adds to the stigma of bats but that rabies does not appear to occur at a higher rate in bats compared to other wildlife. Sharp said rabies studies in bats showed infection rates of less than one percent in wild animals.
"But there's an extremely important distinction," she said. "When humans encounter a bat, they are not interacting with the regular population of bats. They are interacting with a bat that is acting extremely abnormally because bats avoid us."
Sharp said rabies can be transmitted by a bite from an infected animal or by bat saliva entering an open wound. Sharp and Lewis said to seek immediate medical advice if you suspect contact with a bat resulted in either of those situations. If the bat is incapacitated or captured, take the animal to have it tested for rabies.
"If you've had contact with a bat, it's highly advisable to have that bat tested because rabies is 100-percent fatal if symptoms appear," she said. "It's just not worth the risk. Anybody who works with bats at the Blitz has pre-exposure vaccinations. Anybody who hasn't had vaccinations cannot touch a bat. We're having fun, but we have real rules that we will not bend."
One of the presenters at the Bat Blitz was Vicky Smith of A-to-Z animals in Auburn. Smith, who has taught thousands of school kids about bats and their role in our ecosystems, dispelled several myths associated with bats.
"One is 'blind as a bat,'" Smith said. "Bats are not blind. Bats have tiny eyes, but we've actually discovered something about their echolocation, the way they use sound waves to locate the insects. What we found was that once they get close, they zoom in with their eyes on the insect. When they scoop it to their mouth with a wing or their tail membrane, they use their eyes for up-close work. Another myth about their eyes is that light hurts their eyes. That's not true."
Another myth is that bats will get tangled in your hair, especially folks with long hair.
"Bats will come close to you," she said. "You are not a food source, but you have attracted their food source by breathing out carbon dioxide, which attracts mosquitoes and other bugs. If the bat echolocates and sees a buffet flying around your head, he's going to fly to that buffet. They will fly quite close to you in the dark, and that can be quite scary. We believe that's how that myth got started."
A misconception is that a bat, which belongs to the order Chiroptera (winged mammal), is just a mouse with wings.
"Bats are not rodents," Smith said. "They are about the same size, but a bat typically gives birth to one pup per year. A little mouse about the same size can give birth to about 144 babies per year. Another difference is tooth structure. The teeth in a bat are more like dogs' and cats' with large canines to crunch the exoskeletons of the insects."
Although outreach and education are important, Lewis said the main goal of the Blitz is to catch as many bats as possible to assess the population in that area.
For Lewis, catching bats during the Bat Blitz is just a continuation of her infatuation with the species.
"I've been doing this for 20-something years," Lewis said, "and I still love it."
Auburn University veterinarian uses acupuncture to treat horses for chronic pain, other conditions
An Auburn University equine veterinarian is having success treating horses with chronic pain and other conditions by using a form of integrative medicine—acupuncture.
Dr. Kara Lascola, an associate professor of equine internal medicine in the Department of Clinical Sciences, says acupuncture, a key component of traditional Chinese medicine, has been used in humans for over a thousand years.
"In veterinary medicine, it has become more widespread in just the last 10-15 years," she said. "While it is probably used more commonly on dogs, I routinely use acupuncture on horses for pain management associated with musculoskeletal conditions—such as arthritis, and for treating neuropathies."
Veterinarians must be trained and certified to practice acupuncture, and Auburn currently has small and large animal veterinary faculty certified to practice this technique: Dr. Stephanie Lindley, a clinical associate professor of medical oncology; Dr. Stuart Clark-Price, an associate professor of anesthesiology; and Dr. Amanda Taylor, an assistant professor of neurology.
"For me and some of my colleagues," Dr. Lascola said, "our interest in acupuncture stemmed from frustration with the limited options available for treating pain in horses, particularly pain associated with chronic conditions."
There are different approaches to explain how acupuncture works.
"According to traditional Chinese medicine, there are pathways in the body along which energy flows," Dr. Lascola said. "As a very simplified explanation, illness results in imbalances of this flow of energy. Inserting needles into acupuncture points—which are located on or near these pathways—is believed to correct these imbalances in energy flow.
"The choice of which acupuncture points to use depends on the underlying problem as well as a variety of patient factors."
Dr. Lascola says acupuncture can be an effective treatment method for a variety of conditions. "It has even been shown that acupuncture stimulates the body's own release of endorphins, which are natural pain killing hormones," she said. "Acupuncture also seems to stimulate circulation and may increase the pain threshold."
Animals may respond differently to acupuncture therapy, and Dr. Lascola says lasting results involve a series of treatments that are typically tailored to meet the needs of the individual patient. "It is important to remember that acupuncture is not just a one-time treatment that produces long-term results," she said. "Treatment involves a series of sessions to be effective."
Dr. Lascola obtained her Doctor of Veterinary Medicine degree in 2003 from the Cummings School of Veterinary Medicine at Tufts University, where she also achieved board certification in large animal internal medicine in 2007, and completed a post-doctoral fellowship in 2008. She worked as an assistant and associate professor of equine medicine at the University of Illinois. She became certified in acupuncture in 2015 and is trained to perform acupuncture on horses as well as small animals. She joined Auburn's equine faculty in January.
In addition to animal healthcare, Dr. Lascola and other faculty have also introduced the therapy in the classroom, lecturing on acupuncture to senior veterinary students. Written by Mitch Emmons.)
Black Bears on the Move in Alabama
By Davide Rainer, Alabama Department of Conservation and Natural Resources
Patrick Hill, Auburn University) Inshore fishing guide Patrick Hill found an unusual sight recently on a trip near Fort Morgan. He managed to take a couple of photos of a black bear swimming west in the south end of Mobile Bay. A trail camera captured a photo of a female bear with cubs, indicating a viable population is in that area.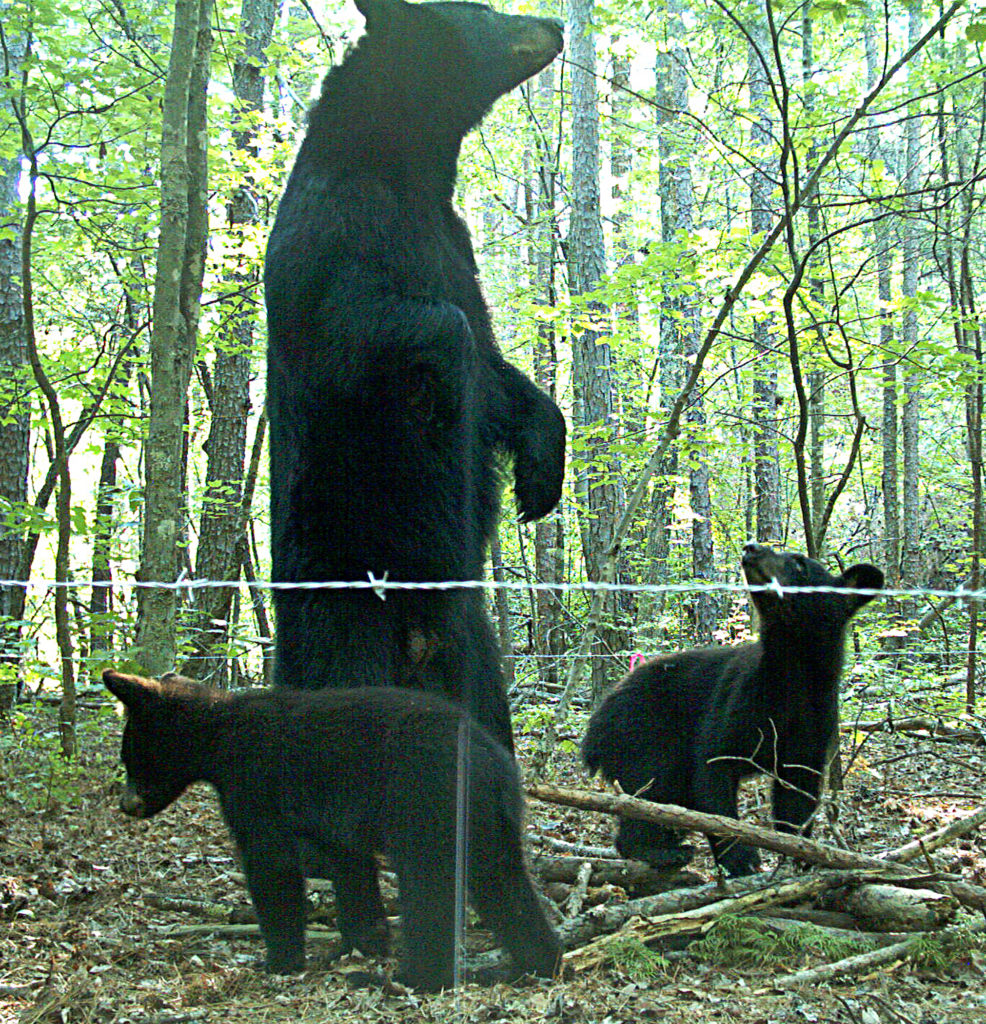 When the photo popped up on my smartphone, I wasn't sure what it was. Something was swimming in the south end of Mobile Bay, and I facetiously asked, "Killer whale?"
The reply came back, "Black bear." I expanded the photo, and, yep, there was a telltale round, black ear. I knew this photo, taken by inshore fishing guide Patrick Hill, would go viral.
However, as rare as this sighting may be, this is not the first time it's happened. About 20 or so years ago, a black bear swam the south end of Mobile Bay, hung out on the Eastern Shore a little while, and swam back to where he came from, probably headed toward a population of black bears in the Grand Bay area.
Alabama Wildlife and Freshwater Fisheries Division Large Carnivore Coordinator Thomas Harms was not really surprised that a black bear took a shortcut recently, headed west from the Fort Morgan area.
"We have bear pictures from Orange Beach and Fort Morgan and the Weeks Bay area," Harms said. "I think there is a corridor there. These bears sometimes just make a big loop.
"Bears are excellent swimmers. It was probably just a young male on the move."
If anyone should see a bear, Harms said the main course of action is to remain calm and let the bear leave the area.
"There's no need to freak out if you see a bear," he said. "It's kind of like my father taught me about chainsaws. He said don't be scared of them but respect them. It's the same thing with animals. If you're scared of it, just like chainsaws, it has the potential to hurt you. With a bear, don't fear it. When you see one, give it space and let it go away on its own.
"We've never had a bear attack in Alabama. It's even rare in the states where the population densities of bears are much higher. Just give them space, and let them know you're there. They don't see very well and don't hear very well. Say whatever you want to, just be loud and let them know you're there. They will typically turn around and leave."
Harms said the black bear males in Alabama can reach weights of 250-300 pounds and live to be 15-20 years old. Females usually weigh 150-200 pounds. Harms said the likely adult population of bears for the entire state is estimated at 300-400 animals. The population in northeast Alabama has a Georgia ancestry, while the southwest population has Florida roots.
He said a new small population has popped up in Conecuh National Forest in Escambia County.
"I've got pictures of a sow with cubs in Conecuh National Forest," Harms said. "If you have a sow with cubs, you know you have a viable population of bears living there."
Harms said the annual cycle for black bears starts in February when the sows drop their cubs. In April and May, the males start expanding their home range first, followed by the females with the yearling cubs. The year-old females will settle on the fringes of the mother's home range, but the yearling males are run completely out of the area, which is when the bulk of the human contact occurs.
"These young males get pushed out by their mothers, and then they get pushed even farther by the adult males," Harms said. "These males are young and dumb. If they detect a dominant male, usually by smell, they'll keep moving until they find a place where they don't detect any other males. These are typically the ones that get turned around and into the suburbs and cities.
"The bulk of the calls we get this time of year is these young males passing through people's yards in downtown Birmingham. It happens every year. We had one in downtown Daphne. One went from Georgia, through Alabama, all the way to Mississippi. That bear may stay there, but it could turn around and come back."
Right now, June and July is the breeding season for Alabama bears, which means the adult males will be on the move.
"The large adult males are looking around for receptive females this time of year," Harms said. "June and July is when the adult males are moving the most. The home range for an adult male can be up to 59 square miles, depending on the habitat. For females, the home range is about 20 square miles.
"Habitat in the southwest part of the state is a lot better, which makes the home range smaller than in northeast Alabama. It's just the type of habitat. You go from mountainous habitat in the northeast to bottomlands in the southwest with tons of fruits, berries and vegetation. The bears live in the bottomlands and use them for corridors. They go to the uplands to eat. But they're never too far from water. In the southwest, they don't have to go too far to the next drainage. In the northeast, they may have to cross a mountain. They have to go much longer distances to get the same benefits."
Harms said the bears in Alabama have a 94-percent vegetarian diet. Because Alabama does not have harsh winters, the bears can thrive with much less protein in the diet. He said bears are opportunistic meat eaters if they stumble onto a whitetail fawn or surprise a rabbit.
"Bears can't chase down a rabbit, and once a fawn is able to get up and run, the bear can't chase it down," he said. "Bears can reach speeds of 35 miles per hour, but only for very short distances. They are not very good predators. They will take advantage of any dead animals they come across, sometimes called carrion. Deer that succumb to the rigors of winter and the rut often become the main course for a lucky bear."
Harms said bears in Alabama don't really hibernate. During the few cold days of winter, he said bears will do like humans and stay inside, sleeping in their dens until the weather warms up again. The bears have put on the fat for the winter and rarely travel far from the den area until spring.
In areas where known bear ranges are adjacent to suburban subdivisions, Harms said homeowners need to make sure they don't entice the bears to venture onto their property.
"In some of these subdivisions, people like to put up feeders so they can watch wildlife, like deer," he said. "But there is a danger of bringing a bear near your house. You need to make sure that feeder is a few hundred yards away from the house. Make sure the bears can't get to dog food or anything like that. If a bear constantly comes close to a house, it's going to lose that fear of humans. Most bear attacks happen with bears that have lost their fear of humans. We need to avoid that."
In instances when it's not practical to keep food sources from the bears, Harms suggests using hot-wire fencing to deter the bears. Dogs bred to be guard dogs can also help keep bears at bay.
"But, you don't want a dog that will chase the bear," Harms said. "The dog will eventually catch up with the bear and may end up getting hurt when the bear turns around to defend itself."
Harms said there is a common myth a bear will stand on its hind legs before attacking.
"The only reason bears get on their hind legs is to get their noses high in the air so they can smell you," he said.
Harms said anyone with an interest in black bears can visit www.bearwise.org. The website is supported by the Southeastern Association of Fish and Wildlife Agencies (SEAFWA). The Alabama Division of Wildlife and Freshwater Fisheries is a member of SEAFWA.
"The Bearwise website is a very good resource," Harms said. "Any questions you have about black bears will be answered on that website."
Auburn University School of Forestry and Wildlife Sciences research team discovers Zika-transmitting mosquito species in Alabama
Auburn University researchers have discovered the presence of Aedes aegypti—the primary mosquito that transmits Zika virus, yellow fever and other flaviviruses—in Alabama.
After a 26-year absence, Auburn School of Forestry and Wildlife Sciences Assistant Professor of Disease Ecology Sarah Zohdy and wildlife sciences undergraduate student Victoria Ashby have discovered the species in Mobile. Ae. aegypti was thought to have been eliminated from the state.
"Our CDC-funded research has not only allowed for the detection and molecular confirmation of the mosquito in the state, but over the last year we have documented the spread of the mosquito from central Mobile to all of Mobile County," Zohdy said.
The study was conducted from July 2016 to September 2017. Mosquitoes were collected twice a month from the grounds of various tire shops, gas stations, abandoned buildings and open containers quantified to estimate larval abundance. A total of 1,074 mosquitoes were collected, with Ae. aegypti being detected most commonly in the 36606 area code of southwest Mobile, where there were more open containers than any other area in the city.
Since 1991, Ae. aegypti was thought to have been displaced in Alabama by another container-breeding mosquito, Ae. albopictus, because Ae. albopictus larvae are better competitors with resource-limited habitats and the males are capable of mating with Ae. aegypti and rendering the females sterile. Despite these advantages, Mobile is the ideal habitat for Ae. aegypti reintroduction or for remnant populations to persist because the city's maritime traffic and its diverse mix of urban, suburban, rural and industrial environments allow the mosquito to find different habitats where it can either escape from Ae. albopictus or have the competitive upper hand.
The detection of Ae. aegypti confirms that Alabama residents could be at risk to contract several mosquito-transmitted diseases. "This work demonstrates that citizens of Alabama may be exposed to the mosquito vector of Zika, chikungunya and Dengue fever viruses," Zohdy said.
Zika virus spreads to people primarily through the bite of an infected Aedes species mosquito (Ae. aegypti and Ae. albopictus). Female mosquitoes become infected by ingesting microbes from a person's blood while biting them and then passing those microbes to the next person's blood stream. Once infected, the mosquito is then thought to remain infected and able to pass on the virus throughout the remainder of its life, or about two to four weeks. During this period they may take three to four blood meals, biting up to four or five people during their lifespan. Ae. aegypti is particularly problematic because it will also bite during the day and is very adaptive to different environments.
Specific geographic areas of greatest risk are correlated to the existence of the Aedes species. The Centers for Disease Control and Prevention, or CDC, has developed estimated-range maps using models that predict potential geographic ranges where the Zika-transmitting mosquitoes would likely survive and reproduce based on local and historical records and suitable climate variables. According to the 2017 maps, the Zika-transmitting mosquito species are very likely to exist throughout the southeastern U.S. and as far west as California and as far north as Delaware.
Despite the state of Alabama being an ideal habitat for mosquitoes that transmit Zika virus, very little mosquito surveillance data has been collected from around the state. Zohdy said that because of their research efforts and the discovery of Ae. aegypti, her team is now working with the Alabama Department of Public Health.
According to the CDC, there were 449 symptomatic Zika virus disease cases reported within the U.S. in 2017, with three reported in Alabama and two in Georgia. The majority of cases were instances of travelers contracting the disease from affected areas. Seven cases were acquired through presumed local mosquito-borne transmission, including two in Florida and five in Texas.
Zohdy's team is now conducting research in all 67 counties in Alabama to determine how widespread Ae. aegypti and Ae. albopictus are across the state.
In an effort to crowd-source mosquito surveillance data around the state, Zohdy's research team has partnered with Prakash Lab at Stanford University to develop and implement an app called "Abuzz," which will allow Alabama citizens to record the sound of a mosquito flying. From this recording, the app can identify the species of mosquito and whether or not that species could potentially carry a disease by the sound of the buzzing of its wings.
Once deployed, the app can empower volunteer "citizen scientists" to participate in mosquito surveillance to help researchers increase the volume and locations of data collection. "Alabama has had little mosquito surveillance in the past and we hope this app can change that to make it the best sampled state in the nation," Zohdy said.
Zohdy and her team also surveyed Mobile residents to gain insight about their perceptions of Zika virus and the best ways to target mosquito prevention. Of those responses, 70 percent reported a moderate to very high density of mosquitoes in their home and over half of those surveyed said they feel concerned to extremely concerned that they or a family member might contract Zika virus.
"To help mitigate the threat of the Zika virus it is critical to understand local knowledge and behavioral factors related to exposure to the mosquitoes," said Wayde Morse, an Auburn School of Forestry and Wildlife Sciences associate professor of human dimensions, who participated in the research efforts.
The results of the research efforts were published April 5 in the Journal of Medical Entomology, a scientific journal that historically publishes important information regarding mosquito surveillance. "Having this research published is a good way to reach people who study mosquitoes and other disease vectors," Zohdy said.
Victoria Ashby, a sophomore studying wildlife sciences with a pre-veterinary medicine concentration, has worked with Zohdy's research team for over a year and now leads fieldwork efforts. "My fieldwork has consisted of biweekly trips down to the Mobile Bay area in order to aspirate for adult mosquitoes and collect larvae using larval dip cups at 25 different sites in 12 zip codes," she said.
After graduation, Ashby plans to attend graduate school to continue on the path of disease ecology research and later attend veterinary school. "I have a strong interest in veterinary epidemiology and public health and throughout my time so far at Auburn, my involvement in the disease ecology lab with Dr. Zohdy has really shaped my academic interests and ambitions," she said.
Though Zika virus is primarily spread by infected Aedes species mosquitoes, the disease can also be transmitted through sexual contact with an infected person or from an infected pregnant woman to her fetus during pregnancy or at birth.
There is no vaccine to prevent Zika, but the CDC recommends the best way to avoid contracting the disease is to protect yourself from mosquito bites by these tips:
Wear long-sleeved shirts and long pants.
Stay in places with air conditioning and window and door screens to keep mosquitoes outside.
Take steps to control mosquitoes inside and outside your home by minimizing standing water in containers in and around the home.
Treat your clothing and gear with permethrin or buy pre-treated items.
Use Environmental Protection Agency (EPA)-registered insect repellents. Always follow the product label instructions. When used as directed, these insect repellents are proven safe and effective even for pregnant and breastfeeding women. Do not use insect repellents on babies younger than 2 months old. Do not use products containing oil of lemon eucalyptus or para-menthane-diol on children younger than 3 years old.
Mosquito netting can be used to cover babies younger than 2 months old in carriers, strollers, or cribs to protect them from mosquito bites.
Sleep under a mosquito bed net if air conditioned or screened rooms are not available or if sleeping outdoors.
Prevent sexual transmission of Zika by using condoms or not having sex.
To report suspected illness or to learn more about mosquito-borne disease prevention methods, visit https://www.cdc.gov/zika/.
To read more about Zohdy's research findings with the Journal of Medical Entomology, visit https://academic.oup.com/jme/advance-article/doi/10.1093/jme/tjy050/4962143?searchresult=1.
To learn more about the Abuzz app, go to http://abuzz.stanford.edu/.
(Written by Maggie Smith.)
Hurricane season starts June 1; make sure you are prepared
This Friday, June 1, marks the start of the 2018 hurricane season and Alabama has already experienced an early taste of what may be in store.
Subtropical Storm Alberto brought heavy rains and gusty winds as it pushed through the state on Tuesday. The storm, which made landfall late afternoon Memorial Day on the Florida Panhandle, also caused widely scattered outages in Alabama, with winds bringing tree limbs down onto power lines. Alabama Power crews moved quickly Tuesday to restore power as soon as conditions were safe to do so.
The arrival of the season's first named storm – before the season has officially begun – points to early predictions that suggest the number and strength of storms this year could be slightly higher than average.
The early forecast from the Department of Atmospheric Science at Colorado State calls for 14 named storms in the Atlantic, with half reaching hurricane strength. It predicts three will become "major" hurricanes of Category 3 or higher, with sustained winds over 110 miles per hour.
After a decade of relative quiet, last year's hurricane season closed with three devastating storms – Hurricanes Harvey, Irma and Maria – which caused widespread damage in Texas, the Florida Keys and Puerto Rico. In all, there were 17 named storms last year. Damage estimates mark the 2017 season as the costliest in U.S. history, with more than $250 billion of losses – far surpassing 2005, the year of Hurricane Katrina.
Alabama Power storm restoration experts watch the weather closely during hurricane season – and all year long – to ensure crews are ready to respond when severe weather strikes.
Alabama Power customers also should take steps to be ready for the upcoming hurricane season.
Preparing for a hurricane:
Know the hurricane evacuation routes from your home.
Determine where your family will meet, should you become separated.
Make sure you have a way to contact loved ones outside of the affected zone.
When a storm is predicted, keep cellphones and other electronic devices charged.
Stay informed with a battery-operated weather radio.* Stock an emergency kit with flashlights, batteries, first-aid supplies, prescriptions, cash and copies of critical information.
* Keep a three-day supply of water – 1 gallon per person per day – and three days' supply of nonperishable food.
* If you live in a coastal area, cover windows and reinforce garage doors. Storm shutters are ideal but windows can be safeguarded with plywood.
* Trim shrubs and trees close to your home.
* Turn down the thermostat in your home. It can help keep your home cool for up to 48 hours during a power outage.
* Bring in outdoor items, such as patio furniture, decorations and garbage cans.
During a hurricane:
* Seek shelter in a sturdy building, away from windows and doors.
* Monitor your weather radio for updates and reports.
After a hurricane:
Stay off flooded roads.
If there is a power outage or downed line, call Alabama Power's automated reporting system at 1-800-888-APCO (2726) or report it online at www.alabamapower.com. Stay away from downed lines and keep pets away.
Stay clear of damaged and fallen trees where a downed line may be hidden.
Check for property damage. Take photos for insurance purposes.
Check perishable foods and tap water for contamination.
For more information about storm safety, visit http://alabamanewscenter.com/storm-safety/ or the National Weather Service Hurricane Preparedness Week 2018 website, https://www.weather.gov/wrn/hurricane-preparedness.
Alabama Power, a subsidiary of Atlanta-based Southern Company (NYSE:SO), provides affordable, reliable electricity to more than 1.4 million customers across the state. Learn more at www.alabamapower.com.
Open Woods Weeks Announced for Sipsey River Recreation Area
The Alabama Department of Conservation and Natural Resources (ADCNR) State Lands Division has scheduled four Open Woods Weeks at the Forever Wild Sipsey River Complex located in Tuscaloosa County near Buhl, Ala. This outdoor recreation area features 7,155 acres of beautiful bottomland forest along the Sipsey River.
The Open Woods Weeks are scheduled for June 15-24, July 13-22, August 10-19, and September 7-16. Canoeing, birding, fishing, picnicking and wildlife photography are welcome on these dates. Those wanting to hike, bike and horseback ride during these Open Woods Weeks should be aware that there may be an increase in vehicle traffic.
During Open Woods Weeks, the public is welcome to drive into the Sipsey River complex along the main gravel road leading from the Jack's Drive parking area to the south gate. The main gate will be open from 4 p.m. on Friday and remain open through the following week until 4 p.m. Sunday.
In the event the Sipsey River is out of its banks and flooding the roads, the dates will be rescheduled.
For more information about the Forever Wild Sipsey River Complex including directions, visit www.alabamaforeverwild.com/sipsey-river-complex.
ADCNR promotes wise stewardship, management and enjoyment of Alabama's natural resources through four divisions: Marine Resources, State Lands, State Parks, and Wildlife and Freshwater Fisheries. To learn more about ADCNR, visit www.outdooralabama.com.
Alabama Department of Public Health issues 2018 fish consumption advisories
The Alabama Department of Public Health (ADPH) annually updates fish consumption advisories based on data collected the preceding fall by the Alabama Department of Environmental Management (ADEM).
ADEM, the Tennessee Valley Authority, and the Alabama Department of Conservation and Natural Resources collected samples of specific fish species for analysis from various waterbodies throughout the state during the fall of 2017 (421 samples; 36 collection stations). ADPH assessed the analytical results to determine whether any of the tested contaminants in the fish may give rise to potential human health effects.
Fish consumption advisories are issued for specific waterbodies and specific species taken from those areas. In reservoirs, advisories apply to waters as far as a boat can be taken upstream in a tributary, that is, to full pool elevations.
Newly issued advisories will be represented as the safe number of meals of that species of fish that can be eaten in a given period of time, such as meals per week, meals per month or do not eat any. A meal portion consists of 6 ounces of cooked fish or 8 ounces of raw fish.
New and updated consumption advisories issued for the 36 bodies of water tested can be found on the ADPH website: http://alabamapublichealth.gov/tox/fish-advisories.html
The advice contained in this release and complete listings of the posted fish consumption advisories are offered as guidance to individuals who wish to eat fish they catch from various waterbodies throughout the state. No regulations ban the consumption of any of the fish caught within the state, nor is there a risk of an acute toxic episode that could result from consuming any of the fish containing the contaminants for which the state has conducted analyses.
A fish consumption advisory can be issued for one or more specific species of fish within a waterbody or an advisory can be extended to include all fish species within that waterbody. When excess levels of a contaminant are found in a specific species of fish, an advisory is issued for that specific species. For example, if an advisory had been issued for largemouth bass and not for channel catfish, it would be advised that individuals should not eat largemouth bass, but consumption of channel catfish is permissible without endangering health.
When excess levels of a contaminant are found in multiple fish species sampled from a specific waterbody, a Do Not Eat Any advisory is issued. Consumption of any fish from a specific waterbody under a Do Not Eat Any advisory may place the consumer at risk for harm from the contaminant.
If a species is listed in the advisory, it is prudent to assume that similar species with similar feeding habits should be consumed with caution. For example, if black crappie is listed and white crappie is not, because they are in the same family, all crappie would fall under the listed advisory.
CAB Discusses Snapper, CWD and Turkeys
By David Rainer, Alabama Department of Conservation and Natural Resources
Three species – red snapper, Eastern wild turkeys and white-tailed deer – dominated the discussion at the Alabama Conservation Advisory Board (CAB) Meeting last weekend in Tuscaloosa.
With the red snapper recreational season opening on June 1, Chris Blankenship, Commissioner of the Alabama Department of Conservation and Natural Resources (DCNR), thanked Marine Resources and other proponents of a longer red snapper season for Alabama's potential 47 days of fishing for the state's most popular reef fish.
"The Gulf states were granted exempted fishing permits to be able to manage the red snapper fishery, recreationally, off our coast," Blankenship said. "That was done primarily because of good work by Sen. (Richard) Shelby that included language in legislation that allowed the permits. The exempted fishing permits were worked on by Marine Resources Director Scott Bannon and Kevin Anson, our chief biologist at Marine Resources. Our state (private recreational) season will be Fridays, Saturdays and Sundays, starting June 1 and that runs through Labor Day. It will also include the whole week of the Fourth of July. That ends up being 47 days. It could be longer if we have bad weather and the catch is reduced, or it could be shortened by a few days if our catch is above what we are projecting. I do want to commend Scott and Marine Resources for getting that done in a short period of time to be approved by NOAA Fisheries for this year. We will also manage that fishery next year."
Alabama's charter fleet remains under federal jurisdiction. The charter season is set for June 1 through July 21.
Bannon explained after the meeting that one of the reasons the exempted fishing permits were approved is the Alabama Red Snapper Reporting System, more commonly known as Snapper Check. The system requires anglers who land red snapper in Alabama to report their catches before the fish are removed from the vessels. Anglers have three ways to report catches: the Outdoor AL app for smartphones, online at outdooralabama.com or by paper reporting forms at select public boat ramps.
The Outdoor AL app has been totally revamped for the 2018 season. The Pocket Ranger app previously used is no longer viable. The new Outdoor AL app must be downloaded onto your smartphone.
"The new Snapper Check will have an offline function, which had been requested by the fishing community so they can submit their report even when they don't have a cell signal," Bannon said. "When they do get a cell signal, the system will automatically upload their snapper report. This eliminates any excuse not to report. You can report anywhere. You can report as soon as you catch your fish offshore, or you can report before you remove the snapper from your boat upon landing. We are excited about that portion of it."
Bannon said anglers still are required to report their snapper catches even if they interacted with Marine Resources personnel.
"Being surveyed by the Marine Resources biological staff at the boat ramp is not considered reporting your fish," he said. "Additionally, if anglers have been interviewed by enforcement, either stopped while underway or checked at the boat ramp, that is not considered reporting either. You still must report your catch.
"The new Outdoor AL app will also have a tab to review your snapper reports for the year."
Snapper Check will require the number of red snapper caught and retained. Other questions include where the fish were landed, Mobile or Baldwin County, whether the boat landed at a private or public access point, whether the boat is a charter or private recreational vessel, how many anglers were on the boat and how many dead discards were observed during the fishing day. Dead discards are red snapper that are caught and released and do not survive.
"Dead discards are in the management plan," Bannon said. "The feds account for that, and Marine Resources accounts for that to give us the data point for fish mortality."
New this year is the ability for anglers to report their catches of gray triggerfish and greater amberjack.
"Triggerfish and amberjack are two hot topics," Bannon said. "They are highly desirable species. There are pending changes in the management of amberjack, and we made some changes to triggerfish. We would like to gather more real data on what fish are being landed in Alabama."
The gray triggerfish limit was reduced to one fish per person with a minimum size of 15 inches fork length. The amberjack limit is one per person with a minimum size of 34 inches fork length.
Amberjack and triggerfish seasons close on June 1 and are scheduled to reopen on August 1.
In wildlife news, a significant threat to Alabama's deer hunting tradition occurred last season when a 4½-year-old buck in west-central Mississippi tested positive for chronic wasting disease (CWD), which is always fatal. Mississippi has tested more than 1,400 deer since October 2017 and no other animals have been detected with CWD. Louisiana has also conducted extensive testing inside the 25-mile CWD containment zone, which crosses the Mississippi River, and none of those animals have tested positive for CWD.
Since that positive test, Alabama Wildlife and Freshwater Fisheries (WFF) officials have been working rapidly to update the plan to deal with CWD if necessary.
"I'm happy to report we have finished the revision to our surveillance and response plan for chronic wasting disease as to what we would do and how we would respond if CWD were ever discovered here," Blankenship said. "There was a lot of great work by Keith (Gauldin, Wildlife Section Chief), other people in the Wildlife Section, along with people in our Enforcement Section. Our staff has also researched what was happening around the country to help us put a plan together to take the best and most relevant science to ensure our state is ready, one, to keep it out of our state, and two, that we are ready to respond in the unfortunate case that CWD is detected in Alabama."
The updated response plan is available online at www.outdooralabama.com. Type chronic in the search box to pull up the link to "Chronic Wasting Disease – What You Should Know."
Agriculture and Industries Commissioner John McMillan, who sits as an ex-officio member on the Advisory Board, said the CWD testing equipment that was recently purchased with funds provided by WFF has been certified by the U.S. Department of Agriculture. The technician tasked with operating the equipment, which can test up to 90 samples per day, has also been certified.
"Now we are no longer dependent on anybody to get those tissue samples tested," Blankenship said. "We are self-contained in Alabama. We don't have to wait on anybody. We take our samples to the Department of Agriculture lab at Auburn University. We will get those test results quickly and be able to respond as soon as possible. I appreciate the partnership with the Department of Agriculture as well as the Alabama Department of Public Health and the Alabama Department of Environmental Management to make sure we have a robust response plan."
WFF Director Chuck Sykes highlighted the potential devastating effects CWD could have on Alabama. Sykes has been traveling around the state to speak at seminars hosted by ALFA (Alabama Farmer's Federation) and the Alabama Treasure Forest Association. The next seminar is scheduled for Monroeville on May 29 and another is set for Tuscaloosa on June 7.
"We're not trying to scare people to death," Sykes said. "We want them to be informed that this is a serious issue. I don't want to pour water on anybody's issues here, but dog hunting, baiting, night hunting, poaching, all of that pales in comparison to problems we're going to have if CWD ever gets in the state. As Commissioner McMillan says, we all need to band together. This is not a dog hunter issue or a private landowner issue. This is a hunter issue. I encourage your friends, families and hunting partners to come to one of the seminars and listen and ask questions.
"Misinformation is running rampant out there right now. We need to get the right information out there."
CAB member Jessica Butler of Scottsboro introduced motions that would change turkey season for the 2018 fall and 2019 spring turkey seasons. Butler's first motion proposed a change to the starting date of the spring season from March 15 to the third Saturday in March, which could range from March 15 to March 21. After discussion, the Board passed the motion.
Butler's second motion to reduce the season bag limit from five birds to four led to considerable debate among the Board members. At the conclusion of the discussion, the Board voted down the reduced bag limit by a 7-4 margin.
US beekeepers lose four of every 10 managed colonies in 2017-18
The nation's beekeepers lost 40 percent of their managed honey bee colonies between April 1, 2017, and March 31, 2018, an increase of almost 7 percentage points from the previous year's total loss rate, results of an annual nationwide survey show.
Greater colony mortality during the 2017-18 winter months pushed the overall loss rate higher, with survey respondents reporting a 30.7 percent rate of loss from October to April. That is up significantly from 2016-17's record low of 21.1 percent and is 2.8 percent higher than the 10-year average winter loss rate.
"Winter is a critical period for honey bee colonies, as production of new bees slows or stops altogether," said Geoffrey Williams, Auburn University assistant professor of insect pollination and apiculture and 2017-18 colony loss survey coordinator in cooperation with University of Maryland researchers. "There also can be a lack of food."
Small-scale beekeepers typically have higher winter losses than their commercial counterparts, Williams said, and such was the case in 2017-18, with backyard beekeepers losing 46.3 percent of their colonies over the six-month period compared to sideline producers' 38 percent rate of loss and commercial beekeepers' 26.4 percent loss rate.
The survey also tracked summer-season colony mortality in 2017-18 and found that beekeepers lost 17.9 percent of their managed colonies, on par with the 2016-17 loss rate.
Especially interesting in this year's survey results was the rate of colony loss that beekeepers deemed acceptable. The 2017-18 data set the acceptable loss rate at 20.6 percent, up from 18.7 percent in 2016-17 and the highest percent since the survey began in 2006-07.
"We don't have a solid explanation of why that acceptable rate continues to climb, but it could be that beekeepers are being realistic about potentially higher losses," Williams said. "For them, it could be the new norm."
As of May 14, some 4,794 beekeepers who collectively manage 175,923 colonies, or 6.6 percent of the nation's 2.67 million managed honey bee colonies, had responded to the survey, representing all 50 states, the District of Columbia and U.S. territories. The federally funded survey, conducted by the nonprofit Bee Informed Partnership, is open to every beekeeper in the country, including backyard, sideline and commercial producers, defined as those managing 50 or fewer colonies, 51 to 500 colonies and 501 or more colonies, respectively.
While several parasites, pests and diseases can contribute to colony mortality, the No. 1 enemy of honey bees and beekeepers in the U.S. and around the globe is the varroa mite. The external parasite is highly reproductive and can spread easily from one colony to the next, vectoring viruses as it feeds on adult and immature bees.
Bill Evans, a veteran backyard beekeeper in central Alabama, said management is key to preventing the devastating parasites.
"Some hobbyists think they can just put a couple of boxes of bees in their yards and forget about them till it's time to go harvest some honey, but constant monitoring and sound management practices are absolutely necessary," said Evans, a certified master beekeeper who, in his 25 years of beekeeping, has consistently and meticulously maintained 10 healthy colonies.
This was the 12th annual national winter colony loss survey, and the eighth survey to include yearly and summer loss rates as well. Beekeepers say the survey is an important tool for the industry.
"This survey is beekeepers' chance to share their experiences with policymakers who keep thinking the 'bee problem' is over," retired Florida beekeeper David Mendes said. "They need to know that bees and beekeepers are still in jeopardy and need help."
Evans said statistics should also be a call to action for producers, especially backyard beekeepers, to be vigilant in monitoring and inspecting their colonies and to step up their management programs.
Results of the 2017-18 survey and all past surveys can be found at beeinformed.org. State-by-state colony loss data from the latest survey will be available in the coming weeks.
The Bee Informed Partnership plans to publish a 10-year analysis of survey results from 2007-08 to 2016-17 later this year. Written by Jamie Creamer.
Take precautions to prevent tick- and mosquito-borne diseases
As the days get longer and the kids get out of school, many Alabamians will be spending a lot more time outside. Warmer weather means lots of fun outdoor activities, but it also means tick and mosquito season. While most tick and mosquito bites are only an annoyance, sometimes these bites can be dangerous.
"Ticks and mosquitoes can transmit viruses and bacteria when they bite, causing illnesses that range from mild to severe or even fatal," according to Sherri Davidson, interim state epidemiologist. West Nile virus disease, Lyme disease and Rocky Mountain spotted fever are a handful of diseases Alabamians can get from ticks and mosquitoes in their own backyards.
Luckily, there are several things you can do to lower the risk of disease to you and your family. Dr. Dee Jones, state public health veterinarian, says, "The best way to avoid getting a disease from a tick or mosquito is to reduce the risk of being bitten." You can help keep ticks and mosquitoes off of your skin and out of your yard by following these recommendations from the Centers for Disease Control and Prevention (CDC):
• When going outdoors, use EPA-registered repellents containing 20 percent DEET on skin or permethrin on clothes. Follow label instructions carefully when using any repellent. Repellents should not be used on infants less than 2 months old.
• Wear loose-fitting long sleeves and long pants.
• Install or repair screens on windows and doors. Use air-conditioning, if available.
• Empty standing water from items outside homes such as flowerpots, buckets, old tires and children's pools.
• Clean clogged gutters and clear drainage ditches and pipes of debris.
• Remove leaf litter from yard, and mow lawn frequently.
All Alabamians deserve a healthy, fun-filled summer! You and your family can safely enjoy all the great outdoor activities our state has to offer if you take steps to avoid mosquito and tick bites.
If you would like to learn more, check out the resources below.
• For more information on repellents, visit http://cfpub.epa.gov/oppref/insect
• For more information on prevalence and prevention of tickborne diseases in Alabama, visit http://www.alabamapublichealth.gov/infectiousdiseases/tickborne-diseases.html
• For more information on prevalence and prevention of mosquito-borne diseases in Alabama, visit http://www.alabamapublichealth.gov/mosquito/index.html
Registration for 2018 Alligator Hunts Opens June 5
Alabama issuing 260 tags in four hunting zones

The Alabama Department of Conservation and Natural Resources (ADCNR) will open online registration for the state's 13th annual regulated alligator hunts on June 5 at 8 a.m. Registration must be completed by 8 a.m., July 11. A total of 260 Alligator Possession Tags will be distributed among four hunting zones. The administrative fee to apply for an Alligator Possession Tag is $22 and individuals may register one time per zone. While the tag is free, the selected hunters and their assistants are required to have valid hunting licenses in their possession while hunting.
Only Alabama residents and Alabama lifetime license holders ages 16 years or older may apply for tags. Alabama lifetime license holders may apply for an Alligator Possession Tag even if they have moved out of the state.
To register for the 2018 alligator hunts, visit www.outdooralabama.com/alligators/alligator-hunt-registration during the registration period listed above.
Hunters will be randomly selected by computer to receive one Alligator Possession Tag each (the tags are non-transferable). The random selection process will utilize a preference point system. The system increases the likelihood of repeat registrants being selected for a hunt as long as the applicant continues to apply. The more years an applicant participates in the registration, the higher the likelihood of being selected. If an applicant does not register for the hunt in a given year or is selected and accepts a tag for a hunt, the preference point status is forfeited.
Applicants can check their selection status after 12 p.m. on July 11. Those selected to receive a tag must confirm their acceptance online by 8 a.m., July 18. After that date, alternates will be notified to fill any vacancies. Applicants drawn for the hunt must attend a mandatory, zone-specific Alligator Training Course provided by the Alabama Wildlife and Freshwater Fisheries Division. If hunters have attended a previous training course for their selected zone, they may be exempted from this requirement.
If selected for an Alligator Possession Tag at two or more locations, hunters must choose which location they would like to hunt. The slot for locations not chosen will be filled from a list of randomly selected alternates.
Hunting zones, total tags issued per zone and hunt dates are as follows:
Southwest Alabama Zone – 150 Tags
Locations: Private and public waters in Baldwin and Mobile counties, and private and public waters in Washington, Clarke and Monroe counties that lie east of U.S. Highway 43 and south of U.S. Highway 84. 2018 Dates: Sunset on August 9, until sunrise on August 12. Sunset on August 16, until sunrise on August 19.
Southeast Alabama Zone – 40 Tags
Locations: Private and public waters in Barbour, Coffee, Covington, Dale, Geneva, Henry, Houston and Russell counties (excluding public Alabama state waters in Walter F. George Reservoir/Lake Eufaula and its navigable tributaries). 2018 Dates: Sunset on August 11, until sunrise on September 3.
West Central Alabama Zone – 50 Tags
Locations: Private and public waters in Monroe (north of U.S. Highway 84), Wilcox and Dallas counties. 2018 Dates: Sunset on August 9, until sunrise on August 12. Sunset on August 16, until sunrise on August 19.
Lake Eufaula Zone – 20 Tags
Location: Public state waters only in the Walter F. George Reservoir/Lake Eufaula and its navigable tributaries, south of Alabama Highway 208 at Omaha Bridge (excludes Eufaula National Wildlife Refuge). 2018 Dates: Sunset August 17, until sunrise October 1.
An 8-foot minimum length requirement is in effect for alligators harvested in the Lake Eufaula Zone. There is no minimum length for hunts in the other zones.
Hunting hours are official sunset to official sunrise in the Southwest, Southeast and West Central Zones. For the Lake Eufaula Zone, hunting is allowed both daytime and nighttime hours. All Alabama hunting and boating regulations must be followed.
The American alligator (Alligator mississippiensis) is the largest reptile in North America and can exceed 14 feet in length and 1,000 pounds. Known for its prized meat and leather, the species was threatened with extinction due to unregulated harvest during the 1920s, 30s and 40s. No regulations existed in those days to limit the number of alligators harvested. In 1938, it is believed that Alabama was the first state to protect alligators by outlawing these unlimited harvests. Other states soon followed and, in 1967, the U.S. Fish and Wildlife Service placed the American alligator on the Endangered Species list. By 1987, the species was removed from the Endangered Species list and the alligator population has continued to expand. Its history illustrates an excellent conservation success story.
The Alabama Department of Conservation and Natural Resources promotes wise stewardship, management and enjoyment of Alabama's natural resources through four divisions: Marine Resources, State Lands, State Parks, and Wildlife and Freshwater Fisheries. To learn more about ADCNR, visit www.outdooralabama.com.
Auburn veterinary professor says ticks, fleas and mosquitoes not just a seasonal problem
Warmer weather is upon us and pet owners tend to think about tick and flea control for their dogs and cats. But according to a veterinary parasitology expert at Auburn University's College of Veterinary Medicine, this should not be just a seasonal concern.
"A tick problem is not just a summer problem," said Dr. Lindsay Starkey, an assistant professor in the Department of Pathobiology whose veterinary medicine subspecialty is parasitology. "That is a common misconception. Fleas and ticks can survive in winter and some even indoors. Ticks can survive a cold, damp winter better than they can a hot, dry summer. Pet and other animal owners need to protect their animals year round."
Dr. Starkey teaches a range of parasitology courses to first-, second- and fourth-year veterinary students. She also assists with the parasitology component of veterinary student's diagnostics rotation that is part of their four-year clinical year of veterinary education.
"Parasitology is hugely important to veterinarians and for veterinary students to learn," Dr. Starkey said. "Unfortunately, even with the good medications that we have, parasites are going to walk into the door of a veterinarian's practice every day. And when it is fleas and ticks—these parasites can carry a number of potential pathogens, such as the bacteria that cause Rocky Mountain spotted fever, Lyme disease, ehrlichiosis and plague."
Parasite problems are particularly prevalent in the South, Dr. Starkey says, and it's not only ticks and fleas that are vectors, but also mosquitoes. "Heartworm is incredibly common in the Southern states, but is found throughout the U.S. Dogs, and also cats and a few other animals, are infected through the bite of a mosquito," she said.
Veterinary researchers continually work toward the development of better drugs for parasite control, and, currently, there are very good medications available for use in pets. However, Dr. Starkey says the need for precautions extends even to large animals and humans. She offers some suggestions for year-round precautions for parasite control for pets and their owners:
For Pets:
Year-round prevention using a veterinarian-recommended medication designed for treating and controlling fleas, ticks, heartworm and other parasites;
Check the pet routinely for evidence of a flea or tick infestation;
Treat the areas indoors and outside where the pet lives and plays;
Manage the outdoor environment to make it less conducive for harboring ticks, fleas and mosquitoes;
Remove standing water which serves as a breeding ground for mosquitoes;
"Tick-scaping," which involves such techniques as chemical treatment, mowing and minimizing leafy areas that can harbor ticks and fleas in the yard.
For Humans:
Use a good insect repellant such as DEET or permethrin;
Wear long sleeves and long pants to protect against ticks and mosquitoes;
Tuck pant legs into the tops of shoes and boots;
Tuck in shirt tails;
And always self-check the body for ticks after being in a potential tick environment.
"Sometimes ticks are so small that it is nearly impossible to find them on your body," Dr. Starkey said. "But when one has attached itself, there are safe ways to remove them. Use forceps or fine tweezers and grab the tick as close to the attached area on the skin as you can. Gently, but steadily pull the tick away from the skin to remove it and don't twist or bend. Squeezing the tick may actually cause the tick to inject more toxins or pathogens back into the bite area."
The same removal techniques apply to removing ticks from a pet, Dr. Starkey adds.
Symptoms that a pet owner should be watchful for that might indicate the animal has a parasite-borne illness includes fever, loss of appetite or limping.
"Concerned animal owners can save the removed tick in a plastic bag or other container and bring it into their veterinarian to have it identified or sent out for pathogen testing," Dr. Starkey said. "And, always check thoroughly. If you find one tick, there very well might be more." Written by Mitch Emmons.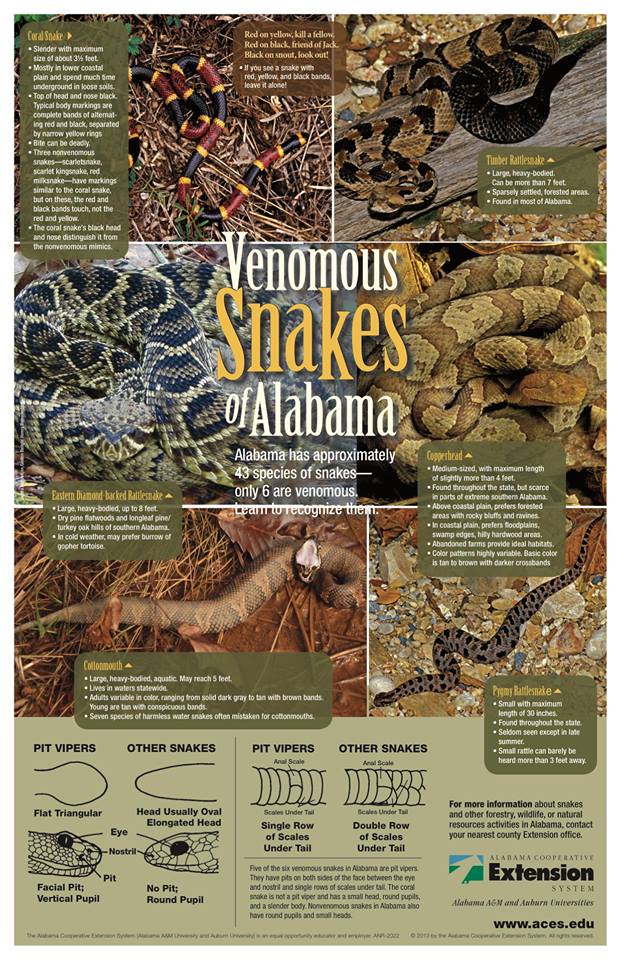 Can you recognize and identify the six venomous snakes that call Alabama home? With warmer weather here, these snakes will be more active. This poster can help you learn what they look like and where they are typically found. A free download of this poster can be found on ACES online here https://store.aces.edu/ItemDetail.aspx?ProductID=17880
Aquarium Animals and Plants Should Never Be Released into the Wild
Teachers and pet owners should be aware that aquarium animals and plants should never be released into the wild. Releasing aquatic animals and plants is illegal, as they pose a threat to native species and ecosystems. While the environmental damage caused by invasive species throughout the United States is devastating, Alabama is especially vulnerable due to its abundant biodiversity and aquatic habitat.
When a non-native animal or plant is introduced into an ecosystem, the results are often unpredictable. The national Aquatic Nuisance Species Task Force Strategic Plan indicates that "approximately 49% of imperiled species are endangered primarily because of predation or competition with exotic species."
For example, the Island Applesnail was likely released into waters near Mobile Bay by an aquarium or ornamental pond owner. Biologists are concerned these snails will reduce the number of native aquatic plants necessary as food and habitat for birds and other aquatic organisms. The Island Applesnail can also host a parasite that affects humans.
The Oriental Weatherfish or Pond Loach is an exotic aquarium fish that has been found in Logan Martin Reservoir and tributaries of the Coosa River. This species has been found in the same waters as the native Coldwater Darter, although the threats to this protected species are currently unknown.
Once an invasive organism has become established, it is nearly impossible to eradicate. The control of invasive species is costly, so preventive measures such as properly disposing of unwanted aquarium animals and plants is a priority in preserving native ecosystems.
A pet store may be willing to take unwanted aquarium animals or plants. If a pet store will not take the aquarium animal, it will need to be euthanized. To properly dispose of aquarium animals and plants, they should be frozen, sealed in a plastic bag, and placed in the trash.
To learn more about invasive aquatic species in Alabama, visit www.outdooralabama.com.
ADCNR promotes wise stewardship, management and enjoyment of Alabama's natural resources through four divisions: Marine Resources, State Parks, State Lands, and Wildlife and Freshwater Fisheries. To learn more about ADCNR, visit www.outdooralabama.com.
Alabama Hunters Report Increase in Turkey Harvest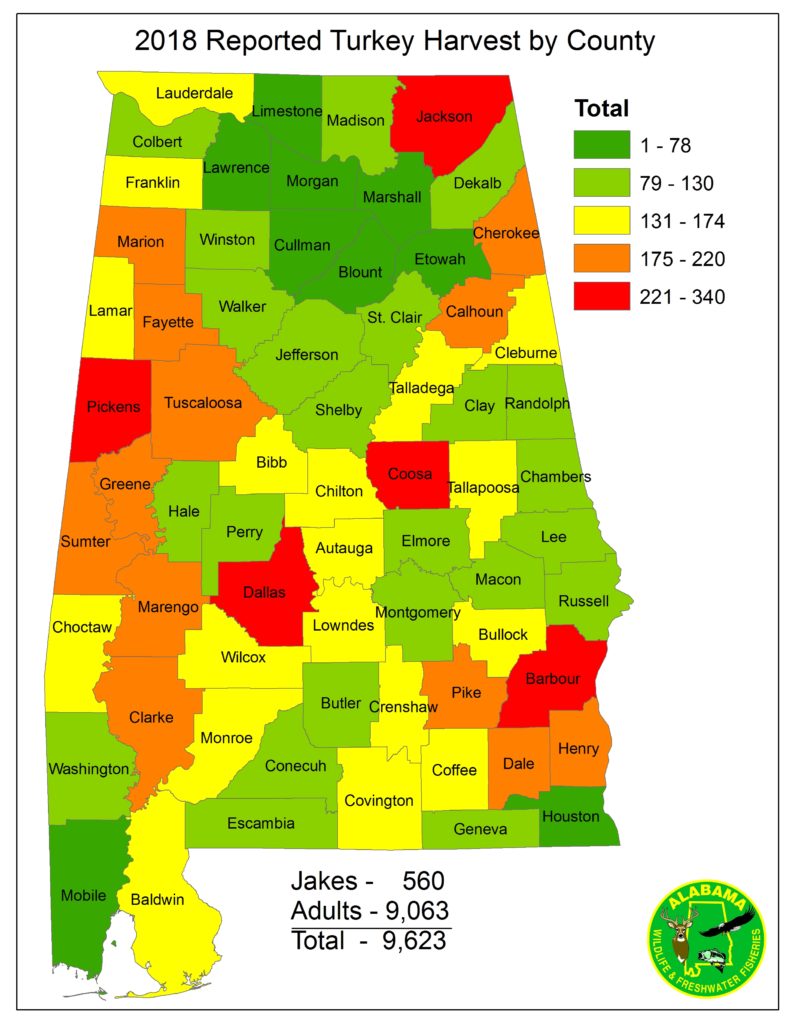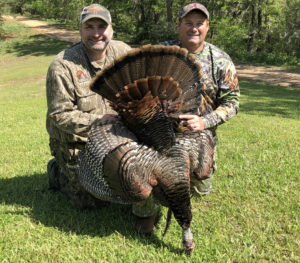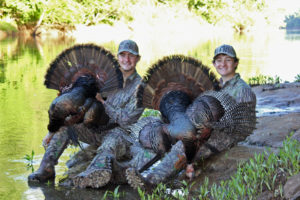 By David Rainer, Alabama Department of Conservation and Natural Resources
PHOTOS: (Chuck Sykes) Brothers Andrew Bell, left, and John Dawson Bell show off a pair of gobblers that were called in by Chuck Sykes near the end of the season. Sykes also guided Conservation Commissioner Chris Blankenship on his first turkey hunt, which was obviously successful.
The Game Check numbers from the recently completed wild turkey season are in, and a slight uptick in hunter success was indicated.
According to Alabama Wildlife and Freshwater Fisheries (WFF) Director Chuck Sykes, those numbers need to be viewed with caution. Last year, hunters reported the harvest of 9,177 turkeys through the mandatory Game Check system. This year, the harvest reported was 9,628 birds.
"Statistically, that's not a big difference," Sykes said. "That's not the number of turkeys that were killed in Alabama. That's the number that were reported. I think about three times that amount were killed both years.
"Last year, we estimated about 40-percent compliance with Game Check. This year, some of our estimates are up around 65 percent. So, it depends on which guesstimate you want to go with. If it's 40 percent, we've probably got plenty of turkeys. If it's 65 percent, then, yes, we have a problem. And we won't know until we get better compliance. For every call I get that says we don't have any turkeys, I get another call that says it's the best season they've ever had. Until we get concrete numbers, we have to do the best we can."
Sykes, who was a professional hunting guide early in his conservation career, said his turkey season fit into that latter category of success.
"I had the best season I've had since I became director," he said. "When we talked earlier in the season, I predicted the last two weeks of the season would be good. That's exactly what happened. We burned them up the last two weeks."
But that didn't mean the season was typical for Sykes and his hunting partners. He said turkeys weren't in their usual hangouts, which meant they had to cover a great deal of territory to find the turkeys.
"Last year, the first two weeks of the season couldn't have been any better," he said. "The last two weeks, I couldn't buy a turkey. This year, the first two weeks were tough, but, as predicted, the last two weeks were great. Turkeys didn't gobble good. There were still turkey tracks, and we found turkeys in places where we hadn't found them before. You just had to get out and hunt them."
Sykes said his turkey season diary from last year indicated that during the 16 days he hunted in March there were nine turkeys killed and three missed. The 20 days he hunted last year in April resulted in one kill and two misses. This year, Sykes hunted 13 days in March with five turkeys killed. In April, he hunted 19 days with seven turkeys harvested and a whopping five missed. Sykes said his days hunted often included hunting from 6-7:30 in the morning before he headed to the office or 6-7:30 in the evening.
"I have averaged a turkey being shot at every 2.3 days for the past 10 to 15 years," Sykes said. "This year, that average was 1.8. Last year, during the month of April, I hunted bits and pieces of 20 days. I had one turkey killed. This year, that last 10 days I went to the woods, we just about shot at a turkey every day.
"I know I'm not the norm. I talked to some people who killed their limit (five per person per year) in March, and I know guys who didn't kill a bird this year. It's all site specific."
In the Southeast, concerns that turkey populations are declining prompted WFF to contract with Auburn University for a five-year study on turkeys. This was the fourth year of the study.
WFF also enlisted a number of dedicated turkey hunters to participate in the Avid Turkey Hunters Program to report turkey activity witnessed in the field. The results are reported annually in the "Full Fans and Sharp Spurs" publication. Go to http://www.outdooralabama.com/turkey-hunting-alabama/turkey-research to read the report.
"Looking at 'Full Fans and Sharp Spurs,' our recruitment is not what it should be," Sykes said. "The number of poults per hen is not where we want it, and the number of hens with no poults at all is definitely a lot higher than we want."
Sykes said he heard the talk that 'turkeys were gone' four years ago. But when he looked at his hunting records, the turkey harvest was the same that year and this year.
"Numbers may be down, but I attribute the numbers being down where I used to have turkey to habitat changes," he said. "Places that have stayed pastures and ag fields that I hunt, nothing has really changed around it, and the turkeys are fairly constant. But on our place outside Butler, 10 years ago we'd kill a couple a year on that 200 acres. I haven't killed a turkey off that place since you and I went because we cut a bunch of mature timber, and longleafs are in their early stages of growth. I'm not saying the turkeys disappeared. I know why the turkeys aren't there. The habitat changed. But in a couple of years when the habitat is back right, we'll have turkeys again."
Factors in turkey population changes include urbanization, unmanaged timber and predator numbers as well as the number of hunters who pursue turkeys these days.
"A lot of things have changed with hunters," Sykes said. "You've got shotguns now that will kill a turkey at 70 yards. You've got decoys and pop-up blinds.
"There's a big difference between turkey hunters and people who hunt turkeys. Turkey hunters can kill turkeys whether they're gobbling or not, whether weather conditions are great or not. People who hunt turkeys can't. Therefore, there is a perceived problem. I'm not saying that's bad. We want more hunters. But sticking a decoy and a pop-up blind up in a food plot, that's hunting turkeys, not being a turkey hunter."
Sykes thinks that added pressure has resulted in a decrease in gobbling. He sees the evidence in tracks that the turkeys haven't gone anywhere, but some hunters mistakenly surmise there aren't any turkeys around when the birds don't gobble.
"I hunted places this year where we'd go one day and hear eight turkeys," he said. "Then it may be two weeks before you heard a turkey gobble again. That didn't mean all of them died. It didn't mean all of them packed up and left. For whatever reason, they didn't gobble. Seriously, a lot of the turkeys we killed this year didn't gobble but two or three times.
"Or, you get an old turkey on a hunting club that's been shot at two or three times and spooked two or three times. He's got every turkey in the area beat down where they won't gobble. You're not going to kill them. You can't kill him without basically deer-hunting him. So, if you don't kill him, you're not going to have gobbling turkeys on that place. It doesn't mean they're gone. They're just not vocal because of the hunting pressure and one old turkey."
Back to the Game Check numbers, Jackson County in northeast Alabama led the way again in the number of turkeys reported killed with 340. The other counties with the highest harvests reported include Barbour, Dallas, Coosa and Pickens.
"I hunted Jackson County for one day for 30 minutes and called up a big one, so I'm not surprised," Sykes said. "I probably hunted seven or eight counties this spring. How the hunts turned out depended on the day and where we were."
Sykes said his hunting parties took a majority of older-age-class birds this year. Out of the 12 birds that Sykes witnessed being harvested, only two were 2-year-old birds. The other birds were 3- and 4-year-olds.
"And I saw quite a few jakes (year-old gobblers) this year," he said. "That is encouraging."
Sykes also got to introduce a colleague to the sport of turkey hunting. He took Conservation Commissioner Chris Blankenship, whose background is in marine fisheries, on his first turkey hunt.
"Chris lives a charmed life," Sykes said. "He deer-hunted one afternoon last year and killed a 200-pound, seven-point that he got mounted. He wanted to go turkey hunting. I took him to a good place, and within 45 minutes of his first hunt, he harvested a good, 3-year-old bird. Granted, he takes direction well. He listened and did everything he needed to do. He killed his first turkey with a brand-new gun he had bought just for this hunt. So, we are creating hunters and creating people who support conservation by buying guns and ammunition.
"I applaud him for taking up something new. Being a fish guy, this was completely outside his comfort zone, and he did very well."
Auburn University named first Bee Campus USA in Alabama
Bee Campus USA recently announced Auburn University as the first university in Alabama to be certified as an affiliate of the Bee Campus USA program, designed to marshal the strengths of educational campuses for the benefit of pollinators.
The university joins a group of 39 campuses nationwide, aiming to raise awareness of pollinators, food production, native plant species and integrated pest management, all while stimulating the nation's economy through species protection and the services that those efforts support.
"Imperiled pollinators are responsible for the reproduction of 90 percent of the world's wild plant and tree species," said Phyllis Stiles, Bee Campus USA director. "Auburn University is a stellar example of the influence educational institutions can have on their students and the broader community. Their talented faculty, staff and students offer an invaluable resource for Alabama residents in seeking ways to manage ornamental landscapes in more wildlife-friendly ways."
These efforts are enabling Auburn's faculty and staff to bridge the academic and operational divide to create new opportunities in research, instruction and extension related to pollinators and environmental health.
The Auburn Bee Campus USA Committee began as an informal working group in early 2017 focused on unifying the multi-faceted, pollinator-related efforts already under way on campus. The committee now serves as a network of representatives from the academic, extension and operational areas of the university.
"It really was a team effort and a testament to the forward, sustainable thinking of many folks on campus," said Geoffrey Williams, assistant professor in the Department of Entomology and Plant Pathology and member of the Auburn Bee Campus USA Committee.
To receive the Bee Campus USA designation, Auburn must uphold seven commitments focused on protecting pollinators and their habitats, along with promoting awareness of the roles they play and how others can join efforts to support them.
The student organization Auburn for Bees is transforming campus awareness as the members educate the importance of bees to students and work directly with the Auburn University Laboratory of Insect Pollination and Apiculture, also known as Williams' "Auburn Bee Lab."
"This designation is an excellent step toward the protection and education of bees, and I'm proud to see Auburn follow in the steps of other big schools participating in Bee Campus USA," said Kressie Kornis, president and founder of Auburn for Bees. "Spreading awareness is the easiest step a person can take if they would like to contribute to this cause."
Auburn for Bees established Beeducation, a new program where the students travel to local elementary schools and talk to children in the Auburn community about bees.
"Seeing how passionate children are about the bees through Beeducation makes me wish older generations like mine had that positive and inquisitive attitude toward bees," said Kornis. "I know I was never taught about bees in school, and I think this is how that begins."
Other members in the Auburn Bee Campus USA Committee include representatives from the School of Architecture, Planning and Landscape Architecture; the Department of Geosciences; the Department of Horticulture; Tiger Dining; Facilities Management; Campus Planning and Space Management; and the Office of Sustainability.
For more information, go to http://wp.auburn.edu/sustainability/practices/bee-campus-usa/. Written by Sarah Farmer.
Go Jump In A Lake … Or Walk Or Run
All Alabamians are encouraged to get outside and walk, run, hike, bike, swim, paddle, ride, or roll with family and friends at the state's parks, nature preserves and rivers through the 100 Alabama Miles Challenge. The new statewide public program, presented by UA's Center for Economic Development and partnering organizations, officially starts Saturday, May 12 with kick-off events in several cities and towns throughout the state and at all 17 Alabama State Parks. Watch for a news release, or contact Brian Rushing, in UA's Center for Economic Development, brian.rushing@ua.edu or 205.915.5402. For assistance, contact Zach Thomas, at 205-348-8318 or zthomas@cba.ua.edu.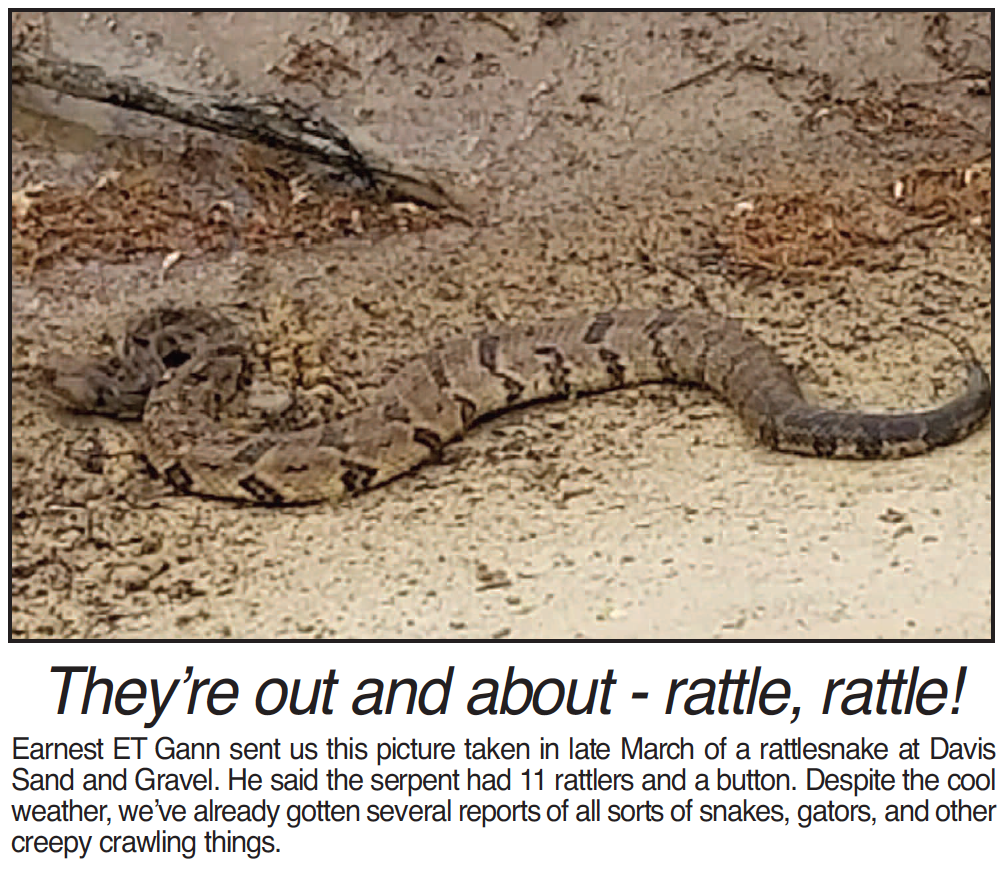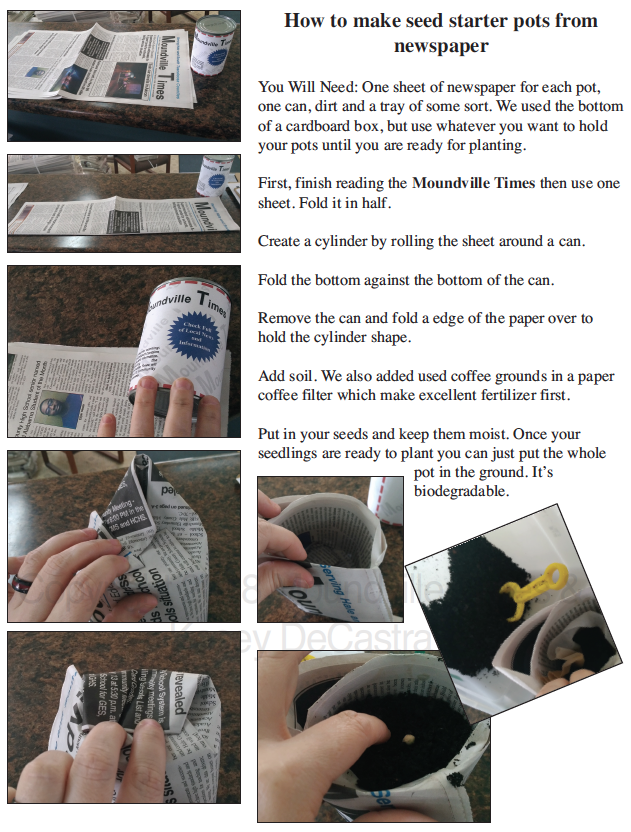 Forever Wild Field Trial Area Accepting Fishing Reservations
The M. Barnett Lawley Forever Wild Field Trial Area in Hale County will be open for fishing to families and small groups on several Saturdays in upcoming months. Two catfish and three bass and bream ponds are located on the property. Reservations are required and can be made by calling 334-624-9952, from May 15 through June 8, 2018.
"We feel like having a family or group of friends make reservations is a good way to ensure that everyone has a safe, fun outing," said Bill Mason, property manager. "We would particularly like to see youth have the opportunity to fish in these ponds."
When reservations are made, each group will be assigned a pond along with details such as creel limits and what kind of tackle to bring. Ponds will be assigned on a first-come, first-served basis. There is no cost to anglers, but anyone between the ages of 16 and 64 is required to have a fishing license. Fishing licenses can be purchased online at www.outdooralabama.com/license-information.
Fishing will be from 8 a.m. to 2 p.m. on the following dates: • June 9
• June 23
• July 7
• July 21
The M. Barnett Lawley Forever Wild Field Trail Area consists of 3,340 acres of pasture and a mixture of pine-hardwood forest. Historically, the property was a working cattle ranch and catfish farm. Today it is a nature preserve and recreation area with scheduled field trials and opportunities for hunting and fishing. For more information, visit www.alabamaforeverwild.com/m-barnett-lawley-forever-wild-field-trial-area.
If Americans with Disabilities Act accommodations are needed, please contact Doug Deaton at 334-242-3484 or doug.deaton@dcnr.alabama.gov. Requests should be made as soon as possible, but at least 72 hours prior to the scheduled event.
The Alabama Department of Conservation and Natural Resources promotes wise stewardship, management and enjoyment of Alabama's natural resources through four divisions: Marine Resources, State Lands, State Parks, and Wildlife and Freshwater Fisheries. To learn more
Conservation Advisory Board Meets in Tuscaloosa May 19
The Alabama Conservation Advisory Board (CAB) will hold its second scheduled meeting of 2018 on Saturday, May 19, in Tuscaloosa, Ala. The meeting will take place at the Alabama Fire College Auditorium, 2501 Phoenix Dr., Tuscaloosa, Ala., 35405.
Registration for those wishing to address the board will be from 8-8:30 a.m. The meeting will begin promptly at 9 a.m. Attendees with printed information they wish to share with CAB members are encouraged to bring at least 16 copies of the material for distribution.
The CAB assists in formulating policies for the Alabama Department of Conservation and Natural Resources (ADCNR), examines all rules and regulations, and makes recommendations for their change or amendment. This includes hunting seasons and bag limits.
The board is comprised of 10 members appointed by the Governor for alternating terms of six years. Joseph Dobbs, Jr., of Birmingham currently serves as chairman. Additional CAB members include Greg Barksdale of Hanceville; Jessica Butler of Scottsboro; Patrick Cagle of Montgomery; Grady Hartzog of Eufaula; Brock Jones of Boligee; Raymond Jones, Jr., of Huntsville; Jeff Martin of Pell City; Ben C. Stimpson, Jr., of Mobile; and Gary Wolfe of Fairhope.
The three ex-officio CAB members include Gov. Kay Ivey, Agriculture Commissioner John McMillan, and Alabama Cooperative Extension System Director Dr. Gary Lemme. ADCNR Commissioner Chris Blankenship serves as ex-officio secretary.
If Americans with Disabilities Act accommodations are needed, please contact Betsy Jones at 334-242-3486 or dcnr.commissioner@dcnr.alabama.gov. Requests should be made as soon as possible, but at least five days prior to the scheduled meeting.
The Alabama Department of Conservation and Natural Resources promotes wise stewardship, management and enjoyment of Alabama's natural resources through four divisions: Marine Resources, State Lands, State Parks, and Wildlife and Freshwater Fisheries. To learn more about ADCNR, visit www.outdooralabama.com.
Disease-Carrying Ticks Widespread Across Alabama
By David Rainer, Alabama Department of Conservation and Natural Resources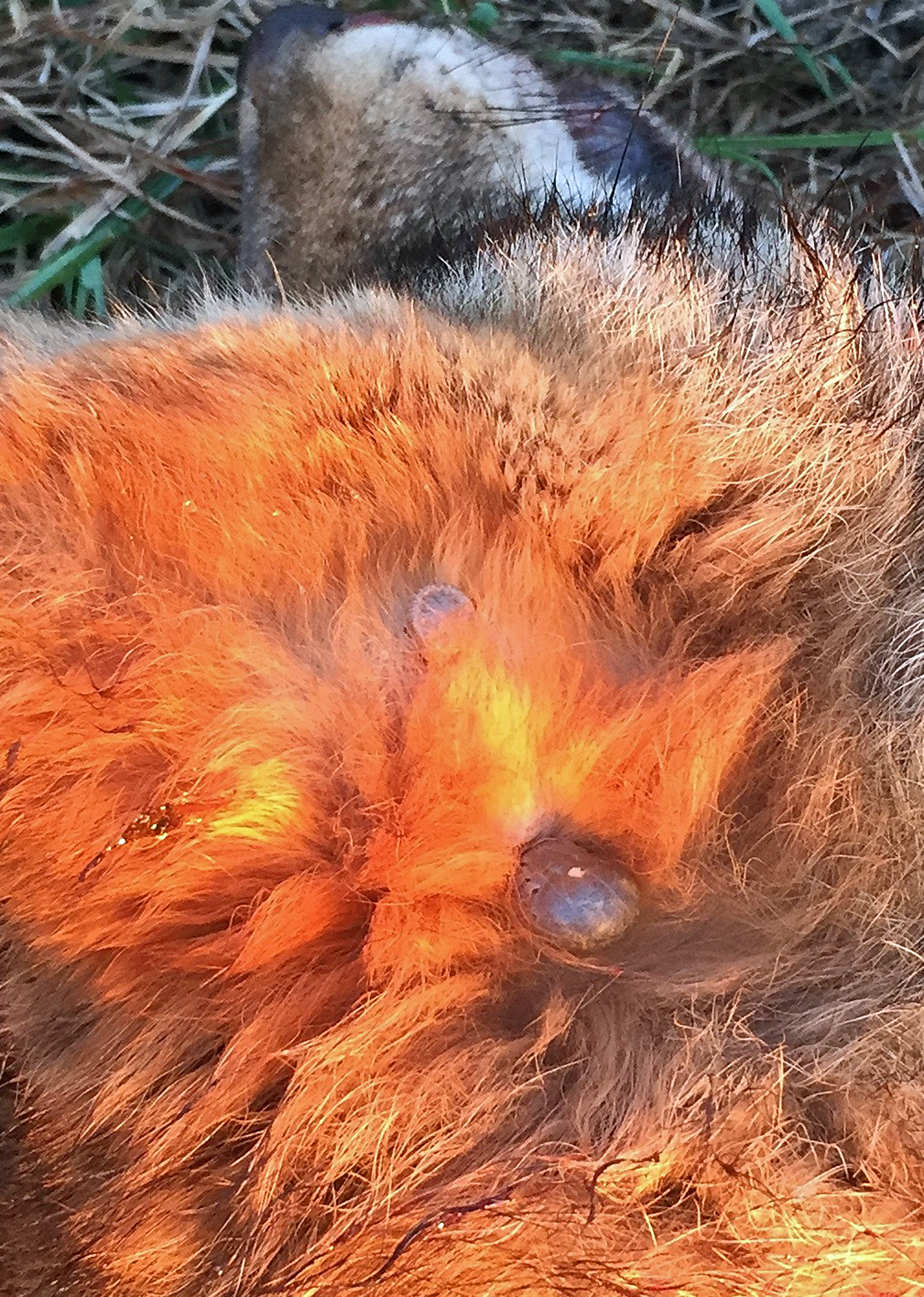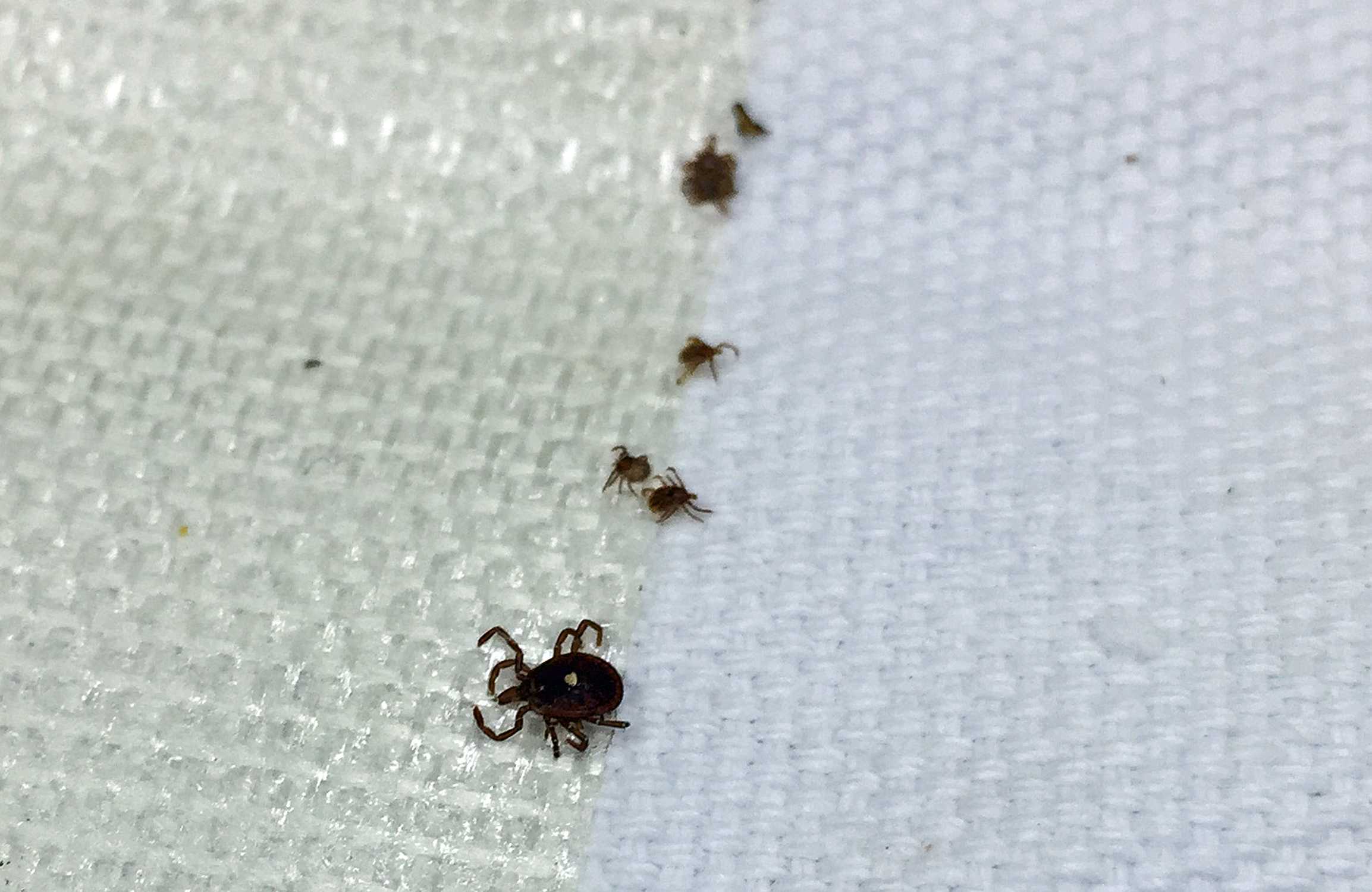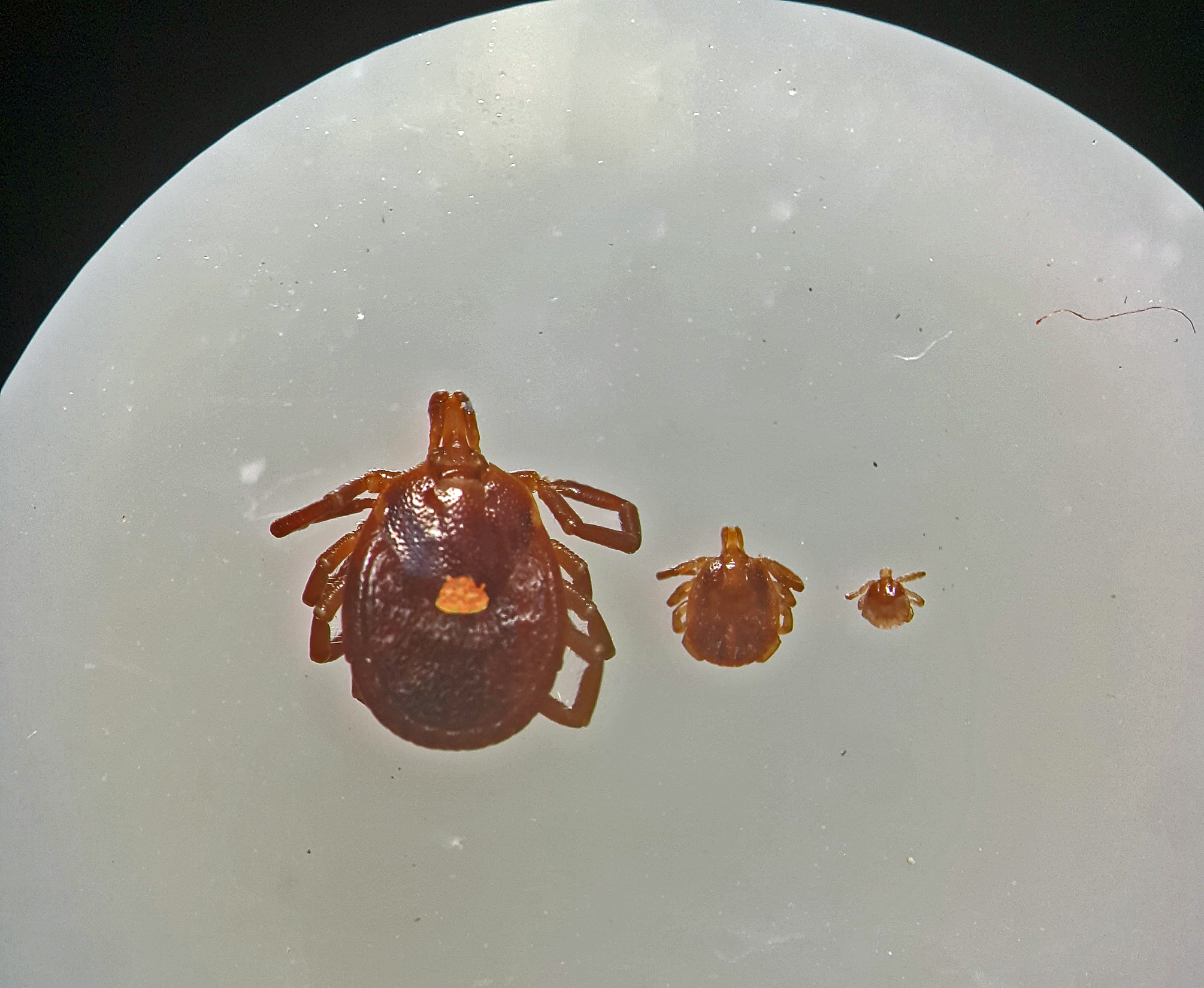 PHOTOS: (Micaela Finney, Emily Merritt, Sam Morris) The different age class sizes of the Lone Star tick is shown in the top photo, while the collection of ticks by the use of sticky tape shows the abundance of ticks in certain areas in Alabama. Engorged Lone Star ticks are often found on canines, including this coyote.
As a turkey hunter, I am keenly aware of the threat posed by sneaking through the Alabama woods. And I'm not talking about the danger of encountering a member of the serpent family.
I'm talking about something much, much smaller but possibly just as harmful.
It's the family of ticks that turkey hunters dread each spring, and the prevalence of disease-carrying ticks is becoming more evident each year.
Emily Merritt, a research associate at Auburn University's School of Forestry and Wildlife Sciences, has been working on a project, with funding assistance provided from the Wildlife and Sport Fish Restoration Program (Pittman-Robertson) through the Alabama Division of Wildlife and Freshwater Fisheries (WFF), since 2015 to determine the species of ticks in Alabama and their ranges.
Merritt said a study on ticks and tick-related illnesses hadn't been done since the early 1990s, and it was very limited in scope.
The study that started in 2015 was to update and expand that research to include field collection sites for ticks.
"We collected ticks once a month for a year," Merritt said. "We were all over the state. We also worked with WFF wildlife biologists to collect ticks off of deer for all three years and with the USDA (Department of Agriculture) to get ticks off of raccoons for two years."
The most commonly collected ticks included the Lone Star tick, the Gulf Coast tick, the black-legged tick (aka deer tick) and the American dog tick.
The Lone Star tick is the most common tick in Alabama and can transmit a host of diseases, including the alpha-gal red meat allergy, Southern rash disease (a Lyme-like illness), tick paralysis and spotted fever diseases that are closely related to Rocky Mountain spotted fever. A white dot in the middle of the tick's back is the reason for the Lone Star name.
"We found that the Lone Star tick and the Gulf Coast tick are the most aggressive," Merritt said. "They hunt down their prey. Some ticks sit and wait, but the Lone Star and Gulf Coast ticks will actively seek out hosts. Turkey hunters complain that when they're hunting they can actually see ticks crawling to them. Usually, that's the Lone Star tick. I've also heard it called the turkey tick."
Merritt said the Lone Star tick is found primarily in hardwood stands, while the Gulf Coast tick, which is a little larger and transmits similar diseases, is found primarily in more open areas with shrubs.
"The Gulf Coast tick likes areas like new clear-cuts, and they are found in controlled burn areas," she said. "These are harsh, hot environments where you don't often find ticks, but the Gulf Coast tick loves it."
The tick that has gained the most notoriety because of its association with Lyme disease is the black-legged tick.
"It is the main culprit for spreading Lyme disease, but it also can spread other illnesses, like anaplasmosis, ehrlichiosis and tularemia," Merritt said. "We find black-legged ticks equally in pine and hardwood stands."
Merritt said the American dog tick also can transmit all the diseases associated with the other tick species.
"As the name implies, they bite dogs a lot," she said. "We find them in people's backyards, especially if they've got a nice, green lawn and a nearby wooded area. Obviously, people's dogs are at risk. If their kids play in the backyard or if you're gardening or landscaping in the yard, people can come in contact with the American dog tick."
At one time, the Centers for Disease Control (CDC) insisted that Lyme disease was limited to the Northeast U.S., with a concentration of the disease around Lyme, Conn. In recent years, the presence of Lyme-like disease (Lyme borreliosis) has been acknowledged in Alabama.
"Lyme disease refers to one specific bacteria," Merritt said. "Lyme borreliosis indicates there is a host of similarly related bacteria that cause illness in Alabama.
"Another thing we hear from doctors is there is no Rocky Mountain spotted fever here. That's not true at all. The Alabama Department of Public Health (ADPH) has been tracking this. The problem with the CDC and other health agencies is they don't consider it much of an issue down here. But it definitely is an issue."
In fact, a graphic from ADPH shows that spotted fever-type illnesses have skyrocketed in recent years compared to the other tick-related illnesses.
"People are getting sick from ticks down here," Merritt said. "So it's counterproductive for those agencies to say it's rare. If you are an outdoors person your chances of coming in contact with these ticks is pretty decent. There is definitely a risk.
"One of the reasons I'm trying to get the word out, and when we publish our research (later this year), is we really need doctors to recognize that these tick-borne illnesses are here in Alabama."
One aspect of Merritt's research includes a survey conducted through the Alabama Department of Conservation and Natural Resources. The survey was sent to hunters and anglers to ask about their experiences, knowledge of and costs associated with ticks and tick-borne illnesses.
For those who spend time outdoors, Merritt said the project research found that the most effective deterrent for tick attachment is a spray that contains permethrin.
"You don't apply it to your skin," Merritt said. "You spray it on your clothes, boots, hats, socks, backpacks, basically any fabric. When I go camping, I spray my tents and tarps with it. Depending on what brand you get, it will last anywhere from two weeks or two washings to six weeks and six washings.
"More so than bug spray, we found that the products with permethrin significantly reduced the amount of ticks we encountered. It also works well on other biting insects like chiggers and mosquitoes."
Although the likelihood of contact with ticks is higher during the warmer months, Merritt said the insects are active year-round in Alabama.
"Be on the lookout, not only on pets, but your children, your loved ones and yourself," she said. "If you go outside, there is the potential to come in contact with ticks. When you come back inside, check your clothes and gear immediately to see if there are any crawling ticks on you, your pets or children. Then take it a step further and check your body thoroughly for ticks. If you need to use a mirror or a partner, do that. Ticks can hide in all sorts of areas that are hard to see.
"And the longer a tick is attached, the better the chances are to get a tick-borne illness if that tick is harboring that illness."
If you do find a tick attached to your body, Merritt said don't haphazardly try to remove the insect.
"Don't try to pick it off with your fingers or burn it off with a match or anything like that," she said. "Get tweezers and get as close to the skin as you possibly can. Firmly grasp the tick where it attached to your body and start pulling with steady, even pressure until it eventually releases. It might be uncomfortable and a little painful, but you want to get that tick off as soon as you can."
Merritt said tick-borne illnesses may cause symptoms as early as a couple of days, but symptoms could also occur as late as a couple of months after the exposure.
"If you start to experience flu-like symptoms, like aches and pain, or you see an expanding red rash, sometimes spotted and sometimes circular, you need to see a doctor," she said. "It's normal for a bite to be red, but if you see an expanding rash or it seems to be spreading to other parts of your body, that's a clear indication that you do have a tick-borne illness."
Merritt said if the tick is found it can be saved for testing by taping it to an index card, placing it in a freezer bag and storing it in the freezer.
"But don't wait for test results," she said. "If you think you have a tick-borne illness, your doctor should go ahead and start treatment. For most tick-borne illnesses, that involves treatment with antibiotics. For tick paralysis, it's removal of the tick. For the alpha-gal allergy there is no treatment. You just have to avoid eating red meat, and that's terrible."
For more information, go to www.aces.edu/pubs/docs/A/ANR-2315/ANR-2315.pdf or www.alabamalymedisease.org, the Alabama Lyme Disease Association's website.
Mentored Turkey Hunt Yields Unforgettable Results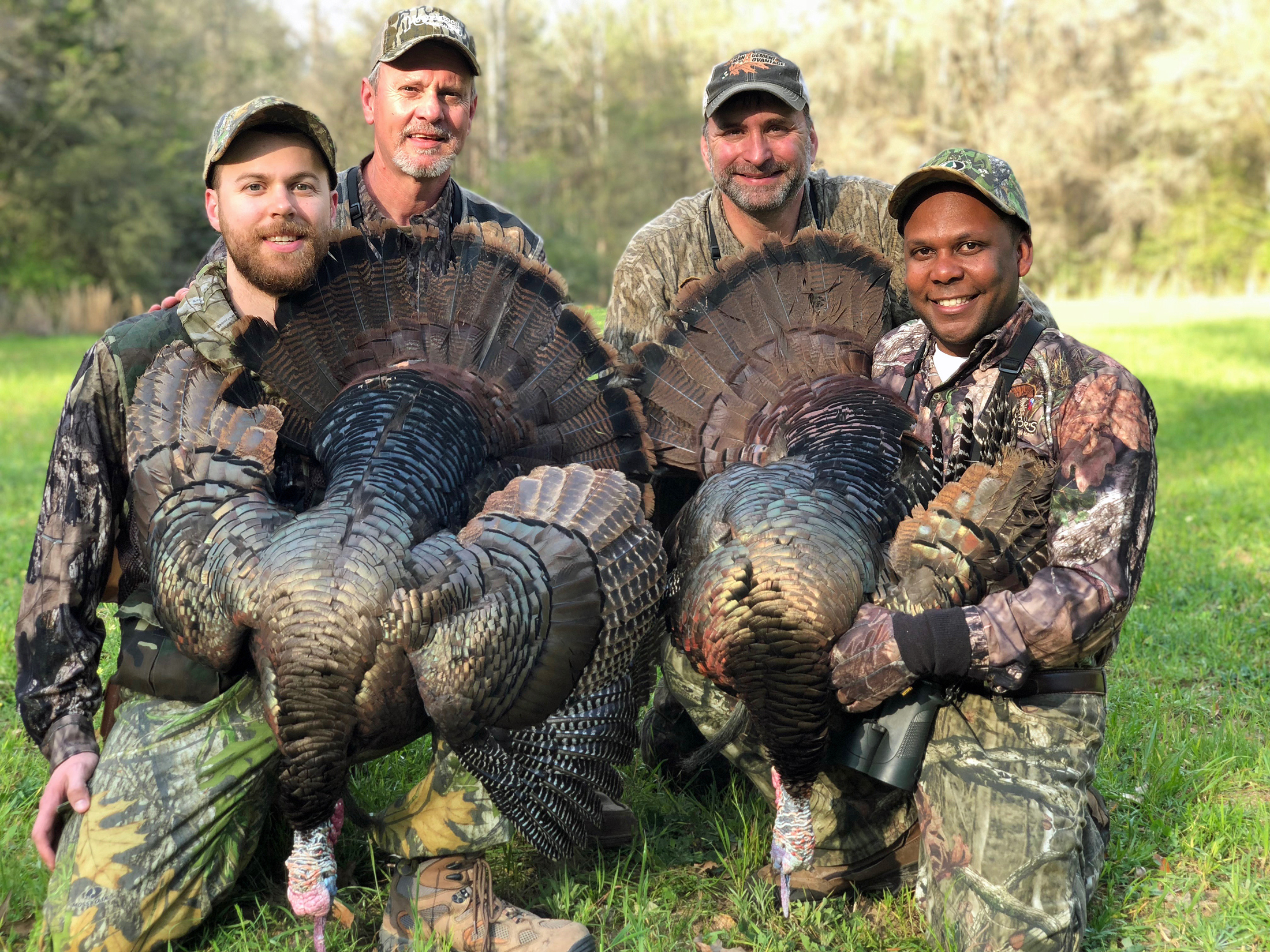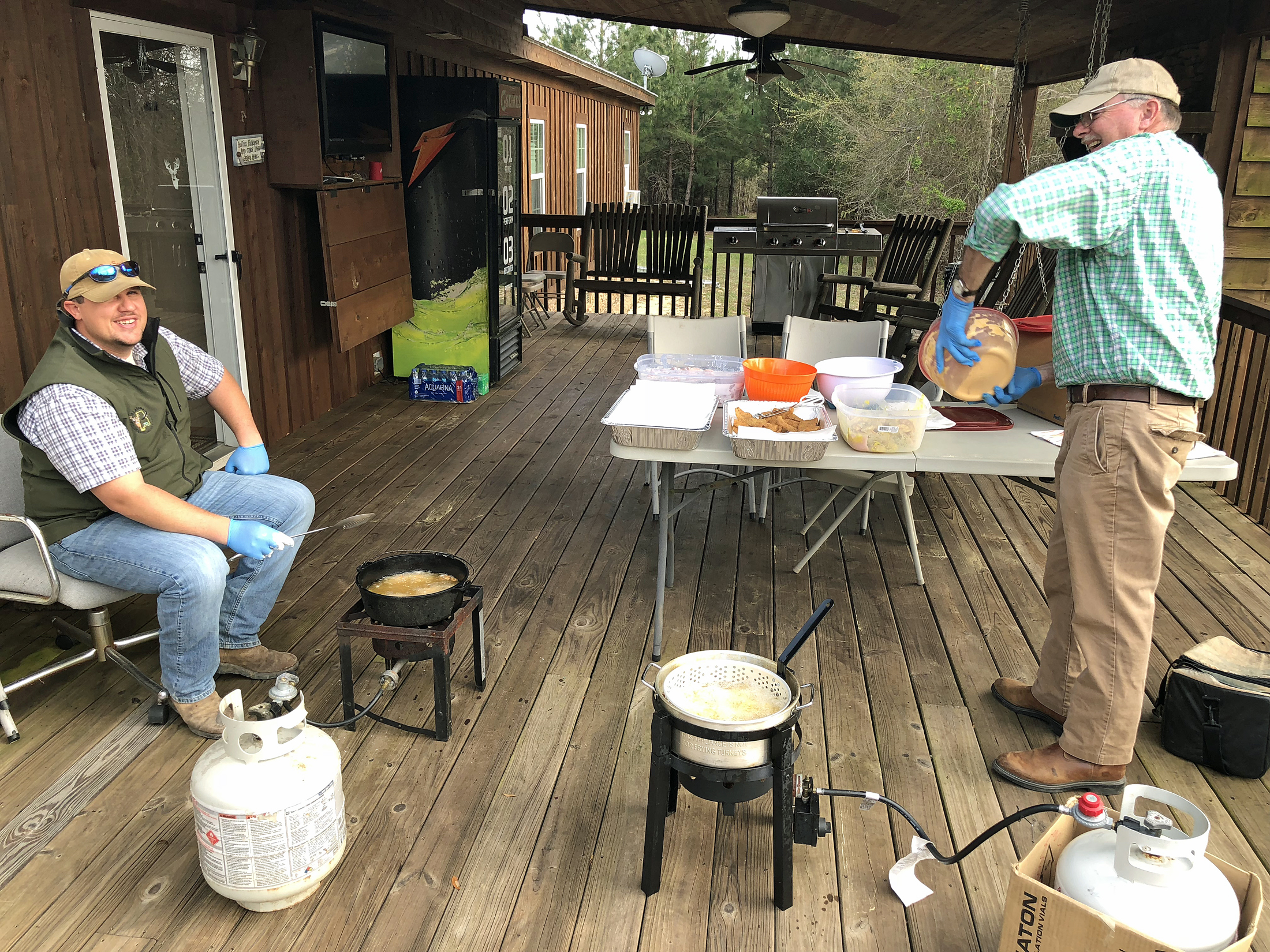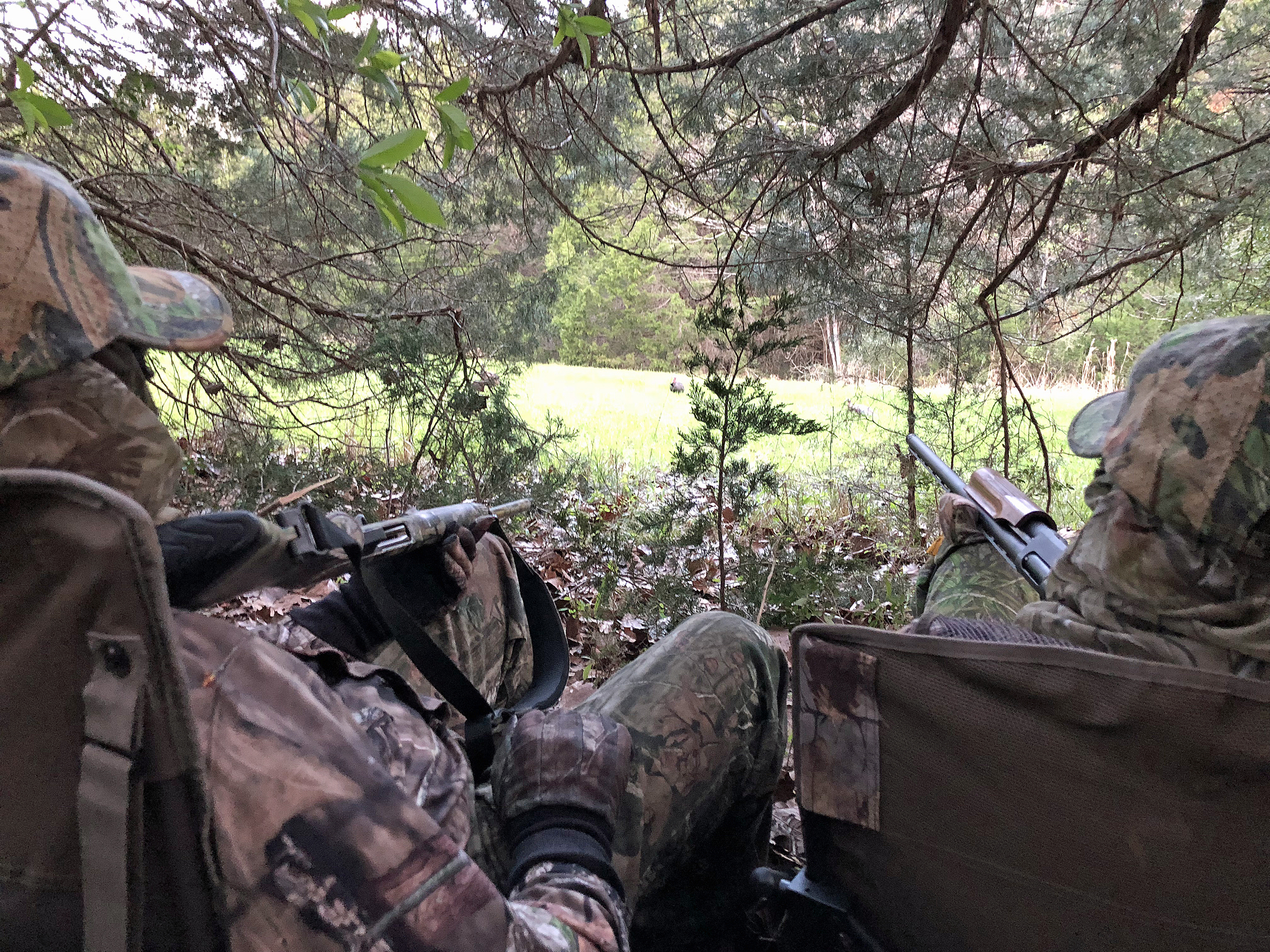 (Howard O'Neal, Chuck Sykes) An unforgettable mentored turkey hunt resulted in the harvest of two mature gobblers during a recent outing on the Pine Barren SOA. The lucky hunters were Adam Arnold, left, and Charles Barrow, who were guided by Al Mattox, back left, and Chuck Sykes. The two shooters were set up on the edge of a food plot for the eventful hunt and got enjoy the results of the hunt later when Justin Gilchrist, left, and Jeff Makemson fried the cubed turkey breasts for supper.
By David Rainer, Alabama Department of Conservation and Natural Resources
The fate of a turkey hunt's outcome is indeed fickle. High-fives can be the celebratory conclusion just as easily as the dejected hunter's incessant second-guessing of the tactics that caused the gobbler to walk away instead of strutting into range.
Chuck Sykes, Alabama Wildlife and Freshwater Fisheries (WFF) Director, has been in both situations. Sometimes that fate varies daily. Sometimes it's different segments of the season, and sometimes, it's different years.
With a little less than a month left in the season for most parts of the state, Sykes said hunters have had mixed results.
"Some hunters are doing well; some are not," Sykes said. "It depends on where you are in the state. Personally, I think the turkeys are a little behind for this time of the season as compared to previous seasons. Gobbling has been very poor for me. I've hunted quite a few days, and I've seen five turkeys die, so don't be crying for me.
"It's substandard for me compared to what it was last year, which gives me great hope that the end of the season is going to be really good. I just think that cold snap slowed things down a little bit. I know we had some cold weather last year, but there's something just a little bit different this year."
Sykes said last year's opening few days started with lows in the 30s, but the turkeys were still "gobbling their brains out."
"We even had a couple of mornings in the upper 20s, but we were killing turkeys," he said. "They were working right. This year, turkeys are gobbling two or three times, hitting the ground, and it's over with."
Sykes said it appears the 2017 and 2018 seasons will be flipped in terms of turkey activity and hunting success.
"The first few weeks of the season last year couldn't have been any better for me," he said. "The last two or three weeks of the season couldn't have been any worse.
"I'm anticipating, based on past experience, that during the last few weeks of the season, the gobbling should be better and turkeys should be working better. I think we're going to have a good closing few weeks of the season."
Although the overall season has been a disappointment for Sykes, one magical afternoon will be forever etched in his memory, and he wasn't the one who pulled the trigger.
That hunt occurred on one of the WFF's Special Opportunity Areas (SOAs) during an Adult Mentored Hunting Program outing.
Sykes recruited his old hunting buddy Al Mattox to help guide during the hunt on the new Pine Barren SOA area. Charles Barrow of Ozark and Adam Arnold of Pelham were the lucky hunters who were randomly drawn for the hunt.
"Charles actually participated in one of the mentored deer hunts," Sykes said. "He was lucky enough to get selected for the turkey hunt."
Arnold, on the other hand, has been an avid shooter for years, including long-distance shooting and sporting clays, but had really never hunted.
"Adam is one of those guys who has been participating in the Pittman-Robertson Act program by buying guns and ammunition, but he hasn't been buying a hunting license for us to be able to capture that money and bring it back to Alabama," Sykes said of the excise tax levied on firearms, ammunition and hunting equipment. "So, this was a unique experience.
"His family didn't hunt. I think he may have been dove hunting once or twice throughout his life, and that was it. His family and group of friends weren't exposed to hunting, but he was introduced to shooting later in life."
Sykes said Arnold is a very accomplished shot who has his own shotgun and extensive knowledge of firearms overall.
"The gun part of it was easy," Sykes said. "The hunting portion, we had to do a lot of teaching. The way we handled it, my best hunting buddy, Al Mattox, was with me. Al got back from Afghanistan three weeks before the hunt and wanted to help. He had been serving a tour in Afghanistan for about nine or 10 months. Al and I have hunted together a long time."
Sykes and Mattox came up with a plan to hunt as a four-man team with a primary shooter and a backup shooter.
"That way, during the heat of the action, whoever was with the secondary shooter could give them a play-by-play of what was going on, taking the pressure off of them," Sykes said. "They weren't worried about shooting. They were worried about learning. I could walk them through everything. I could explain what Al was doing with the primary shooter. Al could explain what I was doing with the backup shooter."
What Sykes and Mattox didn't anticipate was that by the end of the hunt there was a spent shell lying on the ground next to each hunter.
"It worked out really well," Sykes said. "It just so happened, when everything came together, there were two mature birds and both were able to harvest their first birds.
"It was a once in a lifetime experience for those guys as well and Al and I as the mentors. It was a very emotional afternoon."
Sykes said the unsuccessful morning hunt got the hunters prepared for the eventful afternoon session.
"It all worked out for the best," he said. "During the morning hunt there was no gobbling, nothing. So, we got to teach them how to be still. We got to teach them how to pick a location when turkeys aren't gobbling; how to look for tracks; how to look for sign. We taught them a bunch of the basics that morning.
"Right after lunch we went out, and on our first setup, I called in an extremely vocal hen. They were introduced to a live turkey at close range. They could use what we taught them that morning on camouflage and how to be still, when to move and when not to move."
Mattox had done some scouting a few days before the hunt and found some gobblers in one area. Still, the hunters were on unfamiliar ground because WFF had just recently closed the purchase on the Pine Barren tract. Sykes and Mattox used aerial maps on their smartphones to survey for likely turkey hangouts.
"We actually found a hidden food plot and set up off the edge of it," Sykes said. "Adam was the primary shooter. I was with Charles off to the side. We placed two hen decoys out in the field. I yelped on a box, and a turkey gobbled about 400 yards from us, kind of behind us. About 15 second later, I looked and saw two other gobblers in the hardwoods coming to us.
"Adam did really well. Al was talking him through everything. Charles and I were sitting back as spectators at that point. Adam and Al let the turkeys strut all the way by them, about 75 yards across the field at a distance of about 15 yards from the hunter."
Al waited to give Adam the sign to shoot so that the turkeys would be in position for Charles to get a shot if the second turkey happened to hang around for a few seconds.
"When the turkeys got into a position where I knew Adam was ready, I called to them," Sykes said. "The dominant bird gobbled. I was letting Adam and Al know it was time."
Arnold fired and dropped his bird. Sykes then coached Barrow through the backup-shooter process.
"When turkeys are at 15 yards and there is a big boom, they don't know where it came from," Sykes said. "The turkey was walking in circles. I was cutting to him. The turkey didn't know what to do. By the time the gobbler got his bearings, Charles was ready and made a good shot.
"It was an incredible hunt."
Sykes fully expects similar scenarios to unfold on the Pine Barren SOA in Dallas County.
"It's the most exciting piece of property I've been on that is public hunting," Sykes said. "It's part of the old Hit and Miss Lodge where Mossy Oak did a lot of their filming. The amount of game there is incredible."
For those who haven't had much luck this turkey season, Sykes said it's time to regroup but never surrender.
"You've just got to keep going," he said. "As my grandmother always told me, a bad beginning means it's going to be a good ending, and I'm counting on it."
Chicks and ducklings may pose risks of illness
This month marks the beginning of spring and Easter is just around the corner. Families across the state are preparing to celebrate the anticipated holiday with fun festivities, egg hunts and more – including gifting adorable chicks and ducklings to small children. While such events create opportunities for fellowship and enjoyment, they also increase the risk of gastrointestinal illnesses, such as salmonellosis and campylobacteriosis.
Salmonellosis, caused by the bacteria Salmonella, and campylobacteriosis, caused by the bacteria Campylobacter, are often associated with live poultry contact in backyard flocks. Infection may also occur after contact with uncooked poultry products. It is common for chicks and ducklings to carry these bacteria in their droppings and on their bodies, even when they appear to be healthy. Salmonellaand Campylobacter cause gastrointestinal illness, though those at risk of severe illness include children under the age of 5 years, older adults and individuals with weakened immune systems. Symptoms include diarrhea, fever and abdominal cramps and usually last 4-7 days.
In 2017, 10 multistate outbreaks of human Salmonella infections were linked to live poultry in backyard flocks and represented the largest number of illnesses linked to contact with backyard poultry ever recorded. A total of 1,120 cases from 48 states were reported. Of those, 27 percent were children under the age of 5 years, 29 percent were hospitalized, and 1 died.
"These numbers underscore the risks that may not be readily recognized by parents when their child comes into contact with baby chicks and ducklings. The best way to prevent illness is to avoid contact when possible, and wash hands frequently and properly when contact is made," says Sherri Davidson, Alabama Department of Public Health (ADPH) interim state epidemiologist.
Dr. Tony Frazier, State Veterinarian with the Alabama Department of Agriculture and Industries, adds, "Families may certainly enjoy owning live poultry, baby chicks and ducklings; however, several precautions should be taken. This includes following the guidelines provided by the ADPH when handling live poultry and only purchasing poultry from the U.S. Department of Agriculture National Poultry Improvement Plan (USDA-NPIP) participants. Also, mail order hatcheries, local feed stores and those that sell baby chicks, ducklings and other poultry, should provide health-related information to owners. Local feed stores should provide hand sanitizer near poultry displays and place poultry out of reach of children."
ADPH encourages people to take the following steps to protect against gastrointestinal illnesses resulting from live poultry contact:
· Wash your hands thoroughly with soap and water after touching live poultry or products, or cleaning equipment used for live poultry care.
· Do not snuggle or kiss baby chicks, ducklings or other live poultry.
· Do not let live poultry live inside the residence or stay where foods are prepared, served or stored.
· Do not let children under the age of 5 years handle or touch chicks, ducklings or other live poultry without adult supervision.
· Leave shoes and clothes outside after dealing with backyard flocks, especially if in contact with droppings.
· Purchase poultry from hatcheries that participate in the USDA-NPIP, a program committed to reduce Salmonella infection in baby poultry while in hatcheries.
Resources
For more information on keeping backyard poultry, visit: https://www.cdc.gov/Features/SalmonellaPoultry/index.html
For more information on flock safety, visit: https://www.cdc.gov/healthypets/resources/salmonella-baby-poultry.pdf
For more information on the USDA-NPIP program, visit: https://www.aphis.usda.gov/aphis/ourfocus/animalhealth/nvap/NVAP-Reference-Guide/Poultry/National-Poultry-Improvement-Plan
Auburn University researchers identify natural enemy of crop-killing kudzu bug
Auburn University entomologists have discovered and identified a tiny wasp that could provide a huge benefit to soybean producers and other farmers.
Though only about the size of a pinhead, the newly detected parasitoid wasp, Ooencyrtus nezarae, can do plenty of damage to the kudzu bug, a quarter-inch-long invasive pest of soybeans and other legume crops in the Southeast. Researchers in the lab of entomologist Henry Fadamiro, associate dean for research for the College of Agriculture and associate director of the Alabama Agricultural Experiment Station, were the first to detect the wasp's presence in North America.
The research team published its findings in a recent article in the Journal of Insect Science. Blessing Ademokoya, an Auburn graduate researcher at the time of the study and now a doctoral student at the University of Nebraska-Lincoln, is lead author of the article. Fadamiro and Rammohan Balusu, research fellow in the Department of Entomology and Plant Pathology, are co-authors, as are Auburn research entomologist Charles Ray and Jason Mottern, entomologist at the USDA Smithsonian Institution in Washington, D.C. Ray and Mottern assisted in final identification of the wasp.
O. nezarae is the second kudzu bug-attacking wasp to be identified in the U.S. The first, Paratelenomus saccharalis, was discovered in Georgia in 2013.
"It is exciting to know that many natural enemies are in the field helping to keep kudzu bug populations under control," Ademokoya said. "And, with this latest addition, we have a potential explanation for the decline observed in kudzu bug densities across several locations in the southeastern U.S."
The kudzu bug, native to Asia, was first reported in the U.S. in 2009 in Georgia. Although it feeds on kudzu—an economically important invasive weed native to Asia and familiar to Southerners—it also devours soybeans and other legume crops, causing significant yield loss in highly infested fields.
A strong flyer and good hitchhiker, the pest rapidly expanded its numbers across many southern states, including Alabama, South Carolina, North Carolina, Florida, Tennessee, Mississippi, Virginia, Kentucky, Louisiana, Arizona, Maryland and Delaware. The population peaked in 2013.
The kudzu bug has emerged as the top yield-limiting pest of soybeans, which rank as the second most planted field crop in the United States with an estimated annual market value of approximately $39 billion.
In 2017, Alabama farmers harvested approximately 345,000 acres of soybeans with a production value of more than $150 million.
Potential long-term solution
O. nezarae, which was found during field surveys in Alabama, is reported to parasitize eggs from a variety of plant bug families in China.
"Until now, the distribution of O. nezarae has been limited to China, Japan, Thailand, South Korea and Brazil," Fadamiro said. "This is the first report of the parasitoid in North America. The high rate of parasitism—82.8 to 100 percent—recorded in our study indicates that the parasitoid may serve as a potential long-term solution for managing the kudzu bug."
Despite O. nezarae's high parasitism rate of kudzu bug, it has a short period of activity, and Fadamiro said continued research will be necessary to identify tactics for the use of the insect to biologically control the pest on farms.
"We need to conduct monitoring to know the distribution of the parasitoid in the United States and to determine its seasonal phenology in the field—when it is not active and when it is most active," he said. "We also are interested in studying the nutritional ecology of this insect and strategies for its conservation in the field. We don't want to spray toxic chemicals when it is most active."
There are numerous ways to use natural enemies in production agriculture, Fadamiro said, including introducing them into areas where they are not already present and preserving them where they are naturally occurring. Farmers also can plant host flowering plants around a field so the nectar will attract and keep the beneficial insect in an area.
"If we conduct a survey and find the insects are only in central Alabama, then we can capture and relocate them to other areas of the state where the kudzu bug is a threat," he said. "We want to make sure this finding is useful to the farmers who need it most."
But there's a risk in assuming that the known natural enemies of the kudzu bug will eliminate the threat, Fadamiro said.
"While the incidence of the kudzu bug has declined in recent years, there could be many factors involved, including weather conditions and other natural enemies, so we need to continue this work," he said.
The research leading to the discovery of the parasitoid was supported by an Agriculture and Food Research Initiative Competitive Grant from the USDA National Institute of Food and Agriculture and by the Alabama Agricultural Experiment Station. It's an example of Auburn's commitment to development science-based advancements that meet pressing regional, national and global needs. Written by Paul Hollis.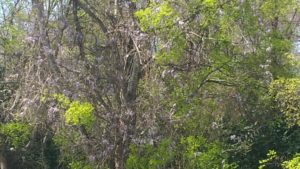 Wisteria is a invasive species
Chinese wisteria, (Wisteria sinensis), is beautiful to look at and just like kudzu, takes over very quickly. It's a invasive species that kills native plants by girding and displacing them. It was brought over as a decorative garden flower in 1816 from China. Learn more about Wisteria at http://news.aces.edu/blog/2017/04/28/wisteria-invasive-vines/ By Kasey DeCastra, SCRJ & MT Community Editor
Lawn Burweed Stickers Inflict Pain on Bare Feet
Submitted by Tyrone D. Smith, Hale County Extension Coordinator
A fun spring day playing or walking barefoot in the yard can quickly turn sour. If you haven't heard of Lawn Burweed; then just keep walking in the grass without shoes! This weed is bad news for children and pets. It is a low-growing annual weed that pops up in the winter and by late spring it develops small fruit with very sharp spines. Unfortunately, most people do not notice the problem until spring. But waiting until spring is too late. If you wait to control lawn burweed in April and May, the spines have already formed by this time and it will remain after the weed withers and dies. This is when people happen to step on the stickers. Because lawn burweed is a winter annual, it will begin to die in late spring as air temperatures reach 90 °F. Once the weed has reached a more mature state, multiple herbicide applications may be necessary; which increases the potential for turfgrass injury. Mowing the area at a very low height and bagging the seeds might offer some relief. The best strategy to control lawn burweed is to apply a pre-emergence herbicide, such as atrazine or isoxaben in late September to early October before the winter weeds germinate. This method will kill it upon sprouting and basically keep in from showing up in the yard. Dead or alive, lawn burweed poses a painful problem. The only solution to early identification and control. Remember lawn burweed is an annual and will come back from seeds that develop each spring. For more information contact your Hale County Extension Office.
Early Bloom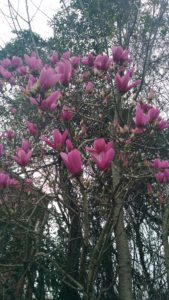 With our early heat wave, many of our spring trees bloomed early (and brought their pollen with them.) The Magnolia Tulip Tree, or the Saucer Magnolia Tree is a non-native, commonly planted, garden tree and one of the first to bloom in spring. ​Saucer Magnolia is a multi-stemmed, broadly spreading tree, 25 feet tall with a 20 to 30-foot spread and bright gray bark. Our tree has deep purple petals, however, the flowers range in color from white-pink to deep pink-purple petals. Source https://www.rhs.org.uk/plants/details?plantid=3428 By Kasey DeCastra, MVT & SCRJ Community News Editor
Conservation Department Marks 110 Years
For 110 years, the Alabama Department of Conservation and Natural Resources has been protecting the state's natural resources. Today, Gov. Kay Ivey and department officials celebrated that service and dedicated a memorial to 12 Conservation Enforcement Officers who lost their lives in the line of duty.
"On behalf of our entire state, I thank the Alabama Department of Conservation and Natural Resources for caring for our natural resources and wildlife for the past 110 years," Governor Ivey said.
In 1907, Rep. John H. Wallace, a conservation pioneer, introduced a proposal to create Alabama's Department of Game and Fish, now known as the Department of Conservation and Natural Resources. The Alabama Legislature passed this bill, which included provisions for a State Game Commissioner and many of the most fundamental hunting laws.
Great strides have been made since the early days of horseback-mounted Game Wardens to the present-day Conservation Enforcement Officers. Although today's officers use modern vehicles and equipment, they are still the front line against poachers and others who don't choose to lawfully follow Alabama's hunting and fishing laws and regulations.
"I am thankful for my career with the Alabama Department of Conservation and Natural Resources," said Conservation Commissioner Chris Blankenship. "I know from personal experience how many dedicated employees work for this department. Some of them work non-traditional hours and are frequently in dangerous situations. I want to thank all of them for their service to the State of Alabama."
Since the Department's creation in 1907, 12 officers have made the ultimate sacrifice in the protection of Alabama's natural resources.
Officers who lost their lives in the line of duty, date of death and county of residence are as follows:
George S. Wilson, October 1, 1922, Montgomery County
Bart Cauley, March 19, 1932, Baldwin County
Vernon W. Wilson, June 25, 1951, Randolph County
Loyd C. Hays, May 1, 1964, Morgan County
John Roy Beam, December 6, 1976, DeKalb County
Frank Stewart Jr., December 24, 1978, Escambia County
Cecil Craig Chatman, November 28, 1982, Lowndes County
Grady R. Jackson, February 12, 1984, Pike County
James C. Vines, January 26, 1985, Greene County
Jimmy D. Hutto, March 25, 2002, Fayette County
James Lance Horner Jr., June 22, 2003, Clarke County
Nathan B. Mims, November 11, 2008, Chilton County
The officers were recognized today through the dedication of a memorial wall in their honor at the Department of Conservation and Natural Resources headquarters office in Montgomery.
"Today, I had the privilege of honoring 12 officers who died in the line of duty, making the ultimate sacrifice to protect Alabama's natural resources. Our state remains indebted to those who preserve our beautiful, sweet home," Ivey said.
ou
The Alabama Department of Conservation and Natural Resources promotes wise stewardship, management and enjoyment of Alabama's natural resources through four divisions: Marine Resources, State Lands, State Parks, and Wildlife and Freshwater Fisheries. To learn more about ADCNR, visit www.outdooralabama.com.
Greensboro Garden Club donates tree to GES
The Greensboro Garden Club donated an Autumn Flame Maple tree to GES for Arbor Day. Vice President Melvin Cothran, Martha and Gordon Cates, and Lamar Merrill helped some of our honor students plant the tree on the playground Feb. 1.
Goodman bags a winner in Greene County
Hunter Goodman, 17, shows off this 17-point buck he bagged in January in Greene County, Ala. This photo won the Alabama Black Belt Adventures Association Big Buck Photo Contest and earned Hunter a prize package worth more than $3,000. Hunter is a junior at Victory Christian Academy in Columbus, Miss., and the son of Dean and Shilo Goodman. Submitted by Mike Perrin
Chronic Wasting Disease Confirmed in a Mississippi White-tailed Deer

A white-tailed deer collected on January 25, 2018, in Issaquena County has tested positive for Chronic Wasting Disease (CWD). The deer was a 4.5-year-old male that died of natural causes and was reported to the Mississippi Department of Wildlife, Fisheries, and Parks.
This is the first time an animal in Mississippi has tested positive for the disease, which is fatal to white-tailed deer. MDWFP will immediately implement the CWD Response Plan under the auspices of the Commission on Wildlife, Fisheries, and Parks.
Pursuant to the Order of the Executive Director on behalf of the Commission, effectively immediately, supplemental feeding is banned in the following counties: Claiborne, Hinds, Issaquena, Sharkey, Warren, and Yazoo.
CWD was first documented among captive mule deer in Colorado in 1967, and has been confirmed in 24 states, three Canadian provinces, and two foreign countries. It has been found in the free-ranging herds in 22 states and among captive cervids in 16 states.
According to the Chronic Wasting Disease Alliance, CWD affects only cervids (hoofed animals in the cervidae family such as deer, elk, and moose). CWD affects the body's nervous system. Once in the host's body, prions transform normal cellular protein into an abnormal shape that accumulates until the cell ceases to function. Infected animals begin to lose weight, lose their appetite, and develop an insatiable thirst. They tend to stay away from herds, walk in patterns, carry their head low, salivate, and grind their teeth.
For more information regarding CWD in Mississippi, visit our website at www.mdwfp.com or call us at (601) 432-2199. Follow us on Facebook at www.facebook.com/mdwfp or on Twitter at www.twitter.com/MDWFPonline
Help Prevent CWD in Alabama: Hunters should know the law, follow guidelines
Many of Alabama's deer hunters have already spent time this season hunting the rut in several Midwestern states. The Alabama Department of Conservation and Natural Resources reminds those hunters that Alabama law prohibits the importation of deer carcasses and certain deer parts from other states and Canadian provinces where Chronic Wasting Disease (CWD) has been confirmed.
CWD is a fatal disease affecting the central nervous system of cervids (deer and other deer-like animals). The disease attacks the brain of an infected animal causing it to become emaciated, display abnormal behavior, lose bodily functions, and eventually die. The introduction of this disease into the state could have significant impacts on Alabama's deer herd.
Alabama hunting regulations ban the import of live deer, whole carcasses, and certain body parts of any member of the family Cervidae from CWD-positive states. This includes, but is not limited to, white-tailed deer, mule deer, elk, moose, and caribou. Parts that may be legally imported include completely deboned meat; cleaned skull plates with attached antlers, if no visible brain or spinal cord tissue is present; upper canine teeth, if no root structure or other soft tissue is present; and finished taxidermy products or tanned hides.
CWD has been found in captive and/or wild deer in 24 states, two Canadian provinces, Norway, and South Korea. It is not known to be transmissible to humans or domestic livestock. To date, there have been no positive tests for CWD in Alabama.
Alabama and 36 other states ban the importation of cervid body parts from CWD affected areas. Violation of Alabama's animal parts ban is a class C misdemeanor.
Before transporting harvested deer from CWD-positive areas, hunters should keep these facts in mind:
• The following states and Canadian provinces are currently CWD-positive: Alberta, Arkansas, Colorado, Illinois, Iowa, Kansas, Maryland, Michigan, Minnesota, Missouri, Montana, Nebraska, New Mexico, New York, North Dakota, Ohio, Oklahoma, Pennsylvania, Saskatchewan, South Dakota, Texas, Utah, Virginia, West Virginia, Wisconsin, and Wyoming. Importation of certain deer body parts from these states and provinces into Alabama is illegal.
• Before returning to Alabama with a deer harvested in a CWD-affected area, hunters should completely debone the animal, remove and dispose of any brain or spinal tissue from skull plates, raw capes and hides. Root structures and other soft tissue should be removed from all teeth. Finished taxidermy products and tanned hides are not affected by the ban.
• Some states prohibit the importation of these same deer parts from any state or province, whether they are CWD positive or not.
• Alabama hunters going out of state should check the regulations of their destination states regarding handling and tagging of carcasses before preparing their deer for transport back to Alabama.
ADCNR needs everyone's support to maintain Alabama's CWD-free status. To report the importation of live or harvested deer, call Operation GameWatch at 1-800-272-4263. If possible, provide a name and description of any suspects including vehicle description, license plate, and the time and location of the observation. Resident deer exhibiting signs of CWD can also be reported via GameWatch.
To learn more about CWD, visit www.outdooralabama.com/chronic-wasting-disease-what-you-should-know.
The Alabama Department of Conservation and Natural Resources promotes wise stewardship, management and enjoyment of Alabama's natural resources through four divisions: Marine Resources, State Lands, State Parks, and Wildlife and Freshwater Fisheries. To learn more about ADCNR, visit www.outdooralabama.com.
Photogenic hawk on Hwy. 60
This hawk enjoyed a winter's day in the sunshine and posed for a series of photos, including this one, on Friday, January 19 on Ala. Hwy 60 near Stewart. Photo by Tiffany Vaughn
Your Donations Help Support Alabama's Wildlife
State income tax check-off makes it easy
You might not associate wildlife with doing your state income taxes, but there is a connection. The Alabama Nongame Wildlife Fund check-off box on the state income tax form provides citizens a way to donate all or a portion of their state tax refunds for the benefit of nongame wildlife.
Alabama is home to more than 1,000 species of animals that are categorized as nongame – species that are not hunted, fished or trapped. The Nongame Wildlife Program, administered by the Alabama Department of Conservation and Natural Resources (ADCNR), is responsible for many programs including conducting wintering surveys of bald eagles, shorebird surveys on the coast, and research on threatened and endangered species such as wood storks and red-cockaded woodpeckers.
The Nongame Wildlife Program does not receive any state tax dollars. It is partially funded by the citizens of Alabama through tax-deductible donations. In 1982, the Alabama Legislature enacted a law providing for the Alabama Nongame Wildlife Fund check-off box on the state income tax form. These donations are matched with federal funds, so even the smallest donation is valuable. The federal funds come from the Pittman-Robertson Act, a federal excise tax on sporting firearms, ammunition and archery equipment. Those funds are set aside for wildlife restoration and management.
Past donations to the Nongame Wildlife Program helped bring back bald eagles, ospreys and bluebirds to Alabama, but many other nongame wildlife species still need help. If you enjoy watching wildlife, here is your chance to lend it a helping hand. Make a donation to the Alabama Nongame Wildlife Fund on your state income tax form.
For those not receiving a state income tax refund, tax-deductible donations can be made to Alabama's Nongame Wildlife Program, Alabama Division of Wildlife and Freshwater Fisheries, 64 North Union St., Montgomery, AL 36130. For more information, call 334-242-3469.
For more information about Alabama's Nongame Wildlife Program, visit www.outdooralabama.com/non-game-wildlife.
The Alabama Department of Conservation and Natural Resources promotes wise stewardship, management and enjoyment of Alabama's natural resources through four divisions: Marine Resources, State Lands, State Parks, and Wildlife and Freshwater Fisheries. To learn more about nongame wildlife and ADCNR, visit www.outdooralabama.com.
Black Bear Sightings Likely to Increase in Alabama
By Davide Rainer, Alabama Department of Conservation and Natural Resources
Interaction between humans and black bears saw an uptick last year, and that will likely be the trend for the near future, at least in one corner of the state, according to Dr. Todd Steury of Auburn University.
Funded by the Alabama Department of Conservation and Natural Resource's Wildlife and Freshwater Fisheries (WFF) Division's State Wildlife Grants Program, Professor Steury, along with graduate students John Draper and Chris Seals, recently completed a multiple-year study of the black bear population in Alabama.
The basic conclusions were that Alabama has two populations of black bears, one in northeast Alabama and one in southwest Alabama, and each population has a different legacy as well as likely future.
The population in northeast Alabama, with roots from the mountains of northeast Georgia, has the potential for significant expansion. Hence, the likelihood that black bear sightings will become more common in the future.
The population in southwest Alabama, which appears to be an encapsulated population, is relatively stagnant, but significantly more difficult to monitor.
"We think that most of Alabama, at one time, had black bears," Steury said. "We believe two of the sub-species kind of met in Alabama, the American sub-species from the North and the Florida sub-species from the South. Of course, black bears were pretty much hunted to extinction in the state with one very small population remaining near Mobile."
Steury said the Auburn study was prompted by the fact the black bears in the Mobile-Tensaw Delta hadn't been studied since 1992 and by an increase in the number of bear sightings in the Little River area in northeast Alabama.
"In that study in the Delta in 1992, it was a very small population," he said. "There was some concern about inbreeding because of how small it was. Part of our goal was to reexamine this population to see how they are doing. The other reason for the study was the increased sightings around Fort Payne, and we wanted to know if there is a viable population up there or just an occasional bear traveling through the area."
Bear sightings in Heflin and Oxford made headlines last year and prompted residents in those areas to voice concerns about the animals being close to public recreation areas.
Steury said his team, which included Thomas Harms, WFF's Large Carnivore Coordinator, used a variety of methods to gather bear data. The population density numbers were derived from a DNA study.
"We used two methods to gather the DNA information," Steury said. "One was eco-dogs. These dogs are trained to find bear scat. We took them into areas where we knew there were populations of bears – Mobile, Saraland and the Celeste Road areas. The eco-dogs are expensive to run, but they can get us a lot of data. I think it was about 1,000 samples in two months of work.
"But the dogs are not cost-effective if you're looking in areas where you're not sure about the presence of bears. For that, we used hair snares. It's basically a barbed-wire fence surrounding bait. The bear crosses the barbed wire to get to the bait and the barbs pull a little hair out. Then we get DNA from the hairs."
Steury said the team erected hair snares in virtually every township in Mobile County, about half of Washington County and most of Baldwin County in the southern end of the state. In the north, hair snares were placed in almost all townships between Interstates 59 and 20. The National Park Service helped the team erect snares all over Little River National Preserve.
"We were sampling very widely," Steury said. "We chose townships because that's about the size of a male home range. Overall, we had about 300 hair snares in southwest Alabama and another 100-150 in northeast Alabama."
After all the data was collected, the analysis started. The results gave researchers population numbers, genetic diversity, points of origin and connections to other bear populations.
Steury said the DNA data indicated that the population in northeast Alabama more than doubled, going from about 12 bears to 30.
"We know those bears came from north Georgia," he said. "We originally thought they might be from central Georgia around Macon, but the DNA showed they came right down the mountain from Georgia."
The results from southwest Alabama were not as conclusive because of the requirements to meet the DNA profiling.
"We only got a good estimate from 2015," Steury said. "We estimated there were 85 bears, but the estimate said there could be as many as 165. So it's still a fairly small population. Obviously, that is not a great estimate, but we'd be very surprised if there are 200 bears down there. They seem to be very localized between Wagarville and Chatom and the Celeste Road area northwest of Saraland.
"The interesting thing is Chris Seals, the graduate student working that area, said there are what he calls bear superhighways, these riparian areas, rivers and corridors where these bears move. So we can get a lot of DNA in those areas. So we're very confident about the bears in those areas. But in those areas in between, it's much harder for us to figure out how many bears are there."
The story in northeast Alabama is that bears are finding suitable habitat to establish home ranges and expand the population.
"The bears are breeding," Steury said of northeast Alabama. "We have seen numerous examples of sows with two or three cubs on our game cameras. We feel like the population there is going to grow, and there are still bears coming in from Georgia.
"We're going to have more bears up there. There is lot of great habitat in Jackson County and Talladega National Forest. It's just a matter of time for the population to expand."
The prognosis for the southwest Alabama bear population is not so optimistic.
"The habitat in southwest Alabama is disappearing," Steury said. "And, the population is not growing like it should. That is the next question we have to answer. We have some hypotheses. Those bears seem to be having good litters, but Chris is not seeing those cubs make it to adulthood. One of the aspects we're exploring is den sites. When you think of bear dens in cold weather, what do you think about – caves or holes in the ground. In north Alabama, you've got bunches of caves or holes in the ground.
"In southwest Alabama, bears don't have that. We will occasionally see denning in tree roots. What we see a lot of are nests. What we don't know is how much protection from the elements and predators those really provide. Is the reason cubs are not making it to adulthood that they don't have good dens?"
Another concern of the researchers is the lack of new genes in the southwest population.
"The genetic diversity in the southwest is really bad," Steury said. "It's worse than any bear population in the Southeast United States. Normally, to differentiate between brothers and sisters, you need eight chunks of DNA. We couldn't tell the difference between brothers and sisters with our eight chunks of DNA. It took 14 to 15 chunks of DNA to tell the difference between brothers and sisters in that population. So they've got really low genetic diversity. We don't really know how low that genetic diversity has to get to affect the population. We've captured a lot of bears, and we haven't seen any deformities or other effects."
The other conclusion derived from the DNA studies is the connection of the specific populations with other populations in the Southeast.
"The northeast population is still pretty well connected with the north Georgia population," Steury said. "The southern population does not appear to be connected with bears from Florida or western Mississippi. The DNA suggests there is basically no movement of bears into the southwest population. Bears come from Florida. We know because we track them. But they seem to get to the rivers in the Mobile-Tensaw Delta and turn around and go back.
"We do catch and collar bears. The largest bear we have caught weighed 308 pounds. Chris said he has seen one that he estimates at 400 pounds. But most of our bears average 150 pounds."
When it comes to bear-human interactions, Steury said a mailer was sent out to judge the public perception of bears.
"What we found out is that people like bears," he said. "They want to have bears in Alabama. Generally, they were not supportive of lethal management controls except in extreme situations, where there was clear danger to people."
Steury said it is rare when large predators do anything other than flee when they come in contact with humans.
"They can't risk being injured," he said. "If they're injured, they can't hunt. They can't feed themselves and they're going to die. They have no idea how hard or easy we would be to kill. They have no idea how dangerous we are, which is what basically keeps us safe."
Steury said the sightings that happened in Oxford and Heflin last year were young male bears that had been kicked out of the mom's territory. Those 2-year-old males were roaming to find new home territories.
"They can cover thousands of miles," he said. "That's why we see bears where they're not supposed to be. They are juvenile males that are exploring for a place to settle down. The thing is they never stay around. When I got the call from Heflin about what they should do, I told them to just leave it alone. In a day or two, it'll be gone.
"If they get into somebody's food or people start feeding them, that's when they become problems."
PHOTO: (Courtesy of Auburn University) Black bears in Alabama are being studied by using DNA collection devices, like barbed wire around a bait, as well as collaring adult bears. One question researchers hope to answer is whether bear nests in southwest Alabama provide enough protection for cubs.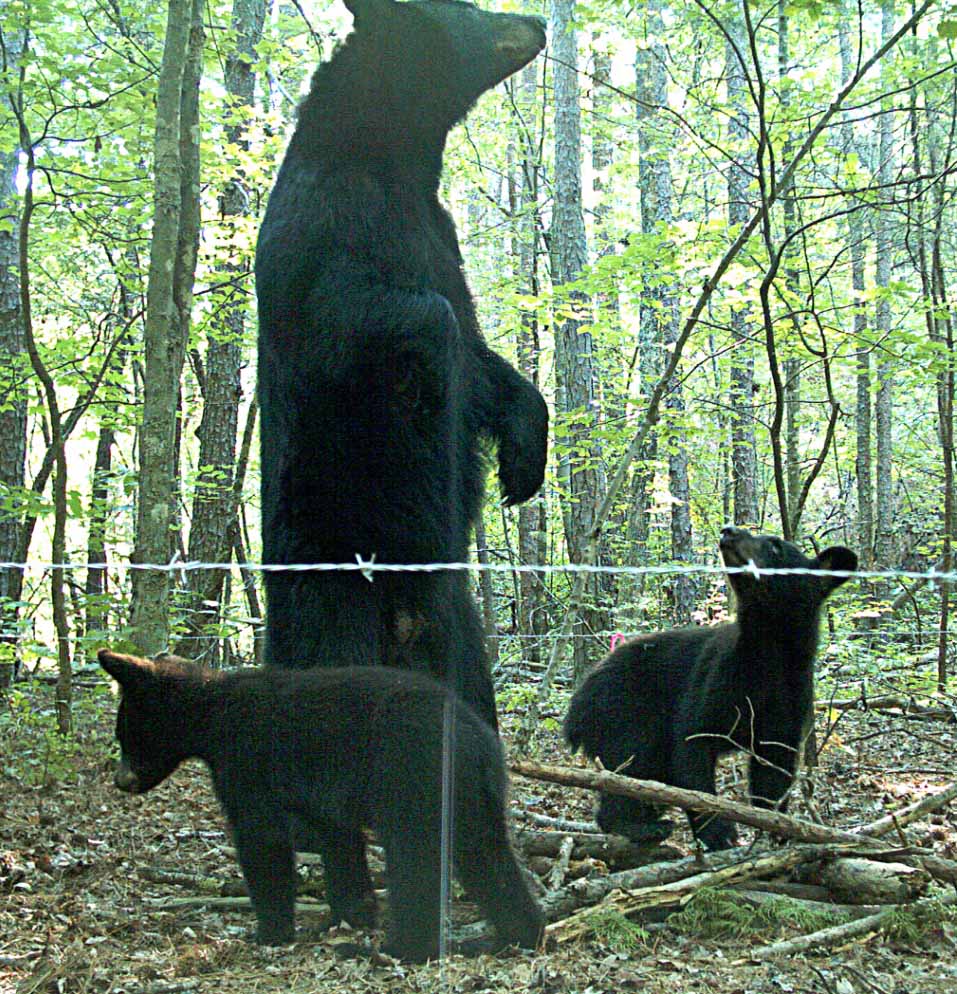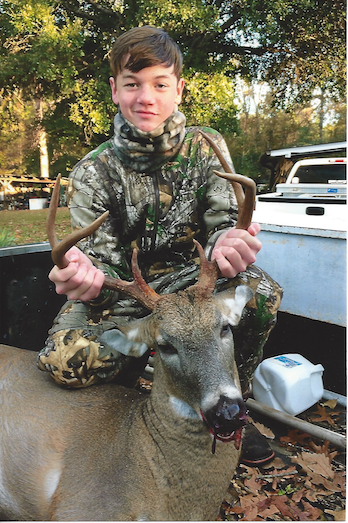 Lincoln Matherson, 12, killed this six-point 175-pound deer while hunting in Moundville during the break for Thanksgiving. He is the son of Debra Matherson and the late Sam Matherson. His grandparents are Jerry and Carolyn Matherson and Blaine and Becky Langham of Moundville. Submitted photo and information
The last sunset of autumn
A vibrant sunset was seen from Greene County on Wed., Dec. 20. The days will begin to get longer now. Dec. 21 was the Winter Solstice. Photo by Travis Vaughn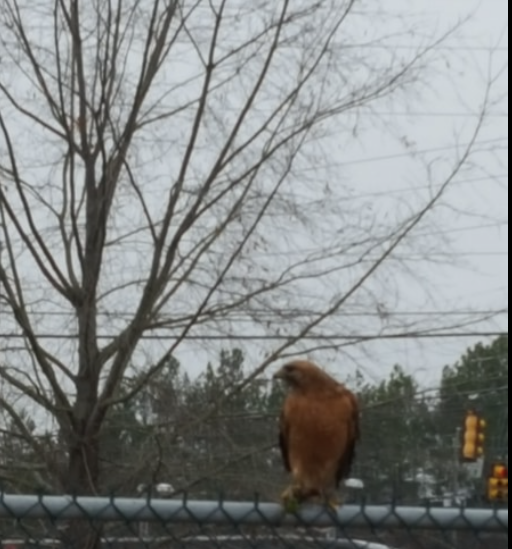 Buteo Jamaicensis, or more commonly known as a Red Hawk is commonly seen in winter, spring and fall, but not so much in summer. This lovely specimen's photo was taken by Kimberly Lester in Pelham.
Alabama "mudpuppy" to receive federal protection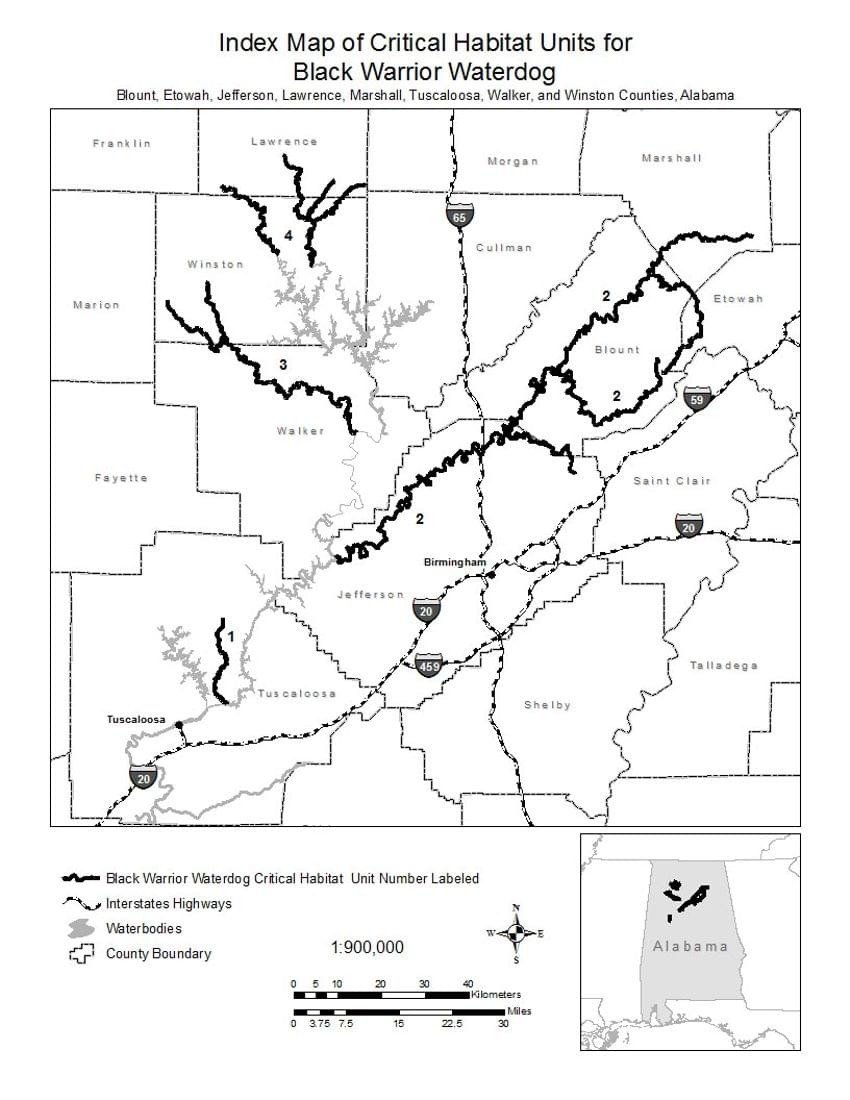 The Black Warrior waterdog, a large aquatic salamander found only in the Black Warrior River Basin in Alabama, is now a federally protected species.
The U.S. Fish and Wildlife Service (Service) listed the salamander as an endangered species under the Endangered Species Act (ESA), meaning it is in danger of extinction throughout all or a significant portion of its range. A rigorous review of the best available science has found low and declining population numbers due to loss and fragmentation of its habitat and poor water quality in the Black Warrior River Basin. The highly permeable skin and external gills of the waterdog make it particularly sensitive to declines in water quality and oxygen concentration.
The Service is also finalizing critical habitat for the Black Warrior waterdog. We are designating 420 river miles of critical habitat in four units, including 127 miles of habitat already designated for other federally protected fish, mussels and salamanders. The designation includes only areas currently occupied by the species and will protect more than 50 percent of the waterdog's historical habitat. The designation is comprised of five tributaries within the Black Warrior River Basin; Sipsey Fork (Lawrence and Winston Counties); Locust Fork (Blount, Etowah, Jefferson, and Marshall Counties); Blackwater Creek (Walker and Winston Counties); and Yellow Creek (Tuscaloosa County).
The critical habitat designation should have minimal or no impact on the forestry and coal mining community. Since there are already critical habitat designations for other species in this area, very little additional regulatory action will be necessary for the waterdog. The designation will also have no impact on private landowners taking actions on their land that do not require federal funding or permits.
Establishing critical habitat will raise awareness of the needs of the waterdog and other imperiled species and focus the efforts of our conservation partners. It also alerts federal agencies that they are required to make special conservation efforts when they work, fund or permit activities in those areas.
The Black Warrior waterdog, known by its nickname, the Alabama mudpuppy, is a large, night-loving salamander that maintains its larval characteristics, including retention of external gills, throughout its life. It is found in streams within the main channel of the Black Warrior River and parts of the North River, Locust Fork, Mulberry Fork and Sipsey Fork. Sources of pollution in the Black Warrior River Basin include runoff from industrial plants, landfills, sewage treatment plants, construction, and the historical impacts of surface mining.
The Black Warrior waterdog is recognized as a Priority 2/High Conservation Concern by Alabama, meaning the state has been actively engaged with local and federal partners in understanding and addressing the impacts to the waterdog and other imperiled wildlife that share its habitat. There are 26 federally protected animals found in the Black Warrior River Basin, 15 of which are aquatic, including the flattened musk turtle.
Consideration of the status of the waterdog was required under a court-approved litigation settlement agreement with two environmental groups.
The complete listing and critical habitat rule, which becomes effective 30 days after publication in the Federal Register, can be obtained by visiting the Federal eRulemaking Portal: regulations.gov at Docket Number FWS–R4–ES–2016–0031. A copy can also be obtained by contacting U.S. Fish and Wildlife Service, 1208-B Main Street, Daphne, Alabama, 36526.
Contacts
Denise Rowell, Public Affairs Specialist in Alabama
denise_rowell@fws.gov, (251) 441-6630

Mushroom Mystery
Got a idea of what this mushroom is? We were unsure if it was a puffball or the beginning of a umbrella mushroom. Email us at times@mound.net if you know. Photo by Peter DeCastra in Vance, Ala.
A Snowball's Chance in Hale…was pretty good on Dec. 7th!

The earliest snow in decades covered much of Alabama on Friday, December 8, with snow amounts ranging from a dusting to the north of Moundville to a couple of inches in the Moundville area and amounts approaching 3 to 6 inches for much of Hale County and other portions of the Black Belt.
Meteorologists predicted a dusting for Alabama for much of the week, but the weather system intensified and brought snow for southern Texas, Louisiana, Mississippi, Alabama, Florida, and Georgia before moving up the eastern coast of the United States.
The heavy, wet nature of the snow brought down some trees and power lines, leaving many across the region without power for as much as a couple of days as crews worked round-the-clock to restore service to residents.
No major travel problems were reported in the immediate Moundville area, according to Moundville Police Chief Toby Banks, although the Alabama Emergency Management Agency released a Civil Emergency Message on Friday afternoon on behalf of "the County Emergency Management Agencies for Sumter, Greene, Marengo, Hale, Perry, Dallas, Autauga, Chilton, Bibb, Jefferson, Shelby, Coosa, Elmore, Tallapoosa, Clay, Talladega, Randolph, Cleburne, and Cherokee Counties and Law Enforcement Officials" for those counties, requesting that residents use extreme caution on area roadways." The concern was that falling temperatures would cause roadways to freeze, "leading to hazardous travel conditions."
An early December 1997 snowfall in the Tuscaloosa region was the most recent snowfall coming so early in the season.
Thanks to everyone who contributed photos of our historic early season snowfall!
Above: Photos by Lindsey Mullins, Mike Goodall Photography, R. Davis, Adrianne Brunner, West Alabama Dog Boarding, Travis Vaughn, Tiffany Vaughn, Isaac Vaughn, Kasey DeCastra, the Srygley family and the Pearson family
Registration for the next Alabama Becoming an Outdoors-Woman (BOW) workshop opens on January 3 for first-time attendees and January 8 for both first-timers and those who have previously attended. The Alabama Department of Conservation and Natural Resources (ADCNR) sponsored event takes place at the 4-H Center near Columbiana, Ala., on March 2-4, 2018.
"ADECA's OWR staff has devoted numerous hours to compile what is Alabama's most complete surface-water report ever produced and one that will help guide our state into the future," ADECA Director Kenneth Boswell said. "I am honored and appreciative that Governor Ivey recognized the talents, expertise and capabilities of OWR staff and charged us with completing this all-important task."
The report was made possible by an appropriation from the Alabama Legislature. The University of Alabama, Auburn University, Troy University and the Geological Survey of Alabama also supplied information for the report. OWR plans to update the report every five years.
Based on the results of the surface water and groundwater assessment reports and information previously compiled by the Alabama Water Agencies Working Group, OWR plans to propose the development of a comprehensive water management plan that includes an overview of the state's water resources, summaries of current and future water usage, existing water management policies and recommendations for additional policy needs.  The development of the state water management plan, if funded by the

Cayden Cox takes first deer
Erin Hughen writes, "This is Cayden Cox with his first deer ever on 11/24! He is 12 years old. He was with his dad, Jason Hughen, and he was one proud dad!"
Tree Pumpkin?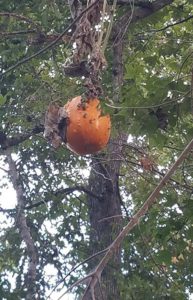 This "Tree Pumpkin" is growing in a tree in Lucy Gallman's yard in Livingston. The real pumpkin is about 20 feet up from the ground. The seedlings that grew the "Tree" pumpkin came from a friendly, family contest event the Gallmans have every year. Mrs. Gallman explained, "Every Thanksgiving my great nieces and nephews and grandchildren bring their Halloween pumpkins for our annual 'punkin chunkin.' They compete to see who can roll their pumpkin down the hill and smash it into the most pieces. This pumpkin is the result of the competition and the vine grew up the tree. I just noticed it today. I thought your readers might enjoy this photo."
Sharks in Lake LU?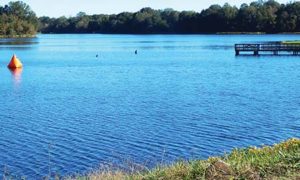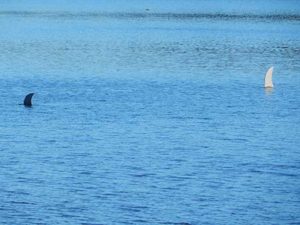 Sharks in Lake LU? That was the question the SCRJ photographer asked himself in disbelief as he traveled across the Lake LU dam Monday morning, Oct. 23 at about 9 a.m. on Country Club Rd. Upon a closer look, and after photographing and videoing the two "shark like fins" protruding above the water line, the fins seemed to be stationary for the ten to 15 minutes the reporter gazed upon the sight. The two "fins" were near the pier on the south side of the lake near the dam. A call to the University of West Alabama Campus Police revealed the fins were placed in the lake as a prank by some unknown individuals. See more photos on Page 2-A and video on www.recordjournal.net and on Facebook. Photo by Tommy McGraw

Giant Destroying Angel
Gloria Harrell of Daphne, sent in this photo of a "Destroying Angel" (Amanita virosa, A. verna, A. bisporigera) in her back yard "as big as a washtub and came up to my knees," she stated. It was a foot and a half tall and eighteen inches wide. According to USDA's Field Guide to Common Macrofungi in Eastern Forests and Their Ecosystem Functions by Michael E. Ostry, Neil A. Anderson and Joseph G. O'Brien. "Identification: Cap white, smooth; white gills free from stalk; bulbous base; white veil. Season of fruiting: Summer-Fall, Ecosystem function: Mycorrhizal with hardwoods and conifers Edibility: Highly poisonous and often fatal, Fungal note: These three mushrooms can only be distinguished from each other by their spore characteristics; collectively. They cause 95 percent of fatal mushroom poisonings. DO NOT eat any mushroom unless you are absolutely certain of its identity. Photo by Gloria Harrell, story by Kasey DeCastra, SCRJ & MVT Community News Editor


Hunting Works For Alabama's Economy
By David Rainer, Alabama Department of Conservation and Natural Resources
There's an old saying that to find a person's passion, follow the money. That apparently is true for Alabama's hunters, who fuel the economies in many parts of the state that need it the most.
To ensure the citizens of the state understand how important hunting is to the state's well-being, both economically and culturally, Hunting Works for Alabama was formed last year to enlist the aid of the  business community to spread this important message.
"Hunting Works for Alabama is basically a grass-roots group of people who want to make sure we inform the public about the enormous impact hunters have on our economy," said Tim Wood, one of the four co-chairs of Hunting Works for Alabama. "You're talking about a $1.8 billion industry in the state. You're talking about $375 million that people spend on just hunting-related equipment. Travel expenses, hunters are spending about $405 million a year. That's travel, fuel, food and lodging.
"In the rural part of the state, that is extremely important. The tax dollars and economic benefits in these rural areas, it would be devastating if they didn't have it. You could look at Demopolis, Selma, Camden and Faunsdale and look at the effects on these areas. It would be absolutely devastating."
Wood, the general manager of Central Alabama Farmers Co-Ops in Selma, said the co-ops he manages cover the Alabama Black Belt, which is known for its rich soil, great hunting and fragile economy. Wood said the importance of hunting is reflected in their business model.
"Our business has changed," said Wood at the second annual Hunting Works for Alabama meeting at the Civilian Marksmanship Program Talladega range last week. "We used to make money three months out of the year, March, April and May, from selling fertilizer, chemicals and seeds. Now we make our money in September, October and November. The paradigm has absolutely swapped. We're also a sporting goods company that sells firearms. You don't see that at farm stores. We sell hunting apparel. Our focus is on the hunting industry."
According to the latest figures, about 44,000 non-residents hunt in Alabama annually. Because the costs of non-resident licenses are significantly higher than resident licenses, those non-resident sales provide a significant funding source for the Alabama Wildlife and Freshwater Fisheries Division. The economic impact from non-resident hunters also ripples throughout the state.
"What I think is so important is the out-of-state dollars coming into the state," Wood said. "You're talking about some of the poorest areas in Alabama in the Black Belt. People travel from all over the United States to go deer hunting in Alabama. These people are paying lodging taxes, buying food and gas, and buying hunting licenses, which supports the Alabama Wildlife and Freshwater Fisheries Division. These tax dollars are not just being used by people in the hunting industry. It affects everybody in Alabama. Even the birders benefit from hunting in Alabama because the habitat enhancement made for hunting benefits all wildlife."
Wood also outlines the importance of more hunting opportunities for the general public.
"Hunting leases have become so expensive," he said. "People are having to pay $15 to $20 an acre for a place to hunt. The everyday hunter back in the old days didn't pay anything. If you wanted to go hunting, you could go up the road and some farmer or landowner would let you hunt. Those days aren't here anymore.
"That is why it is absolutely critical that programs like Forever Wild and the Wildlife Management Areas from Wildlife and Freshwater Fisheries provide the everyday citizen places to hunt and give them a reason to buy hunting licenses. It is crucial that this Division is properly funded."
Chuck Sykes, Director of the Alabama Wildlife and Freshwater Fisheries Division, said that proper funding Wood mentioned can only be realized when people buy hunting licenses.
"We rank seventh in the nation on hunting-related expenditures," Sykes said. "If you're not familiar with the Pittman-Robertson Act, it levies a tax on firearms, ammunition and other hunting equipment. That money goes to Washington, and it's divvied back out to the state wildlife agencies, based on states' hunting license sales, so they have a constant source of funding. For every dollar of hunting licenses sold, Pittman-Robertson matches that with 3 federal dollars, which is a great return on our investment.
"When I first started in 2012, our apportionment was $8 million. Last year, it was $18 million. How did that happen? During the previous administration in Washington, people were buying firearms and stocking up on ammunition because they were scared of potential gun legislation. The problem was those same people weren't buying hunting licenses. We can't get to that money unless people buy hunting licenses. So the money that hunters pay into that fund, if we can't sell enough hunting licenses, that money will go to another state. For us to be able to provide goods and services for the people of the state and to help support the economics, we have to have hunting license sales that will allow us to put conservation officers and biologists in the field."
Sykes offered a statistic that stuns just about everybody who hears it. Sykes asks for an estimate on the percentage of Alabama's almost 5 million citizens who buy hunting licenses. The estimate normally ranges from 15 to 50 percent.
"We receive not one penny from the State General Fund. Not one tax dollar goes to provide goods and services," Sykes said. "It's all hunting and fishing licenses. Most people have no idea that only 3.8 percent of Alabama citizens buy hunting licenses. We've got to get that number up if we're going to be competitive. We have to have licenses sold and the dollars from those sales to get to the federal money from Pittman-Robertson."
Wood said anybody or any business that wants to become a member of Hunting Works for Alabama can sign up and it won't cost a dime. Go to www.huntingworksforal.com for information or to join the organization.
"When you become a member, you're able to come to our meetings and meet with other people in the industry," he said. "You learn the facts and figures about the economic importance of hunting in the state. We are fortunate to be in Alabama, where we are a hunting and gun-friendly state. It's a luxury, and we want to keep it that way.
"We're trying to build a network of support. Eventually, we're going to have to talk to our legislators, because there will be issues that come up that will end up in the Legislature. We need to have voices in the different districts who will contact these legislators to express how important hunting is to the state."
After one year, Hunting Works for Alabama has 107 members with a goal of reaching at least 150 by the end of the year. Pam Swanner of Alabama Black Belt Adventures, David Dexter of Mobile and Grant Lynch, chairman of the Talladega Superspeedway, serve as the other co-chairs for the organization.
"We're looking for slow growth," Wood said. "When you have an all-volunteer staff, we have paying jobs we have to tend to. But for many of us, this does affect our paying jobs. And it also affects our way of life, which I think is more important."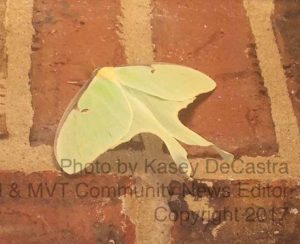 Lovely Lunar Visitor
Actias luna, the Luna Moth, can be found as far north as Canada and south as Florida. This lovely specimen was found above our door for a week. By Kasey DeCastra, SCRJ & MVT Community News Editor
Roadside Hogs in Marengo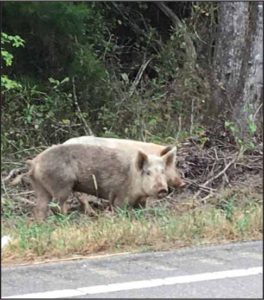 A couple of hogs were spotted standing beside Highway 43, south of Linden, a couple of weeks ago. As many landowners know too well, wild hogs can devastate crops, pastures, and forests. Photo by Tiffany Vaughn, Moundville Times Reporter
Guard Spider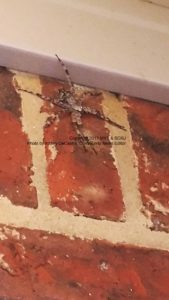 Dolomedes Tenebrosus, the dark fishing spider are another large, sprawling arachnids are most often found on vertical surfaces: tree trunks, fence posts, bridge pilings, or the exterior walls of buildings, usually at night although this friend hung out over our doorway which we were thankful for the keeping our pest population at bay. They are ambush predators who wait for large insects to come within striking distance. They do not spin webs.
Lady of the Garden
Argiope Aurantia, more commonly known as the black and yellow garden spider, is usually seen around the end of summer and start of fall. The mature females are enormous and up to 19 to 28 mm in body length. The males are much smaller at a third of the female's size. You'll see them pretty much anywhere: gardens, orchards, forest edges, old fields, under lights and farms. They spin a classic round orb web with a zigzag band of silk called a "stabilimentum." By Kasey DeCastra, Moundville Times & Sumter County Record Journal Community News Editor
Surprise! Lily
Lycoris radiata, or more commonly known in Alabama as the Red Surprise Lilly, Red Spider Lily or British Soldier, actually comes from Japan and came over as a garden flower in 1854. The flowers bloom after the first heavy rain in late September through mid October. In Japan the Red Spider Lily signals the arrival of fall. Many Buddhist will use it to celebrate the arrival of fall with a ceremony at the tomb of one of their ancestors. They plant them on graves because it shows a tribute to the dead. People believe that since the Red Spider Lily is mostly associated with death that one should never give a bouquet of these flowers. By Kasey DeCastra, Moundville Times & Sumter County Record Journal Community News Editor
World's Oldest Cultivated Plant in the Front Yard?
Grass is one of the oldest cultivated plants in the world. You of course know lawn grass, but corn, wheat, barley, oats, sugar cane and rice are all grasses that humans intentionally bred to eat and feed to livestock. Grasses are used to make paper, used for fuel, as roofing, to weave baskets, build houses, furniture, fences and musical instruments. Some grasses can grow very tall. Bamboo is one of these. It's the world's most wide spread plant type.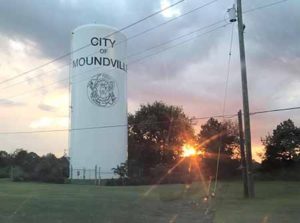 Moundville Watertower Sunset
We don't need to tell you we've had a lot of rain this summer. Rita Lewis, your favorite Voice of the Ville Columnist, knows all about the vibrant colors of sunsets that follow the afternoon showers. She took this lovely shot of the water tower Aug. 12.
Red bellied woodpecker needed a little help…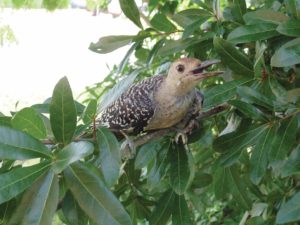 Occasionally at the Times office, our feathered friends get confused and fly into the large glass windows of the upstairs portion of the building. That's what happened to this red bellied woodpecker Tuesday, July 25. The bird was in shock and on the ground right outside our side door but seemed to feel much better after a few drops of water and some time in the shade tree out back.          Photo by Travis Vaughn
Hale County Extension Coordinator
How to get rid of fire ants
Submitted by Tyrone D. Smith, Hale County Extension Coordinator (See more of Tyrone's articles on our Outdoors page at www.moundvilletime.net.)
Alabama Cooperative Extension System (ACES) specialists recommend a two-step method to deter fire ants from invading your property. The first step is to look for a product that is called broadcast bait.A bait product consists of a chemical dissolved into a food source. These baits are spread evenly over the entire infested area.
Ants will pick up the bait and take it back to the nest, where they eventually find their way to the queen. The colony will be destroyed once the queen is killed.The second preventive step is to use individual mound treatments throughout the summer. These products come in the form of dusts, drenches, baits, or granules, and should always be applied according to label directions.
Mounds should be treated mid-day in cold months and early in the morning during summer months.Over applying mound treatment products, however, can result in the colony relocating to another area on the property.
If using a drench product, it is recommended to mix up two gallons of chemical to apply to the mound. The selection of products you can safely use in vegetable gardens is very limited.Fire ants can be a nuisance for the whole family, but with a little work they are easily kept away. For additional information contact your Hale County Extension Office.
Go to www.outdooralabama.com/sites/default/files/DeerFoodPlots.pdf for more information on food plots in the free publication authored by Cook and WFF Supervising Biologist Bill Gray.
Boys and Girls Clubs go fishing at Forever Wild
The Moundville and Greensboro Boys and Girls Clubs went fishing at Forever Wild on July 12. Judge Tim Evans said, "Big thanks to Bill Mason, Sheriff Kenneth W. Ellis, Brandon Croom, Chief Banks, Chief Hamilton, James Evans, and Judge Crawford for coming out to help. The staff/volunteers with the Moundville and Greensboro Boys & Girls Club are very much appreciated for getting these kids to the lake with us." Above, Evans is shown with Kylon Bates. Moundville Police Chief Toby Banks joined Moundville Boys and Girls Club member Kylon Bates for a little fishing at Forever Wild on July 12. Photos courtesy Moundville B&G Club.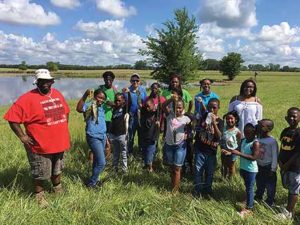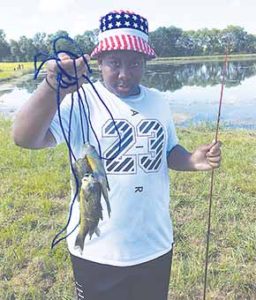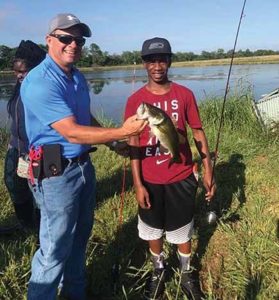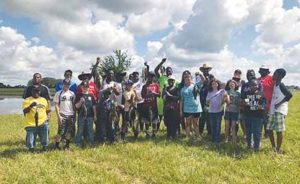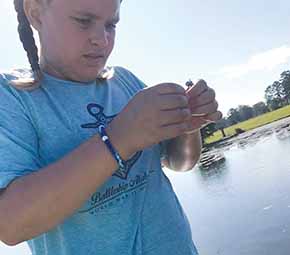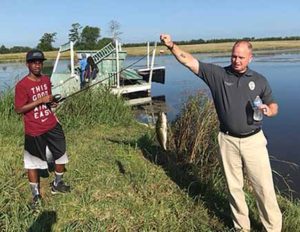 Hog control is one of the top issues for West Alabama and Hale County; ADCNR's Matt Brock explains what to do
By Kasey DeCastra, MVT & SCRJ Community News Editor
Matt Brock Alabama Department of Conservation and Natural Resources gave a presentation on wild Hog Control at the annual Area III Association of Conservation Districts meeting in Jasper at Beville State Community College July 19.
They are not native to North America. Brought by the Spanish explorers as a mobile form of food back in the 1600's, the fast repopulating, omnivors have wrecked havic ever since. They displace major game such as deer and turkey. And are known to destroy the habitat of our native amphibians and reptiles by rooting, wallowing and tree rubbing around swamps and water ways. They damage livestock, farming land, forests.
Hogs can live up to 21 years, mature in 6-8 months, reproduce twice a year with 4-10 piglets. They are former domestic pigs and Eurasian wild boar that are a range of colors.
They can spread disease to both animals and people. If you have shot one hunting, protect yourself when butchering the meat with rubber gloves, gogles and try not to breath the gases of the animal. Be sure to cook the meat fully as well.
The two most effective ways of dealing with the animals are hunting and trapping. You will need a permit to hunt wild hogs and should contact local Conservation Enforcement Officer or local Wildlife and Freshwater Fisheries District office for more information regarding this permit according to http://www.outdooralabama.com/feral-hogs.
To download a free .pdf on how to take care of hogs visit https://store.aces.edu/ItemDetail.aspx?ReturnTo=0&ProductID=14291
Printed copies may also be ordered through Mississippi State University Extension Service and Alabama Cooperative Extension System.
• Mississippi State University Extension Service: Contact your county Extension office.
• Alabama Cooperative Extension System: Call (334) 844-1592 or e-mail publications@aces.edu
Not Fake Fish News
Moundville Times Publisher, Tommy McGraw went on secret assignment to the Black Warrior River near Akron recently to investigate whether the recent high water levels from the many rain storms effected the bass biting. The publisher/fisherman found some fresh water off the main channel and landed about 15 to 20 bass in the middle of a hot summer day, some in the two to three pound category like the one pictured. McGraw affirmed that this was "Real News" and not the "Fake Fish News" some fisherman occasionally spin. Photo by Tommy McGraw
Havana Sunset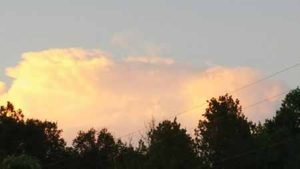 Sunset in Havana in Hale County from Tues. June 13, 2017 by Marty Wheat
Moundville Times Musical Visitor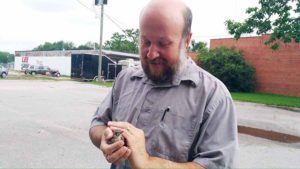 We had a musical visitor hop on into the Moundville Times office this morning (6-5-17). Our lead editor, Travis Vaughn, gently helped him back outside to his home in our Tulip tree outside the office. Our best guess is he wanted to read some news on the fly. We looked him up and he is a Sedge Wren. Learn more at http://www.outdooralabama.com/sedge-wren
Photo and story by Kasey DeCastra, Moundville Times & Sumter County Record Journal Community Editor
We want YOUR local outdoor photos and stories Hale and South Tuscaloosa residents! Email them to times@mound.net and not only will you get in the paper for free, but we'll also spotlight them on the outdoors page at http://moundvilletimes.net/Outdoors3.html
Eastern Box Turtle Travels Through Taylorville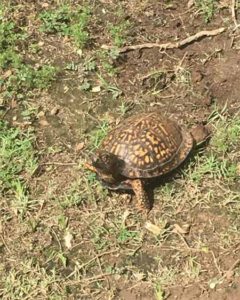 Ben Noppenberger found a friend wandering through his yard Saturday between storms. The eastern box turtle (Terrapene carolina carolina) is a subspecies within a group of hinge-shelled turtles, normally called box turtles. It's native to the eastern part of the United States, found as far north as Maine and West as Texas. The box turtle is largely terrestrial (they like to walk from one pond or stream to another), but are slow crawlers, extremely long lived, slow to mature, and have relatively few offspring per year. Males have red irises and females have brown.
Photo by Ben Noppenberger, story by Kasey DeCastra, Moundville Times/ Sumter County Record Journal Community Editor
Rose… Jelly?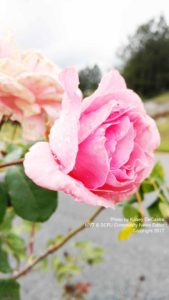 Roses have more uses than just a ornamental flower in the garden. Rose hips can be made into jam, jelly, marmalade, and soup or are brewed for tea, or filtered for syrup. Rose hips are also used to produce rose hip seed oil, which is used in skin products and some makeup products and of course perfume. They hahttp://pfaf.org/user/ Plant.aspx?LatinName=Rosa+c hinensisve been used in medicine for stomach issues. (See ) By Kasey DeCastra, MVT & SCRJ Community News Editor
Color of a Rose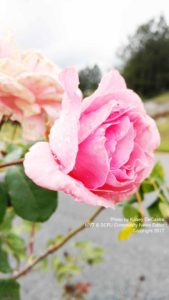 Roses are native to North America, Europe, Asia and North Africa. There are over a hundred species and thousands of cultivars (assemblage of plants selected for desirable characteristics that are maintained during propagation. Roses have acquired cultural significance in many societies. You may have heard a red rose is for true love, a yellow for friendship, or a pink for sweetness. Check out https://www.abetterflorist.com/blog/colours-rainbow-colour-bouquet-say/ to learn more about rose color meanings. (By Kasey DeCastra, MVT & SCRJ Community News Editor)
Magnolia's Are Very Useful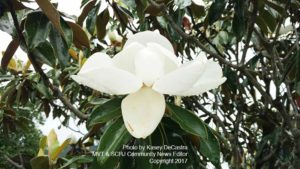 Magnolia bark has been used to treat menstrual cramps, abdominal pain, abdominal bloating and gas, nausea, and indigestion. It is also an ingredient in formulas used for treating coughs and asthma. Learn more about Magnolia uses at http://www.herbwisdom.com/ herb-magnolia.html. (By Kasey DeCastra, MVT & SCRJ Community News Editor)
Magnolia, our sweet smelling southern staple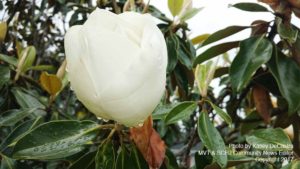 Magnolia's were one of the very first trees to evolve a flower. The petals still resemble the tree's leaves. It's theprized this was to encourage bees to pollintate the trees. According to "Convergent evolution and adaptive radiation of beetle-pollinated angiosperms" by Bernhardt, P. "Fossilised specimens of M. acuminata have been found dating to 20 million years ago, and of plants identifiably belonging to the Magnoliaceae date to 95 million years ago." It's the state flower of Mississippi and Lousiana. Alabama's state flowers are the camelia and oak-leaf hydrangea (state wild flower). They come in both evergreen version and deciduous with a wide range of colors: white, pink, red, purple, or yellow. (By Kasey DeCastra, MVT & SCRJ Community News Editor)
When and where you least expect it… a copperhead in Moundville!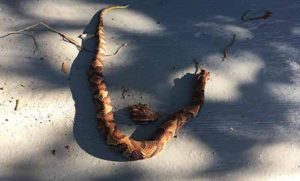 Our own Tiffany Vaughn escaped a snake bite Sunday afternoon in her front yard on Market Street in Moundville and dispatched the juvenile copperhead. She wrote, "It attacked me when I almost stepped on him. Thank God it was a small one and not full grown. Thank God I had long pants on because he struck my pant leg. Y'all be careful in your yards. We get complacent and forget that they are here with us."
Photo by Tiffany Vaughn
Cobbler Incoming!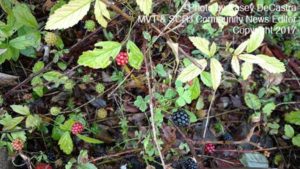 Wild black berries are in season now. Blackberries are one of the two state fruits for Alabama. The other is the peach. (By Kasey DeCastra, MVT & SCRJ Community News Editor)
Carp to the rescue! Say what?!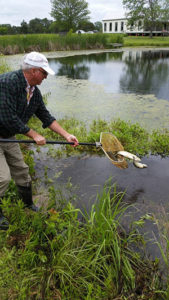 These grass crap are going to help rehabilitate the UWA duck pond. A small number of these fish have been stocked on campus to eat away at the invasive and overwhelming filamentous algae, Alligator weed and pond weed instead of using chemicals harmful to the creatures who make it their home. Learn more about the Black Belt Museum at https://www.facebook.com/blackbeltmuseum/?hc_ref=NEWSFEED
String Beaning Us Along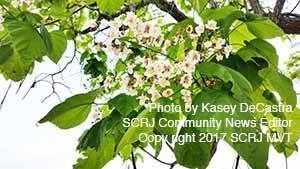 Wondering what kind of tree this is? It's a Catalpa. A deciduous tree that produces long string pods in late summer (also a sap that will eat the paint off your car if you park it under it.) It's nick names are "String Bean Tree," the "Indian Been Tree," and "Cigar Tree." This one lives beside at our sister paper the Moundville Times in Moundville in Hale County and is in full bloom. (By Kasey DeCastra, MVT & SCRJ Community News Editor)
Aquarium Animals and Plants Should Never Be Released into the Wild
Teachers and pet owners should be aware that aquarium animals and plants should never be released into the wild. Releasing aquatic animals and plants is illegal, as they pose a threat to native species and ecosystems. While the environmental damage caused by invasive species throughout the United States is devastating, Alabama is especially vulnerable due to its abundant biodiversity and aquatic habitat.
When a non-native animal or plant is introduced into an ecosystem, the results are often unpredictable. The national Aquatic Nuisance Species Task Force Strategic Plan (2013-2017) indicates that "approximately 49 percent of imperiled species are endangered primarily because of predation or competition with exotic species."
For example, the Island Applesnail was likely released into waters near Mobile Bay by an aquarium or ornamental pond owner. Biologists are concerned these snails will reduce the number of native aquatic plants necessary as food and habitat for birds and other aquatic organisms.
The Oriental Weatherfish or Pond Loach is an exotic aquarium fish that has been found in Logan Martin Reservoir and tributaries of the Coosa River. This species has been found in the same waters as the native Coldwater Darter, although the threats to this protected species are currently unknown.
Once an invasive organism has become established, it is nearly impossible to eradicate. The control of invasive species is costly, so preventive measures such as properly disposing of unwanted aquarium animals and plants is a priority in preserving native ecosystems.
A pet store may be willing to take unwanted aquarium animals or plants. If a pet store will not take the aquarium animal, it will need to be euthanized. To properly dispose of aquarium animals and plants, they should be frozen, sealed in a plastic bag, and placed in the trash.
To learn more about invasive aquatic species in Alabama, visit www.outdooralabama.com/aquatic-nuisance-species.
ADCNR promotes wise stewardship, management and enjoyment of Alabama's natural resources through four divisions: Marine Resources, State Parks, State Lands, and Wildlife and Freshwater Fisheries. To learn more about ADCNR, visit www.outdooralabama.com.
Big Boss Gobbler taken in "Hale"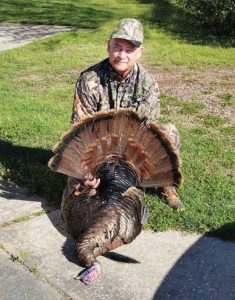 The Moundville Times Publisher Tommy McGraw had to go through "Hale" to get this boss gobbler Saturday, April 8 deep in the Hale County woods. The 22 pound bird sported an 11.5 inch paint brush of a beard and had one inch long spurs. The bird and a companion marched within gun range at 6:50 a.m. The two birds came in after McGraw stirred the two gobblers with his irresistible cackling and yelps. The 35 yard shot was made with a "Quick Draw McGraw" move as the birds circled behind the hunter as they came in to greet their invisible mate. Photo by Jane McGraw
Hale County Extension Coordinator
Where are Hale County blackberries?
Submitted by Tyrone D. Smith, Hale County Extension Coordinator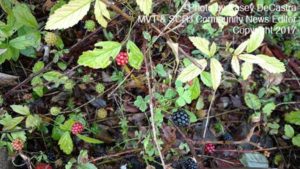 Did you know that the blackberries you see growing on the side of the highway are actually Alabama's official state fruit? That's right, the blackberry is Alabama's state fruit. Nearly all blackberry cultivars are self-fruitful, and therefore self-pollination or pollination by the same cultivar will result in fruit development.
Honeybees usually transfer pollen from one flower to another. Bees are strongly attracted to bramble blossoms by the copious amounts of nectar. However, wild bees are not a reliable source of pollination, especially during bad weather. Commercial growers should consider placing one or two hives per acre grouped into units of five or ten per location.
As the fruit ripens, it grows in size and weight. Color changes from green to red to black. Blackberries take 35 to 45 days to mature once they are pollinated. Flavor and sugars increase as the fruit grows, and the fruit will soften and loosen from the receptacle when ripe.
Blackberries are nutritious. One serving of blackberries (one cup) provides 50 percent of the vitamin C and 22 percent of the fiber required daily. Blackberries are also a good source of potassium, calcium, and iron. In addition, the compound ellagic acid (anti-cancer properties especially against prostate cancer) identified as an anticarcinogen, is found in blackberries.
Hale County Extension Coordinator Poke Salad in Hale County pastures
Submitted by Tyrone D. Smith, Hale County Extension Coordinator
Common poke salad, a native of North America, is a perennial weed often found in pastures as well as fence-rows, rights-of-way, reduced-tillage row crop fields, and wooded areas. Other names include: poke berry, pigeon berry, inkberry coakun, pocan bush, scoke, and American nightshade. Although pokeweed can cause severe poisoning in humans, Native Americans once used this plant as a heart stimulant and as a narcotic. The plant also contains a protein that has been shown to have a positive impact on HIV, a precursor to the AIDS virus. Additionally, many people cut young shoots and leaves and eat the plant as one would eat asparagus, thus the name poke salad. For human consumption, the plant must be boiled at least two times in water and the water must be removed before eating. Some say that an additional boiling will essentially remove all toxins in the plant material. Control of common poke salad is typically not easy because of the large fleshy crown and associated taproot. Except in some row-crop situations, pokeweed rarely infests large areas and is usually found in isolated instances. Removal of individual plants is accomplished by wholly removing the crown and a major portion of the associated taproot. Alternatively, spot applications of glyphosate (3% volume/ volume) or products containing 2,4-D or dicamba can severely injure or kill the plant. For additional information please contact your Hale County Extension Office.