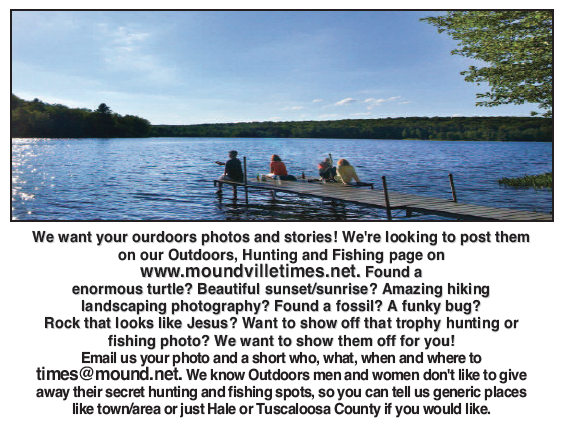 Alabama Producers Harvest Crops Despite Widespread Drought
AUBURN UNIVERSITY, Ala.—Widespread drought continues in Alabama, as nearly 84 percent of the state is in severe drought. In fact, 55 percent of the state's soil and subsoil moisture is reported to be "very short." Even with these conditions, producers are still hard at work bringing in this year's crop. According to the National Agricultural Statistics Service (NASS), 96 percent of the corn planted in Alabama has been harvested. Harvest of other crops—including cotton, peanuts and soybeans—is still underway.
Cotton
Alabama Extension cotton agronomist, Steve Brown, said though the weather is proving difficult for other harvests and for livestock producers, this is year's cotton crop has fluffed nicely.
"Early yield reports have been better than what I expected," Brown said. "I've heard some very good yields—more than 1500+ pounds per acre—from a few well-irrigated fields. I've also seen dryland acres that have picked 500 to 1,000 pounds per acre."
Still, he said there are those producers with a "worst case scenario," bringing in slightly under 300 pounds per acre to slightly over 500 pounds per acre.
The crop progress report indicates 92 percent of cotton bolls were open this week, compared to 87 percent at the same time last year. While the boll opening numbers are not far apart, 25 percent of USDA's estimated 535,000 acres planted have been harvested compared to 17 percent in 2018.
"One important factor is that the prevailing dry conditions over the past couple of months have resulted in minimal boll rot and excellent conditions for crop opening," Brown said. "The crop is opening at a very, very rapid pace because of the lack of rainfall. This should be a speedy harvest."
Brown said it is difficult to assess the impact of drought on cotton yield at this point. USDA's August and September estimates had Alabama production at 942 pounds per acre. He said it did not change from month to month.
"Because of the sustained heat and drought over many areas of the state, my estimation of yield is 800 to 850 pounds per acre," he said. "In many areas the crop has been severely stressed for weeks. If my numbers are correct, that would place us over $40 million below USDA's projection."
William Birdsong, an Alabama Extension regional crops agent who works in the Wiregrass region, said cotton harvest is running wide open.
However, Birdsong said farmers did plant a lot of cotton early and the heat units have been high, so maturity is on schedule and ahead due these factors.
Tyler Sandlin, an Alabama Extension agronomic crops specialist in north Alabama, said the yields have been just as good as the crop looks.
"Average yields from what growers are reporting have been between 1100 and 1500 pounds per acre," he said. "Around 40 percent of the cotton acres have been harvested so far."
Peanuts
Peanut harvest is in full swing. Harvest observations range from "surprisingly good" to "very difficult."
Kim Wilkins, an Extension regional crops agent in Baldwin County, said some peanuts look surprisingly good.
"I've been surprised by the resilience of some peanut fields," Wilkins said. "However, in the heavier soils they have had a hard time digging. The ground is so hard. Sandy soils are harvesting fairly easily but some northern counties are having a harder time. In southern (sandy) counties the dry weather has let them harvest quickly."
Brandon Dillard, who is also an Extension agronomic crops agent, said Geneva County producers are having a difficult time harvesting peanuts.
"The dry weather is making harvest very difficult," Dillard said. "Most are saying they are getting four to 15 acres out of a set of blades on inverters. This adds a lot of money to the cost of an already expensive operation."
The NASS projections estimate nearly 56 percent of this year's peanuts have been harvested. This is significantly higher than the 27 percent harvested at this time last year.
Birdsong said early planted peanuts are yielding surprisingly good.
"There are some quality issues with aflatoxin for some producers," Birdsong said. "The fear is that when it rains this quality issue will explode. Yields of later planted peanuts will be impacted more negatively due to drought."
Birdsong said some producers can't dig fields due to hard soil conditions.
"Some farmers are digging peanuts at night when vines are more turgid and peanut vines are not as drought stressed," Birdsong said.
Corn and Soybeans
Harvested corn acres are right on par with 2018 numbers, with 96 percent of the corn crop in Alabama harvested—compared to 94 in 2019. Wilkins said she has producers in the Baldwin County area with corn so severely drought damaged, that it may not be harvested.
Andy Page, an Extension regional agent in the northwestern part of the state, said the majority of corn harvest is complete. Average dryland corn yields were between 160 and 200 bushels per acre. Those who received rain at the right time were closer to the 200-bushel average.
While there are lower numbers of soybean acres in Alabama in 2019, 40 percent of the soybeans are harvested. This is nearly doubled in comparison to 23 percent harvested in 2018.
Sandlin said the weather through September and early October has felt more like west Texas weather.
"Full season soybeans have been around average yields for this area at 50+ bushels per acre," Sandlin said. "The double cropped soybeans planted behind wheat seem to be a little below average due to the hot and dry conditions we have been having since corn harvest began."
MoreInformation
For more information on crops in Alabama, contact your county Extension office, or a member of the Alabama Extension crops team. For more information and resources on drought, visit the Alabama Drought website.
By Katie Nichols
ADAI Now Accepting Applications for the 2020 Industrial Hemp Program
MONTGOMERY, Ala.- The Alabama Department of Agriculture & Industries (ADAI) is now accepting hemp applications from eligible growers, processors/handlers, and universities. The application period began October 7, 2019, and the final day to apply is November 14, 2019.
In 2016, the Alabama Legislature passed the Alabama Industrial Hemp Research Program Act, Section 2-8-380 Code of Alabama 1975, tasking ADAI with the development of a licensing and inspection program for the production of industrial hemp. The program launched in the beginning of 2019, after The Agriculture Improvement Act of 2018 (i.e. Farm Bill) declassified hemp as a schedule 1 drug and deemed hemp as an agriculture commodity. This legislation defines hemp as all parts of the plant containing less than 0.3% THC, including derivatives, extracts, and cannabinoids.
"As the hemp industry continues to grow in Alabama, critical research data is being collected and evaluated," said Commissioner of Agriculture & Industries Rick Pate. "The department's goal is to administer the program in a fair and timely manner to benefit hemp producers and develop industrial hemp as an alternative crop."
For more information and updates, please visit: www.agi.alabama.gov.
ADAI will receive Industrial Hemp applications until November 14, 2019.
Wheelchair-Bound Stone Bags Gator at Eufaula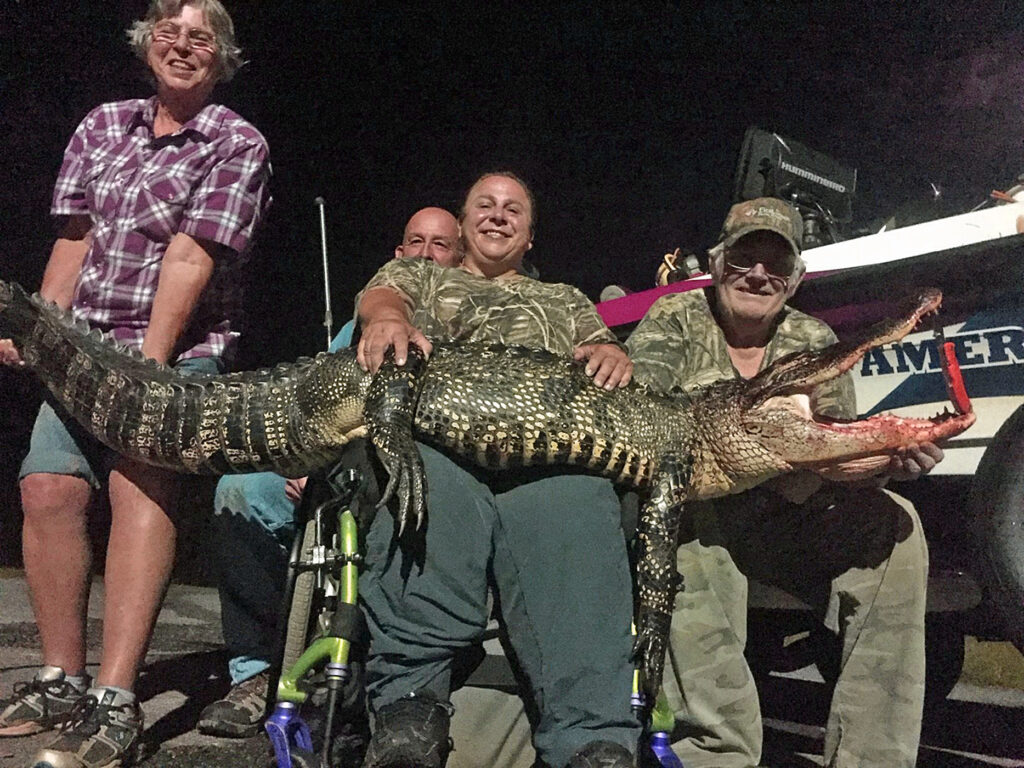 By David Rainer, Alabama Department of Conservation and Natural Resources
Mandy Stone worked hard as a paramedic in Roanoke, Alabama, which often required a weekend away to decompress. Stone was on one of those getaways when her life changed forever.
"Ten years ago, I went to north Georgia for the weekend," Stone said. "On the way home I hydroplaned, went down in a ravine and spent the next two-and-a-half months at the Shepherd Center in Atlanta.
"Everything changed in just a split second."
The accident impact crushed numerous vertebrae in her back. She was left paralyzed from the waist down.
However, the accident did not crush her spirit or her love for the outdoors. Not long after she was discharged from Shepherd, a world-renowned rehabilitation center for people with spinal cord and brain injuries, Stone went to one of her happy places.
"Hunting season is my favorite time, and I think it always has been," she said. "I've been able to go hunting ever since I got hurt. I hunt deer and squirrels mostly. I have one of those Action Trackchairs, and I'll ride around and shoot them from it."
The shooting houses on her mom and dad's property as well as shooting houses on property Stone and her sister own nearby were made handicap-accessible.
The first time in a shooting house after her accident was truly special.
"It was great," she said. "My mom made sure I had plenty of cover, which was good. It was actually awesome. I think I killed one that day. I know I killed three or four that season."
Not content to allow any barriers to stop her hunting passion, she decided to kick it up a notch and pursue an alligator during Alabama's late-summer, early-fall season at Lake Eufaula in southeast Alabama.
"I'm all about hunting everything," she said. "I told my dad, 'Look Pop, we've got to go alligator hunting.'"
Stone had applied for several years for a tag at Eufaula, which has only 20 tags available annually. The points system, which applies points for each year the applicant is unsuccessful, finally paid off for Stone.
After receiving her tag, Stone went to Lake Eufaula to look around because she didn't know anything about the reservoir that serves as a border between Alabama and Georgia. Stone emailed Chris Nix, the Alabama Wildlife and Freshwater Fisheries (WFF) Division's Alligator Program Coordinator. Nix got Stone in touch with WFF Biologist Richard Tharp, who connected her with guide Mike Gifford, otherwise known at Gator Mike.
"I was talking to Mike, and he was telling me about his alligator hunting, and it sounded great," Stone said. "Then I told him I was in a wheelchair and asked him if he had ever taken anybody in a wheelchair. He said, 'Oh, I've never done that.'
"I asked him if he was willing to try, and he said he was and when did I want to go."
Although Gifford has been guiding alligator hunts since Alabama started its season in the late 2000s, he said this was his first outing with someone in a wheelchair.
"I'm kind of old school and think things happen for a reason, that we're drawn to people for a reason," Gifford said. "I felt like, no matter what, I was going to make it happen. It's not common for somebody in her condition to want to do that, but it inspired me."
With the obstacles Stone presented, Gifford figures divine assistance helped to make it happen.
"What's really crazy about this is I've only got X amount of space on my boat, and I want her to be up on the bow so she can do everything," he said. "I didn't want her just riding along watching somebody else gator hunt."
Stone gave Gifford the measurements of her wheelchair, and he headed to his boat with a tape measure.
"In a custom-built Ranger bass boat, they have what is called a locker-bar system," he said. "All the deck lids are aligned. In the locker-bar system, a stainless-steel bar goes across the lids, and you can put padlocks on it so none of the deck lids can be lifted.
"I put the locker bar in and started measuring. This is why I believe things happen for a reason. When I measured for that wheelchair, I didn't have a half-inch of extra space. When that locker bar went in there, the back tires backed up to it perfectly. The front of the wheelchair lined up perfectly to be tied off to the front pedestal, so I could lock her in there."
The boat ramp, which she had used on two previous trips, was the perfect height for Stone's wheelchair to roll onto the boat's front deck.
Gifford thought about idling around near the boat ramp to try to bag the first gator they found, but when he got Stone fitted with a life jacket and locked in the boat, he changed his mind.
"I felt like I had her in there good enough, and that she was strong enough that I thought about getting the boat on plane," he said. "I told her I was going to try and for her to give me a thumbs up or a thumbs down. I got on plane slow and easy. She gave me a thumbs up, and I knew we were in business."
A large gator was spotted that was estimated at 12 feet, but he gave them the slip.
The gator hunters found smaller animals, but culling is not allowed during alligator season and they would have failed to reach the 8-foot minimum in effect at Lake Eufaula.
After they spotted another gator they felt would surpass the minimum size, Gator Mike got a hook in the animal and handed the rod to Stone.
"I wanted her to feel the full effects of the hunt," he said.
"He let me do some of the reeling, which was not easy," Stone said. "We went in a circle for about 30 minutes with this 8½-foot gator. We finally wore him down, and Mike handed me the harpoon to stick him with. That was a huge challenge. But I got the harpoon in him. Mike got him, taped his mouth and got him into the boat."
Instead of shooting alligators to finish them off, Gator Mike prefers to severe the spine with a knife with the gator's head immobilized.
He handed the knife to Stone, who applied the coup de grace.
"It was just as quick and simple as shooting one would be," Stone said. "I'd never taken anything like that, but it was just as quick. It was done.
"I had been grinning the whole time after the gator was hooked. I was all smiles from there. It was awesome."
Whooping and hollering and rounds of high-fives went around on both boats after the gator was dispatched.
Gator Mike had lined up a chase boat, which allowed Stone's mom and dad to join the hunt.
"That was awesome that they got to be there too," Stone said.
The gator is at the taxidermist for a full-body mount. The meat has been processed, and Stone will make a trip soon to pick it up.
"We hope to get together and have a big alligator cooking celebration," Stone said.
After time for reflection on the successful hunt, Stone admitted it was harder than she expected.
"Had it not been for Gator Mike, I don't know if I could have done it," Stone said. "He makes it look easier. He was so good at slipping up on them.
"The biggest thing was the harpoon. That was hard for me. I was very ill-prepared for that. It was fun nonetheless, but there were no easy tasks."
Although Stone achieved her ultimate goal by bagging the gator, it doesn't mean her love of the hunt is completely satisfied.
"I'm happy with one, but I intend to apply again," she said. "I'm definitely hooked now."
Gifford said he has relived that night many times and still wonders why he was fortunate enough to be the guide.
"I just hope this inspires other people with handicaps to want to go and do it," he said. "You can do it. There's no doubt. Mandy had a will to do it, and she did it. This was the most gratifying hunt that anybody could have ever done."
Manage Pests in Your Fall and Winter Vegetable Gardens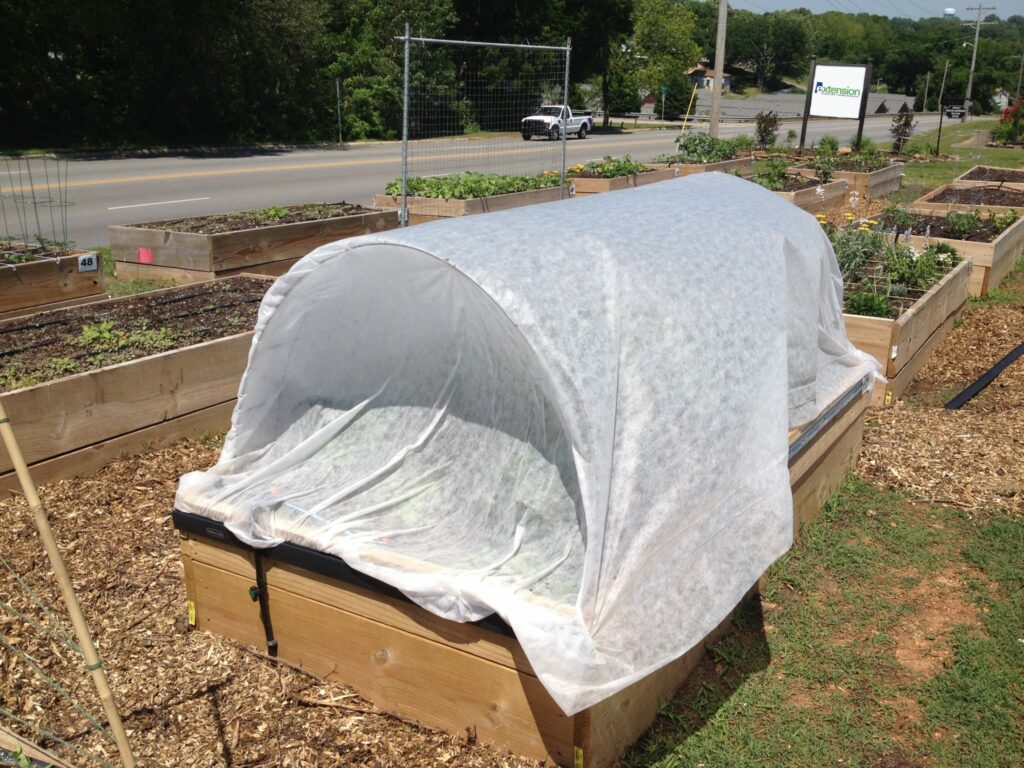 AUBURN UNIVERSITY, Ala. – Now that fall is upon us, gardeners should take the needed steps to manage pests in their fall and winter vegetable gardens. People often forget that this time of year is when some pest populations are extremely high.
Dani Carroll, an Alabama Extension home grounds, gardens and home pests regional agent, said an often overlooked method for pest management is a type of pest exclusion system.
"Home gardeners can use a pest exclusion system for short-term control," Carroll said. "These systems involve using floating row covers as a physical barrier between the pest and main crop."
Floating Row Covers
There are two basic types of floating row covers; heavyweight and lightweight covers.
"You often see heavyweight floating row covers used on strawberries for frost protection," Carroll said. "Lightweight row covers, often referred to as insect exclusion fabrics, are used as insect barriers."
These pest exclusion fabrics are made form spun bonded polyester or polypropylene. They are thin enough to allow majority of the light, air and rain or overhead irrigation to pass through, but thick enough to stop the large insect species. The covers can keep moths from laying eggs, preventing the establishment of pest populations.
Perfect for Cool Season Vegetables
According to Carroll, cool season vegetables are perfect for using row covers.
"For cool season vegetables, growers can use row covers as a method to keep pest insects out," she said. "They also capture extra heat for dampening, fluctuating temperatures which make plants grow faster. Crops like cabbage, turnips and kale are not as tall as other vegetables, like tomatoes, making row covers easier to use on them. With most cool season crops, growers don't have to worry about excluding pollinating insects."
Installation
Floating row covers are not difficult to install. First, a grower will need to determine the length and the width of the row cover they need.
"Don't forget, while row covers are laid over the top of plants, the vegetables will grow," Carroll said. "Make sure to provide enough row cover to allow for that growth."
Completely cover the crop from top to bottom and side to side. Covers can be laid directly over the crop or affixed to a frame. Carroll said it is not too difficult to bend PVC piping over a raised bed to create a frame to drape the row cover over.
"Leave plenty of fabric so the edges can be secured on all sides," she said. "Secure the fabric by using bricks, blocks or scoops of soil to completely seal the plants off so insects cannot enter."
When using row covers on raised beds, attached the cover to the foundation with staples or gem clips. Make sure to check the seal around the bed after storms and other weather events.
More Information
Floating row covers are great tools to use for insect control. However, growers can use other control methods in conjunction with these covers. Rotating crops, having healthy soils, using certain plant varieties and even using beneficial insects can all assist in pest control.
Additional details about pest monitoring and scouting can be found on the Integrated Pest Management page of the Alabama Extension website. For further information, contact your county Extension office.
Fall 2019 CWD Public Information Meeting Schedule
This fall, the Alabama Division of Wildlife and Freshwater Fisheries (WFF) is hosting a series of public meetings throughout the state to provide information about Chronic Wasting Disease (CWD), WFF's CWD surveillance efforts in Alabama and how hunters can assist.
CWD is a fatal disease affecting several species in the deer family (cervids). To date, CWD has been diagnosed in free-ranging or captive cervids in 25 states and three Canadian provinces. No cases of CWD have been found in Alabama.
In addition to providing CWD information, the meetings will also give hunters an opportunity to ask questions about the disease. Each meeting will run from 6-8 p.m. and is free and open to the public. The media is encouraged to attend.
Fall 2019 CWD Information Meeting Schedule
Thursday, October 3, 2019
Vernon City Complex
44425 Alabama Highway 17
Vernon, AL 35592
Thursday, October 17, 2019
Wheeler National Wildlife Refuge Auditorium
3121 Visitor Center Rd.
Decatur, AL 35603
Monday, October 21, 2019
Bass Pro Shop Meeting Room
2553 Rocky Mt. Rd.
Prattville, AL 36066
Tuesday, October 22, 2019
Wallace State College
Bailey Center Auditorium
801 Main St. NW
Hanceville, AL 35077
Wednesday, November 6, 2019
Auburn University
School of Forestry and Wildlife Building
Lecture Room 2217
602 Duncan Dr.
Auburn, AL 36849
Thursday, November 7, 2019
Tuscaloosa County Extension Office
2513 7th St.
Tuscaloosa, AL 35402
Tuesday, November 19, 2019
Central Alabama Farmers COOP
2519 US Highway 80 West
Selma, AL 36701
Wednesday, November 20, 2019
Wallace Community College
Bevill Auditorium
3235 S. Eufaula Ave.
Eufaula, AL 36027
Thursday, November 21, 2019
5 Rivers Delta Resources Center
30945 Five Rivers Blvd.
Spanish Fort, AL 36527
If Americans with Disabilities Act accommodations are needed, please contact the WFF Wildlife Section at (334) 242-3469. Requests should be made as soon as possible, but at least 72 hours prior to the scheduled meeting.
For more information about CWD and WFF's efforts to prevent it from occurring in Alabama, visit www.outdooralabama.com/CWD-Info.
The Alabama Department of Conservation and Natural Resources promotes wise stewardship, management and enjoyment of Alabama's natural resources through four divisions: Marine Resources, State Lands, State Parks, and Wildlife and Freshwater Fisheries. To learn more about ADCNR, visit www.outdooralabama.com.
Alabama Department of Agriculture & Industries works with ALDOT to Issue No-Cost Hay Hauler Permits
MONTGOMERY, Ala.- As a result of the extreme drought conditions in Alabama, state transportation and agriculture officials are working to issue special hay hauler permits. This no-cost process is a combined effort of the Alabama Department of Agriculture & Industries (ADAI) and the Alabama Department of Transportation (ALDOT) to provide emergency relief to livestock producers.
Drought conditions in Alabama continue to worsen, not only due to the lack of rain, but intensified by triple-digit, record breaking highs during the past month. According to the Alabama Drought Monitor, in just the past week, areas affected by the drought in the state have increased over 35 percent. A sharp increase in drought intensity and coverage conditions are expected to quickly escalate because current dry conditions often materialize more quickly than the precipitation data indicates due to the intense heat.
"The lack of rainfall and extreme temperatures have left livestock producers with little forage and water to care for their animals. Farmers and ranchers are in dire need of assistance. We hope issuing these special hay hauler permits will allow hay to be transported efficiently within Alabama," said Commissioner of Agriculture and Industries Rick Pate.
To transport over-dimensional loads of hay within Alabama, dimensions must not exceed 12 feet wide by 14 feet high. A no-cost permit is currently available from ALDOT until December 31, 2019.
Haulers must be registered in ALDOT's database to receive the no-cost permit. To be added to the ALDOT database as a new hauler, please complete a New Hauler Letter Form available on ALDOT's website at www.dot.state.al.us.
If you do not have internet access, you may also call 1-800-499-2782. The following information will need to be provided to the ALDOT staff member who answers your call:
Truck/trailer tag numbers
Route information
City and state of origin and destination
Additionally, the worsening drought conditions escalate the immediate need for hay producers and livestock producers to communicate their hay availability and needs. The Alabama Hay Listing webpage, www.agi.alabama.gov/s/haylist, provides an avenue for farmers who have hay available to list for sale, the type, size, quality and quantity they have available. Also, on the same page, farmers in need of hay, can search for hay in their area that is available for purchase.
October is National Coop Month
We celebrate the importance of cooperatives across the globe and in our communities. It's one of our favorite times of the year since the Federation is a non-profit cooperative association rooted in cooperative development, land retention, and advocacy. To begin, our Rural Training and Research Center will host the second annual Co-op Symposium on the 25th of October.
NCBA CLUSA has identified "Co-ops: By the Community, For the Community" special theme to highlight those dedicated to celebrating how co-ops make their communities and the world a better, sustainable, and more economically advanced place.
Second Annual Co-op Symposium (date changed_ Oct.25 at 10 a.m.-2 p.m. at Rural Training & Research Center, 575 Federation Rd. Gainesville, RSVP & Information: (205) 652-9676.
Alabama Extension Offers Drought Resources
AUBURN UNIVERSITY, Ala.—Conditions in Alabama are hot and dry. Strings of days with record-breaking heat have made September 2019 one of the hottest Septembers on record. The heat and drought are nothing new, though.
While only .2 percent of the state is in extreme drought according to the U.S. Drought Monitor's latest release, nearly 83 percent of the state is experiencing droughty conditions.
Producers in the Wiregrass have now had moderate and severe drought for eight weeks. A portion of Shelby County is experiencing extreme drought, after dealing with little to no rain for an extended period of time. Current forecasts indicate a statewide cooldown is on the way. However, there does not look to be any significant chance of rain in the forecast.
Drought Resources Available
Dry weather creates a diverse set of problems for farmers and producers. To help them make the best decisions possible, Alabama Extension has launched a new website focusing on drought related issues. Resources including livestock management, lawn and garden management, pond management and income management are available at www.alabamadrought.com. The website is adding new content daily as Alabama Extension professionals develop information to help homeowners and producers cope with the effects of drought on business and home life.
For additional information, or questions not addressed on the website, contact your local Extension office. The office can direct you to the appropriate person to address your needs.
Report Drought Conditions
The USDA, in partnership with the National Oceanic and Atmospheric Administration and the University of Nebraska in Lincoln has updated the U.S. Drought Monitor to include a reporting feature.
Citizen scientist reports can help U.S. professionals understand the effects of drought on specific areas. The reported information can assist in triggering drought response through USDA disaster relief and IRS tax provisions. These reports will also help state agencies make decisions regarding health and safety-related issues.
The data collection opportunity will allow farmers and homeowners to report conditions in their area. Access the reporting tool for to record the effects of the drought at the following link: http://droughtreporter.unl.edu/submitreport/
Alabama Extension professionals are also compiling reports for U.S. Drought Monitor officials. Alabama producers can email Kim Mullenix, Kent Stanford or Leanne Dillard with the following information.
Rainfall totals by week or month from a particular location.
Evidence of hay feeding.
Cost of feeding hay per head/day or farm totals.
Reports of alternative water sources being utilized.
Number of days since measurable rainfall.
Delayed planting of winter annual forages due to drought.
More Information
For more information, visit Alabama Extension online or contact your local Extension office.
By Katie Nichols
New Technology Changes Anglers' Perspectives on Fish Activity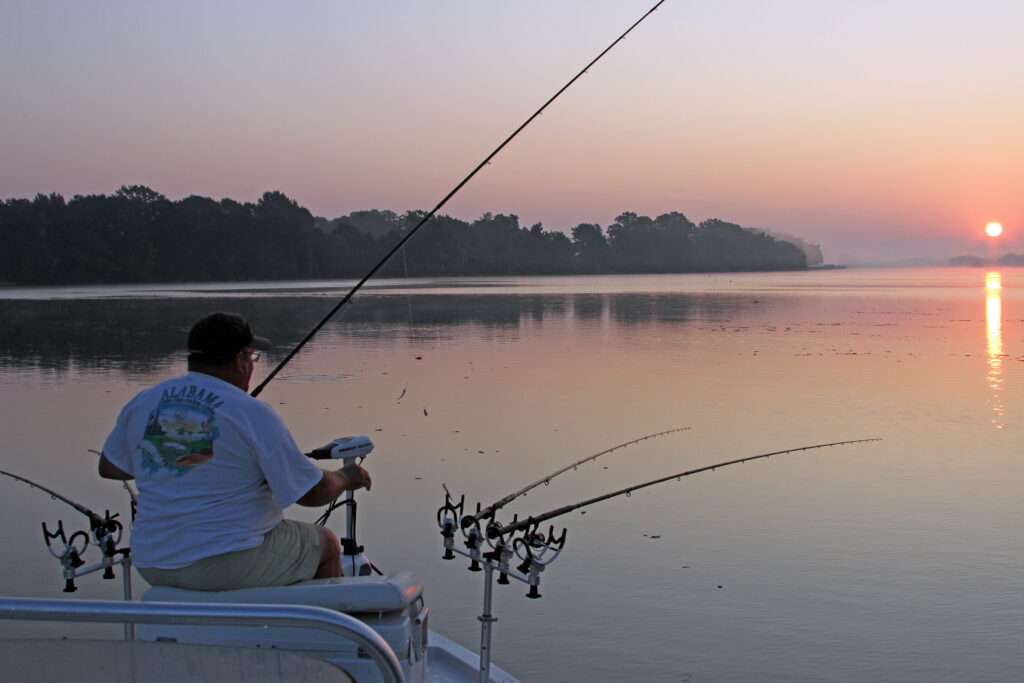 By David Rainer, Alabama Department of Conservation and Natural Resources
While perusing social media during this seemingly endless summer, I kept seeing photos of slab crappie that were coming from the Alabama River.
Wait, I thought those slabs were caught in the spring when the crappie are spawning or in the fall when the weather and water temperatures have considerably cooled.
Turns out, these anglers were taking advantage of the latest technology to defy the common theory that big crappie are hard to catch during the dog days of summer, which appear set to last into October this year.
I remember well the first Humminbird flasher my late father installed on his boat and how it helped him locate his favorite structure. It was a big deal way back then.
Considering we hold far more computer power in our hands when we are using our smartphones than the entire Apollo space program had during their trips to the moon, it shouldn't be a surprise that the latest fish-finding technology could change the way anglers approach a day on the water.
When I asked Joe Allen Dunn how in the world they were catching those slab crappie, he responded, "You need to come see for yourself."
That's exactly what happened. While other anglers are using the Humminbird HELIX and Lowrance HDS, Dunn and Brent Crow, a bass-fishing guide and tournament angler on the Tennessee River, opted to go with the Garmin Panoptix with LiveScope.
When Dunn eased his boat into one of the many flats off the main Alabama River at Millers Ferry, I couldn't imagine crappie of any size would be anywhere but deep water during this oppressive stretch of hot weather.
I was wrong, completely. Over went the trolling motor and Dunn began scanning for the structure that are typically crappie havens during cooler weather, or so I thought.
Rigged with 16-foot poles and spinning reels, we attached minnows to the double-hook rigs with either bare hooks, jigs with curly-tail plastic baits or Road Runner lures.
We dropped the bait about 8 feet down and started easing toward the structure as Dunn eyed the screen.
While I watched the rod tips on my side, Dunn watched the screen as we approached the structure.
Suddenly, a rod tip flexed and the hook was set on a nice crappie.
On the next approach, Dunn said, "You can even see your minnows, look here." I looked at the screen and, sure enough, I could see the minnows dangling above the structure.
Then I saw something that I never expected. I saw a swirl in the structure and the fish came up and grabbed the bait. "Holy mackerel" was my response as I set the hook.
We started our venture at first light because of the heat and called it a day 4 hours later with 10 nice crappie in the livewell. About twice that many had been caught and released.
"We've been trolling for a long time," Dunn said. "Everybody thinks the slough fish or shallow-water fish are gone or they don't bite anymore. We proved today that the fish are still there, and they will bite. A lot of people don't get in the sloughs this time of year and look for structure. Live bait is a big factor until it cools off."
Dunn said before he was introduced to the new technology, the traditional way to catch crappie was to hit the deep river ledges, bouncing baits off the bottom when power production from the dam created current.
"It all revolved around when they were pulling water," he said. "For river fish, you have to have that moving water. It keeps them tight to the wood, and you can do better.
"This new technology is not going to make fish magically appear in front of you. You've still got to work to find the fish. The down- and side-imaging helps you locate these fish. But you had to fish so hard to find them.
"Now, I can hit the GPS and mark it. I can drop a buoy and get the boat situated to face into the wind, and then you use the LiveScope to move back and forth on the structure. You don't have to troll all over the place to find it. It keeps you from disturbing the fish. That's the key to it. You can keep your bait in the strike zone all the time now."
Dunn learned about the technology from James "Big Daddy" Lawler, who had been out on crappie guide Gerald Overstreet's boat equipped with technology.
"I've been fishing for crappie for 32 years, and I've never seen anything like it," Lawler said. "It's totally changed the way I look at crappie fishing. I went into Pine Barren Creek and caught fish in 5 feet of water. I never would have believed that."
Dunn said crappie anglers don't have to adopt the new technology and will continue to catch fish, but it certainly has changed his thought process.
"Used to, we would just give up on these fish when it's hot," Dunn said. "We wouldn't go into these sloughs and work to find them. Now I will.
"This is all new to me. Each phase of the season will be a new learning experience. Once the water temperature changes and the fish move around, I'll have to use this to see where they go."
Typically, Dunn said when temperatures drop in the fall, crappie anglers are hitting river ledges that are 18 to 20 feet deep. He can't wait to find out if that pattern is the only way to catch fish when fall finally arrives.
"These fish in the sloughs and creeks, I don't know what they're going to do," Dunn said. "They might not even move until it's time to spawn."
In the lakes in north Alabama, Crow obviously targets black bass, largemouths and smallmouths.
"When you see a fish within 30 feet of the boat, you can see his tail and fins as he swims with LiveScope," Crow said. "I've been running Panoptix and LiveScope for three years. I can't fish without it. It's not just seeing fish. It also shows you stumps, grass, drop-offs and ledges. You know exactly where you sit. It eliminates a lot of the guesswork in positioning your boat.
"For suspended fish, it's just remarkable. I have caught so many fish that I would never have thrown at without it. I would never have had a clue those fish were there. But even at places that are shallow, like Guntersville, it'll show you the eel grass. You see the edges or isolated clumps of grass. You don't have to guess."
Crow said there are limitations for this technology during certain times of the year.
"You're not going to see them if they're spawning in 3 feet of water," he said. "Any other time – the summer, winter and fall – it works. At Smith Lake or Lake Martin, you pull up on a point and look with the LiveScope. If there's not any fish there, you don't have to spend 15 minutes casting to find that out. You can see it in 30 seconds. It makes you way more efficient.
"You can learn about fish behavior too. They don't necessarily sit still. You can catch one and see that all the rest of them have moved. Sometimes it's frustrating because you can watch a fish follow your bait to the boat and never bite. It's an eye-opening deal. If I get in somebody's boat that doesn't have it, I feel like I don't have a chance. I'm kind of lost."
Crow said the technology is especially impressive when he's casting surface lures.
"When I'm fishing topwater, you can see your bait on the surface, and then you see the fish come straight up and eat it," he said. "It's awesome. When I'm guiding, I'll watch the client's bait and see the fish coming. I tell them, 'He's fixing to get it.' They set the hook and say, 'How'd you know that?'
"I had one guy who told me, 'Don't tell me that. I jerk too quick.'"
Of course, the new technology is not for everybody. It's expensive, but that seldom stops anglers. Crow recommends a graph with at least a 9-inch screen, which will cost you about $1,000. The LiveScope tacks on another $1,500. For Crow, he says the benefits far outweigh the cost.
Crow said he also found out the technology works in muddy water after a tournament on Toledo Bend on the Louisiana-Texas border.
"The water looked like chocolate milk," he said. "Every fish I caught during the tournament I saw on the graph. It gives you so much of an advantage over somebody who doesn't have it, it's unreal."
People rescuing raccoon need medical attention
ADPH reminds public to leave wildlife alone
The Alabama Department of Public Health (ADPH) is issuing a notice of a rabid raccoon that may have exposed people recently in Enterprise, Ala. The sickly raccoon was taken to the Big Bend Wildlife Sanctuary. According the sanctuary owners, the raccoon was found on the road nearby by two individuals traveling through the area. The unknown individuals left the raccoon with a volunteer at the sanctuary without leaving any additional contact the information. The raccoon subsequently died, and testing has confirmed that the raccoon had rabies. If anyone has knowledge or information about any person who may have had contact with this raccoon, please contact the ADPH at 1-800-338-8374.
According to Dr. Dee W. Jones, the ADPH State Public Health Veterinarian, this highlights the importance of good record-keeping and the importance of informing the public to leave wildlife alone. "We really don't have any information about how to contact the individuals; we don't know if they were local or traveling through. A situation like this makes it very difficult for us to make contact with people to provide them medical advice for their protection. A scratch or bite from a rabid animal is very dangerous, and we go to great lengths to notify anyone with any exposure a rabid animal."
Conservation Outreach Specialist Marianne Hudson, Alabama Department of Conservation and Natural Resources (ACNR), said, "TheAlabama Wildlife and Freshwater Fisheries Division would like to remind the public that possession of live wildlife without a permit is illegal, and violators are subject to ticketing and fines. Leaving found wildlife alone is in the best interest of public safety and is also the best course of action for wildlife populations as a whole."
Fatal diseases such as rabies can be transmitted to well-meaning humans, and other wildlife diseases are spread when animals are picked up and transported to other locations. If one sees an animal in need of assistance, leave the animal alone and call the nearest ACNR Wildlife and Freshwater Fisheries Division Office to report the issue.
The ACNR website is www.outdooralabama.comand the specific page for contacting district offices is https://www.outdooralabama.com/wildlife-section. People who have found wildlife may call (334) 242-1814.
Marsh received scholarship from the Alabama Farmers Agriculture Foundation and Hale County Farmers Federation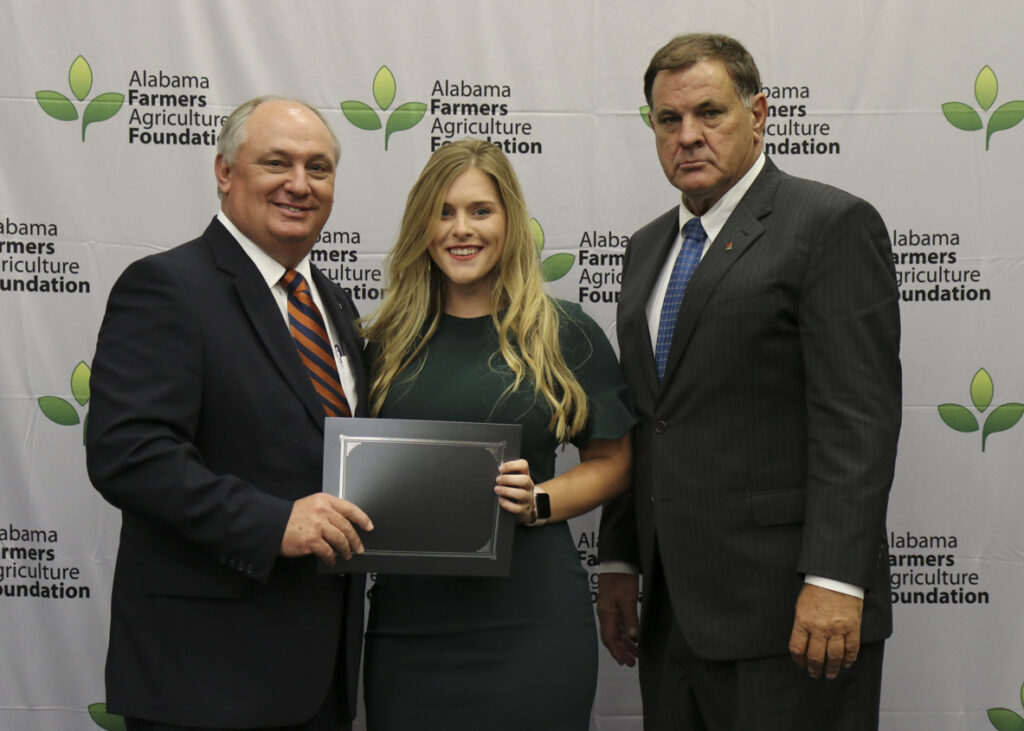 The Alabama Farmers Federation invested in the future of the state's No. 1 industry by awarding 80 Auburn University (AU) students from 55 counties with $123,500 in scholarships.
Students, who are pursuing degrees in agriculture, forestry or related programs, were recognized during a scholarship reception Sept. 23 at Ham Wilson Livestock Arena.
"It's a pleasure of our organization to give back to you," said Federation President Jimmy Parnell, an AU agricultural economics graduate, as he addressed the recipients. "Auburn was an integral part of forming the Alabama Farmers Federation in 1921, and we're committed to investing in Auburn students. We're working to provide for the next generation of leaders, who will make a huge difference for Alabama and agriculture."
The Alabama Farmers Agriculture Foundation contributed $1,250 for each county Federation providing $500.
Fifty-five students received the $1,750 scholarships. Some counties fully fund additional scholarships. They are Baldwin, Chilton, Covington, Dale, Henry, Houston, Jefferson, Lee and Madison counties. The R.W. Donaldson Endowed Scholarship, named after a longtime Cullman County Farmers Federation member and cattleman, was also awarded to Rusty Yancy.
Cherokee County Farmers Federation President John Bert East told students he appreciated their interest in agriculture, a $70 billion industry in Alabama.
"It makes us proud that we can help you financially and see you mature and be successful," said East, a cattle and row crop farmer from Centre. "This is an investment in Alfa's future and your future."
Recipients included Greene County's Cal Logan. The senior from Eutaw thanked the county and state organizations for support — through scholarships and relationship-building.
"It's a great honor to be awarded this scholarship and represent the Farmers Federation," said Logan, who studies forestry. "Being part of the Alfa Farmers community has allowed me to meet great people and be part of great things, in addition to easing the financial burden of my education.
As the parents of scholarship recipient Noah Runyan, Russ and Linda Runyan shared their thanks for Auburn, the Farmers Federation and scholastic efforts from their three children.
"We're proud, thankful, grateful and blessed – not just financially but because our children have the desire to apply for honors like this and achieve their dreams," Linda said.
Russ echoed his wife.
"I thank the county chapters and state level for paying it forward, investing in young men and women who will be in our field for years to come," he said.
For a list of recipients, click here.
For event photos, visit fb.com/alabamafarmers.
Free Online Beekeeping Course Set for October
AUBURN UNIVERSITY, Ala. – Beekeeping is going digital. Beekeepers across the state will have the opportunity to participate in an online beekeeping course series designed for both hobby and small commercial beekeepers. The workshop, conducted by the Alabama Cooperative Extension System, will cover several topics of information important to the industry.
Tony Glover, an Alabama Extension county coordinator in Cullman County, said there are three sessions of the workshop planned.
"These webinars are free and accessible to anyone with a computer, tablet or phone that has internet access," Glover said.
Beekeeping Series
The hour-long sessions will be on consecutive Tuesday evenings beginning Oct. 15 at 6 p.m.
October 15: Equipment Tips from an Apiarist
Tammy Horn-Potter, Kentucky state apiarist, will offer equipment tips based on her equipment successes and failures.
October 22: Making More Money With Your Honey
Kevin Burkett, Alabama Extension Farm and Agribusiness Management agent, will discuss ways to maximize profits.
October 29: Honeybee Breeds: Choosing the Right Bee for Your Area
Jack Rowe, Alabama Extension's beekeeping program lead, will share the pros and cons associated with various honeybee lines.
Registration
For information or to register for the online beekeeping course, visit the Alabama Extension website.
Allyson Shabel, an Alabama Extension home grounds agent, who also serves on Alabama Extension's beekeeping program leadership team, said it is important the people pre-register for the course.
"Once people pre-register, we will be able to provide them with instructions on how to connect to the webinar," Shabel said.
The webinars display through Zoom, a web conferencing service.
"People will want to download and install the Zoom software before the meeting to ensure they don't have any difficulties connecting to the meeting," she said.
Participants can download the free Zoom application from the Zoom website.
The Long Drone is Over, Cicada Season Ends in Alabama
TUSCALOOSA, Ala. — Go outside and just listen.
Frogs may be croaking, owls might be hooting, birds will likely be chirping, singing, screeching or cawing. But what won't likely be heard any more this year is the loud, incessant droning sound of cicadas that grate on psyches like nails on a chalkboard during Alabama's spring and summer months.
Around 20 species of cicadas, also falsely known as locusts, claim Sweet Alabama as their home. They crawl from the ground, climb trees and transform into their bulbous-eyed, winged adult forms yearly from May to September, said John Abbott, director of museum research and collections at The University of Alabama.
Abbott said these annual cicadas, as they're called, emerge after spending two to five years living underground in their nymph forms where they feed on the roots of trees.
Once they emerge, they morph into their flying adult forms, make a bunch of racket – only the males – to attract females, mate, lay eggs in twigs and die in about three to four weeks.
"Adults are flying around, calling for mates – that's what the noise is, males calling for a mate," he said. "It is loud. In fact, the loudest insect in the world is a cicada species from Africa.
"The nymphs, whose shells people see, are the longest lived life stage, which is spent underground so you don't see them most of their lives."
The annual cicada species are the most common, but there's also the periodical cicadas that come out infrequently.
"You have annual cicadas every summer, singing in the dog days of summer, which is why they are also called dog day cicadas, and you have the periodical cicadas which come out every 13 or 17 years," Abbott said.
"We have those around Tuscaloosa, but, right now, we're seeing the annual ones. The periodical ones aren't scheduled to emerge here until about 2024."
Abbott said the reason the periodical cicadas spend 13 or 17 years underground is to throw off the behavioral biorhythm of predators. Just as grizzly bears, for example, instinctively know to head to Alaskan rivers in late summer because ocean salmon annually migrate there to spawn while the bears get to enjoy an all-you-can-eat buffet.
Annual cicadas offer this same sort of buffet-style predictable meal to birds and other animals as they emerge to mate yearly. But the periodical cicadas emerge in large broods only in prime number years in different regions of the eastern U.S.
"One reason, it is thought, that they emerge every 13 and 17 years is because coming out in prime years allows them to better avoid predators," Abbott said. "Consider if you had a cicada that emerged every 12 years. A predator that emerges every two years would be able to attack them.
"And, so would predators that emerge every three, four or six years, but if you emerge in prime numbered intervals, you are likely to avoid large numbers of predators. Another hypothesis suggests that these prime-numbered development times are an adaptation to prevent hybridization between broods."
Besides being much longer-lived, periodical cicadas also look different from annual cicadas, and their swarms are larger.
"The periodical cicadas have red eyes, are a little bit on the small side and are darker," Abbott said. "But the big difference between them is sheer numbers. Periodical cicadas come out in numbers as high as 1.5 million individuals per acre."
Abbott said cicadas are an important part of the ecosystem because they provide protein to insectivorous animals. But, they can also be problematic in large numbers because they can damage trees at the root, and their noise is a considerable threat to peaceful country living.
"They can be very annoying. They can be so abundant and so loud that I'd say annoyance is the biggest issue people have with them. They make noise during the day and in the evenings, but now their season is coming to a close."
The University of Alabama, the state's oldest and largest public institution of higher education, is a student-centered research university that draws the best and brightest to an academic community committed to providing a premier undergraduate and graduate education. UA is dedicated to achieving excellence in scholarship, collaboration and intellectual engagement; providing public outreach and service to the state of Alabama and the nation; and nurturing a campus environment that fosters collegiality, respect and inclusivity.
Additional news about The University of Alabama can be found at: https://www.ua.edu/news/news-media/
Fall is a Great Time to Make Adjustments to Gardens
Late in the growing season, crop and garden problems, such as disease and insects, can thrive on unattended fields and gardens. After plants have played out, there are a few simple steps growers can take to help prevent these problems. Making adjustments to gardens and fields properly this fall can lead to a better growing season next year.
Chip East, an Alabama Extension commercial horticulture regional agent, said that a cleaning of sorts should take place.
"When you are finished with the garden for the year, it would be beneficial to remove the tomato cages, stakes, trellises, etc. from the plot," East said. "On a small scale, gardeners may choose to remove and compost plant debris such as spent tomato plants, corn stalks, etc. For large areas, growers can tun plant debris under the soil to destroy the crop."
East said this practice is commonly done for warm and cool season crops.
Growers can apply lime any time of year. However, now may be an easier time to get spreading equipment into a field. Before applying, growers should perform a soil test to determine if lime is needed.
"It may be best to conduct a soil test a few weeks before terminating a crop so you can have time to make arrangements for applying lime," East said. "It takes time for lime to change the soil's pH. If you have a low pH, it would be best to apply the lime well in advance of planting the cash crop."
If people think they may grow vegetables in the future, it would be beneficial to start planting cover crops.
"Summer and winter cover crops could be planted on the site years before planting a cash crop," East said.
Popular Winter Cover Crops
Crimson clover
Oats
Rye
Wheat
Tillage radish
Canola/rape
Popular Summer Cover Crops
Iron clay cowpea
Sunn hemp
Sorghum-sudangrass
Buckwheat
Maintaining the proper pH and nutrients in the cover crops will benefit future cash crops by building organic matter and reducing erosion. Other uses of cover crops can include breaking through compacted soil, reducing compaction, attracting beneficial insects, reducing weeds, etc.
For more information on making garden and field adjustments this fall, visit www.aces.edu or contact your county Extension office.
By Ann Chambliss
Create New Friendships and Memories Through Alabama's Adult Mentored Hunting Program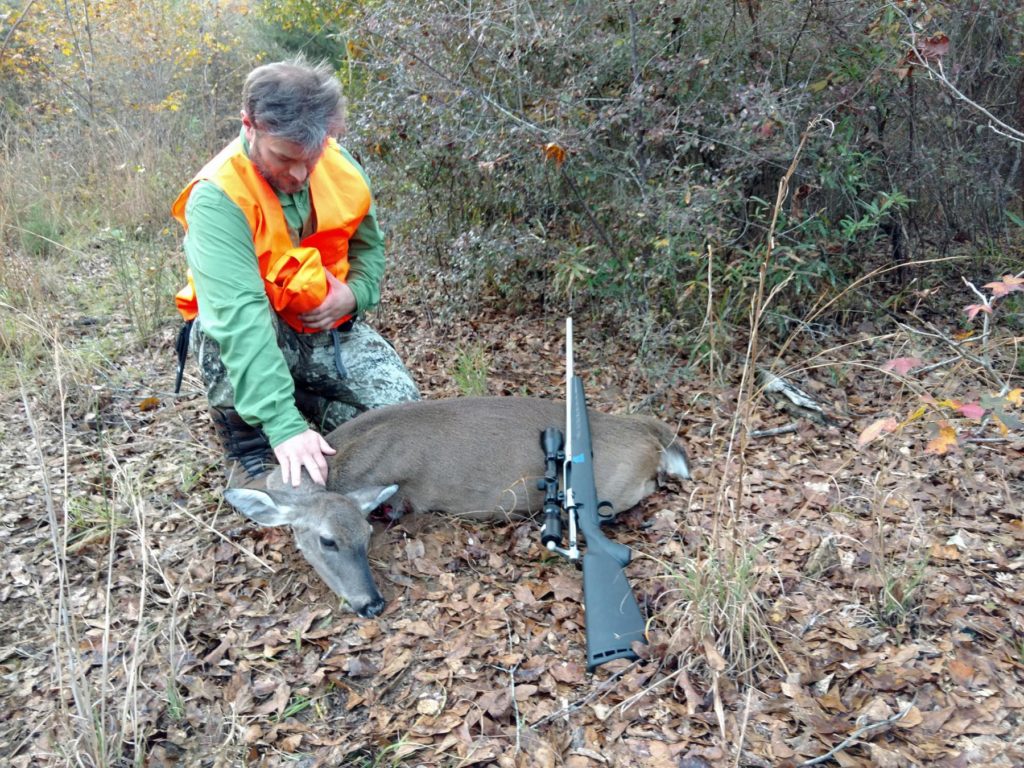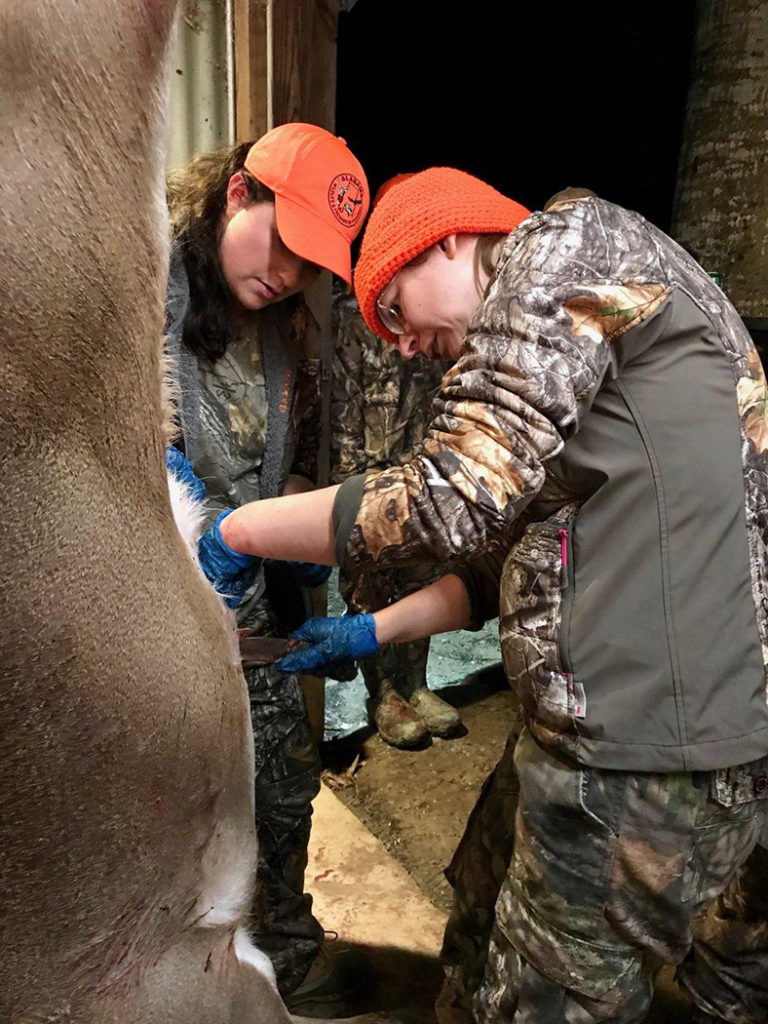 Learning to hunt may seem out of reach for those who didn't grow up with hunting as part of their family tradition. For those individuals, the Alabama Division of Wildlife and Freshwater Fisheries (WFF) created an Adult Mentored Hunting Program (AMH) to teach about consumptive outdoor recreation, put wild game on the dinner table and potentially revive or initiate that family tradition.
A resident of Anniston, Alabama, for the past 10 years, Laura Millington grew up in Canada in a family of non-hunters. A curiosity about hunting combined with a drive to improve her diet with healthier, leaner meat is what lead her to participate in two separate AMH hunts.
During a January 2019 adult mentored deer hunt on the Portland Landing Special Opportunity Area (SOA) in Dallas County, she harvested a 160-pound buck and a 115-pound doe. Millington's buck was the first buck to be harvested during a mentored hunt at Portland Landing. Her second AMH event was a Portland Landing dove hunt in September.
One of Millington's motivations to learn how to hunt is a desire to take personal responsibility for sourcing her food. In addition to harvesting the animals, she and her husband processed the meat themselves at home.
"Being personally responsible for bringing food to my table was a draw for me to the mentored hunting program," Millington said. "My goal was to use everything I could from any harvest I made. From the deer I also got hair-on hides, bones and sinew for crafting scrimshaw jewelry and a knife handle. Rendered fat from the deer was also made into tallow soap."
During the hunts, seasoned hunters guide participants through the experience. WFF mentors Amber Baker and Marianne Hudson joined Millington on her deer hunt. Baker was once again her mentor during the dove hunt.
"Both women were helpful, friendly and put me at ease," Millington said. "They were as excited as I was when I took my first shot, which unfortunately was a deceptive miss. They were even more excited when I got my buck the next day and then my doe. I think we were all giddy to be going back to the lodge a little early with two deer in the truck bed."
While having meat in the freezer has been very satisfying, time spent in the field was the best part of the experience for Millington.
"It was calming just watching the wildlife while waiting for a suitable deer to come by and quietly sharing stories in the meantime," she said. "The dove hunt had a different feel but being out in the field for that was a blast, too! There was a feeling of camaraderie among everybody with playful ribbing back and forth until somebody shouted 'bird,' which was followed by a flurry of activity."
A variety of interests can spark a non-hunter's desire to hunt. For John Kelly, an electrical engineer in Huntsville, Alabama, establishing a deeper connection with nature was a primary motivation for participating in WFF's mentored hunting program.
"In so many activities, you are merely an observer," Kelly said. "You might be in nature, but you aren't a part of it. With hunting, I feel a connection to the wild unlike anything else."
Kelly already had a love for nature through exploring his family's farm, but it was harvesting his first deer, a 95-pound doe, during an AMH deer hunt on the Portland Landing SOA that thrust him into the cycle of life.
"When you take an animal's life yourself and your hands are on the process at every step of the way from forest to table, you are filled with a very heavy understanding that food is not just a sterile commodity that comes from a store," he said. "Every meal is a life and a death. And, in the end, each and every one of us is a part of the same cycle. It's very humbling, and spiritual, and grounding all at the same time."
The experience of harvesting his own game unexpectedly created not only a deeper connection to nature, but with his family as well.
"I couldn't believe how proud it made me feel," Kelly said. "I finally understand how my granny feels when she fixes us a meal and makes sure we know that this 'squash is from the garden right here on the farm.' There is something completely different about the food you harvest yourself from the land."
WFF's mentored hunting program isn't just about teaching new hunters how to harvest game and stock the freezer. It's about creating friendships and shared memories through outdoor recreation. Meeting everyone involved in the hunt and getting to know his mentor, Vance Wood, a WFF Conservation Enforcement Officer, was Kelly's favorite part of the experience.
"I can't fully express how friendly and welcoming they were," he said. "I've never met a nicer group of people. They treated us like family through the whole trip. I could tell they genuinely love what they do and love having new hunters there to teach."
To be eligible to participate in an AMH event, you must be at least 19 years of age, possess a valid driver's license and be new to hunting or have limited hunting experience. WFF mentored hunts are currently available for deer, turkey, squirrel and rabbit. For most adult mentored hunts, the equipment needed will be provided or offered at no cost to the participant.
To be eligible to attend a three-day AMH event, participants are required to attend one of several one-day hunting workshops that are being offered at various Wildlife Management Areas (WMA) throughout the state this fall. Registration for the workshops is currently open.
The first workshop will take place at the Cahaba River WMA shooting range in Shelby County, Alabama, on October 26, 2019. The workshops are available to everyone ages 19 and up regardless of previous hunting experience. There is a $20 registration fee for the workshops. To learn more about Alabama's AMH program or to register, visit www.outdooralabama.com/hunting/adult-mentored-hunting-program.
The Alabama Department of Conservation and Natural Resources promotes wise stewardship, management and enjoyment of Alabama's natural resources through four divisions: Marine Resources, State Lands, State Parks, and Wildlife and Freshwater Fisheries. To learn more about ADCNR, visit www.outdooralabama.com.
Grow Your Own Salad this Fall
AUBURN UNIVERSITY, Ala. – Buying all the ingredients and preparing salads at home can become An expensive venture. Gardeners can easily grow a lot of the vegetables that they put in their salads in their backyard. An Extension professional offers advice on growing these vegetables.
According to Bethany O'Rear, an Alabama Extension home grounds, gardens and home pests regional agent, this time of year is perfect for growing lettuce, kale, spinach and tomatoes. Other vegetables people can grow during the fall include carrots, radishes, broccoli and cauliflower. Remember, not all plants are meant to grow at the same time.
"With proper planning and planting, there is always something edible, waiting for harvest," O'Rear said. "Regardless of the time of the year, one can find a way to grow a salad."
Growing
O'Rear recommends researching the plants to find out their specific needs. She said to find a sunny spot, keep the plants adequately watered and don't be afraid to try new things.
"If you have trouble with a certain plant, or even if you lose that particular plant or plants, don't hang up your gardening gloves," O'Rear said. "Gardening is trial and error."
Vegetables found in salads need full exposure to the sun. Also, there must be adequate moisture added to the soil. She recommends drip irrigation, but one can also water plants by hand. Before planting these vegetables, O'Rear recommends that gardeners perform a soil test.
"After doing a soil test, you will know the pH level, which is important when it comes to availability of soil nutrients to the plant," O'Rear said.
A soil test will also allow a gardener to know which nutrients the soil may need. O'Rear said there is no need to put nutrients into the soil that are not needed.
High-Quality Vegetables
O'Rear said the plants grown in a backyard garden should have the best nutrient value. When it comes to quality, backyard vegetables usually beat grocery store options. The reason being that vegetables grown at home can be picked and eaten at the peak of freshness. The options at the grocery store have to be harvested for days, maybe weeks before they hit the shelves. The quality of produce immediately begins to decrease as soon as it is harvested. The longer the time is between harvest and consumption, the lesser the quality will be.
"There is no feeling like the one you have when you look at your dinner plate and know that you grew a portion or even all of the food that makes up your meal," O'Rear said.
Call 1-877-ALA-GROW
If you have gardening questions, the Master Gardener Helpline is here to answer them. Call 1-877-252-4769 to connect with a knowledgeable team of master gardeners, armed with research and Alabama Cooperative Extension System publications. There is a Master Gardener waiting to answer your call.