Classified and Public Notice Rates are 45 cents per word, per week. A minimum charge of $9.00 for 20 words or less is set for every classified and legal advertisement. Display advertising is accepted at display ad rates. Email: times@mound.net or, bring them to 46 2nd Ave., Moundville AL, 35474; call 205-371-2488. DEADLINE is Friday by 4 p.m. Holidays excluded. Late Cancelations will be charged as a regular run. Public Notices are also run at https://www.alabamapublicnotices.com at no extra charge.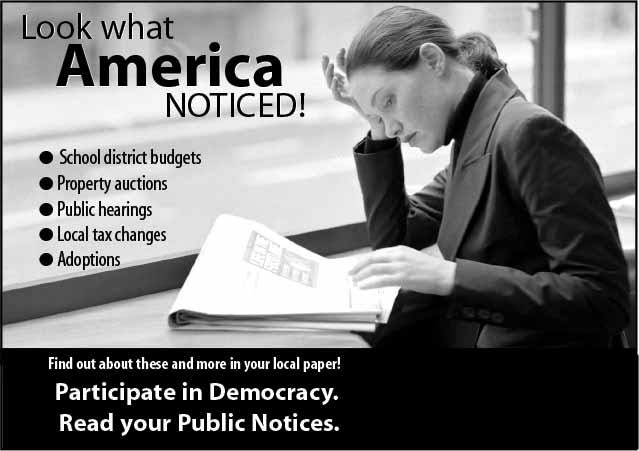 PUBLIC NOTICEORDINANCE 2021-02 BE IT ORDAINED BY THE CITY COUNCIL OF THE CITY OF MOUNDVILLE, ALABAMA AS FOLLOWS: SECTION ONE: Every person owning or being in charge of any residential premises in the City of Moundville, Alabama shall be subject to a garbage collection fee of twenty-three ($23.00) Dollars per month, per cart, for each residential household in the city limits. This fee shall be collected along with the water & sewer bill. SECTION TWO: The word garbage shall mean, for the purpose of this Ordinance, general refuse household foodstuff, and paper. The City of Moundville will provide one (1) garbage cart per household. If additional garbage carts are needed an additional fee of twenty-three ($23.00) Dollars per cart will be added to your garbage bill per month. SECTION THREE: Any person, firm, corporation, etc. operating a place of business within the city limits that elects to have garbage service with the City of Moundville will be charged at a cost of twenty-three ($23.00) Dollars per month, per cart. This fee shall be collected along with the water and sewer bill. SECTION FOUR: If any section of provision of this Ordinance shall be found or held invalid, such holding shall not affect the validity of any other section of provision herein. SECTION FIVE: This Ordinance #2021-02 was passed by unanimous consent by the City of Moundville Council on _________ and will become effective on _________________________.PASSED AND APPROVED THIS THE _____________DAY OF_________, 2021. ATTEST: TONY LESTER, MAYOR CAROL TOWNSEND, CITY CLERK 2tc/1-13, 1-20
PUBLIC NOTICEORDINANCE #2021-01CITY OF MOUNDVILLEBUILDING INSPECTOR RULES AND PROCEDUREAND BUILDING CODES AND FEESARTICLE I AUTHORITY AND JURISDICTIONSection 1-1 EnactmentThese regulations are adopted by the City of Moundville City Counciland are effective this ___ day of ___, 2021.Section 1-2 EligibilityMinimum Acceptable training and experience for the position of building inspector shall include high school graduation or possessionof a high school equivalence diploma and either:a. six (6) years of on-site building construction experience in any work directly involved in the construction process, including or supplemented by one (1) year as either a general contractor or a sub-contractor or foreman for a major construction trade such as carpentry, plumbing, heating and ventilating or construction engineer; orb. graduation from a two-year post high school trade or technical school in building construction or an Associate's degree in civil or construction technology or engineering science and four (4) years experience as indicated above, including or supplemented by the one (1) year of specified specialized experience; orc. a Bachelor's Degree in Engineering or Architecture or other course of study applicable to building construction and two (2) years of experience in the design, construction or supervision of the construction of buildings: ord. a satisfactory equivalent combination of the foregoing training and experience.He shall not have any interest whatever, directly or indirectly, in the sale or manufacture of any material, process, or device entering into or used in or in connection with building construction, alteration, removal, or demolition.Section 1-3 ResponsibilitiesThe building inspector shall inspect construction and repair of buildings and structures, other than those specifically exempted by ordinances or resolution, and enforce the provisions of the local Zoning Ordinances, including Subdivision Regulations.The building inspector shall not be required to devote his whole timeto the duties of his office. He shall receive applications, issue permits, and furnish the prescribed certificates. He shall examine premises for which permits have been issued, and shall make necessary inspections to see that the provisions of law are complied with, and that construction is carried our safely. He shall enforce allprovisions of the technical Codes. He shall, when requested by proper Mayor or council, or when the public interest so requires, make investigations in connection with matters referred to in the technical Codes and render written reports on these investigations.To enforce compliance with law, to remove illegal or unsafe conditions, to secure the necessary safeguards during the construction, or to require adequate exit facilities in buildings and structures, he shall issue such notices and orders as may be necessary.Inspections required under the provisions of the technical codes, zoning ordinance or subdivision regulations shall be made by the building inspector. The building inspector may accept reports of inspectors of recognized inspection services, after investigation of their qualifications and reliability. No certificate called for by any provision of the technical codes, zoning ordinance or subdivision regulations shall be issued on such reports unless the same are inwriting and certified by the building inspector.The building inspector shall keep comprehensive records of applications, permits issued, certificates issued, inspections made, Reports rendered, and notices or orders issued. He shall retain file copies of required plans and all documents relating to provisions governing retention of records.All such records shall be open to public inspection for good and sufficient reason during normal office hours, but shall not be removed from the building inspector's office without his written consent.The building inspector shall attend all council and planning and zoning board meetings and shall make written reports to the Mayor and Council each month, or more often if requested, including records of permits and certificates issued and orders promulgated.Section 1-4 Authority to enterThe building inspector and duly authorized assistant shall, upon proper identification, have authority to enter any building, structure or premises at any reasonable hour.Section 1-5 JurisdictionsThe building inspector's jurisdiction shall extend to the area covered by the police jurisdiction.Section 1-6 RemunerationThe Building Inspector shall receive a monthly salary each monthplus 1/2 the fee charged for inspections. If construction has begun prior to getting permit, fees for permitting may be doubled.Section 1-7 Conflict of InterestThe Building Inspector shall not inspect construction work he has completed. The Mayor or City Council may appoint an assistant inspector to carry out inspections of work done by the Building Inspector.Section 1-8 Term of ServiceThe term of the Building Inspector shall be concurrent with the terms of the Mayor and City Council. He shall be employed at the pleasure of the noted elected officials.ARTICLE II ADOPTION OF STANDARD CODESSection 2-1 The Building Codes are hereby adopted by reference asthough they were copied herein fully.2015 International Building CodesSection R313-2: Building Codes – Page 67 Change – One and two family dwellings shall not be required tohave an automatic fire sprinkler system.Section R309-S: Change – Private garages shall not have to have a sprinkler system.Section R313-1: Page 67 Change – Town House Fire Sprinkler Systems will be at the Discretion of the City of Moundville Building Inspector.2015 International Residential CodesMechical Codes ADD toSection M1601.4.4: Duct Systems – Page 491 Where Flexible Ducts are used provision shall be made toPrevent sagging, trapping, and crimping, of the duct by the use of hangers and supports, where flexible ducts are hung metal saddle's will be required in the hanger under the flexible duct to extend no less than 8 inches each side of the hanger.2015 International Plumbing CodesCHANGES TO SANITARY DRAINAGE CODESSection 312.2: Drainage and Vent Test – Page 21 No Section shall be tested with less than 5′ foot head of water.Section 312.6: Gravity Sewer Test – Page 21 Change to test with not less than 5′ foot head of water.Section 312.3: Testing with Air on Plastic Piping – Page 21 ADD: Shall be at the discretion of the Building Inspector.Section 504.6: Water Heater requirement for Discharge piping Page38 All pressure and temp relief valve lines shall be copper, galv.pipe, stainless steel, c.P.V.C. or materials tested, rated andapproved for such use in accordance with ASME A 112.4.1If using C.P.V.C. the discharge line shall be one pipe size largerthan the opening on the pressure and temperature valve.Section 502.3: Water Heater installed in Attics . – Add – The area at the location of the water heater shall be structurally safe.Section 702.2: Underground building sanitary drainage and ventpipe – Page 57 State – that cellular core or composite wall pipe will not be allowed under slab.Section 705: Joints – Page 59705.2.2 Add primer shall be purple in color on all underground and under slab systems. Primer shall conform to ASTM#656.Section 708.1.2: Building Sewers – Page 63 Add to section: No building Sewer Line shall be less than 4 inches in size unless it is a force line.Change to the Plumbing Code Vents… Section 9/8.1: Air Admittance Valves – Page 80 Air Admittance Valves. a.k.a (Pro Vents) shall only be used at the Discretion of the Building Inspector.Section 903: Vent Terminals – Page 73 Open vent pipes that extend through a roof shall be terminatednot less than 10″ inches above the roof.Section 906: Vent Pipe Sizing – Page 74. 906.1 The diameter of a vent shall be no less than 1 1/2 inches.Section 914: Circuit Venting – Page 78. 914.3 The Slope on a Horizontal Vent shall not be less than 1/4 " per foot. Section 909.3: Crown VentA Crown Vent shall not be allowed.WATER SUPPLY AND DISTRIBUTIONCHAPTER 6 – ADDMain Water Lines shall not be turned up in exterior walls. No bundling, or looping of water lines in exterior walls. Water lines shall be installed so as to prevent freezing as much as possible. There shall be no joints on water lines under slab on grade buildings. A pressure reducing valve shall be installed if the water pressure is 80 lbs or more and the valve shall be accessible.RESIDENTIAL CODE ONE AND TWO FAMILY DWELLINGSAir Admittance Valves (a.k.a) pro vents will be used at the discretion of the Plumbing Inspector.Main Water Lines shall be turned up in interior walls only in slab on grade houses. No bundling, looping, or tying together of water lines in exterior walls. Water Lines under crawl space houses shall be insulated. No Joints on water piping under slab, on slab grade houses. Silver solder joints shall only be allowed . All pressure and Temp Relief valve lines shall be copper, galv. pipe, C.P.V.c. Only. If using C.P.V.C. pipe the line shall be one pipe size larger than the opening on the relief valve.DELETE SECTION P2904.1.1: Dwelling Unit Fire Sprinkler System – Page 613. That Section should state that Fire Sprinkler Systems will not be required on one and two Family Dwelling .PLUMBING VENTS1 1/2" inch Vents can only vent one fixture as in the following…1 – Kitchen Sink, 1 – Lavatory, 1 – Washing Machine1/2 Baths can be vented on 1 1/2" inch vents.A 2″ inch Vent will be required on a bath group. A bath group consist of the following….1 – Water Closet, 1 – Tub, 1 – Shower, 1 – Lavatory'sAll Re-vent's shall be connected on the Vertical of the Main Vent. A Water pressure – Reducing Valve shall be installed if the Water Pressure is 80 lbs. or more. The Valve shall be accessible.CLEAN OUT'SThe Clean Out on a washing machine drain shall not be less than 36″ inch. Above finishing floor, unless it is in a crawl space. The Clean Out on the Kitchen Sink shall be no less than 6″ inch. Off the floor or in a crawl space.SANITARY DRAINAGEUnderground Sanitary Drainage Pipe shall be cast iron and approve fittings SCH. #40 P.V.C. and approved fittings primer and solvent cement shall conform to Section P30039.2. Primer must be purple in color. Cellular Core Pipe may only be used on vents above the flood level of the fixture it is venting.ADD SECTION P3005.2.2: Building Sewers – Page 641. All Single family Dwelling's and Town Houses' shall have a separate sewer connection be no less than 4″ inch. In size and comply with section P3005.2.2 thru P3005.2.10.EXCEPTION 2″ inch pipe will be allowed if the line is a force line or what size the pump manufacturer recommends.2015 International Electrical CodesAmendmentsGround Rod Clamps shall be ACORN type or Bypass Saddle Type.Ground wire on services shall be no smaller than #4 A.W.G. copper. #6 A.W.G. copper will be allowed on Pools.Section E3902.16: Page 698. ARC-fault circuit – Interrupter protection will only be required in bedrooms.Washing Machines, freezers, and refrigerator, will not have tobe on ground fault interrupter.Dishwashers will comply with Section E3902.10 – Page 698Section E3902.1: Bathroom Receptacles change Page 697Bathroom Receptacles shall be protected by a G.F.C.I.receptacle or receptacle located in the bathroom it serves andserve no other area.DELETE CHAPTER 11Energy Efficiency CodeARTICLE III PERMIT FEESSection 3-1 New Construction Permit FeesResidentialNew Resident or NewBusiness BuildingPermit Fee $82.00 x Sq. FtDivided by $1000X $5.00Commercial$82.00 x Sq. Ftdivided by $1000x $7.00X $1.00 (CICT Fee)Unheated SpaceResidential$20.00 x Sq. Ft.Divided by $1000x $4.00Commercial $20.00 x Sq. Ft.divided by $1000x $7.00X $1.00 (CICT Fee)*Alabama Dept. of Finance Division of Construction Management Construction Industry Craft TrainingFeeSection 3-2 SINGLE APPLICATION FEESElectrical Permit Fee Residential $150.00 Commercial$150.00 for 100 amp$200.00 for 200 amp$300.00 for 300 amp$300.00 for 400 amp & upPlumbing Permit Fee Residential $150.00 Commercial $200.00Mechanical Permit FeeResidential $150.00 Commercial $200.00Gas Permit Fee Residential $100.00 Commercial $150.00Sign Permit Fee Residential N/A Commercial $100.00Demolition Permit Fee Residential $100.00 Commercial $200.00Section 3-3 MANUFACTURED HOMESMANUFACTURED HOME SETUP PERMIT INCLUDE THE FOLLOWING…Electrical Service, H.V.A.C System, Plumbing, Drainage, WaterConnection, Steps, Decks, and Porches.Permit Fee $375.00Electrical Service upgrades on Manufactured Home.Permit Fee $150.00Section 3-4 ROOFING PERMIT FEESRe-Roofing BuildingPermit FeeCommercial$50.00 x Sq. FtDivided by $1000X $5.00Section 3-5 Remodeling Permit FeesResidential$1-$10,000 FEE $200.00$10,001.00 – $20,000.00 FEE $250.00$20,001.00 – $30,000.00 FEE $300.00$30,001.00 – $40,000.00 FEE $350.00$40,001.00 – $50,000.00 FEE $400.00EACH $10,000 OVER $50,000.00 WILL BE ADDITIONAL$50.00.The owner or contractor may, at the discretion of the Building Inspector, may have to purchase an additionalpermit if the amount of the job given when permit is purchase is more at a later date in remodeling expensiveexceed the original amount stated at permit purchased date.CommercialBuilding Valuation divided per $1000 x $6.00 (Minimum $200.00 permit)Section 3-6 Building Moving Permit FeesBuilding Moving Permit $100.00Required Police Escort $300.00(Fees go to Police Dept.)Section 3-7 Pool Permit FeesElectrical Grounding, Fences, Gates, Water Supply lines to pool, back flow preventer required. $250.00Section 3-8 Re-inspection FeesThis fee is at the discretion of the inspector. It must be paid at City Hall before re-inspection is made. $75.00Section 3-9 Building Permit ExpirationBuilding permits are only good while continued Construction is being conducted. If construction stops for more than 6 mos. period a new permit must be purchased before inspection can be started again.Section 3-10 General Contractor LicenseAlabama General Contractor License required if not being built by owner for his or her residence.Section 3-11 Building Permit Application RequirementsAn application must be filed out and returned to City Hall.Two Sets of Plans must be present with Application for Building Inspector to sign. One plan will be returned to owner when permit is purchased. One plan kept on file at the City of Moundville City Hall.Section 3-12 Penalty FeesA Building Permit shall be required for any new or existing building.No project shall be started without obtaining a building permit. TheCity of Moundville can asset double the permit fee for jobs startedbefore permit has been purchased.Section 3-13 Septic Tank InspectionsAll septic tanks will have to be approved by the State HealthDepartment. A copy of the approve inspection will be submitted tothe City's Building Inspector.PASSED AND APPROVED THIS THE __ DAY OF ______ ,2021.MAYORATTEST:CITY CLERK2tc/1-13, 1-20
PUBLIC HEARINGS ARE FEB. 8, 2021 at 6:00 p.m. at City Hall.
ADVERTISEMENT FOR BIDS
Sealed proposals will be received by the City of Moundville, 410 Market Street, Moundville, Alabama until 2:00 p.m. CST January 21, 2021 for City Hall Renovations for the City of Moundville at which time and place they will be publicly opened and read. A mandatory pre-bid conference will be held at the project site on January 14, 2021 @ 10:00 a.m. CST.
A cashier's check or bid bond payable to the City of Moundville in an amount not less than five (5) percent of the amount of the bid, but in no event more than $10,000, must accompany the bidder's proposal. Performance and Payment Bonds and evidence of insurance required in the bid documents will be required at the signing of the Contract.
Drawings and specifications may be examined at the office of Marcum Architects, LLC, 2804 Eighth Street, Tuscaloosa, Alabama 35401 (205) 752-1117, John@marcumarchitects.com, and Tuscaloosa Blueprinting and Reprographics.
Bid Documents may be obtained from the Architect upon deposit of $50.00 per set, which will be refunded in full on the first 2 sets issued to each general contract bidder submitting a bonafide bid, upon return of documents in good condition within ten days of bid date. Other sets for general contractors, and sets for subcontractors and dealers, may be obtained with the same deposit, which will be refunded as above, less cost of printing, reproduction, handling, and distribution. Digital construction documents will be issued to bidders by the Architect upon request of the bidder.
Bids must be submitted on proposal forms furnished by the Architect or copies thereof. All bidders bidding in amounts exceeding that established by the State Licensing Board for General Contractors must be licensed under the provisions of Title 34, Chapter 8, Code of Alabama, 1975, and must show evidence of license before bidding or bid will not be received or considered by the Architect; the bidder shall show such evidence by clearly displaying his or her current license number on the outside of the sealed envelope in which the proposal is delivered. The Owner reserves the right to reject any or all proposals and to waive technical errors if, in the Owner's judgement, the best interests of the Owner will thereby be promoted.
City of Moundville
(Awarding Authority)
Marcum Architects, LLC
(Architect)

IN THE MATTER OF
THE ESTATE OF
OLLIE JAMES FLOYD YOUNG
NOTICE OF APPOINTMENT
Letters of Administration of the deceased having been granted to CHARLENE MOOREHEAD on the 11th day of December, 2020, by the Honorable Arthur Crawford, Judge of the Probate Court of HALE County, Alabama, notice is hereby given that all persons having claims against the estate are hereby required to present claims within time allowed by law or the same will be barred.
Honorable Arthur Crawford
Probate Judge of Hale County, Alabama
Cynthia Lee Almond
Cynthia Lee Almond LLC
Attorney for the Administrator of the
Estate of OLLIE JAMES FLOYD YOUNG 2824 7th Street
Tuscaloosa, Alabama 35401
3tc/12-23, 30, 1-6