Classified and Public Notice Rates are 25 cents per word for the first week of publication and 20 cents per word for each additional week. A minimum charge of $5.00 for 20 words or less is set for every classified and legal advertisement. Display advertising is accepted at display ad rates. Bring them to 46 2nd Ave., Moundville AL, 35474; call 205-371-2488; or email: times@mound.net. DEADLINE is Friday. Holidays excluded. Late Cancelations will be charged as a regular run. Public Notices are also run at https://www.alabamapublicnotices.com at no extra charge.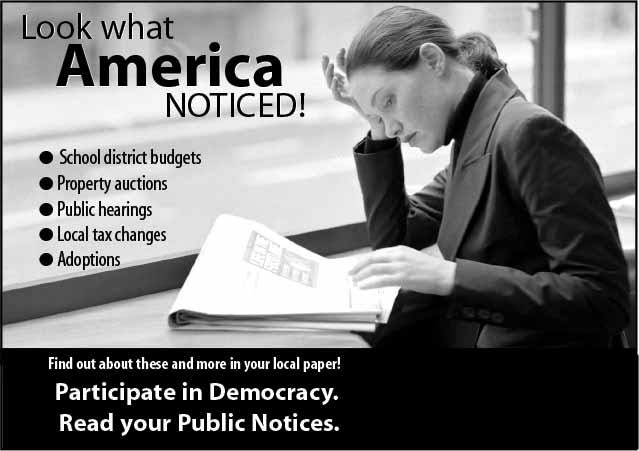 NOTICE OF ELECTION
STATE OF ALABAMA HALE COUNTY NOTICE OF ELECTION
Please be notified pursuant to the Code of Alabama }17-9-5 there will be a Special General Election on December 12, 2017 in Hale County, Alabama.
The following office will appear on the ballot: United States Senator
Done this 6th day of November 2017. Arthur L Crawford Sr., Probate Judge
NOTICE OF APPOINTMENT OF ADMINISTRATOR ESTATE OF WANDA WALLER
LETTERS OF ADMINISTRATION of said deceased having been granted to the undersigned on the 12th day of October, 2017, by the Judge of Probate of Hale County, Alabama, notice is hereby given that all persons having claims against said estate are hereby required to present the same within time allowed by law or the same will be barred.
Wallace Waller
Administrator of the Estate of Wanda Waller
3tc/10-25
LEGAL NOTICE
In accordance with Chapter 1, Title 39, Code of Alabama, 1975, notice is hereby given that CivilWorx Construction, LLC., has completed the Contract for (Construction) (Renovation) (Alteration)(Improvement) of the City of Moundville Drainage & Sewer Improvements – CDBG Project No. SM-CE-PF-15-003, for the City of Moundville, AL, Owner(s) and have made request for final settlement of said Contract. All persons having any claim for labor, materials, or otherwise in connection with this project should immediately notify POLY ENGINEERING Inc, 2135 University Blvd, Suite A, Tuscaloosa, AL 35401, Phone 205-752-4037.
CivilWorx Construction, LLC.
5950 Univ Blvd East
Cottondale, AL 35453
4tc/10-18
Publisher's Notice
All Real estate advertised here is subject to the Federal Fair Housing Act, which makes it illegal to advertise any preference, limitation, or discrimination based on race, color religion, sex, handicap, familial status, or national origin or intention to make any such preference, limitation, or discrimination. We will not knowingly accept any advertising for real estate which is in violation of the law. This Notice Published as a Public Service by Moundville Times.