Classified and Public Notice Rates are 25 cents per word for the first week of publication and 20 cents per word for each additional week. A minimum charge of $5.00 for 20 words or less is set for every classified and legal advertisement. Display advertising is accepted at display ad rates. Bring them to 46 2nd Ave., Moundville AL, 35474; call 205-371-2488; or email: times@mound.net. DEADLINE is Friday. Holidays excluded. Late Cancelations will be charged as a regular run. Public Notices are also run at https://www.alabamapublicnotices.com at no extra charge.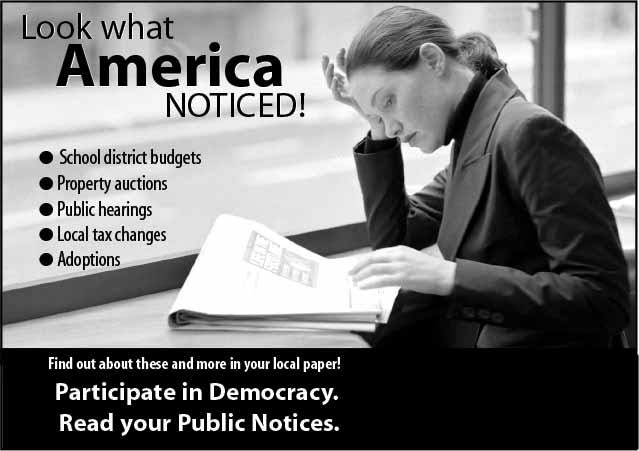 The Hale County Highway Department is now accepting applications to fill the positions for Part Time Tippers, Part Time Drivers with CDL and Solid Waste Supervisor for the Solid Waste Department only.
All applicants must make application with the Hale County Highway Department at 703 Cork St. All applications must be received by 4:00 p.m. on July 12, 2018. For further information please contact Jason Sturdivant at the Hale County Highway Department at 624-8110. Hale County Commission is an Equal Opportunity Employer.
Notice of Completion
Compass Civil Construction, LLC, has completed its work on the Moundville County Line Road Wate Improvements, ARC Project Number AL-18820 for the City of Moundville. Any persons having a claims against the project should notify project engineer Darrell Hobson at McGiffert & Associates at 205-759-1521 within the next thirty days.
4tc/7-4-7-25
PUBLIC NOTICE:
West Alabama Mental Health Board, Inc.is applying to the Alabama Department of Transportation for a federal capital funding grant under Section 5310 of the Federal Transit Act. This funding is for capital assistance to help meet the transportation needs of individuals with disabilities in Choctaw, Greene, Hale, Marengo and Sumter Counties. A public hearing will be held on Thursday, July 19, 2018 at 4:30 pm in the conference room at West Alabama Mental Health Center, 1215 South Walnut Avenue, Demopolis, AL 36732 for public comments.
Contact information:
West Alabama Mental Health Board, Inc.
1215 South Walnut Avenue
Demopolis, AL
(334) 289-2410