Classified and Public Notice Rates are 25 cents per word for the first week of publication and 20 cents per word for each additional week. A minimum charge of $5.00 for 20 words or less is set for every classified and legal advertisement. Display advertising is accepted at display ad rates. Bring them to 46 2nd Ave., Moundville AL, 35474; call 205-371-2488; or email: times@mound.net. DEADLINE is Friday. Holidays excluded. Late Cancelations will be charged as a regular run. Public Notices are also run at https://www.alabamapublicnotices.com at no extra charge.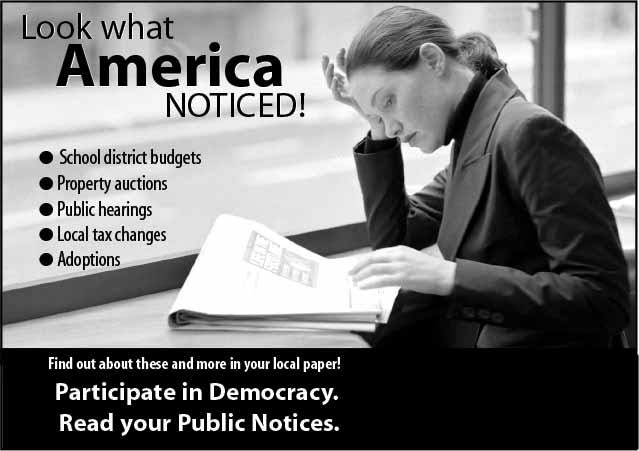 Notice from Hale County Office of Probate:
Poll Workers for the U. S. Senate General Election December 12, 2017.
BEAT #1 HAVANA Tony Lee-Inspector/Returning Officer Shalandra Dent Eppes Margaret Rainey Donald Rainey Robert Epps
BEAT #2 AKRON Norman Hunter-Inspector/Returning Officer Youshekia McCruter Exie Williams Mary Alice Parker Minnie P. Dunson
BEAT #3 BUCKSNORT Joe McDaniel-Returning Officer Larry Woods-Inspector Evan Kynard Maxine Perry
BEAT #4 GREENSBORO Mildred Lyles-Inspector William Marks-Returning Officer Enoch Rose Emily Holman Bertha Bonner Regina Smith Lashanda Wiggins Dorothy Wilson Geneva Fields Deborah Thomas Charlene Jones Janice Day Mailande Easley
BEAT #5 NEWBERN Clementine Washington-Inspector/Returning Officer King Bates Jr. Barbara Page Anne S. Bailey Frances Sullivan
BEAT #6 SAWYERVILLE Gloria Royal-Inspector/Returning Officer Edd Royal Wallace Waller Amy White Obediah Benson
BEAT #7 CEDARVILLE Martha Lyles-Inspector/Returning Officer Lucy Bailey Sara Long Mary Hurns
BEAT #8 GALLION Bob Collins-Returning Officer Charles Hall-Inspector Fannie Hall Louise Lee
BEAT #9 LANEVILLE Tracie Jackson-Inspector Jacqueline Williams-Returning Officer Paul Dunn Jr. Brenda Coleman Jeleria Jones
BEAT #10 Mt. HERMON Charles Burroughs-Inspector Rachel Rollins-Returning Officer Mary Clements Louise Thomas Caroline Harris
BEAT #11 VALLEY Cleretha Ryans-Inspector William Lafitte-Returning Officer Saraha Mahone Raven Tinker
BEAT #12 MOUNDVILLE Wanda Singleton-Inspector John Bradshaw-Returning Officer Eva Lou James Peggy Sanders Sherry Rose Barbara Rich
BEAT #13 PHIPPS Terri Harris-Inspector/Returning Officer April Harris Kenneth Elliott Mary Cook
BEAT #16 STEWART Lee Rutley-Inspector/Returning Officer Lucille Williams Jo Ann McGahey Lillie Duncan
ABSENTEE Kervin Jones-Inspector/Returning Officer Idotha Jones Frank Stegall Diane Battle Eugene Lyles
Polls will be open from 7:00 am until 7:00 pm.
Publisher's Notice
All Real estate advertised here is subject to the Federal Fair Housing Act, which makes it illegal to advertise any preference, limitation, or discrimination based on race, color religion, sex, handicap, familial status, or national origin or intention to make any such preference, limitation, or discrimination. We will not knowingly accept any advertising for real estate which is in violation of the law. This Notice Published as a Public Service by Moundville Times.