Teachers and school administrators please email times@mound.net your back to school announcements, supply lists, school sports schedules by Friday, July 27 for the 2018 Back to School Edition. Please feel free to send us your school announcements and class happenings throughout the year. They are run in order that we get them for free!
2019-20 School Calandars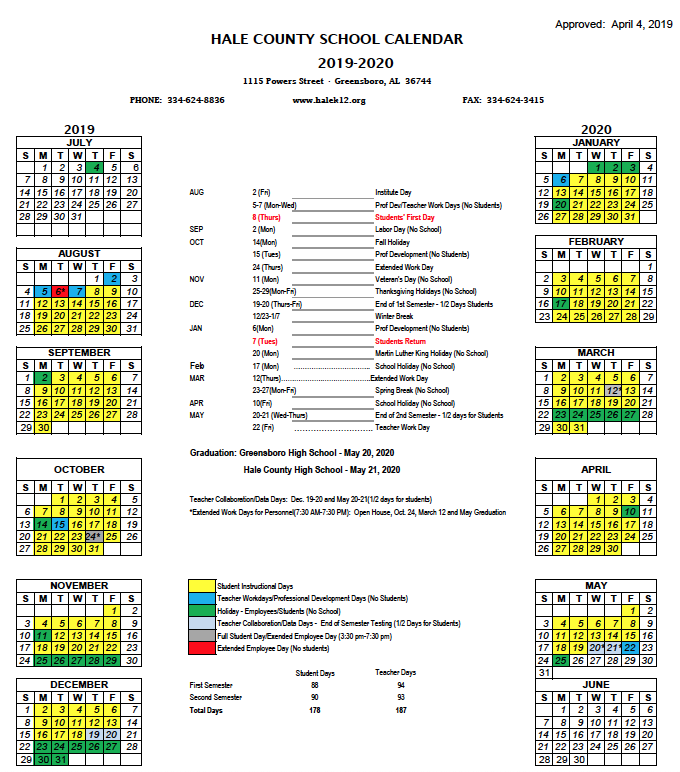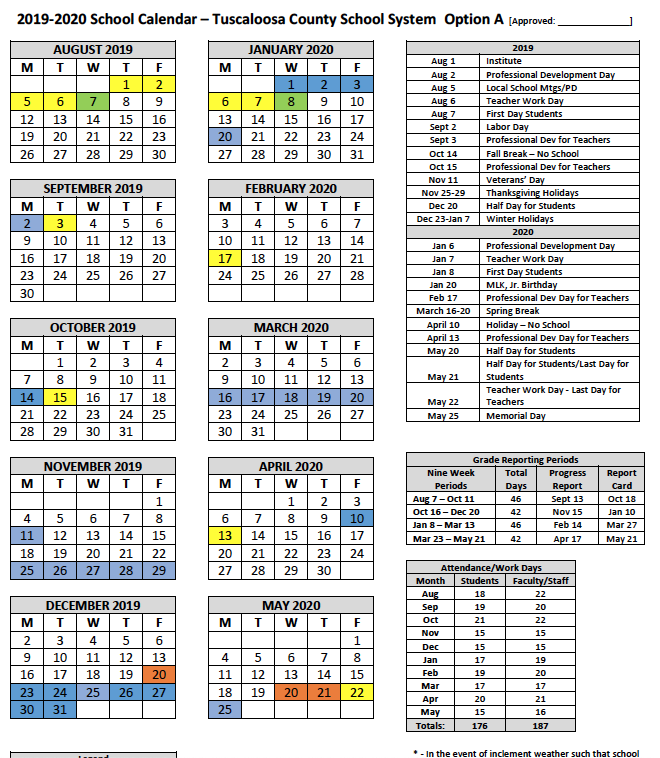 Back to School Announcements
Southern Academy Orientation Night
Orientation Night will be held Thurs., Aug. 8. Catfish plates will be available for purchase. You will be able to meet with teachers in classrooms from 4-5:45 p.m., where you will pay your homeroom fee. There will be a mandatory parent meeting with our headmaster in the gym at 6 p.m. Immediately following, there will be a mandatory parent meeting for all sports in the gym. Information on classroom & PTA duties will be announced at a later time.

HCMS School Year Open House!
Sunday, August 4: 6th grade: 2-3 p.m., 7th grade: 3-4 p.m., 8th grade: 4-5 p.m. We will begin in the gym and transition to classrooms! Looking forward to seeing our Wildcats!

MES Open House
Pre-K Open House will be on Sun., Aug. 4 from 2:30-4:30 and K-5 Open House will be on Mon., Aug. 5 from 4:30-6:30.

HCHS Open House
HCHS will have open house on Tues., Aug. 6 at 6 p.m. Schedules will be distributed to parents that attend open house. All others will pick up their schedules on the first day of school. Parking tags will go be sold on a first come, first serve basis beginning on Mon., Aug. 5 at 8 a.m. in the office. The required forms to park on campus can be picked up from the office beginning on Mon., July 22. No parking pass will be sold without all required forms. The HCHS homecoming football game will be held on Fri., Oct. 11 against Holt High School. HCHS is grateful to have the support of the following official Adopt A School partners. As always, we are continuously looking to expand with additional partnerships that will benefit the students at HCHS and our community. If your organization is interested in supporting HCHS, please contact Mr. Garner at 371-2679. Go Cats! We are grateful for our adopt a school partners: West Alabama Mechanical (WAM); Moundville Metal Works; The Bank of Moundville; Lance Hocutt Financial Group; Shelton State Community College; Encore Rehabilitation.

Clean Up Howell Field
Sat., Aug. 10 at 10:30 a.m

HCHS Softball Tryouts
HCHS Softball tryouts for grades 7th-12th have been moved to Aug. 17 due to a scheduling conflict with football. 7th-8th grade will be from 9-11:30 a.m. 9th-12th and returning varsity players will be 1-3:30 p.m. The afternoon session may be moved to evening depending on the heat that day. Must have a completed physical after Aug. 18 on the appropriate form. If physical was done at HCHS in May 2019 we have it already, otherwise, bring a copy to tryouts. No player can tryout without the completed physical. http://ahsaa.com/…/revised%202018%20Form%205%20Physical.pdf

Back to School Giveaway
LaQuita Manson presents a Back to School Giveaway Sat., Aug. 3 at 2-4 p.m. in the park behind Moundville Public Library. Free supplies and snacks while they last. Your child must be present with you.
Hale County Public School Calendar
Aug. 2 Institute
Aug. 5-7 Professional Dev.
Aug. 8 First Day Students
Sept. 2 Labor Day
Oct. 14 Fall Holiday
Oct. 15 Professional Dev. no students
Oct. 24 Extended Work Day
Nov. 11 Veterans Day
Nov. 25-29 Thanksgiving
Dec. 19-20 Half day for students
Dec. 23-Jan. 7 Winter Holidays
Jan. 6 Professional Dev. Day
Jan. 7 Students return
Jan. 20 Dr. MLK, Jr. Day
Feb. 17 School Holiday
March 12 Extended Work Day
March 23-27 Spring Break
April 10 Holiday no school
May 20-21 Half day for students
May 22 Teacher work day
Tuscaloosa County Public School Calendar
Aug. 1 Institute
Aug. 2 Professional Dev.
Aug. 5 Local School Meetings
Aug. 6 Teacher Work Day
Aug. 7 First Day Students
Sept. 2 Labor Day
Sept. 3 Professional Dev. Teachers
Oct. 14 Fall Break no school
Oct. 15 Professional Dev. Teachers
Nov. 11 Veterans Day
Nov. 25-29 Thanksgiving
Dec. 20 Half day for students
Dec. 23-Jan. 7 Winter Holidays
Jan. 6 Professional Dev. Day
Jan. 7 Teacher Work Day
Jan. 8 First Day Students
Jan. 21 Dr. MLK, Jr. Day
Feb. 17 Professional Day Teachers
March 16-20 Spring Break
April 10 Holiday no school
April 13 Professional Day
May 20 Half day for students
May 21 Half day/last day for students
May 22 last day for teachers
May 25 Memorial Day
GHS supply list 2019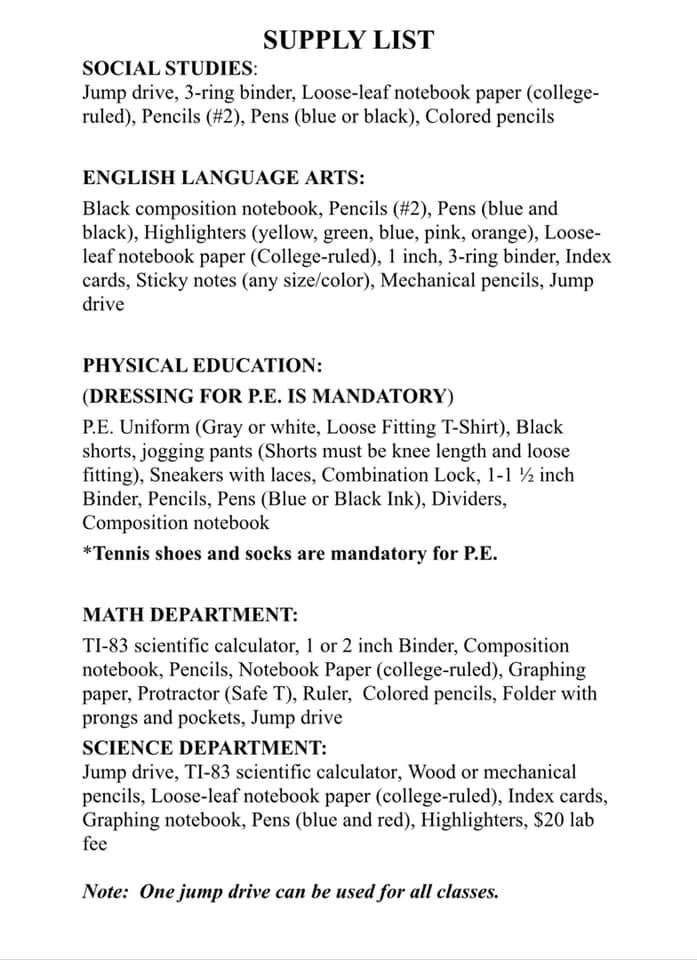 Hale County High School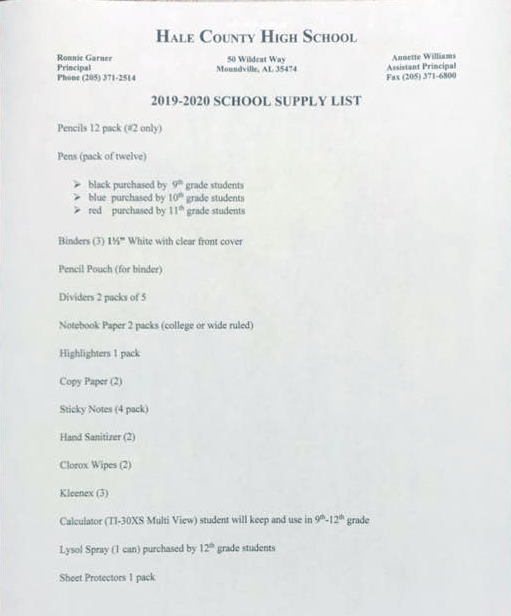 Southern Academy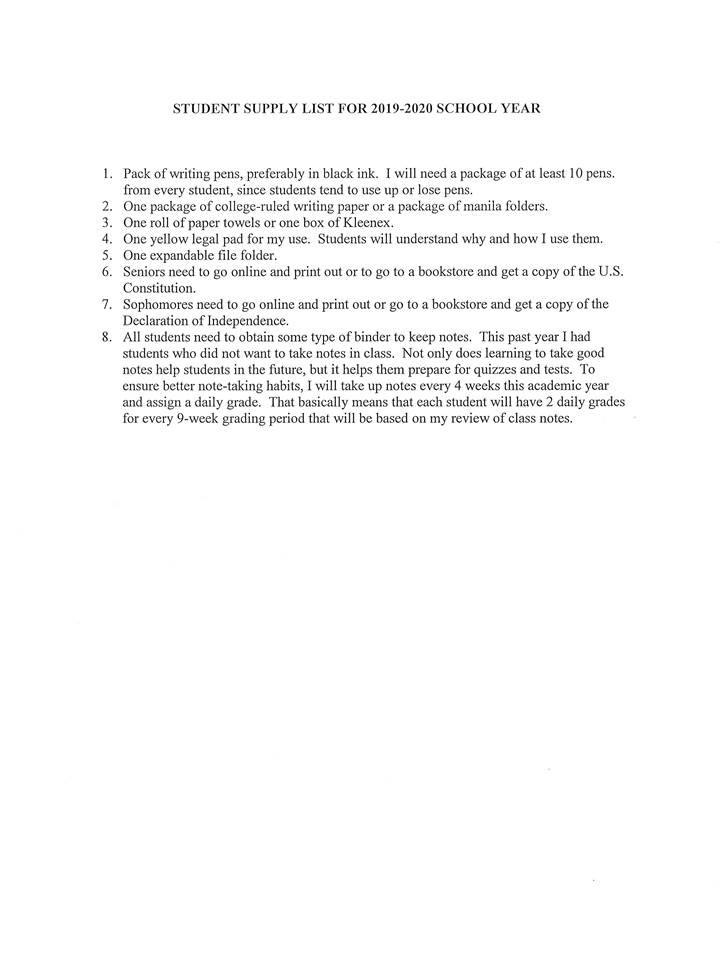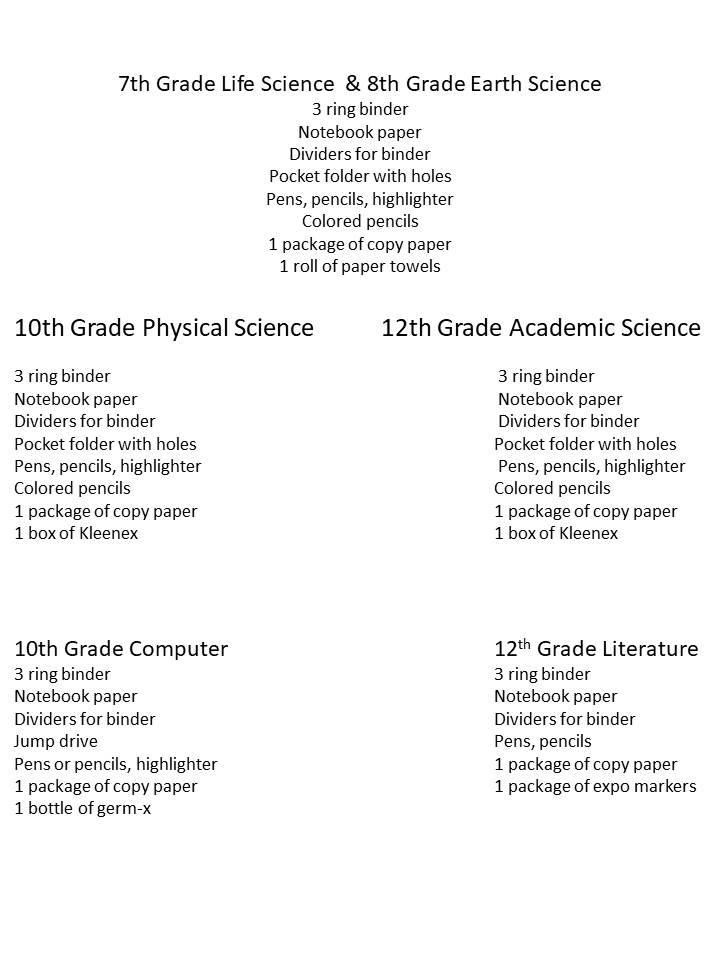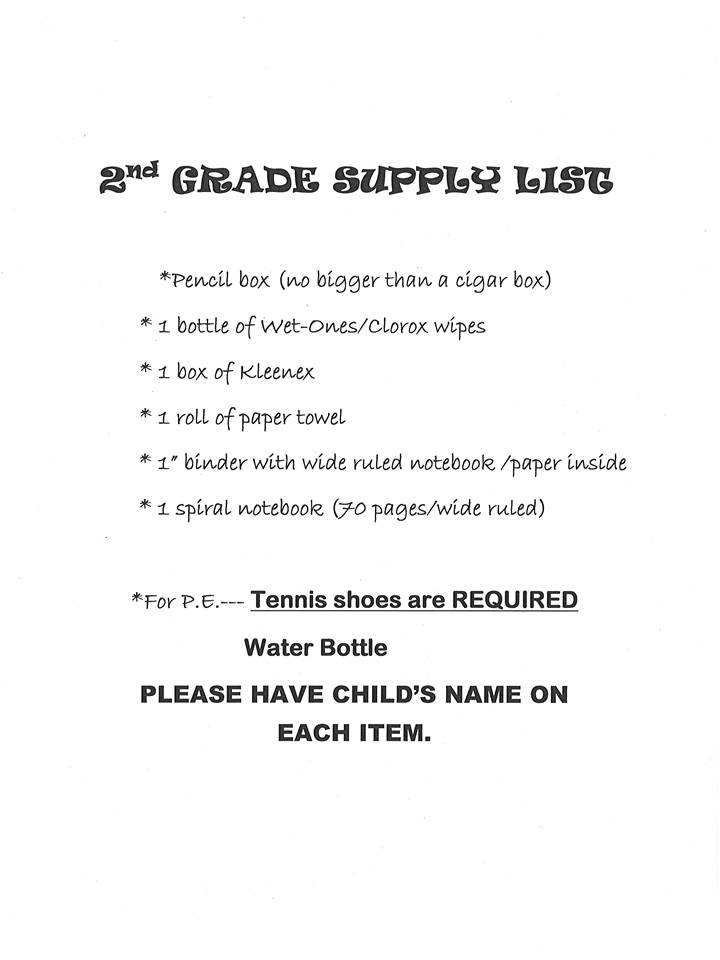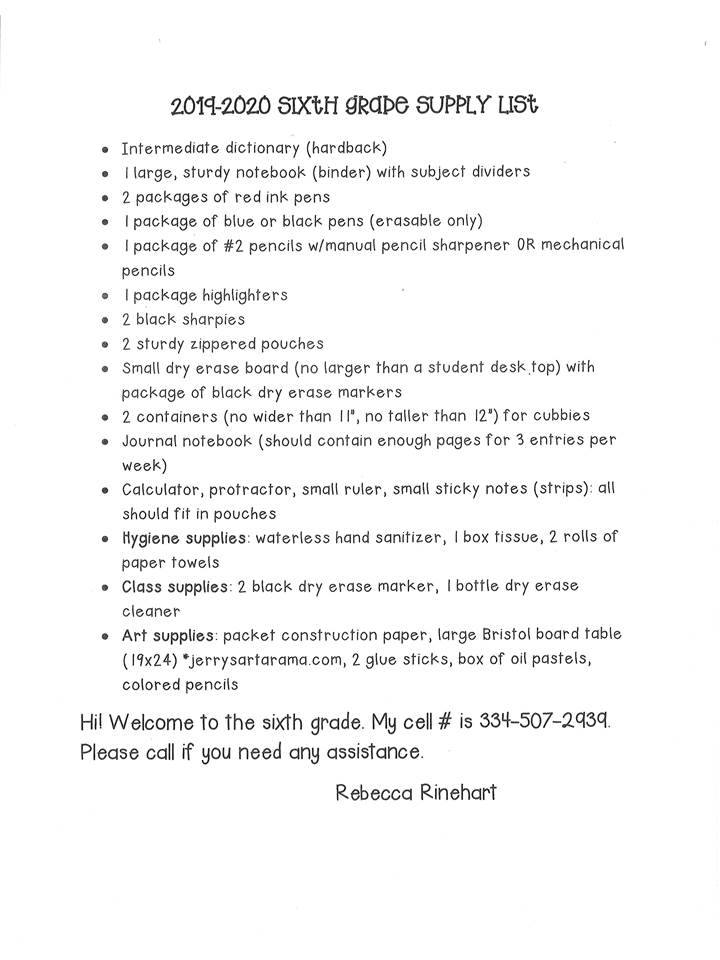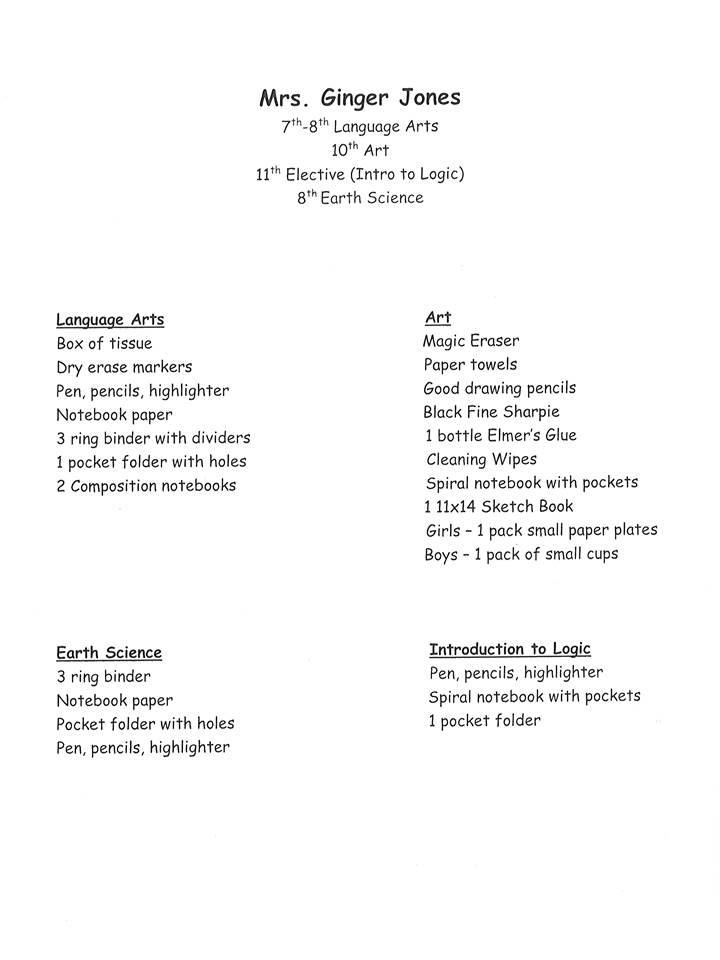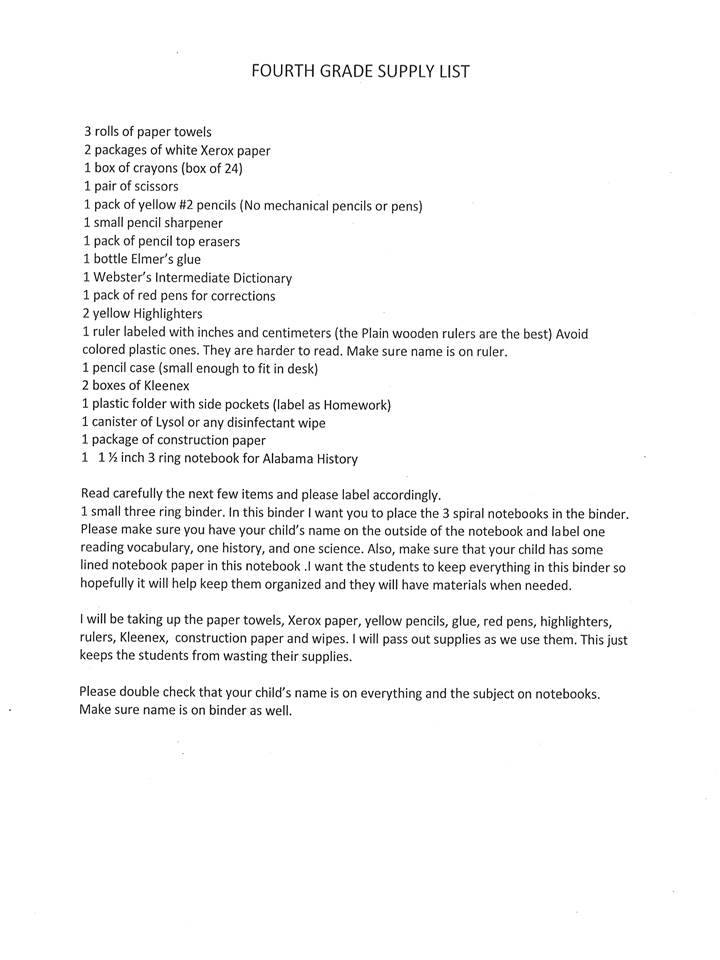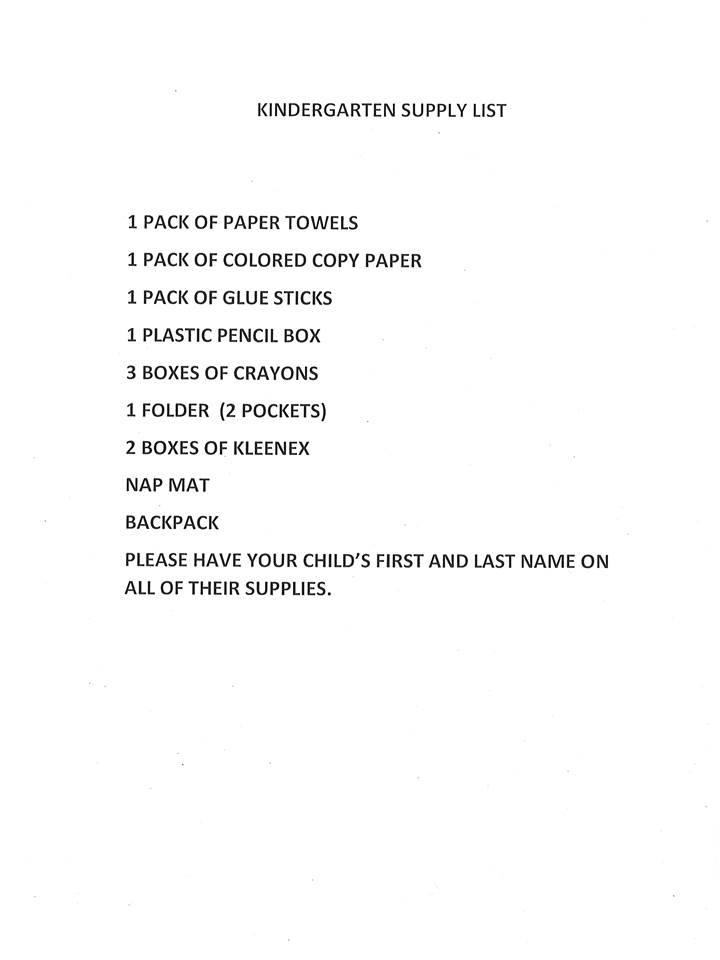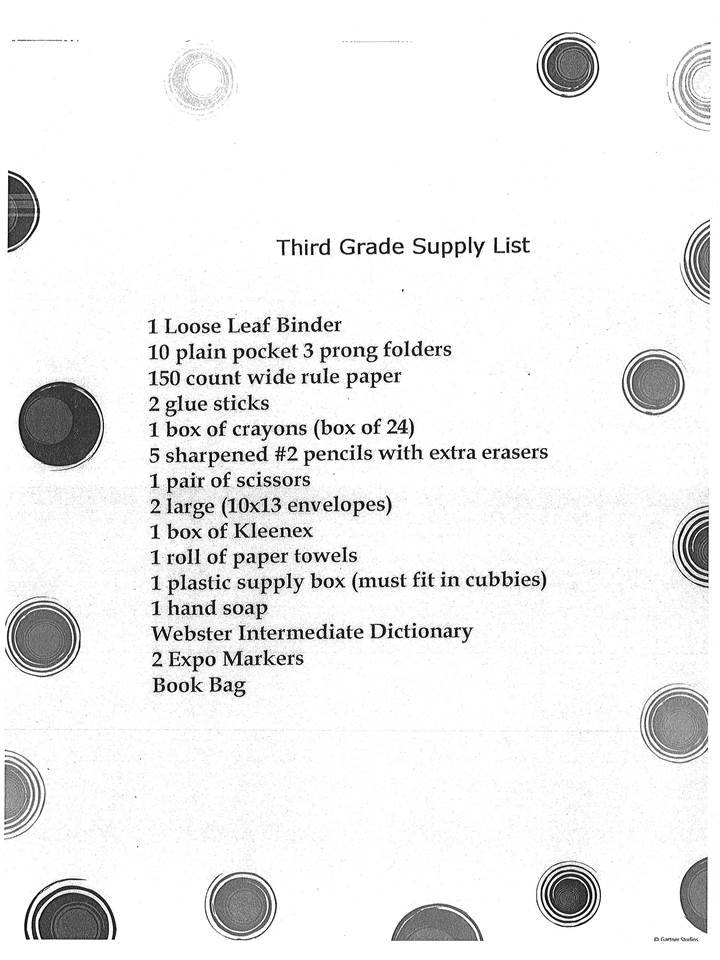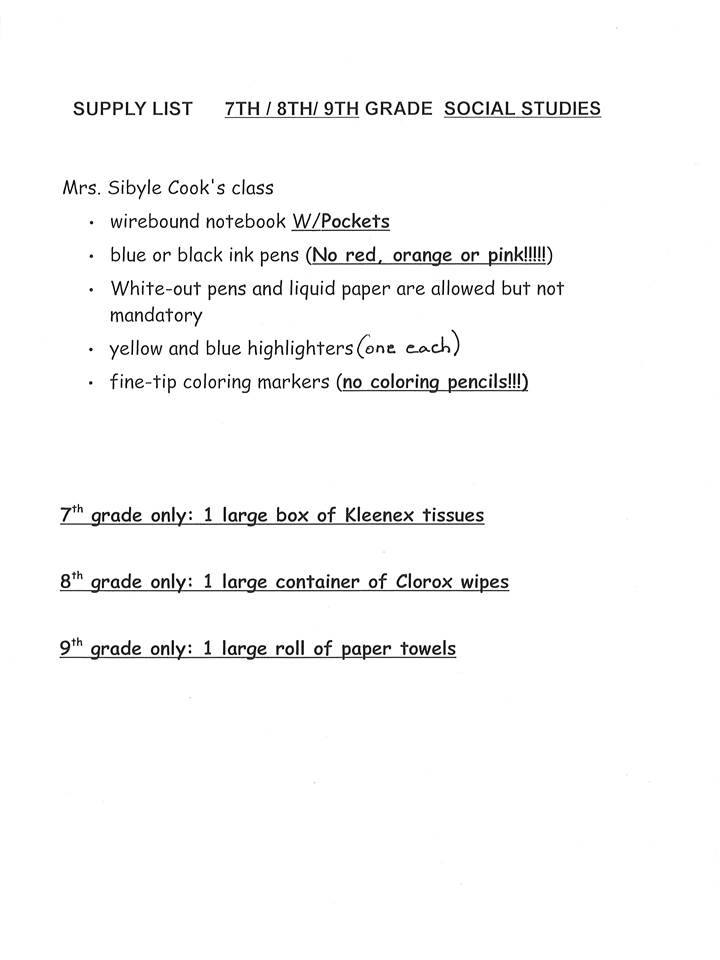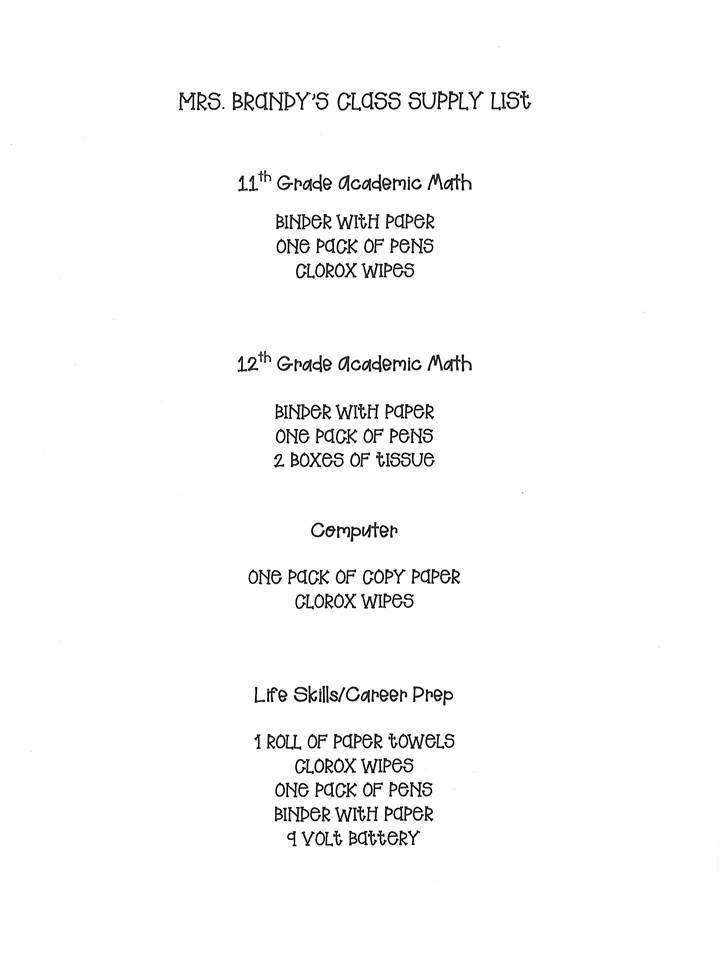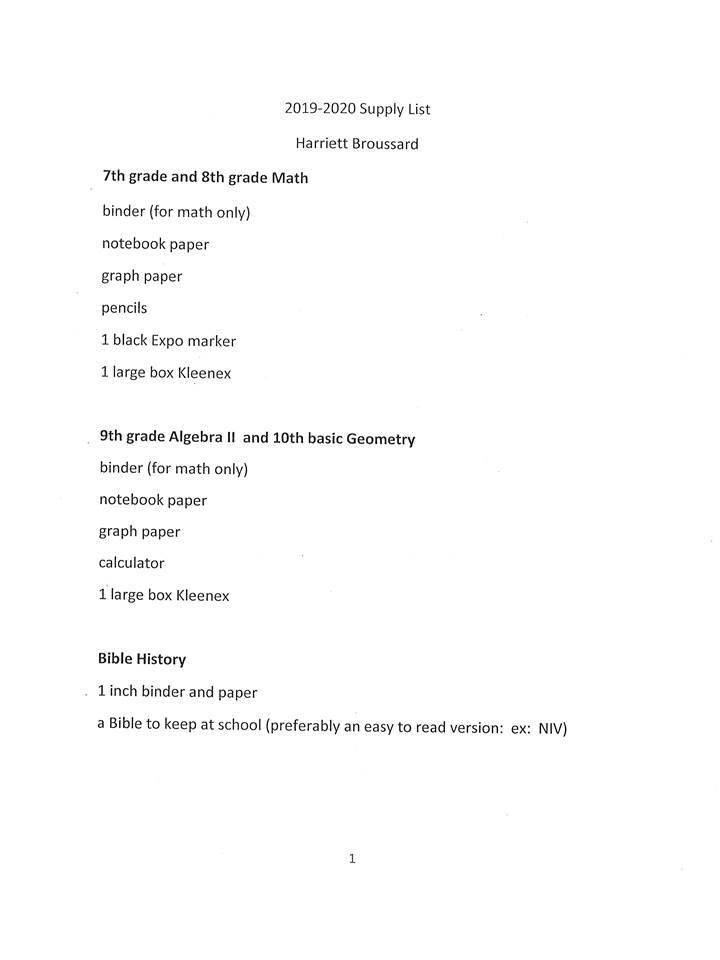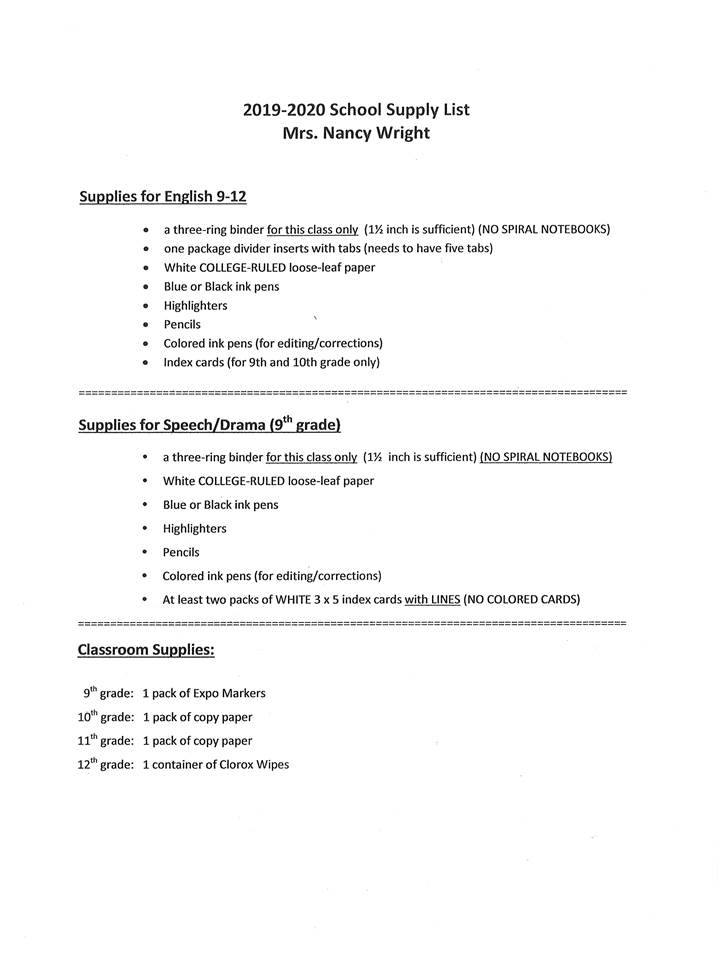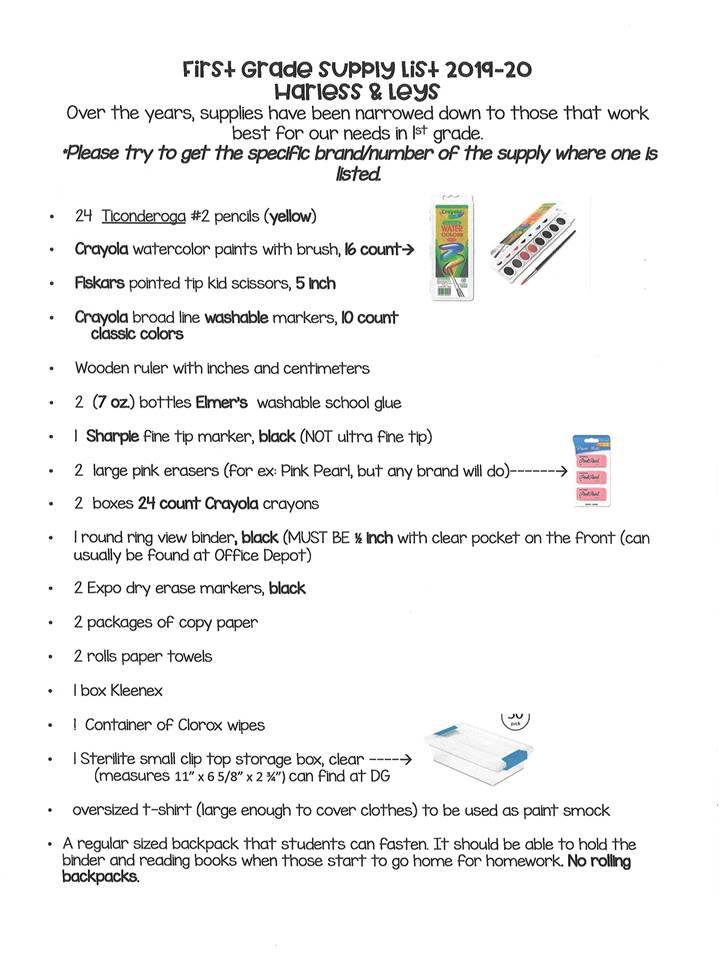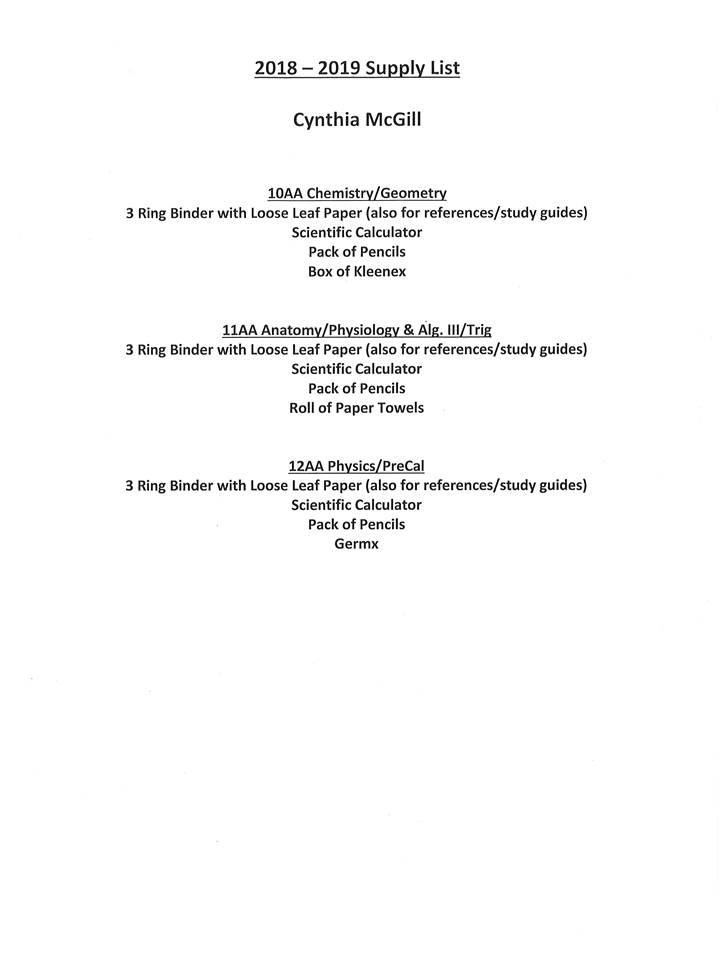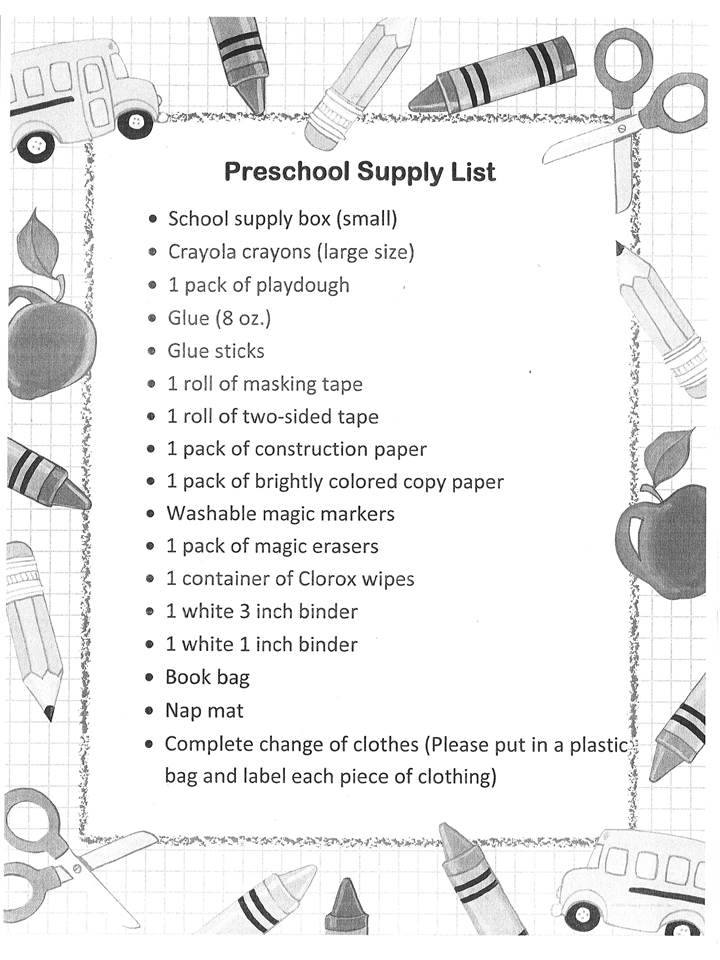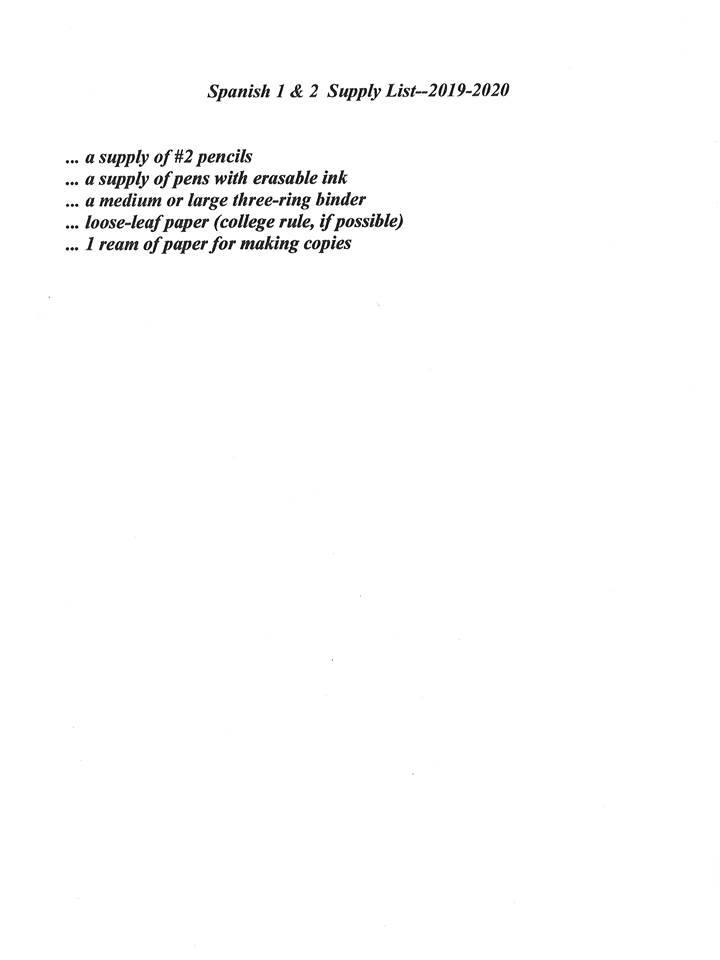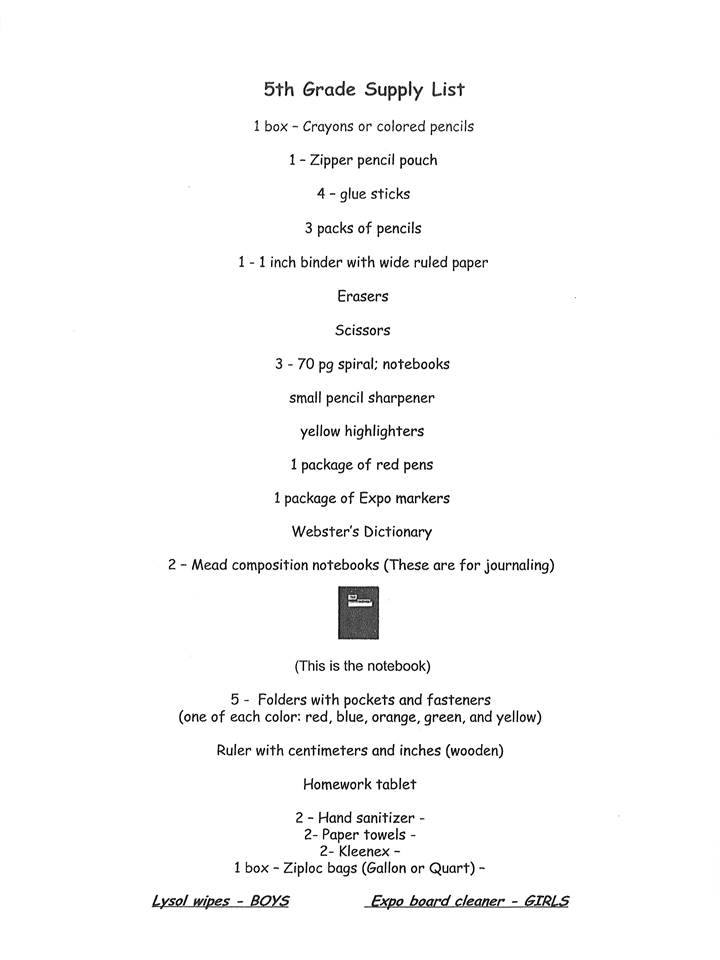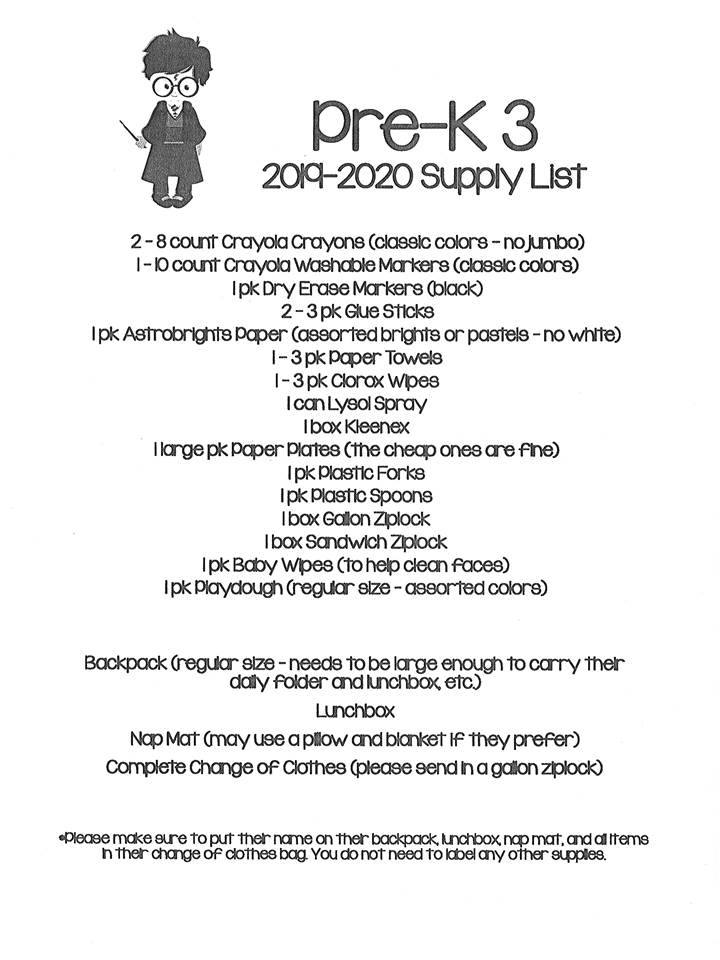 Big Sandy Elementary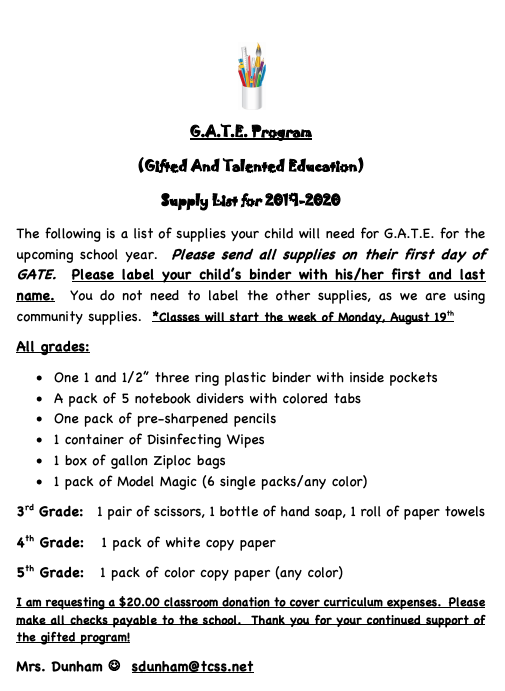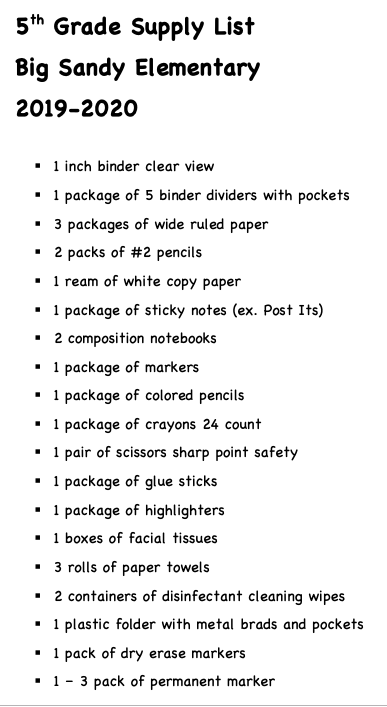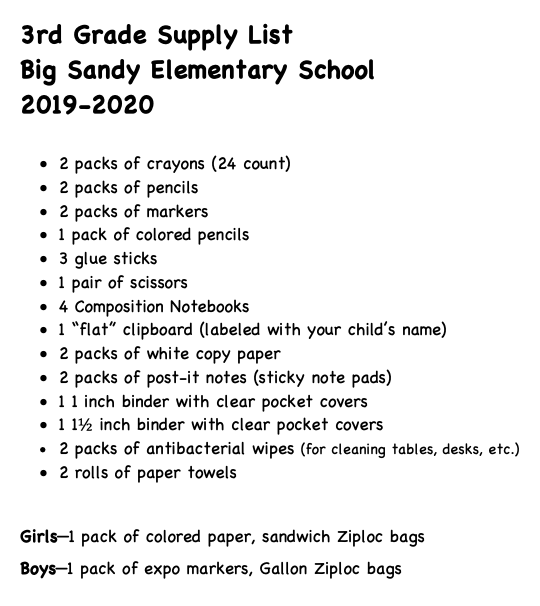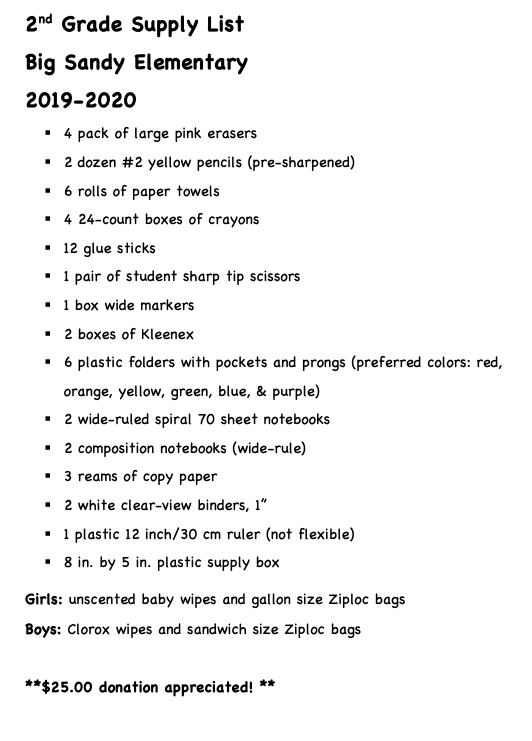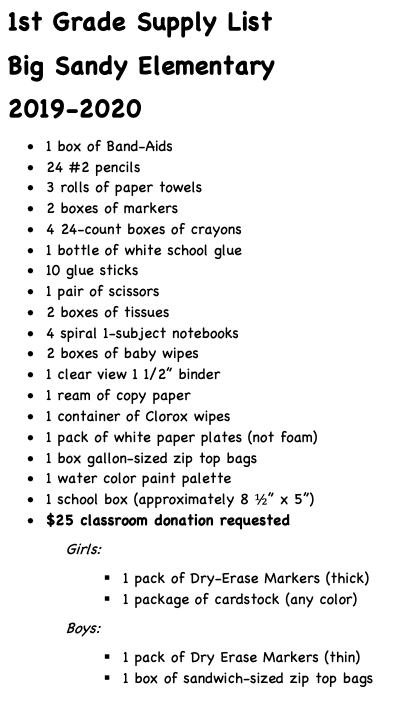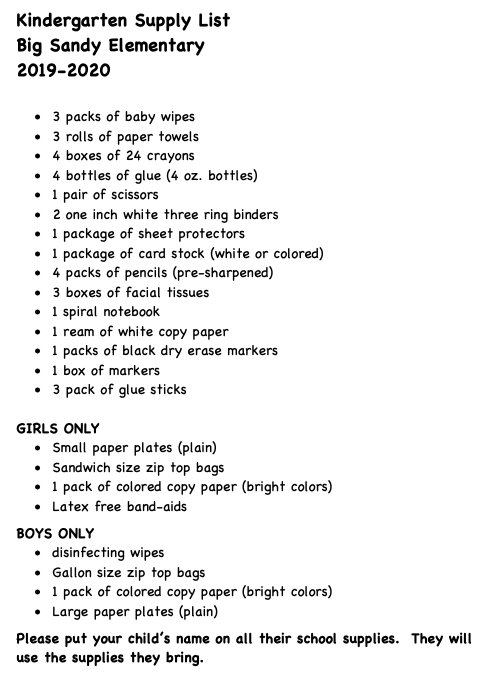 Moundville Elementary School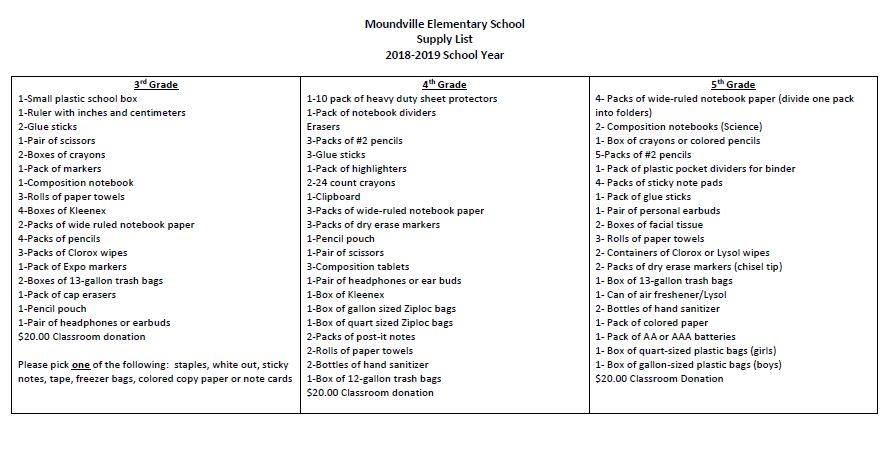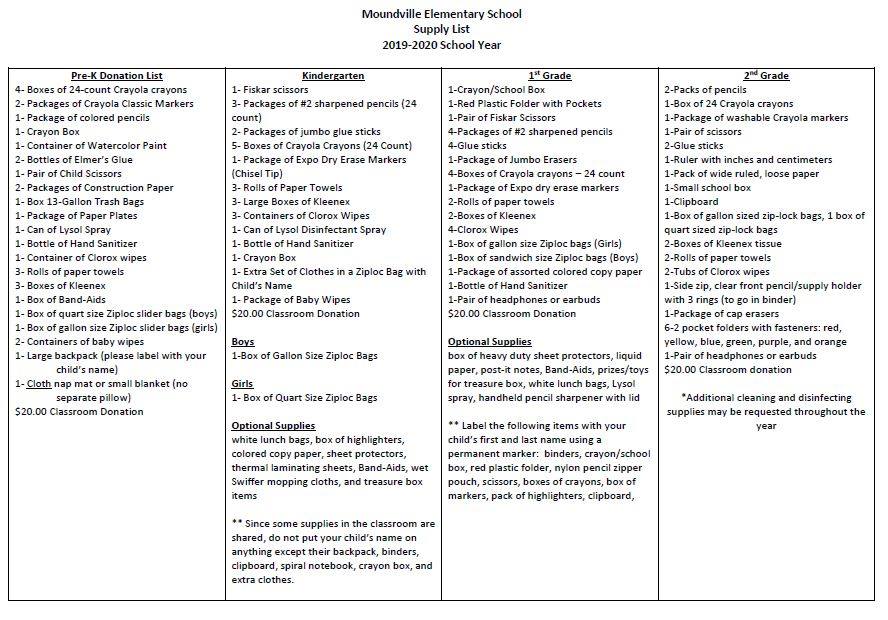 Hale County Middle School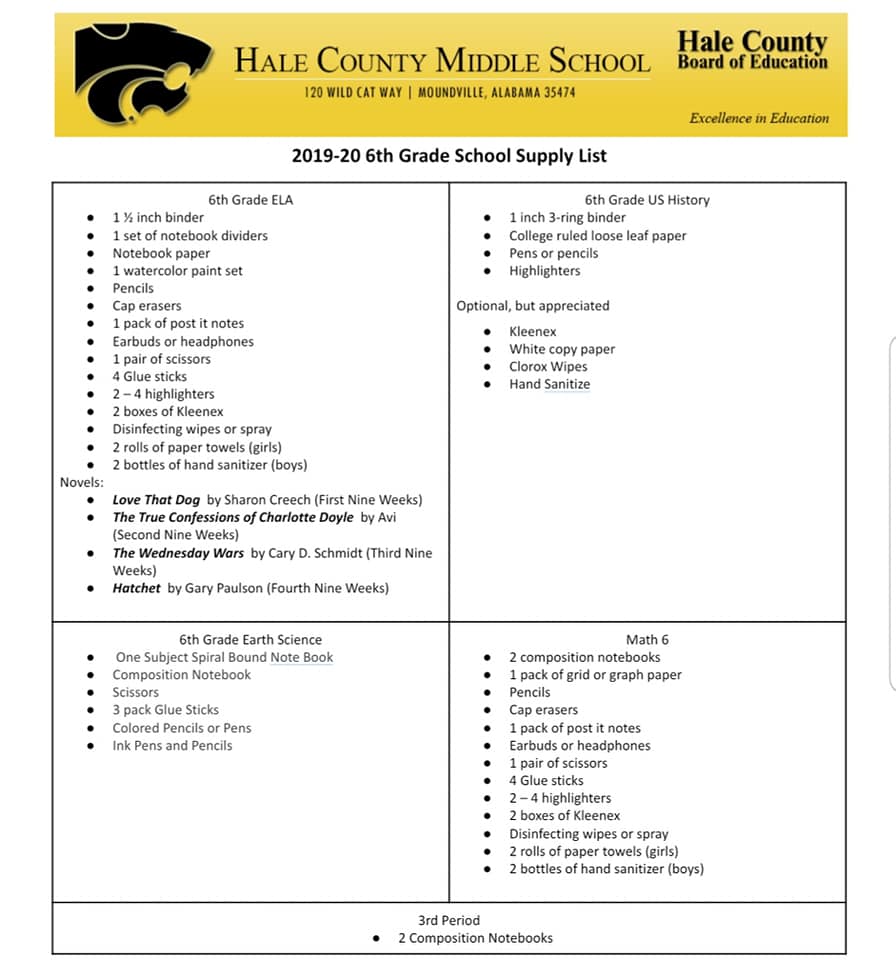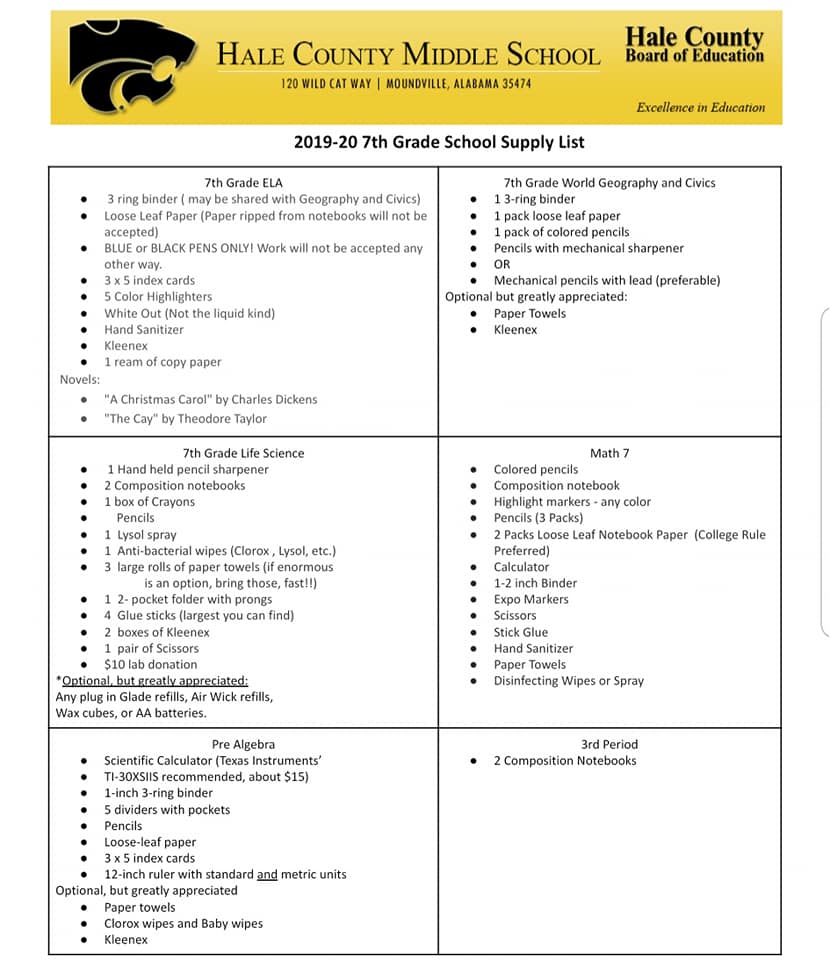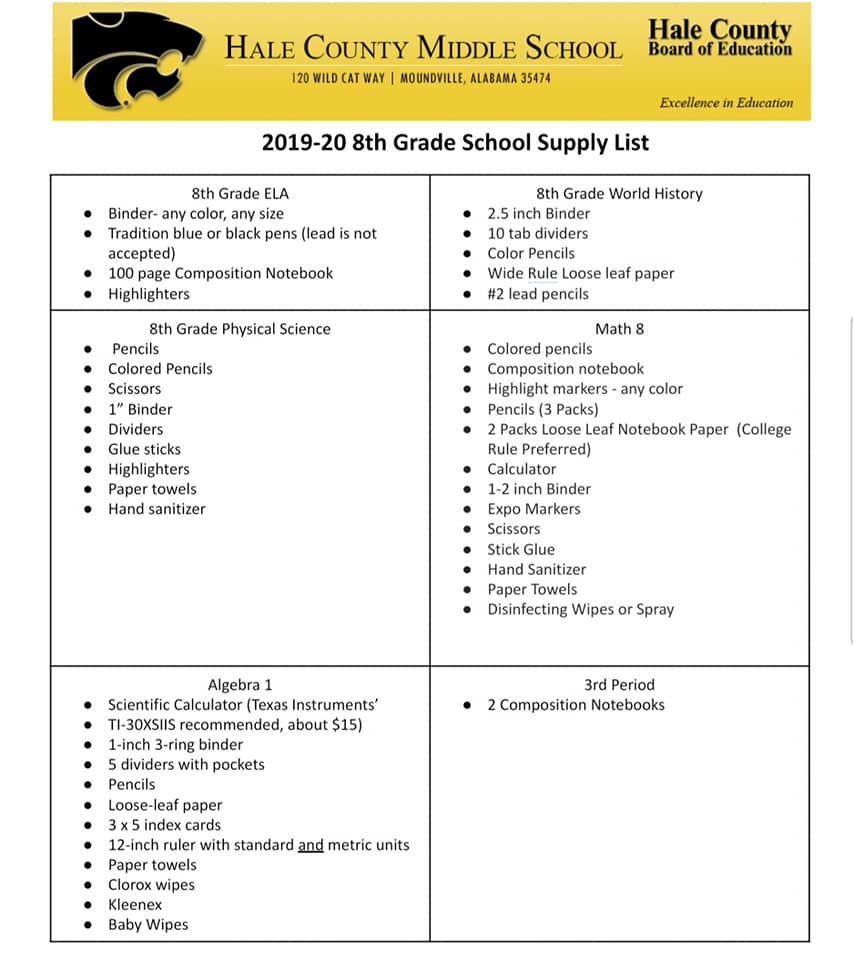 Greensboro Middle School Lists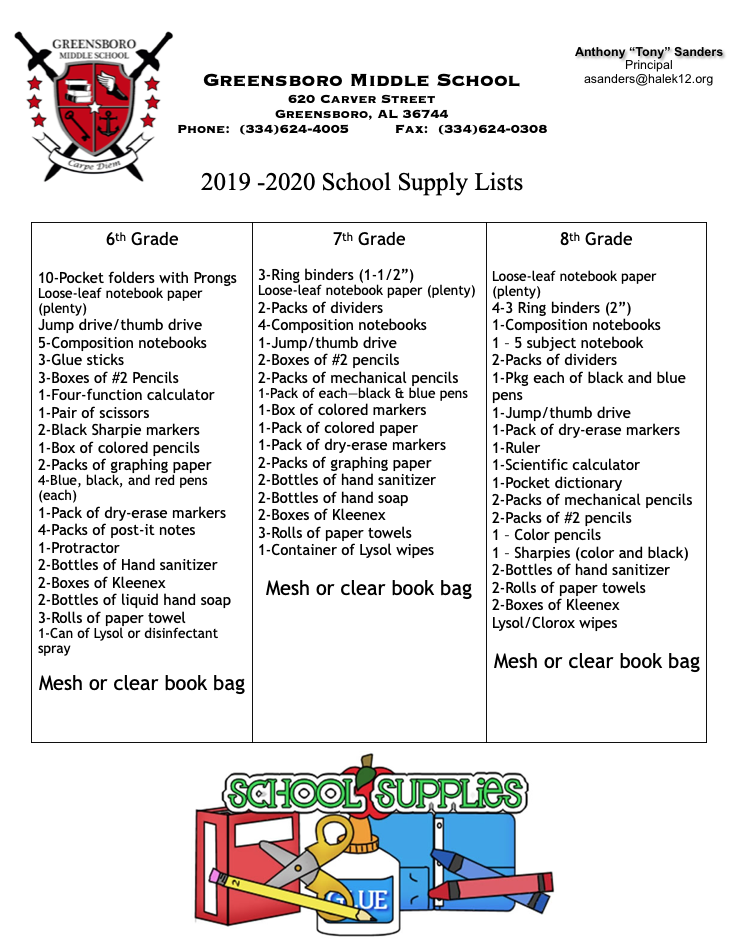 Greensboro Elementary School