Classified/Legal Rates (net)
Legal/Classified – 35¢ per word each insertion. A Moundville Times employee must count the advertising copy before we can give a price quote.
Classifieds are $7.00 minimum for 20 words or less.
New accounts must be paid in advance.
Local Classifieds
The Hale County Commission is now accepting applications for the employment of an Equipment Operator 1 until 4:30 p.m., on April 9, 2020. All applicants must make application with Hale County Highway Department at 703 Cork Street, Greensboro, AL. For further information, please contact Jason Sturdivant at the Hale County Highway Department at 334-624-8110. Hale County Commission is an Equal Opportunity Employer.
State Classifieds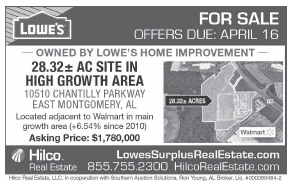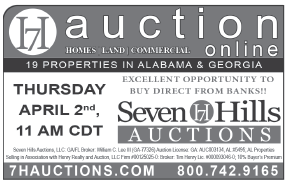 SERVICES
BEST SATELLITE TV with 2 Year price Guarantee! $59.99/mo. with 190 Channels and 3 months free premium movie channels! Free next day installation! Call 1-855-943-1314.
SERVICES
STATEWIDE & REGIONAL Advertising in over 100 Newspapers, reaching over 1 million readers each week! Run your ad in our Classified Network for just $210 per week! Make one call to this newspaper (participating Alascan newspaper) or call 1-800-264-7043 to find out how easy it is to advertise statewide!
INSTRUCTION
ONLINE PHARMACY Technician Training New Students Only. Call & Press 1. Financial Aid Available for those who qualify. 100% Online Courses. Call 1-844-359-2283
INSURANCE
AUTO INSURANCE Starting at $49/month! Call for your Free rate comparison to see how much you can save! Call: 1-855-408-7970
LOWEST PRICES on Health Insurance. We have the best rates from top companies! See how much you can save, Call Now! 1-844-335-8693.
SAVE BIG on Home Insurance! Compare 20 A-rated insurance companies. Let us do the shopping & save you time & money. Get a quote within minutes. Average savings of $444/year! Call 1-888-674-0779. (M-F 8am-8pm Central)
HEALTH/BEAUTY
ATTENTION: VIAGRA and Cialis Users! A cheaper alternative to high drugstore prices! 50 Pill Special- $99 + Free Shipping! 100% guaranteed. Call Now: 1-855-382-4115
OXYGEN – ANYTIME. Anywhere. No tanks to refill. No deliveries. The All-New Inogen One G4 is only 2.8 pounds! FAA approved! FREE info kit: 1-844-322-9935
FINANCIAL SERVICES
DONATE YOUR Car to Charity. Receive maximum value of write off for your taxes. Running or not! All conditions accepted. Free pickup. Call for details. 1-844-810-1257
BUSINESS OPPORTUNITY
BECOME A Published Author! We edit, print and distribute your work internationally. We do the work. You reap the Rewards! Call for a Free Author's Submission Kit: 1-888-283-4780.
FOR SALE
BATHROOM RENOVATIONS. Easy, One Day updates! We specialize in safe bathing. Grab bars, no slip flooring & seated showers. Call for free in-home consultation: 1-877-730-3876