Local Classifieds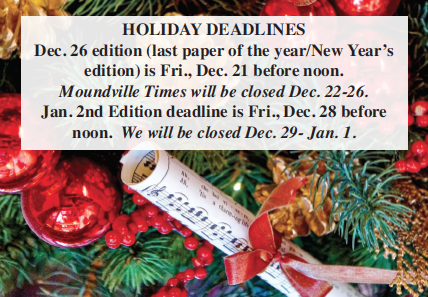 Happy Jack® Flexenhance Plus®
relieves arthritic pain and repels feleas without a prescription! Moundville Feed & Seed 371-2231 (www.fleabeacon.com)
4tc/11-14-12-5
Looking For Part Time & Full Time Sales Consultants To Hire Immediately!
We're looking for a Sales Consultant for West Alabama: Tuscaloosa, Hale, Greene, Marengo and Sumter Counties. Must be able to work Mon. – Thurs. from 9 a.m. – 11 a.m. for full time, Mon. & Weds. or Tues. & Thurs. 9 a.m. – 11 a.m. for part time. This is a excellent starter sales job for college students. You will need a drivers license and a dependable vehicle. Qualified applicants should be goal oriented, a team player, well organized with sales experience and an understanding of a variety of softwares and computer skills. Mass media, journalism, and marketing experience a plus, but not required. The ability to sell across different media platforms (internet, TV, print), multitask, a positive attitude, and work with deadlines are essential. Commission based compensation means you are the only limit to how much you make. The sky is the limit! Join a progressive team of marketing professionals and email your resume and cover letter to times@mound.net. Emails with resume & cover letter ONLY. No calls or walk-ins accepted. An Equal Opportunity Employer.
State Classifieds
SERVICES
LEADING SMART home provider Vivint Smart Home has an offer just for you. Call 1-877-220-8817 to get a professionally installed home security system with $0 activation.
WANT YOUR ad to be seen in 120 newspapers statewide? Place your ad in our Classified Network for just $210 per week! Make one call to this newspaper (a participating ALA-SCAN member) or call 1-800-264-7043 to find out how easy it is to advertise statewide!
INSURANCE
LOWEST PRICES on Health Insurance. We have the best rates from top companies! See how much you can save, Call Now! 1-844-335-8693.
SAVE ON your Medicare supplement! SelectQuote is dedicated to finding a Medicare plan right for you and your wallet. Call 1-833-841-6243 today and receive a free quote from one of our multiple carriers.
HEALTH/BEAUTY
A PLACE For Mom has helped over a million families find senior living. Our trusted, local advisors help find solutions to your unique needs at no cost to you. Call 1-855-398-9908.
ATTENTION: VIAGRA and Cialis Users! A cheaper alternative to high drugstore prices! 50 Pill Special- $99 + Free Shipping! 100% guaranteed. Call Now: 1-855-382-4115
HAVE A CPAP machine for Sleep Apnea? Get replacement FDA approved CPAP machine parts and supplies at little or no cost! Free sleep guide included! 1-855-667-6541 (Mon.-Fri.)
OXYGEN – ANYTIME. Anywhere. No tanks to refill. No deliveries. The all-new Inogen One G4 is only 2.8 pounds! FAA approved! Free info kit: 1-844-264-9500.
FINANCIAL SERVICES
DONATE YOUR Car to Charity. Receive maximum value of write off for your taxes. Running or not! All conditions accepted. Free pickup. Call for details. 1-844-810-1257
SAVE YOUR Home! Are you behind paying your Mortgage? Denied a Loan Modification? Threatened with Foreclosure? Call the Homeowner's Relief Line now for Help! 1-844-745-1384
BUSINESS OPPORTUNITY
NEW AUTHORS Wanted! Page Publishing will help you self-publish your own book. Free author submission kit! Limited offer! Why wait? Call now: 1-888-283-4780
WANTED TO BUY
FREON R12 wanted: Certified buyer will pay cash for R12 cylinders or cases of cans. 1-312-291-9169; www.refrigerantfinders.com