2023 Upcoming Holiday deadlines: lSanta Letters Deadline is Fri., Dec. 1. Christmas and New Year's Deadline is Fri., Dec. 15 and Moundville Times will be closed Dec. 23 – Jan. 2, 2024.

Hale County Animal Shelter Pets of the week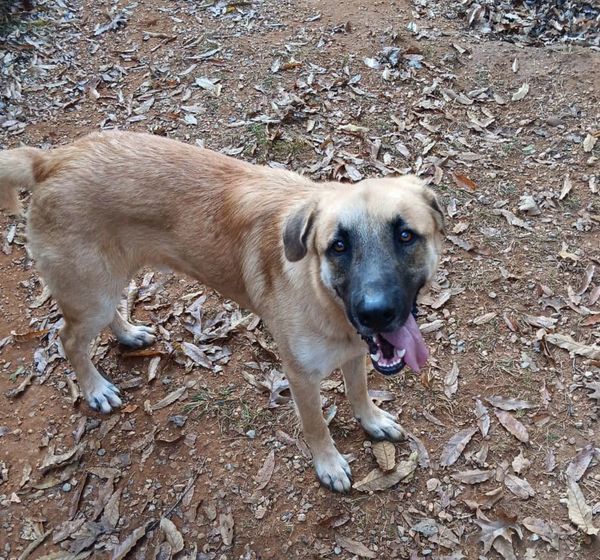 (Left) Precious Zippy! is fully vetted and neutered. Our zippy is deaf, but oh so sweet. He needs a home or rescue. (Right) Moosie is a beautiful Anatolian shepherd. He's very smart. Needs a job to do. Neutered and all shots up to date! Laurie Nevin, Hale County Animal Shelter, 334-624-8120.
A reverse Advent Calander for Hale County Animal Shelter
Each day, add an item to a box. On Christmas Eve donate to Hale County Animal Shelter.
Dec. 1 can of dog food; Dec. 2 puppy or kitten milk replacement; Dec. 3 bag of purina dog chow; Dec. 4 can of cat food; Dec. 5 laundry detergent; Dec. 6 disenfecting bleach; Dec. 7 bag of purina cat chow; Dec. 8 paper towels; Dec. 9 trash bags; Dec. 10 bag of purina puppy chow; Dec. 11 small blanket; Sec. 13 dryer sheets; Dec. 14 cat toy; Dec. 15 copier paper; Dec. 16 dog treats; Dec. 17 heavy duty dog toys; Dec. 18 clumping cat litter; Dec. 19 small towel; Dec. 20 dog treats; Dec. 21 bath towel; Dec. 22 puppy tpy; Dec. 23 puppy pads 22×22; Dec. 24 surprise iten of your choice.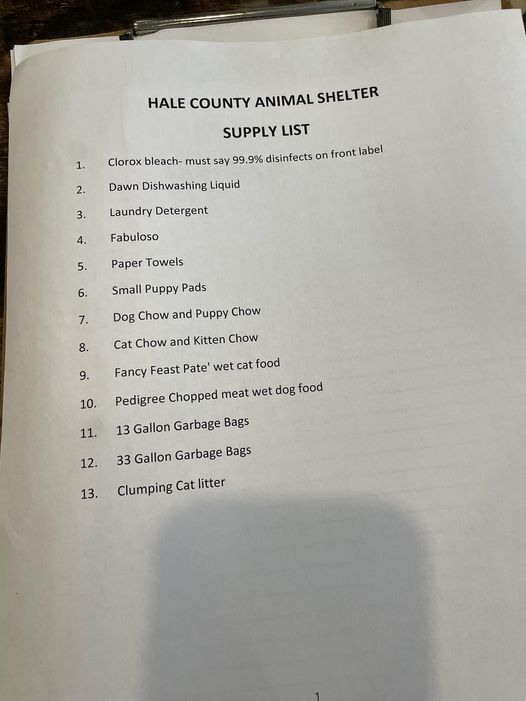 Church & Community Events
Kids and Kin
Dec. 11 "Helping children become confident readers." If you have questions please call Carmen Coleman at 334-465-0049 or email [email protected]. We hope to see you there!
Osher Lifelong Learning Institute at UA
The Osher Lifelong Learning Institute (OLLI) at the University of Alabama invites you to our Open House events coming up in January 2024. At these free and open-to-the-public events, you will hear all that the three chapters have to offer. Various intellectually stimulating, non-credit courses and learning opportunities are designed for people 50 and above but offer many opportunities, classes, travel, and fun for almost every age. OLLI is a non-profit member-based program where individuals come to learn for the joy of learning. The UA campus has three chapters affiliated with The UA, Tuscaloosa, Greater Birmingham, and Gadsen, which offer three semesters of courses, and with each semester, an open house event is held for the chapters at various locations. Again, these open house events are free and open to the publics. Jan. 9, 2024 – Tuscaloosa chapter at Bryant Conference Center, from 1-3 p.m., in Tuscaloosa. Spring 2024 Classes begin on Jan. 16, 2024, and registration for these classes opens on December 12, 2023. For more information, please visit the website at olli.ua.edu.
Livestock Producers in Hale County Are Eligible for Drought Recovery Assistance
The U.S. Department of Agriculture (USDA) Farm Service Agency (FSA) Executive Director CED Yakira Spears in Hale County today announced that FSA is now accepting applications for the Livestock Forage Disaster Program (LFP) for grazing losses due to drought. The deadline to apply for 2023 LFP assistance is Jan. 30, 2024. LFP provides compensation to eligible livestock producers who suffered grazing losses for covered livestock due to drought on privately owned or cash leased land or fire on federally managed land. For LFP, qualifying drought intensity levels are determined using the U.S. Drought Monitor. Producers in Hale County are eligible to apply for 2023 LFP benefits for grazing losses on full season improved, forage sorghum and full season improve mixed. Visit the FSA LFP webpage for a full list of eligible counties and pasture types. Livestock eligible for LFP include alpacas, beef cattle, bison, buffalo, beefalo, dairy cattle, deer, elk, emus, equine, goats, llamas, ostriches, reindeer, or sheep that have been or would have been grazing the eligible grazing land or pastureland. Recently, FSA updated LFP policy to expand program eligibility to include additional income producing grazing animals, like horses and ostrich, that contribute to the commercial viability of an agricultural operation. Livestock used for hunting and consumption by the owner and horses and other animals that are used or intended to be used for racing and wagering remain ineligible. As a reminder, producers who want to participate in many USDA programs including disaster assistance programs like LFP, must file timely acreage reports by filling out the FSA-578 form to remain eligible for program benefits. Livestock producers interested in applying LFP should contact Hale County FSA at 334-624-3856 Ext. 2 with any questions about the eligibility of specific livestock and forage crops. More information in USDA disaster assistance is available at farmers.gov/recover.
Senior Farmers Market Nutrition Program (SFMNP) recipients have until Nov. 27, to utilize existing benefits
The deadline to use 2023 Senior Farmers Market Nutrition Program (SFMNP) benefits has been extended to November 27. Recipients are encouraged to visit participating locations to use existing program benefits before they expire. Benefits can be redeemed at state-sanctioned farmers markets, farm stands, and U-Pick operations for fresh fruits, fresh vegetables, honey, and cut herbs. A list of participating locationsby county is available online. Benefits cannot be used at grocery stores or any location not listed on the redemption site. SFMNP is a federally funded program administered by the Alabama Department of Agriculture and Industries' Farmers Market Authority Section. SFMNP provides eligible seniors with $50 in annual benefits to purchase fresh fruits and vegetables from certified farmers at farmers markets and farm stands in the state of Alabama. Applications are currently closed, but will reopen in January 2024. Those who are 60 years of age or older and whose household income does not exceed the following eligibility requirements are encouraged to apply: $2,248 monthly for a household of 1; $3,041 monthly for a household of 2. Income eligibility requirements for additional household sizes can be found online at https://agi.alabama.gov/farmersmarket/links-and-resources/farmers-market-voucher-coupon-program/#How_To_Apply_for_SENIOR_FMNP_Coupons.
A new SFMNP application must be completed online each year and applicants should keep the confirmation page. SFMNP recipients will be issued a card containing their SFMNP benefits. This card will be reloaded each year that an application is submitted and should therefore be kept in a safe place. For information on additional resources, visitFood Access Resources at https://www.alabamapublichealth.gov/npa/food-access.htmland be sure to apply for SFMNP at https://agi-app.alabama.gov/fma/seniorNutrition/OffSeasonin January 2024 when applications reopen.

Kids and Kin
Join Kids and Kin at the Hale County-Alabama Extension office from 10 a.m.-noon. Nov. 29. "What are kids facing today." Dec. 6 "What to do when kids talk back," Dec. 11 "Helping children become confident readers." If you have questions please call Carmen Coleman at 334-465-0049 or email [email protected]. We hope to see you there!
ALBBAA launches 12th year of Big Buck Photo Contest
The Alabama Black Belt Adventures Association (ALBBAA) will again showcase the bountiful whitetail deer hunting available in the Black Belt's 23-county footprint with the 12th year of its Big Buck Photo Contest. The ALBBAA Big Buck Photo Contest, which takes place online and began earlier this week, will run through Feb. 16, 2024, and is sponsored by the Central Alabama Farmers Cooperative in Selma. Photos of bucks harvested during archery and firearms season are eligible. Here are rules and guidelines for this year's contest: To enter the contest, hunters must upload, through the ALBBAA website, a photo of a buck harvested from within the 23-county Black Belt region. The buck must be harvested during 2023-2024 whitetail deer season. The winner of the contest is selected exclusively through online voting. Voting will also be conducted on the same page where entries are submitted – https://alabamablackbeltadventures.org/news-more/shoot-the-black-belt/big-buck-photo-contest/ Visitors to the contest webpage may vote once per day, per entry, per IP address. In the case of any dispute, the decision of ALBBAA is final. Photo contest winners from the previous two years are not eligible for entry. ALBBAA reserves the right to approve or disapprove of the photo submitted. Cause for disqualification of photo can include, but is not limited to, the following: The photo content presents the subject in an unethical or disrespectful composition. The photo content is perceived to cast a negative perception of hunters and their contribution to the management of wildlife. Voting violation which imposes an unfair advantage to others. The contestant who receives the most online votes before voting ends in February will receive two game cameras valued at approximately $350 courtesy of Central Alabama Farmers Cooperative. The 2023-24 deer season ends Feb. 10, 2024, but voting will continue through midnight on Feb. 16, 2024, to allow additional voting time for photos submitted after the final weekend of hunting season. The Black Belt includes the following 23 counties: Barbour, Bullock, Butler, Choctaw, Clarke, Conecuh, Crenshaw, Dallas, Greene, Hale, Lee, Lowndes, Macon, Marengo, Monroe, Montgomery, Perry, Pickens, Pike, Russell, Sumter, Tuscaloosa and Wilcox.
School Events

Hale County College & Career Academy Theatre Dept. Presents "A Night of Christmas Carols"
Hale County College & Career Academy Theatre Dept. Presents "A Night of Christmas Carols" Mon., Dec. 18 at 6 p.m. Admission: one new unwrapped toy valused at $15 or more to be donated to the Hale County Dept. of Human Resources.
SSCC Holiday Events
The Music Department will present its annual Christmas Concert on Thurs., Dec. 7, at 7:30 p.m. in the Martin Campus Atrium. Featuring the Shelton Singers and the Shelton State Jazz Ensemble, both events are free and open to the public. On Wed., Dec. 13, the College will sponsor Brunch & Boogie with Seniors at the McDonald Hughes Center from 10 a.m.-1 p.m. The event is free and open to senior citizens. The college will be closed for the holidays Dec. 22- Jan. 2. Regular hours of operation will resume on Wed., Jan. 2, with spring classes beginning on Mon., Jan. 8, 2024. For more information, contact SSCC Media and Communication at [email protected].
Dolly Parton's Imagination Library
Success By 6 of United Way of West Alabama is proud to provide Dolly Parton's Imagination Library books FREE to children ages birth to 5 years old in Greene, Hale, Marengo, Pickens, Sumter, and Tuscaloosa counties. Once a month, your child will receive a new book by mail. You only need to do two things: register your child and pledge to read the books to him/her. Please, climb on board Dolly Parton's Imagination Library! Since UWWA launched the Dolly Parton Imagination Library: 13,467 children have participated in the program in Greene, Hale, Marengo, Pickens, Sumter, and Tuscaloosa Counties. 10,427 children have "graduated" from the program. 443,856 books have been delivered to children in West Alabama. Sign up at https://imaginationlibrary.com/check-availability/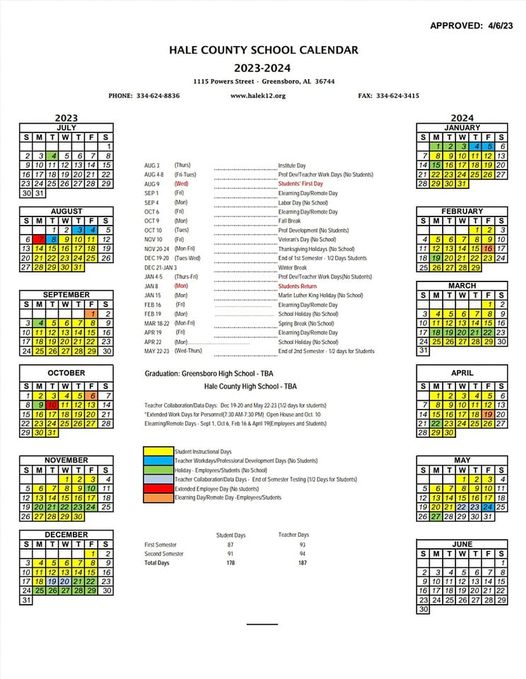 UA EXPERTS AVAILABLE TO DISCUSS TOPICS AROUND GOP DEBATE — Faculty at The University of Alabama are available to discuss aspects of the debate and political landscape. This list will be updated, so check back often for new sources. For assistance with reaching any of these sources or for topics not highlighted, contact Alex House, UA Strategic Communications, at

[email protected]

.
UA STUDENTS TO COMPETE IN NATIONAL EV BATTERY CHALLENGE — A team of students from UA will compete in a premier national competition to design, build, test and integrate an advanced battery pack into a commercial electric vehicle. UA is one of 12 North American universities selected for the Battery Workforce Challenge collegiate competition. It is managed by Argonne National Laboratory for the United States Department of Energy in partnership with Stellantis and other government and industry sponsors. For more information, contact Adam Jones, UA Strategic Communications, at

[email protected]

.
NEW COLLEGE OF EDUCATION DEAN ANNOUNCED — Dr. Joyce Alexander has been named the next dean of the UA College of Education and will begin her tenure Jan. 3, 2024. Alexander comes to UA from the American Educational Research Association in Washington, D.C., where she served in a dean-in-residence education research policy fellowship. She previously served as dean of the Texas A&M University College of Education and Human Development. For more information, contact Bryant Welbourne, UA Strategic Communications, at

[email protected]

.
EVENTS
NATIVE AMERICAN HERITAGE ARTIST-IN-RESIDENCY MUSEUM INDUCTION — Mary Smith and Nancy Spain from the Muscogee Creek Nation of Oklahoma will be inside the Jones Archaeological Museum at Moundville Archaeological Park Nov. 30. They will provide demonstrations from 10 a.m. to noon and 1 to 3 p.m. The two will reveal their artwork at 4 p.m. and light refreshments will be served. Registration is required.
DESIRE — The Master in Fine Arts dance program presents Desire Dec. 1 at 5:30 p.m. in the dance theatre of the English Building. Desire is a dance concert of expressive and eclectic works choreographed and performed by MFA dance candidates. The concert is free and open to the public.
HILARITAS — Join the UA choirs and orchestra for Hilaritas Dec. 1 at 7:30 p.m. and Dec. 3 at 3 p.m. in the concert hall of the Moody Music Building. This Alabama holiday tradition is one of the longest running performances at the School of Music. Tickets are available for purchase online.